ExOfficio Give-N-Go Boxer Brief Review
A popular pair of travel boxers, the ExOfficio Give-N-Go Boxer Briefs offer a range of features—but we're not sure how long they'll last you.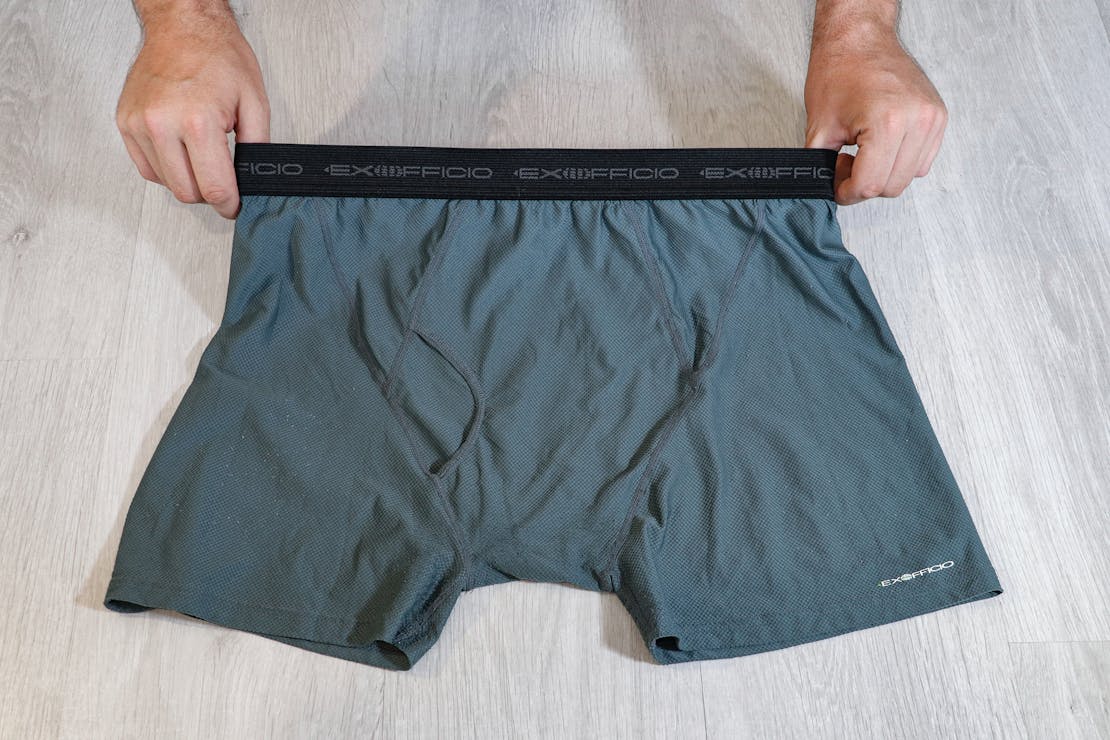 Our Verdict
Unlock the Pro Summary
Save time. Get access to brief summaries of our reviews so you can browse and make decisions more efficiently.
Pros
Lightweight, breathable, and odor-resistant
They look and feel nice
They fit true to size
Cons
Significant concerns over long-term durability
Durability deserves a second mention—excessive pilling after only one month of use
Can only get 2-3 wears out of them between washes
Recent Pack Hacker Video
Technical Details
Weight (oz)

3.05 oz (86.5 g)

Size Large

Notable Materials

Nylon, Spandex

Manufacturing Country

China

Warranty Information
Full Review
The ExOfficio Give-N-Go Boxer Briefs have been called the perfect pair of travel boxers. And not only by ExOfficio itself. Numerous reviewers out there said they swear by these boxers, touting such features as their odor-resistance, stretch, and low weight.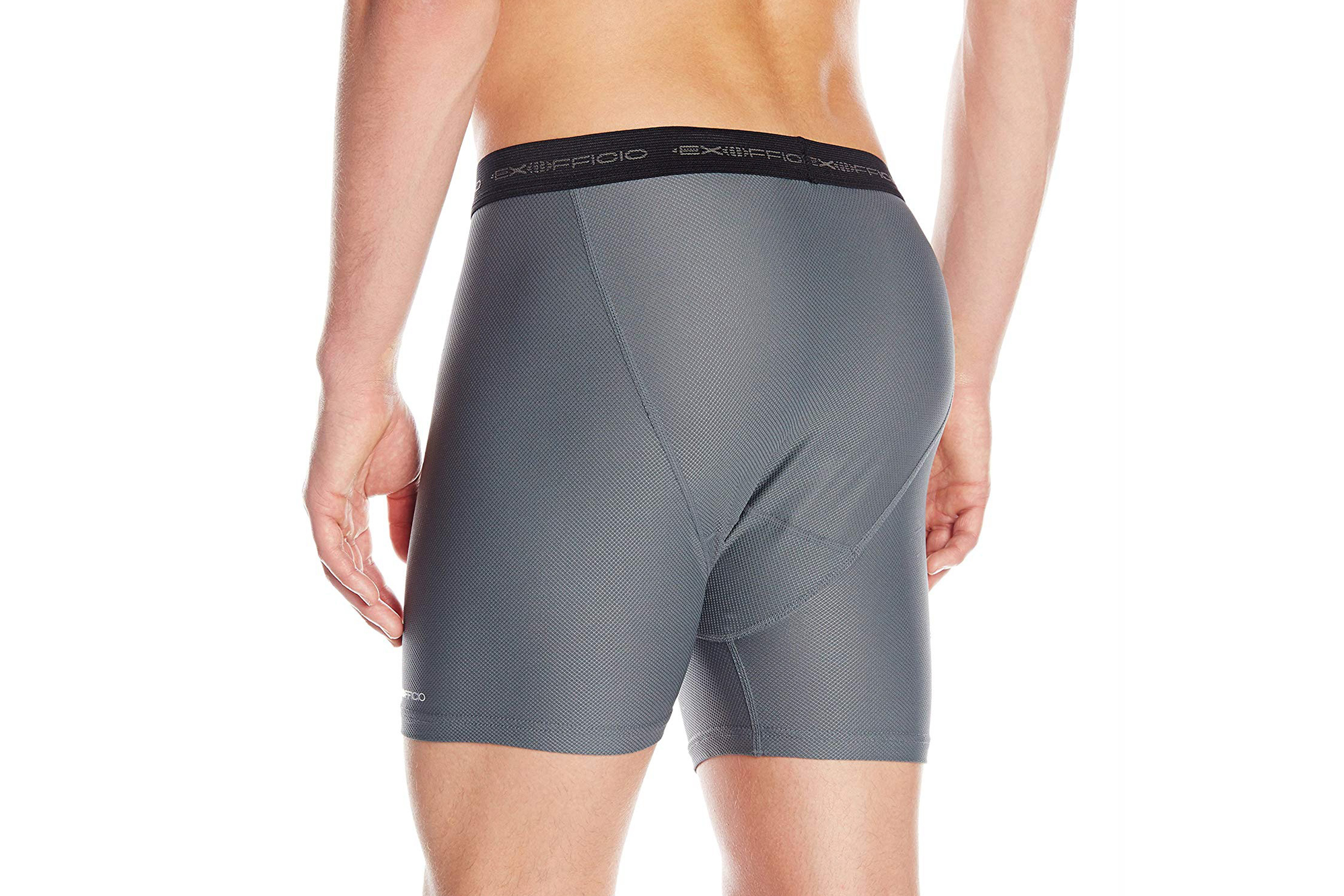 So, how could we not try them out for ourselves?
Over the past month, we've been on a quest to see if the ExOfficio Boxer Briefs live up to the hype. Read on to learn what we've discovered.
Materials & Aesthetic
Right off the bat, we can tell you we like the way these boxer-briefs look. Sure, the look doesn't matter as much as a pair of pants, since you likely won't be strutting around downtown in your underwear (at least we hope not). But no one likes to feel frumpy even at the base layer level.
These wear nicely. They're tight but not too tight and they're true to size, which we always appreciate when buying clothing you can't try on. Of course, everyone is different when it comes to underwear. If you're not partial to the boxer-brief style then you'll probably want to skip these for obvious reasons.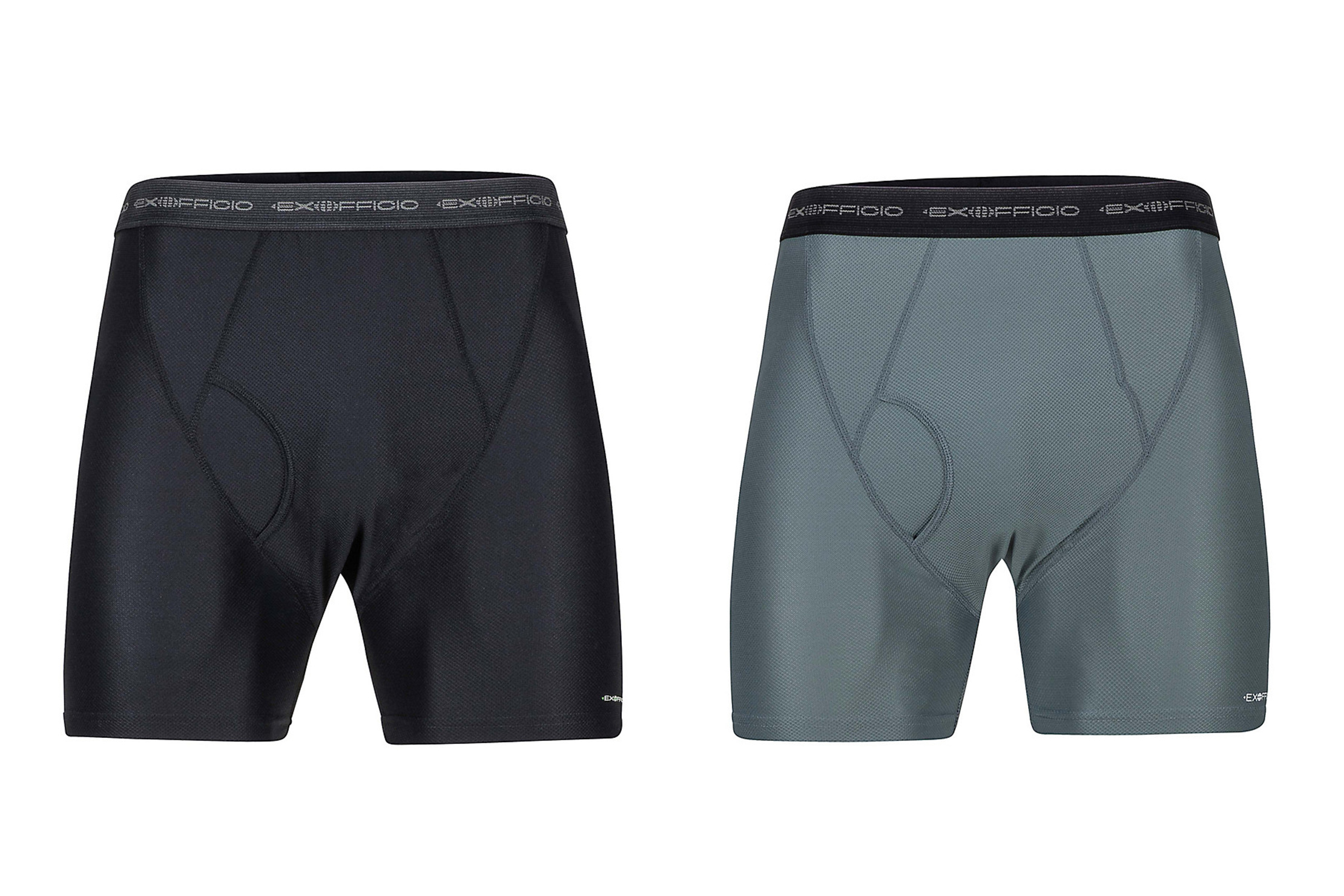 These ExOfficio boxers are also available in a wide variety of colorways. In classic Pack Hacker fashion, we've been testing two of the darker options: Black and Charcoal, but if you're a neon kind of person, you'll be happy with their color offerings as well.
Their branding is nothing wild either. You'll find the ExOfficio logo on the bottom one of the legs and around the waistband (like most boxers). Unfortunately, we've heard the bottom logo doesn't have a long life and will start to wear off after a few months. Ours has only shown some mild wear at this point, but we'll be sure to keep an eye on it and update our usage timeline below.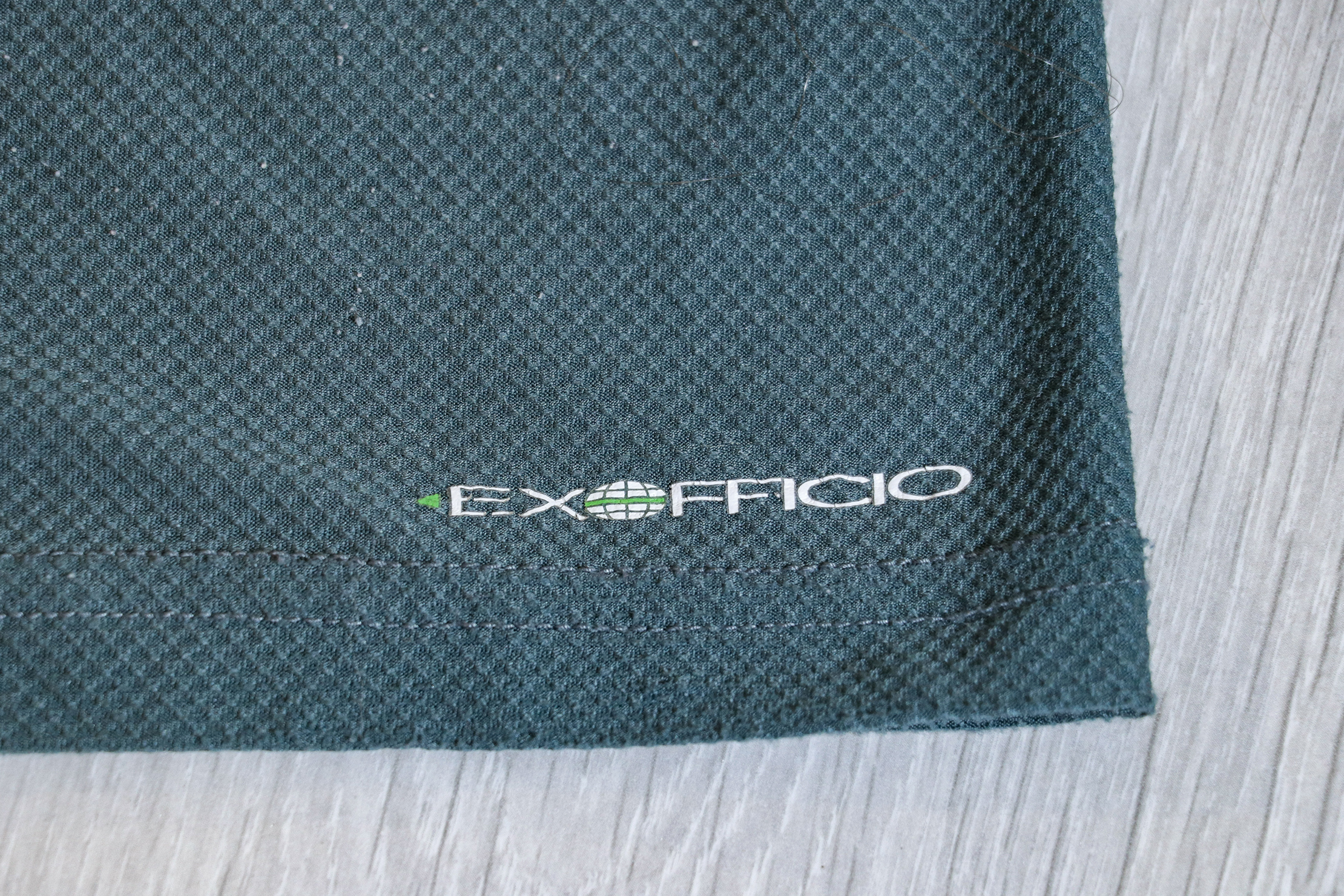 Jumping into the materials, these ExOfficio boxers are made with nylon and a dash of Lycra® Spandex. There's nothing particularly amazing about the fabric, but we did appreciate the stretch, comfort, and breathability.

The great thing about these boxers is the Antimicrobial treatment on the fabric, making it safe to wear these multiple days in a row—definitely a huge plus when traveling. Being able to wear one pair of clothing for days at a time reduces the amount of time you'll need to carve out for laundry and the amount of underwear you'll need to bring in the first place. A win-win for us.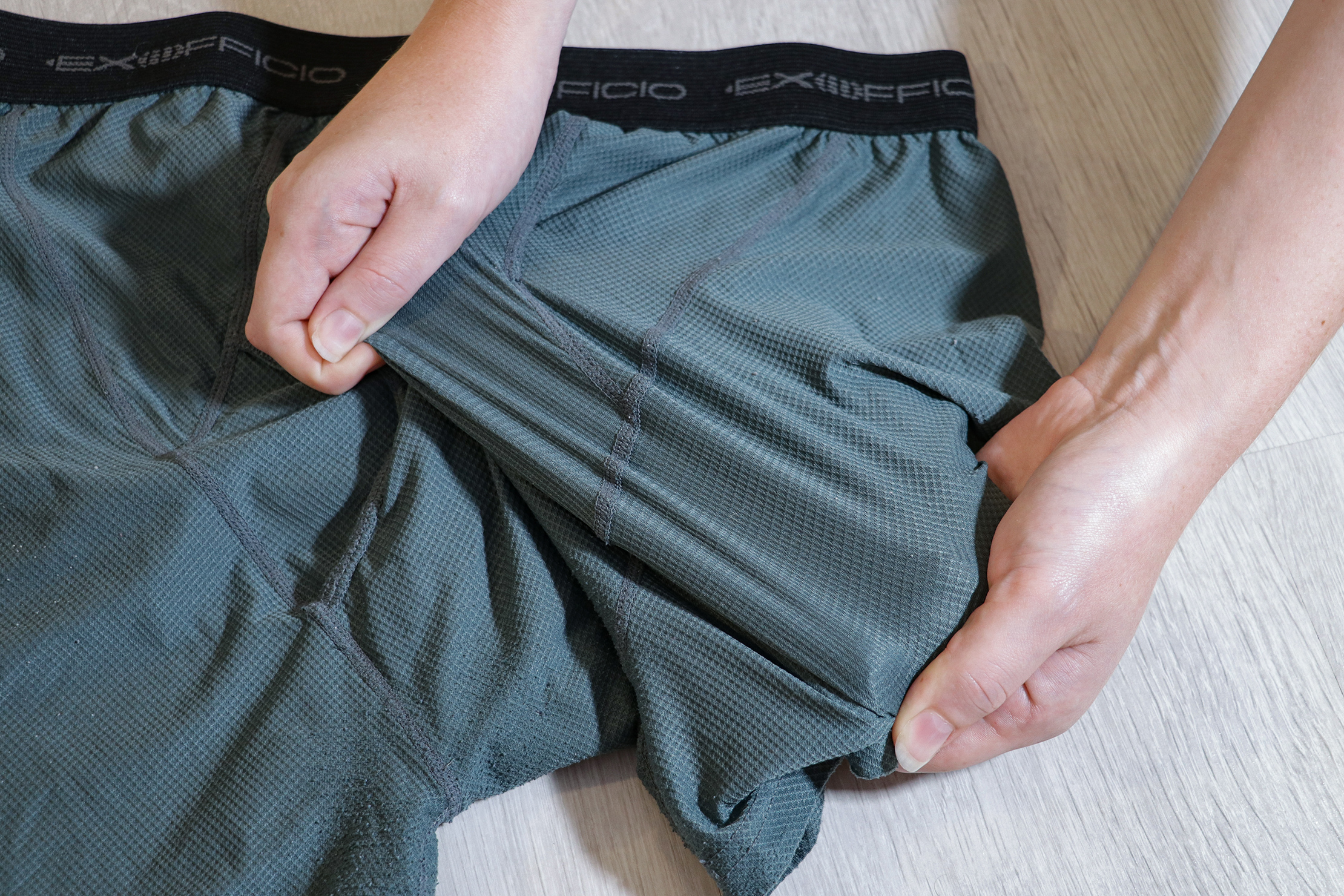 But we can't help but compare this fabric to Merino wool—a great travel fabric, which we wrote an entire guide about—and the nylon/spandex blend comes up a little short. We've found Merino to be more comfortable, more durable, and better when it comes to features (more on this in a second).
That said, if you compare the Give-N-Go ExOfficio Boxer Briefs to just a regular cotton pair you'd pick up at Target, the ExOfficio is the clear winner, both in terms of comfort and features.
Features & Usage
The reason to shell out the money for the Give-N-Go ExOfficio Boxer Briefs is its features. ExOfficio claims you only need two pairs for every trip. Why? Because the boxers are lightweight, quick-drying, breathable, and odor resistant.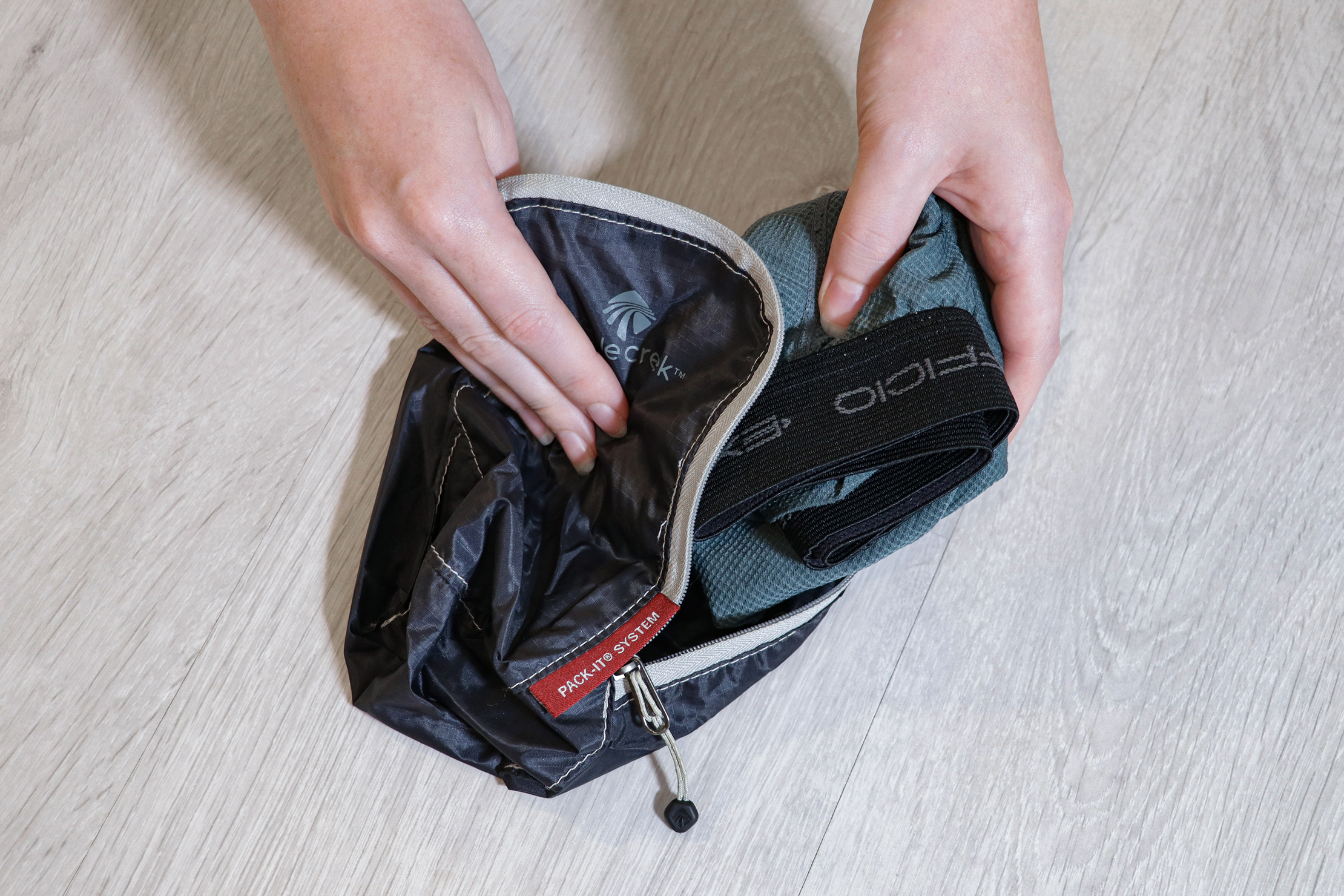 We agree with them about all of those features…to an extent. We appreciate their low weight—we're always trying to cut down on the amount of weight we have to carry on our backs—and they do dry pretty quickly, especially compared to cotton. You can wash them in the sink, or toss them in the washer, and after a couple of hours you'll have a clean, dry pair of ExOfficio boxers.

Their breathability is nice too. Without getting too personal, we appreciate how these boxers will stop you from getting too sweaty while out and about.
Which brings us to the odor resistance. Yes, these boxers repel odors better than the average cotton boxers. But you still won't get too many wears out of them. We maxed out on two, maybe three on a good day. That's certainly better for travel than only being able to wear them once, but not perfect.
However, if you're serious about getting the most wear out of these boxers, we have a little workaround. You can use two pairs and air one out between uses. When we've used this technique, we've gotten 4-5 wears between washes, which is much better.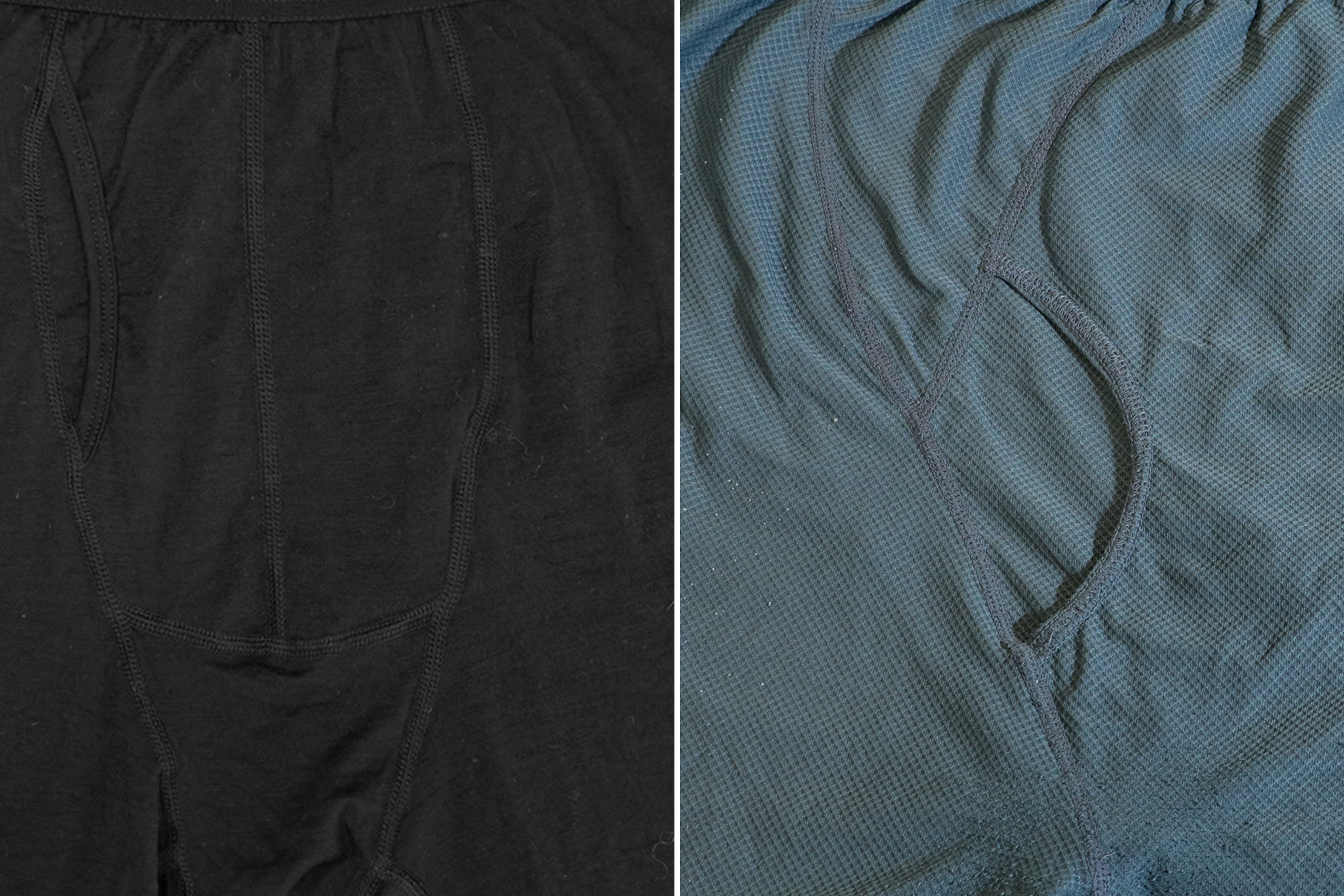 Like we mentioned above, we have to compare these boxers to ones made from Merino wool. We've found the antimicrobial properties of Merino to be better for longer wear—around 5 days, depending on the situation—and the breathability is better too. The only place the ExOfficio boxers beat out Merino is when it comes to drying time.
Merino wool also wins when it comes to durability. We've been testing the Give-N-Go Boxer Briefs for a month now and we've already noticed signs of wear.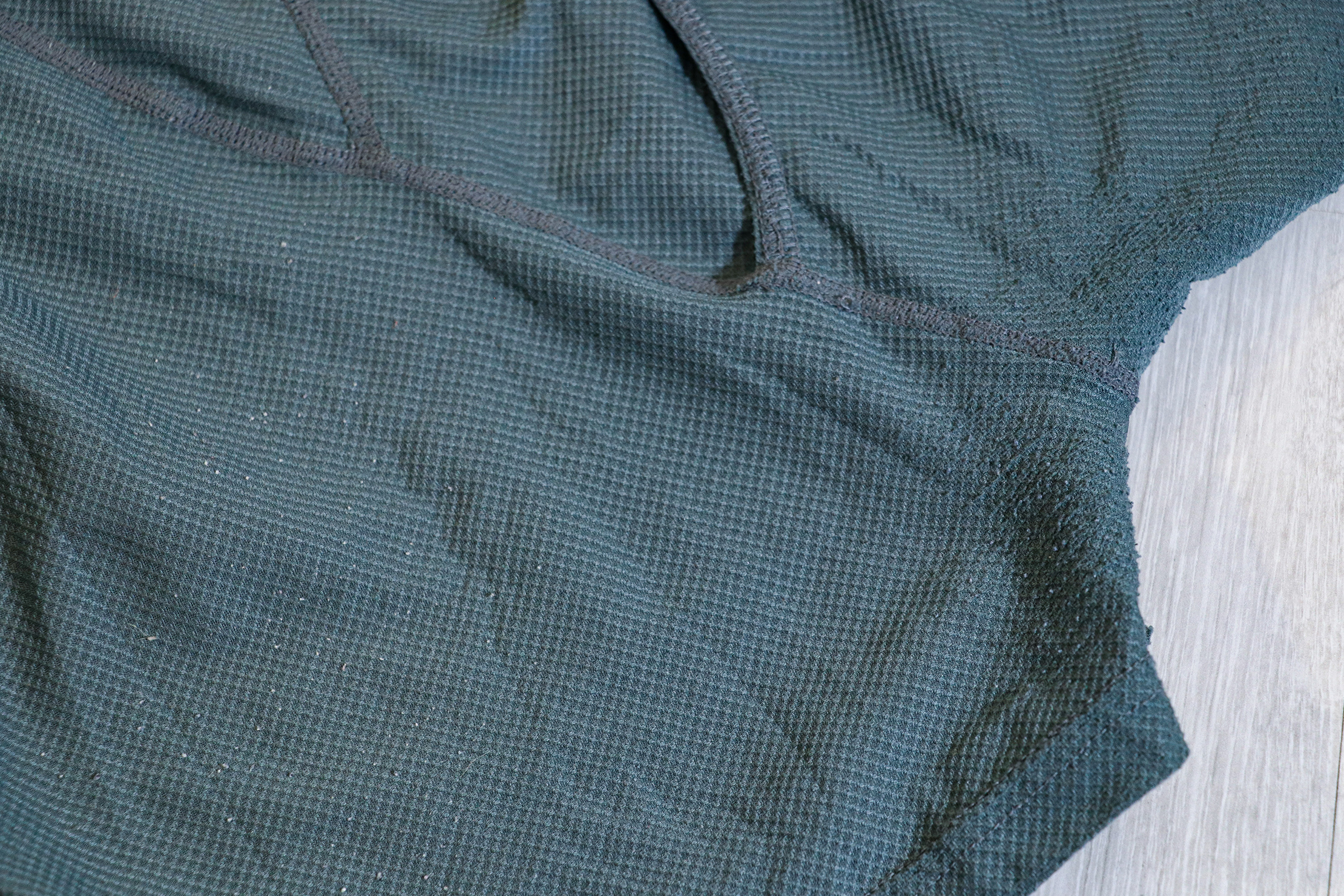 There's a decent amount of pilling around the legs and crotch region, and the elastic has started to fray on the waistband. Additionally, the large tag fused to the waistband has already started to come off (and we promise we haven't been picking at it).
After only a month of testing and a few washes, this wear isn't a good sign. While nothing major has happened yet, like rips or tears, we're worried about the boxer's longevity if a month has already done this amount of damage (check our Usage Timeline down below for updates). Frankly, we're disappointed.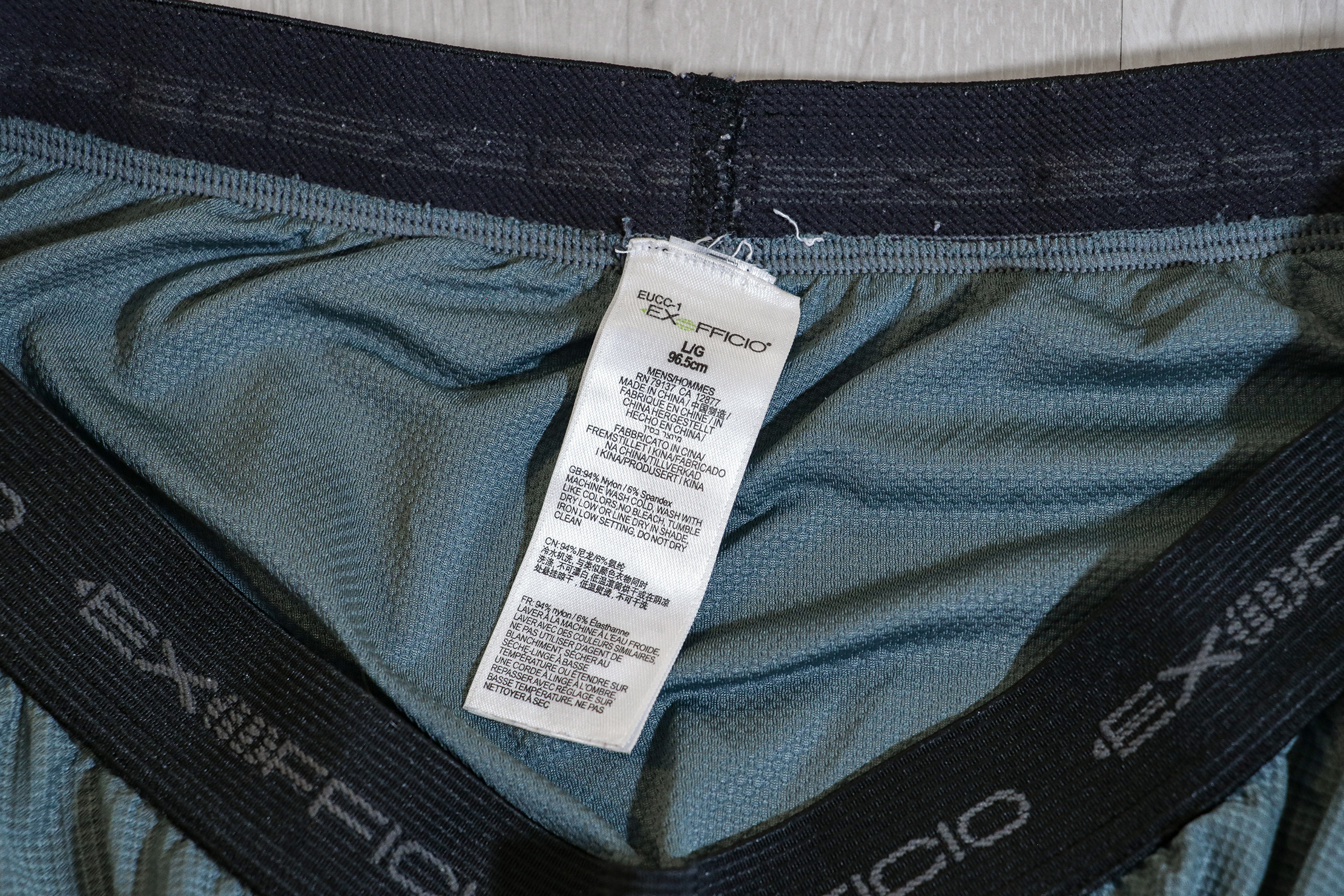 Something to note here: we have come across some customer reviews that claim the material of the Give-N-Go Boxer Briefs feels cheaper than what was used on the original iteration. While we haven't verified these claims, this could account for some of the issues we've had.
Either way, we hope ExOfficio will take durability into account in the future.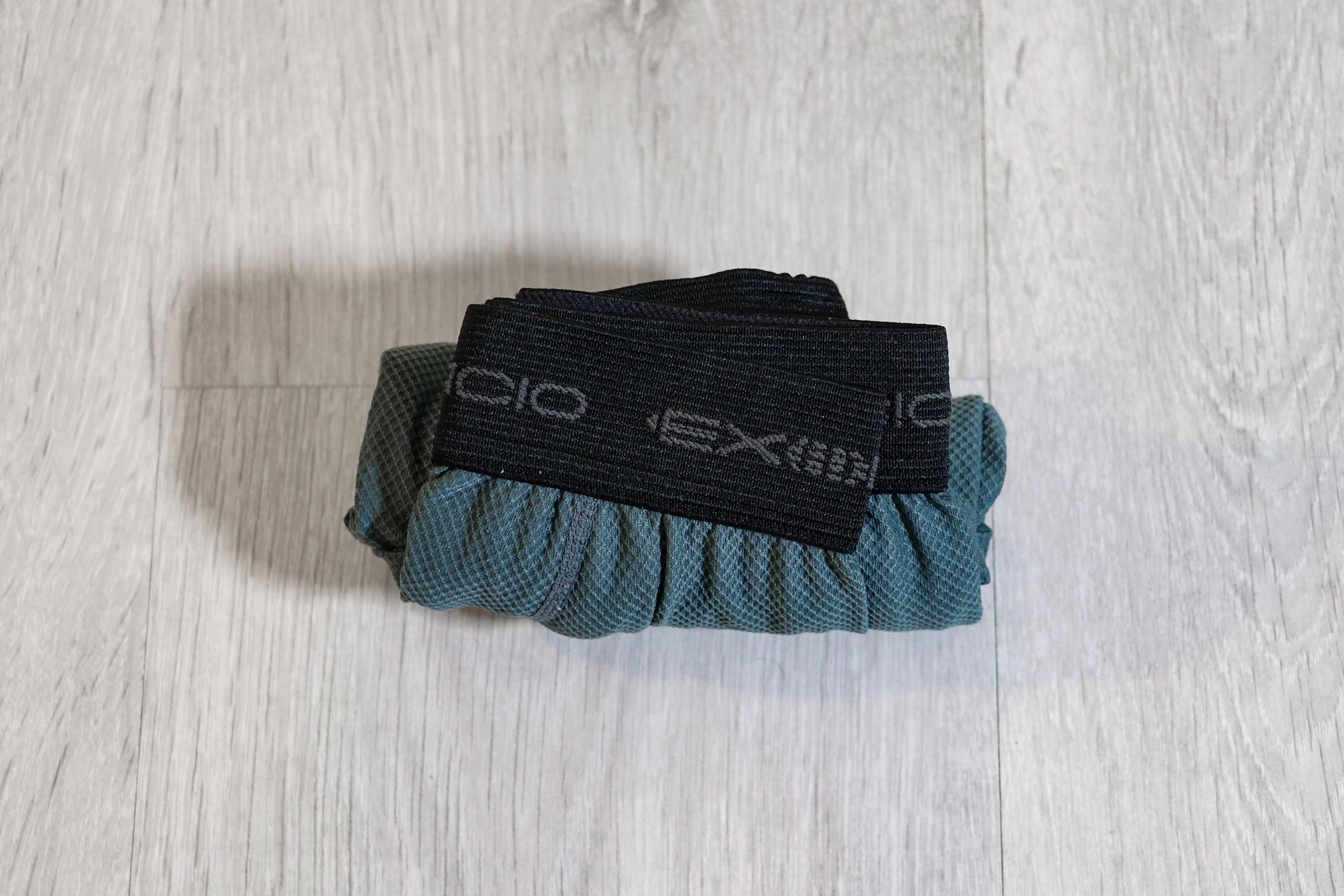 So, do we think the ExOfficio Give-N-Go Boxer Briefs live up to the hype? Short answer: no. With other travel boxers on the market, specifically ones made from Merino wool, we're not overly impressed with these.
That said, with their low weight, odor-resistance, and comfortable fit, they'll still do more for you than a traditional pair of underwear.
Usage Timeline
Initial Usage
Condition: Excellent
Nylon and spandex gives these an athletic, "jersey-like" feel.
Not as odor-resistant as Merino wool.
The large tag is quite annoying and best removed.
2 Weeks of Use
Condition: Excellent
Can't get as many wears out of them as Merino wool underwear, but still better than cotton
1 Month of Use
Condition: Fine
Already noticed a significant amount of pilling on the legs and crotch area, plus some fraying on the elastic waistband. Definitely disappointing.
Access the Pro Community Discussion
Get your questions about the ExOfficio Give-N-Go Boxer Brief answered from our team and the Pro Community right here on the page. Plus, join discussions with other members about gear, guides, and more.
Other Clothing & Accessories Reviews