eBags Pro Slim Laptop Backpack Review
The eBags Pro Slim Laptop Backpack is efficient in its size and compartmentalization, but its already-fraying material raises some concerns with durability.
Our Verdict
Unlock the Pro Summary
Save time. Get access to brief summaries of our reviews so you can browse and make decisions more efficiently.
Pros
Great level of organization
Comfortable harness system for a bag of its size
Densely-padded & protected laptop compartment
Cons
Side opening restricts our access into main and laptop compartment
Water bottle pocket is bulky & doesn't accommodate larger bottles
Material is starting to fray in several spots around zippers after only three weeks of testing
Recent Pack Hacker Video
Technical Details
Capacity

21.6l

Weight (lb)

3.81 lb (1.7 kg)

Denier

840D

Dimensions

18 in x 12.75 in x 8.5 in (45.7 x 32.4 x 21.6 cm)

Notable Materials

Polyester, Nylon Dobby, Unbranded Zippers

Manufacturing Country

China

Laptop Compartment Size

17"

Warranty Information
Full Review
When you're working remotely or commuting to the office every day, you need a pack that can hold all your tech and everyday gear while keeping it safe from daily damage.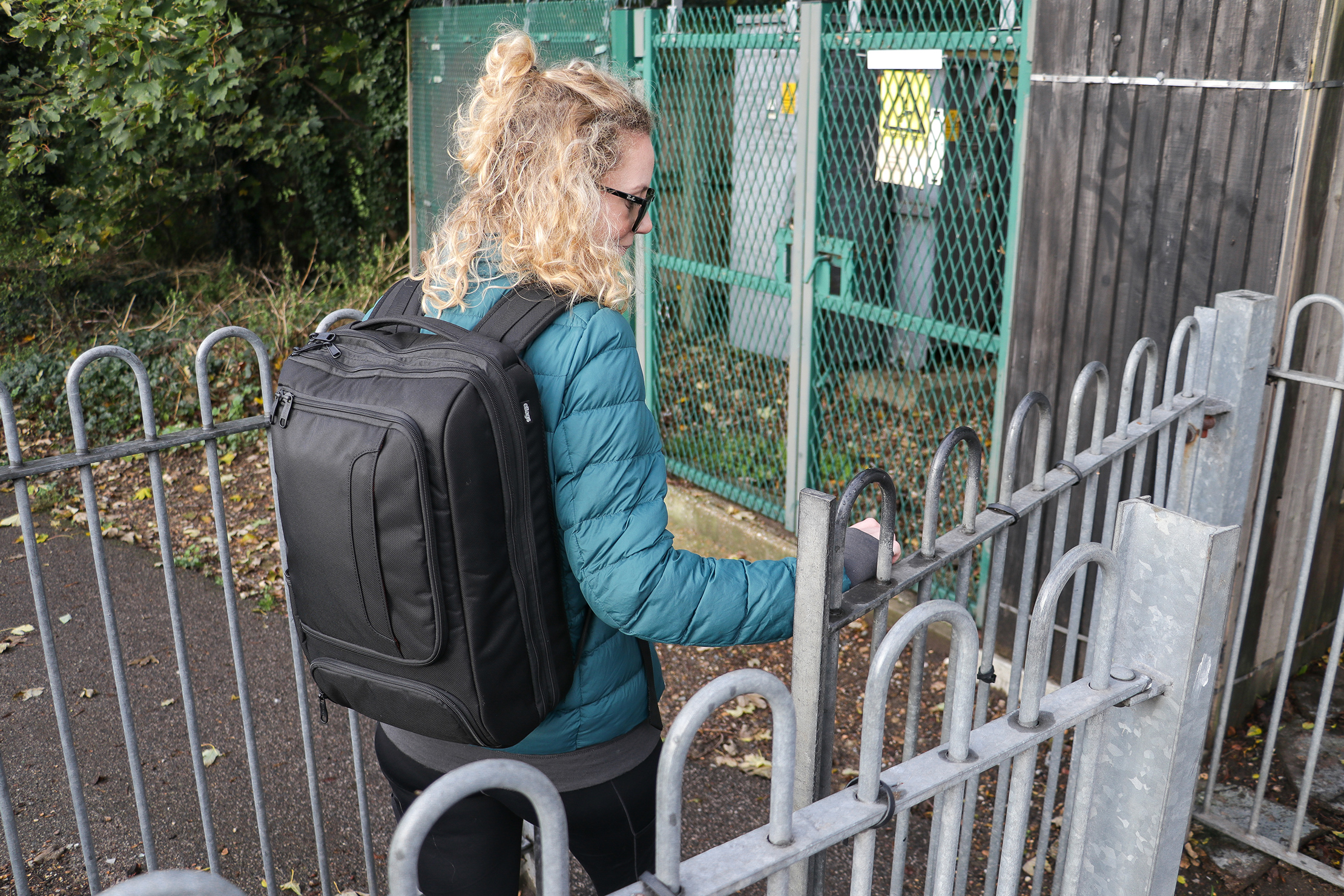 The eBags Pro Slim Laptop Backpack is up to this task. It keeps a low-profile, so you're not standing out in the crowd, and offers many pockets and padding to keep your stuff segmented and protected.
With three weeks of testing down, we're ready to get into this review. Follow us!
Materials & Aesthetic
Aesthetically-speaking, the Pro Slim Laptop Backpack doesn't have much to offer on the outside. It's a simple pack with a slim look and can be worn comfortably in casual environments or more seriously in professional settings. Around 63% of you appreciate its look as reported by our Instagram poll, which we feel is a fair score. It's not offering any exciting visuals but instead adopts a more versatile vibe.
We've had the pleasure of testing the Solid Black colorway these last two weeks and have been digging its subdued-yet-serious demeanor. If you want something low-profile but with a bit more personality, you can also pick up this bag in four other muted colorways at the time of this review—True Navy, Sage Green, Heathered Graphite, or Brush Indigo.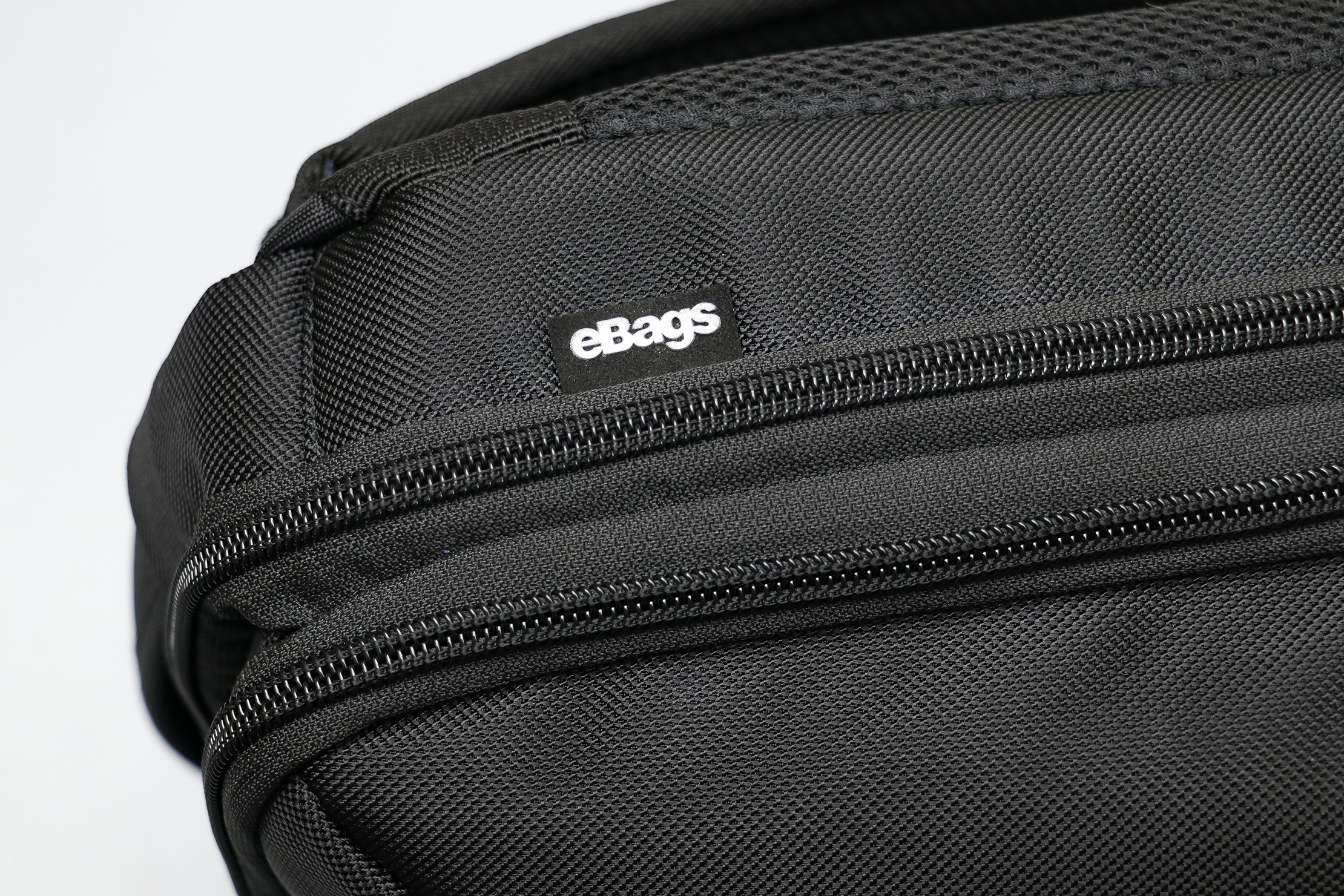 You won't find much on this pack in terms of branding. There is a small white-on-black tag on the side, but it's hardly noticeable. If you're an advocate for subtler branding, it doesn't get much more modest than this.
Material-wise, this bag is made with an 840D polyester fabric that has held up well for the most part during our testing. That said, we have noticed some fraying fabric around the lining of the zippers, which is cause for concern after only three weeks of testing. Other than that, it has kept our gear safe and dry, so it's doing its job.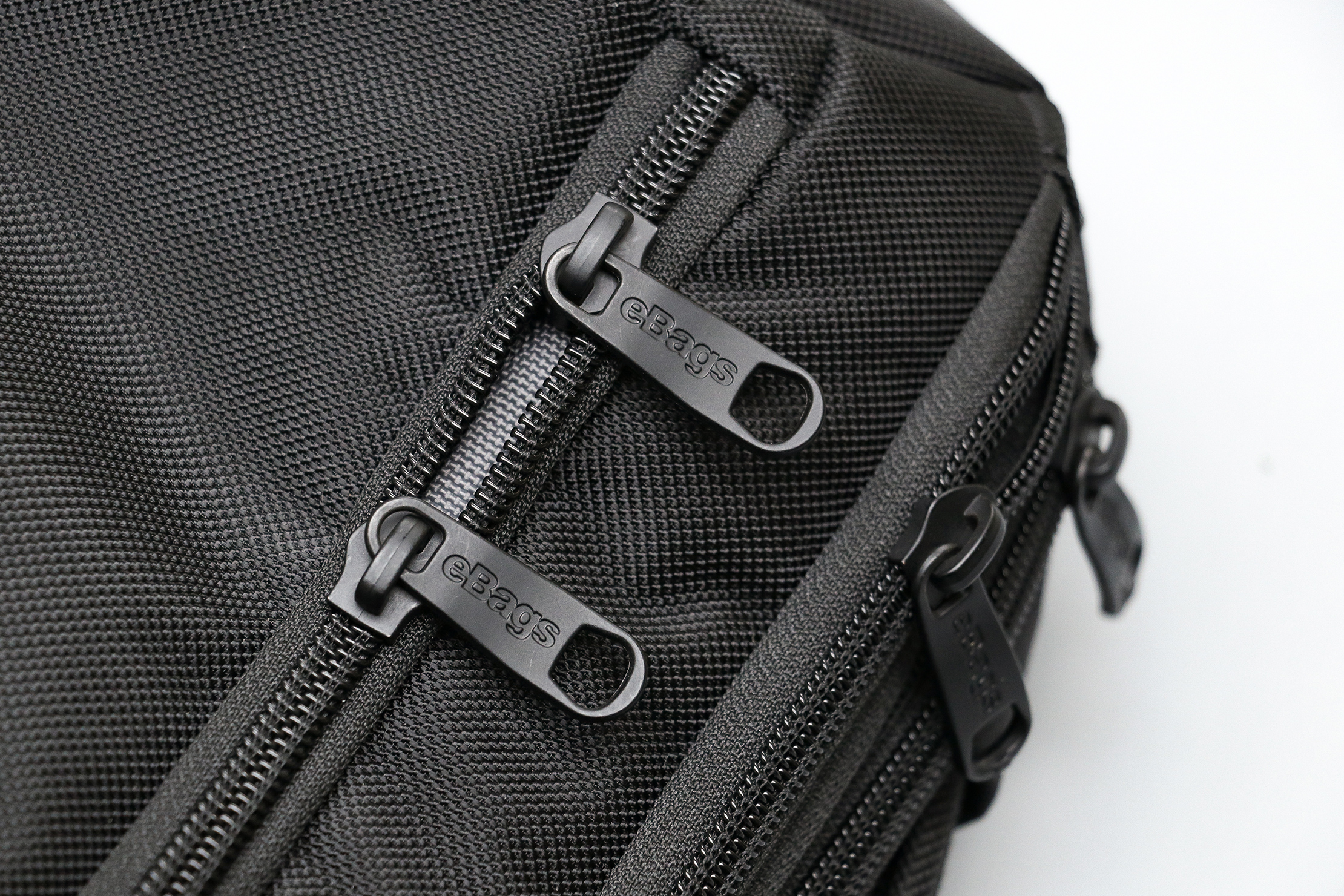 Thankfully, this bag's zippers have been easily gliding open and closed throughout our testing. However, they're quite noisy. They jingle and jangle wherever we go, which can get annoying. Your mileage may vary, of course, but this is especially something to note for if and when you're entering a more serious environment like a library or business meeting.
External Components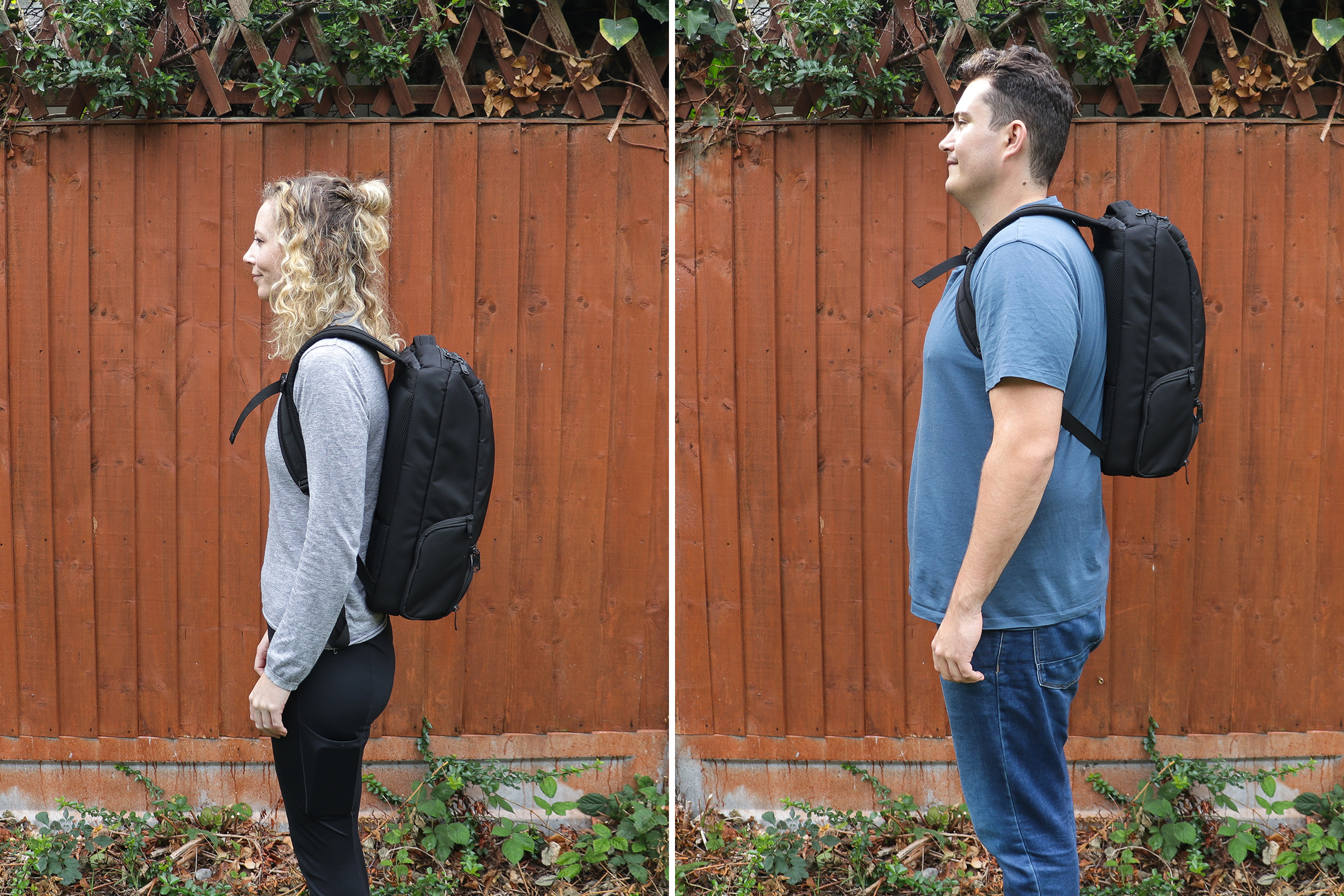 Starting with the shoulder straps, we can't say they're the most comfortable ones we've ever tested. That said, for a bag of this size, they've been working just fine. We appreciate their decent level of padding and mesh lining that keeps us comfortable and well-ventilated.
Next up, we have the sternum strap. You can easily glide it up and down the nylon attachment points to wherever it feels comfortable, and can even be removed if you feel you don't need it and don't want it in the way. It also has elastic on the inside that helps with comfort, too—if flexes with you as you move. Altogether, it's stayed secure throughout our testing and hasn't caused any hassle, and we're grateful for the extra stability it adds.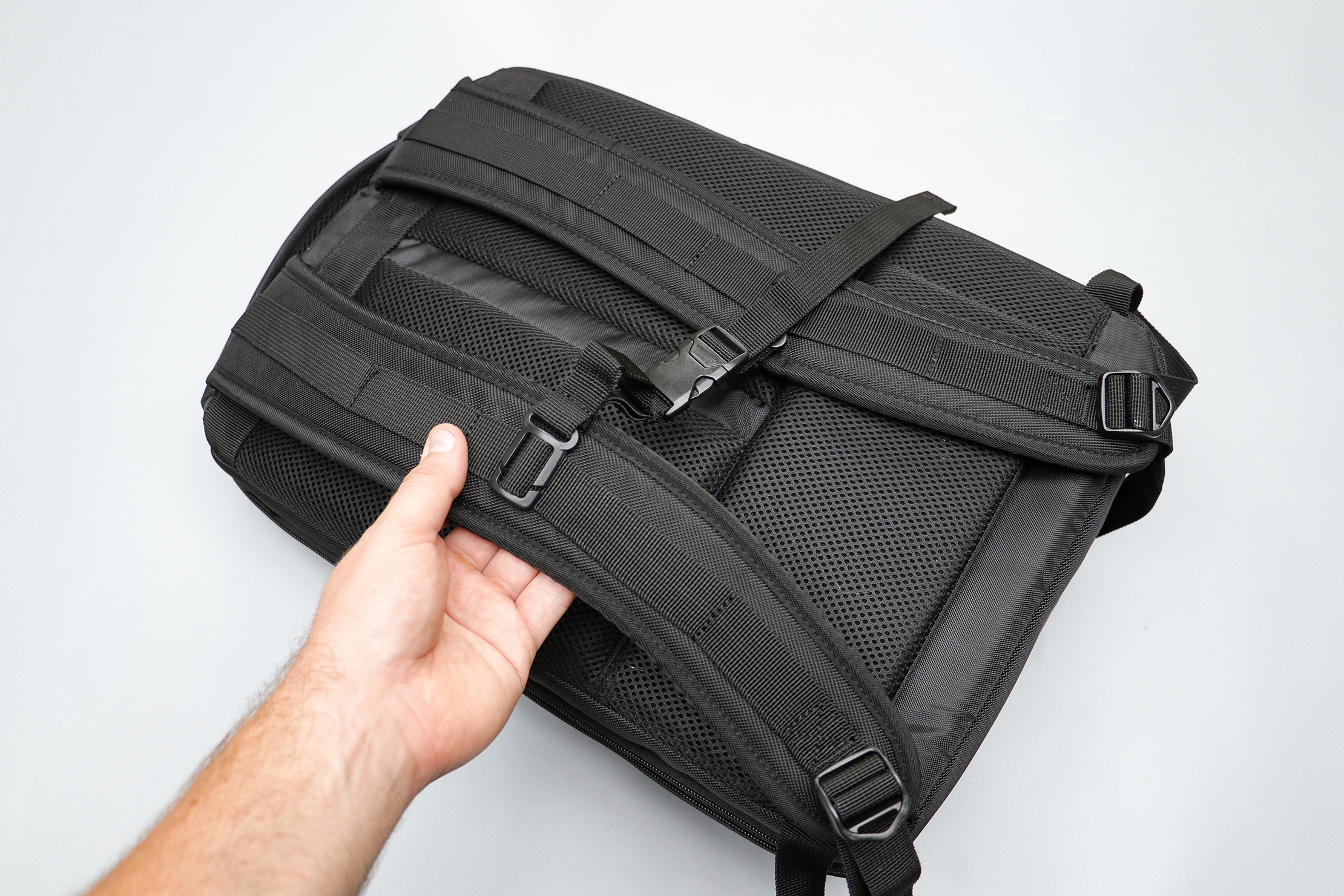 We were surprised by the dense level of padding on the back panel. It's nicely structured, so it's not pulling away or sagging away from the back in certain spots. You also have a luggage passthrough to take advantage of when you're using this thing as a carry-on for those quick business trips. This way, you can easily slide it onto your roller luggage and wheel both around the airport with ease.
There's also a handle at the top that's comfortable and convenient enough for shorter tasks, like grabbing, hanging, and sliding the bag around. We especially like that it partially retracts into the bag when we're not using it—it makes for a nice, clean look.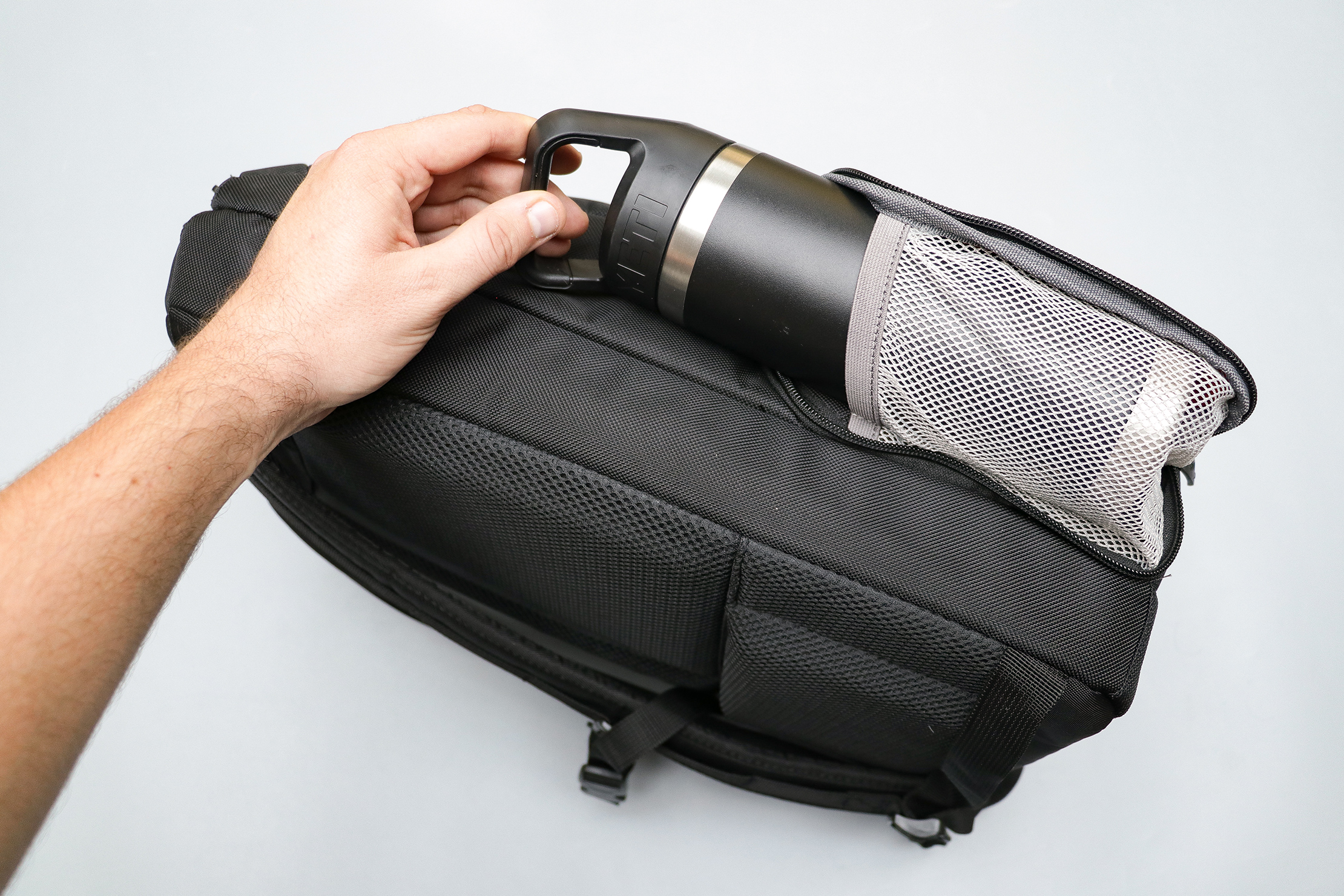 You'll notice a water bottle pocket on one side of this bag that features some nice elasticated mesh. It's able to fit slimmer bottles like the YETI Rambler 18oz Bottle—that's what we've been testing with, anyway. When you are keeping a water bottle here, it can stick out pretty far from the bag, giving it a bulkier, lopsided look. That said, because it takes up so much room outside the bag, it's not stealing any room from inside the bag. This way, it's not affecting what you're able to pack in the main compartment.
If you're not planning on carrying a water bottle, you can zip this pocket up, and it lies much flatter against the side of the bag. You can even use it for other smaller items—throw a snack in here for when you get hungry, or use it has a quick-grab pocket for something like your wallet or keys.
Inside The Pack
The Pro Slim Laptop Backpack has a lot going on in terms of organization, and we're going to cover it all—starting with all the external pockets at your disposal, and what works best inside each one.
First up, you have a flat, square compartment on the front of the bag. When you open it up, you're greeted with a bright, crinkly orange liner that offers all the visibility you need to spot your gear and ease of getting it in and out; not to mention a ton of pockets and pouches to compartmentalize your gear.
Starting at one end, there's a small liner pocket meant to stash cards, though we've been using them to keep a pair of corded headphones close by. To the right of this pocket, you have a medium-sized zippered mesh pouch that can hold the stuff you'd usually keep in a pencil case, or even smaller tech accessories—a mouse, adaptor, or charging block, for example.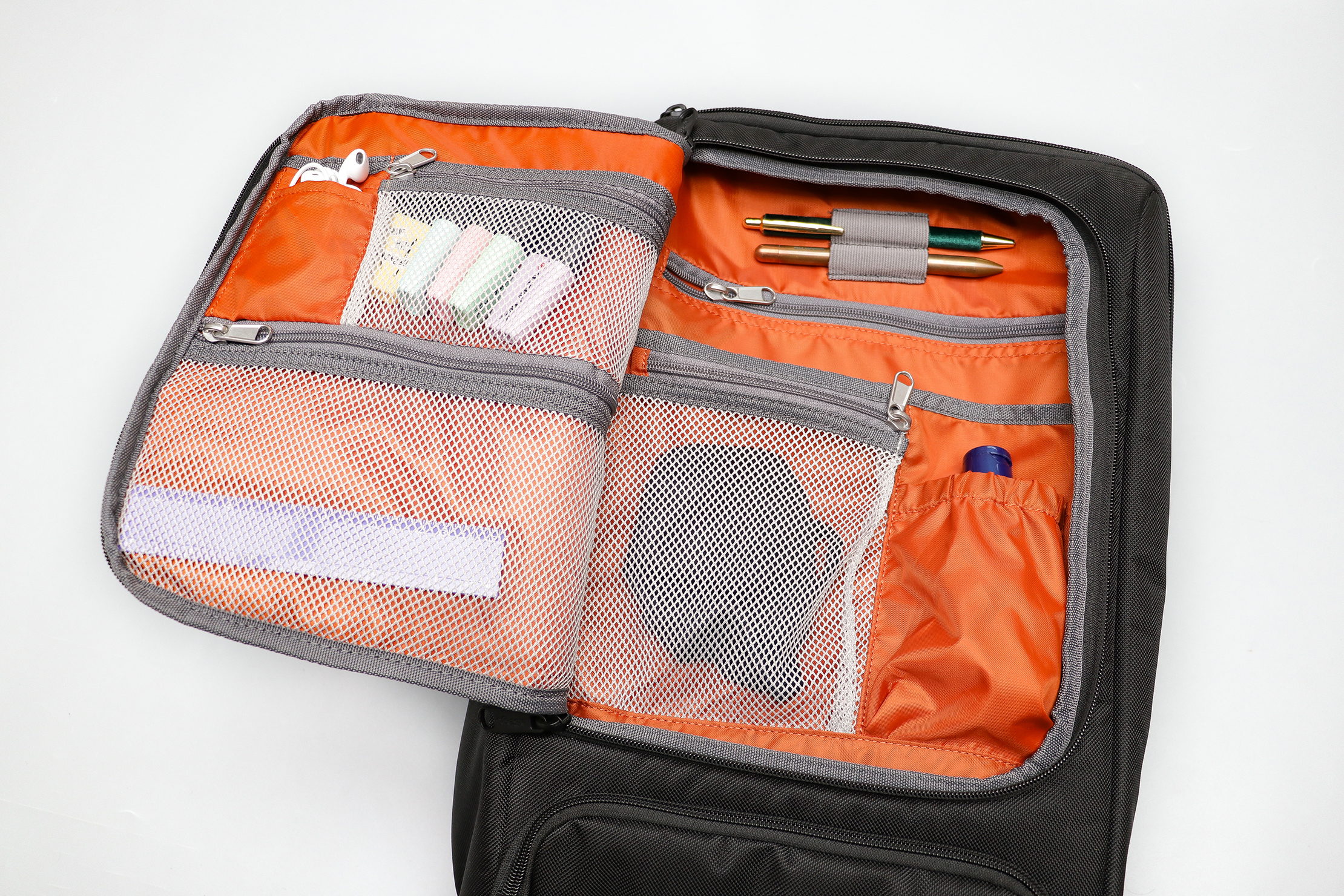 Below these two pockets is a larger mesh pouch where you can store bulkier gear, like cables, dongles, or even a ruler (which is what we've slipped in there ourselves). One thing to note is that whatever you keep inside these mesh pockets will bend when you're opening and closing the compartment. So for us, if we were keeping a longer ruler inside, we'd be running the risk of it bending and being misshapen or possibly snapping—just something to keep in mind when you're packing it out.
On the other side, you have another zippered mesh pocket you can use for more supplies or accessories, like a smaller notebook, some sticky notes, or flash drives to keep them from free-floating around. While this mesh isn't elasticated, you still have a fair amount of space to pack out as you see fit. You can also make use of the elasticated liner pocket next door, which we've found convenient for keeping slimmer stuff like a handy bottle of hand sanitizer. There's even a sleeve behind these pockets for flatter items like documents (if they're folded) or a passport so you don't have to rustle around the main compartment when you need them.
Above this sleeve, you'll spot yet another zippered pocket that houses the dedicated metal key clip. We haven't kept our keys on here during testing, as it's not the quickest compartment to reach, but it's great for when you don't need immediate access to your keys and are looking for a safe spot to store them.

At the top of this side are two pen sleeves, finishing up the inside of this compartment. You can slip writing utensils or a stylus in so you can focus more on what you're jotting down and less on locating something to write with.
On the front of this compartment is a quick-grab pocket for your more frequently-used, valuable items. The zipper to this pocket is hidden by a fabric welt to keep the bag looking tidy. This also adds some much-appreciated security, as it's easy to miss and less of a target for pickpockets. So, you can feel confident sliding your phone and wallet inside when not in use.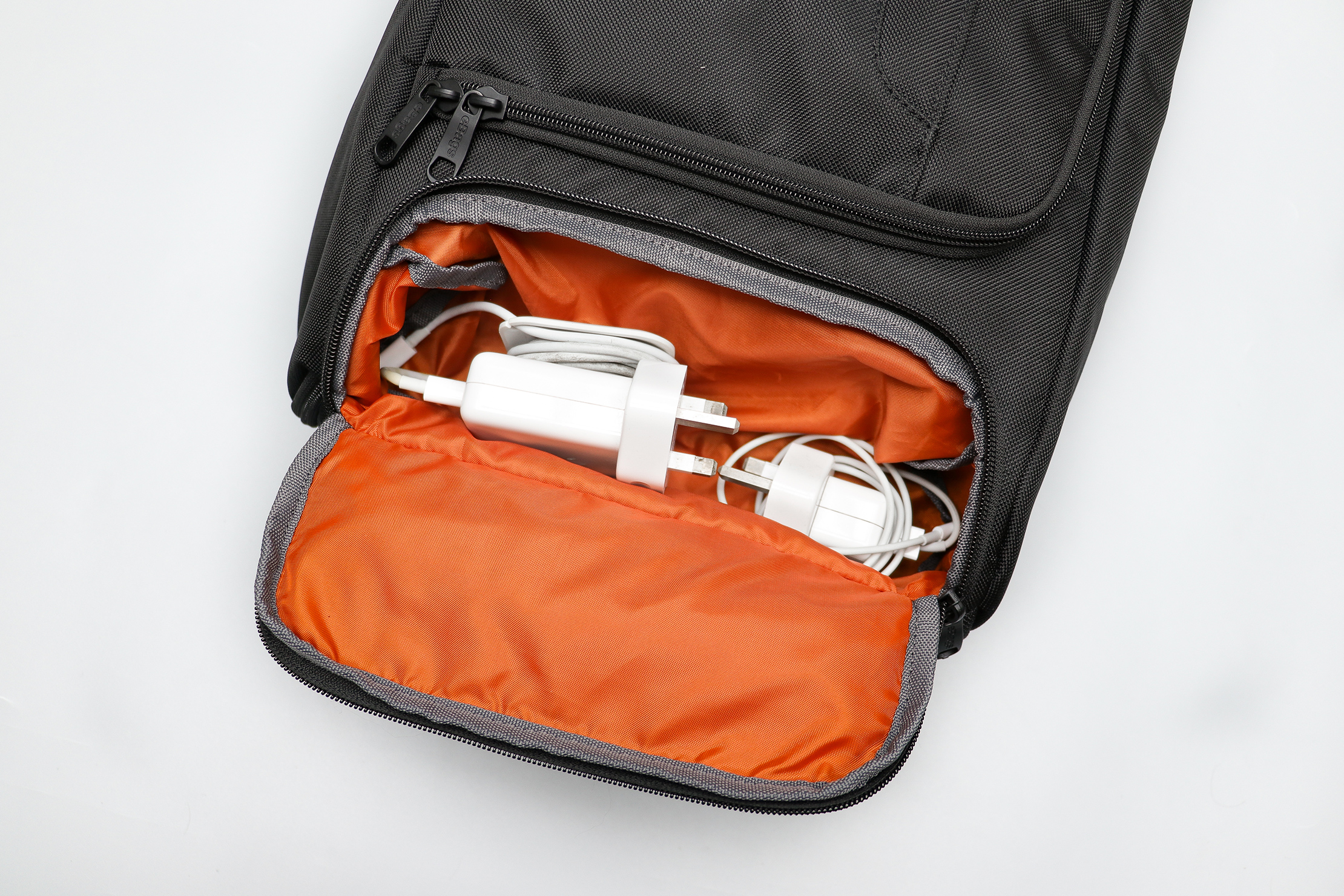 Now that we're finished with the top compartment let's visit the bottom one. This spot offers more free space than you have with the previous compartment, making it a great place for bulkier gear—cables, a pair of minimal shoes, among other things. This pocket does borrow space from the main compartment, so if you are packing this section out, it will affect what you can store in said compartment.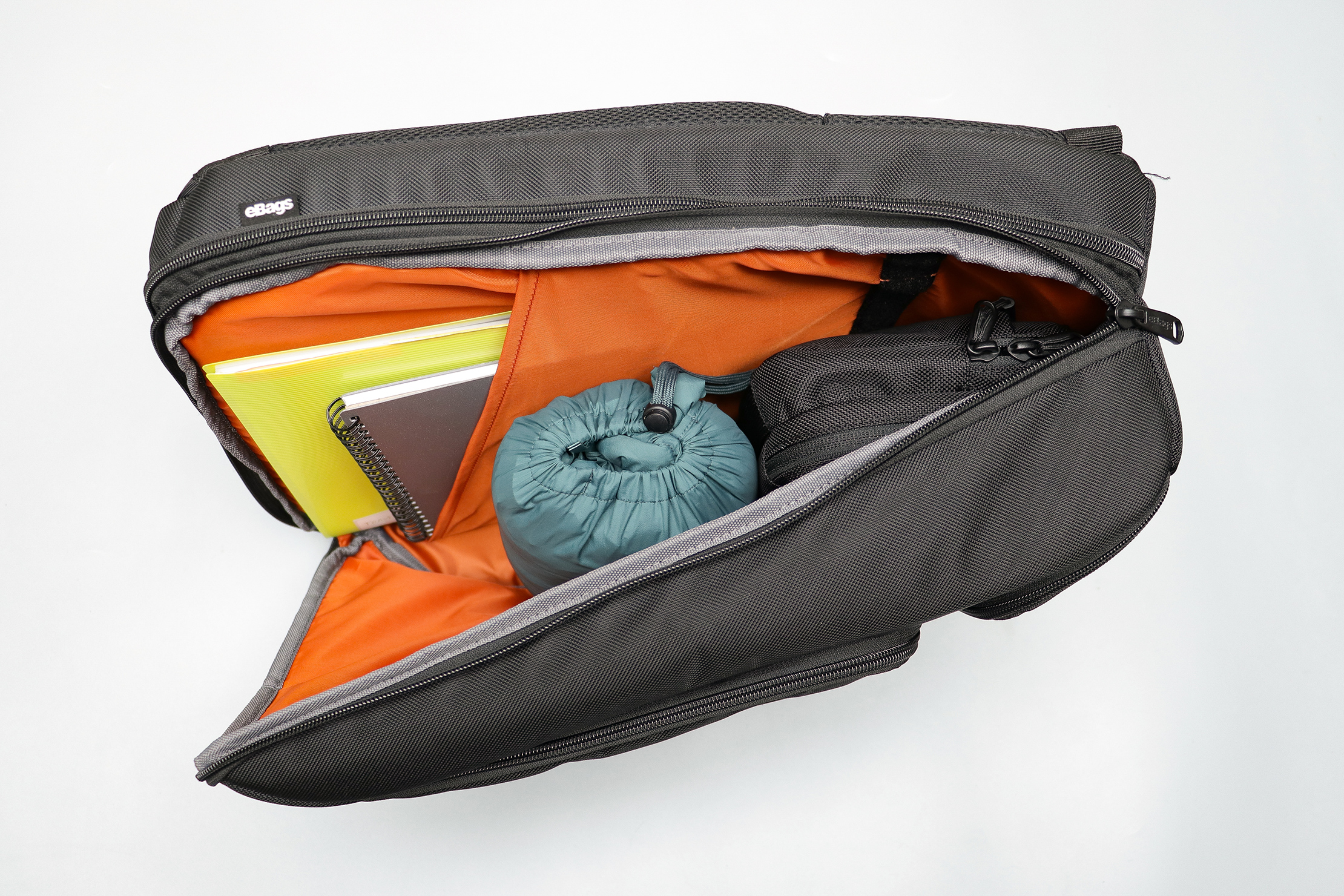 Speaking of, let's finally get into this main compartment, shall we? It has a side opening that we haven't been huge fans of during testing. We've found it can restrict our access to the items we're keeping inside—in our case, a compressible jacket and some papers—as it doesn't open up fully clamshell, or even horseshoe-style. It's more of a half-horseshoe-style, and it consequently cuts our ease of access in half.
Against the back wall is the diagonal sleeve, where we've been keeping some important documents. Of course, you can keep any flatter items you're carrying back here as well, like a passport or notebook. Below this sleeve, you'll notice some velcro, which is what the structure flap attaches to create the bottom compartment we mentioned.
When you're not using this compartment to segment your gear, you can disengage it from this velcro and re-attach it at the bottom of the bag. This opens up the main compartment for you to pack out entirely with whatever the heart desires—clothes, a lunch box, an umbrella, you name it.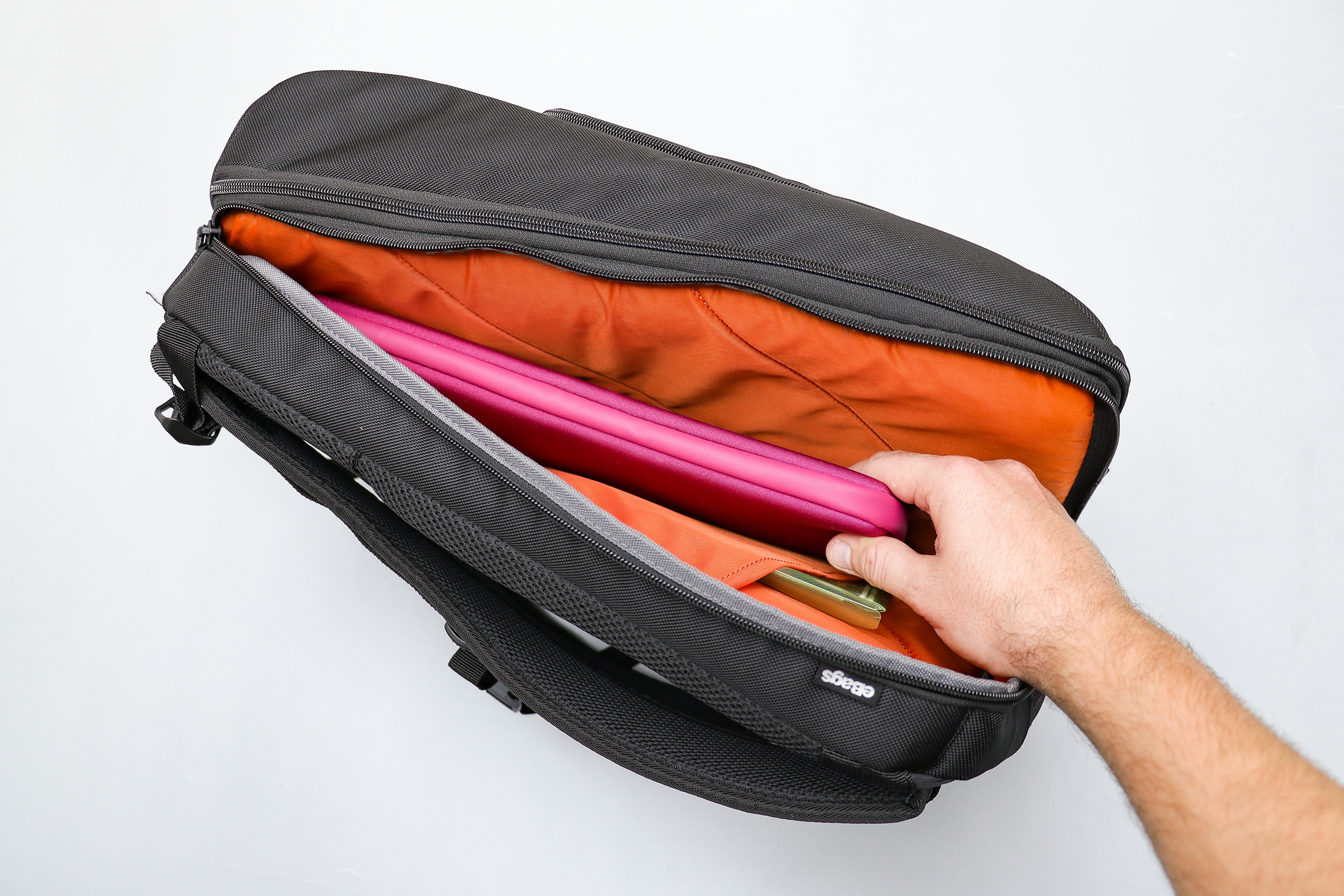 To finish up this section, we have the laptop compartment at the very back of the bag. It opens up similarly to the main compartment, but its access hasn't been as big of an issue here. We're typically just keeping a laptop inside, so we don't have any need for reaching around for other stuff in the rest of the open space.
This compartment can hold up to a 17″ laptop and has some dense padding around the sides to keep it cushioned when it gets jostled around. There's a removable foam block at the bottom as well to protect your laptop from any accidental drops or less-than-gentle set downs.
Yet another diagonal sleeve makes an appearance back here where you can opt to keep documents or even a tablet if you carry one. We've been keeping our tech in a protective case despite the cushy padding and false bottom, as the laptop essentially free-floats inside, so the case gives us some added peace of mind.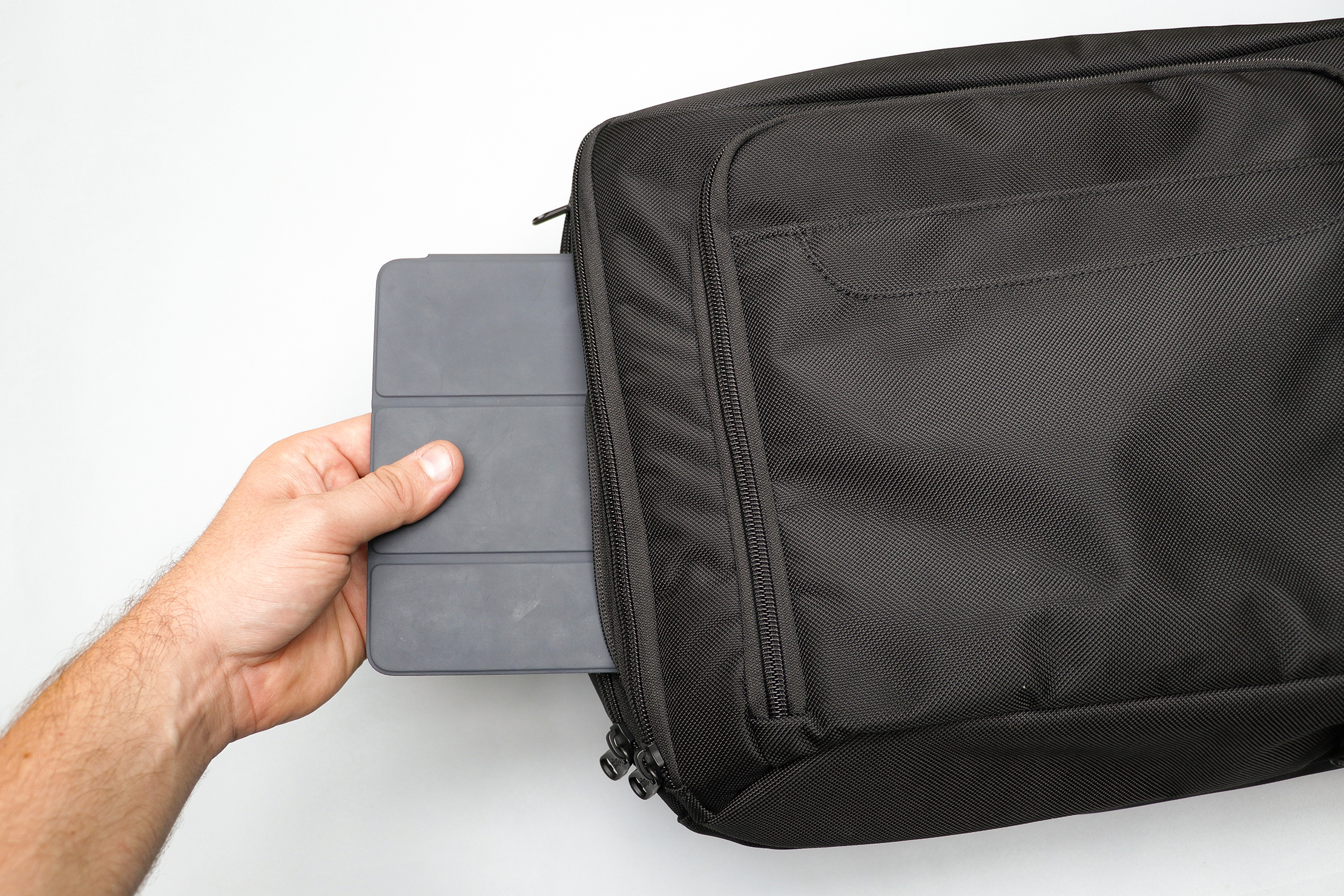 However, there is a dedicated tablet sleeve at the top of the bag with a soft liner if you're more comfortable keeping it there than in the laptop compartment. The zipper to this sleeve is in line with the zippers to the front and main compartment, making it challenging to find the correct one in a hurry.
We've also tried throwing a phone inside but found that it sinks right to the bottom. It's a pretty deep pocket, so trying to grab our phone out becomes a much lengthier process than we'd like. So, it works much better for tablets, e-readers, and the like.
Usage Timeline
Initial Usage
Condition: Excellent
Tons of tech organization in the front compartment
Bottom compartment fits a more stiff cube if you need to protect any more delicate gear
Laptop compartment is not floating but has a removable foam block that sits at the bottom so its faux-floating
2 Weeks of Use
Condition: Good
There's a lot of organization going on in this pack and we found that there was a space for everything
The quick access compartment at the bottom of the pack worked really well for larger items such as chargers and adapters
This pack is well structured, so we found that even if it wasn't fully packed, it held its shape
The zippers are quite noisy and they jingled around a lot during our testing
The bright orange interior lining improves visibility inside the pack
Due to the main compartments not having a full clamshell opening, we found it difficult to access items at the bottom of these compartments
The back panel is well padded and offers some good ventilation too
We've noticed some fraying of the material around the zippers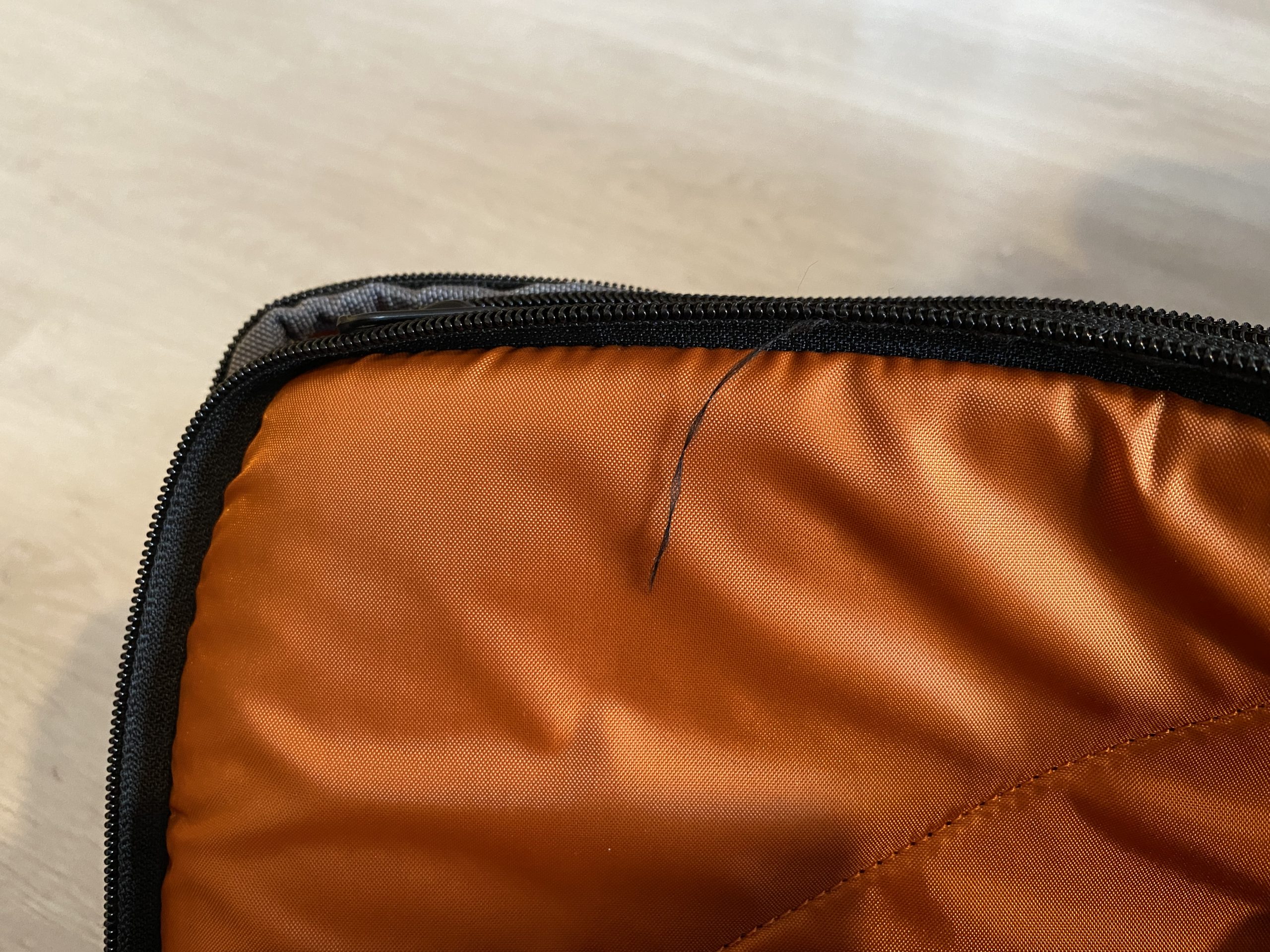 Access the Pro Community Discussion
Get your questions about the eBags Pro Slim Laptop Backpack answered from our team and the Pro Community right here on the page. Plus, join discussions with other members about gear, guides, and more.
Other Bags & Luggage Reviews