Eagle Creek Migrate Duffel 40L Review
The Eagle Creek Migrate Duffel 40L has the look and minimal organization of a duffel, and can also be worn as a backpack—though not very comfortably.
Our Verdict
Unlock the Pro Summary
Save time. Get access to brief summaries of our reviews so you can browse and make decisions more efficiently.
Pros
Great capacity for extended travel
Lots of handles to easily grab/carry the bag
Durable, weather-resistant face material
Cons
The harness system is simple for a bag of this size
Handle fabric is already starting to fray
Wary of unbranded zippers (especially main compartment zipper)
Recent Pack Hacker Video
Technical Details
Capacity

40l

Weight (lb)

2.06 lb (0.9 kg)

Denier

900D

Dimensions

10.25 in x 28.25 in x 9.5 in (26 x 71.8 x 24.1 cm)

Expanded

Notable Materials

Polyester, Ballistic Polyester, Thermoplastic Polyurethane (TPU), Duraflex Hardware

Manufacturing Country

Indonesia

Warranty Information
Buying Options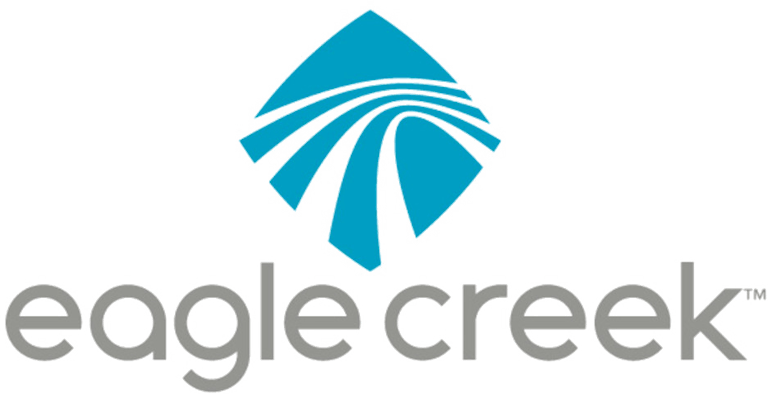 $79.00
$81.51
Full Review
Get up to 20% off Eagle Creek • Join Pack Hacker Pro
You know that they say, a duffel is a traveler's best friend. Well, that's not the actual saying—but when it comes to lengthy travel, having the right duffel at your side sure does make things easier.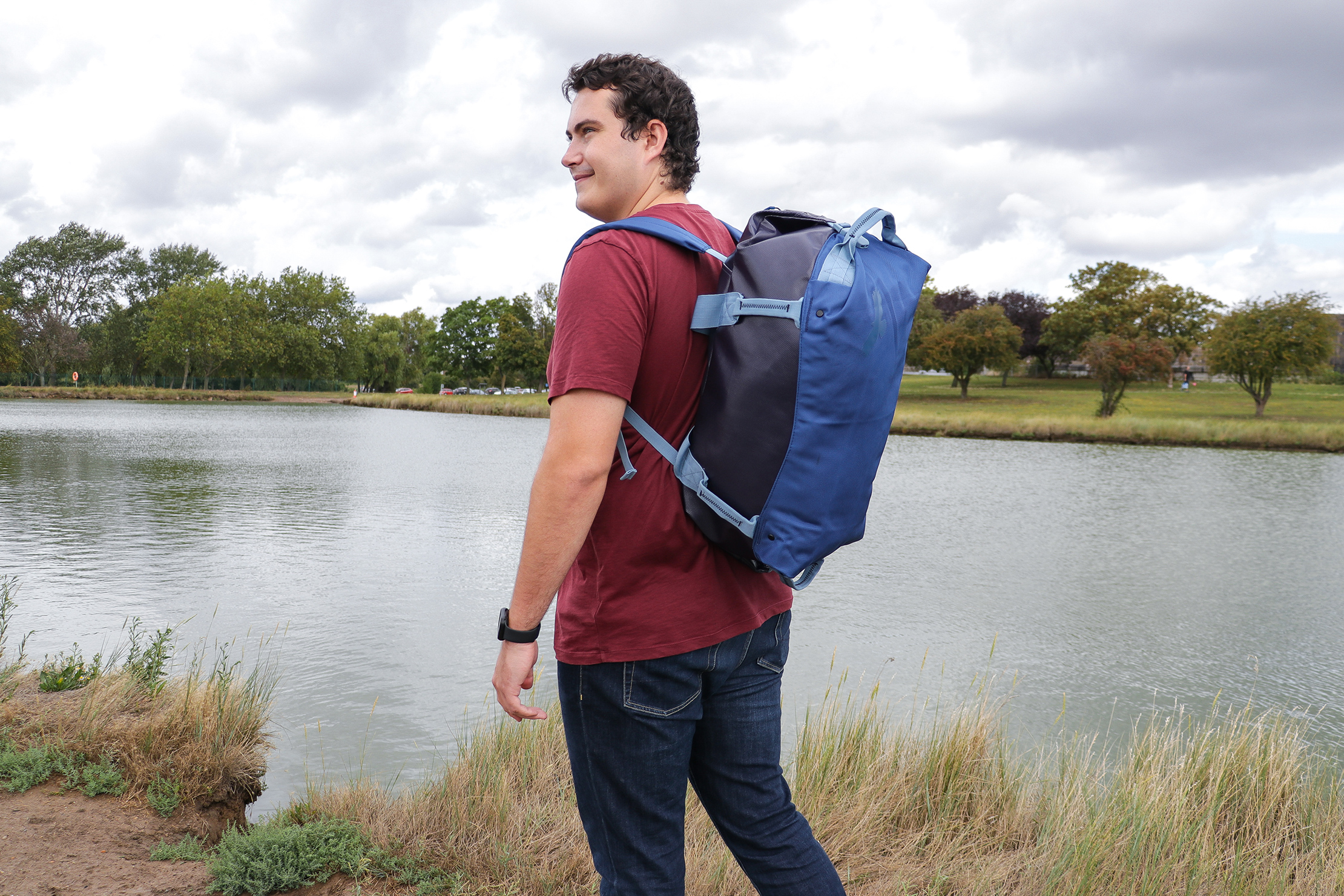 That's where the Eagle Creek Migrate Duffel 40L comes in. It has plenty of room to accommodate your gear, and a durable, weather-resistant face material to keep it all safe from harm. Plus, when your arms get tired from carrying as a duffel, you can throw this thing on your back like a pack and keep it moving.
We have two weeks of testing under our belt—so let's jump on into this review.
Materials & Aesthetic
The Migrate Duffel 40L has the look and feel of a standard duffel bag—except that it's covered almost head-to-toe in grab handles. While we've found these to be convenient for grabbing and picking the duffel up, they don't promote the clean look that we appreciate in a bag. There's also a ton of opportunity for the bag to snag if you're in transit, which is something to be wary of (safety-wise and durability-wise).
While we're big fans of the classic black here at Pack Hacker, we've switched it up a little bit this time around by testing the Arctic Blue colorway. The material is shiny, and the bright blue of the handles is a nice, colorful accent (if blue is your vibe, anyway). If you're looking for something even more vibrant (or more subdued), this duffel is available in six different colorways at the time of this review. Plus, if you need even more storage for even longer adventures, this duffel is also available in 60L and 90L to fit everything and the kitchen sink.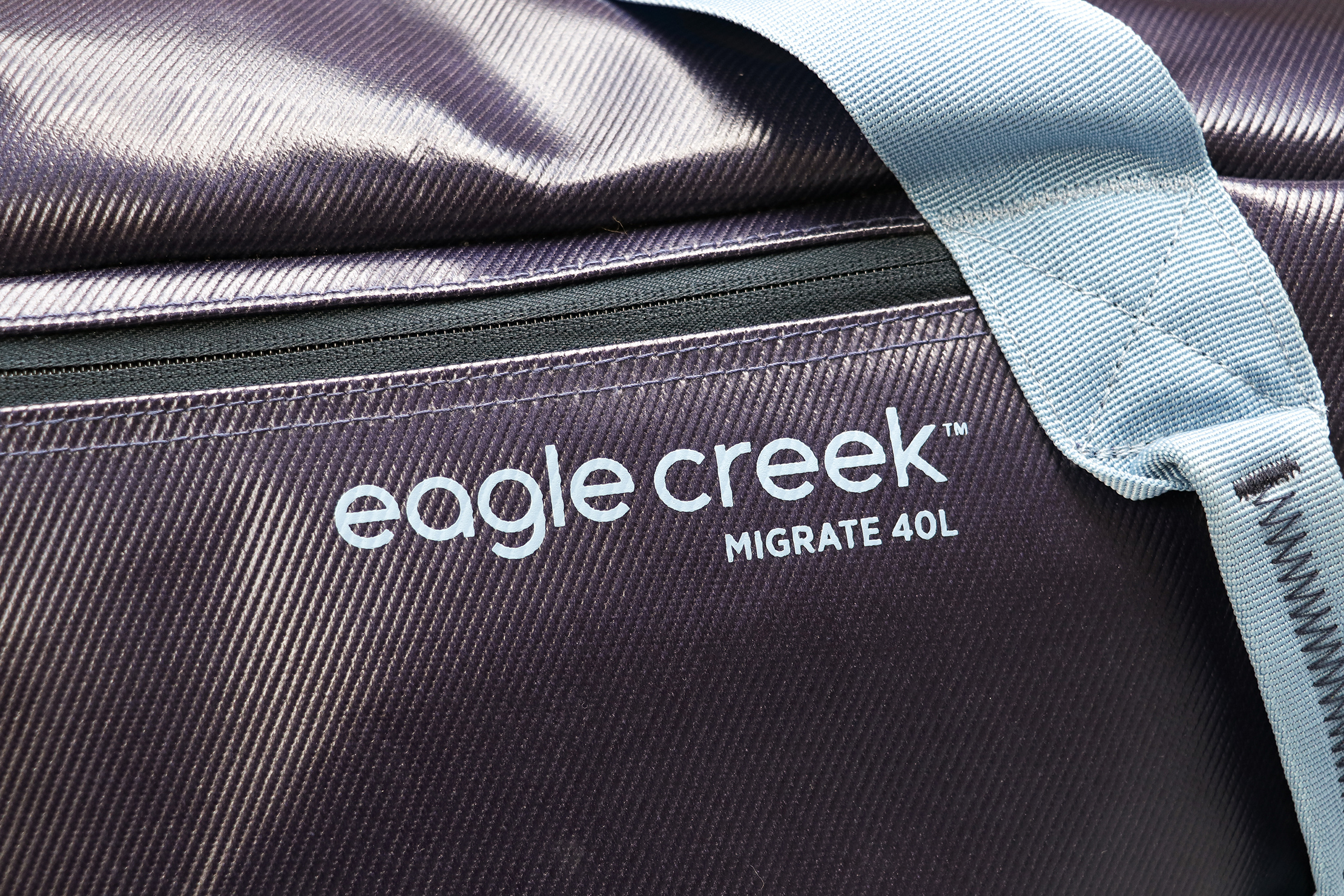 The Eagle Creek wordmark appears across the front side of this duffel in the same bright blue color you see on the handles—and underneath it is the name of the bag itself. It correlates well with the overall color scheme of the bag, but it's still not the most subtle branding we've ever seen.
That said, it's not as noticeable when you're carrying this bag as a backpack—in this case, it's visible only from the side. Rather, the signature eagle logo that's printed on the bottom material is what people will be looking at. It's shiny, and smooth to the touch.
Material-wise, this bag features 900D polyester with a TPU (thermoplastic polyurethane) coating
(which, believe it or not, is made with recycled windshield plastic)—all created under a bluesign® approved production process. What does that mean, exactly? It means you have a thick, durable face material with added water-resistance that's up to the task of protecting your gear—and, it's eco-groovy, which we can always get behind.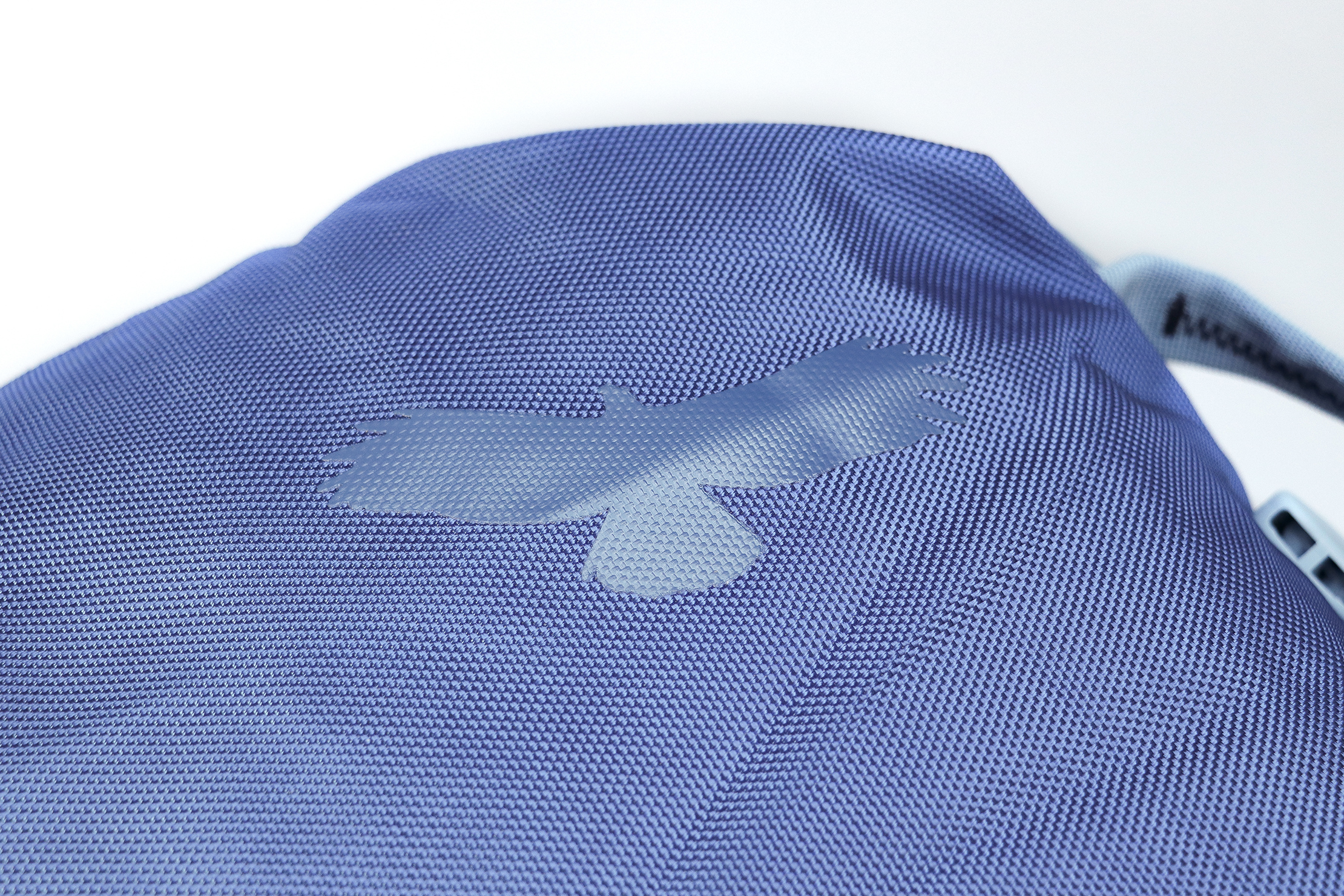 It doesn't end there. There's also some thick, 1680D ballistic polyester on the bottom, as it's a high-traffic area of the bag that's always getting set, dragged, and dropped on the ground. We're digging the added durability.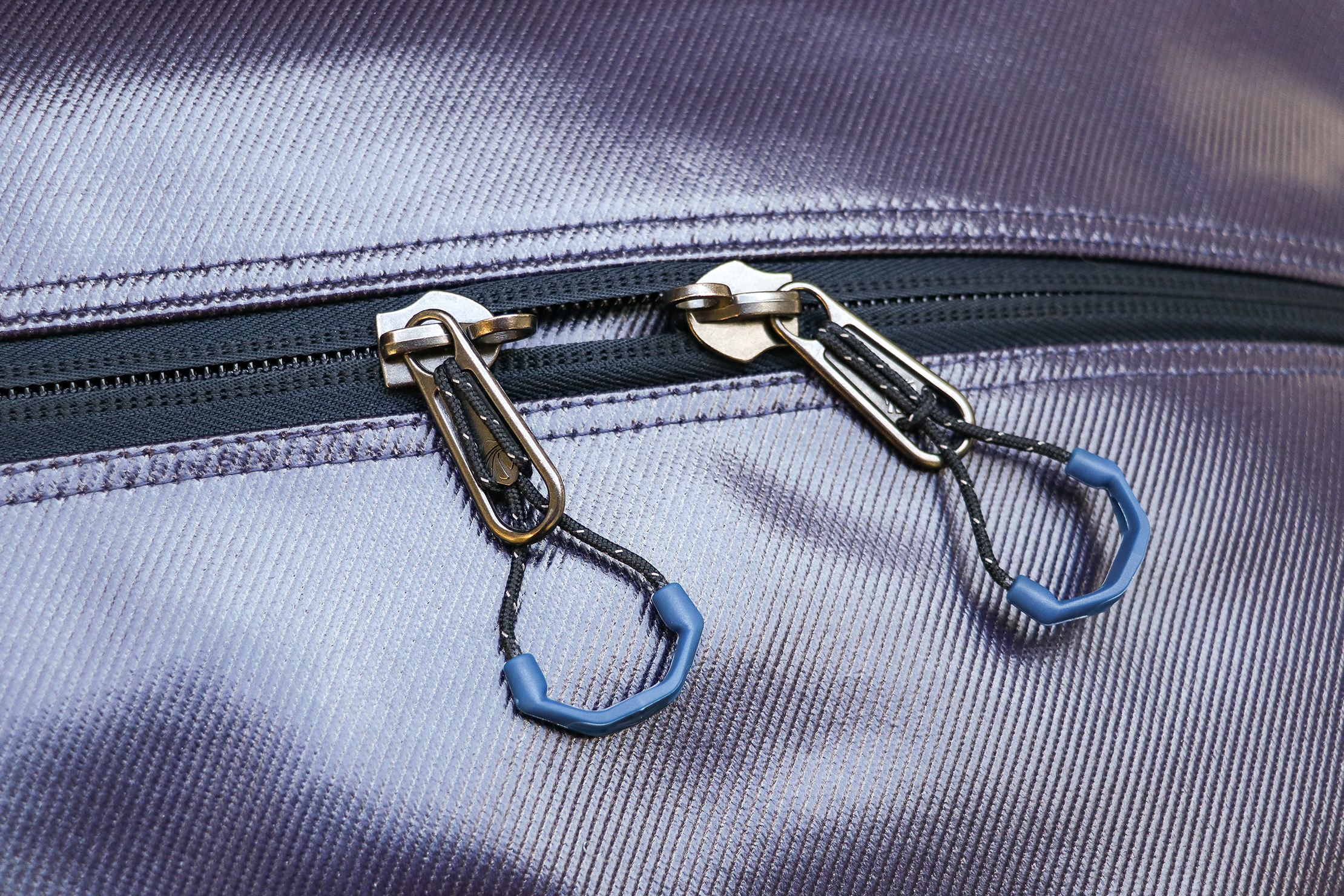 You have some chunky #10 zippers on this duffel with some corded pulls. They're unbranded, so we don't have any experience from other bags to reference for durability. We can say that during testing, the zippers that secure the main compartment have been a little sticky, which we'll go into depth about later in the review.
Also on this bag, we have some Duraflex hardware. We've had plenty of positive experiences with this brand in the past—and we can add this one to the list, as everything has been working smoothly during testing.
External Components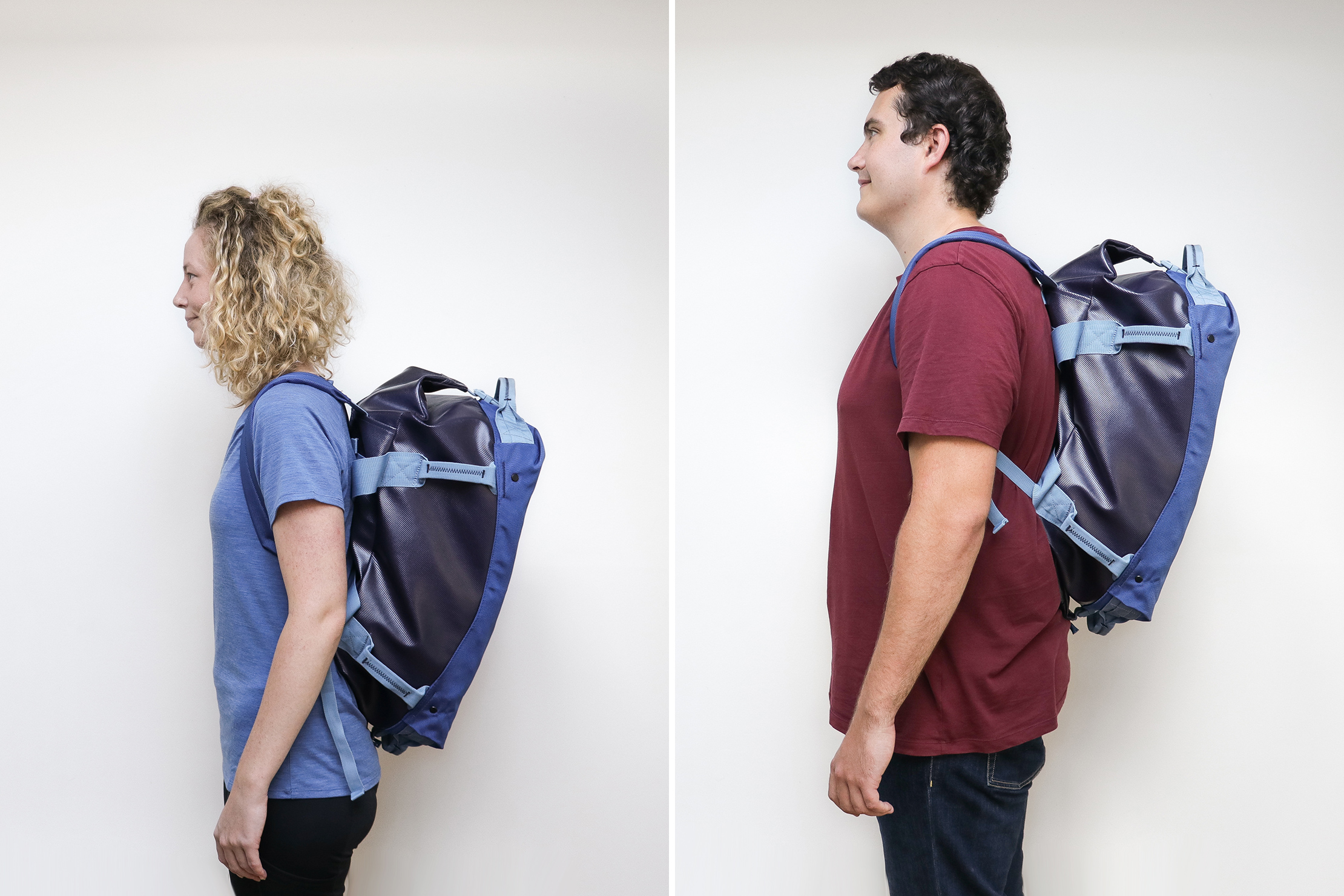 This bag is double trouble—but in a good way. You can carry this buffel/duffpack as a traditional duffel, or wear it as a backpack. We've found that a combination of both carries comes in handy on those especially long trips. You can start with it on your side, and throw it on your back when you need a break (and vice versa).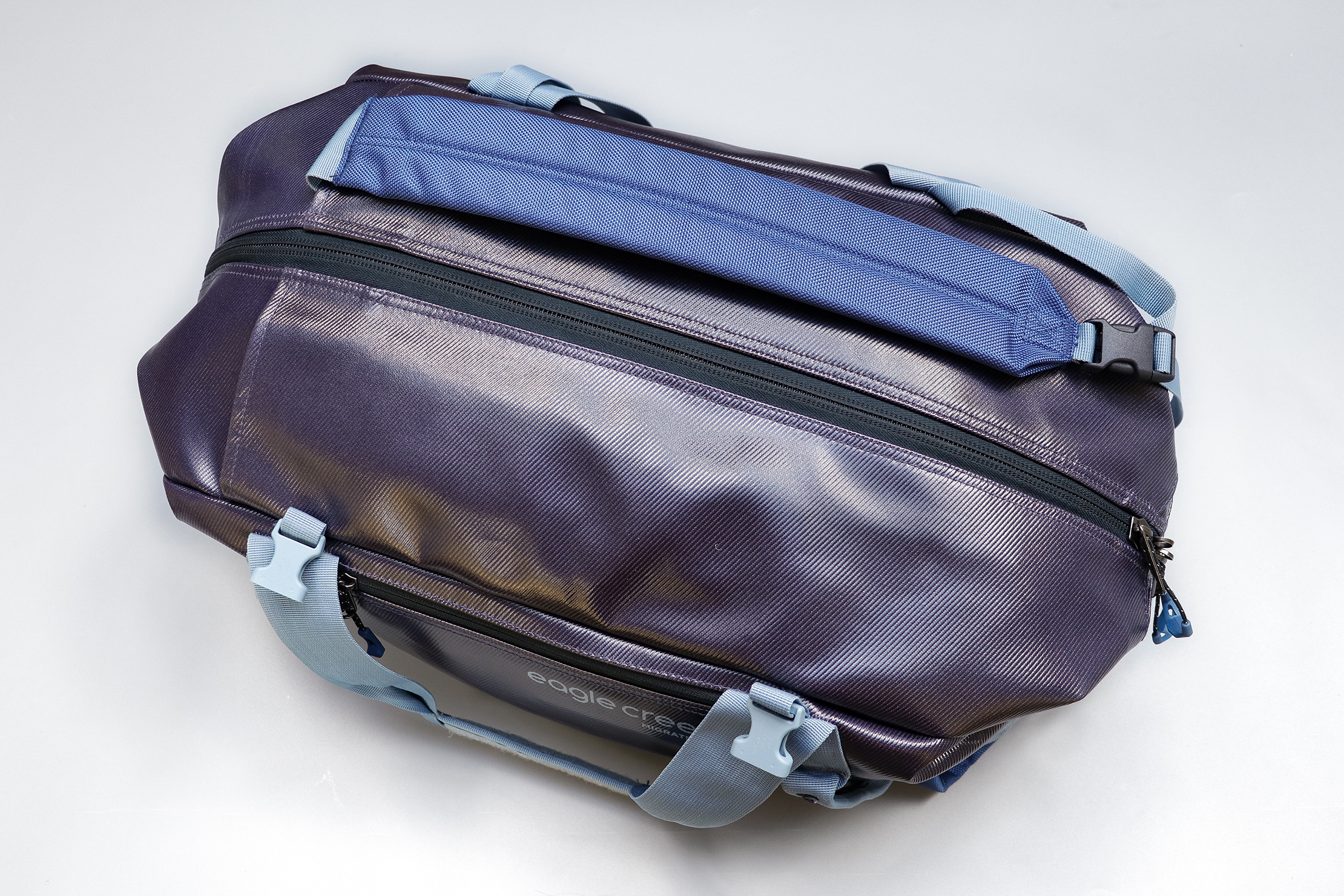 The shoulder straps attach via the buckles on the compression straps you'll see on the top of the bag. These shoulder straps do have some dense padding, but it's nothing crazy—there's also no mesh lining of any kind to add that breathability when you're out in the heat. Overall, they're pretty simple for a 40L bag like this one.
That said, we weren't expecting them to be super comfortable and overbuilt, as this is a duffel-backpack hybrid—you might be able to throw this thing on your back, but it's first and foremost a duffel bag. So, if you don't find them comfortable enough, or just for when you're carrying as a traditional duffel, these straps easily stow away in two slip pockets also on the top of the bag.
You won't find a sternum strap or hip belt anywhere on this duffel—or a place to attach either one. This bag can get heavy when fully packed, so it would be nice to have the extra stability and weight distribution that these things offer. That said, it's not a huge deal if you're mostly carrying this bag duffel-style.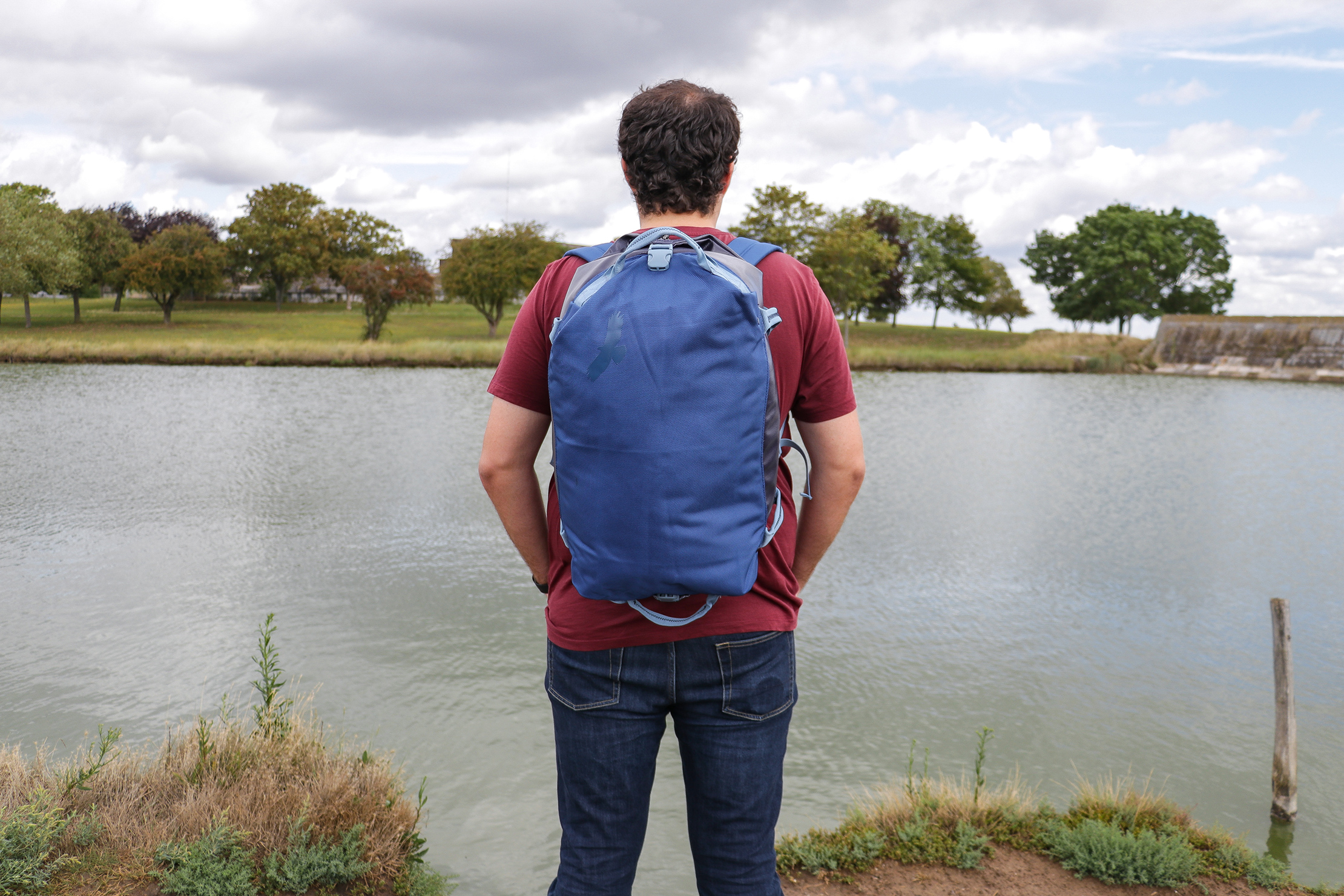 When you are carrying this thing as a backpack, the top of the bag becomes your back panel—but that's not necessarily a good thing. There's no mesh or padding on this part of the bag. Plus, unless you have both zippers to the main compartment positioned all the way to one end, they stick right into the middle of your back (and remember, these zippers are chunky).
For when you're not using the shoulder straps, the compression straps work for cinching the bag down. That said, this duffel is pretty tight as it is, so we haven't felt the need during testing to cinch it down much further—but if you like to have your bag as minimal as possible, then you might get more use out of them.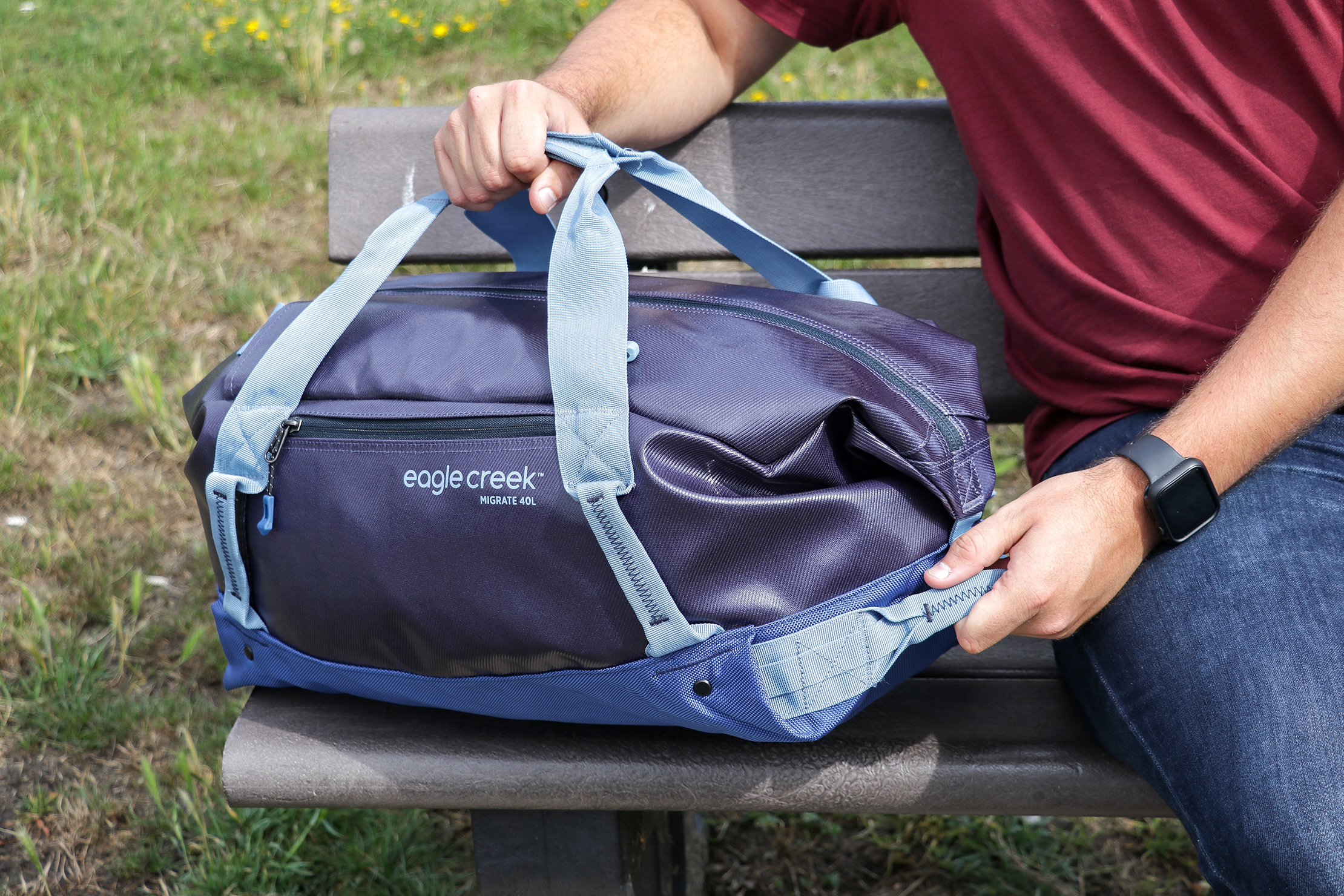 If there's one thing this duffel has a lot of, it's grab handles. On the front and back, you have two handles that are convenient for loading the bag in your car if you're heading out, as well as grabbing it out of an overhead bin while traveling. Or, if you're looking for even more versatility (and a quick work out), you can do some reps with it. (Do you even duffel, bro?) You also have a handle on each end of the bag which you can use to slide the duffel out of a tight spot, or pull it towards you when you need to get something out.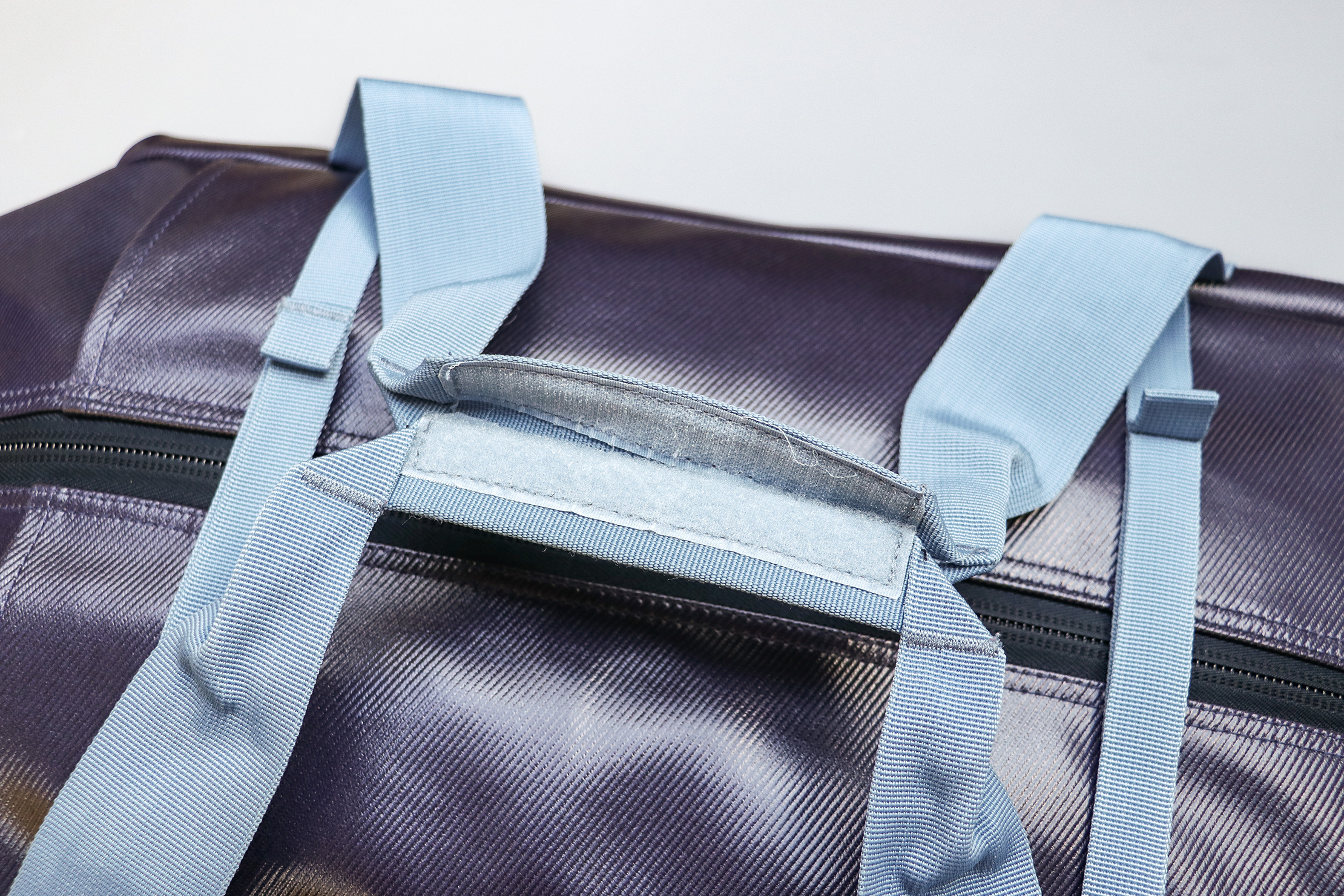 Lastly, you have the handles at the top of the bag that fasten together with velcro. This way, they're easy to grab so you can carry this thing in true duffel style—it's also quick to disconnect so you have less restricted access to the main compartment zipper.
That said, we don't always love seeing velcro on bags as it often feels cheap. When the handles aren't connected, this velcro is visible on here which we don't like the look of. Also, while it's easy to break the velcro, resecuring isn't the quickest maneuver. Plus, we've noticed some loose threads on this handle after only two weeks of testing, which is cause for concern as to their durability.
Something else you won't find here is an external water bottle pocket. It hasn't been a deal-breaker for us (especially since we rarely see them on duffel bags anyway), but if a water bottle is part of your daily routine, it might be for you. There's still plenty of room to keep one inside the main compartment, though it's not as quick to access if kept in here.
Inside The Duffel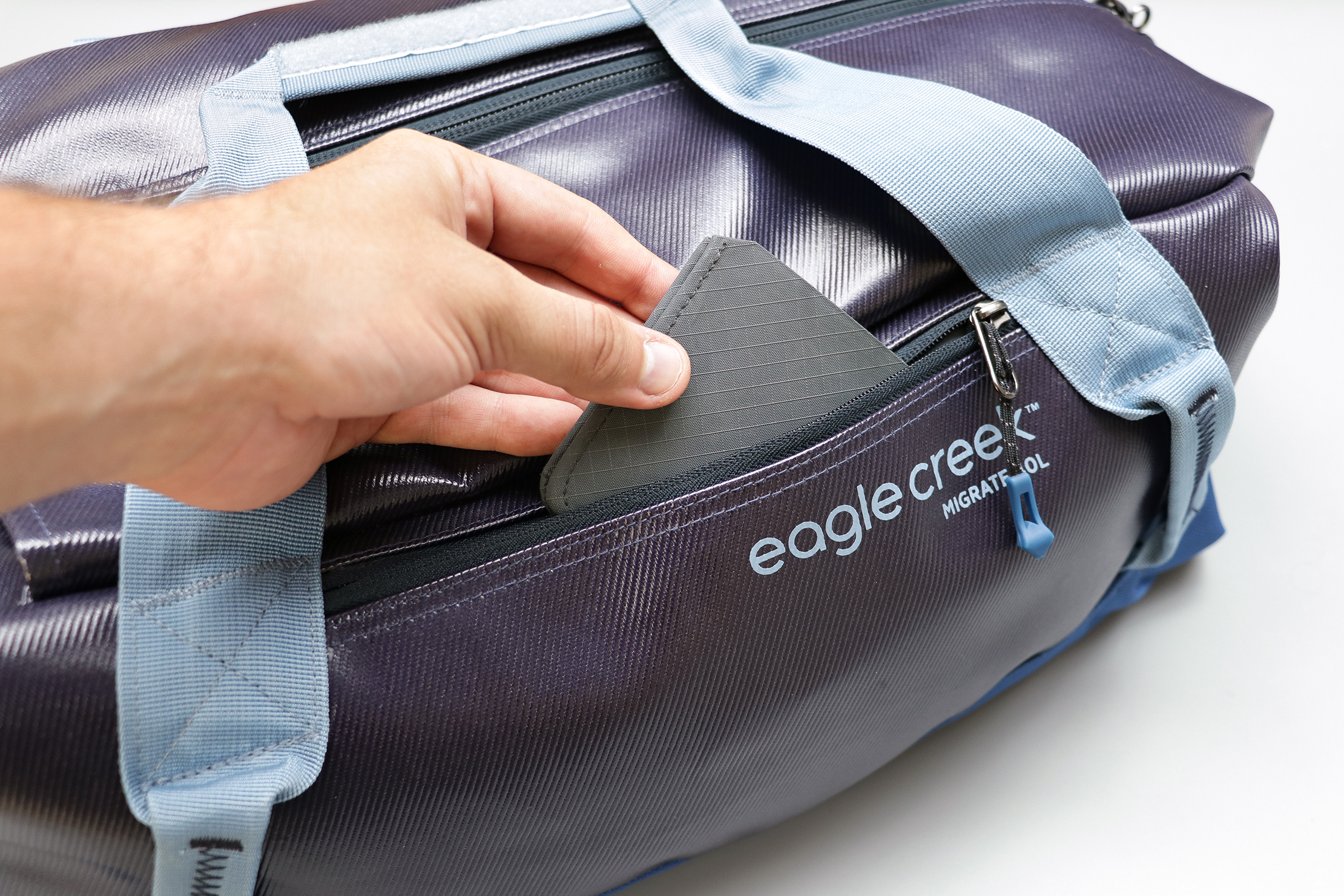 In terms of pockets, you do have one on the outside of this pack. It's not a huge pocket, but it's big enough to keep things like your phone, wallet, passport, or other flatter items inside that you want to keep handy while traveling.
Now, let's get into this main compartment. It's not super quick to access, as you have to disengage the handles and the compression straps to get to the zipper—which, frankly, has also been giving us some trouble. There's a fabric welt underneath the zippers on the inside that they get stuck on when opening the compartment—so even though these zippers feel robust in the hand, they're stiff and hard to use. When we're in a hurry, this can be a hassle.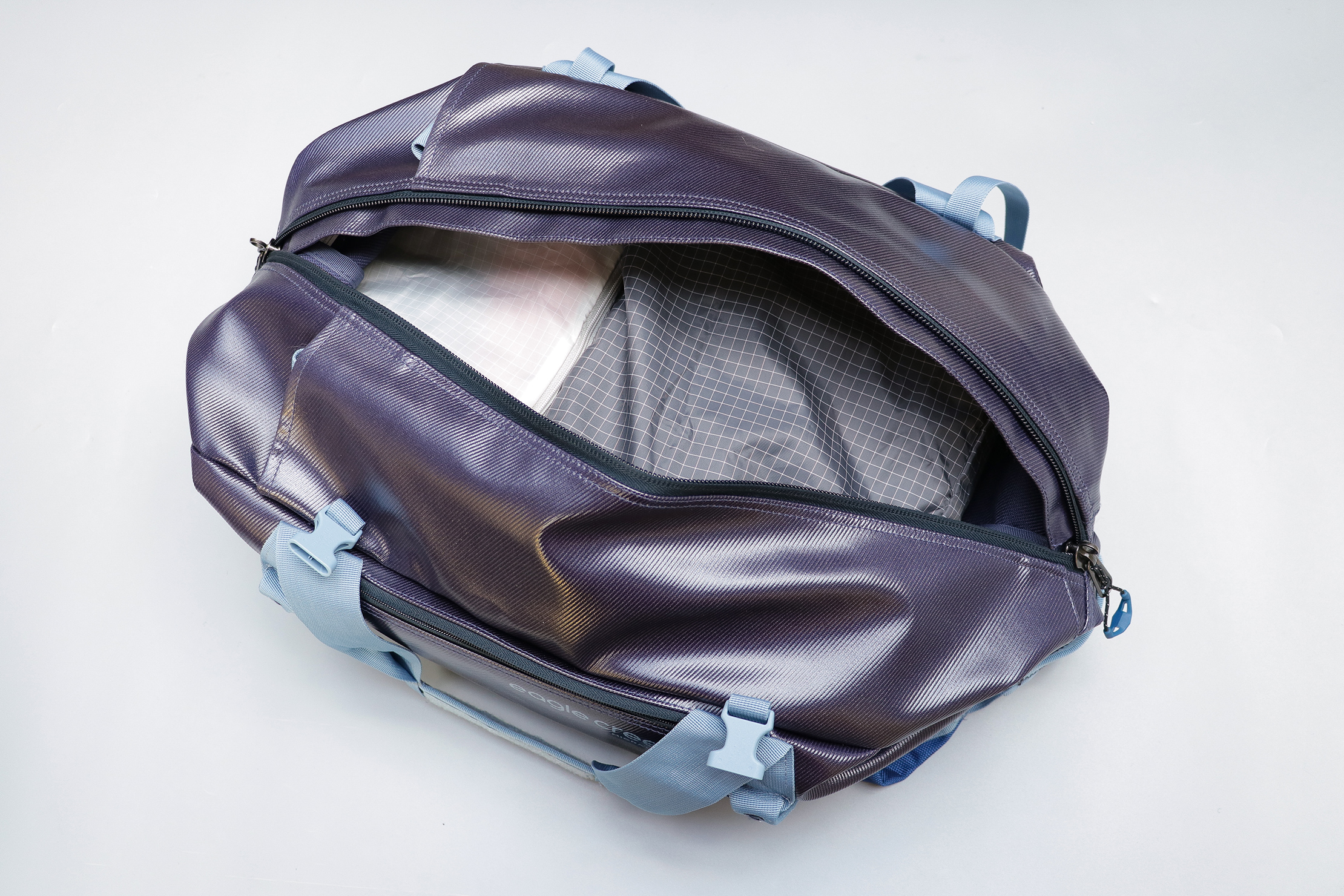 Once you do get this compartment open, you'll notice it's pretty simple—there's nothing in way of the organization, so you're free to use it as one big dump pocket if you'd like. If not, you can always supplement with pouches or packing cubes to help keep your gear segmented—we've personally been using the set of three IKEA RENSARE Clothes Bags as well as the IKEA VARLDENS Toiletry Bag to keep our clothes and toiletries inside.
Either way, you have around 40L of free space to stash all of your stuff, so it's a great size for those long trips. You'll also find a storm flap at the bottom of the compartment to protect your gear from rain, puddles and other moisture you may encounter.
There's even a buckle on each end that when disengaged, allows this duffel to expand another 5L. If you tend to pack as minimally as possible, you may not need this space—but the flexibility is there if you need it. If you're the souvenir type, you're in business—expandability is easy.
Usage Timeline
Initial Usage
Condition: Excellent
Duffel bag expands to give you an additional five liters
Can be carried as a duffel or backpack
Grab handles on every side of this duffel
2 Weeks of Use
Condition: Good
The main zipper can be a bit tricky to use at times, it often gets stuck when the bag is full and you're trying to open it quickly
We're not huge fans of the velcro attachment that holds the two duffel handles together, but it does work well in practice
The amount of grab handles around the bag come in super handy
We've noticed a few loose threads in the stitching
Access the Pro Community Discussion
Get your questions about the Eagle Creek Migrate Duffel 40L answered from our team and the Pro Community right here on the page. Plus, join discussions with other members about gear, guides, and more.
Other Bags & Luggage Reviews