Coalatree Trailhead Shorts Review
The Coalatree Trailhead Shorts act as athletic wear, casual shorts, and even swim trunks—plus they're packable—though we wish the pockets were less slippery.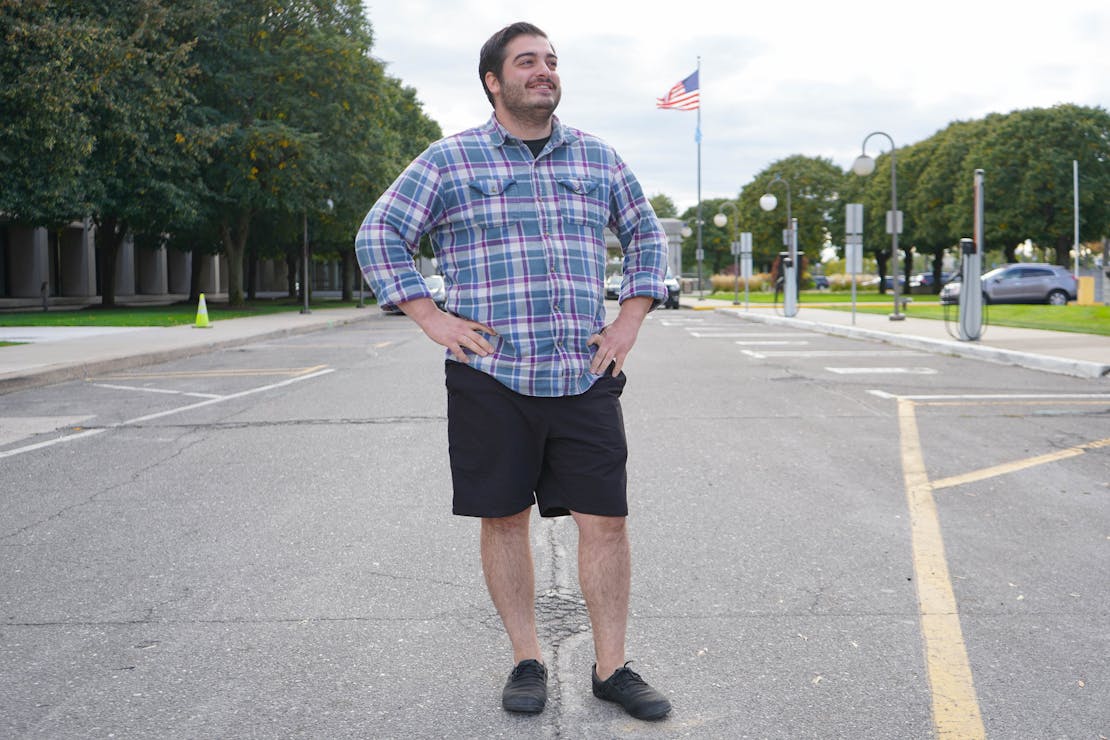 Our Verdict
Unlock the Pro Summary
Save time. Get access to brief summaries of our reviews so you can browse and make decisions more efficiently.
Pros
Work well for most casual situations, from swimming to city-strolling
Lightweight and packable
Stain and water-resistant, antimicrobial, and stretchy
Cons
The pockets are shallow and slippery
The waistband has coarse fabric, which doesn't feel good against your hips
Can't be dressed up
Recent Pack Hacker Video
Technical Details
Weight (oz)

7.8 oz (221.1 g)

Notable Materials

Nylon, Spandex, DWR Coating

Manufacturing Country

China
Full Review
Picture this: the alarm blares at 6 a.m. You gleefully jump out of bed without hitting snooze even once because you're excited for the adventurous day ahead of you (and let's be real, you're probably a morning person). You take off for a casual 15-mile run to the beach, where you'll fit in a quick swim and kayaking session. You decide to bike home—the beach offers bike rentals—where you rest up before the epic hike you've planned. A few hours later, you've bagged the peak, and celebrate with beer and barbecue downtown.
And that entire time—you're wearing the same pair of shorts you woke up in.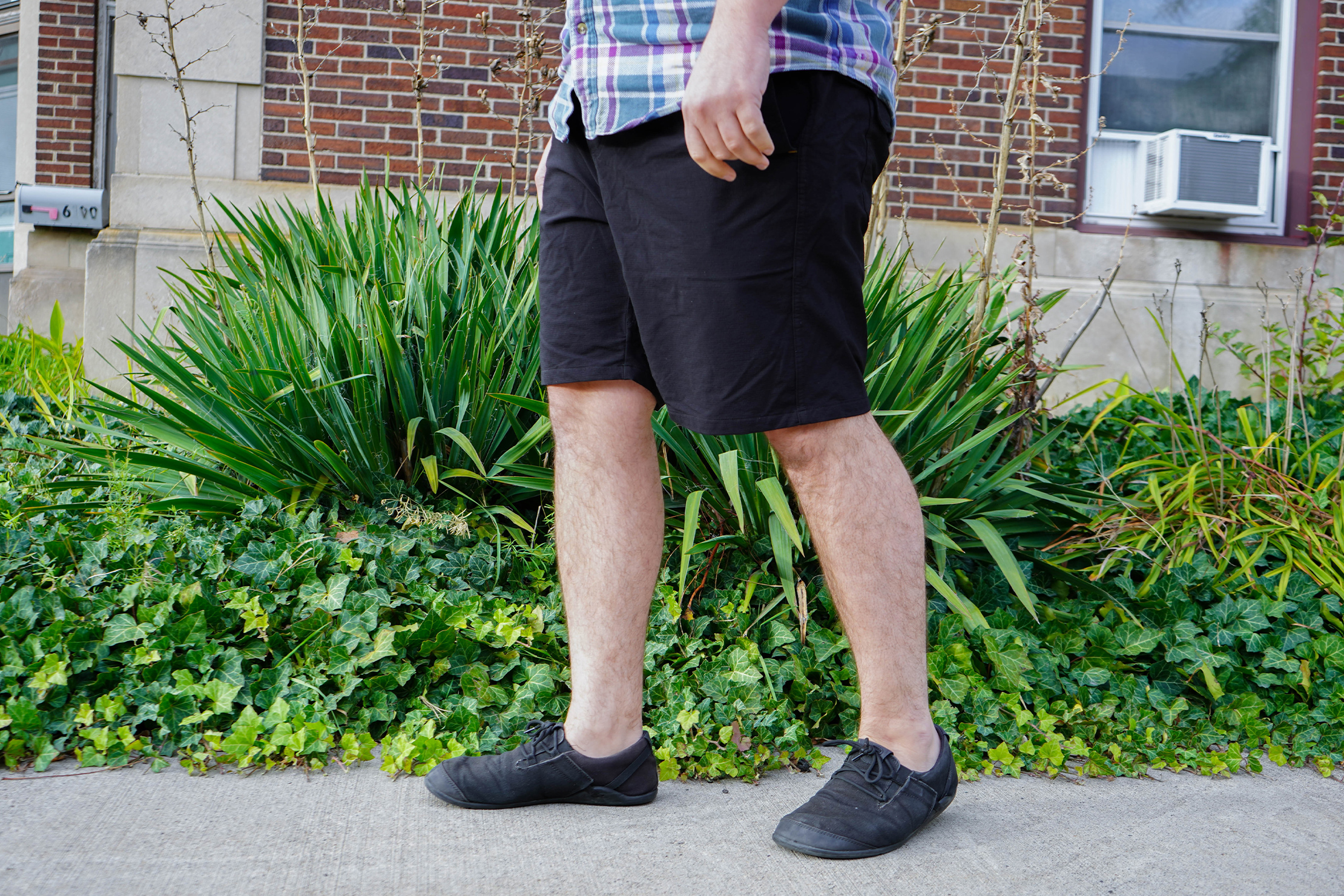 Alright, while that routine is probably a little unrealistic for most of us humans, the shorts-thing is a real possibility. Meet the Coalatree Men's Trailhead Shorts.
Coalatree, a company that sells "eco-minded gear and apparel for the adventurer in everyone" advertises the Trailhead shorts as the only pair of shorts you need. That's a bold claim. So do they stack up? Read on to find out.
A quick aside: we've been testing the Men's Trailhead shorts, but Coalatree offers a women's fit as well. We'll be focused on the men's in this review, but they're practically the same.
Fit & Fabric
The Trailhead shorts look like a slightly sophisticated pair of athletic shorts. You'll fit in at the beach, on the trail, or in an office that doesn't call for business-casual attire. (If you're a banker, please do not wear these shorts to work.)
They're available in five muted colorways at the time of this review—no fire engine red or floral prints here—which we like. It helps minimize the bathing suit vibes.

That said, the mega-drawstring has the exact opposite effect. It screams "swim trunks" and detracts from the overall look. We're not sure why the drawstring is so massive, and we would love to see it minimized on the next iteration, but hey, we don't design do-everything shorts. We just review 'em.
Of course, this isn't a big deal if you're planning to use these shorts as mainly athletic-wear, but if you're trying to replace all the shorts in your wardrobe with this pair (as Coalatree says is possible), it's a bit of a problem.

They also wear baggy. Again, this bagginess isn't ideal when it comes to dressing up these shorts. Could you get away with wearing them to the bars? Sure. Could you wear them to a nice restaurant? Probably not (unless you live in a beach town or other casual community).

Speaking of subjectivity—let's talk about the length of these shorts. They hit about mid-knee, which we've found to be a touch too long. But we've read reviews where people lament the opposite—that these shorts are too short. Obviously, a few factors are at play here. First of all, your height. And second of all, your taste. So keep that in mind.
Moving on to something a little more objective: the materials. These shorts are made from 88% nylon and 12% spandex and are finished with a DWR-coating, which makes them water-resistant (we'll discuss this and more features below). There are a couple of awesome things going on here.

The nylon isn't your regular ole nylon. No, it's ripstop nylon, which as the name suggests, is known for its ability to prevent small tears from spreading into gigantic tears. We're definitely digging this feature—and it's especially useful for outdoorsy pursuits like climbing—but the fabric is slightly coarser and thicker than on a traditional pair of shorts. Especially on the waistband. Out of the box, the abrasive fabric doesn't feel so nice against the hips, but it has started to soften as we've worn and washed them. Hopefully that trend continues.
The nylon is also bluesign® certified, meaning it follows a certain set of environmental protocols during its production, which we can certainly get behind. And the shorts are made from recycled materials, although Coalatree doesn't specify any percentages.
Features & Usage
Before we jump into the features—of which there are many—let's discuss something you'll find on basically every single pair of shorts out there. Pockets.

These shorts have five pockets. Two on the front, two on the back, and one secret pocket on the inside of the waistband. We're digging the secret pocket—it's a great place to throw a key during a run or stash some extra cash—but we have issues with the other four. The two on the front and left one on the back are your normal, run-of-the-mill pockets, while the fourth right back pocket closes with velcro.

They're a little too shallow and slippery—which is not a good combination for keeping your stuff safe. We've had an incident in the car when a phone slipped out of one of the front pockets and tumbled into the crack between the seat and console, which lead to that horrible, awkward moment where you have to attempt to save it, but your hand doesn't fit, and your fingers touch something gross (an old french fry?) and…you get the picture.
Of course, the velcro pocket will keep things a little more secure. Still, we wish all of the pockets were a little roomier and way less slippery. Not a deal-breaker, but something to keep in mind.
Now it's time to talk features.

As we've alluded to already, these shorts are water and stain resistant. It's very pleasing to simply wash away a smudge of salsa or ketchup. And it's especially great for traveling when you don't always have the option to do in-depth stain treatments. The folks over at Coalatree don't advertise these shorts as swim trunks, but the great water-resistance means you can definitely use them as such (and they dry pretty quick too). So they make a perfect pair of shorts if you'll be hiking to some hot springs or glacial lakes.
This stain and water resistance can be attributed to the DWR coating, which will eventually wear off. You can protect these shorts' lifespan by washing them with only other technical clothing and laying them out to dry. You may also need to reapply the coating with a spray or wash. But so far, so good.

These shorts have four-way stretch meaning they're ridiculously stretchy. Even the waistband. Which is great for downward dogging and eating massive meals.
They're also antimicrobial, so you can spend less time washing your shorts and more time wearing them. We've lived in these shorts for days on end (for testing purposes, of course) and haven't been told we've needed to change or invest in cologne, so that's a win.

Finally, these shorts are lightweight. Their low weight makes them comfortable and breathable. Plus, they won't weigh down your pack (especially since they can replace multiple pairs of shorts). And they pack into their own pocket! This is a huge plus for travel when space is a limiting factor. Even better? The folks at Coalatree say the packed-up shorts make for a great pillow. Whether or not you'll agree with them depends on how much of a pillow-snob you are.
Durability & Testing
We've been testing the Coalatree Men's Trailhead Shorts for a month around Detroit, Michigan, and Chicago, Illinois including a stretch where we didn't take them off for days…we're kidding. (But are we?).

We love the versatility. You can wear them hiking, climbing, kayaking, swimming, boating, and running. And if you're more a person of leisure, you can also wear them sleeping and lounging. While some offices—like Pack Hacker HQ—accept these shorts as office-wear, most probably won't. These shorts are not quite polished enough to be dressy.
This is a huge plus for travel as your pajamas, swim trunks, running gear, and kick-around shorts are all the same pair.
As far as durability is concerned, we have nothing to report. Everything looks as good as new.
Usage Timeline
Initial Usage
Condition: Excellent
Really digging the four-way stretch
Packs into the right front pocket, which is nice
Waistband is a little scratchy
2 Weeks of Use
Condition: Excellent
Digging the comfort and versatility of these shorts.
1 Month of Use
Condition: Excellent
Have had a few issues with the slippery pockets, but other than that everything is still looking great.
Access the Pro Community Discussion
Get your questions about the Coalatree Trailhead Shorts answered from our team and the Pro Community right here on the page. Plus, join discussions with other members about gear, guides, and more.
Other Clothing & Accessories Reviews