Chrome Industries Hondo Backpack Review
The Chrome Industries Hondo Backpack's material features a clean look and prominent protection for your gear, however, it detracts from the bag's functionality.
Our Verdict
Unlock the Pro Summary
Save time. Get access to brief summaries of our reviews so you can browse and make decisions more efficiently.
Pros
Highly weather-resistant material
Shoulder straps' attachment is flexible for fit & ease of taking on and off
Great size for an everyday pack
Cons
Material is stiff and makes the bag difficult to pack
Nylon strap on the front pocket's zipper slows down access
Water bottle pockets can't accommodate larger, wider bottles
Recent Pack Hacker Video
Technical Details
Capacity

21l

Weight (lb)

1.92 lb (0.9 kg)

Denier

1050D

Dimensions

17.5 in x 11 in x 5.5 in (44.5 x 27.9 x 14 cm)

Notable Materials

Nylon, Tarpaulin, YKK Zippers, Duraflex Hardware

Manufacturing Country

Vietnam

Laptop Compartment Size

15"

Warranty Information
Full Review
Get up to 10% off Chrome Industries • Join Pack Hacker Pro
Chrome Industries is continuing to do what they do best, and that's making urban packs and products that help you get around the city in style.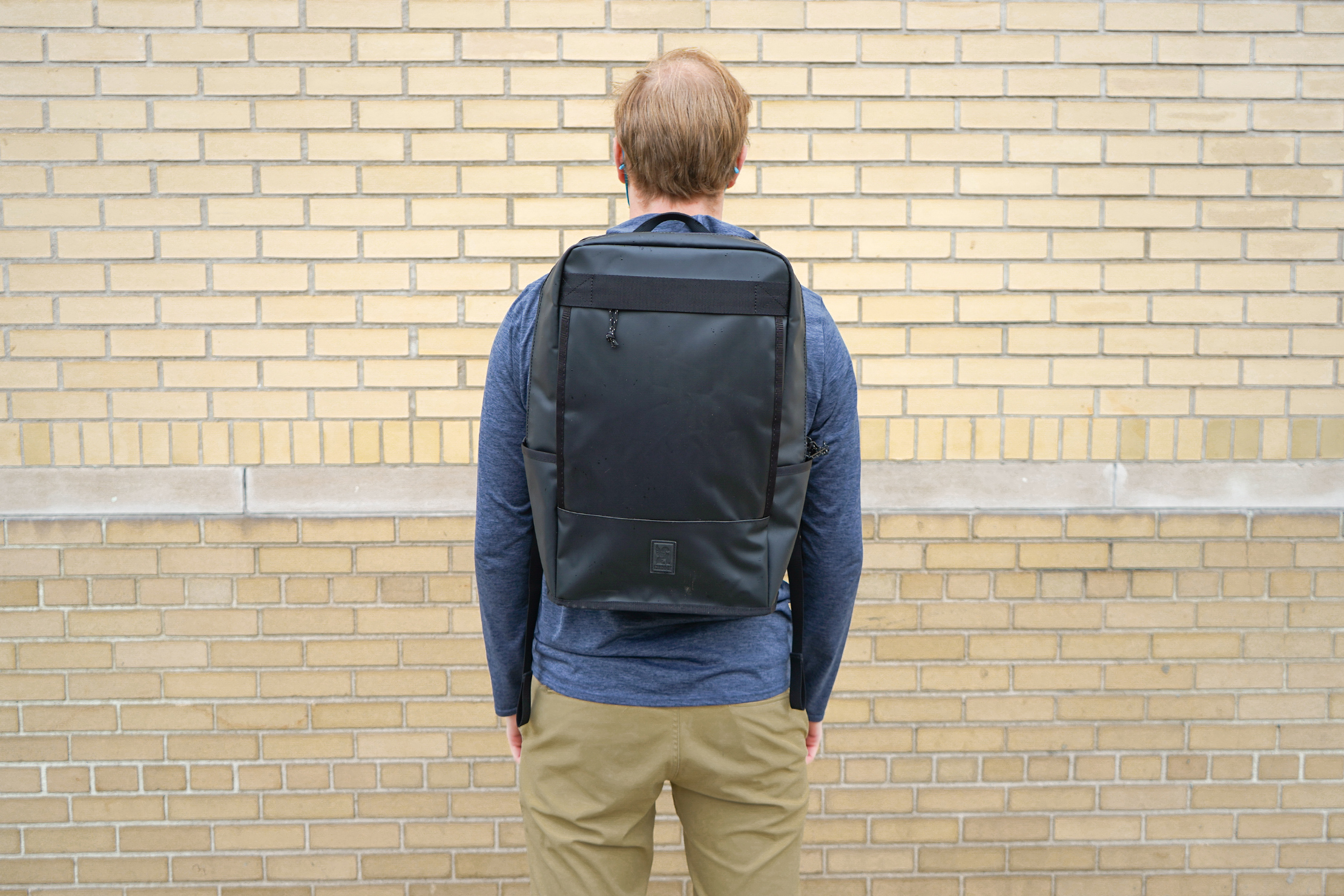 Say hello to the Chrome Industries Hondo Backpack—a hyper-sleek daypack that not only caters to your everyday essentials but keeps them protected rain or shine. It totes a clean look that's almost too clean, and we'll explain why later on.
Check out our thoughts after two weeks of testing below!
Materials & Aesthetic
We're fans of the bag's sleek, clean look that—like many of the brand's packs—looks natural in urban environments. You could even get away with taking this thing to work, as its serious, muted aesthetic wouldn't raise any eyebrows in an office setting. Only about 48% of you are fans of its look yourselves, as indicated by our Instagram poll. It's a longer, narrower, and boxier pack, which you might not usually opt for, so we weren't expecting anything crazy high.
Its shape and internal material remind us of another Chrome Industries pack, the Niko F-Stop Camera Backpack. They're both more medium-sized bags with a distinctly slim profile that can still fit quite a bit of gear. This makes them great for your every day, but a little restrictive if used as a travel pack.
You can pick up the Hondo in four different colorways at the time of this review, including Ranger/Black, Navy Blue, and All Black. These three colorways feature a 1050D nylon body fabric, while the Black Tarp colorway we've been testing is made with tarpaulin. It's a deep black shade that keeps it low-profile if you're looking to blend in with the crowd.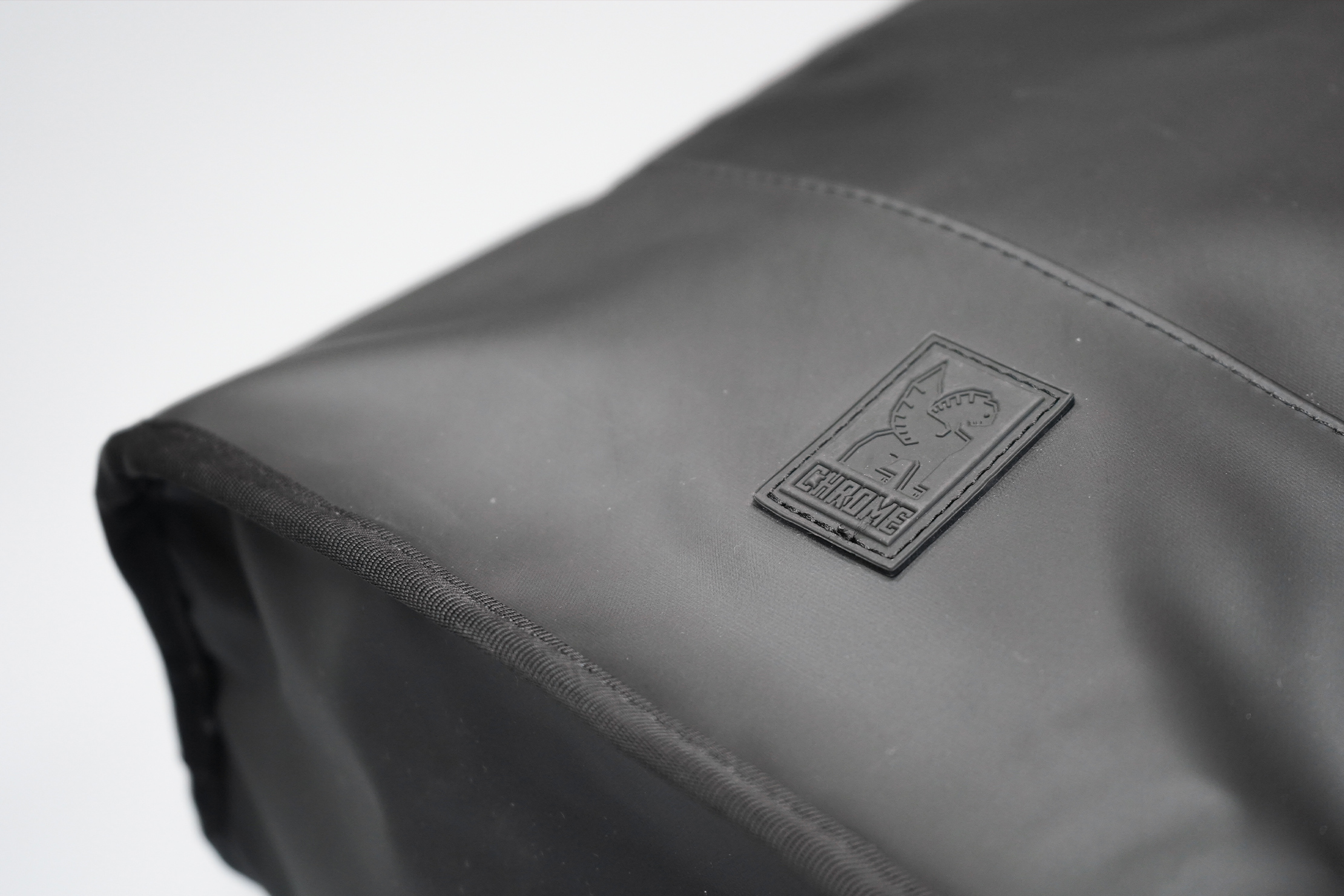 We weren't surprised to see Chrome Industries' classic griffin-like creature stamped onto the front of the bag. It's black-on-black and blends in well with the bag's exterior while still embodying a high-class vibe—we dig it.
Going back to the material, Chrome Industries opted for a 1000D tarpaulin shell for the outside of this pack and a tarpaulin liner for the inside. It's nice and smooth in hand, but it's also quite stiff. This is great in the sense that it gives the bag some structure, even when empty. However, this stiffness can also make it difficult to pack out, as you have to fight against the material when you're slipping larger items inside. On the bright side, this material also makes this pack highly water-resistant. If you get caught in some rain on your commute, water will bead right off of this bag.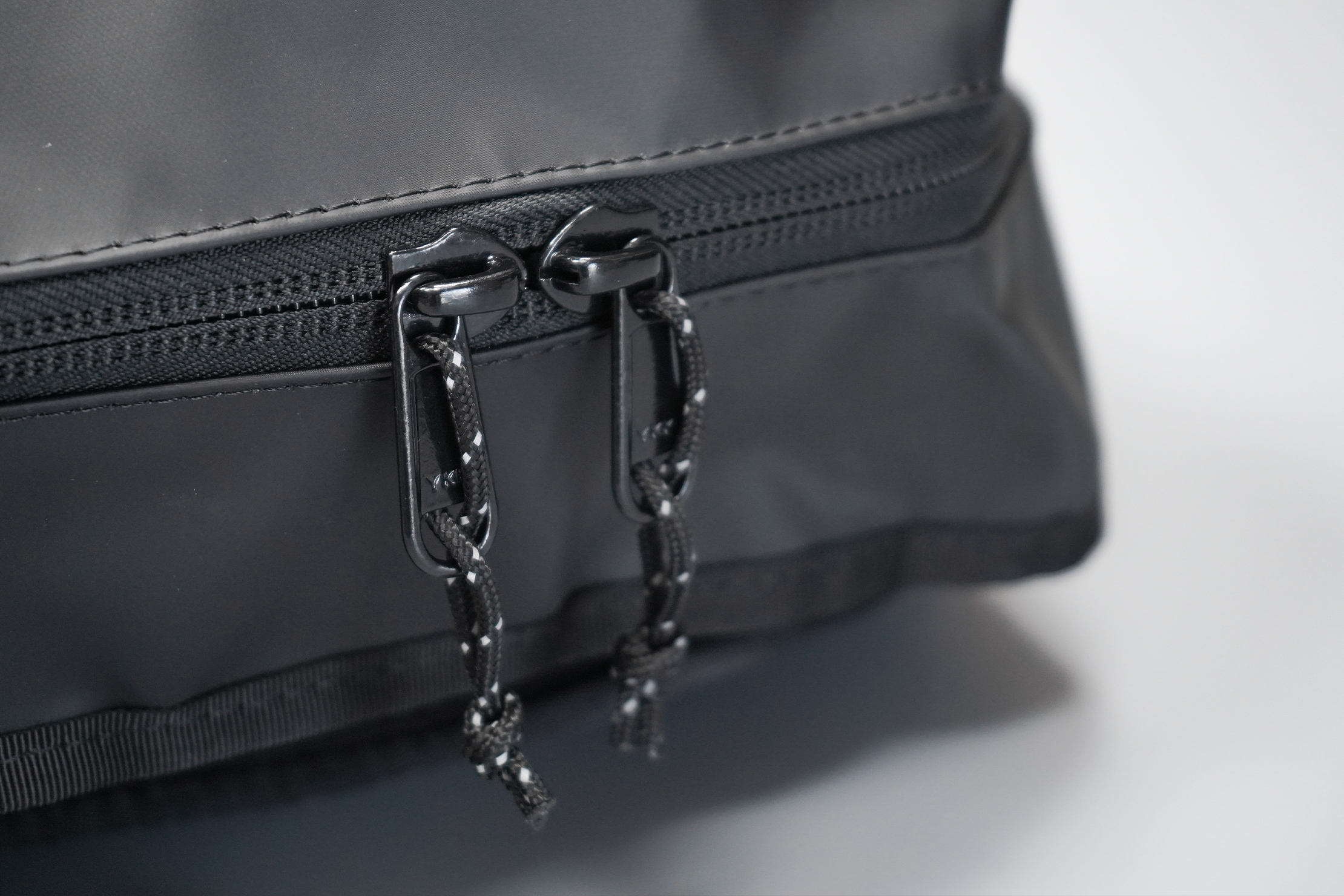 You'll find some robust YKK zippers on the Hondo that have been working well so far during testing. We would've liked to see an AquaGuard zipper or two to echo the water-resistant properties of the material, especially because of the restriction that the Tarpaulin causes with packing out the bag. If Chrome Industries is going to incorporate a protective-but-inconvenient material, we'd prefer to not also have to worry about water getting in through the zipper.
That said, they've still been performing nicely and haven't let any moisture inside near our gear so far. We've also run into instances of water-resistant zippers getting stuck, especially around corners. On the contrary, while these zippers aren't offering the same level of protection, they've been smoothly gliding open and closed since we started testing.
Last on the list for materials is the bag's Duraflex hardware. You have a standard plastic buckle to secure the sternum strap, which hasn't given us any trouble, in addition to some metal strap adjusters that add a more premium look and feel. Everything has been working just fine for us, which is just what we expect from this brand.
External Components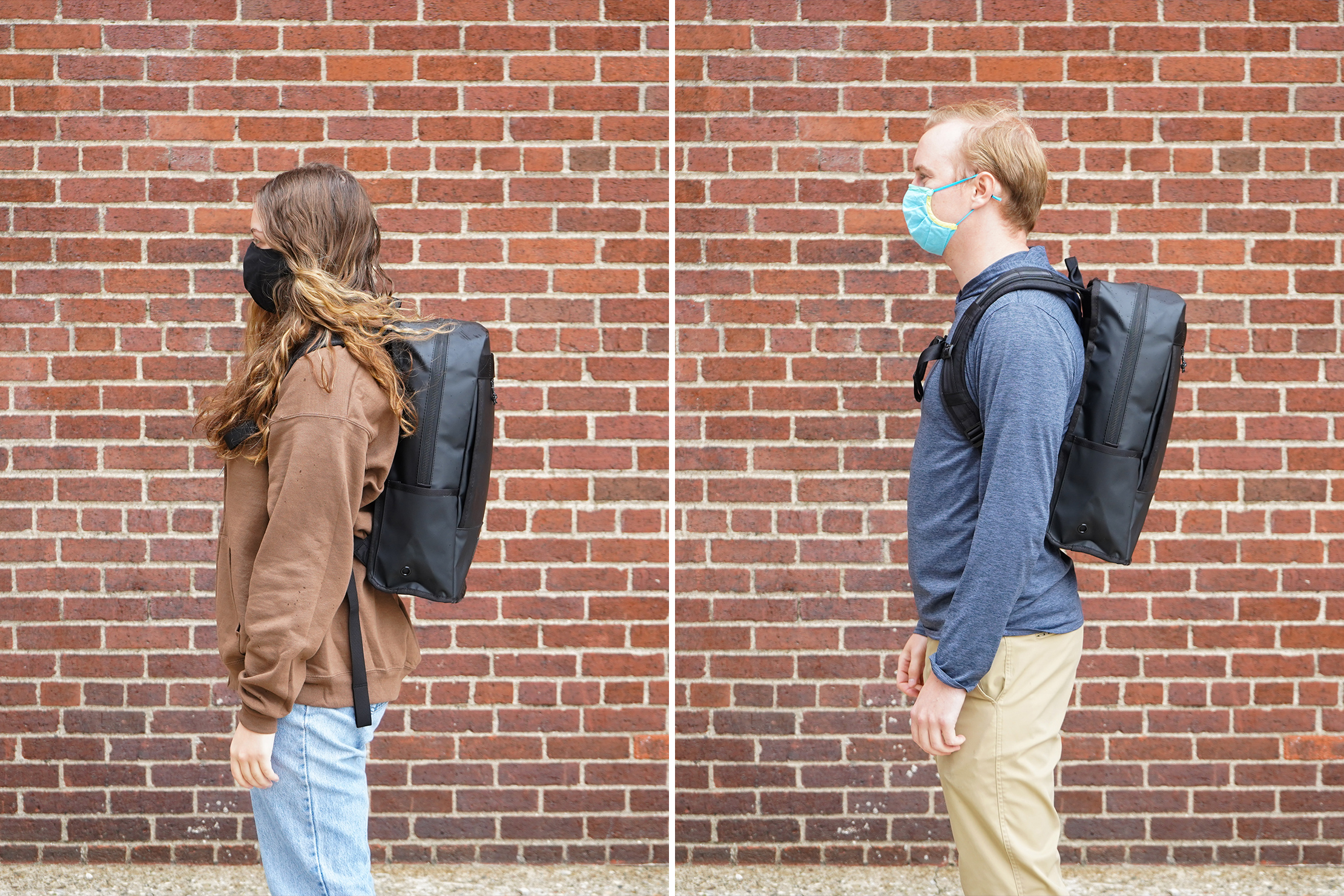 Looking at the shoulder straps, you have some dense padding that allows them to sit comfortably against the body, also with a mesh lining to keep you well-ventilated. They're attached to the bag via some nylon material that not only helps them flex to the shoulder but makes for easy slipping on and off. The only thing missing is some elastic keepers to keep the straps better managed, so they're not dangling at our sides wherever we go.
The Hondo's sternum strap is pretty standard. It's securely fastened to the shoulder straps and easily glides up and down the nylon attachment points when you need to adjust its position. The buckle is pretty big, but it hasn't felt uncomfortable against the chest, and has stayed secure throughout testing. Thankfully, we're also not experiencing a bunch of dangling from the excess strap—no complaints here.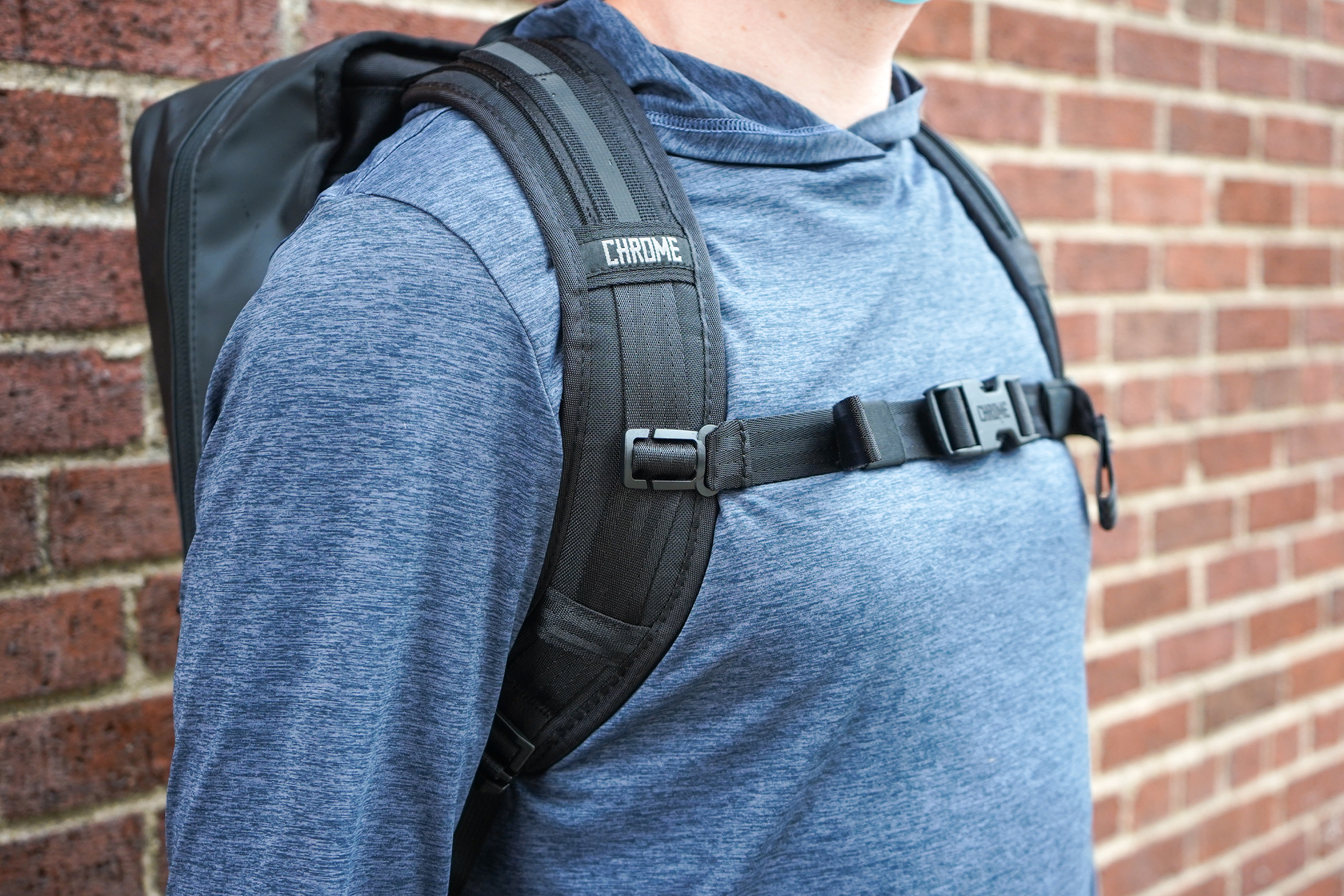 The bag's back panel has some even denser padding in a honeycomb-like design that keeps you comfortable while also allowing air to circulate, so you're not getting too sweaty. As we noted above, the bag's material keeps it well-structured, which has helped make for a comfortable, supported carry.
You also have a classic backpack handle at the top you can use to pick up, grab, or hang the bag when necessary. It's nothing special—just some folded nylon material—but we've found it to be convenient and comfortable enough for moving the bag around.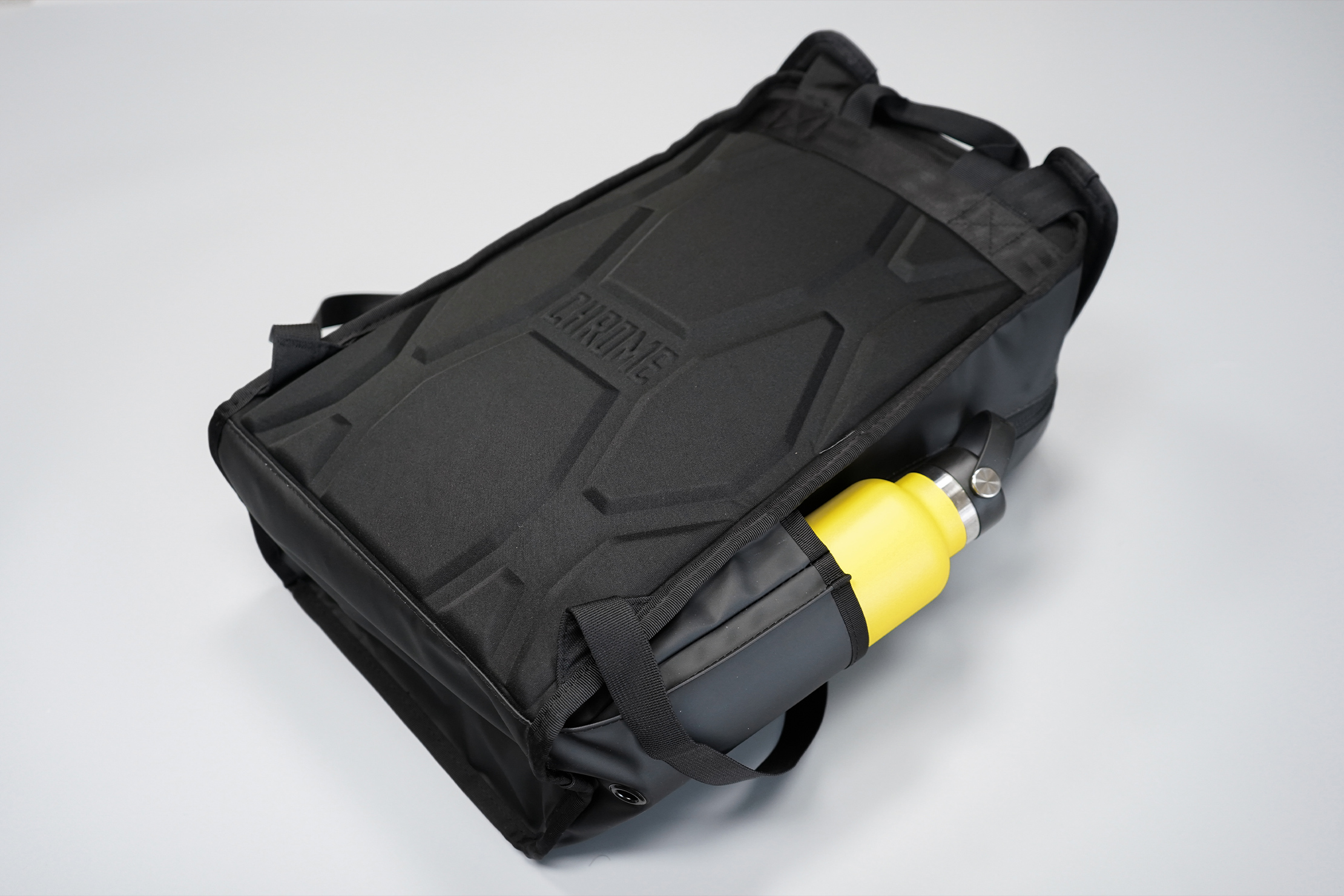 To finish up this section, we also want to point out the water bottle pockets you'll find on both sides of the bag. We've been able to fit a Hydro Flask Standard-Mouth Water Bottle with Flex Cap 21 oz inside, but it's a tight fit. Like we touched on earlier, we have to fight against this fabric to get anything larger inside, as it's not elasticated or very flexible.
Inside The Pack
Before we get into the main compartment, we want to talk about this hidden pocket on the bag's front. The zipper sits underneath a wide nylon strap that offers a nice clean look but impedes our access at the same time. We have to slip our hands in above or below the strap to get to the zipper, which can be a nuisance, especially when you're in a rush and need to grab something out quickly.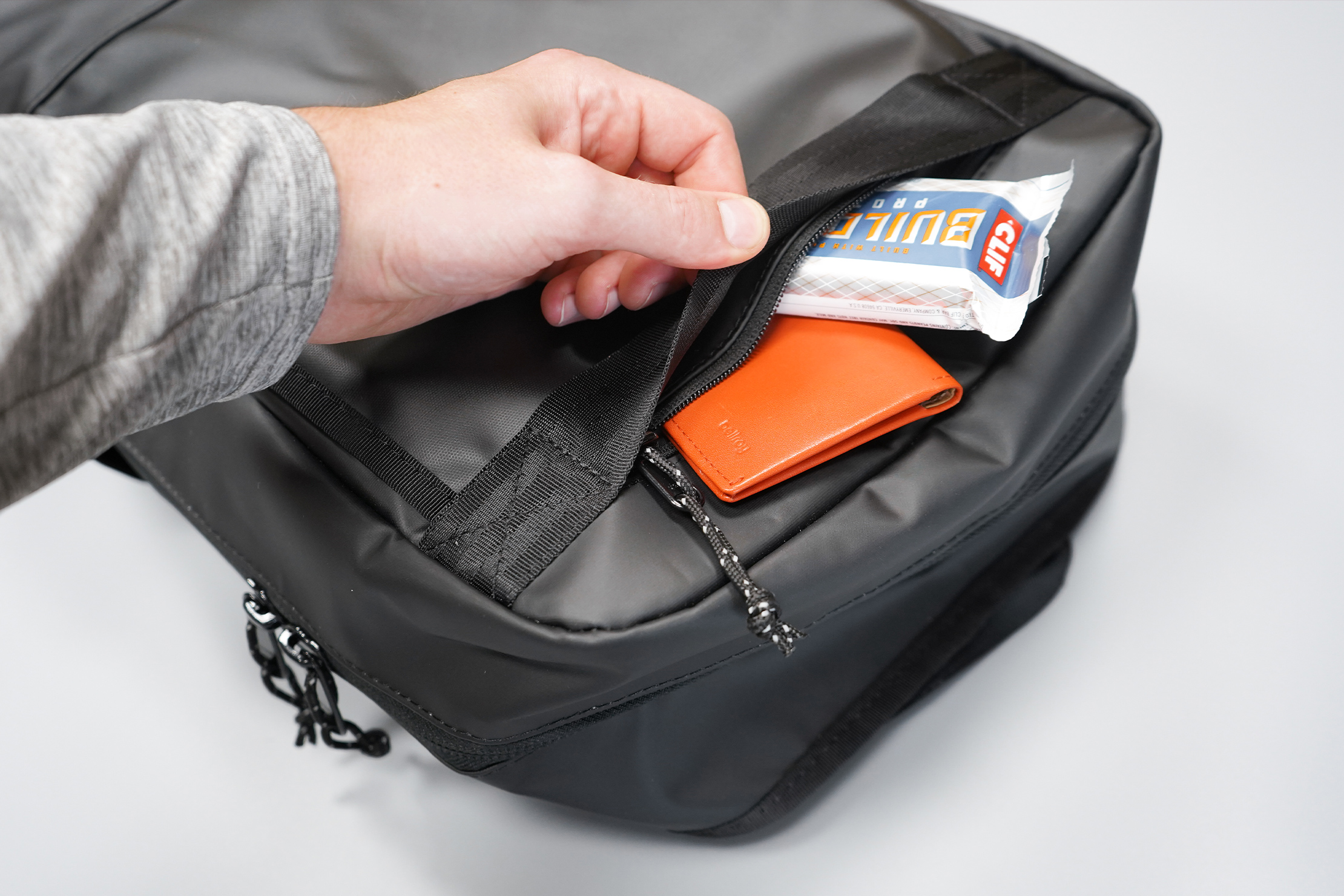 The pocket itself is relatively deep—it stretches about three-fourths of the length of the bag. That said, once again, the material doesn't offer much leeway when you're packing it out. So, smaller and flatter items work best here. We've had a lot of success using it for snacks in case we get hungry, but you can throw other more frequently-used items like your wallet or keys as well. Because of how deep it is, you may want to integrate a pouch for ease of grabbing your tinnier gear, as a lot of it will sink to the bottom. Who has time to rummage for stuff in a narrow pocket? Not us, and probably not you either.
At last, we have reached the main compartment. It opens up most of the way down the bag in horseshoe-style fashion, giving you some much-appreciated visibility and ease of access. There's also some gusseted fabric that allows the bag to expand some when you're packing it out, but overall, the material's stiffness still isn't going to give you much flexibility.
In terms of organization, you do have an admin panel against the back wall. There's a small nylon sleeve that's a great size for a power bank, along with two pen sleeves to keep any pens, pencils, markers, or even a stylus from floating around. Then, behind these, is a larger sleeve that we've been slipping a pair of slimmer over-the-ear headphones into. We tried keeping some bulkier cables in this sleeve but found that they block our laptops from easily sliding in and out, which is something to note.

Speaking of laptops, there's yet another sleeve toward the back that fits up to a 16″ laptop if you need to store one. This sleeve has a decent level of padding and is also suspended to keep your tech protected when you're setting the bag down or when it's getting jostled around.
The rest of this compartment is a whole bunch of open space—21L of open space, in fact. Because this is more of an everyday pack, we've been keeping everyday items like an extra sweatshirt, tech pouch, and everything we mentioned earlier in the admin panel. We recommend using pouches or packing cubes in here to compartmentalize your gear better since there aren't any more pockets or sleeves to do that for you. If you're okay with your stuff free-floating in here, though, then that's fine too.
Usage Timeline
Initial Usage
Condition: Excellent
Extremely water-resistant material
Laptop compartment is padded and floating
Harness system is dense and very thick for a bag of this size
2 Weeks of Use
Condition: Good
We've had to use pouches and tech kits with this bag due to its lack of organization but the open space is great for throwing in an extra jacket along with the pouches. The tarpaulin is water-resistant and stiff which gives this bag some decent structure, but the material has picked up some scratches and scrapes.

Access the Pro Community Discussion
Get your questions about the Chrome Industries Hondo Backpack answered from our team and the Pro Community right here on the page. Plus, join discussions with other members about gear, guides, and more.
Other Bags & Luggage Reviews