Carhartt Car Organizer Review
The Carhartt Car Organizer is basically a backpack for your car. Its pockets are big enough for a laptop, and it's more useful on road trips than daily use.
Our Verdict
Unlock the Pro Summary
Save time. Get access to brief summaries of our reviews so you can browse and make decisions more efficiently.
Pros
Can fit a laptop or books on long road trips
Material is water-resistant against drink spills
Keeps items in your car organized
Cons
Hard to use as a driver on a daily basis
Velcroed pocket can be tight to access
Buckle can be difficult to adjust tightly
Recent Pack Hacker Video
Technical Details
Weight (oz)

15.04 oz (426.4 g)

Dimensions

15.5 in x 10 in x 3 in (39.4 x 25.4 x 7.6 cm)

Notable Materials

Polyester, DWR Coating

Manufacturing Country

Vietnam

Laptop Compartment Size

16"

Warranty Information
Full Review
Carhartt is a working-class brand that makes sturdy workwear like coveralls, boots, and tool belts. So we were surprised and excited when we discovered the Carhartt Car Organizer and jumped on the chance to try it out. We are all about staying organized both while traveling and day to day.
The Carhartt Car Organizer is basically a backpack or toolbelt for your car. It has some decent organization with pockets that are deep enough to fit a laptop or tablet. Really, it's best for road trips where there are lots of people in the car. This way, someone in the back seat can grab a snack or book to read for the long drive. It also works well for families with children. If you're just a single driver riding around with no passengers, it may not be quite as useful. That said, it will help keep your car nice and tidy when you put essentials in here that would otherwise just get thrown in the backseat. And if you work as an electrician, plumber, or any field where you service peoples' houses, it makes a convenient place to hold tools, clipboards, or documents.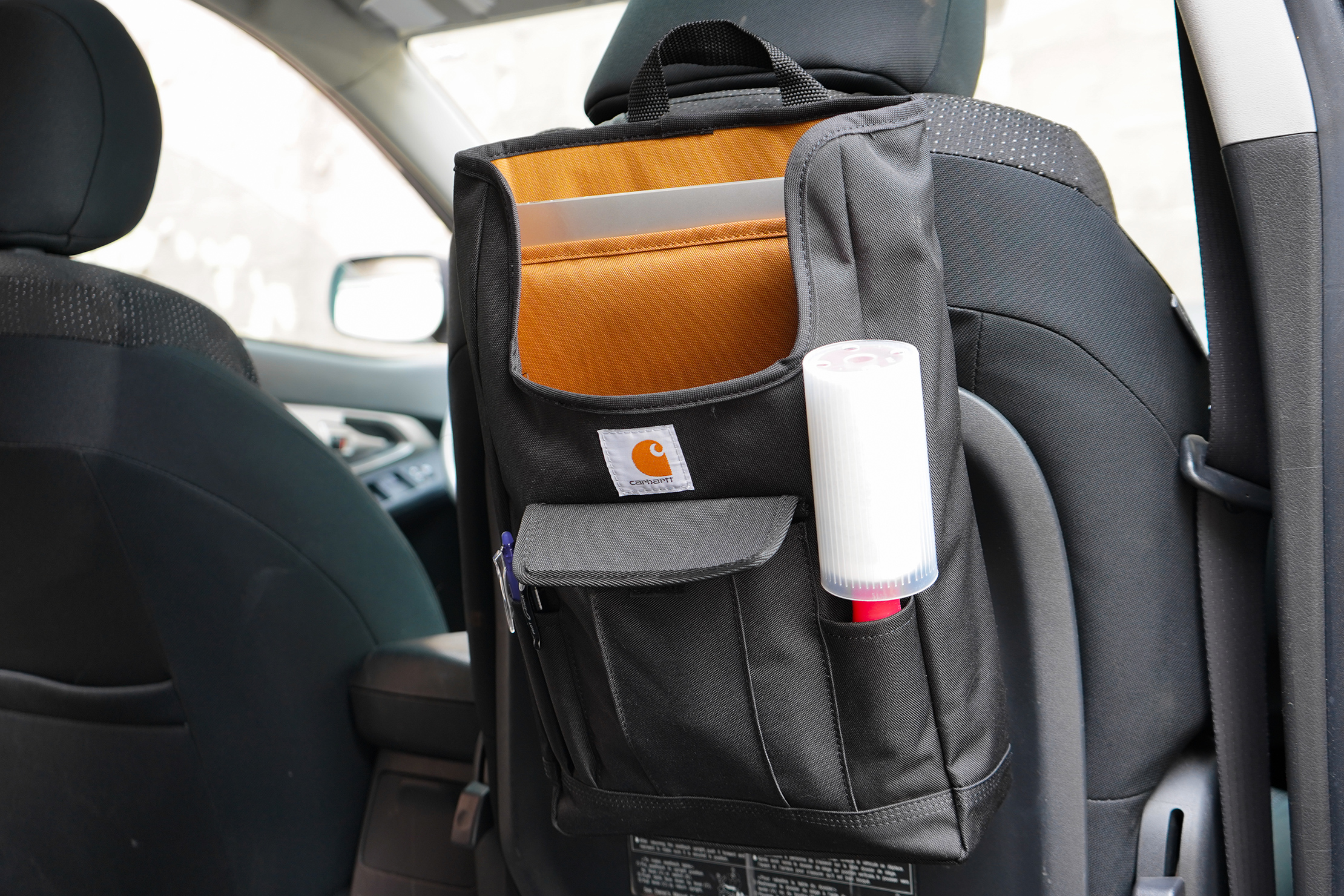 If you're not familiar with the brand, Carhartt has been making durable gear for the working class since 1889. The company was born here in Michigan, where Pack Hacker is located. It's always awesome to see someone wearing a Carhartt hat and go, "hey, they're from our home state!" In fact, Carhartt's flagship store is located right in Detroit, not far from the Pack Hacker office.
The company prides itself on providing affordable gear for blue-collar workers and making their products in the USA. While a lot of more popular Carhartt workwear like duck cloth jackets and knit hats are, in fact, made in the USA, this car organizer is not. That doesn't make it any less durable or high quality, though! Carhartt also makes apparel for outdoor adventures like hiking boots, Merino wool socks, and puffer jackets.
Materials, Aesthetic & Usage
Like most Carhartt products, the Carhartt Car Organizer has a rugged, canvas aesthetic. Something that says this person is hard-working and not afraid to get their hands dirty. It comes in black with a light brown liner that makes it easy to see everything you've got inside. The material it's made of is a 400D polyester with a water repellent finish. It's thick and rigid, which allows it to hold its shape even when empty. Nobody wants a saggy bag hanging off the back of their seat.
Carhartt makes a few different finishes for different levels of water resistance. There's Rain Defender, which is effective in light rain, and Storm Defender, which includes reinforced seams to keep work boots and heavy jackets dry in steady rain. Lastly, there's Downpour, which is supposed to be straight-up waterproof for people who work in consistently wet climates like commercial fishermen. We haven't tested the Storm Defender or Downpour materials, but the car organizer is made with the Rain Defender finish. It's definitely good enough for drink spills when you roll over a pothole. That we can attest to.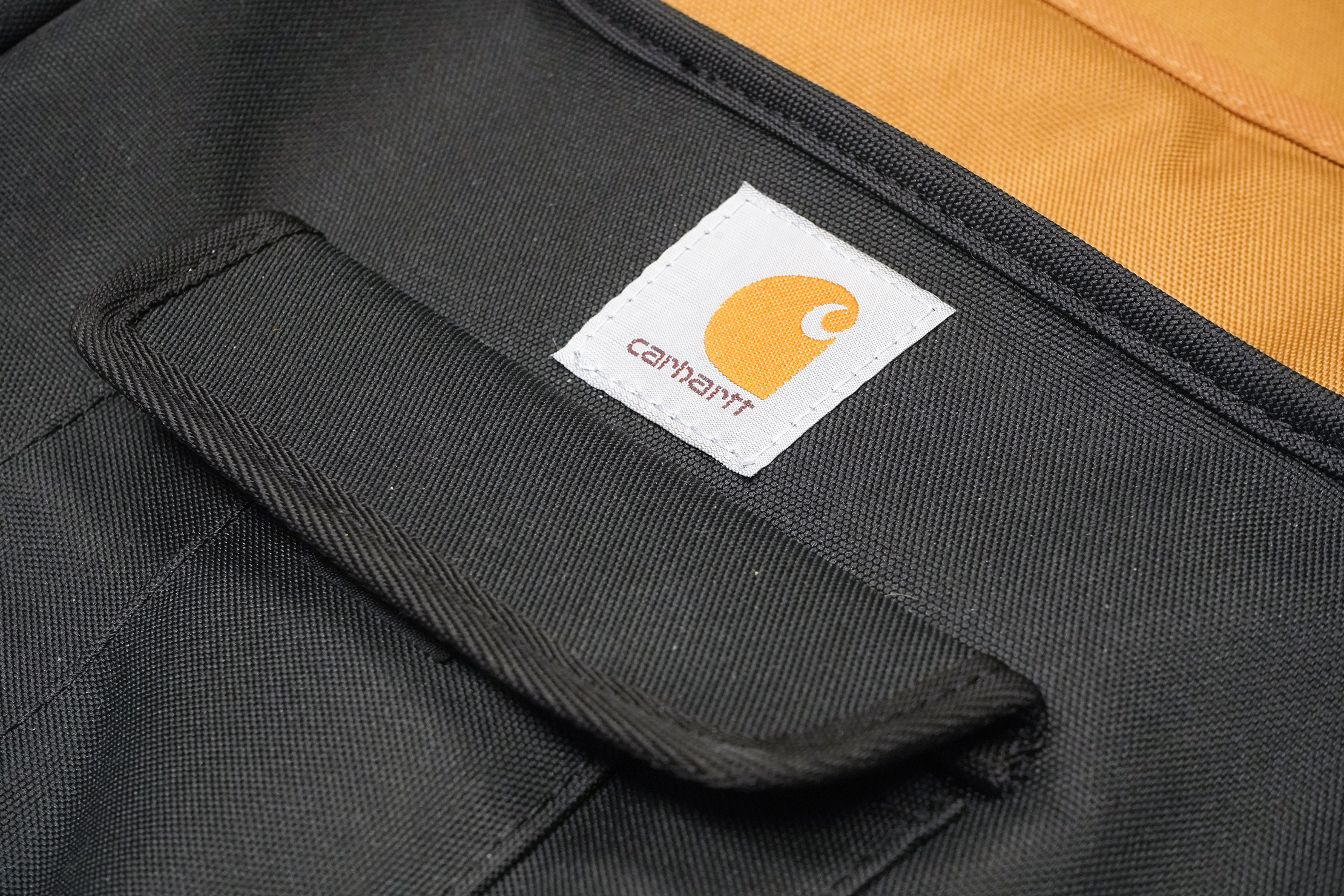 There are two deep pockets with an open top and one velcroed pocket on the car organizer. There are also a few utility spots where you can put pens, screwdrivers, or any other long items. We used this to hold a lint roller. It's one of those necessities for pet owners that always ends up rolling around on the backseat floor, so having a place to stick it was nice.
The open pockets can fit a laptop or tablet and have a nice amount of padding for protection, but we mostly used them to hold snacks and wet wipes. You can fit a thermos or water bottle in here too. We put smaller items like hand sanitizer in the velcroed pocket. This pocket is fairly small and the rigid material makes it tight to access if you put a lot in it. It's not stretchy at all so we recommend not putting too much in here. There's more than enough space in the two larger pockets anyway.
On the back, there are two nylon webbing straps that you buckle together to put it on the back of a headrest. We found that the organizer does tend to hang a bit low and the straps aren't the easiest to adjust. We've read some complaints that the straps are actually too small to fit around the headrest of bigger vehicles. We didn't have that problem while testing it in a Ford Escape, but your mileage may vary.
If you're using this on a road trip where you've got a full car, it doesn't matter too much which seat you put it on. If you're using this day-to-day, you'll probably want to put it on the back of the passenger seat, so it's easy for you to reach. The ole' reach around was pretty tricky for us when we forgot to move it from the back of the driver's seat after a road trip. We imagine it'd be difficult for anyone who is not incredibly flexible, but maybe it's just us. This pretty much goes without saying, but if you choose to put it on the front of the passenger seat, we don't advise trying to get something out of here while actively driving.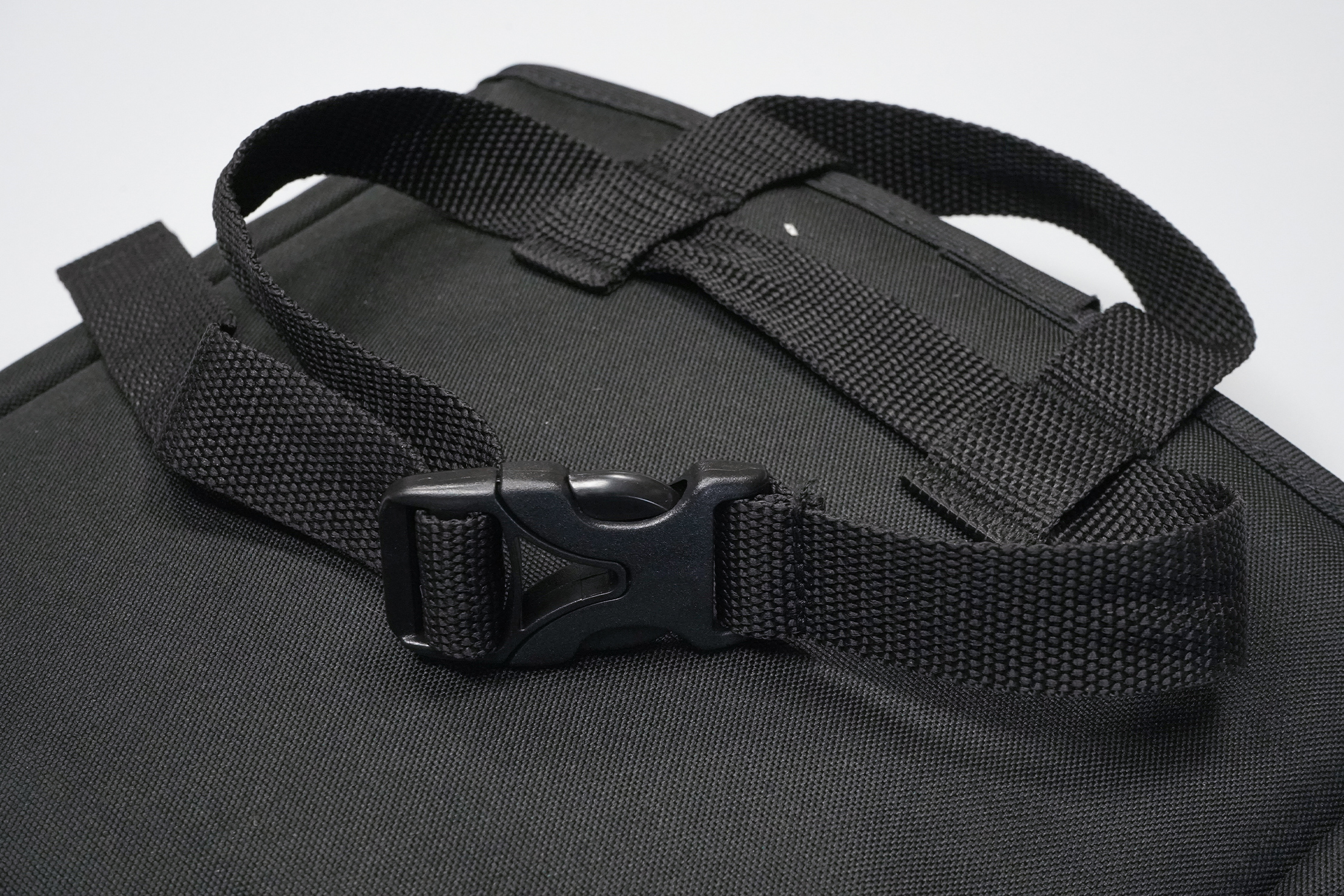 All around, if you like to stay organized in all facets of life, including driving, the Carhartt Car Organizer can help you do that while looking stylish to boot. Since the main pockets are open and easy to see inside, you don't have to worry about opening up a backpack and rustling around to find something—just reach in and grab it. This is pretty boss on a road trip. Especially for restless passengers who need a book or tablet to occupy themselves on a long drive. At the very least, it'll keep you from having a bunch of papers and miscellaneous bits floating around your car.
Usage Timeline
Initial Usage
Condition: Excellent
The pockets and pen silos make it ideal for documents and stationery
Has durable construction to go with day-to-day car use
Laptop also fits inside the sleeve if desired
2 Weeks of Use
Condition: Excellent
Material is incredibly durable and has a decent amount of water resistance if anyone spills a drink on it
Nice for keeping essentials like hand sanitizer and wet wipes organized during daily commute
Access the Pro Community Discussion
Get your questions about the Carhartt Car Organizer answered from our team and the Pro Community right here on the page. Plus, join discussions with other members about gear, guides, and more.
Other Organizers & Pouches Reviews