Bluffworks Azores Blouse Review
Quick-drying, wrinkle-resistant, and antimicrobial, the Bluffworks Azores Blouse is great for travel and everyday life—plus it both looks and feels good.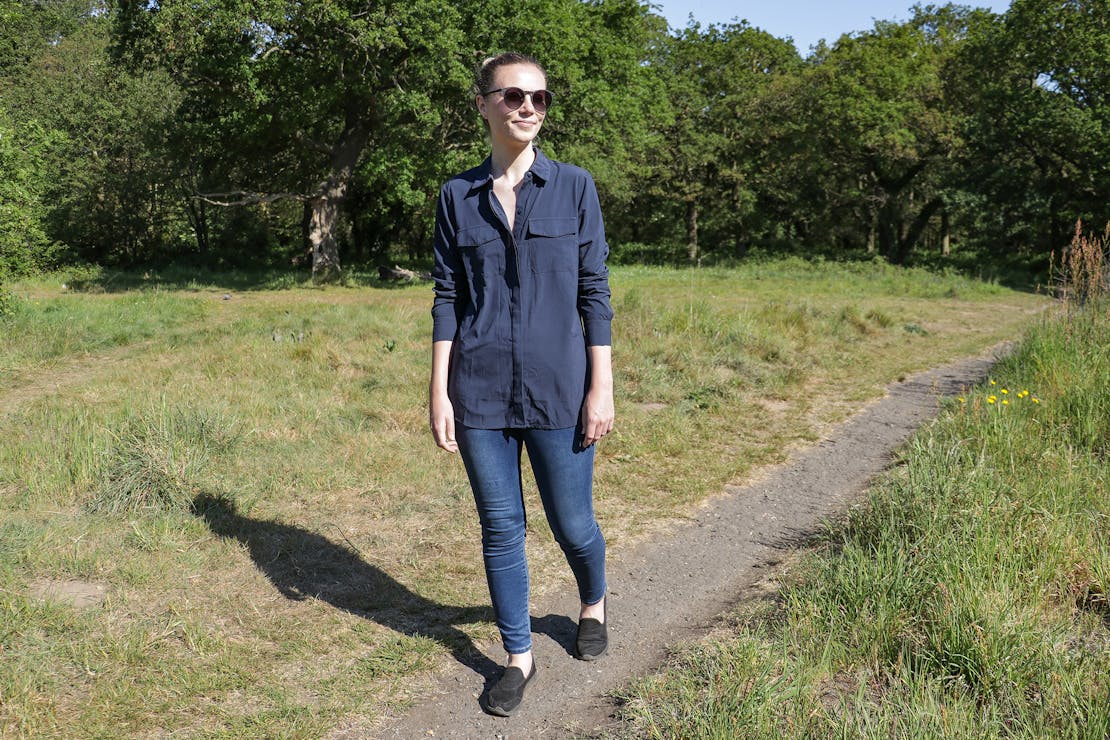 Our Verdict
Unlock the Pro Summary
Save time. Get access to brief summaries of our reviews so you can browse and make decisions more efficiently.
Pros
Flattering, feminine fit (with little to no gaping)
Super comfortable (feels like you're wearing a t-shirt)
Wrinkle and odor resistant
Cons
Most women probably won't use the chest pockets
Would've appreciated an additional snap button for further protection against gaping
Some loose threads starting to appear
Recent Pack Hacker Video
Technical Details
Notable Materials

Polyester, Spandex

Manufacturing Country

Vietnam

Warranty Information
Full Review
Get up to 15% off Bluffworks • Join Pack Hacker Pro
"Luxe without any of the fuss." That's how the folks at Bluffworks describe the Bluffworks Azores Blouse, which is a description we can certainly get behind. But is it legitimate or just good marketing copy? We've been putting the Azores Blouse to the test for two months and counting to find out.
What have we uncovered? Read on.

Fit, Fabric, & Features
We're not going to name names, but in the past we've tested technical, "travel" clothing for women that seem to be exactly like the men's versions in everything but the name. That's to say, the fit doesn't work for a woman's body. We're happy to report that that's not the case with the Bluffworks Azores Blouse.

Of course, every single body is different. But we've found the fit to hang in a flattering way. It manages to drape nicely without being baggy or boxy. The paneling on the back of the blouse, as well as the slits along the sides, contribute to the blouse's overall fitted flowy style. There are also two fits available—regular and petite (the petite fit has a shorter hemline and sleeves designed for people under 5'3'')—with sizes that range from XS to XL. We appreciate that Bluffworks offers these fits in an attempt to be inclusive of a range of body types.
Now, the blouse comes down lower than your average blouse (and the back hem has even more length). We love this feature! It provides great coverage so you can run around without worrying about things riding up and getting out of whack. It also doesn't feel constricting. And because Bluffworks offers a petite fit—which has a shorter hemline—this feature will work for you even if you're height-challenged.
The blouse itself is classy and sophisticated, albeit simple—and we mean that in the best possible way. Simplicity means that you can wear this blouse on both Monday and Wednesday without anyone at your office noticing. Of course, this is just an awesome feature for everyday life. But it's even better for travel. Most of us don't want to pack 15 blouses for a trip.

Of course, its sophisticated aesthetic means this blouse is appropriate for the fancier moments of your life. It's ideal for nice dinners or meetings with your team, but we like that it can also be dressed down easily. Throw on sandals and a pair of jeans, roll up your sleeves, and you're good for a bar crawl. Rolling up your sleeves is particularly easy here because the sleeves are elasticated. Push them up your forearms and they'll stay in place. It's a small detail, but…it's the little things in life, ya know?
At the time of this review, you can pick up the Azores Blouse in three colorways—Inky Navy, Pale Rose, and White Sand. We think they all look classy, although we're partial to the Inky Navy colorway we've been testing. In general, we think darker colorways are better for travel (or if you're a stain magnet) just because you don't have to worry about marks, dirt, and stains as much. You also don't have to worry about laundry* going wrong. (*Note that this blouse is machine washable (!), which—we probably don't need to point out—is amazing. Who has time to get stuff dry cleaned? No one, that's who.)

We're really digging the buttons down the front of the shirt. We like that they're covered up by a slice of fabric. We also really like that there's an additional snap in the chest area to prevent unwanted gaping. This is such a brilliant feature we want to call every blouse designer (engineer?) out there and ask why they haven't started doing this yet. The snap means you don't need to be mindful of accidentally giving someone a peek down your shirt, you don't need to wear a tank-top beneath the blouse (unless you want to), or be cautious when bending over or simply living your life. You're covered (literally).

If we were to be nitpicky (which we are because it's what we do) we would like a second snap beneath the second button on the blouse—so the two snaps would be straddling the third button down from the top of the blouse. We're being this specific in case any blouse designers are reading this right now (hi, blouse designers!). The second snap would help to be sure that absolutely no gaping goes on. In addition, it would help the blouse be more versatile for a range of body types (as a higher snap may work better for certain bodies. Having the two snaps gives you options). Whether or not you would appreciate this second snap depends on your chest size. As it stands, the one snap has been doing a pretty good job during our testing.

Okay—moving on. This blouse is very, very, very comfortable (and that's a lot of "very's" so you know we're serious.) It feels more like you're wearing a t-shirt rather than a traditional blouse. It's soft, stretchy, and lightweight. The fabric is a blend of 86% polyester and 14% spandex, which explains the stretchiness.

The Azores Blouse wouldn't be a Bluffworks blouse if it didn't have a few more features. So let's talk about them. It's quick-drying and wrinkle-resistant. That's not to say it won't ever get wrinkly, but any wrinkles shake out rather quickly. During testing, we've tossed this thing in a pack, pulled it out, hung it up, and have been pleased to see how few wrinkles remained when we put it on. Your body heat will also help remove any of the more stubborn wrinkles. Obviously, this is a huge plus. Especially if you're as ironing-adverse as most of us here on the Pack Hacker team.
Finally, this blouse has an antimicrobial treatment—meaning it's odor-resistant and you don't have to wash it as frequently as other clothes in your wardrobe, especially if you give it a day or two between wears to breathe. To give you context, we've washed the blouse maybe two times throughout two months of testing. (To give you even further context, we haven't been wearing it every single day, so if you're harder on it you may need to launder it a little more frequently). Of course, less laundry always equals more happiness (it's simple, math), but this odor-resistance is also nice for long work or travel days. You can hop off an eight-hour flight and walk into a business meeting without worrying about stinking too much. Of course, we still recommend deodorant.

Before we wrap things up, we want to talk about the two chest pockets. We like that the buttons are discrete to not ruin the sophisticated look of this thing while offering a little bit of security. But chest pockets on a woman's blouse just aren't practical. The placement, coupled with the small size of the pockets, means that most items don't fit well inside of them. Sure, they could be helpful in a pinch (say for a small amount of cash or coins), but we don't see the majority of women using these pockets frequently. That said, they're there if you need them, add a bit of flair and style, and aren't bothersome when not in use.
Durability & Testing
We started this review out with Bluffwork's own assessment of the Bluffworks Azores Blouse—that it's, "Luxe without any of the fuss." After two months of testing, we can say that we agree. It's a simple, sophisticated blouse that looks and feels good. Plus, its plethora of features, including odor and wrinkle-resistance and machine wash-ability, mean it's easy to take care of. If you frequently travel for business, we definitely think this blouse would be a solid addition to your packing list.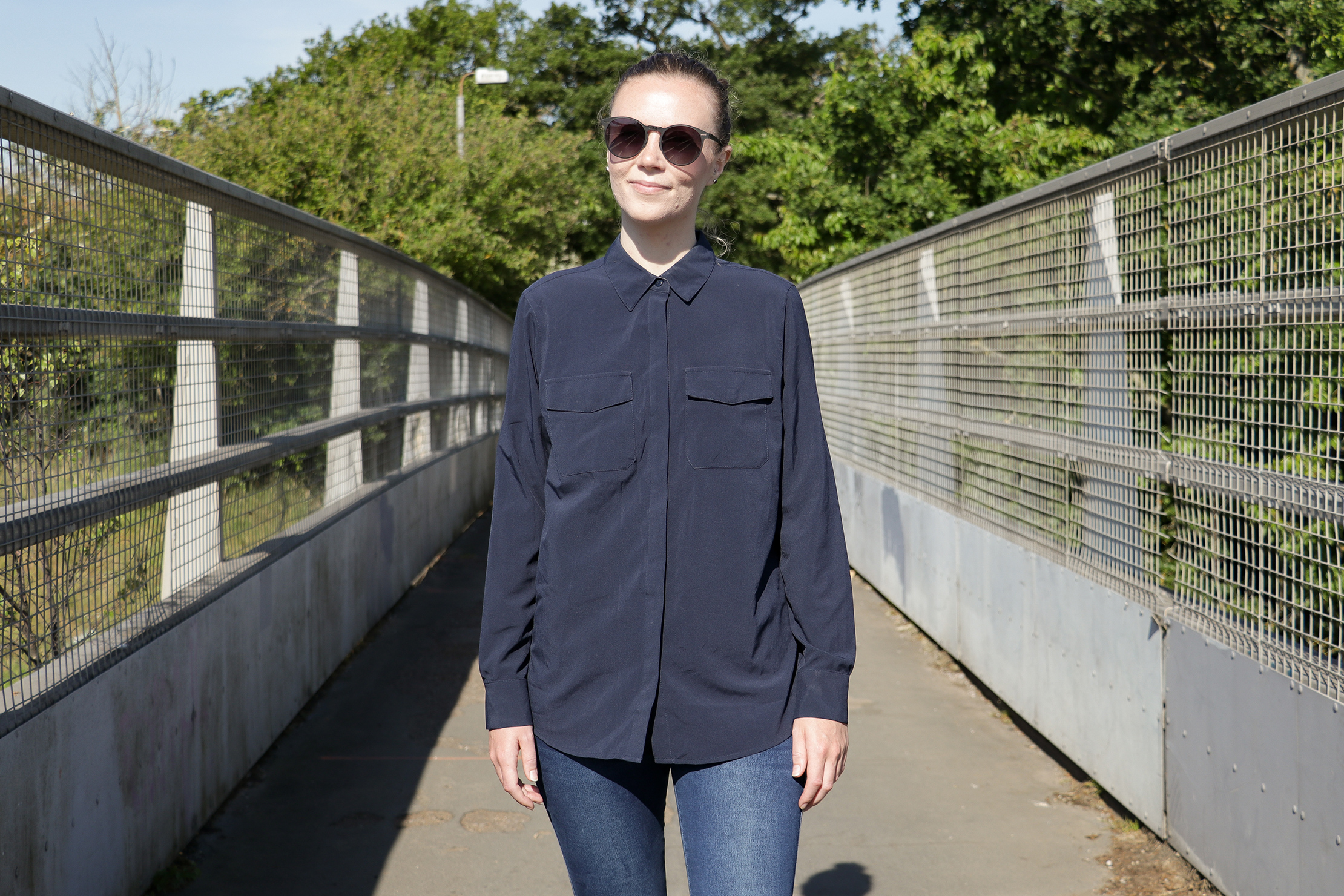 Apart from a few loose threads starting to appear, we have no durability issues to speak of at this point. Everything is looking as good as new.
Usage Timeline
Initial Usage
Condition: Excellent
The antimicrobial treatment makes this blouse great for travel and long workdays
We're digging the super-smart aesthetic and how lightweight and comfortable this blouse is to wear all day long
The extra snap between the buttons is a great way to reduce gaping across the chest
2 Weeks of Use
Condition: Excellent
We've been impressed with the antimicrobial properties so far as this shirt has only needed washing after multiple wears.
1 Month of Use
Condition: Excellent
A huge pro of the Azores Blouse is how comfortable it is to wear. It's lightweight, soft, and stretchy so it feels more like you're wearing a t-shirt rather than a blouse.
2 Months of Use
Condition: Excellent
We're digging the wrinkle-resistance on this thing. You can still look classy—no iron required.
6 Months of Use
Condition: Excellent
No durability issues to report so far
This shirt is holding up well and there are no loose threads or fading
It's still super comfortable to wear and one of our go-to shirts
Access the Pro Community Discussion
Get your questions about the Bluffworks Azores Blouse answered from our team and the Pro Community right here on the page. Plus, join discussions with other members about gear, guides, and more.
Other Clothing & Accessories Reviews