Bellroy All-Conditions Essentials Pocket Review
The All-Conditions Essentials Pocket from Bellroy offers some handy organization in a slick, well-crafted package that has a handful of use-cases.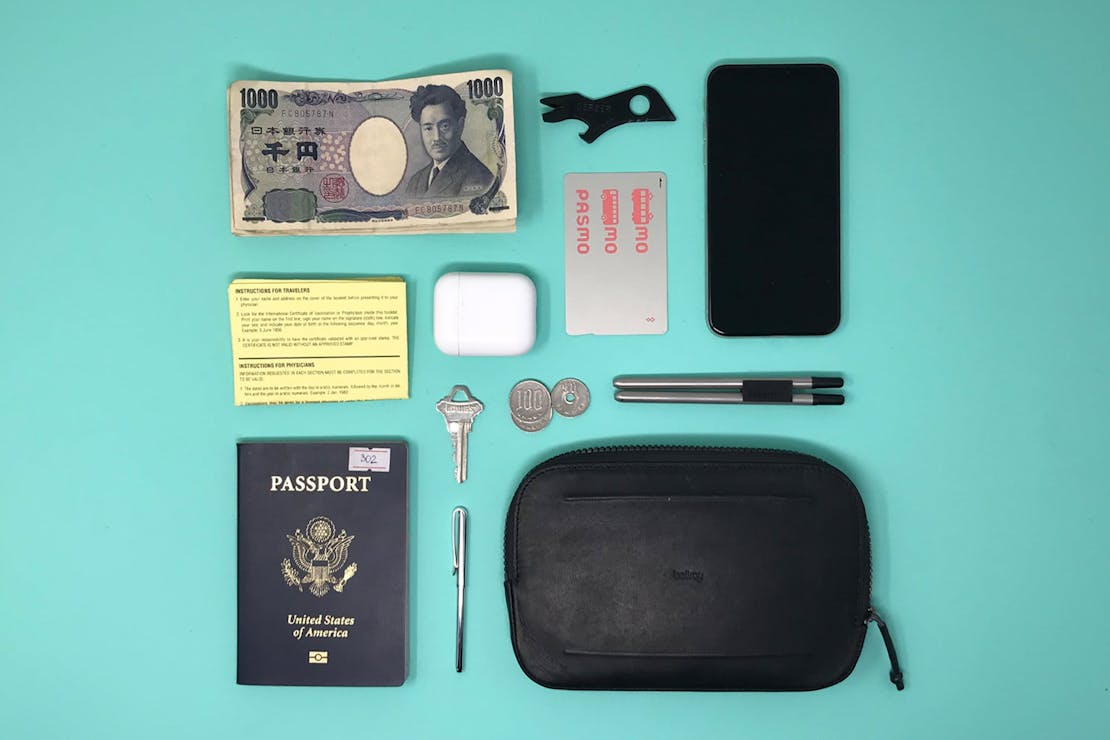 Our Verdict
Unlock the Pro Summary
Save time. Get access to brief summaries of our reviews so you can browse and make decisions more efficiently.
Pros
Looks and feels great—awesome craftsmanship.
Light, convenient.
We love the travel pen.
Cons
Pricey for the use case.
Internal organization leaves a few things to be desired.
Kind of hard to see into and maneuver around in the interior.
Technical Details
Dimensions

7.24 in x 4.72 in (18.4 x 12 cm)

Notable Materials

Leather, Ripstop Nylon, YKK Zippers

Manufacturing Country

India

Warranty Information
Full Review
In this review, we're checking out the All-Conditions Essentials Pocket from Bellroy. It's a useful little weatherproof pocket designed to hold your phone and a few other essentials. Although it doesn't have to hold a phone—there are a ton of potential use cases, depending on what you're into. You could use it as a tech organizer for small cables, adapters, external hard drives and thumb drives—all that stuff that ends up getting lost in your pack. Photographers may also find this handy for holding some spare SD cards, batteries and adapters while they're out and about.
We'll get into the specifics on all that stuff later in the review, but for now—let's check out the specs on this thing.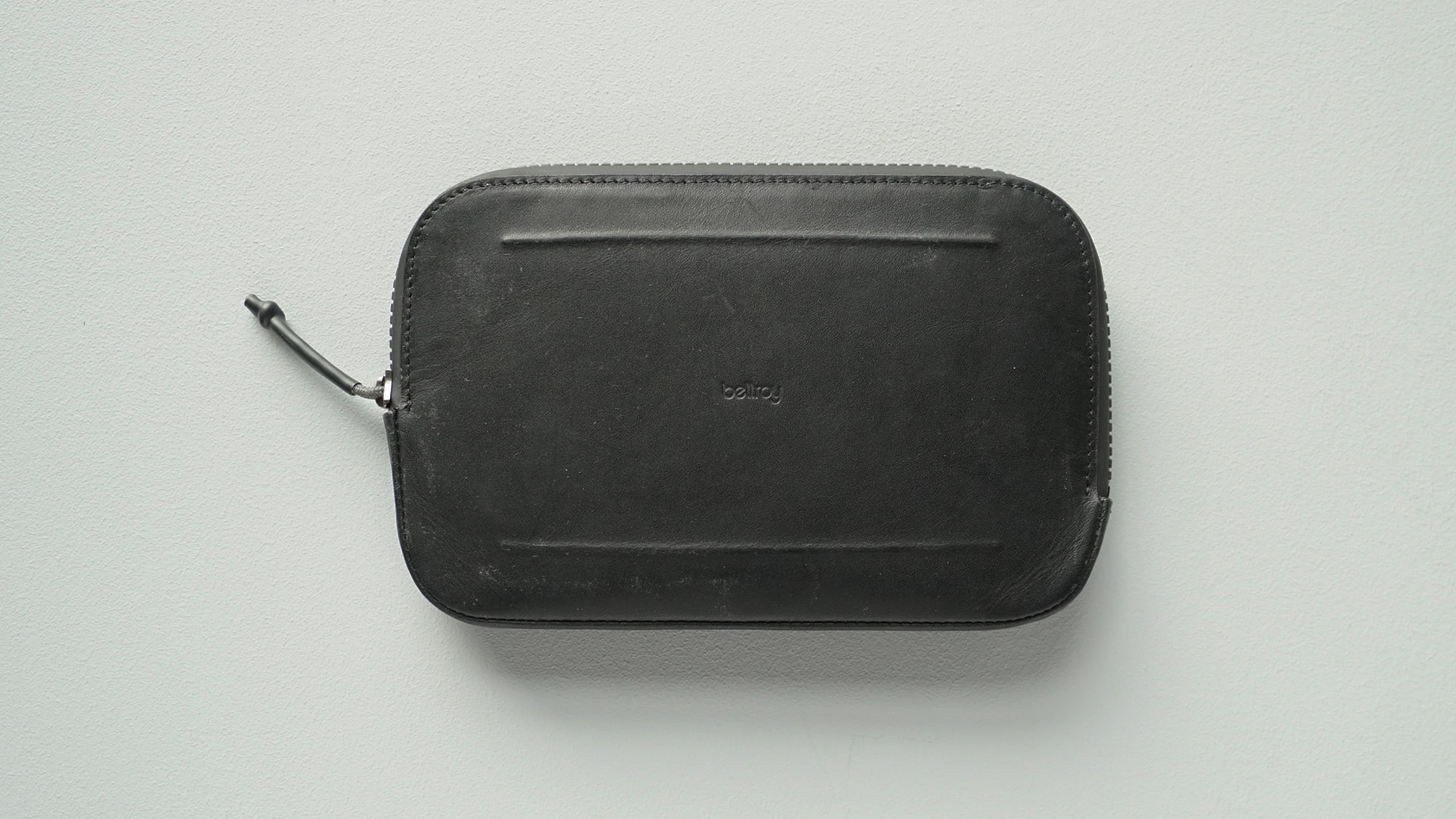 So the dimensions are 7.24" x 4.72" (184mm x 120mm), meaning it's slightly larger than an iPhone 7 plus. The leather version comes in three different colors—gray, black, and a bright orange. There is also a woven version that comes in blue and gray, but we're going to be focusing on the leather one for this review.
We got the black one, and we all agree that it looks pretty badass. It's sleek, the leather looks and feels great, and the zipper really stuck out to us. It's a water-resistant YKK zipper (specifically a YKK Vislon 3VST, for those of you in the know) and it works really well—zips up really nicely and feels very sturdy.
But it also looks awesome. Something about this tire-track pattern it makes when zipped up just looks really clean and polished.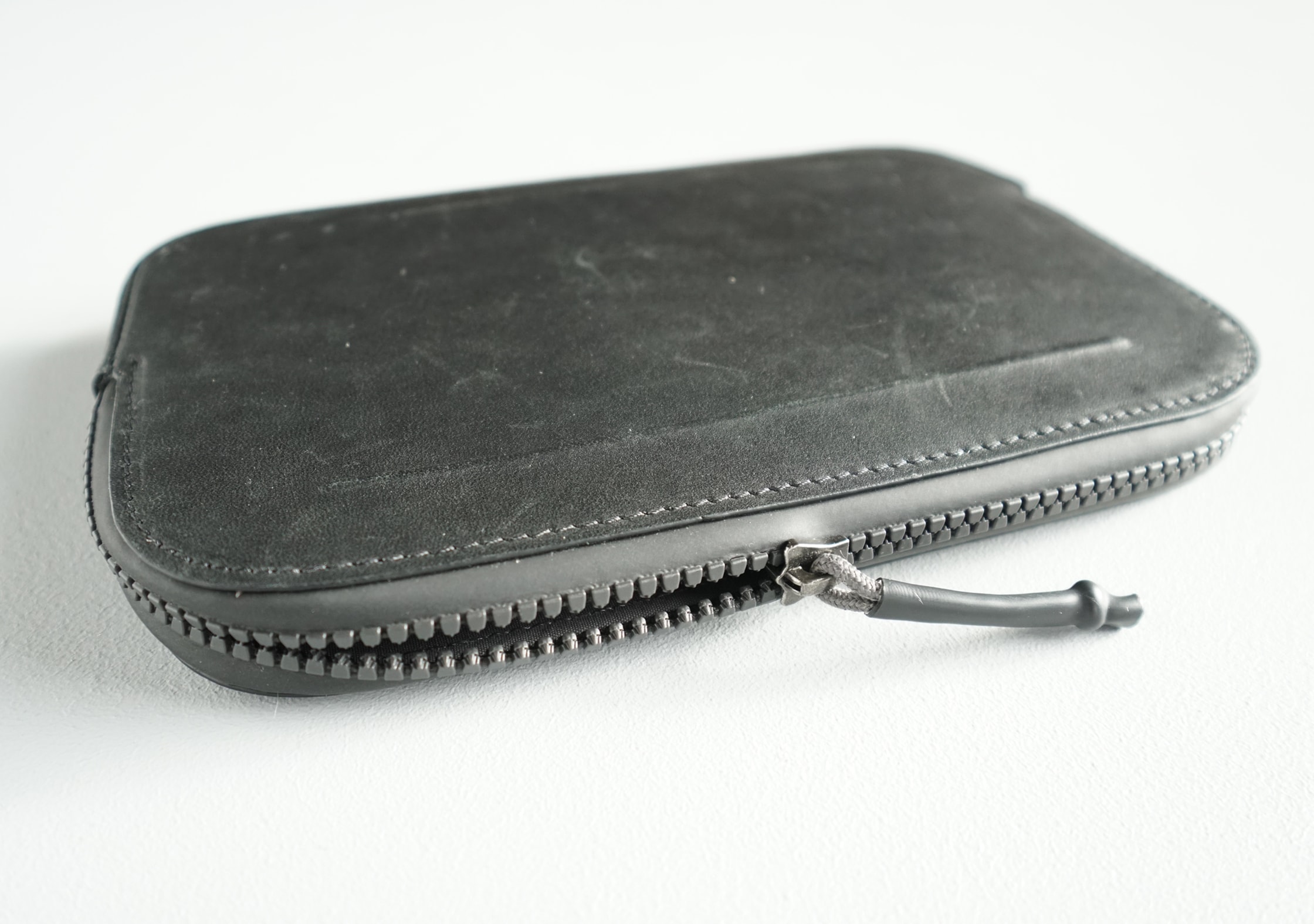 So let's just talk about this zipper for a second. We love YKK zippers because they're made with high-quality materials and they're super reliable. YKK makes everything in-house—literally, everything from smelting their own brass to forging the zipper teeth, they even make the machines that make their zippers. They've got a great track record, so we're confident this one will last a while.
It is a water-resistant zipper, not waterproof. Just a disclaimer—you do not want to go diving with this thing (they even say it on their website). But for everyday use, it will hold up to the elements very well. It is made of hard plastic—not metal—which we've found is actually a good thing. It's lightweight, it's not going to rust, and honestly, it is super hard plastic, so we're really not too worried about durability.
The zipper is surrounded by a small polyurethane laminated membrane that is stitched into the leather really nicely—Bellroy doesn't mess around when it comes to their stitching and overall craftsmanship. That being said, if any part of this pocket were to fail, it would probably be this little membrane. Not as durable as leather, but it is necessary for the water-resistant zipper. Nothing to be overly worried about though—keep an eye the usage timeline to see how it holds up over time.
The zipper has this sweet rubber shrink-wrapped paracord handle. This is a seriously underrated feature—it basically means you will never have to worry about the rope breaking, plus it is super easy to grab—even with gloves on. We love this and would like to see it on more gear.
Okay, enough about the zipper, let's get into the meat and potatoes. Open this sucker up and you'll find five internal pockets. Well, the pen pocket isn't usable for anything else, so really there are four pockets. …But then there's this other weird one that sort of makes it five… You know what? Forget it. There are four usable pockets—let's leave it at that.
The pockets are made of ripstop nylon. They've got a nice square weave that looks sturdy—feels durable and weatherproof. One suggestion we have for Bellroy would be to make the liner a bit brighter—because everything's the same color, it can be kind of hard to see where the pockets end and begin. Even some different color thread for the stitching would help.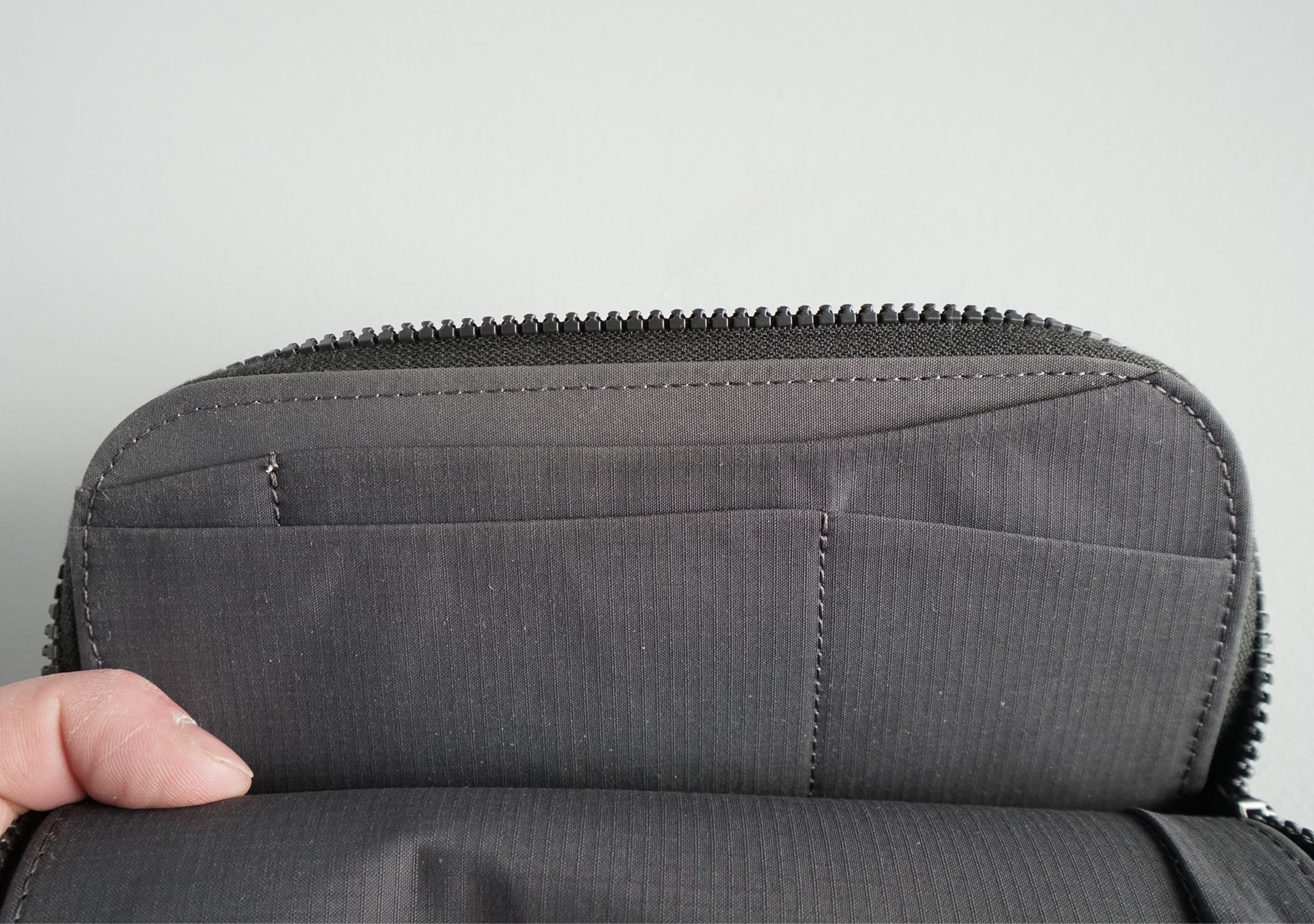 One tip we have is to flip the zipper inside-out in order to give yourself a little more room when rummaging around in these pockets. Comes in pretty handy when you're trying to get everything nicely organized.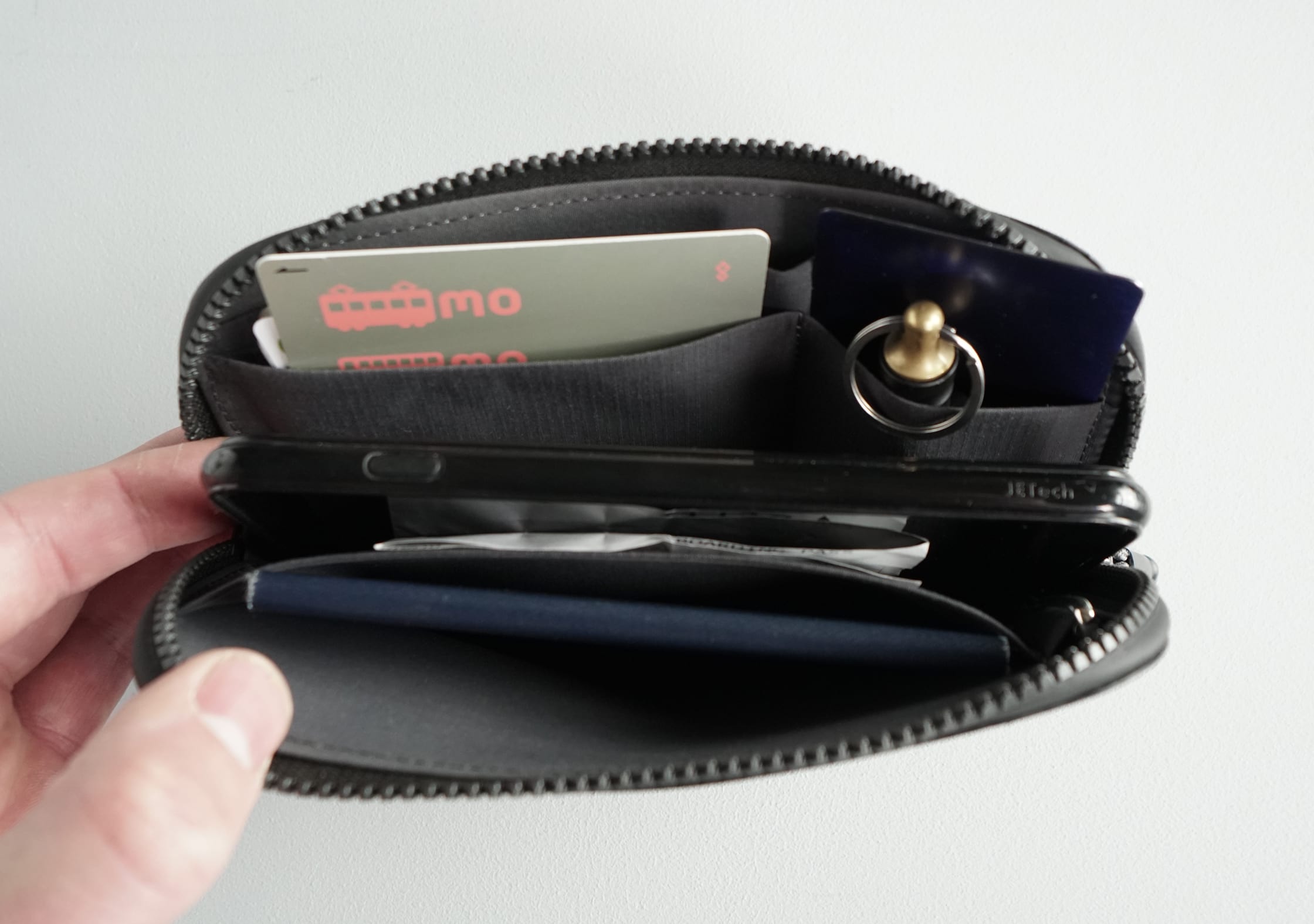 Okay, so we'll start with the side that has the most pockets—three, to be exact. There are two main pockets—one holds a credit card horizontally, the other vertically. We've found that it is best to store cards in the vertical pocket because you can actually see them. The horizontal pocket is deep enough where you won't be able to see the top of the cards—so this one might be good for slightly larger items. You could throw some cash/change in here or a coiled pair of earbuds if you can manage to wrap them tight enough.
Behind those two pockets is another pocket that is about half the depth of the overall pouch. It's kind of a weird size—too small for a passport, too small for a credit card… It would be good for a few keys, maybe a thumb drive, SD card, a single battery, but not much more. This seemed like a weird choice to us, the size is pretty awkward.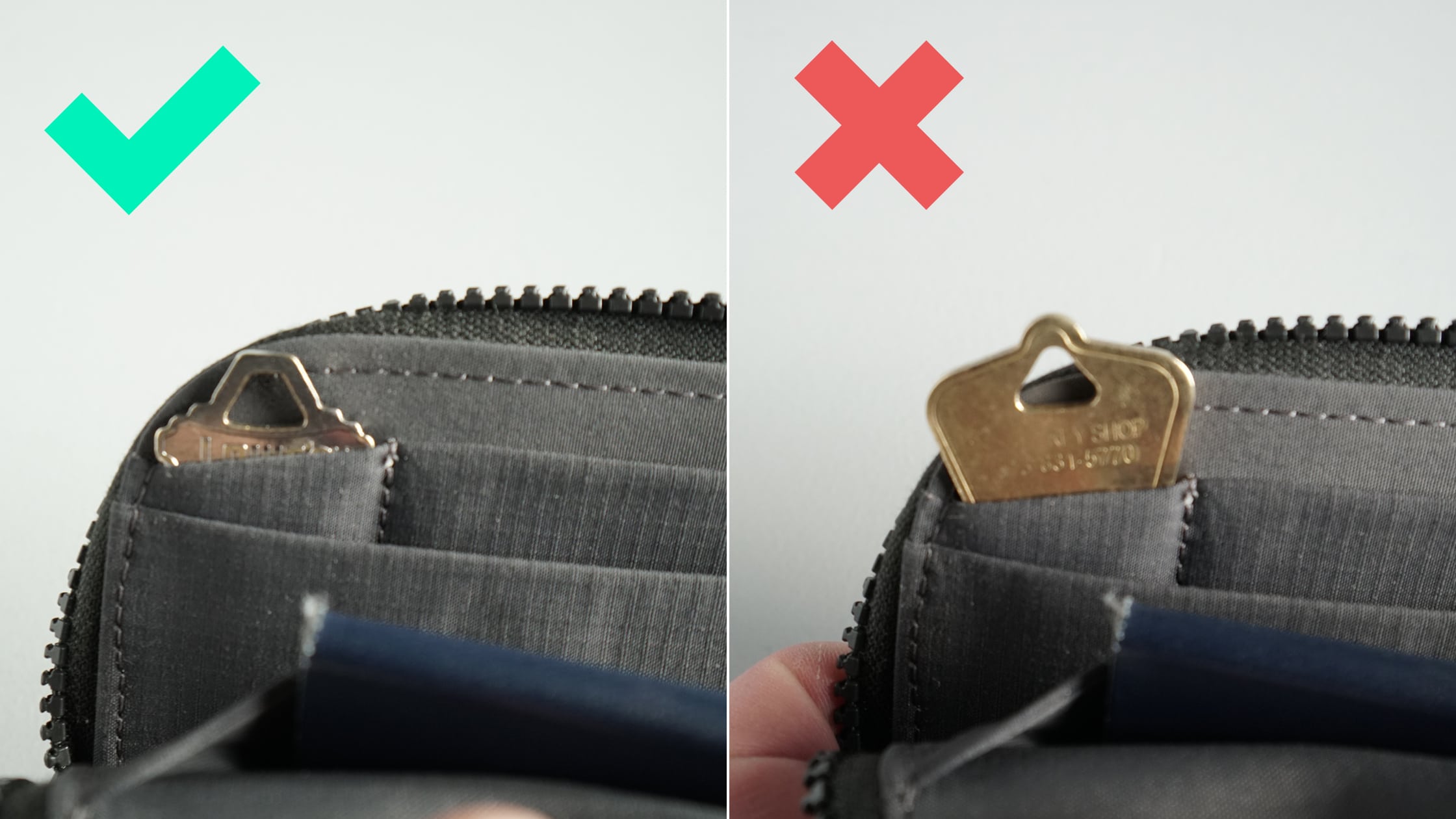 Next to that is this weird little gap between the stitching that sort of looks like a pocket, but it's really not a pocket—if that makes any sense. This is basically a little sleeve formed between two stitches. It is very small. Like, it's almost hard to describe how small it is—about the width of a sharpie, and it has a depth of maybe an inch. On the Bellroy site, they have a key in it, but even in the picture, it sticks out enough that you wouldn't be able to close the thing!
After some rigorous testing, we can confirm that it will hold some small keys. But most standard house keys are not going to fit. It would be useful for keeping a spare house key or a single AirBnB key, but good luck finding one that is small enough. A nice idea, but not very well executed in our opinion.
This thing is just tiny enough that it is on the verge of unusable—you can barely get a finger into it. We have been trying to find some use for it though, and we were pretty miffed that we couldn't fit our handy swiss-army nail clippers in—they poke out by just a few millimeters, meaning you can't close the bag. You could probably fit a micro SD card in here, but you'd also have to pack a pair of tweezers just to get the damn thing out. Maybe that's a great security feature?
Honestly, this little thing kind of seems like an afterthought from Bellroy—like it was just a byproduct of the stitching pattern and they decided to throw a key in there for the photo. Either way, we'll update this review if we find anything that fits in here, and if you've got any ideas drop us a line!
On the other side, there is a passport-sized pocket. This is great for… passports. You could also fold up a boarding pass or a small piece of paper and toss it in there too. Pretty straightforward.
Next to the passport pocket is THE PEN! This thing is sweet. The brand is Walkie—a Japanese brand that seems to only make small pens. We don't know too much about pen brands, but what we can tell you is that it's a tiny little pen that also comes with some replacement ink (pilot ink, to be exact). The pen itself is a little bigger than a toothpick, it's really small and fits into a very small pocket right next to the passport—which is pretty much useless for anything else.
Is this the greatest pen ever? Well, yes and no. It feels nice, it writes well and everything, but it's kind of hard to use because it's so small. You wouldn't want to write any sizable document with this thing—but why would you be doing that anyway?

This is, however, a perfect travel pen. It's tiny, it weighs next to nothing, and you'll never lose it if you just keep it in this pocket. You can use it to fill out customs forms or jot down an address—and for that, we love it. If you're a traveling writer or something, you'll want to bring a nicer pen. If you're like the rest of us, this thing will serve you well.
Overall, the Bellroy All-Conditions Essentials Pocket is a pretty useful item. It can help you organize those everyday items into one nice package, but could also be used to organize any number of things. We love the quality, the look, the organization, the pen… But man, this thing is pricey. At the time of this review, the leather version comes in around $140 USD.
We'll always pay for quality—and if that's your thing, this is a great fit for you. If you look at other Bellroy products, the price isn't too surprising—they make really high quality stuff and it definitely comes at a price.
Bellroy does provide a three-year warranty—which makes the price a little more manageable—but it only covers defects in materials and workmanship. If anything breaks on this due to general wear and tear, you're SOL.
If you're looking for a similar item at a cheaper price point, we would recommend checking out the DAKA pouches from Magpul. The DAKA pouch is a simple, no-frills pouch with a water-resistant zipper. They come in a bunch of different sizes and range in price from $20 to $40 USD. Keep in mind, there's no organization with the DAKA pouches and you'll lose some of that style and craftsmanship that comes with the Bellroy.
All in all, this is a great piece of kit for organizing a few items. It's perfect for traveling, it looks great, and it will hold up. But the price point is a bit high for something that is, ironically, not truly essential. If you're someone who likes to have every little item organized in one nice package, this is definitely worth checking out.
Usage Timeline
Initial Usage
Condition: Excellent
Looks good, feels great, this zipper is awesome.
2 Weeks of Use
Condition: Excellent
Access the Pro Community Discussion
Get your questions about the Bellroy All-Conditions Essentials Pocket answered from our team and the Pro Community right here on the page. Plus, join discussions with other members about gear, guides, and more.
Other Organizers & Pouches Reviews