Bedrock Classic Sandals Review
The Bedrock Classic Sandals are ultralight, minimal pieces of footwear, and they'll stay on your feet if you're running on sand, swimming in the sea, or paddling down a stream.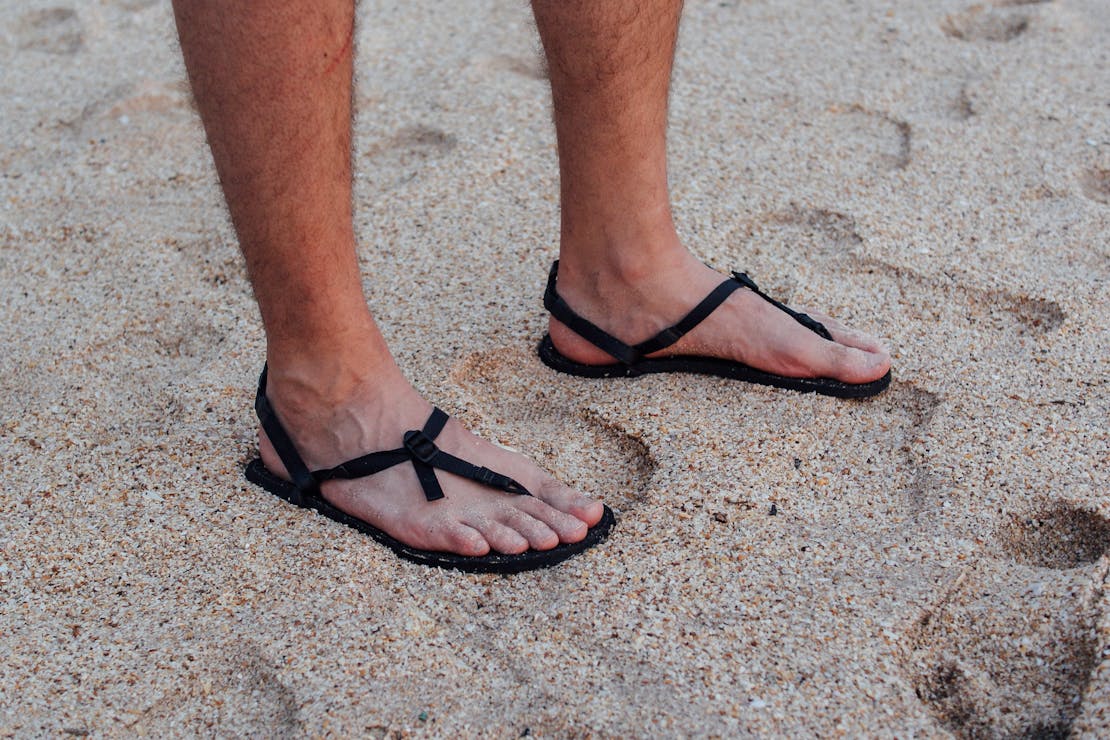 Our Verdict
Unlock the Pro Summary
Save time. Get access to brief summaries of our reviews so you can browse and make decisions more efficiently.
Pros
They'll stay on your feet regardless of terrain, even in water.
Being ultralight is great both while wearing and when packed.
Vibram® Soles offer exceptional durability and grip.
Cons
Straps aren't easy to adjust.
Gradually become uncomfortable the longer you wear them.
Recent Pack Hacker Video
Technical Details
Weight (oz)

4.5 oz (127.6 g)

Notable Materials

Vibram Rubber, Nylon

Manufacturing Country

United States
Full Review
While traveling, a backup pair of footwear is imperative. You may need to cross a river, jump in a canoe, or walk down muddy, wet streets, none of which you'd want to do in your primary set of shoes. For your secondary pair, a complementary combination of characteristics ranging from lightweight material, utilitarian design, and functional minimalism should fuse together into a great all-around product. You want something you can throw in your suitcase or backpack that won't take up much space, nor add much weight. If they're fast-drying and easy to clean, even better.

The Bedrock Classic Sandals possess all these qualities. Introduced in 2011 as their first product in what's now a small line of sandals, the classics are ultralight, minimal, and durable. The design is very simple, combining a Vibram® Sole with only a couple nylon straps. Vibram, by the way, has been trying "to make the best rubber soles in the world" since 1937. The simplicity of these sandlas produces the ultralight quality. The weight per a size 9 sandal is somewhere between 4.2 and 4.7oz (119-133g). The materials Bedrock uses in these products are 100% vegan, and they donate 1% of their sales to environmental non-profit organizations, which is pretty hip.
Apart from the standard features mentioned above, the classics can be ordered in a couple of different configurations. First, the soles come in two thicknesses: 9mm and 7mm depending on how much you prefer being one with the ground. Second, you can strap in however you fancy with ½" and ⅝" wide bands that come in olive drab, red, and black. We've tested the black pair, with a 9mm sole and ½" straps.

In practice, these sandals are great for versatile, all-around use. Anything a traditional flip flop can do, the classics can do, too, and then some. That is mostly a factor of the straps keeping the sandals glued to your feet and the Vibram® Soles providing excellent traction on anything they come into contact with. In testing, they never came off, no matter how much stress or duress they were put under. Even climbing up a palm tree couldn't bring these off the feet. This was thanks to being able to really secure and customize the fit.
There are two points of adjustment on the classics: the first via what they call 'ankle holes' and the second via a buckle on top of the foot. Bedrock sends a small card with the sandals illustrating how to get the fit. This process is imperfect. Getting your foot to align on the sole isn't too hard, but fine-tuning them to get a comfortable fit is. The second instruction tidbit, where they guide the wearer on how to adjust the buckle, isn't intuitive and frankly doesn't make much sense. On the instruction card they write, "Twist buckle back to lock in place." That seems to imply you can lock and unlock the buckle via a twist. We didn't find that to be the case. The mechanism isn't locking. It's simply an adjustment, like you'd find on the straps of a backpack.

Because of the difficulty trying to fine-tune these, it was an overly-taxing process finding a pleasant fit. They were either too loose or too tight. And when you get it right on one foot, good luck reproducing it with the other. Bedrock's newer model of sandals, the Cairn, have a different strap system that looks simpler. In the future, we hope to test these side-by-side, so stay tuned for updates.
Aside from the tedious adjustment process, the Bedrock Classic Sandals do make a great choice as a backup pair of footwear. The durability, minimalism, lack of weight, and function are qualities that can't be overlooked. Packing them is a cinch, too, though we recommend keeping them flat, not rolling them as Bedrock shows on their product page. We found when rolled they took up more room than they would otherwise. And while you may be able to find a more comfortable pair of sandals, you'd surely lose many of the great aforementioned qualities that make the classics what they are: a kick-ass pair of footwear.
Usage Timeline
Initial Usage
Condition: Excellent
Straps took a bit longer to set up than expected to get the right fit. But then they were ready to hit the road. No uncomfortable break-in period required.
3 Months of Use
Condition: Excellent
Access the Pro Community Discussion
Get your questions about the Bedrock Classic Sandals answered from our team and the Pro Community right here on the page. Plus, join discussions with other members about gear, guides, and more.
Other Clothing & Accessories Reviews