Arc'teryx Maka 2 Waistpack Review
The Arc'teryx Maka 2 Waistpack will make you fall in love with waist packs, thanks to its many carry options, ideal organization, and durable materials.
Our Verdict
Unlock the Pro Summary
Save time. Get access to brief summaries of our reviews so you can browse and make decisions more efficiently.
Pros
Versatile carry
Made of durable, quality materials
Holds the essentials and then some
Cons
The cell phone pocket won't fit larger sized phones (or phones with robust cases)
Square shape limits what will fit inside
Concerns about the durability of the key leash
Recent Pack Hacker Video
Technical Details
Capacity

2.7l

Weight (oz)

6 oz (170.1 g)

Denier

420D

Dimensions

9 in x 10 in x 6.5 in (22.9 x 25.4 x 16.5 cm)

Notable Materials

Nylon, Polyester

Manufacturing Country

Vietnam

Warranty Information
Full Review
We've grown to love the convenience (and style) of waist packs, so when we heard that renowned outdoor gear company, Arc'teryx, had gotten into the waist pack game, we knew we had to get our hands on one. And we're glad we did.
We've been testing the Arc'teryx Maka 2 Waistpack for two months now and only have a few small nitpicks. (For us, that means we're pretty big fans.)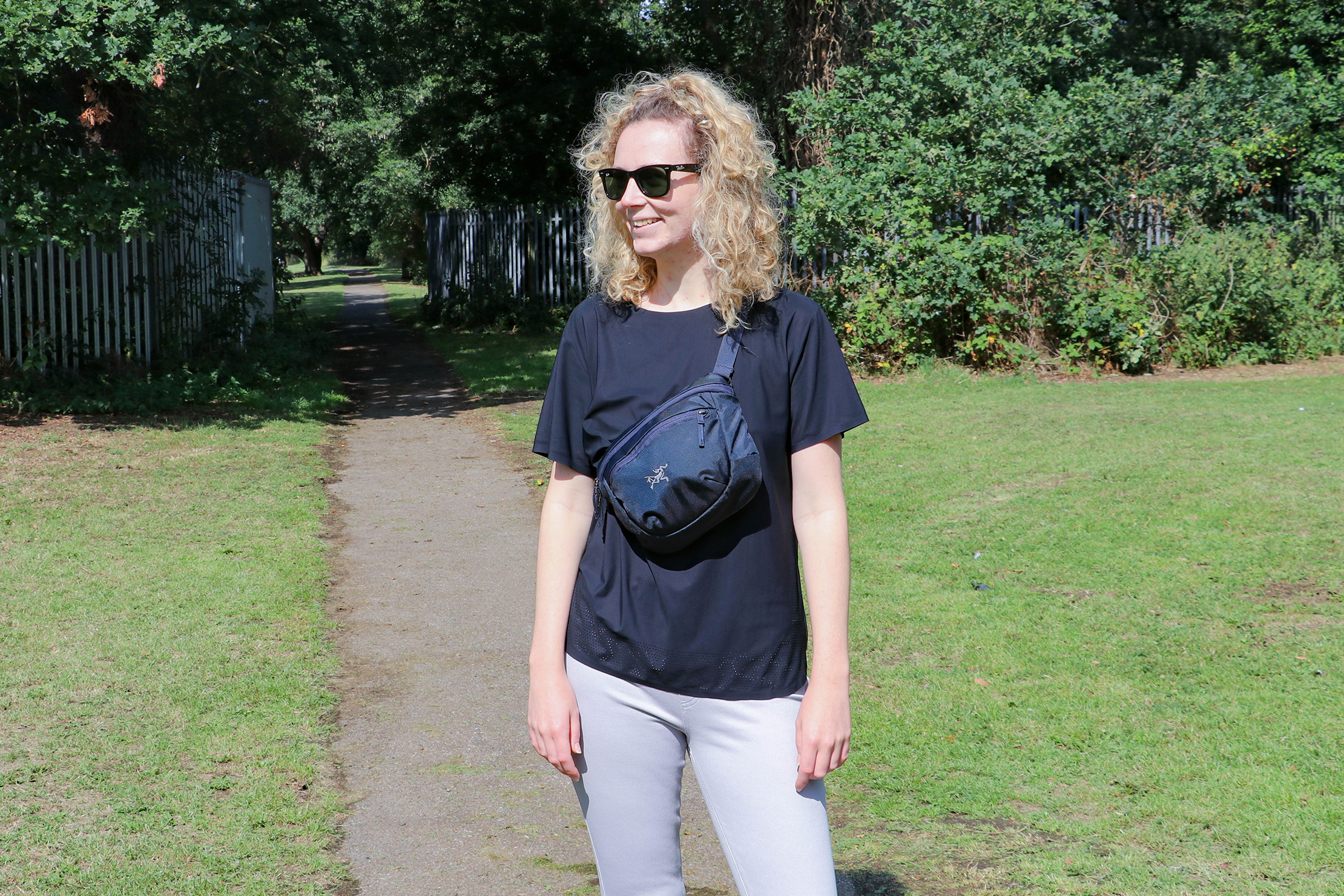 Before we go any further, we want to note that we'll be referring to the Arc'teryx Maka 2 Waistpack as a waist pack because that's what the company named it. HOWEVER, we think it works better as a sling bag as far as comfort and style are concerned. But it doesn't stop there, because those aren't your only carry options. In terms of carry, the Maka 2 is one of the most versatile waist packs we've come across to date. You can wear it:
Tight across the chest or back (sling style)
Loose (think messenger or crossbody bag)
Over one shoulder
Slung around the hips
Many waist packs claim that they can be worn in all the aforementioned ways, but most are best at one or two of them. The Maka 2 excels at all. So, with that said, let's jump into the rest of the review.
Materials & Aesthetic
Let's be real—when it comes to waist packs, you either love the look or you don't. If you're in the latter category, then you probably won't have anything nice to say about the aesthetic of the Maka 2 (and you probably don't need to read this review). But if, like us, you're down with the '90s dad-vibe, you'll probably love it.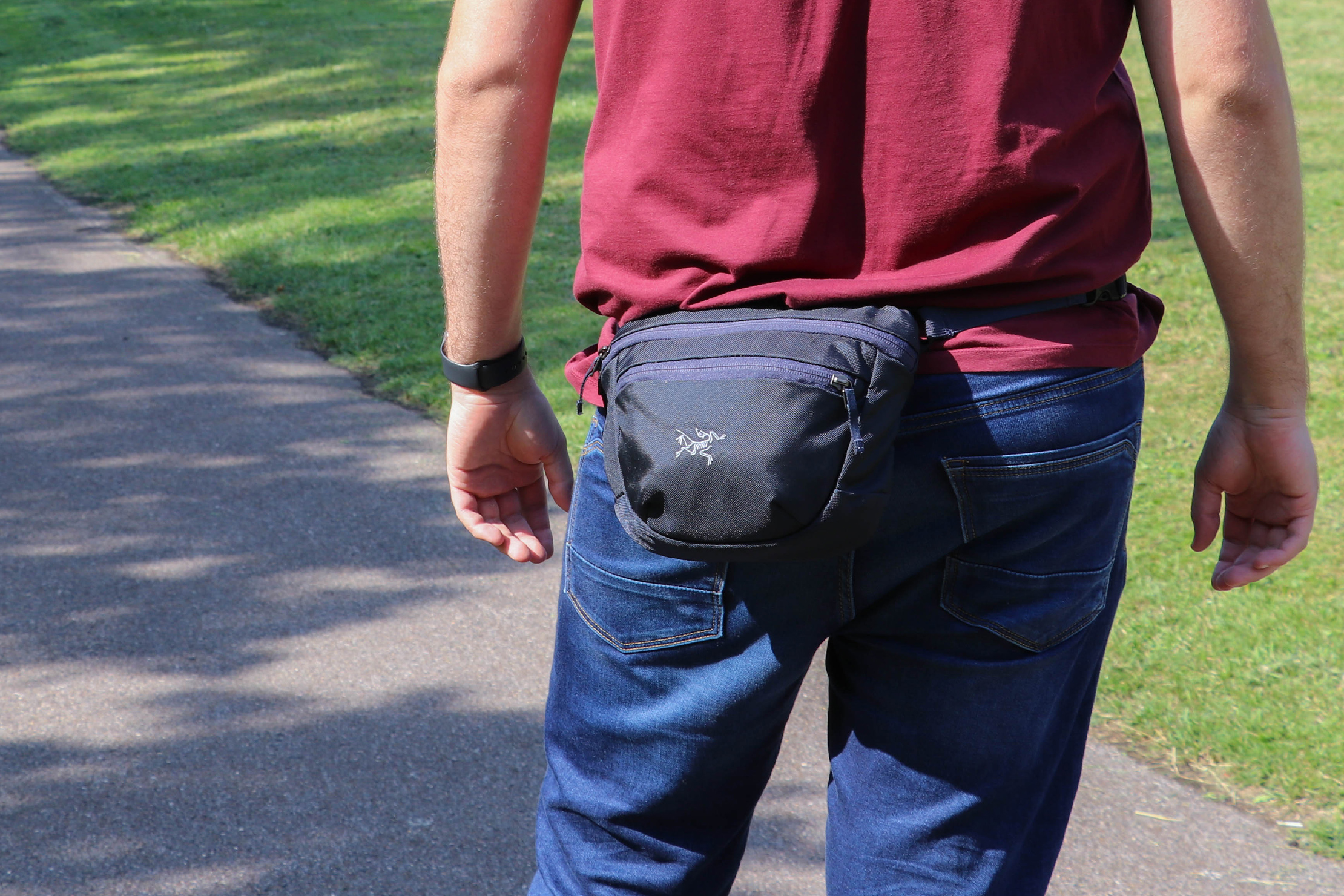 This pack has a simple, minimalist aesthetic that jibes with our brand here at Pack Hacker. It doesn't call attention to itself (unless you opt for the bright red colorway), which is ideal when it comes to travel. We've been testing the Tui (navy), but it's also available in red, a lighter blue, and black at the time of this review. The logo is dead center on the front of the bag, but it doesn't contrast with the main color, meaning it doesn't detract from the overall minimalistic look.
It's also squarer than most waist packs, which we've been digging. The size doesn't overwhelm smaller frames and, as we already mentioned, looks nice worn crossbody or around the waist.
Something to note—if you're petite or don't have much stuff to carry, you may want to check out the Maka 1, which is only different from the Maka 2 in size. It's a good bit smaller.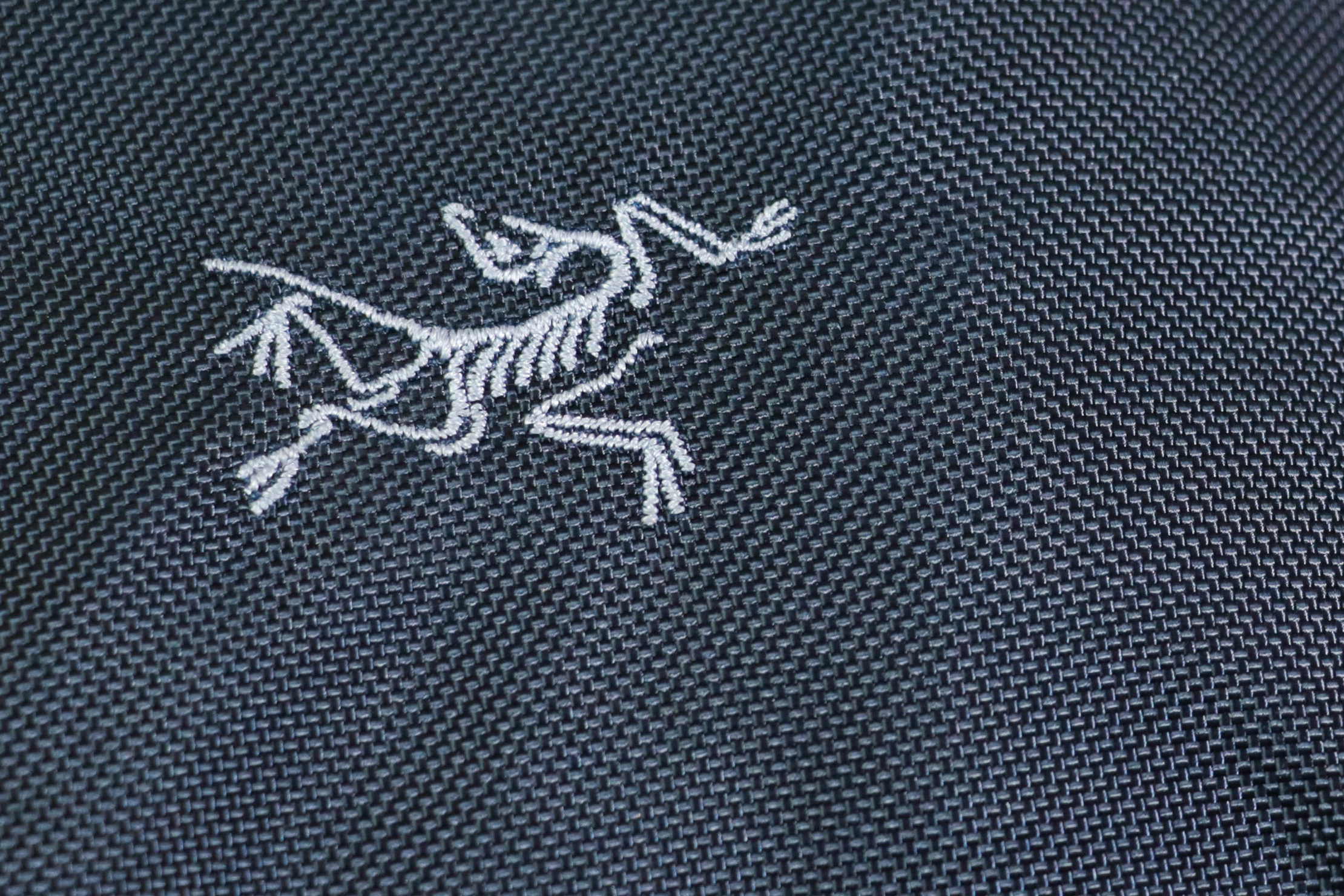 As far as materials go, we think Arc'teryx has struck a nice balance between durable and overkill here. The exterior is made from a 420D Oxford Nylon which is soft, strong, and lightweight. The back panel features Spacermesh™, which is a comfortable, breathable mesh that feels nice on the body. And the interior lining is a 200D polyester, which isn't wildly substantive, but we're fine with that—there's no need for anything crazy here.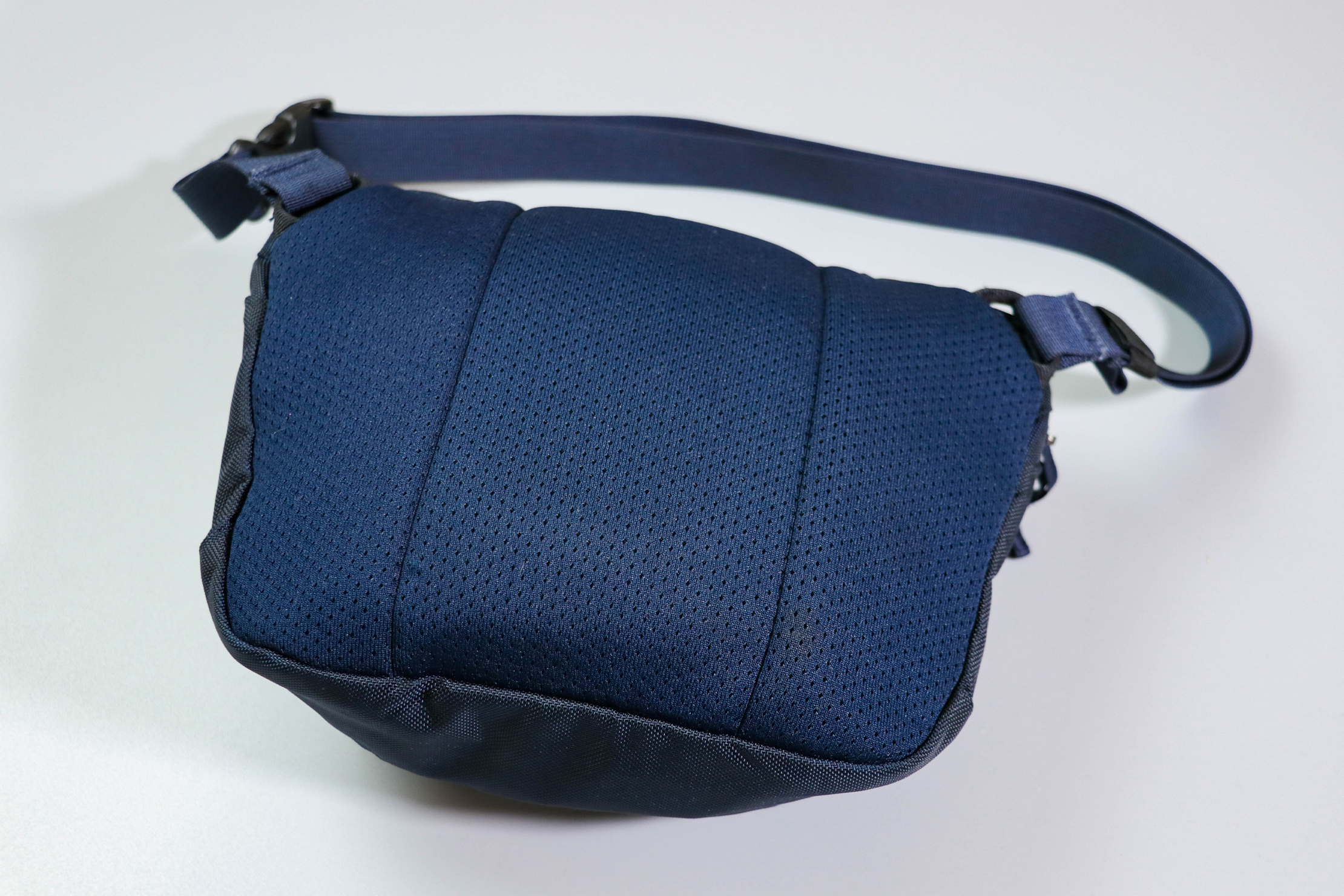 The zippers are all high-quality YKK Reverse Coil, and the buckle is from ITW. We've had a lot of experience with ITW buckles in the past and they've rarely let us down, so we have no qualms here.
External Components
There's not much on this bag as far as external components go. Remember, this is a waist pack!
The strap is simple without any extra padding or mesh, which we've been fine with since the bag weighs only six ounces. You'll also find a small elastic strap keeper to keep everything looking tidy, which we're always pleased to see.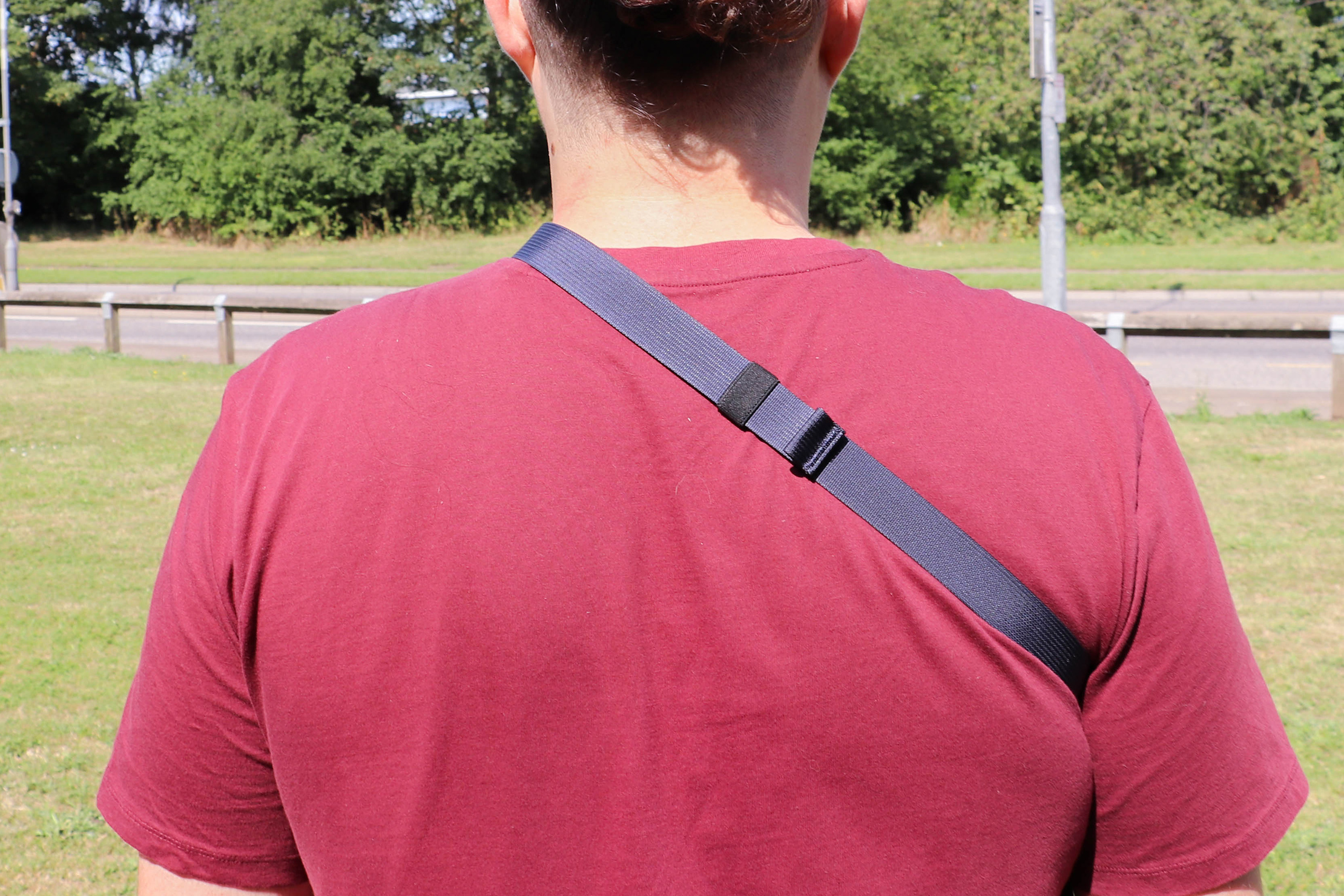 There's a small back pocket that will fit most smartphones, although not the plus-sized ones or phones with a hardy case (#clumsypeopleproblems). We haven't taken advantage of this pocket much, as we prefer to keep our cell phone in one of the interior pockets for added security. But we don't mind it being there as it doesn't get in your way if you decide not to use it.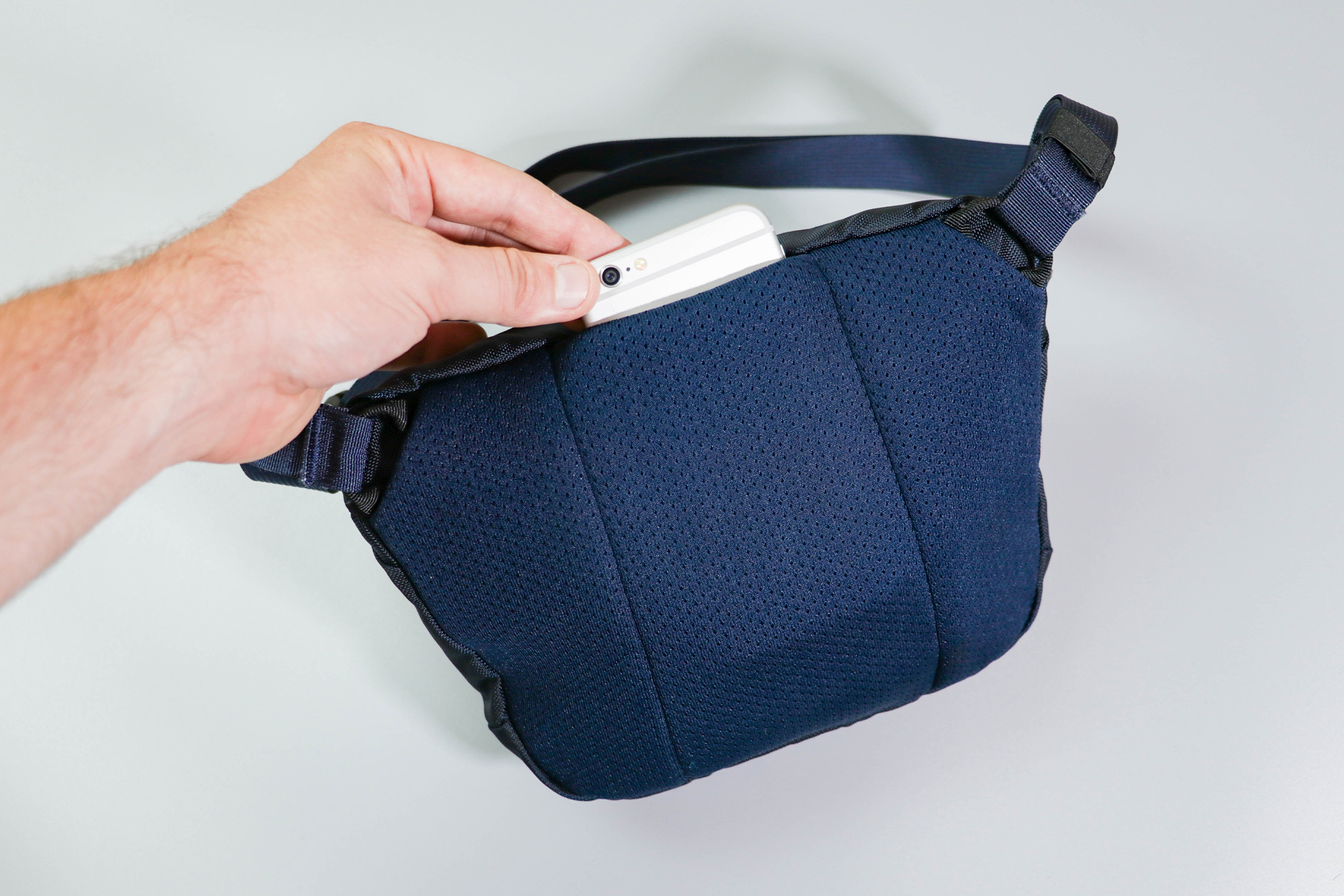 And that's it! Like we said, not much going on.
Inside the Waist Pack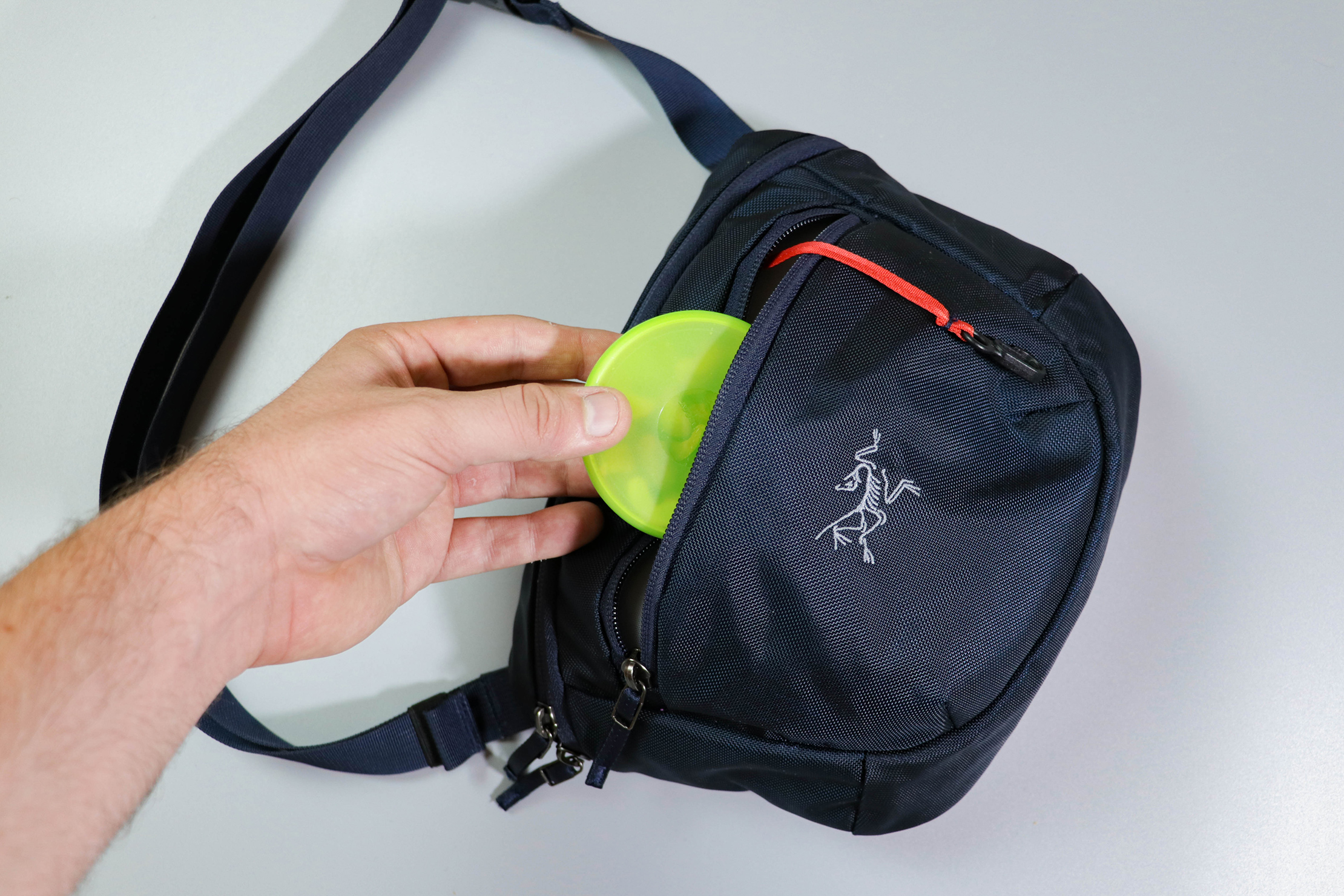 You'll find two pockets on this thing, which is exactly what we like to see on bags of this size. There's a quick-grab pocket, which is as simple as it gets, with no further organization inside. It's a great place to stash items you'll want to access quickly—your phone, a snack, whatever. There's also a key leash, which is nothing special. It's plastic, and from our experience, that means it probably won't last long (although, to be fair, we've had no issues so far).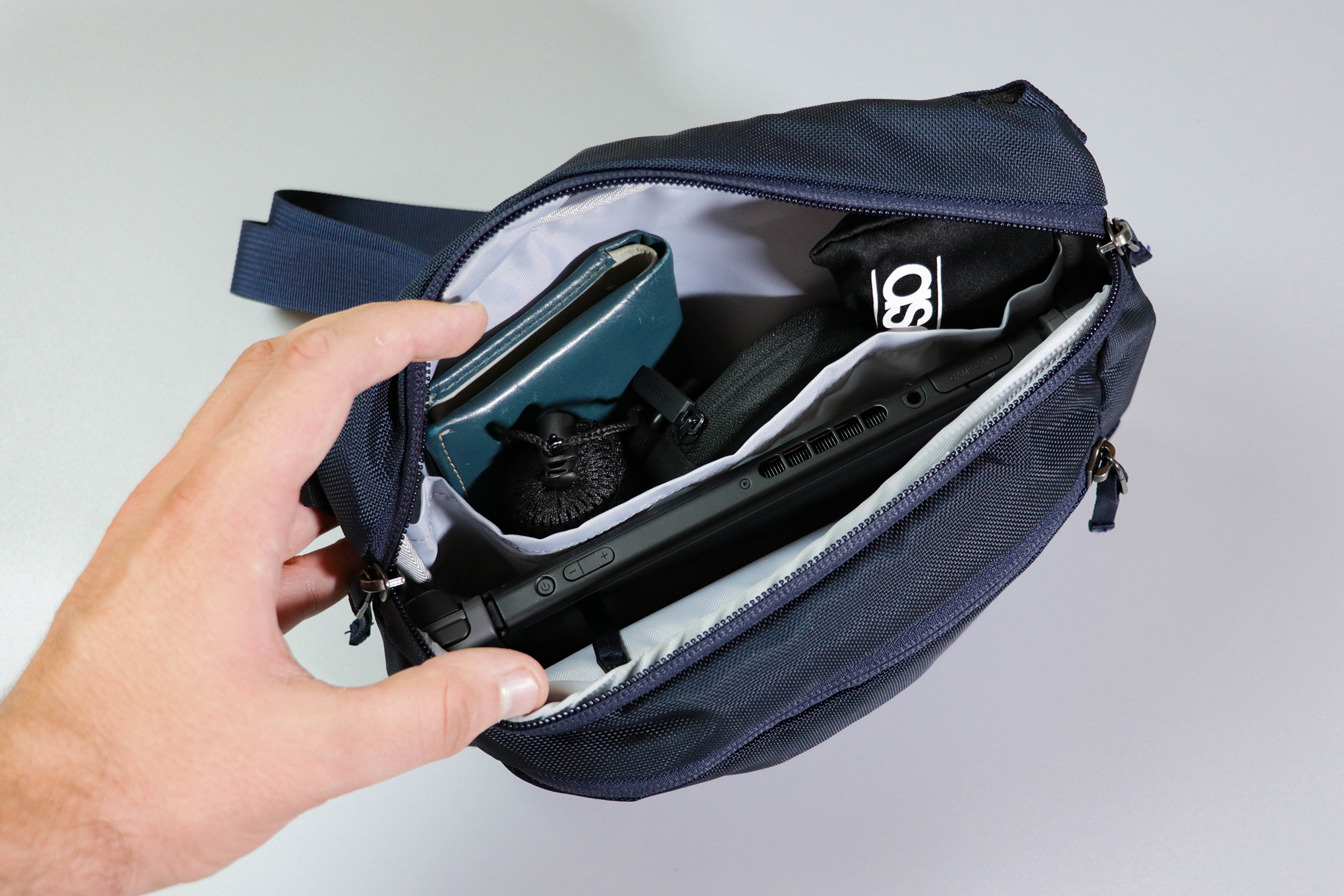 That brings us to the main compartment. Now, remember, this thing is square. Meaning this pocket is also square-shaped and, therefore, not ideal for wide or tall items (like water bottles). We've been able to squeeze a Nintendo Switch in here, but it's uncomfortably tight (think skinny jeans after gorging on food).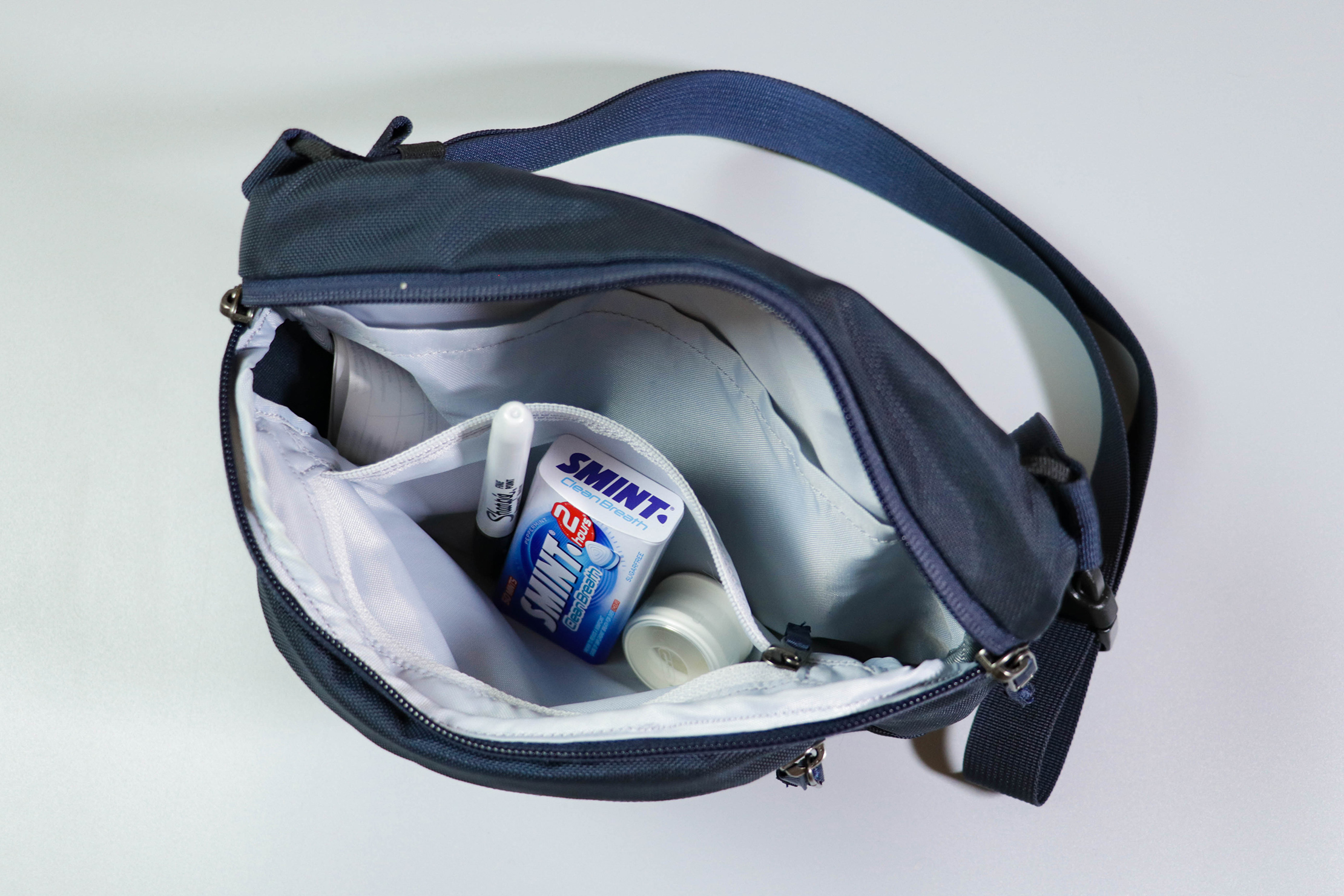 Inside, you'll find a zippered mesh pocket, which is perfect for items you don't want to get lost in the larger compartment—headphones, some cash, things of that nature. You'll also find a sleeve, which is basically a divider that splits the main compartment in two. We like this as it allows you to keep your stuff somewhat organized, but it's not overly intrusive.
Now, this compartment is actually much larger than it seems because it expands really well. You can fit all of the typical essentials for day trips or flights—a battery bank, phone, wallet, headphones, earplugs, a small notebook, etc. We've even managed to fit a spare t-shirt.
All in all, we've been digging the interior organization. It's simple but effective.
Durability & Testing
We've been testing the Arc'teryx Maka 2 Waistpack for two months now, and it's gotten a lot of use (almost daily). It's seen two U.S. states and the U.K, and we've thoroughly enjoyed having it around for those couple of months.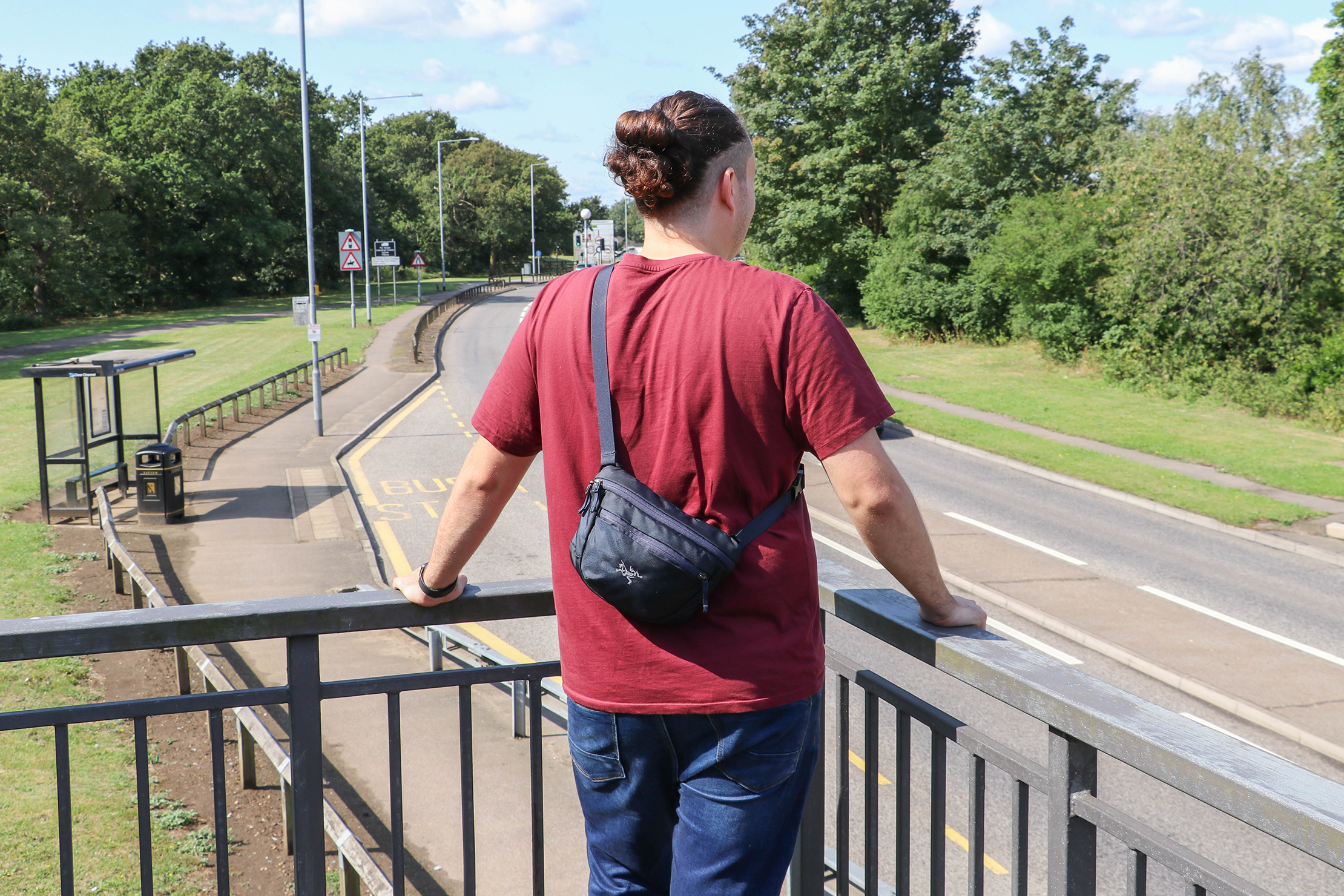 It's the ideal size for carrying essentials while out and about. As we said, we prefer carrying it sling-style, but for those of you waist-pack-or-die people, you'll love this bag too.
We have nothing to note whatsoever when it comes to durability. We're not surprised—Arc'teryx is renowned for their impeccable craftsmanship—but we're pleased nonetheless.
Usage Timeline
Initial Usage
Condition: Excellent
Mesh and padding on back make for a comfortable carry
Quick access phone pocket even fits an iPhone 8 plus
Good amount of internal organization
1 Month of Use
Condition: Excellent
Been getting a lot of use out of this thing!
2 Months of Use
Condition: Excellent
Still looking pristine—not a single loose thread to be found!
Access the Pro Community Discussion
Get your questions about the Arc'teryx Maka 2 Waistpack answered from our team and the Pro Community right here on the page. Plus, join discussions with other members about gear, guides, and more.
Other Bags & Luggage Reviews