Able Carry Daily Backpack Review
We're digging the Able Carry Daily Backpack for its clean look and comfortable harness system—although, some of the interior pockets feel loose.
Our Verdict
Unlock the Pro Summary
Save time. Get access to brief summaries of our reviews so you can browse and make decisions more efficiently.
Pros
Simple, modern look
Just-right level of organization
Comfortable harness system
Cons
Inside pockets on front flap feel flimsy
Sternum strap is pretty short
Laptop sleeve could use more of a false bottom
Recent Pack Hacker Video
Technical Details
Capacity

20l

Weight (lb)

2.1 lb (1 kg)

Dimensions

19 in x 11 in x 7.5 in (48.3 x 27.9 x 19.1 cm)

Notable Materials

CORDURA® Nylon, Polyethylene, YKK Zippers, Duraflex Hardware

Manufacturing Country

China

Laptop Compartment Size

15"

Warranty Information
Full Review
Get up to 10% off Able Carry • Join Pack Hacker Pro
The folks at Able Carry understand the importance of a quality everyday carry pack—one that's efficient, made with long-lasting materials, and has a streamlined look and feel.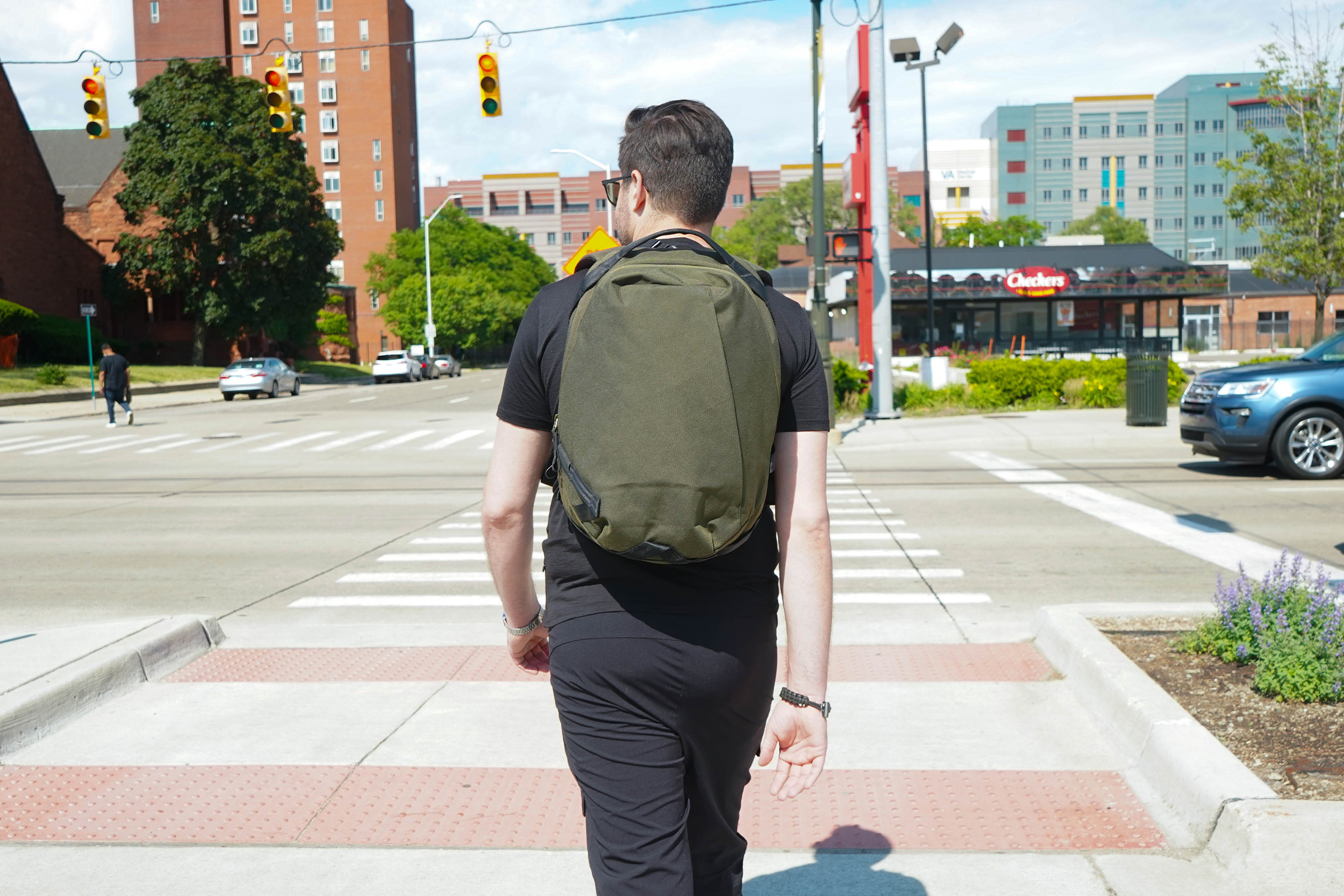 The Able Carry Daily Backpack reflects all of these things. It houses your daily essentials and leaves out unnecessary gadgets and gizmos that simply add weight (and expense). This pack offers a comfortable, streamlined carry.
We've been using this bag as our everyday carry for two weeks now, so let's jump into the review.
Materials & Aesthetic
This pack is a unique oval shape—this paired with the green color is giving us definite turtle vibes (which we mean as a compliment). It's also very streamlined—no dangling straps or bulging pockets.
There are a few Hypalon tags throughout this pack adorned with the Able Carry logo—this branding is subtle and soft in the hand, both things we appreciate.
At the time of this review, the Able Carry Daily Backpack comes in eight colorways, and there are different materials depending on which colorway you choose—five are made with X-Pac fabric, and the other three with 1000D CORDURA nylon. The Olive colorway we've been testing is made with CORDURA nylon, and it's held up well in our testing thus far. But both fabric options are highly durable. X-Pac is more water-resistant, though you really can't go wrong with either—all depends on your personal preference.

The zippers are from the trusted brand YKK and they've been working smoothly throughout our testing. Plus, you'll find Hypalon zipper pulls throughout, which are easy to grab and vary in length depending on the pocket—a thoughtful design touch if you ask us.
You'll also find some Duraflex hardware on here, which we've had positive experiences with on other bags in the past—everything is working as it should so far.
External Components
The first thing you'll notice on this pack is the seat belt-like webbing that runs along the outside, creating a series of loops. They give the bag a unique look that we've been digging. But they're not just for looks, as they allow you to hang stuff with a carabiner clip—your water bottle, an extra pair of shoes, anything you can think of.

The distinct A-frame suspension (that nylon webbing we just talked about) is designed to alleviate the pressure on your shoulders by shifting the bulk of the weight off of them—and keep your posture on point for longer periods of time. While we can't say for sure that it's working, we haven't had any issues with Saggy Pack Syndrome during our testing so far, which is a good sign. Overall, we've found it to be a comfortable carry.

The Daily Backpack's shoulder straps are nicely padded with dual-density foam. This is made from laminating high-density foam and low-density foam together, so you get the benefits of both. The firmness of high-density foam offers extra support while the softness of low-density foam keeps you comfy. There's also mesh on the back of the straps for added breathability. And at the bottom of the straps, you have that same smooth, seat belt-like material with elastic keepers to keep dangling to a minimum, which we dig.
On the shoulder straps you'll find the sternum strap, which we didn't get much use out of. Considering what you're probably carrying in here, it's not a necessity for us on a pack this size—not as essential as it would be on a larger travel bag filled with heavy gear, anyway. It's also pretty short, so if you have a wider chest you may not be able to get it adjusted how you'd like—or use it all. It hasn't been an issue during our testing, just an observation. We do like the olive fabric welt that sits over the sternum strap to hide it when not in use—this is part of what gives this pack its clean look.

And for when you'd rather carry by hand, or just for picking the bag up and putting it down, there's a padded handle at the top that carries nicely. We like its seat belt-like material—it's soft to the touch and comfortable to grab.

The back panel is lined with the same mesh you see on the shoulder straps. It's is also densely padded to create air channels for added breathability—not as dense as we've seen on some bags, but definitely better than most. The frame sheet back here also gives the bag some structure, and while it's not the sturdiest one we've ever tested, it works for a bag of this size. It's also removable. There's a velcro flap inside of the main compartment of the pack that you can open if you ever want/need to take the frame sheet out.
Inside the Pack
The organization inside this bag is simple, uncomplicated. There's room enough for what you need and no place for things you don't. It's split into two—a medium-sized pocket you can access from the front, and then the main compartment.

Let's start with the front pocket. This is a vertical pocket, meaning you can swing the pack to the front without taking it off and easily access your stuff. Though there's no internal organization, so whatever you do throw in here will jumble to the bottom. We've preferred to put larger items like a water bottle or medium-size notebook here for this reason, but you can also organize with pouches if you'd like. Inside, you'll find a clip for your keys. This clip is made of plastic and has 360° motion—even though it's not metal, it still feels sturdy in the hand. And similar to the sternum strap, there's a fabric welt that hides the zipper and keeps this bag streamlined.

Now onto the main compartment. When you open this thing up, you'll find two pockets on the inside of the pack's front flap. One is an open pouch that's size enough for things like your phone or maybe a pair of sunglasses. We've also tried packing a Roost Laptop Stand here, but the pocket is not quite deep enough. The other is a zippered pocket ideal for, say, a large pair of headphones. The open sleeve takes up about a quarter of the width while the zippered pocket is about three-quarters. These didn't work great for the gear we carry—however, if you have some things that fit perfectly in these pockets, then great! We've also found that if these pockets are packed along with the front pocket, the front flap of the bag looks a little slouchy when the main compartment is open—not a huge deal but again, something to note.
Though the biggest turn off of these pockets is the structure—or lack thereof, in this case. They feel flimsy and loose, even saggy when we do have gear in them. The pockets don't seem to be attached tightly to the bag, which might be causing this. But again, if you have the right gear for them and they work for you, awesome.

One thing we are digging inside this main compartment is the zippered mesh pocket against the back. It has a little bit of dimension built-in, some stretch to it (nothing crazy), and it's not as rough and scratchy as some of the mesh we've seen in other bags. Plus it's great for holding all of our smaller tech accessories, like a mouse, USB cables, adapters, pens, you name it. Unlike the front flap pockets, this mesh pouch feels integrated into the pack—it's tight and secure.

And at the back of the main compartment is a 15" laptop sleeve. It's densely padded and has a false bottom, which we always appreciate. Although, it's a slim one. While you'll have some extra protection if you drop your bag, it's not as much as we've seen in other packs, so you may want to keep your laptop in a protective case when inside.

Lastly, at the top of the bag you'll find a quick-access zippered pocket that's great for storing things like your phone, wallet, or passport—though it does feel a little deep when we're using it. We do like that it's against our backs so it's secure, and much harder for the wrong hands to get into.
As far as durability is concerned, this bag is still looking almost brand new—the materials have held up well in our testing so far.
Usage Timeline
Initial Usage
Condition: Excellent
Really solid all-around daypack
Well padded harness system and stiff back panel make for a comfortable carry
Feels like the right amount of organization for an EDC daypack, not too much or too little
2 Weeks of Use
Condition: Excellent
Still digging the comfort of the harness system
The internal organization on the front flap seemed hard to use in testing—one is designed for large headphones, and the other, a phone. The pockets feel a little floppy. Works well if you have the right gear
The soft nylon webbing on the exterior merges style and function—a fun design with useful carabiner attachment points
The hidden quick-grab pocket on the back of the bag feels a little deep while using
Hypalon zipper pulls are quick and easy to operate
Access the Pro Community Discussion
Get your questions about the Able Carry Daily Backpack answered from our team and the Pro Community right here on the page. Plus, join discussions with other members about gear, guides, and more.
Other Bags & Luggage Reviews