WaterField Designs Travel Wallet Review
We dig the simplicity of the WaterField Designs Travel Wallet. It's spacious enough for a passport and international bills, although the material is a bit stiff.
Our Verdict
Unlock the Pro Summary
Save time. Get access to brief summaries of our reviews so you can browse and make decisions more efficiently.
Pros
Spacious enough to fit a passport and smartphone
Simple internal organization
Durable construction
Cons
Cards sometimes interrupt zipper
Main zipper doesn't always close completely
Material is rigid and stiff
Recent Pack Hacker Video
Technical Details
Weight (oz)

2.5 oz (70.9 g)

Dimensions

4.25 in x 7.25 in x 0.25 in (10.8 x 18.4 x 0.6 cm)

Notable Materials

Ballistic Nylon, Leather, Canvas, YKK Zippers

Manufacturing Country

United States

Warranty Information
Full Review
If you're looking for a bigger travel wallet that can fit your passport, phone, cash, and cards, then check out the WaterField Designs Travel Wallet. Its simple, pouch-like design has all the space and functionality you need, but don't expect anything innovative. You can, however, expect solid materials and durable construction that are ready for your travels and daily use.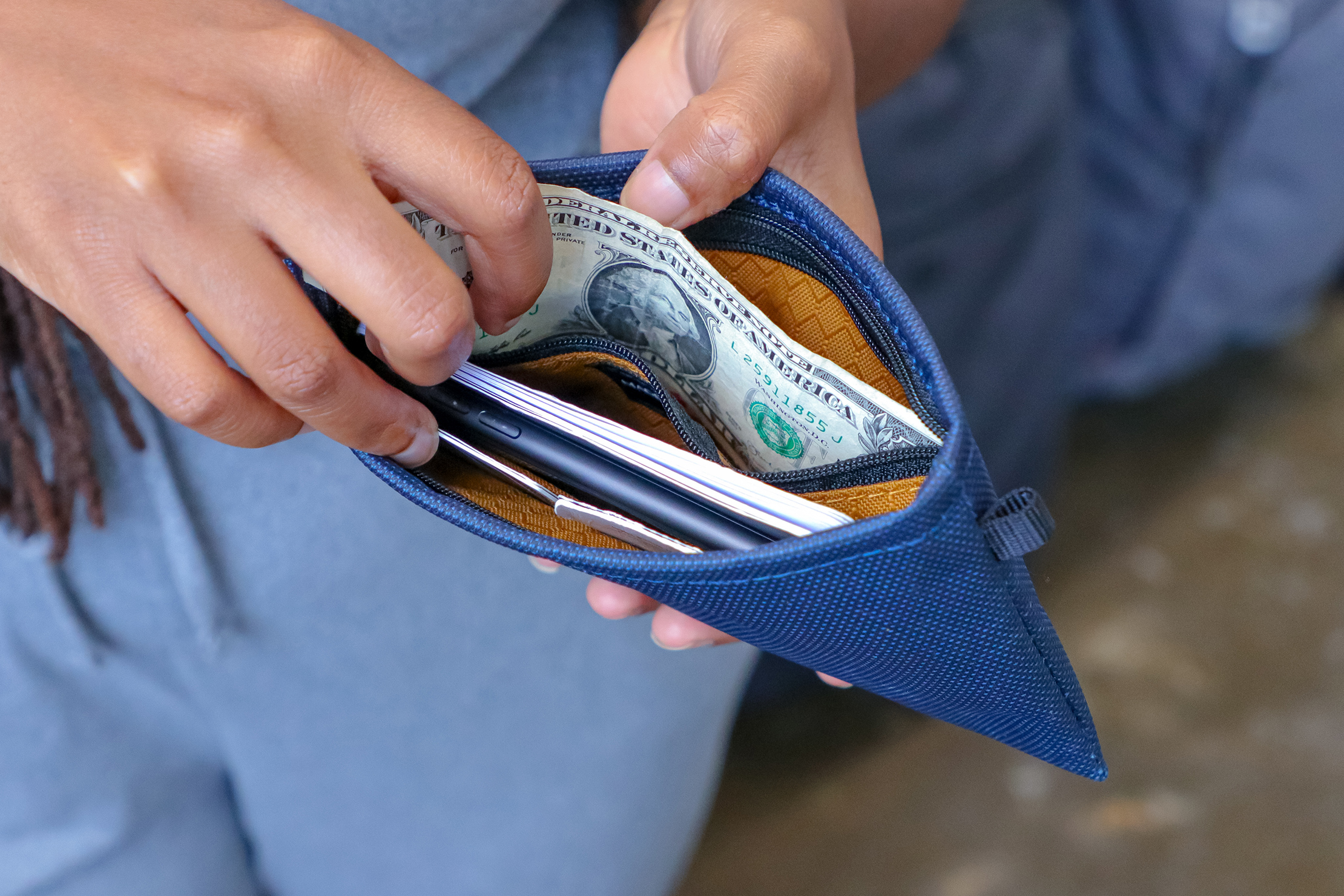 It's available in two sizes—the Travel Wallet and the Travel Wallet Plus, which is obviously bigger. We tested the regular Travel Wallet for two weeks during everyday carry and on a quick weekend trip. Let's take a look, shall we?
Materials & Aesthetic
The material the WaterField Designs Travel Wallet is made of varies depending on which color you get. We got our hands on the Blue Italian Forza version, which is made with Forza Italian textile. This material is a blend of thick nylon thread woven together in a basketweave. It has a very distinct pattern, and while it's durable, we found it to be pretty stiff and rigid, especially on the sides.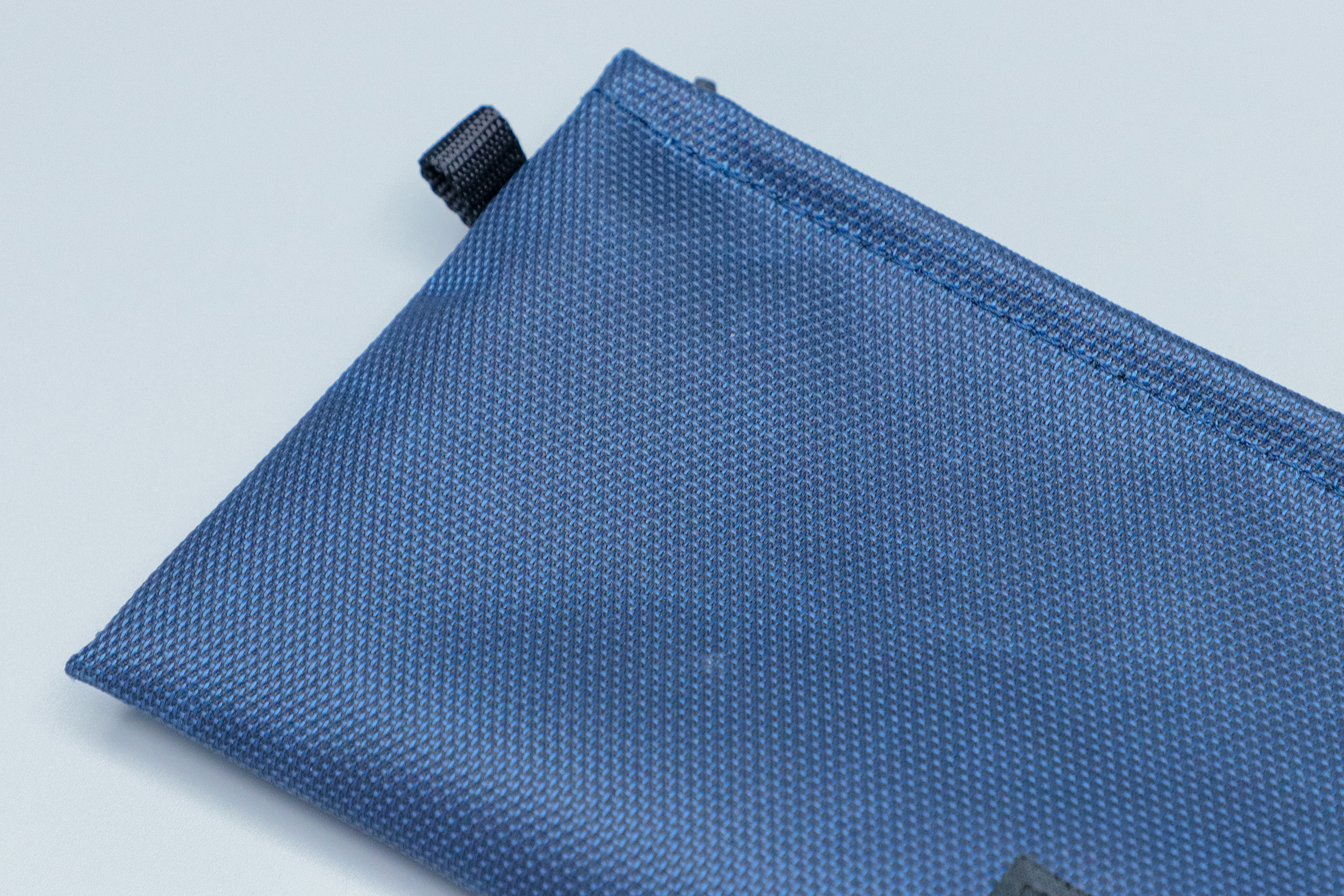 This wallet is also available in Red Italian Forza, Ballistic Nylon (black), Waxed Canvas, Black Leather, and Brown Leather. Just note, only the Travel Wallet Plus is available in leather. The liner on both versions is WaterField Design's signature golden-colored nylon that's also thick and sturdy. Between the bright color and diamond grid pattern, it's easy on the eyes both in the sense that it looks good and makes for excellent visibility.
Aesthetically, the Travel Wallet looks more like an organizer pouch than what we'd typically consider a wallet. It reminds us of a bank deposit bag, especially the Blue Italian Forza version. If you've ever worked retail and had to count down a cash register and put money into one such bag at the end of the night, you know what we mean. Well, minus the WaterField logo on the bottom right corner, we suppose.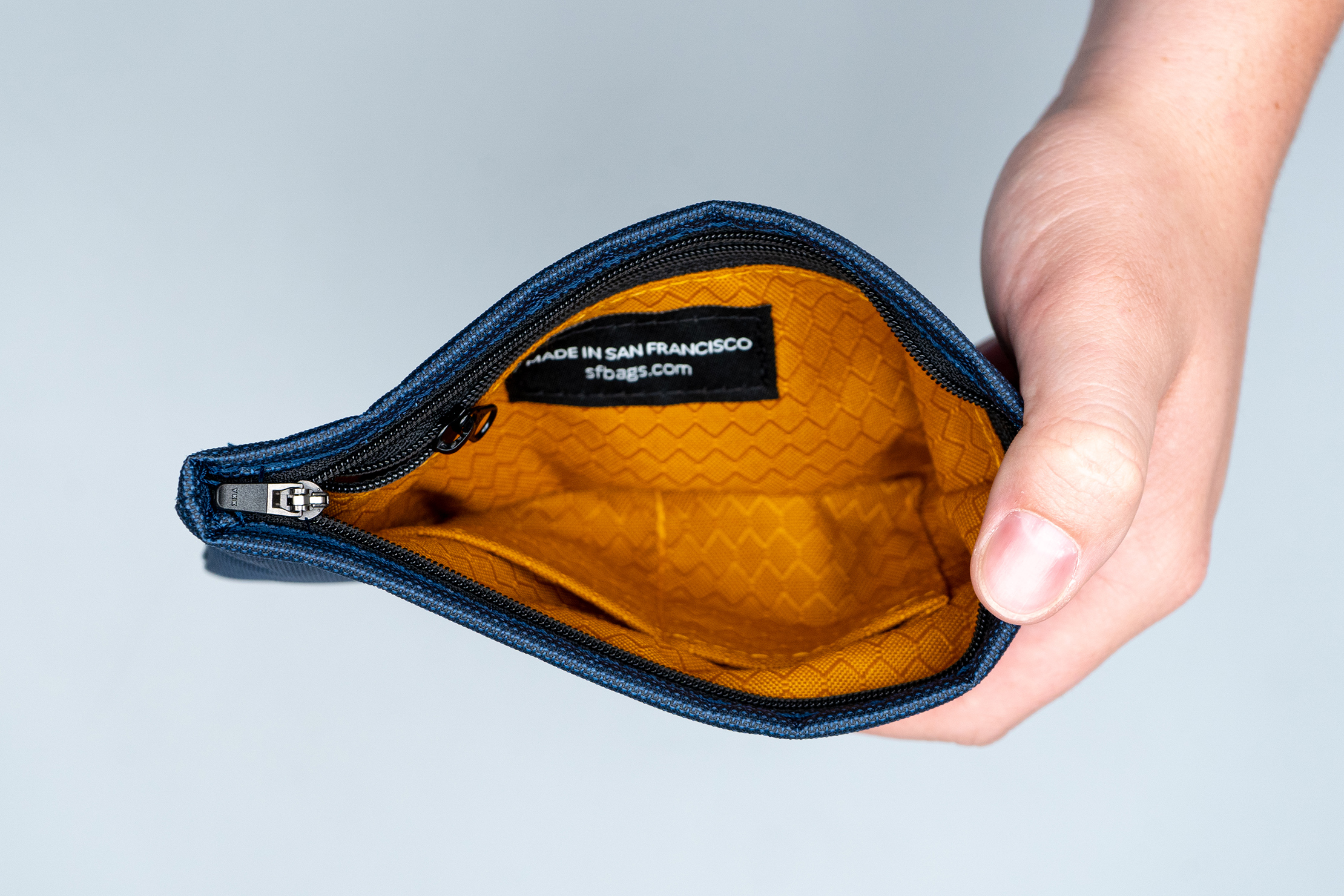 YKK zippers are used throughout the wallet. The main zipper is self-locking which means when you flip the zipper pull down, it won't budge. The only thing is that it doesn't quite close all the way, and there's a tiny gap at the end. We didn't have any issues with coins falling out of this gap because we put them in the zippered pocket inside, but it's just something to keep in mind. That small internal pocket also features a YKK zipper, and it's as comically small as the external one. When we say comically small, we mean the zipper pull is so tiny that it can almost slip out of your hand.
Inside the Wallet
Once you open the WaterField Designs Travel Wallet, the first thing you'll notice is the bright interior liner we mentioned earlier. The rest of the internal components consist of two card slots, a large zippered pocket, and a wide-open space in the middle. Even though there are only two card slots, they're pretty spacious. The left slot is slightly smaller and fits around two cards comfortably, while the one on the right can accommodate three. However, we noticed that sometimes the top of the cards would sit right up against the main zipper, which made closing it a bit tight.

Across from the card slots is a large zippered pocket that pretty much covers the length of the wallet. This pocket was designed to hold coins, but you can fit bills in here, too, without folding them. The only thing to watch out for is the bills hitting up against the zipper, same as the card slots.
Onto the main space, WaterField Designs says both the Travel Wallet and Travel Wallet Plus can fit up to an iPhone 12 Pro Max. Of course, we tested this out because that's what we do here at Pack Hacker, and we found this was only partially true. An iPhone 12 Pro Max will fit, but it's an incredibly tight squeeze with a case on. It leaves almost no room for other items like a passport or cash. Taking your case off will make it fit a bit easier, but we don't know who's walking around without any protection on their phone while traveling. And if you are that person, props to you for being fearless.

A smaller iPhone 12, however, fits with relative ease, leaving space for a passport. Typically, we carried an iPhone 12, passport, cash, and around four cards inside comfortably. The phone and passport fit in the open space, with cash and coins in the zippered pocket, and two cards in each slot. You could also put your cash in the main space and just coins in the zippered pocket. It all depends on your style and preference, but the wallet is big enough to fit larger international bills without folding them, which is nice.
This wallet is supposed to come with a pen for filling out customs forms and a carabiner so you can clip it onto your backpack or belt loop. We're just gonna assume that ours got lost in the mail because the Travel Wallet we received didn't include either. However, it does have a tiny nylon loop on one side where we assume the carabiner is supposed to go.
Honestly, we think this wallet is a bit too big to be walking around with it attached to your waist. Also, having your passport and money hanging on the outside of your bag just sounds like a bad idea. Having a pen for customs forms when flying internationally would be convenient, though. Even without those extra features, we still enjoyed using the WaterField Designs Travel Wallet for travel and EDC.
Usage Timeline
Initial Usage
Condition: Excellent
The YKK zippers are self-locking
It's a pouch-style wallet that can fit a pen inside
The bright orange liner fabric aids interior visibility
2 Weeks of Use
Condition: Excellent
The material is sturdy and durable, although a bit stiff
The self-locking YKK zipper doesn't close all the way, leaving a small gap
Zipper can be a bit sticky
There is enough space inside for larger international bills and an iPhone 12
Cards can sometimes hit up against the zipper in the card slots
Access the Pro Community Discussion
Get your questions about the WaterField Designs Travel Wallet answered from our team and the Pro Community right here on the page. Plus, join discussions with other members about gear, guides, and more.
Other Organizers & Pouches Reviews