TUSHY Travel Portable Bidet Review
When nature calls, the TUSHY Travel Portable Bidet has your back(side). It keeps you clean and is small enough to pack. Just be sure to bring a drying towel.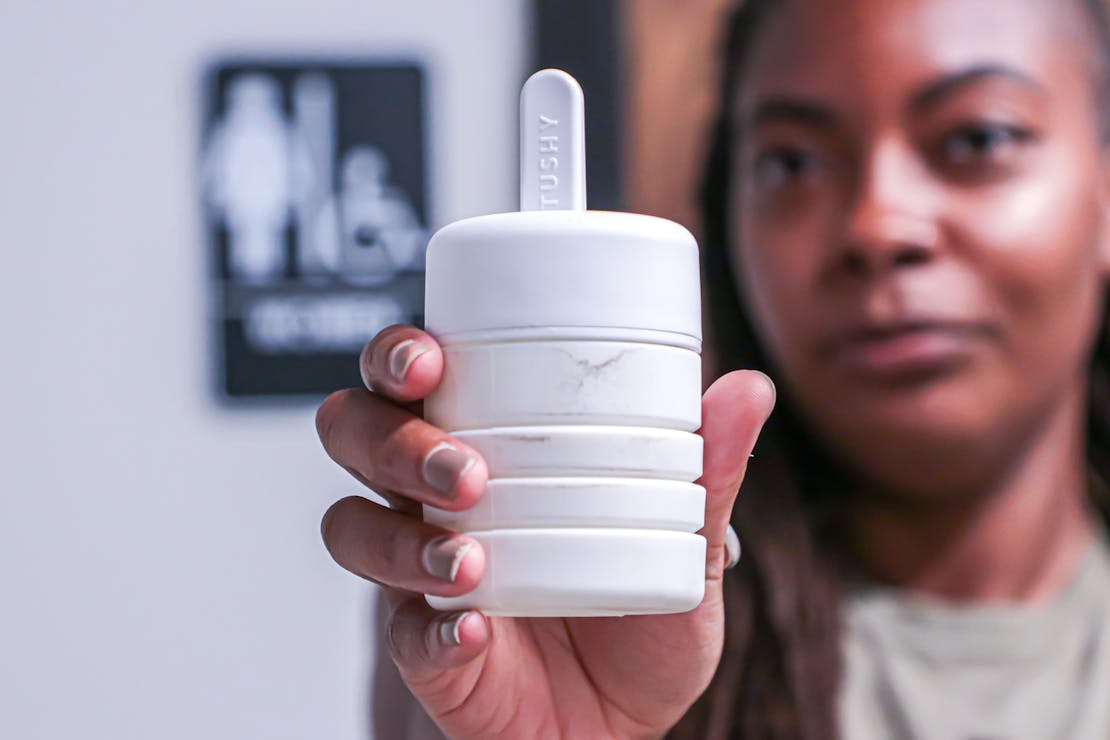 Our Verdict
Unlock the Pro Summary
Save time. Get access to brief summaries of our reviews so you can browse and make decisions more efficiently.
Pros
Compressible and takes up minimal space
Comes with a carabiner to attach it to the outside of your backpack
Comes in handy during outdoor activities like road trips and camping
Cons
Adds extra weight to your pack after you fill it up with water
Need to bring a towel or something else for drying
Silicone gets dirty quickly when clipped to the outside of your bag
Recent Pack Hacker Video
Technical Details
Capacity

11oz

Weight (oz)

5.3 oz (150.3 g)

Dimensions

5.8 in x 3 in (14.7 x 7.6 cm)

Expanded

Notable Materials

Silicone, Plastic, Metal

Manufacturing Country

China

Warranty Information
Full Review
You've passed the same rock formation at least three times, you have no cell service out in the woods, and you're starting to get the bubble guts. Turns out going off the trail for the road less traveled was a bad idea this time—you're lost, and nature is calling. This isn't a call you can't ignore. Luckily you packed a TUSHY Travel Portable Bidet, and you're not afraid to squat down and use it. Just watch out for poison ivy because we don't know a travel accessory that will stop your butt from itching if you accidentally come in contact with some.
If you've ever found yourself in a situation similar to the one above, you'll understand how handy the TUSHY Travel Portable Bidet is. It's especially useful during outdoor adventure travel like backpacking, camping, and road-tripping. You never know what will happen out in the wilderness, and finding a bathroom on the road can be iffy. The further away from modern civilization your travels take you, the less likely you will find a working toilet. If you do find one, whether or not there will be toilet paper is a toss-up. Imagine exploring the countryside in Thailand, and there's no public toilet in sight. As long as you're okay with doing your do in the bushes, the TUSHY will clean you right up.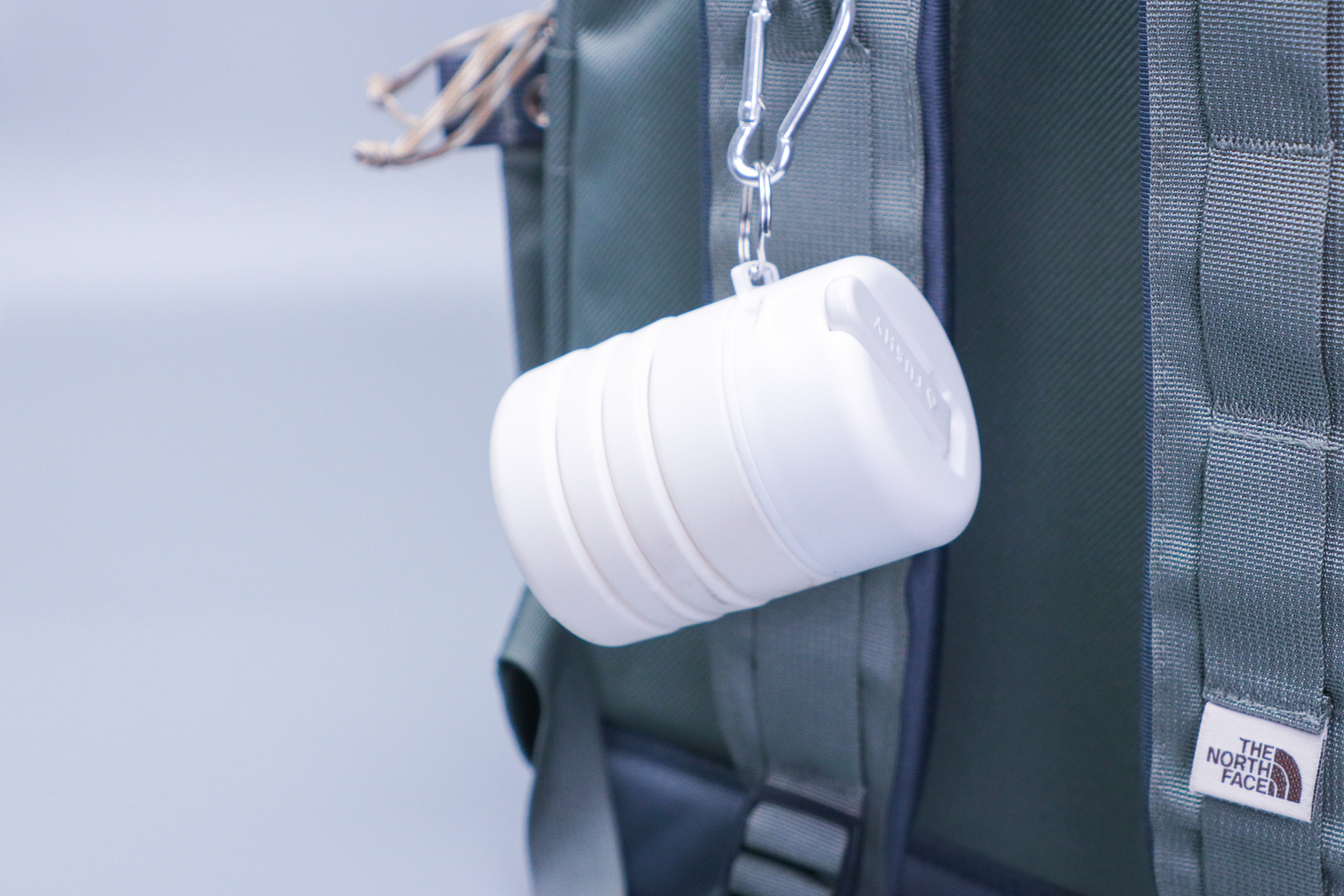 Even if you're not out of countryside trekking, a bidet just feels so freaking good. Our love for bidets can be attributed to vast experience traveling around Asia. After the first time using a washlet in Japan, our lives were changed forever. If you've never used one before, you are seriously missing out. They make your butthole feel brand spanking new. Also, if you're traveling somewhere that's known for spicy food… well, you know how it goes.
TUSHY actually sells all sorts of bathroom-related products. Their lineup includes a classic full-sized bidet for your at-home toilet and a "spa" bidet that cleans your backside with warm water. Now, we're talking! They also sell bamboo tissues and "bum towels" to dry your butt after using the bidet. We sure wish we had some of these towels during testing because having a soggy butt almost makes using a travel bidet not worth it. We were left doing the "shake what ya momma gave ya" method most times, but you just gotta do what you gotta do.
Features & Usage
It doesn't look like much when you first take it out of the box, but that's half the beauty. The TUSHY Travel Portable Bidet is incredibly simple. It's basically a thick silicone tube that you can expand to fill with water or collapse when you're not using it. After you've taken a poop (or just a pee), flip up the little shower spout and squeeze the TUSHY to spray yourself clean.

It comes with a small, black drawstring bag in case you're shy about wanting to have a clean butthole around your travel buddies. We have no shame, and we used the attached carabiner to clip it to the nylon webbing on our backpack for easy access when we needed it. It honestly just looks like a tiny water bottle, so no one will know. Hopefully, no one actually mistakes it for one… that would be tragic.
Keep in mind that you will have to fill it up with water before you head out. Fully extended, it can hold up to 11 ounces, which will add just a bit of extra weight to your bag. Otherwise, it's collapsible, so it doesn't take up too much space when it's not full.
The TUSHY comes in several "fun" (bright) colors like "Summer Friday Fuchsia," "Takeoff Teal," "Wanderlust White," and "Jet Black." We settled for Wanderlust White for two reasons. First, who doesn't love a bit of wanderlust? Second, it was the only color that wasn't sold out when we got our hands on it.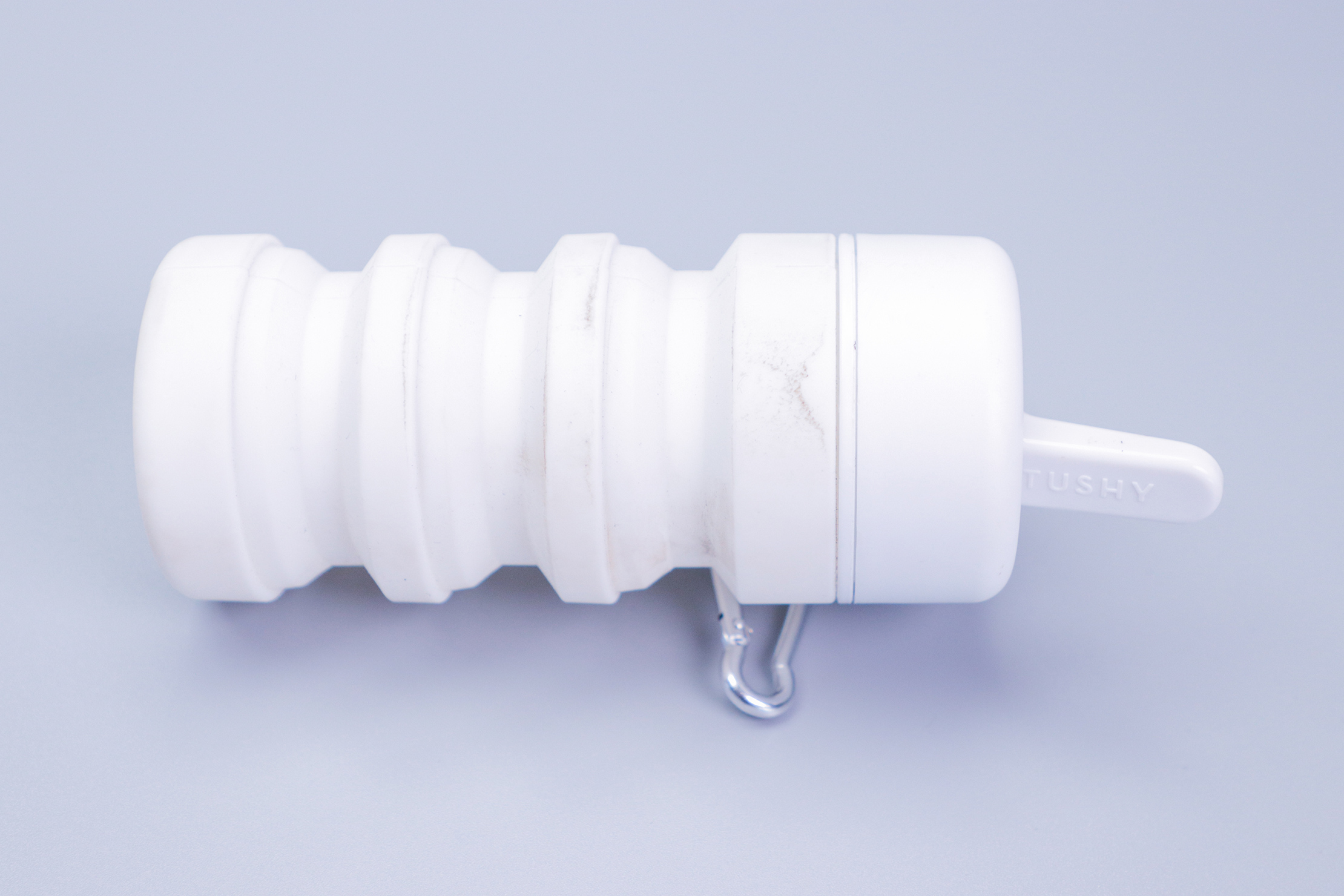 After using it while camping, hiking, and urban exploring, we realized why it was the only color still available. It gets dirty really easily. Bouncing around on our backpack, the Wanderlust White collected all sorts of dirt. The irony of having a bidet—something that's supposed to clean your butt—covered in black and brown spots wasn't lost on us. This is where the drawstring carry bag comes in handy. You can just hide it away, so you don't have to tell your friends, "I promise that's not poop. It's just dirt!" It's almost like you need a bidet to wash your bidet. A darker colorway could help with this too.
When it comes to the actual spraying, the TUSHY has some decent water pressure. It has several grooves that allow you to get a nice grip for squeezing the water out of the spout. The silicone material feels nice and smooth in hand, too. On their website, TUSHY calls this the "TURD-gonomic grip and squeeze." Seems like these guys are a bit obsessed with toilet humor, which if you're making toilet products, why not have some fun with the marketing?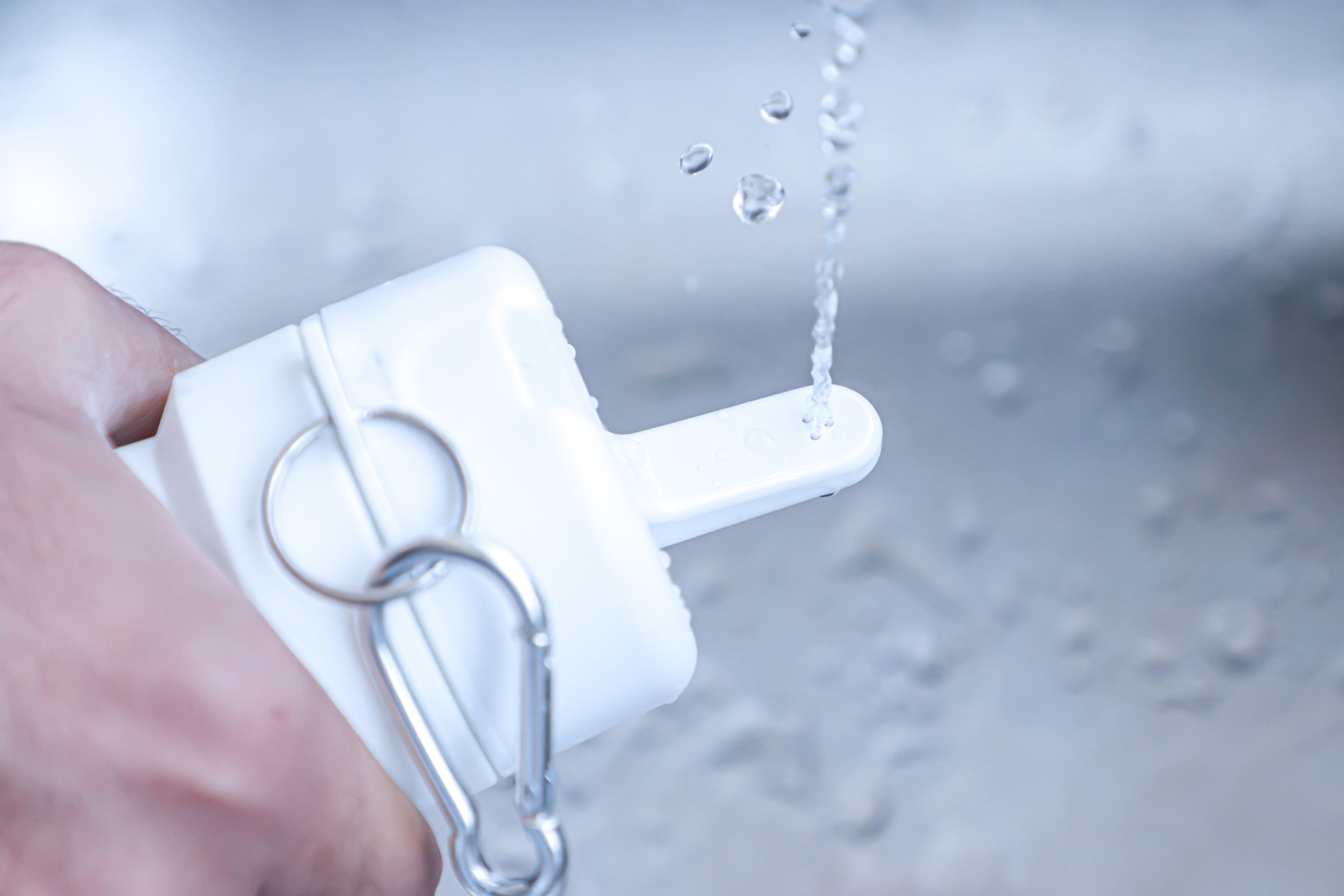 As we previously mentioned, bringing along a bum towel is highly recommended. The first time we used the TUSHY on a hike was an experience filled with joy and regret. That immaculate and refreshing feeling after spraying yourself with the TUSHY is a truly joyous moment. The kind that makes you go, "ah." The euphoria soon evaporates as you sit there in a squat with water dripping from your underside and nothing to wipe it with. Bringing along toilet paper sort of defeats the purpose, so if you're going to pack a TUSHY on your travels, definitely bring a dedicated dry rag. And make sure it's clearly identifiable for its purpose and kept separate from your clothes and other gear. Trust on this one.
Usage Timeline
Initial Usage
Condition: Excellent
The bottle is easy to squeeze though it might take some time getting used to
Comes with a discreet pull-string bag if you want to keep things low-key
Collapses and expands accordion-style for easy storage
2 Weeks of Use
Condition: Excellent
Comes with a carabiner that's convenient for clipping to your bag
The white version gets dirty very easily
Compresses down pretty small and doesn't take up much space
Comes in handy for camping and hiking trips
Access the Pro Community Discussion
Get your questions about the TUSHY Travel Portable Bidet answered from our team and the Pro Community right here on the page. Plus, join discussions with other members about gear, guides, and more.
Other Toiletries & Personal Care Reviews