Tortuga Homebase Backpack Review
A sleek look, superior organization, and packing cube make the Tortuga Homebase Backpack a one-stop-shop for minimalist travelers and digital nomads.
Our Verdict
Unlock the Pro Summary
Save time. Get access to brief summaries of our reviews so you can browse and make decisions more efficiently.
Pros
Lightweight, minimal, and looks nice.
Great organization—you can tell a lot of thought went into this bag.
Sailcloth and YKK zippers make this pack decently water-resistant.
Cons
Not the most durable pack we've seen.
Packing cube is nice, but not fully optimized for the main compartment.
The hideaway velcro pocket for straps is sort of cool, but we'd rather have more room in the pack.
Recent Pack Hacker Video
Technical Details
Capacity

32l

Weight (lb)

2.3 lb (1 kg)

Dimensions

20.75 in x 12.3 in x 8.25 in (52.7 x 31.2 x 21 cm)

Notable Materials

YKK Zippers, Sailcloth, Duraflex Hardware

Manufacturing Country

China

Laptop Compartment Size

15"

Warranty Information
Full Review
Get up to 10% off Tortuga • Join Pack Hacker Pro
At the time of this publication, we've been lucky enough to test out the Tortuga Homebase Backpack for a month now. If you know its predecessor, the Tortuga Outbreaker—this bag is slimmer, lighter, and has a bunch of improvements for a more minimalistic experience. Tortuga has catered this bag specifically for digital nomads, minimalist packers, and one baggers. Does it live up to that claim? Let's dive in for a closer look with this in-depth Tortuga Homebase Backpack review.
You may notice the bag is a bit shiny right out of the box. That's because it's made of sailcloth, which is pretty cool—and shiny. This does also create some interesting crunchy noises as you mess around with the bag. Kind of like a tarp or a heavy-duty raincoat. It's not the end of the world, and it may be something that gets better over time, as the pack gets more broken in.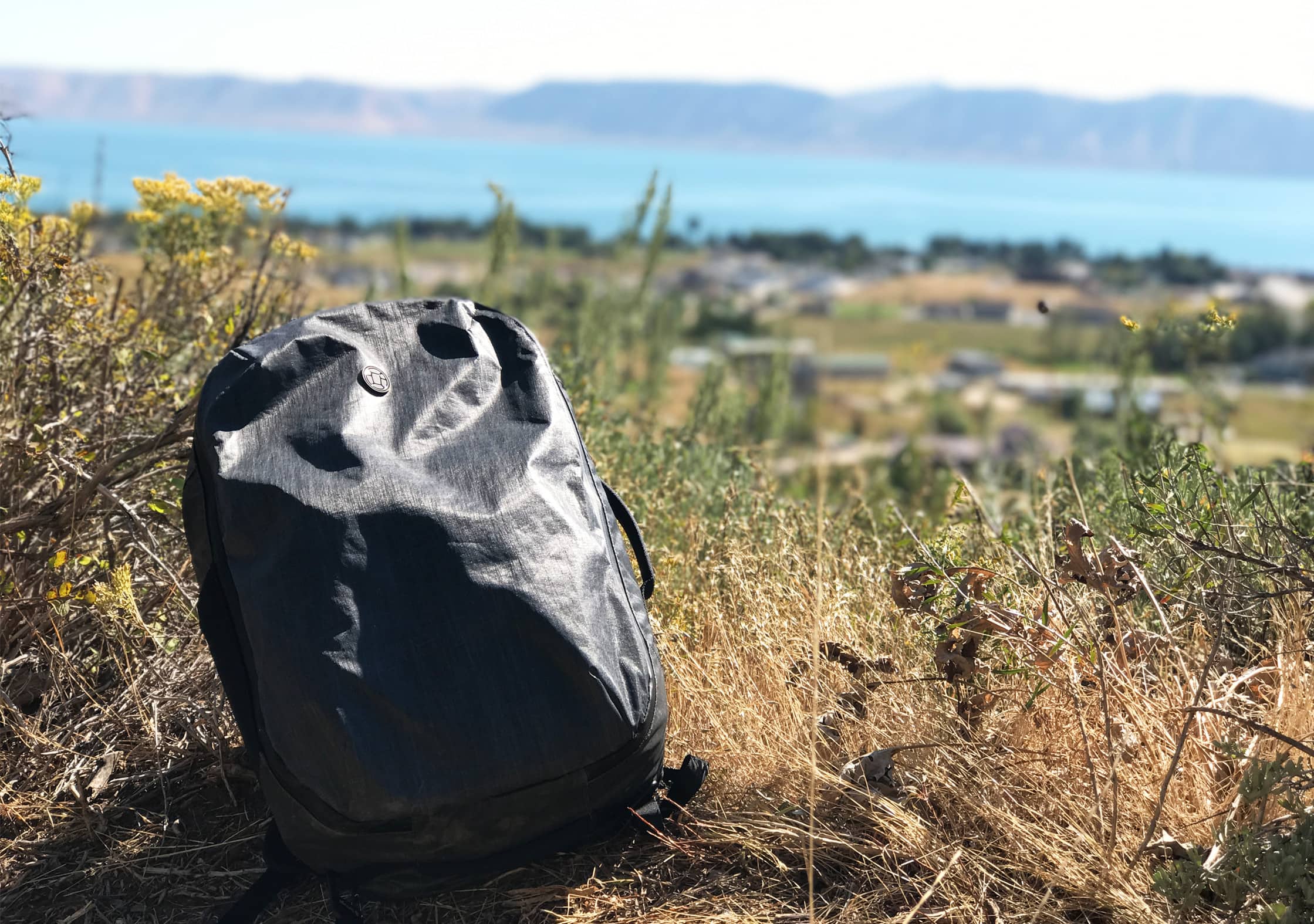 Sailcloth is a great material for making backpacks as it is also a laminate—so it's water-resistant and doesn't need any sort of liner. No liner or extra waterproofing material means this bag is really light. Weighing in at 2.3 pounds (1.04 kg), it's one of the lighter packs we've used. If you include the packing cube—which we'll get into later—it comes in at 2.96 pounds (1.34kg).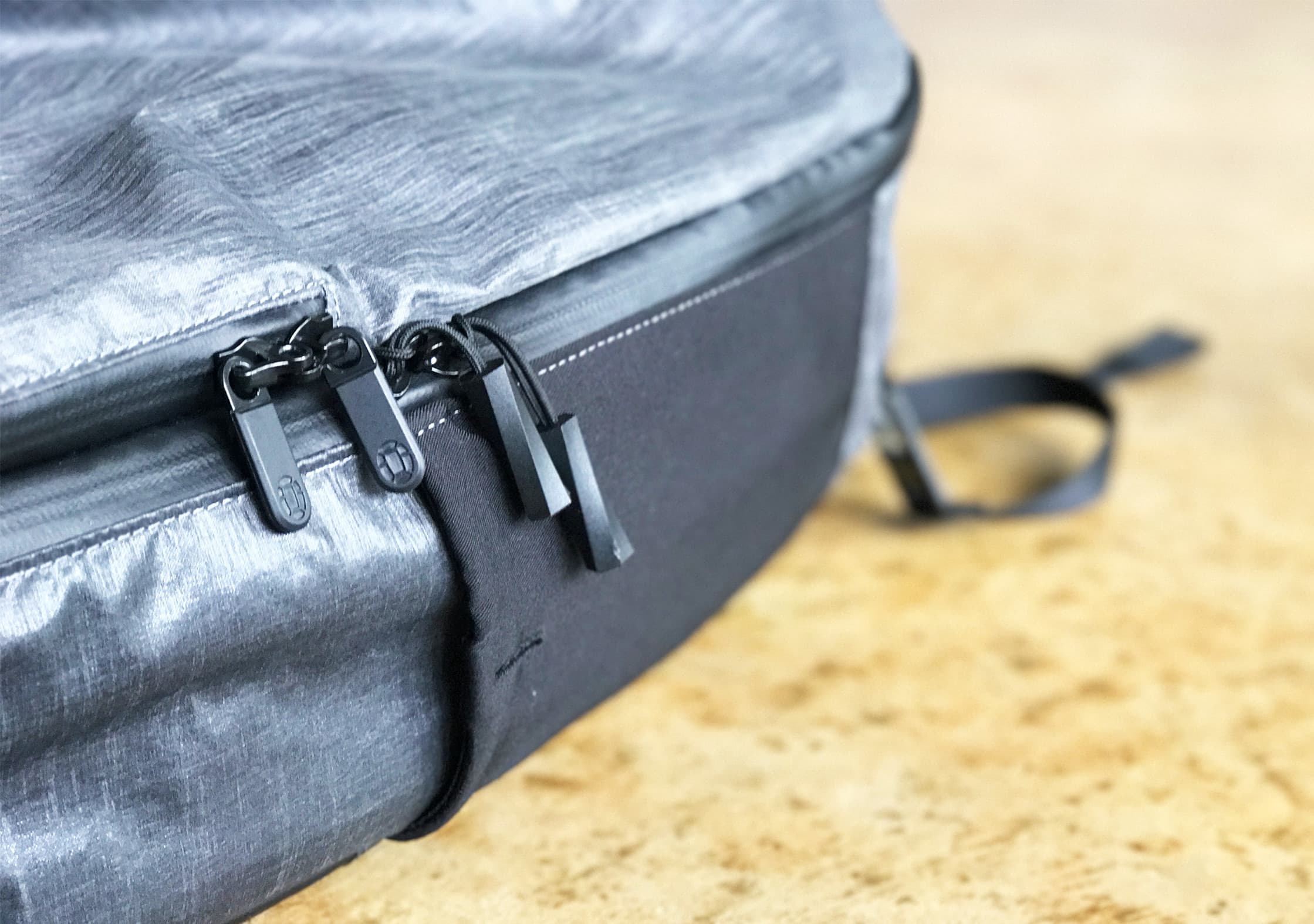 The bag has water-resistant, lockable, YKK zippers as well. These can be locked up with any standard TSA-approved lock. We recommend something simple like this, but most locks will be fine—just the presence of a lock will make most thieves move onto the next target. If you're serious about security, you might want to opt for a solid metal lock, instead of the wire ones. Any amateur thief can cut open a wire lock with a pair of pliers.
There are three lockable zipper pairs, so if you're a security nut—or transporting some high-value cargo—you could lock each one with a separate lock. Or, you could just put all your valuables in one compartment.
Between the water-resistant sailcloth material and zippers, we were curious to see just how waterproof this bag actually is. But what do you do when there's no rain in the forecast? You hit the showers and line the backpack with paper towels—duh.
The results? It is not 100% waterproof (nor does it claim to be). The first test was one minute in the shower—and it held up perfectly. No liquid on the inside at all, and the paper towels inside remained completely dry. The next test was for ten minutes and didn't work out so well. The inside was really wet, and the paper towels were totally soaked. This test isn't entirely realistic, as the pressure from a shower is stronger & more consistent than rainfall.
So it is not completely waterproof, but it should handle most weather you can throw at it. You wouldn't want to leave it outside in the rain all day, or go swimming with it. But if a sudden thunderstorm hits on your way to the subway or on a day-hike, you should be alright.
On the outside of the pack you'll notice that there are handles on each side—super convenient if you need to grab it from a weird angle. Actually, there is one side that doesn't have a handle, but it has a water bottle holder instead. It will hold most moderately sized water bottles, and lay flat with the pack when there is nothing in it, which provides a good look when not in use.
There are also two handles on the top… Why? Well, have you ever tried to hang a really full backpack on a hook, from the top handle? It doesn't work so well. This pack has one handle for carrying, and another one that is flush with the backside of the pack—which lets you hang the bag really easily, regardless of how full it is. This is a great feature that we haven't seen on many other backpacks, and it is perfect for traveling. If you want to hang the pack up in your hotel or would like to keep it off the grimy bathroom floor at the airport—you'll have no problems.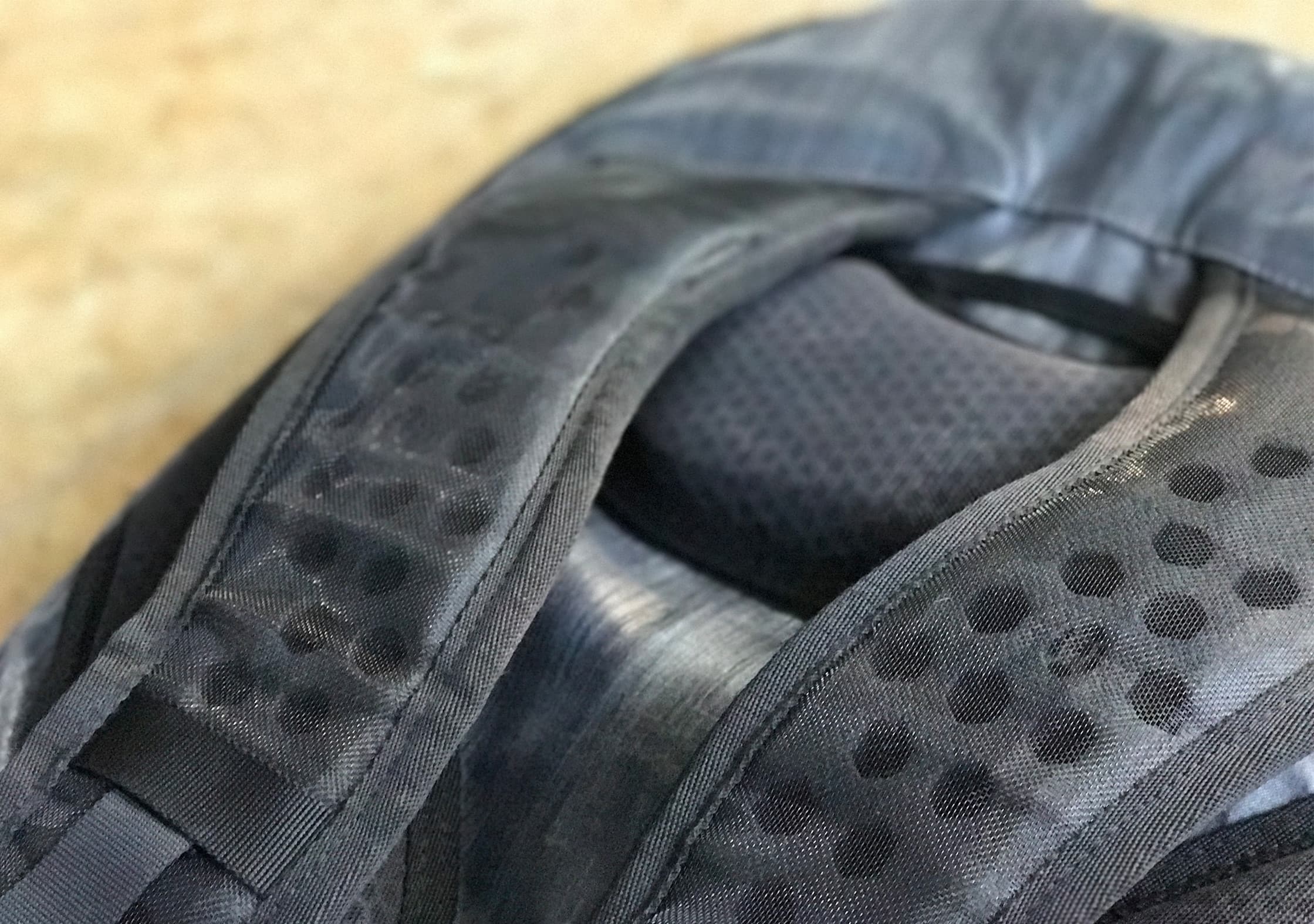 The shoulder straps are well padded and comfortable, and there is a pretty basic sternum strap. The shoulder pads also have a bunch of holes—bubbles?—which look pretty cool. Kind of reminded us of the Nike Air technology—so, needless to say, this thing will basically turn you into Michael Jordan.
One unique feature is that each of the shoulder straps have clips on the bottom, which allow you to detach the straps. You can put them in this little velcro pocket that is on the back of the pack—really incognito—which converts the pack into "briefcase mode," as we like to call it. Kind of cool, but a little unnecessary. Maybe useful if you're really concerned about your straps getting caught on something during transit? We tend to keep it in "backpack mode" (because it's a backpack).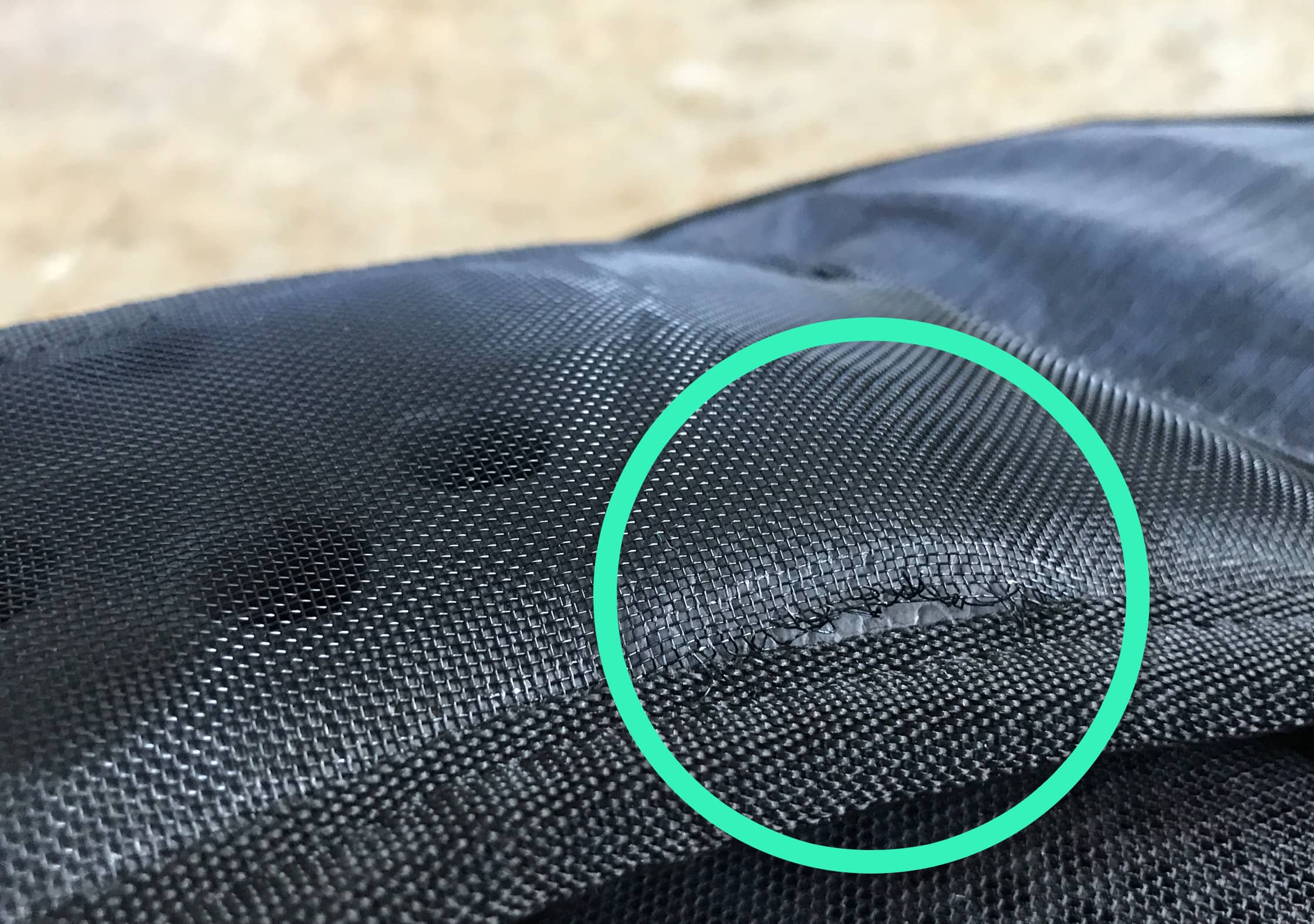 We did notice a bit of fraying on the shoulder straps beginning to develop about two weeks into testing. Not a great omen.
And although the velcro pocket to store the straps is cool, we were wondering if there might be more room in the actual pack without it. Definitely something we'd be willing to sacrifice if it meant more room in the main compartment.
The backside of the pack is made of "Ariaprene," which is a "decomposable, recyclable and hypo-allergenic non-toxic synthetic rubber." So basically it's super nice rubber—that is also good for the environment—and it provides a nice firm base for your back, which actually gives you a little bit of airflow back there. By no means will it eliminate the dreaded sweaty back, but it will certainly help.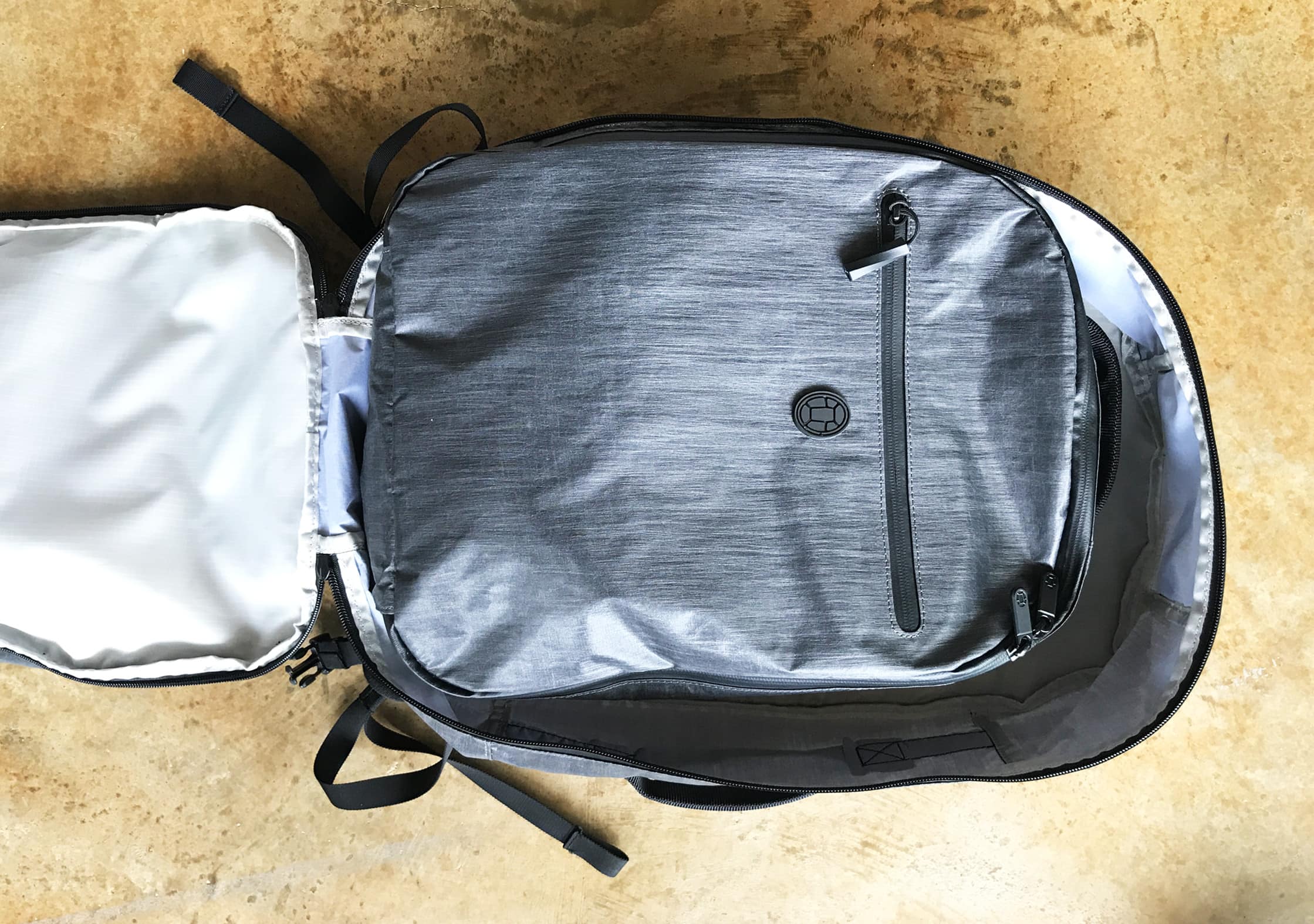 So let's check out the inside of the bag. When you open up the main section of the pack, you'll notice there is no lining—due to the nature of the sailcloth material. This cuts down on weight and gives it a pretty clean look, but we are curious if it will be durable enough…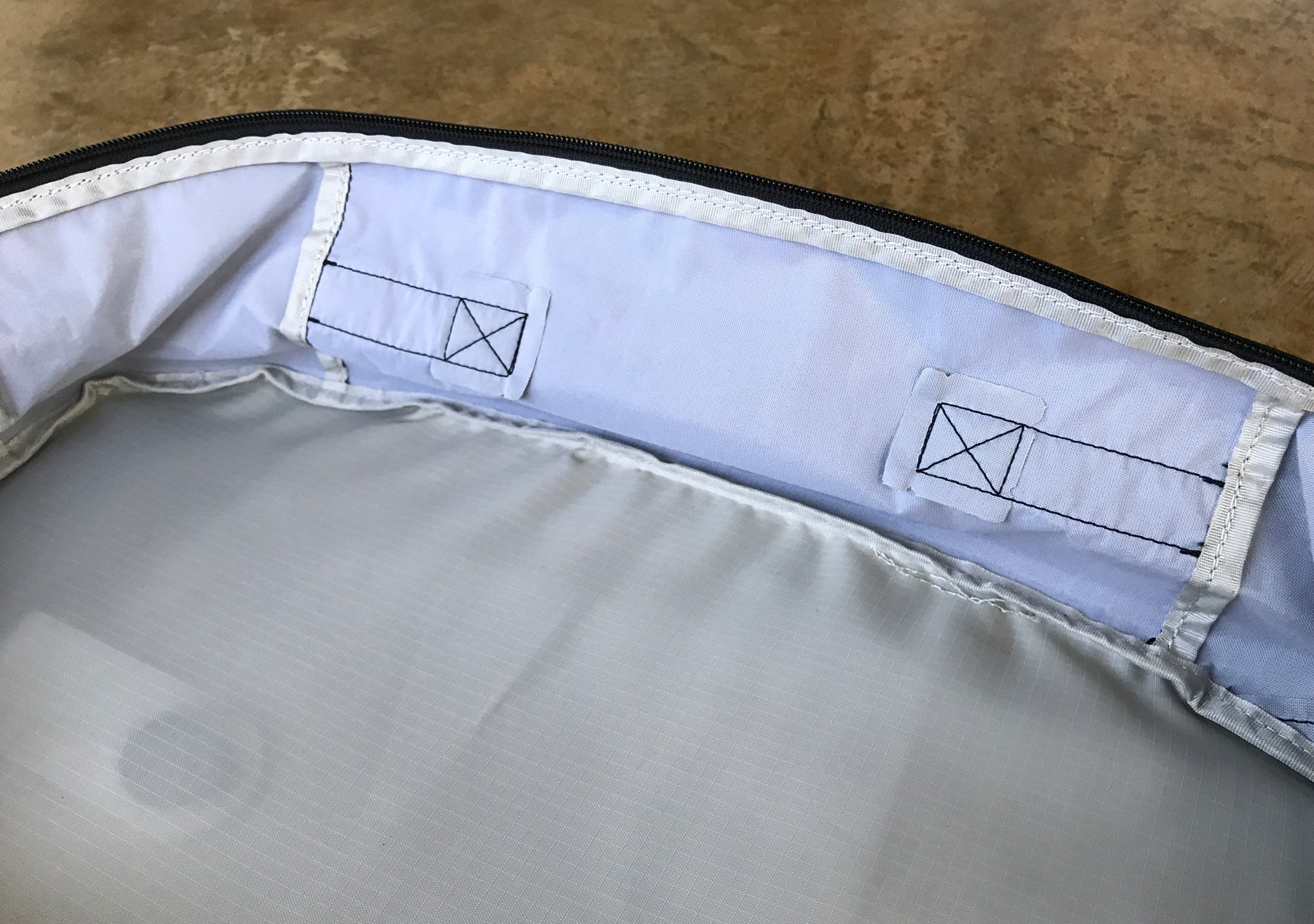 The zippers of the main "clamshell" pocket go all the way down, which is great—let's you really open the bag up to get to whatever you need. The pack comes with a packing cube, which slides into the main compartment. It's intended for clothing and the main benefit is that it has double-zippered sides—one for clean clothes, the other for dirty. Pretty awesome.
One really cool aspect of the packing cube is that it easily lets you convert the bag from a travel pack into a daypack. Once you get to your hotel after a flight, just pop out the packing cube with your clothes, throw a few essentials into the main compartment—and you've got a fully capable daypack that is ready to go.
While the packing cube is an awesome feature, it is a little cumbersome. When full, it only leaves a little bit of extra space in the main compartment, which can be hard to utilize. For a true one bagger, it may be worth it to forgo the packing cube in order to get that extra bit of space. You could also opt for an alternative packing cube—we recommend the Eagle Creek Specter Cubes. For the rest of us, this isn't a huge deal.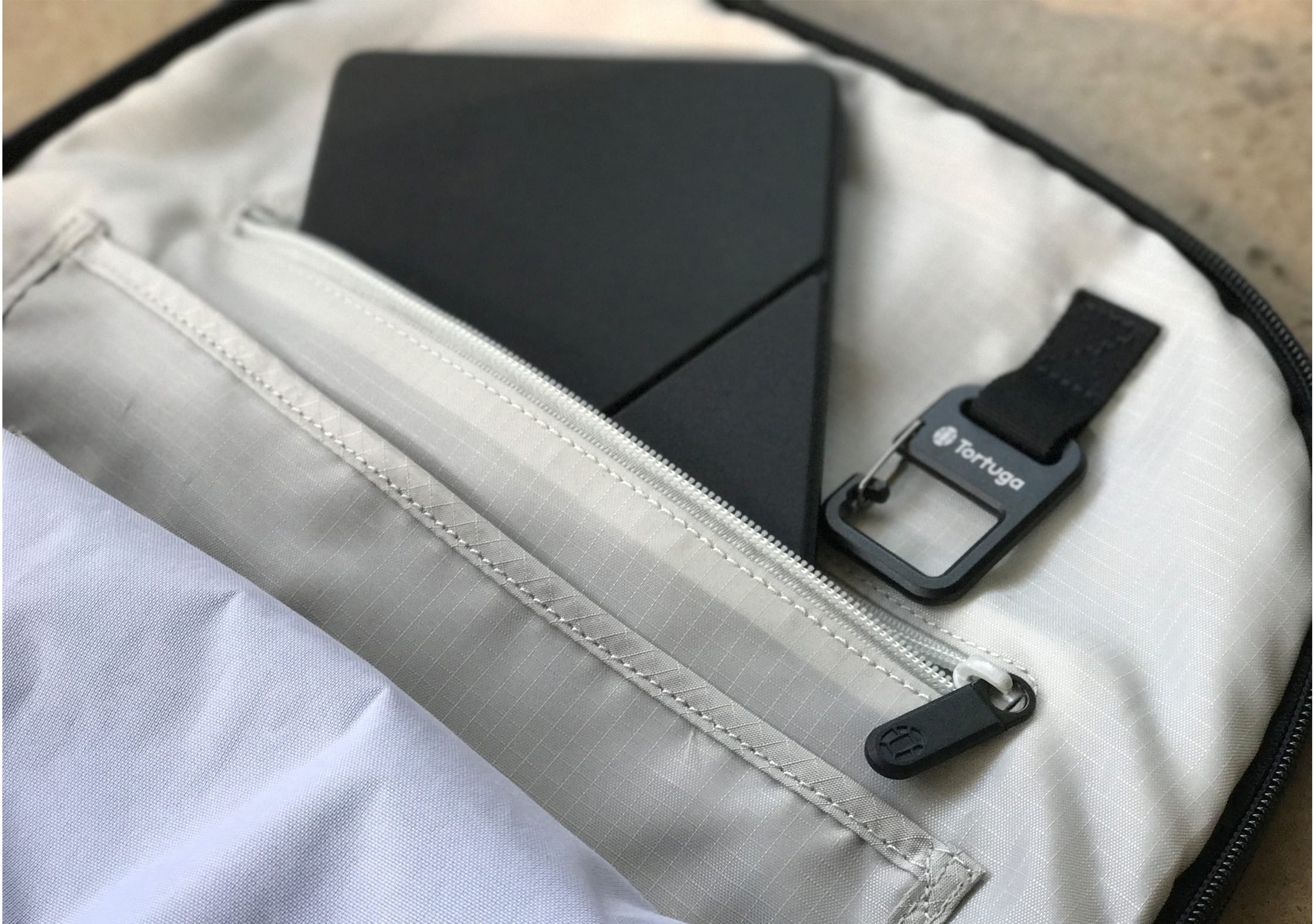 In front of the main compartment is a half-zip compartment which has a small zip pocket, a larger, free-floating pocket, a clip, and a little organizational panel. The zip pocket is good for stashing small items, and the organizational panel is pretty convenient—it has a couple card pockets and a passport pocket, which fits a U.S. Passport perfectly. The credit card pockets are also designed in a sort of waterfall system—they kind of cascade up—allowing you to easily pull out whatever card you need.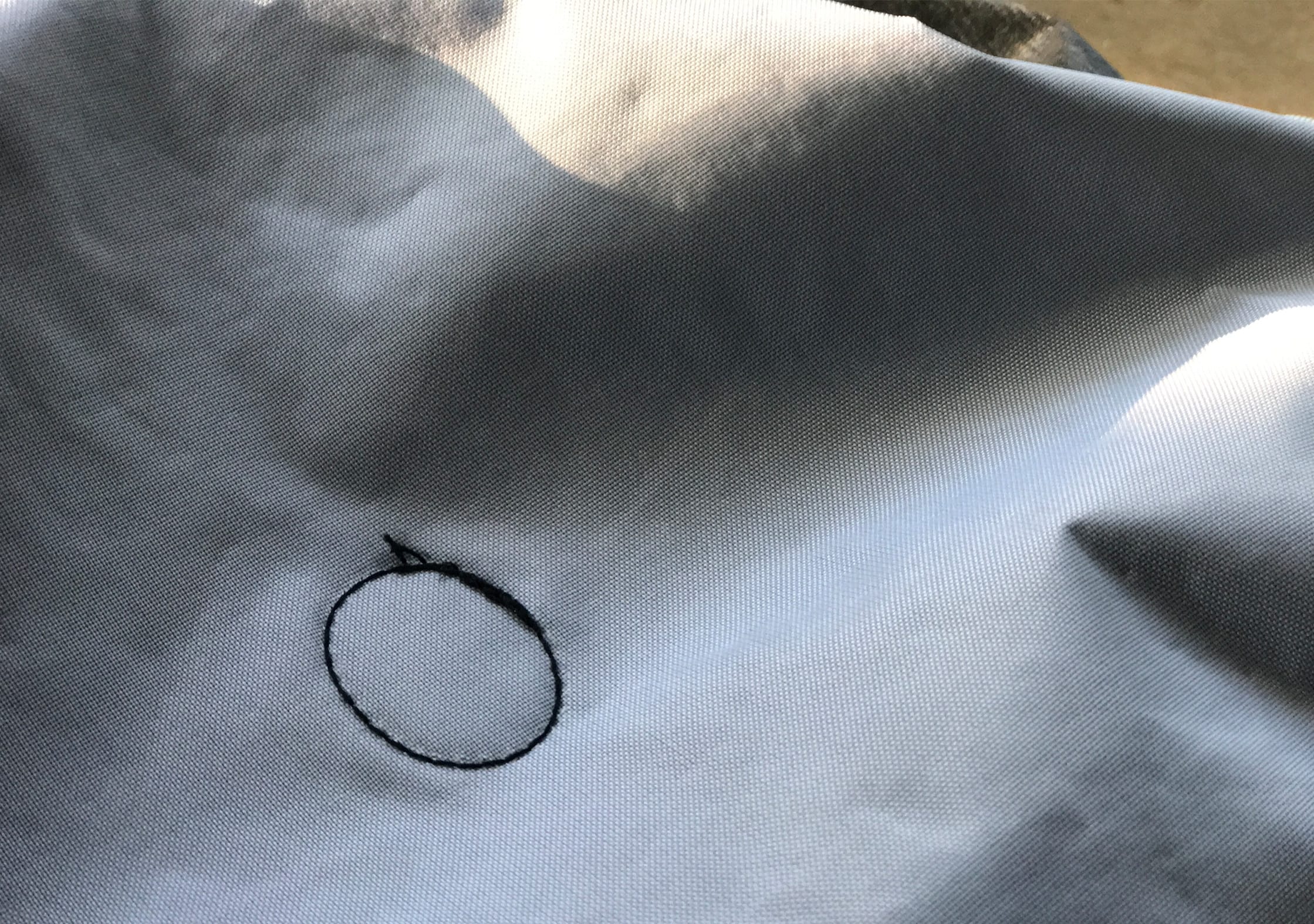 Right on the inside of this flap, there was a bit of fraying on the Tortuga logo right out of the box, which is not a huge deal but something worth noting.
Oh, did we mention how many logos this thing has? Between the straps, zippers, and the rest of the material—there are sixteen turtle shell logos. #BRANDING. We actually really liked the little logos throughout the bag, they are pretty well done.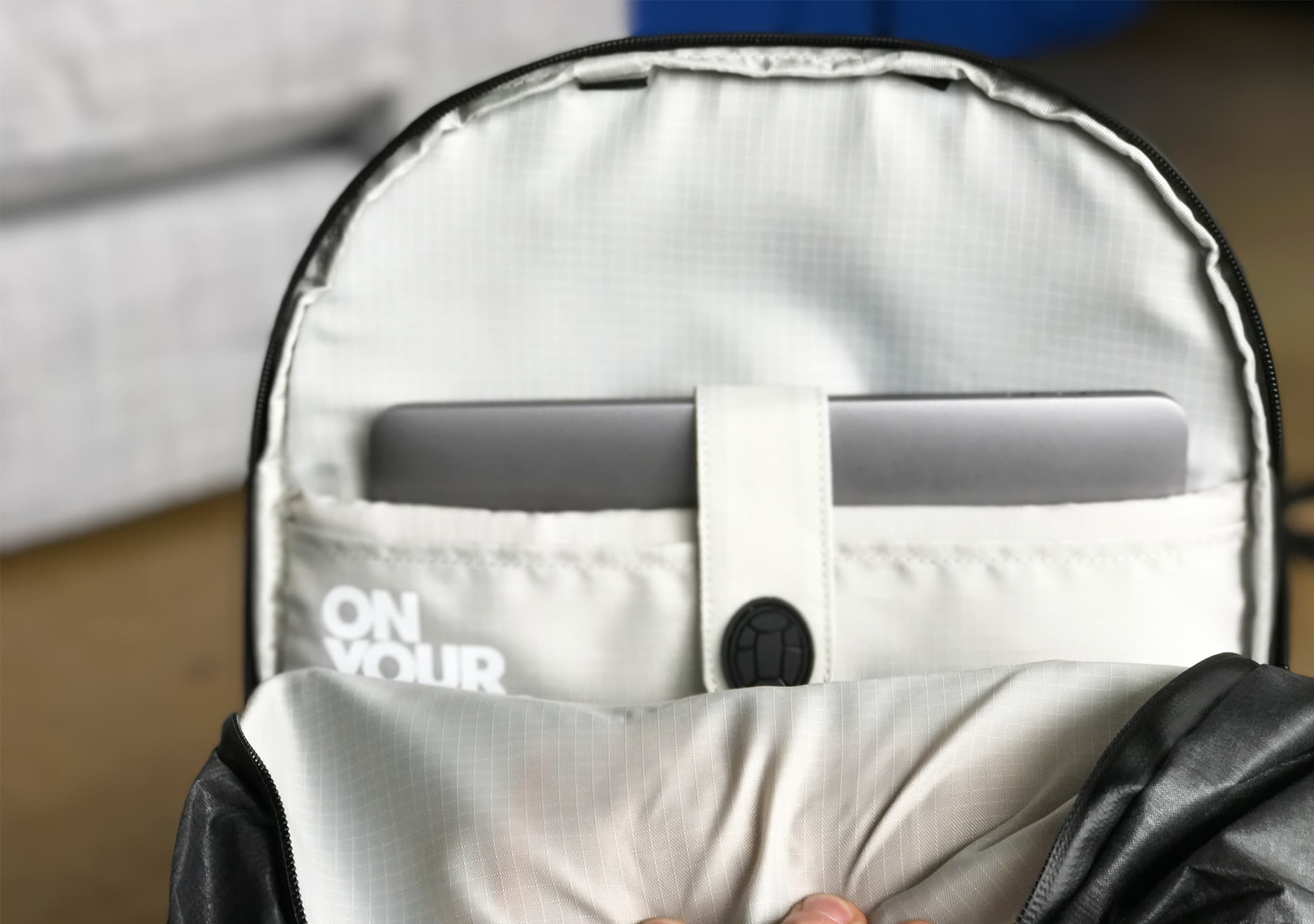 The final compartment is the laptop compartment. Like any standard laptop compartment, it is located between the back of the bag and the main compartment. It has a nice padded sleeve for a laptop, which is secured by velcro. There is also a smaller sleeve—about half the size—for tablets or smaller laptops. Something like a small chromebook would probably fit in there.
When you carry the bag, you'll notice it does sit higher than most backpacks. It might take a little bit of getting used to, but we've found it to be pretty beneficial. It elevates the weight a bit more, which takes a lot of strain off of your back—plus, it can almost be used like a pillow. The bag works well on a larger & smaller frame – so the size of it is pretty versatile. Protip: If you can, try to pack your heavier items closest to your back—this will help distribute the weight better and take some strain off of your shoulders and back.
At the time of this review, the Tortuga Homebase is being sold for $245. When you get into this upper echelon of backpacks, $200+ is pretty standard. For that kind of price point though, we were pretty surprised to see fraying and smaller quality issues right off the bat.
If you are looking for a pack that will help you stay organized—especially if you fall into the "digital nomad" category—the Tortuga Homebase is a really solid choice. It can easily hold everything you need for an extended trip if you're a true minimalist—and will help you stay organized throughout.
If you're looking for a super rugged, durable pack—you might want to look elsewhere.
Usage Timeline
Initial Usage
Condition: Good
Some minor fraying, and the crinkling sound of the material is a bit loud. Other than that, everything looks good.
2 Months of Use
Condition: Mediocre

After 2 months of some pretty heavy usage, this pack has seen some better days. The sailcloth material has a lot of wear & tear. We're retiring this one early.
Access the Pro Community Discussion
Get your questions about the Tortuga Homebase Backpack answered from our team and the Pro Community right here on the page. Plus, join discussions with other members about gear, guides, and more.
Other Bags & Luggage Reviews