Swiss+Tech Utili-Key Review
We're not too impressed with the Swiss+Tech Utili-Key, a six-in-one multi-tool. While it's lightweight and discreet, it's difficult to utilize the tools.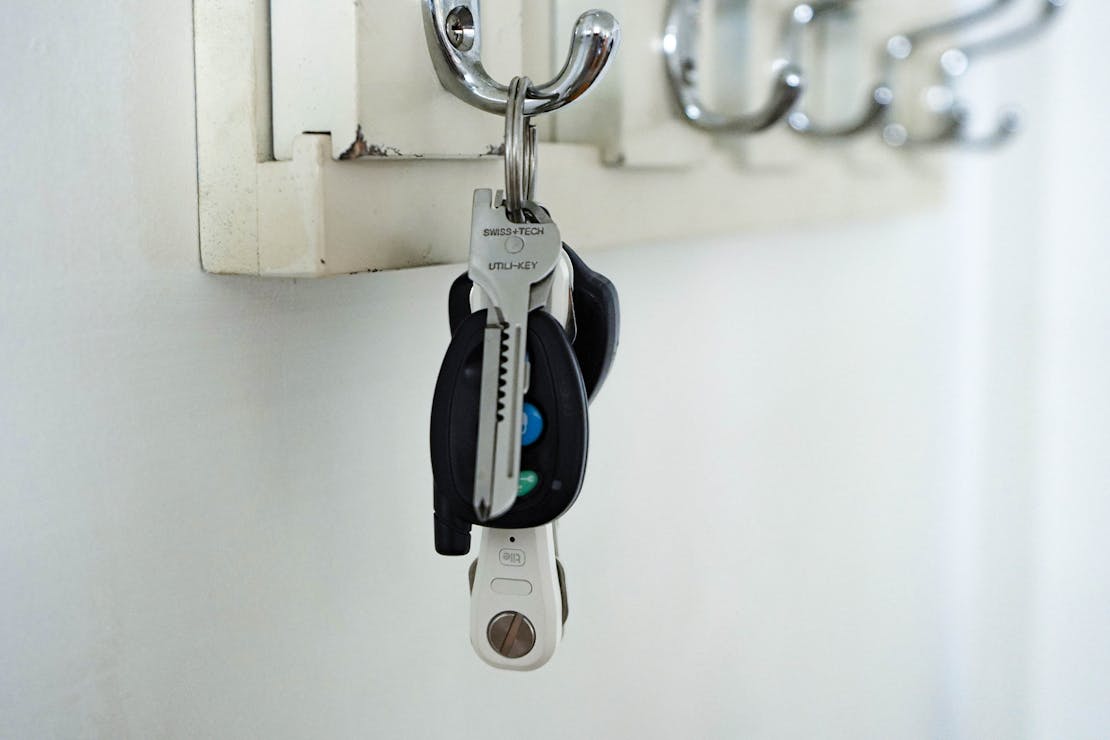 Our Verdict
Unlock the Pro Summary
Save time. Get access to brief summaries of our reviews so you can browse and make decisions more efficiently.
Pros
The knife comes in handy
Blends in with the rest of your keys on your keychain
Has both Phillips and flat head screwdrivers
Cons
The screwdrivers only work on teeny, tiny screws
To get good leverage, you have to hold the sharp knife as a handle
It's not TSA compliant
Recent Pack Hacker Video
Technical Details
Weight (oz)

.5 oz (14.2 g)

Dimensions

2.75 in x .75 in x .125 in (7 x 1.9 x 0.3 cm)

Folded

Notable Materials

Stainless Steel

Manufacturing Country

China
Full Review
The Swiss + Tech Utili-Key is a tiny multi-tool that's designed to look like a key (camouflage at its finest). It's also lightweight—clocking in at 0.5oz—and boasts six tools for the size and price of one: a straight knife blade, serrated blade, flat head screwdriver, Phillips screwdriver, micro-sized screwdriver, and bottle opener.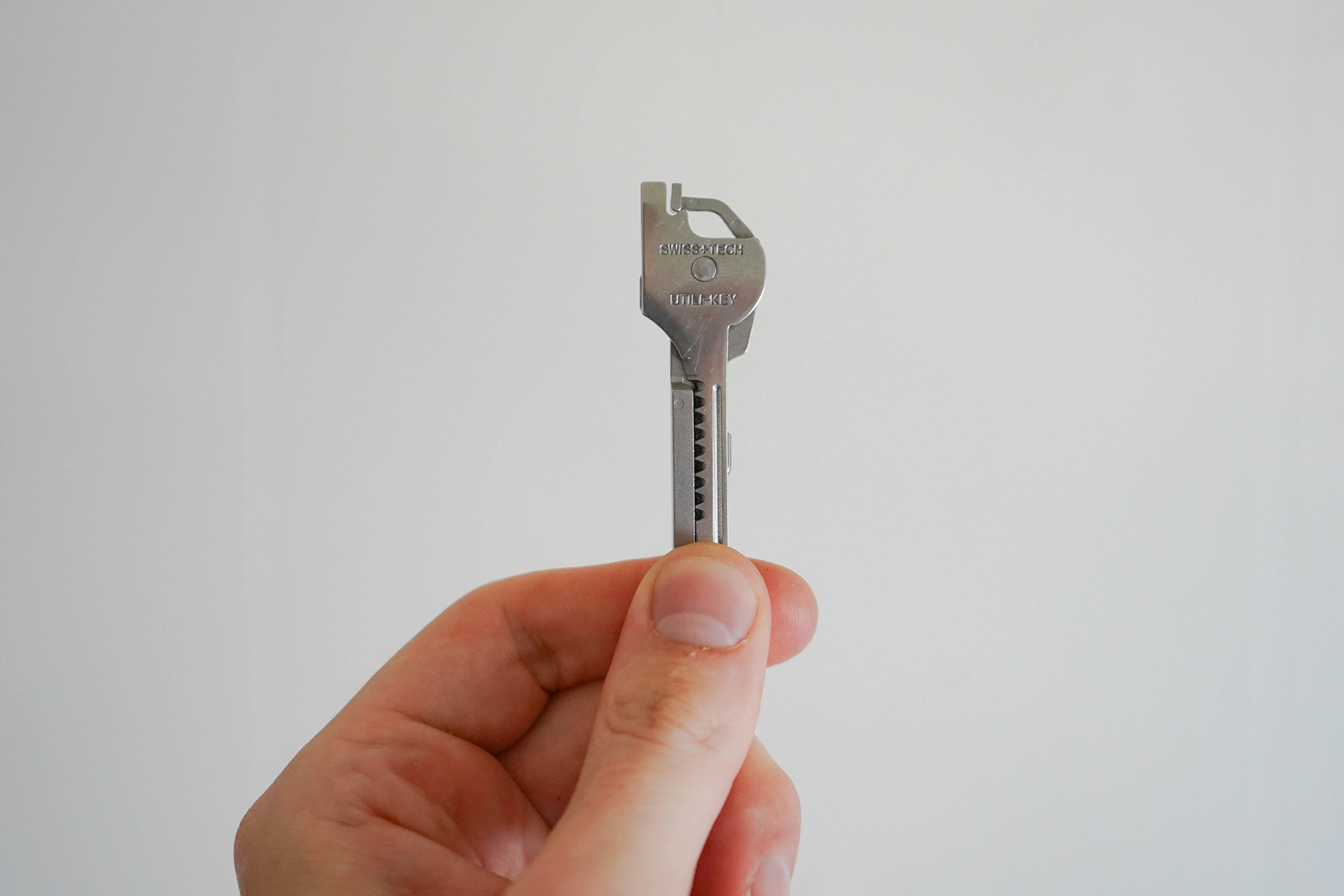 Since we're focused on travel here at Pack Hacker, we should note that, at the time of this review, the Swiss + Tech Utili-Key is not TSA-compliant. But it makes for a handy accessory if you're traveling by car, train, boat, foot, bicycle, unicycle…you get the idea—anything but a commercial airline.
Unlike some multi-tools out there, the Utili-Key doesn't have a carabiner or dedicated lanyard hole—you hook it to your keys by closing the tool around the keyring, which is both good and bad. It lies flat on your keychain, but you have to take it off to use any of the tools. Not a big deal, but you may drop your keys in the process because opening the Utili-Key is a two-hand job.
That's particularly true when you first get your hands on this multi-tool. It takes Herculean strength and patience to open it, and while it never becomes easy to open—a good thing, otherwise it'd fall off your keychain—it does smooth out with time.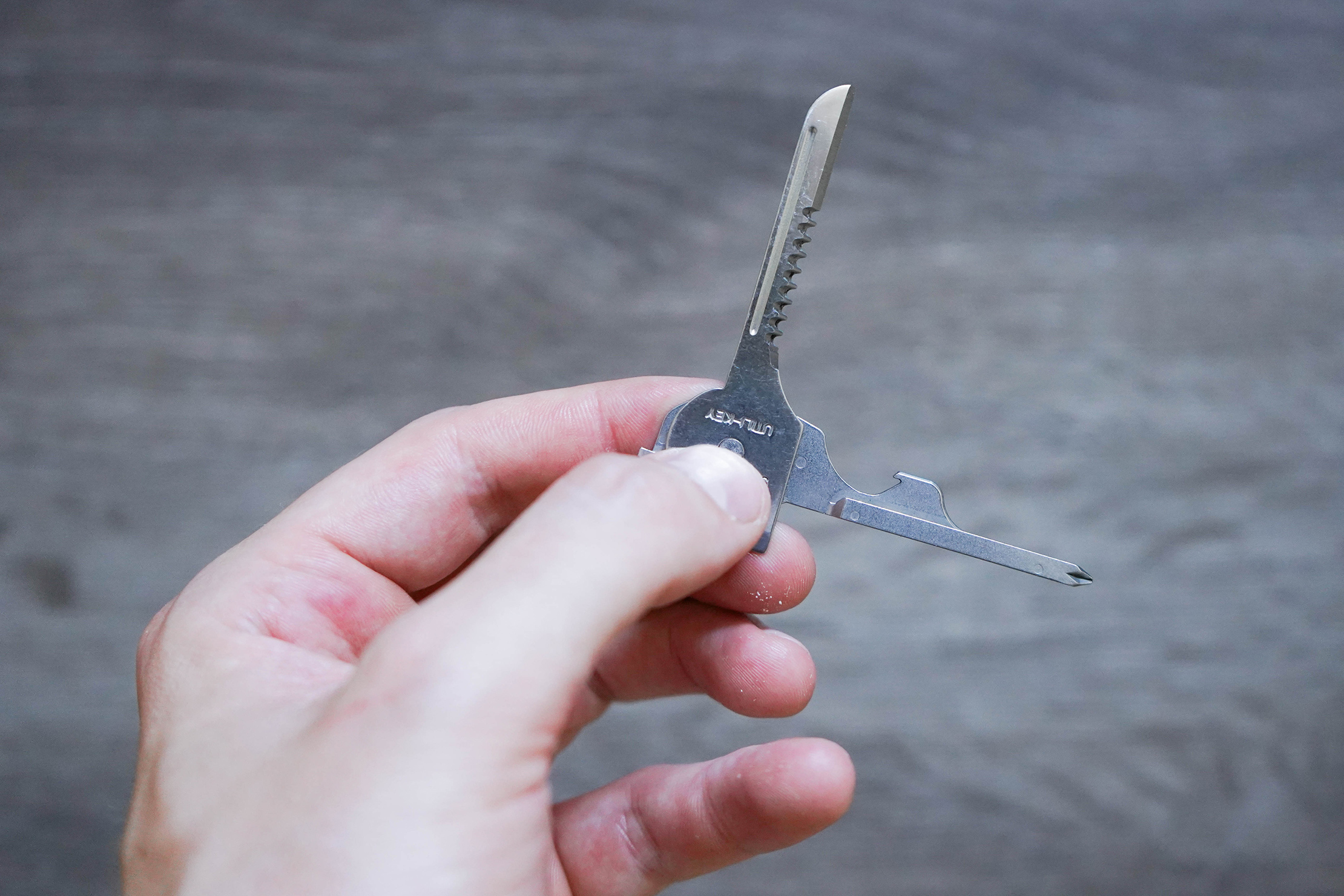 It also has a nifty locking mechanism that allows you to hold the tool at 90 or 180-degree angles when using it.
So, without further ado, let's check out the tools.
Features & Usage
Let's start with the most useful tool of the bunch: the super sharp straight knife blade. Most multi-tools of this size don't have a dedicated knife, so we've appreciated and used the heck out of it. We've mostly been using it to open boxes (we get a lot of boxes here at Pack Hacker HQ), but it also comes in handy for cutting loose threads on clothing.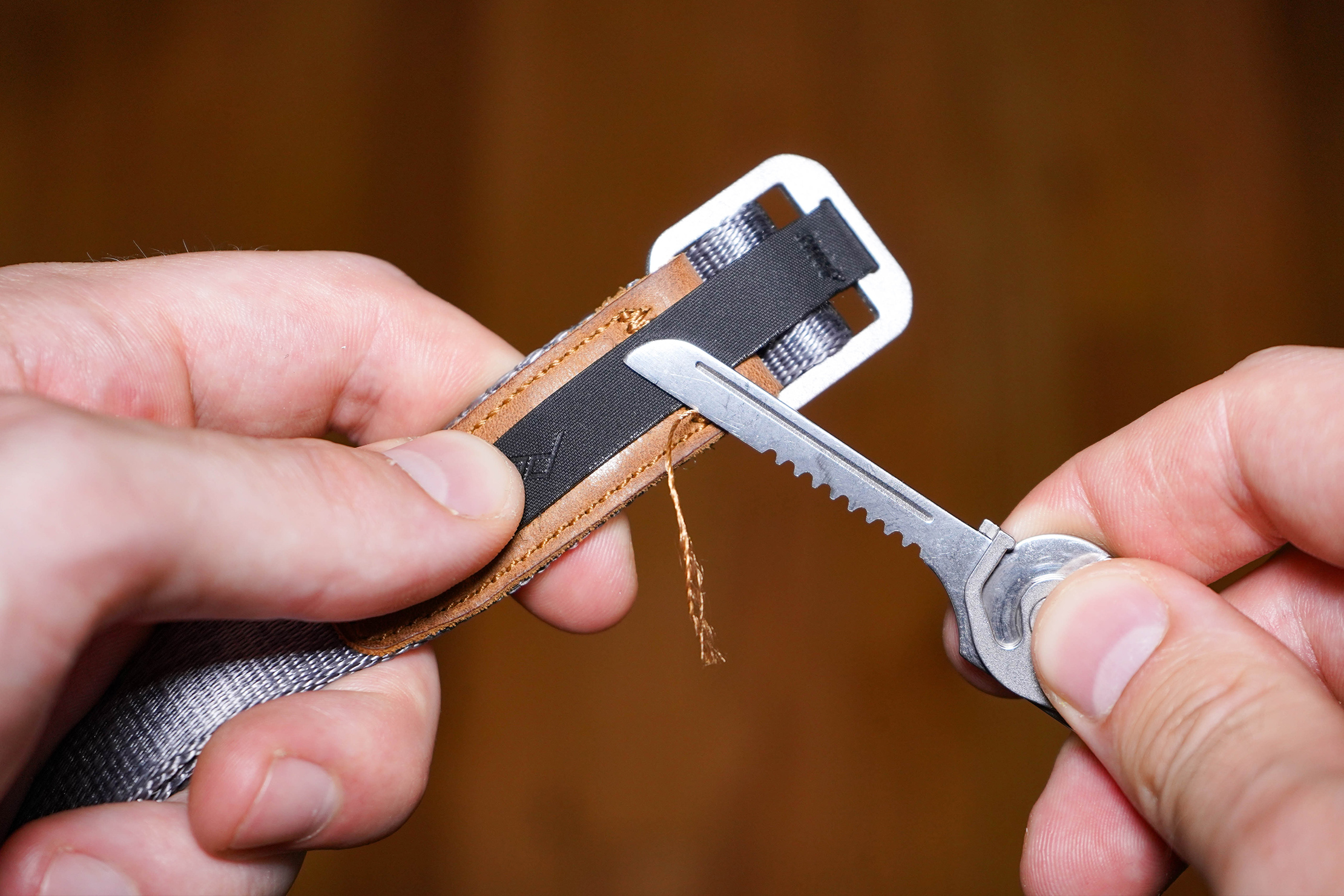 We've used the serrated edge for similar activities, though not as often. This blade is super helpful for getting into complicated plastic packaging on various products you'll buy on the road.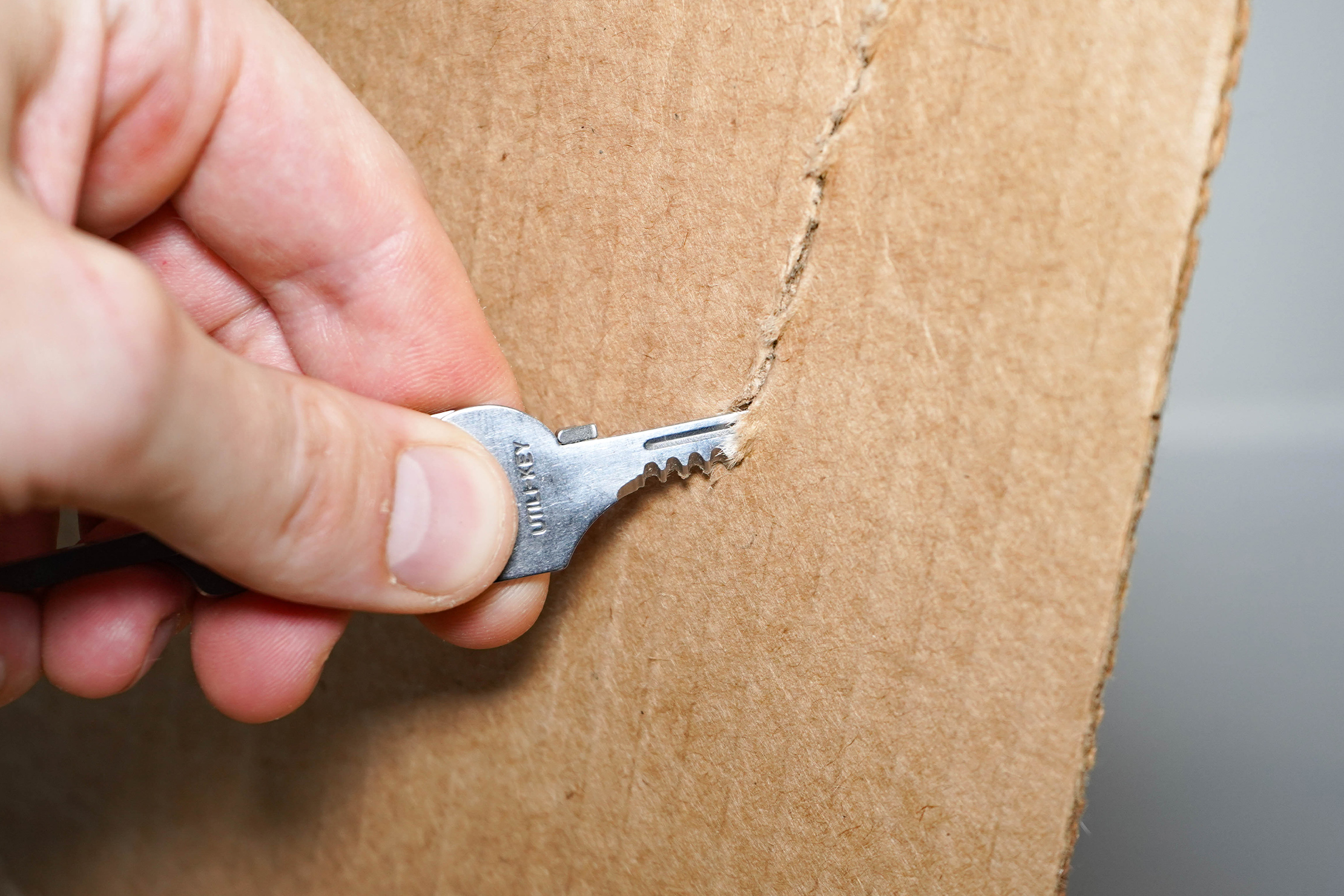 Moving right along, there's the micro-sized flathead screwdriver that only works on teeny-tiny screws. But it's not teeny-tiny enough to work on glasses or sunglasses (at least for us, we've heard others have had luck with their glasses). In full disclosure, we haven't exactly found a way to use this screwdriver yet.
Next to the micro screwdriver is the regular flat head screwdriver, which is still quite micro. It fits bigger screws than the official micro-sized driver, but they still have to be small.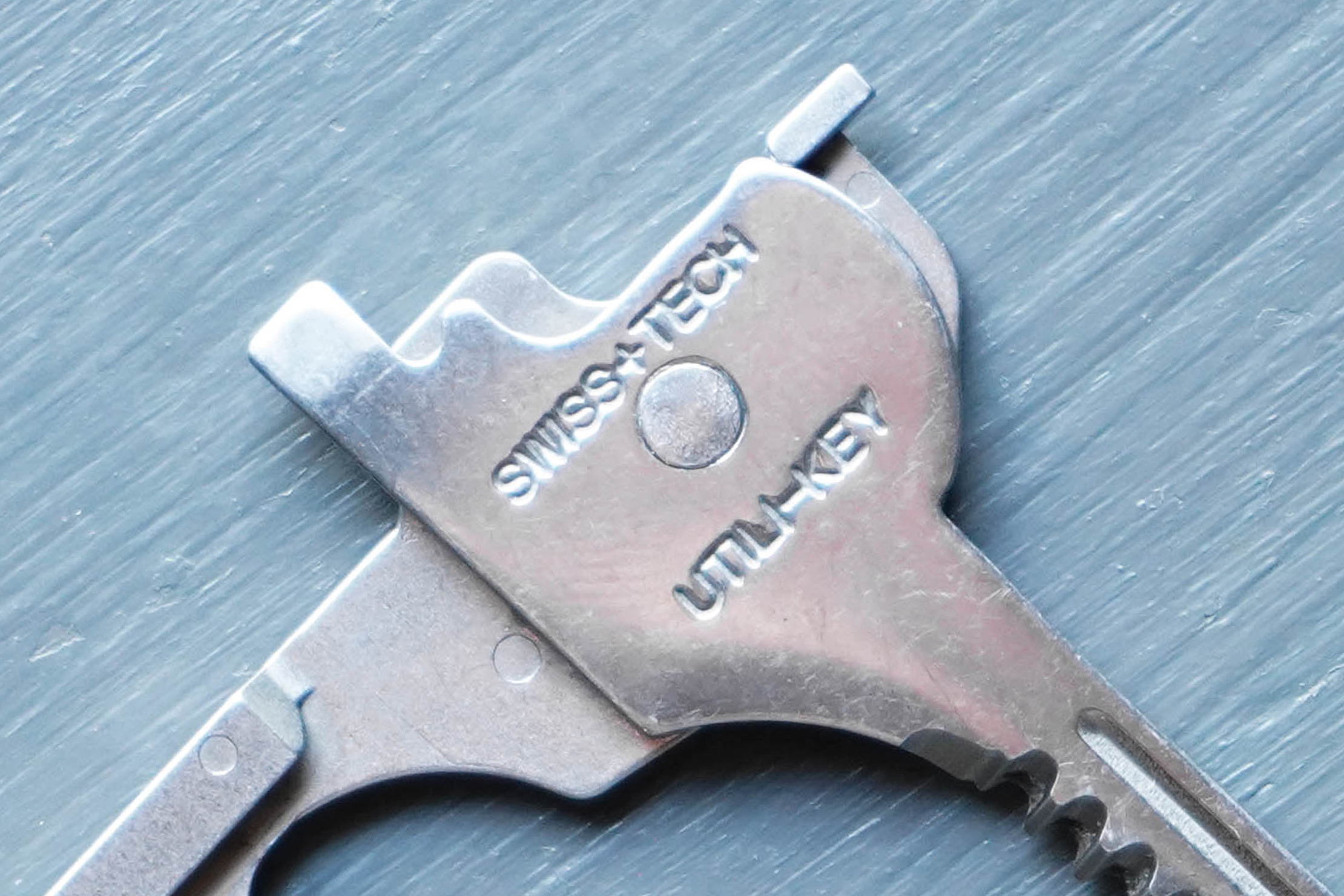 The last screwdriver is a Phillips head. And, wouldn't you know it, it's also small! (For perspective, it's the perfect size for the screw on a car key). We like that there is a dedicated Phillips head since a number of multi-tools only include a flathead screwdriver that can be used as a Phillips head in a pinch, which rarely works out well.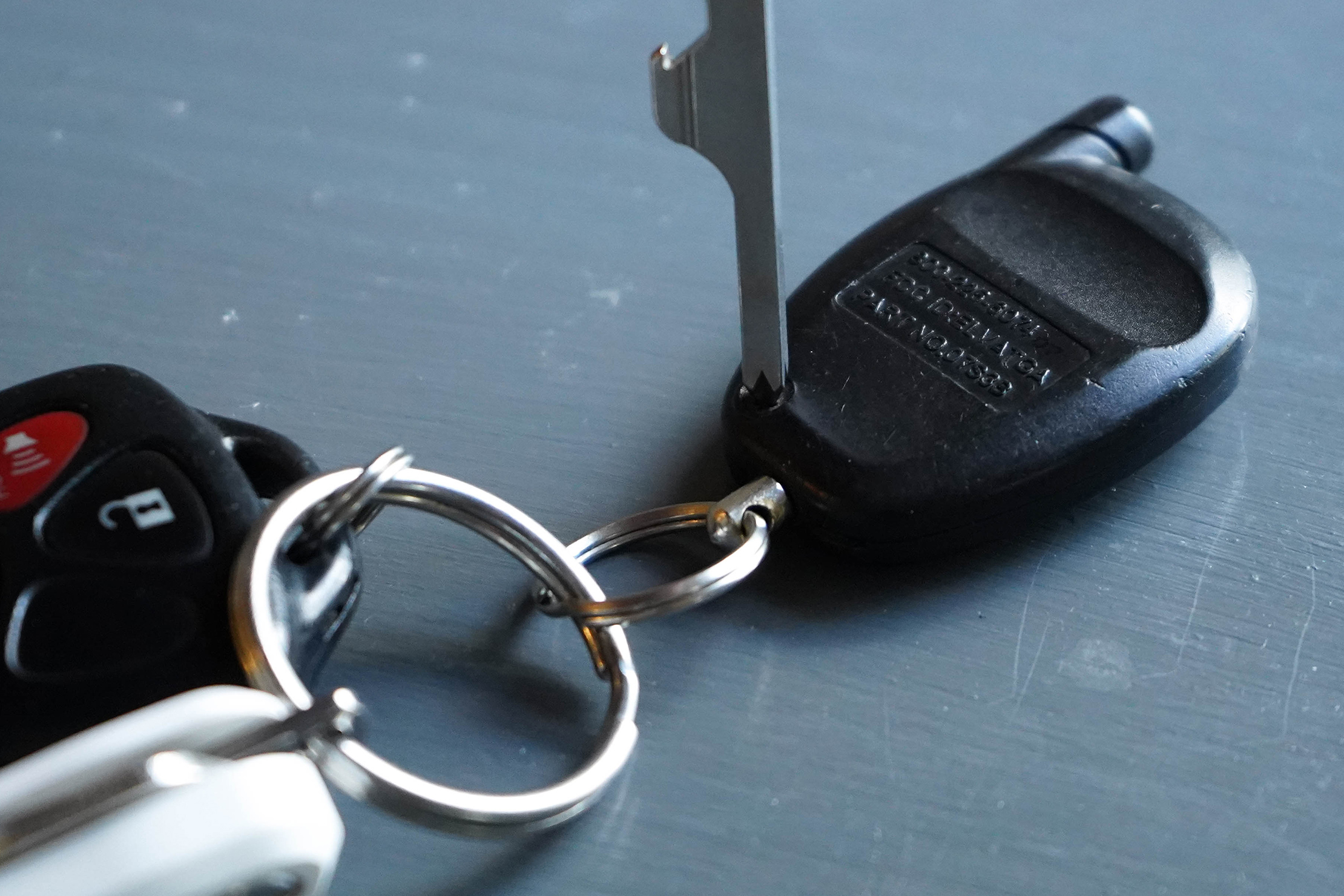 Something important to note here: when using any of the screwdrivers, but especially the Phillips head, your skin is going to be very close to the sharp edge of the knife. Once, while using the Phillips head, we ended up flaying a piece of skin off. And, yes, it was as horrible as the image running through your mind right now.
You can maneuver the tool in such a way that your fingers won't be near the blade, but it's hard to get leverage from those places. We usually end up holding the knife regardless of the danger (because danger is our middle name).
With that critical PSA aside, let's talk about the final tool: the bottle opener. Is a multi-tool still a multi-tool if it doesn't have a bottle opener? We're starting to think that the answer to that question is no. Every multi-tool we've tested so far has included one.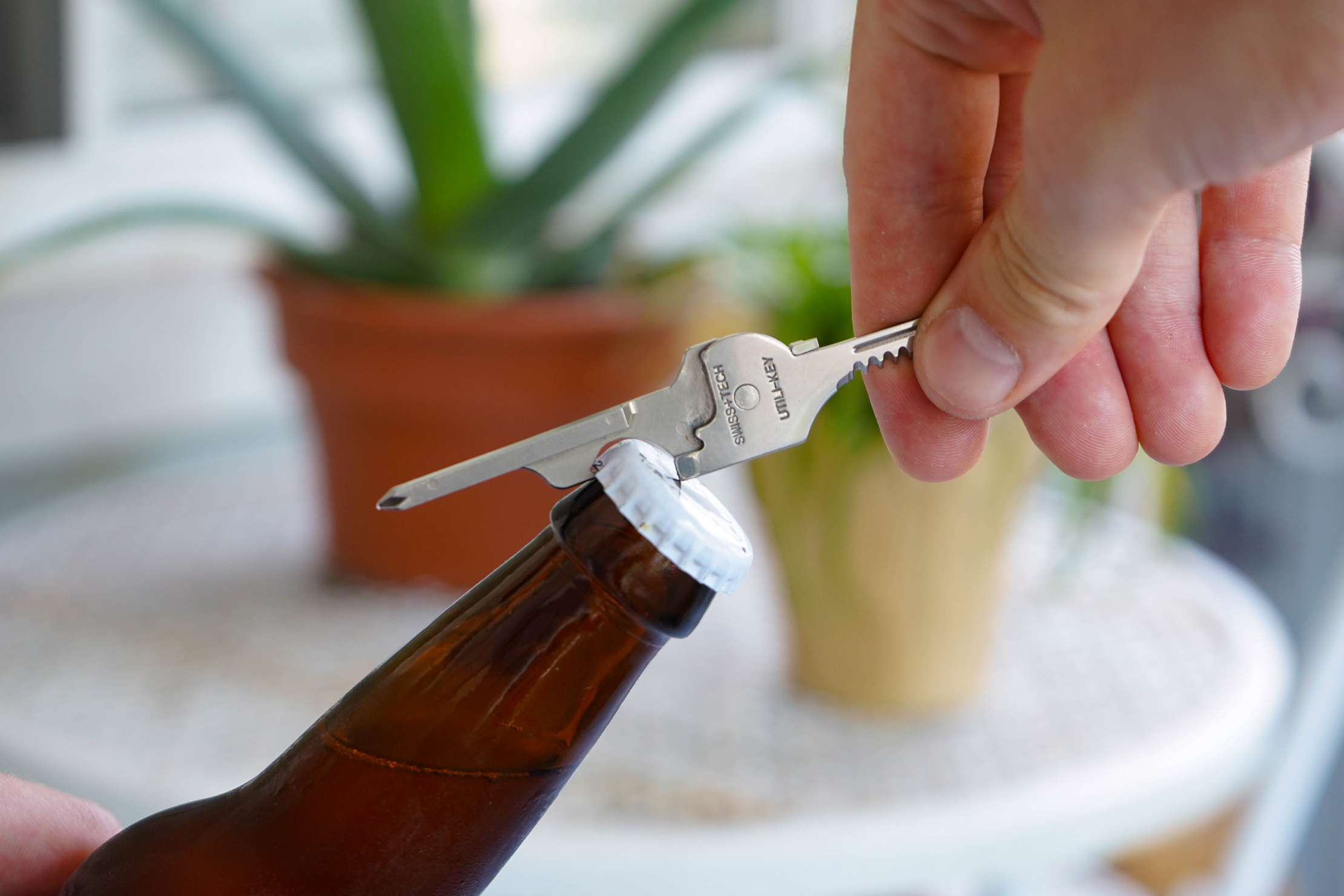 Anyway, this bottle opener works well, although it has the same problem as the screwdrivers. To get some leverage, you're going to want to pull against the blade of the knife. And we're not sure a beer is worth a flesh wound (although we're not sure it's not either).
Durability & Testing
We've been testing the Swiss + Tech Utili-Key for about a month now, and we have to say, we're not very impressed. It's small, lightweight, and mimics a key, so you won't be shouting to the world that you have a multi-tool on your keychain. Plus, it sells for under ten bucks.
But we're not fans of the dangerous game you have to play while utilizing most of the tools. And the screwdrivers only work on teeny, tiny screws. Of course, if those aren't dealbreakers for you, then you may enjoy this budget-friendly tool.
Usage Timeline
Initial Usage
Condition: Excellent
Packs six tools into a small package
Discretely blends into the rest of your key ring
A little hard to open until it breaks in
2 Weeks of Use
Condition: Excellent
Getting the most use out of the knife!
1 Month of Use
Condition: Excellent
Durability wise, everything is looking good.
Access the Pro Community Discussion
Get your questions about the Swiss+Tech Utili-Key answered from our team and the Pro Community right here on the page. Plus, join discussions with other members about gear, guides, and more.
Other Miscellaneous Reviews