Side by Side Power Packer Review
The Side by Side Power Packer is a sleek tech pouch with plenty of organization. So much organization, in fact, that we've found it difficult to utilize.
Our Verdict
Unlock the Pro Summary
Save time. Get access to brief summaries of our reviews so you can browse and make decisions more efficiently.
Pros
Minimalist aesthetic
The materials feel exceptionally soft
The top handle makes grabbing it from the inside of a pack quick and easy
Cons
Organizational features can make it difficult to utilize
We have concerns about long-term durability
Not enough padding to protect fragile items
Recent Pack Hacker Video
Technical Details
Weight (oz)

8.5 oz (241 g)

Dimensions

10.25 in x 3.55 in x 1.6 in (26 x 9 x 4.1 cm)

Notable Materials

Polyester, Elastic

Manufacturing Country

China

Warranty Information
Full Review
Get up to 10% off Side by Side • Join Pack Hacker Pro
If you're a digital nomad—or a human in the 21st century—then you're probably familiar with how difficult it can be to organize the gazillions of wires, battery packs, dongles, doohickeys, SD cards, and other random tech accessories while traveling.
That's why Side by Side—a travel gear company that is "aimed at shaking the industry through innovative design, unmatched customer experience and modern distribution channels"—launched a Kickstarter campaign in 2017 for the Power Packer, an oblong pouch that's designed to hold your "tech essentials" while on the road.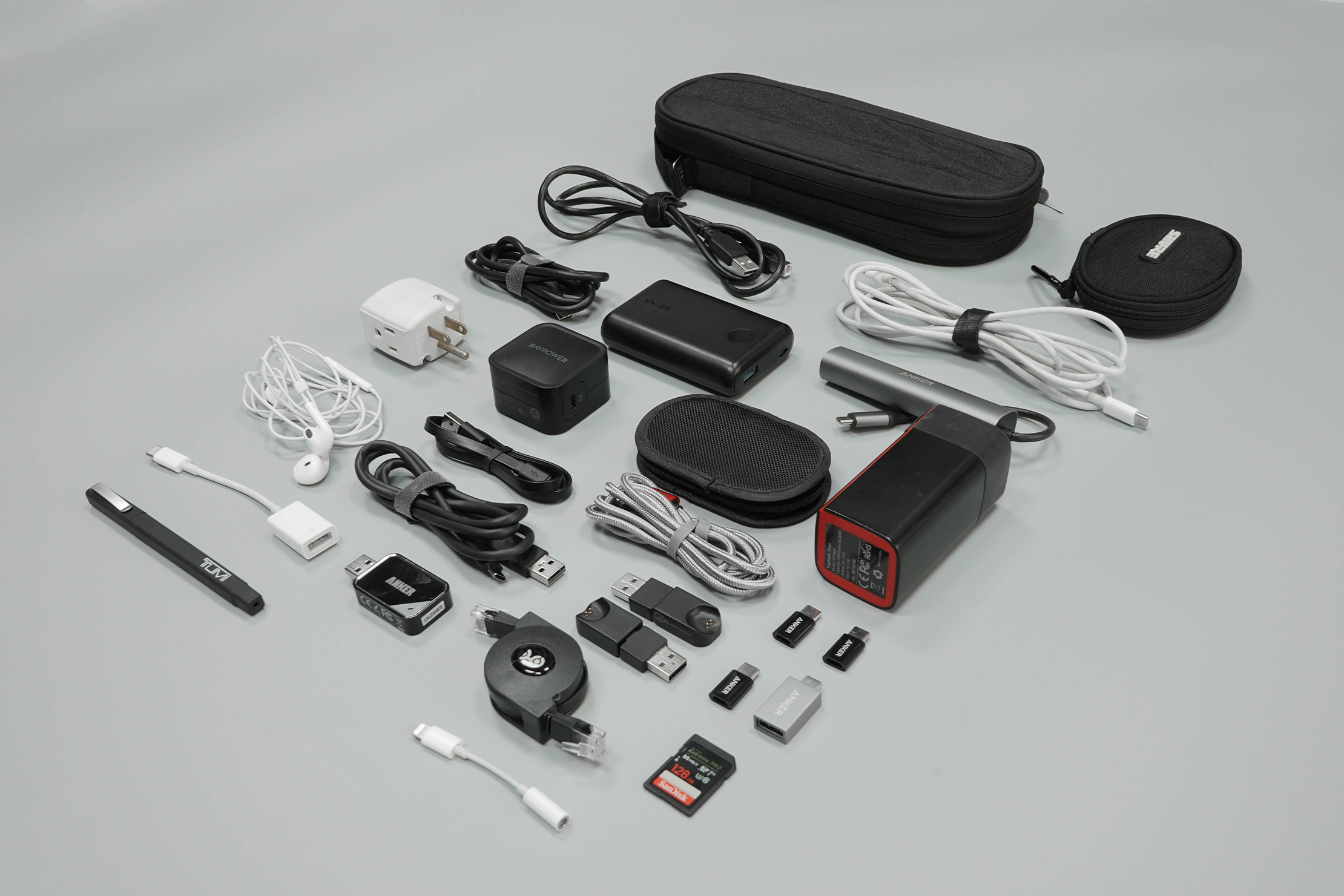 As the Pack Hacker team is mostly comprised of digital nomads, we had sky-high hopes for this little pouch. And so did thousands of other folks, seeing as Side by Side's campaign was a success and the product went to market.
Unfortunately, the Power Packer hasn't quite met our expectations. It's a similar style of pouch to the Thule Subterra Powershuttle Plus, but isn't designed as well (at least for our kind of travel). Let's check out the details so you can see what we mean.
Materials & Aesthetic
We've been testing the Side by Side Power Packer for about a month in Essex, England and Detroit, Michigan. When you first get your hands on this pouch, you'll immediately notice how soft it is. We're talking sheep-wrapped-in-a-baby-blanket kind of soft. You might just want to rub it against your cheek (not that we're, uh, speaking from experience).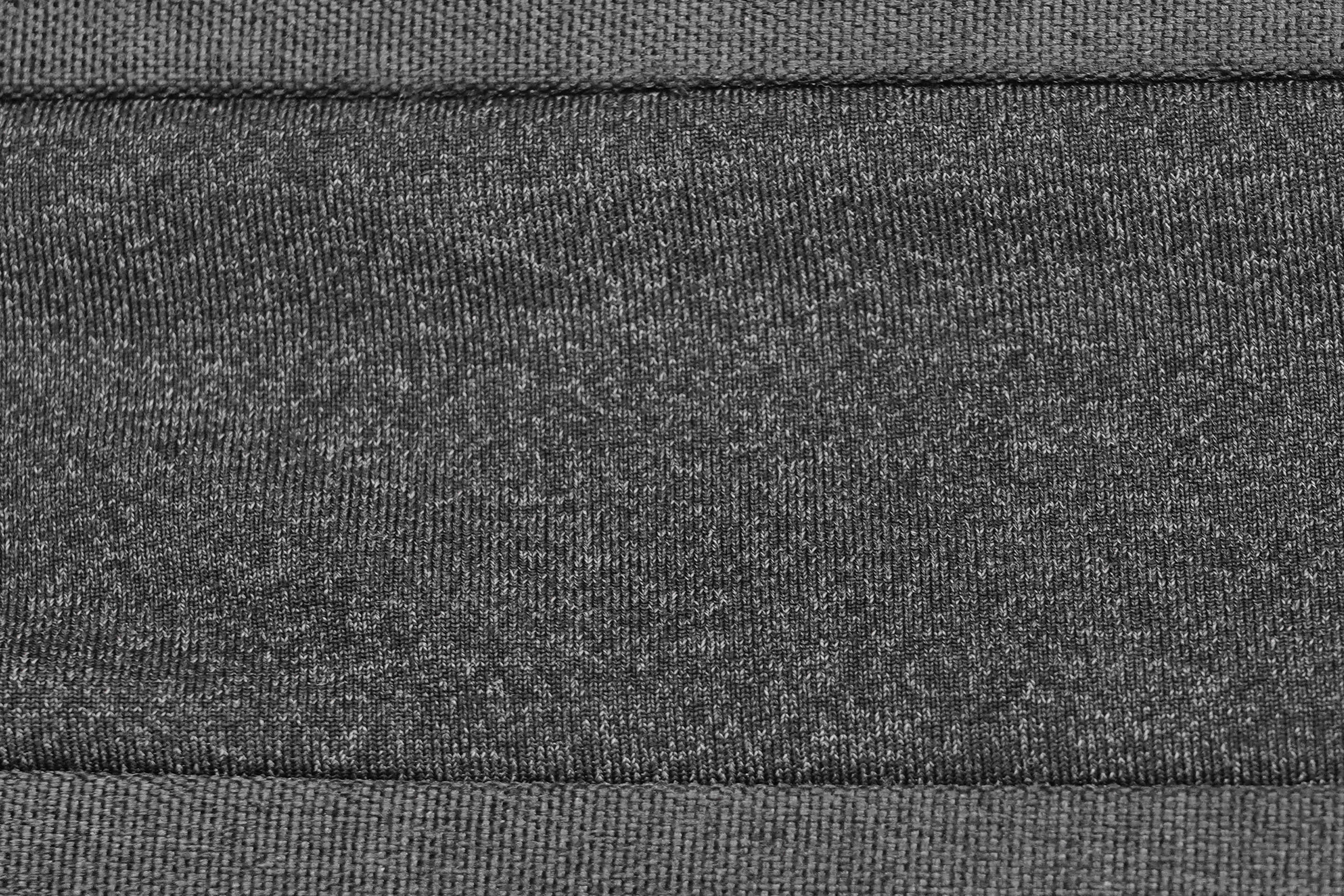 But once you look a little closer, you'll notice that the fabric feels a bit cheap. It's mainly made of a 300D polyester. Polyester is a popular synthetic fabric that we're sure you're familiar with (just check the label on your clothing), but it tends to be less durable than many other synthetics on the market. We're not saying this pouch won't last, but you probably don't want to abuse it too much.
There's also an elastane and nylon blend stripe that runs down the middle on both sides of the pouch. We like the idea of this stripe since its stretchiness allows you to fit a good amount of stuff inside while keeping the whole pouch compact. However, the stripe means the pockets aren't as padded as we would like them to be (more on this later).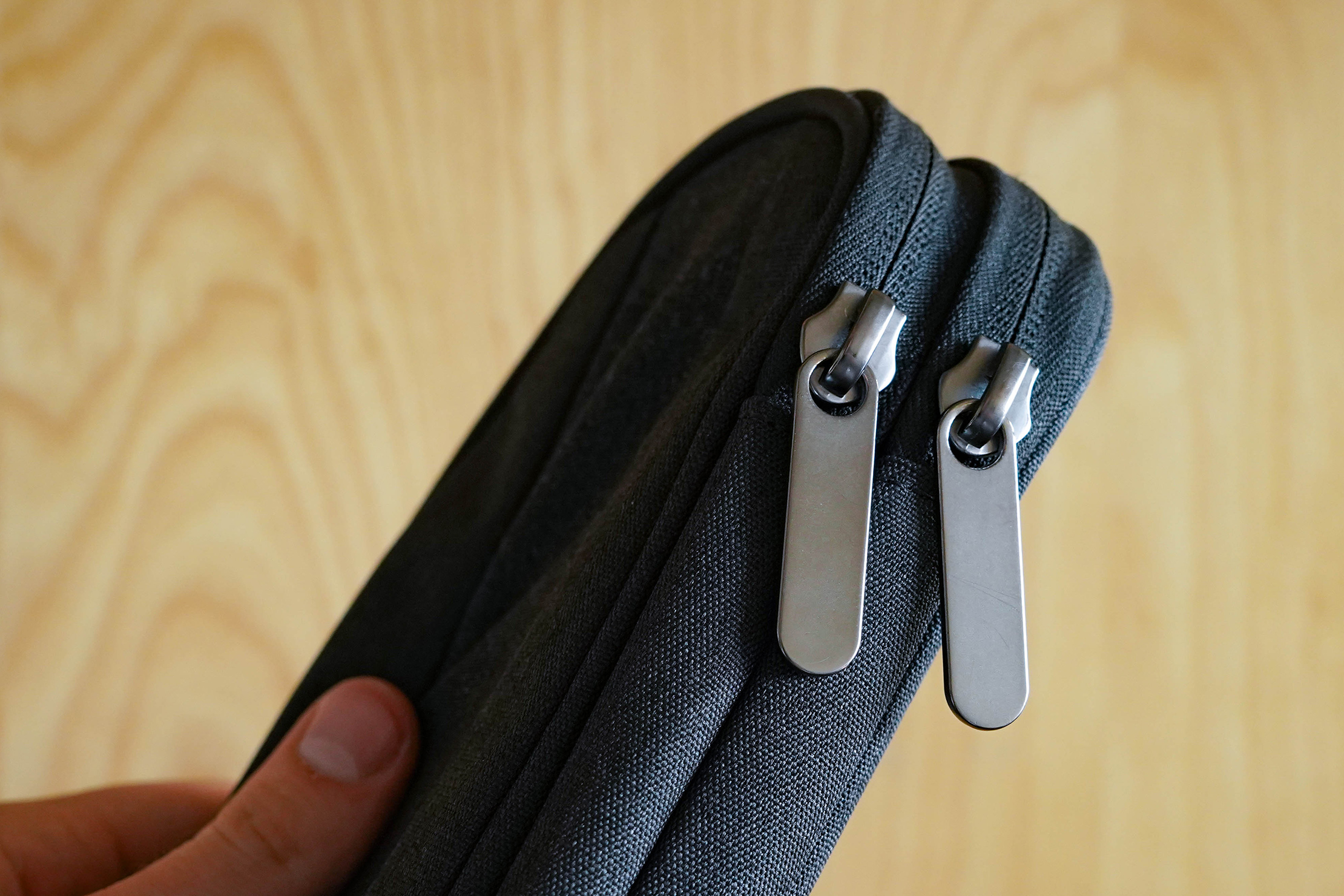 We're not sure who makes the zippers since there is no visible branding. We're always nervous with ambiguous zippers, but these feel alright. They're metal and a decent enough size that we think they'll hold up. Plus they're all reverse coil, meaning the zipper teeth are on the inside of the pouch rather than the outside. This helps add a bit of weather resistance and creates an overall air of sophistication.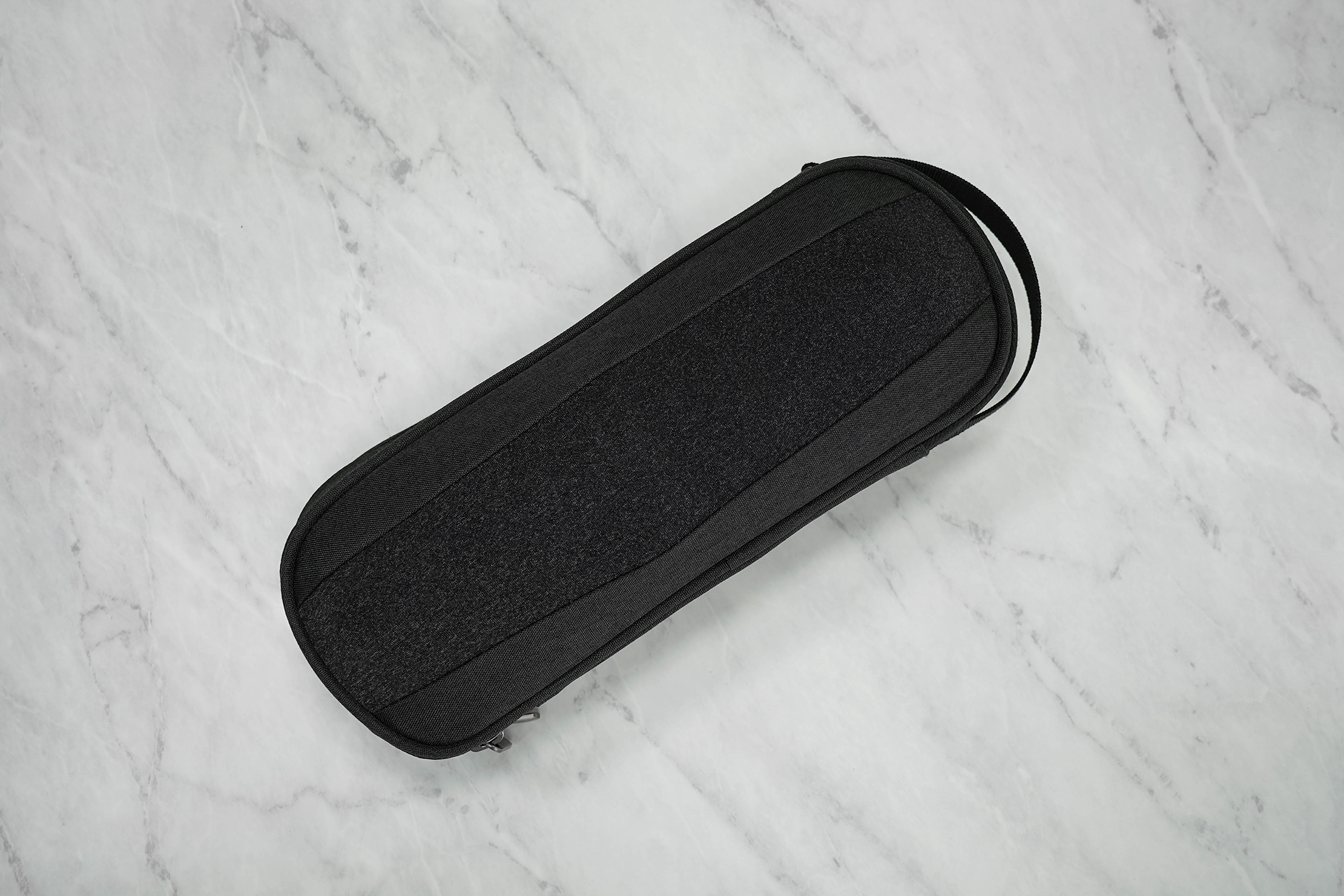 Speaking of aesthetic, this pouch has a minimalist style that we don't think anyone can hate. At the time of this review, it's available in three different colorways: Shadow, Denim, and Bordeaux. (If you're not sure what Bordeaux is, don't feel bad, we didn't either. It's a dark reddish-purple color that looks suspiciously like red wine… Hmm…) We've been testing the Shadow, which we can all agree has the sleekest name.
Something to note here is that the color only changes on the nylon stripe (the rest of the pouch stays a dark gray). So don't order Bordeaux expecting an entirely purple bag.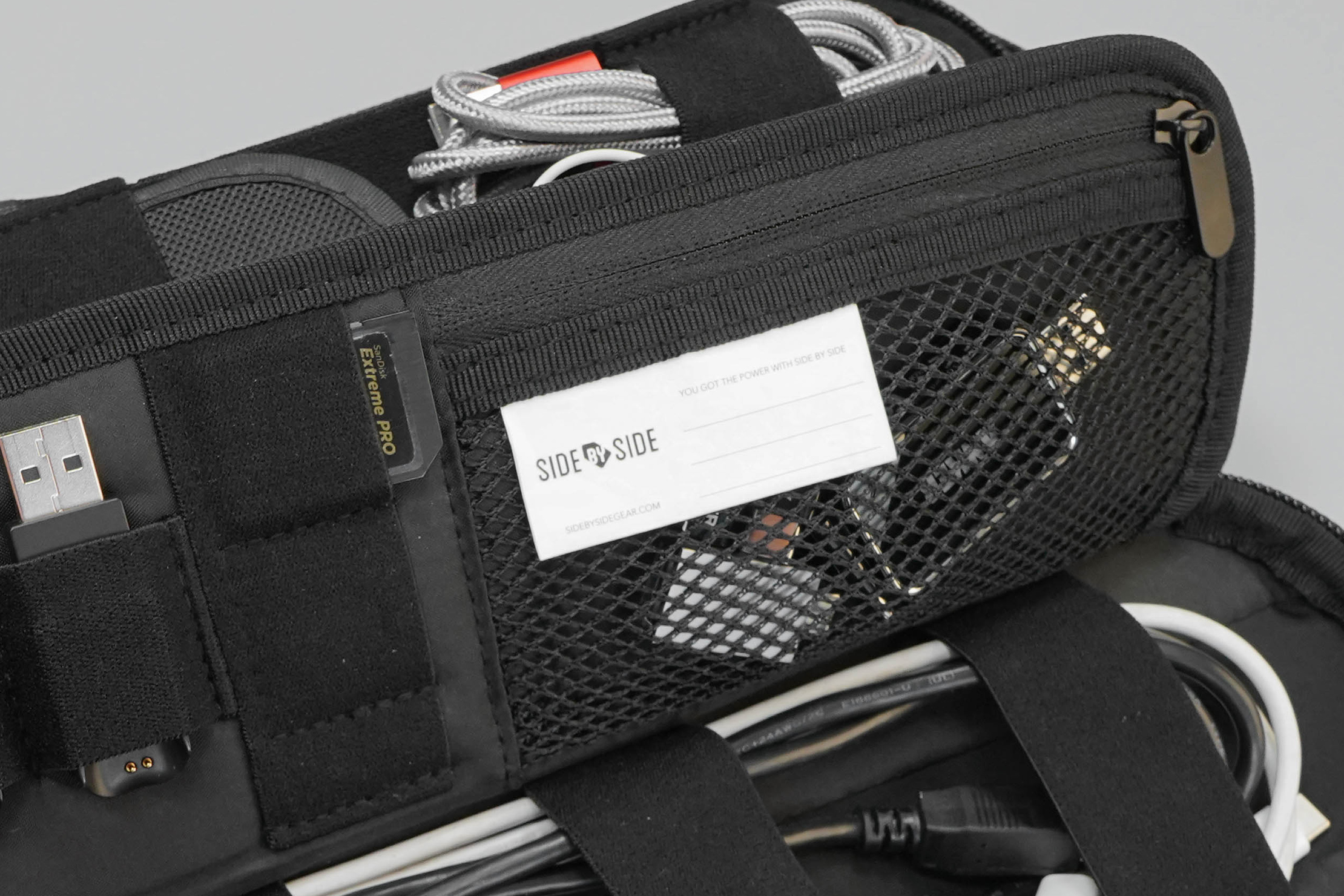 We like how Side by Side has kept the branding to a minimum. The logo is stamped on a piece of metal hardware on the exterior and on an interior tag (going back to materials for a second—this interior tag has a very plastic feel that we're not digging).
Features & Usage
We've really wanted to like this pouch, but we think it's suffering from too-much-organization syndrome. To be frank, we haven't been sure how to properly use it (despite our best efforts!). Of course, everyone has their own use-case and what hasn't worked for us may work for you.
There are two compartments. Let's start with the bigger one. It opens up in a clamshell style, which we like since it allows you to see everything inside. In this compartment, there's a divider that splits it in half and essentially creates two compartments out of one.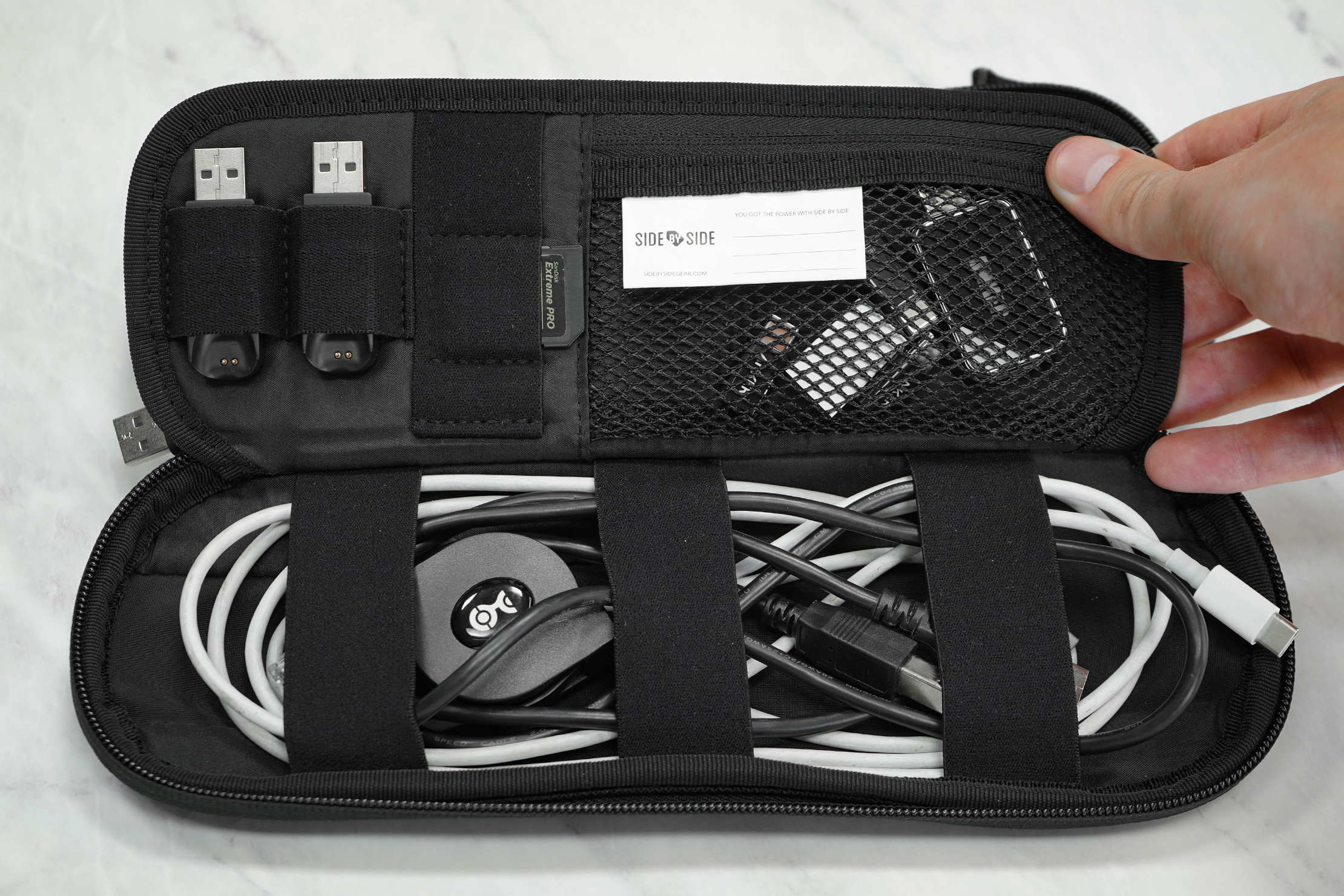 On one side, you'll find three elastic straps. This an excellent spot for chargers or other random long wires you may have. So far, so good. Opposite that is where things get kind of weird, for lack of a better word. There are four SD-sized elastic slots and an additional thinner slot. If you often carry four SD cards with a fifth thin, micro SD card, then great—you'll love this organization. Otherwise, you may not find it particularly useful.
On its marketing materials, Side by Side shows USB flash drives in two of these slots. While we think it's a good idea to travel with a flash drive—you never know when you're going to need it—we've never packed more than one. But if you do, again, you'll probably love this pouch.
Beside these slots is a zippered mesh pocket. We don't have any gripes with this pocket—it's a good place for random, small items.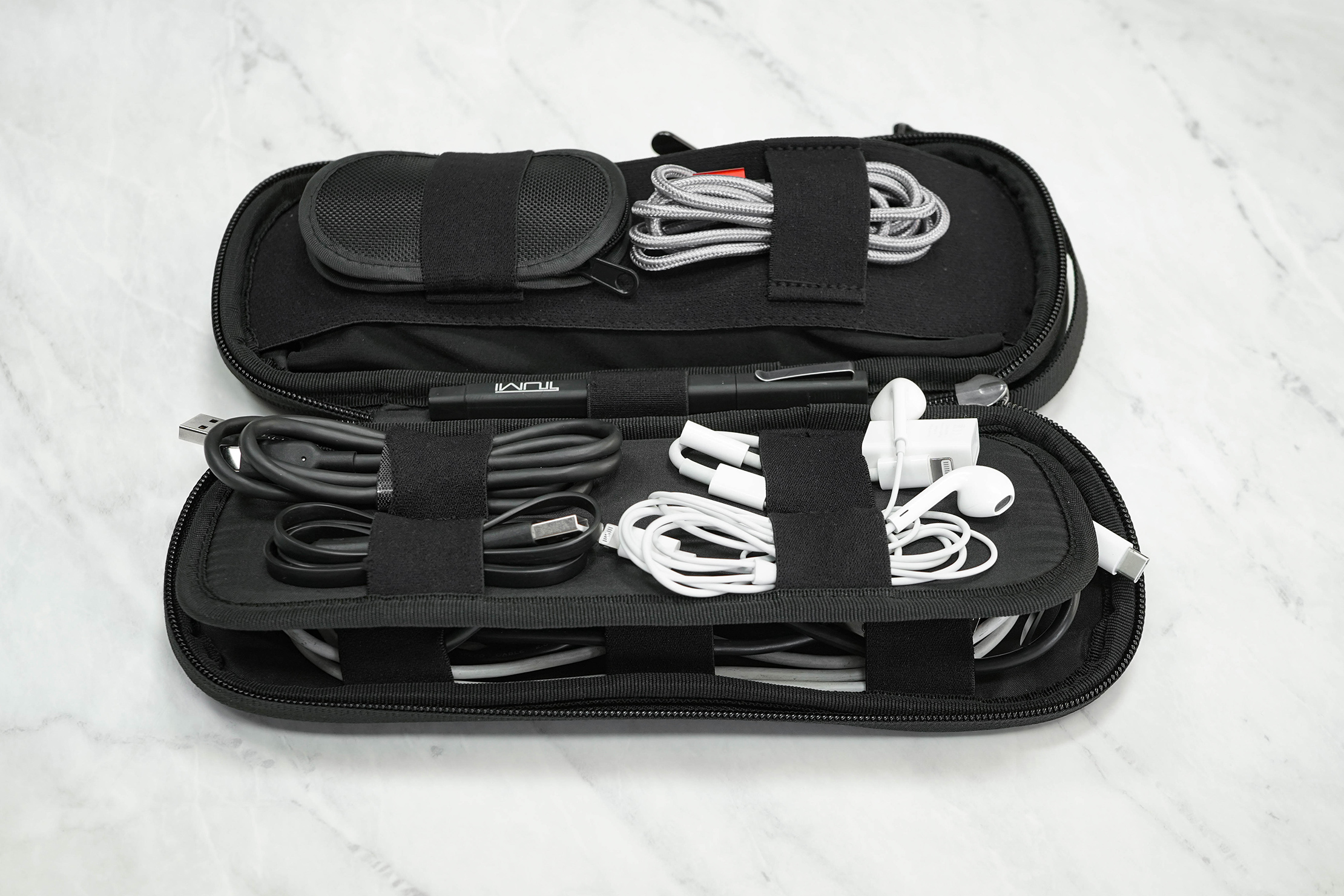 On the other side of the divider, you'll find four more elastic straps. You can stick headphones, dongles, adapters, or things of that nature here. There are two more elastic straps on the other side for even more wires and a pen or stylus (depending on how techy you are) slot in the middle.

Finishing off this compartment, you'll see a long padded pocket. Now, this pocket is padded but not as padded as we would like for fragile items. It's not going to protect an external hard drive from knocks or drops, or from other items inside your bag. This is a shame as this pouch is designed to hold tech gear (like hard drives and battery banks!). The lack of padding is one of the main reasons we haven't been using it much.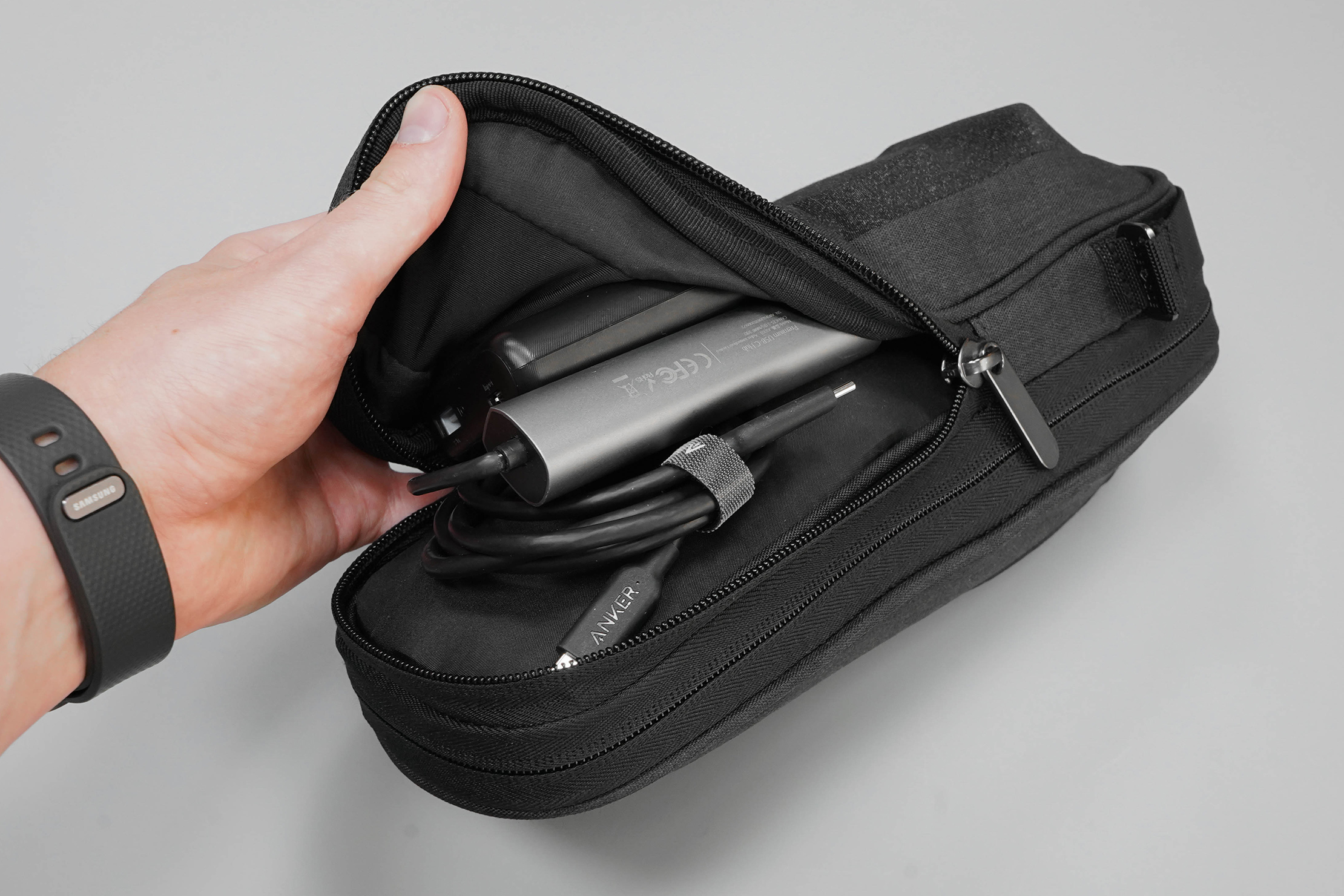 The second compartment is a big pocket for larger items. Think MacBook charger. Once again, we wish there was more padding here. It would be a great spot for an external hard drive—that is, if we felt our hard drive would be safe. But alas.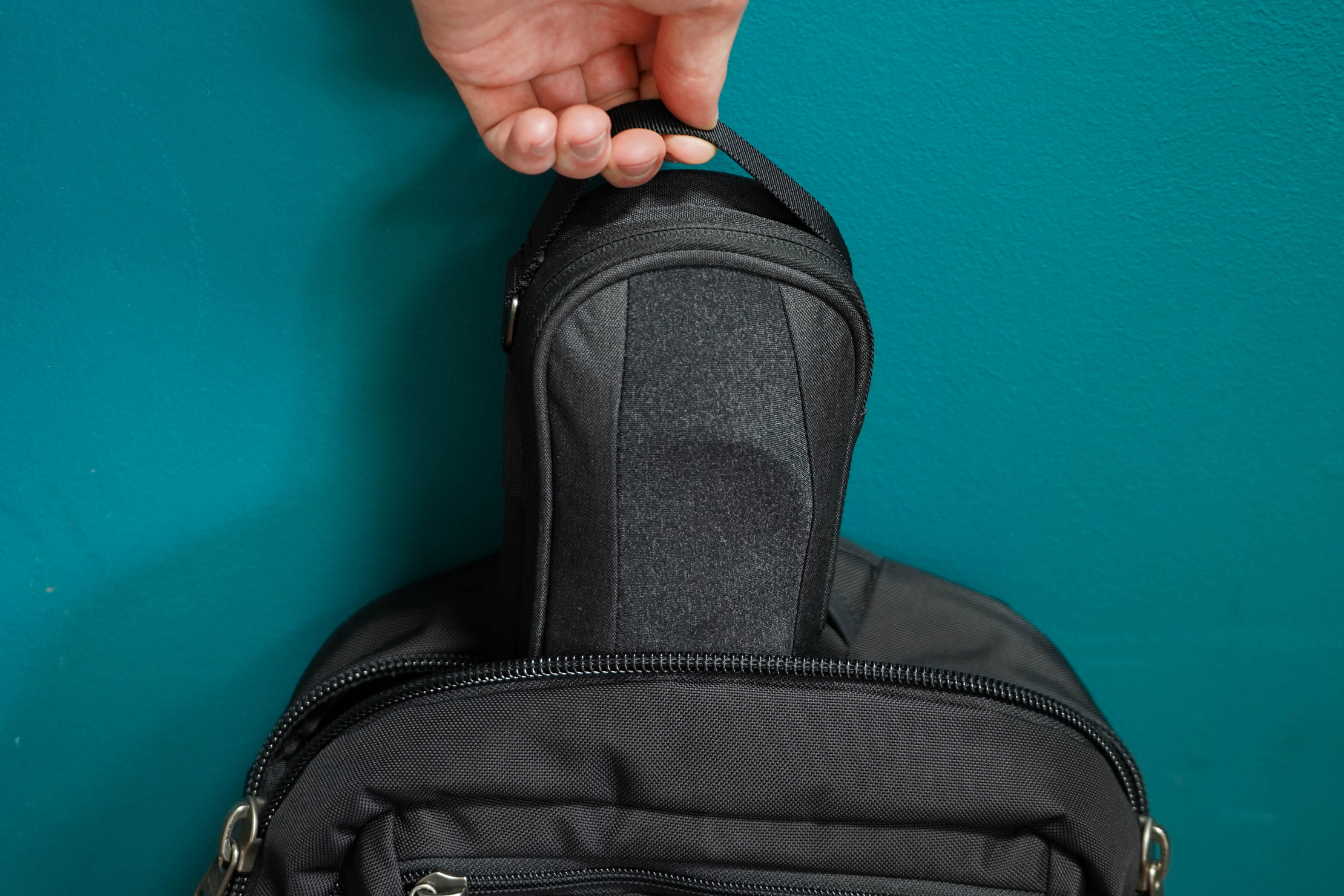 One feature we do like is the top handle. It's a nice way to grab the pouch when it's buried at the bottom of a backpack or duffel. Or if you need to slide it toward you from across a desk.
Durability & Testing
As we mentioned, we've been testing the Side by Side Power Packer for about a month now. We've tried very hard to figure out the best way to use it. Truly, we have. And we've concluded that it's just not for us. But if you've been looking for something to organize a bunch of SD cards, flash drives, and wires, then this could be the pouch for you.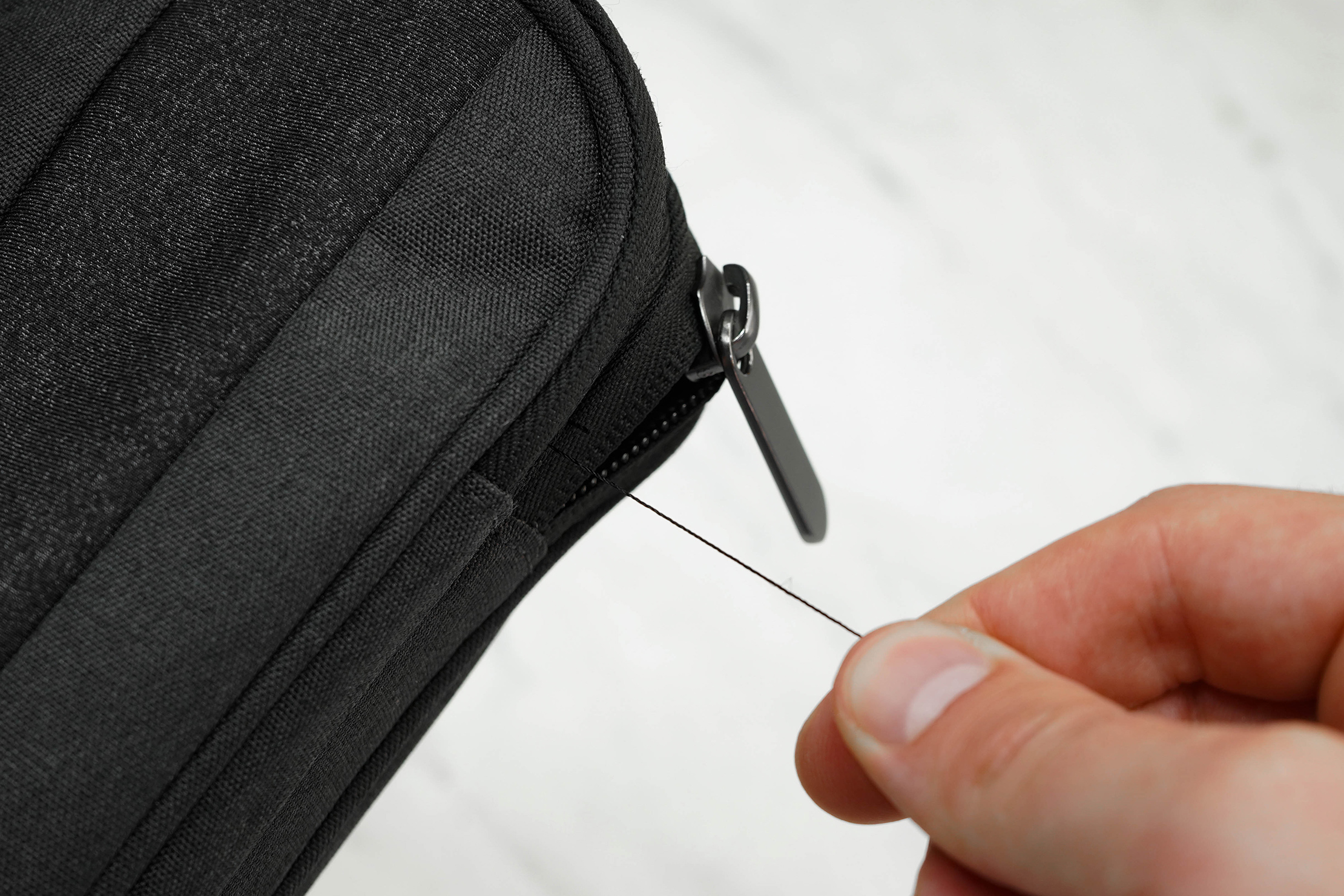 As far as durability goes, we've noticed a few small loose threads already, which is somewhat disappointing. But we haven't had any significant issues to report yet.
Usage Timeline
Initial Usage
Condition: Excellent
Great internal organization, tons of straps all over this thing
Great companion it you have a ton of cords and other tech gear
Stretchy fabric so you can over-pack this if needed
2 Weeks of Use
Condition: Excellent
Still trying to figure out how to use this thing!
1 Month of Use
Condition: Good
We've spotted a couple of loose threads. Nothing worrying, but it's not a good sign either.
Access the Pro Community Discussion
Get your questions about the Side by Side Power Packer answered from our team and the Pro Community right here on the page. Plus, join discussions with other members about gear, guides, and more.
Other Organizers & Pouches Reviews