Pacsafe Venturesafe X40 Plus Review
If you're looking for a secure travel backpack, the Pacsafe Venturesafe X40 Plus offers some great features, including slash-proof material and secure zippers. We've enjoyed just about everything on this pack, but the laptop compartment did feel a bit "meh."
Our Verdict
Unlock the Pro Summary
Save time. Get access to brief summaries of our reviews so you can browse and make decisions more efficiently.
Pros
Lots of smart, streamlined security features.
Comfortable and adjustable harness system.
Just-right organization without going overboard.
Cons
Laptop compartment positioning is not optimal.
Hip belt is bulky and cannot be hidden.
Exterior nylon could be a higher denier for added durability.
Recent Pack Hacker Video
Technical Details
Capacity

40l

Dimensions

21.7 in x 11.8 in x 8.7 in (55.1 x 30 x 22.1 cm)

Notable Materials

Aluminum, EVA Foam, Dyneema®, YKK Zippers, Nylon, Polyester, eXomesh®

Manufacturing Country

China

Laptop Compartment Size

15"

Warranty Information
Full Review
Get up to 15% off Pacsafe • Join Pack Hacker Pro
In this review, we are taking a look at the Pacsafe Venturesafe X40 Plus. Yes, that is quite a mouthful, and yes—as the name implies, there is a big focus on safety, or more precisely, security.
Pacsafe is a company that specializes in various anti-theft travel gear. From backpacks to wallets to roller luggage, they're all about giving you some peace of mind while traveling—which we love to see. Any seasoned traveler knows that security is no joke when you're out on your own—or even not on your own—and having some reassurance that no one is going to, say, swipe your bag as you start to doze off on the subway is a huge relief.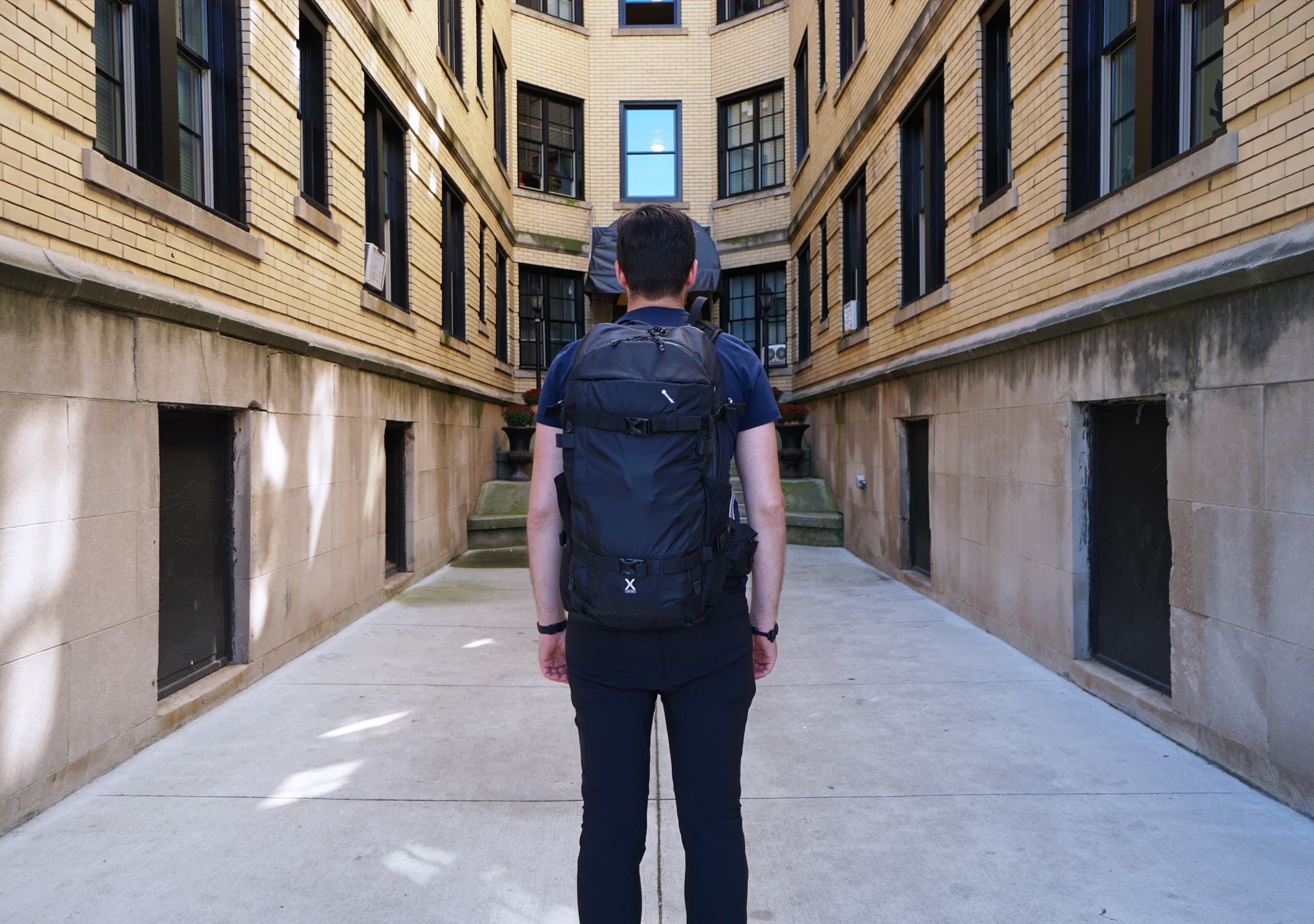 The Venturesafe X40 Plus is Pacsafe's carry-on compliant travel bag that, in addition to being a pretty great all-around backpack, boasts a whole lot of cool security features. We've been testing this thing out for about a month at the time of this review, and it's seen action on trips from Detroit to Spain. Let's check it out.
Materials & Aesthetics
This bag currently comes in two colors—black and Hawaiian blue. We opted for the black for two reasons: 1) because we love black bags and 2) because we love the low profile it gives you. The Hawaiian blue is pretty bright, and although we do like the look, it definitely makes you stick out a bit more, which we tend to think makes you a more likely target for theft.
But hey, go with what you feel. You only live once.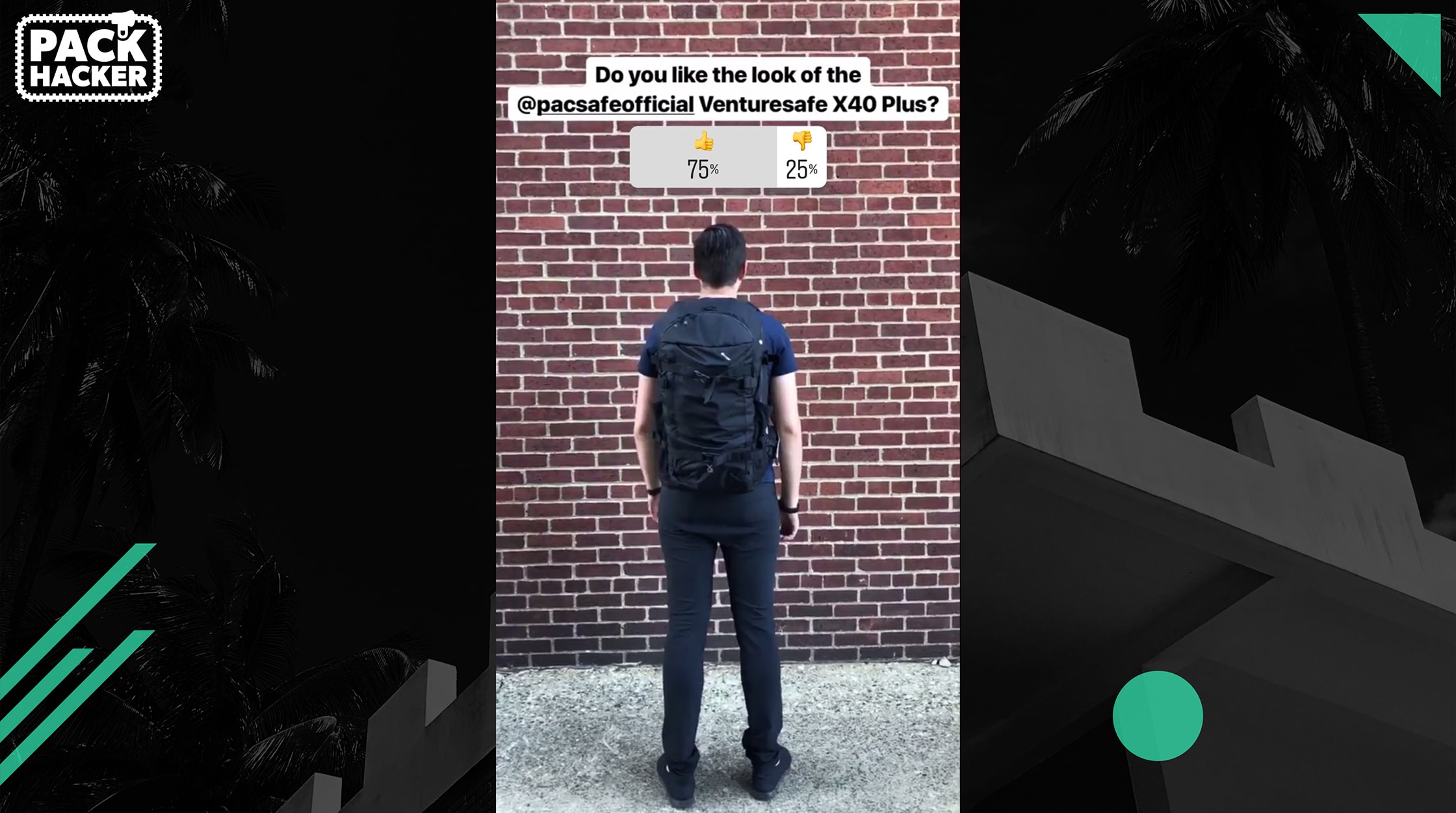 We really like the overall look of this pack, and it would appear that our Instagram audience does as well. Our poll came in at a pretty conclusive 75/25, with 75% of people liking the look of this bag.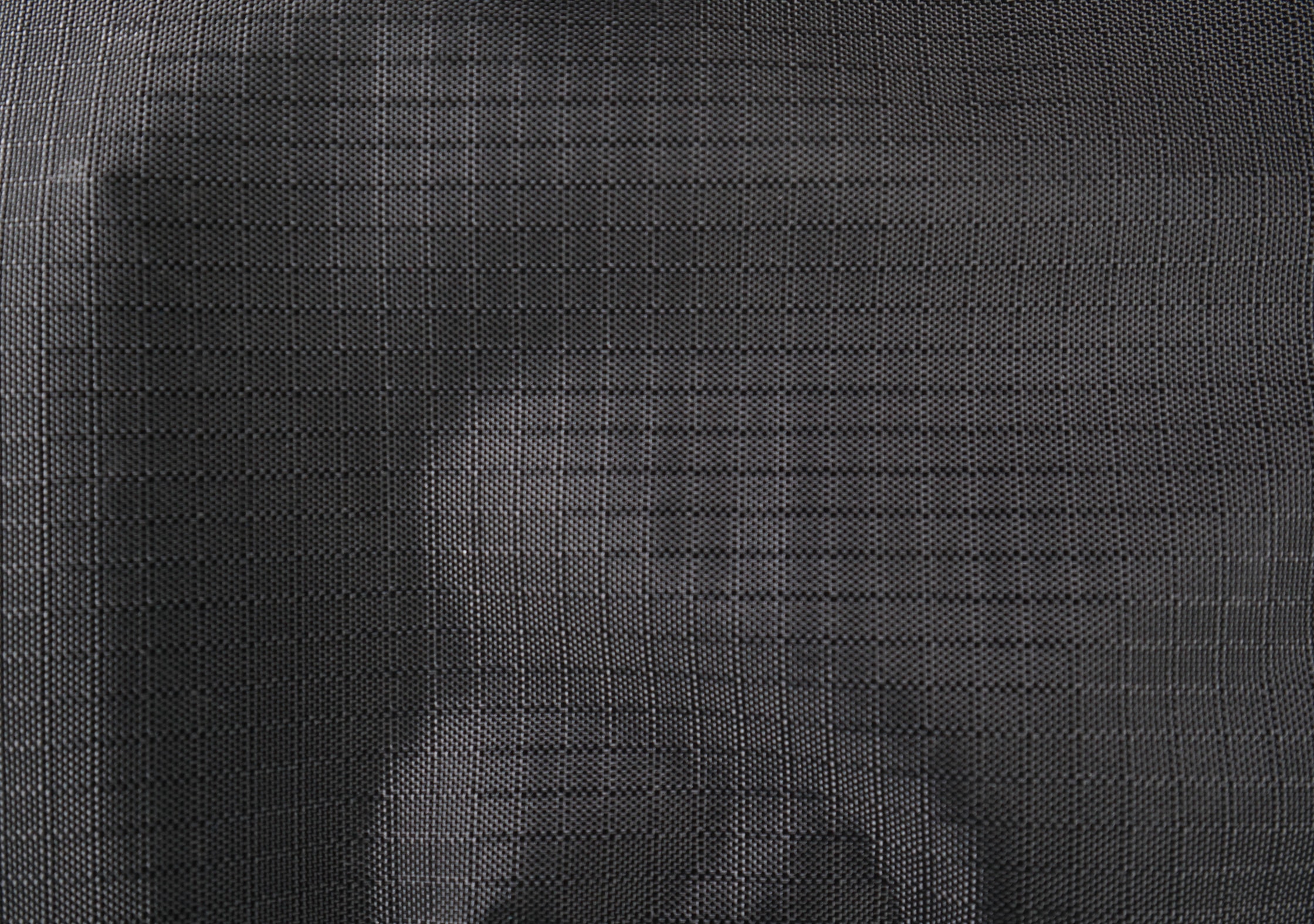 As far as fabrics go, there is a 210D nylon on the outside and a highly weather-resistant polyester liner on the inside. Between those two layers, there's Pacsafe's patented eXomesh®, which is a sort of metal webbing that helps make the bag more slash proof. We do think that the 210D nylon on could be a little bit higher denier to make it more robust, but that's the trade-off you get with putting in that eXomesh®.
Overall, this bag has some decent durability, especially when it comes to the anti-theft side of things. We should also note that the nylon is not your run-of-the-mill ripstop, but actually a double ripstop nylon—so if a rip happens in this pack, it's not getting any bigger. Well, that's the theory at least (and we think it'll work).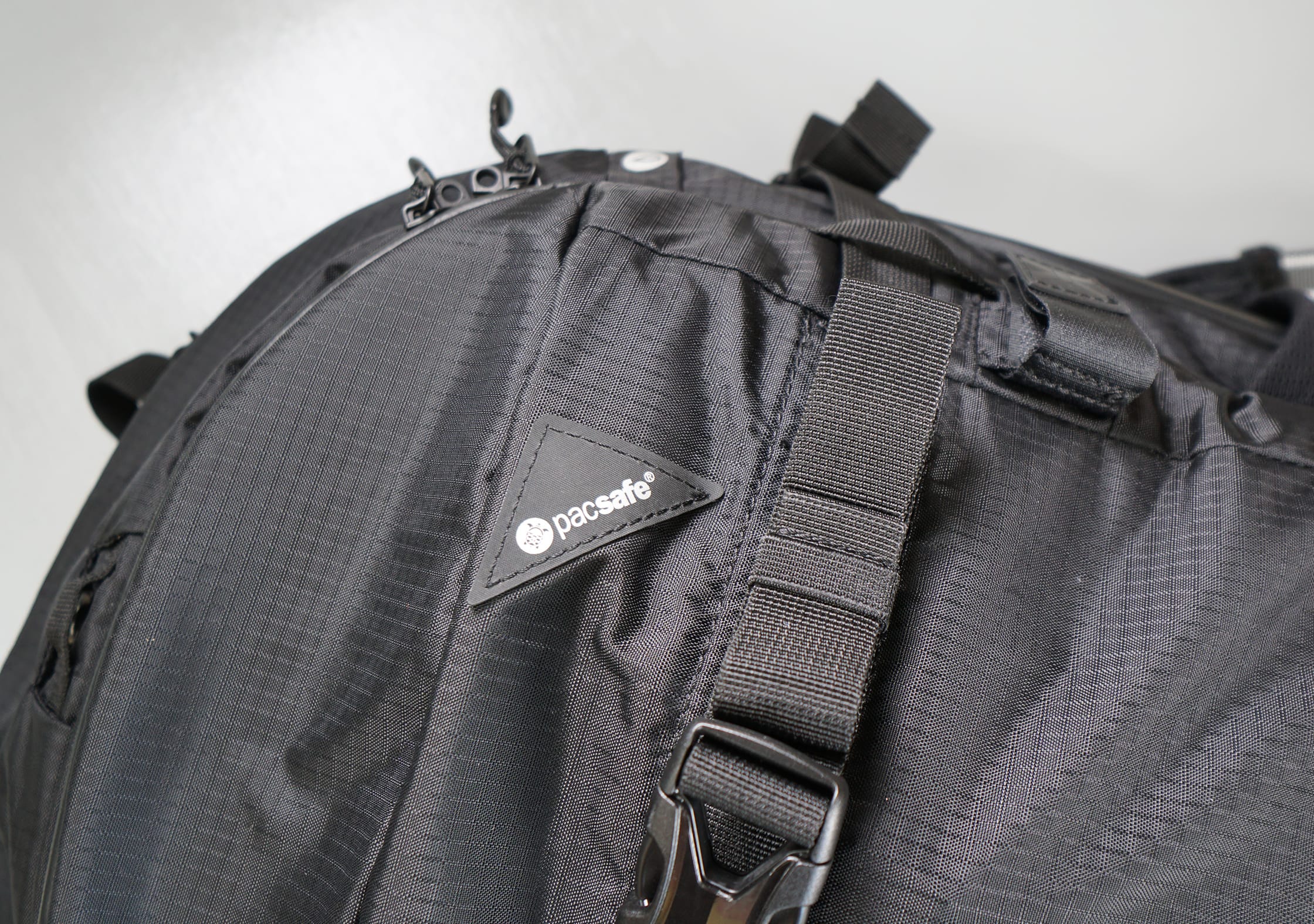 From a branding perspective, there are some simple logos around the outside of the pack. There is one logo with the brand name on the shoulder strap, and another similar, triangle-shaped logo on the front. Towards the bottom is a large eXomesh® logo, which is clearly to stop any thieves in their tracks. This stuff is very well-known by criminals and they avoid it like the plague. (We have no idea if this is true or not. Totally just made it up. But you never know!)
The Venturesafe features a bunch of other materials, from an aluminum frame to EVA foam padding and Dyneema® on the backpack straps for additional slash protection. And there are also lockable YKK zippers (of course) all over this thing, along with some ITW hardware.
External Components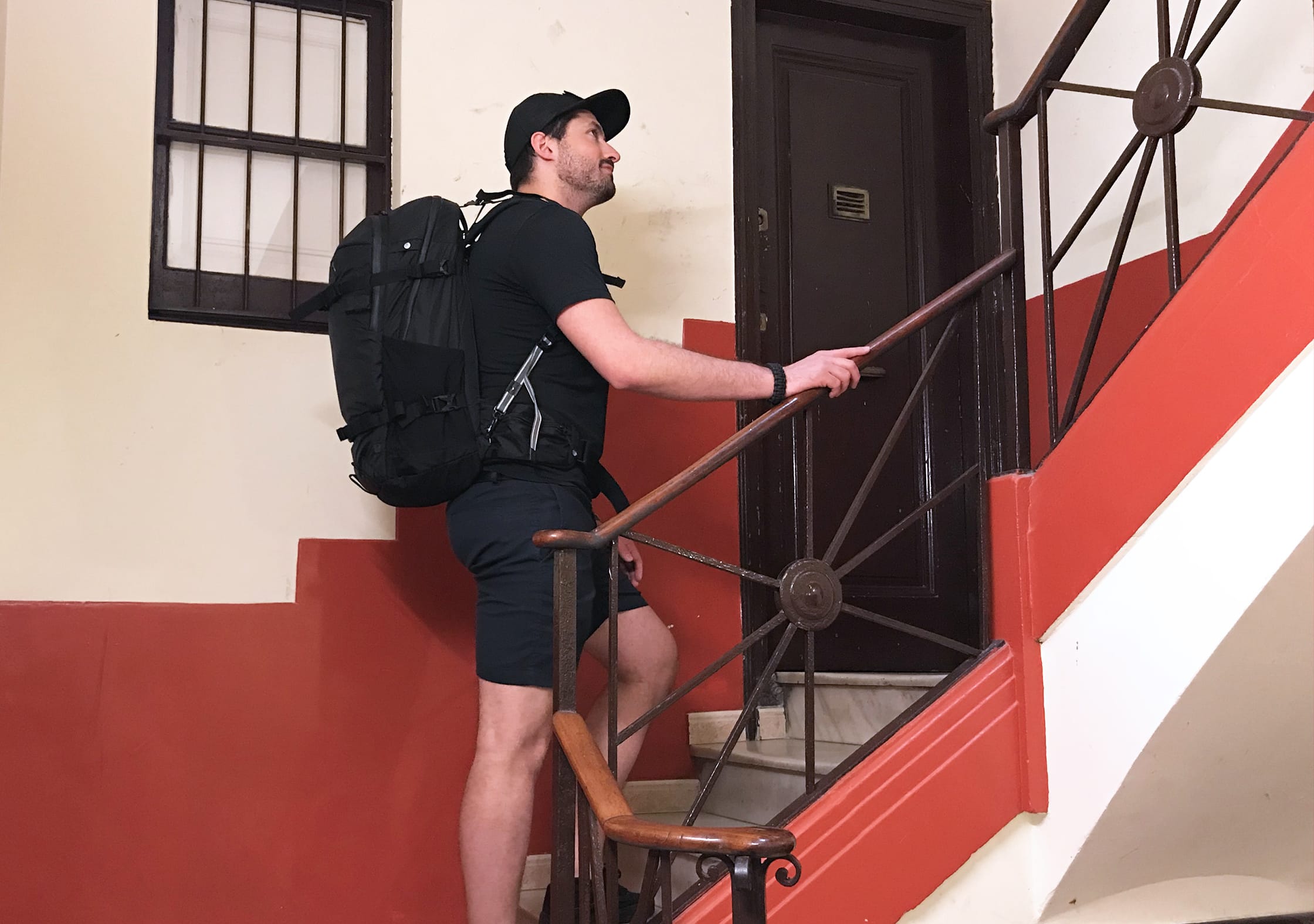 The black version of this pack has a pretty low profile, but there's actually a lot going on on the outside. We'll start off with the harness system (as one does). The shoulder straps are made of some high density EVA foam and are actually super comfortable, even though they look a bit thin. These kind of reminded us of straps we've seen on the Minaal Carry-On 2.0 and the Mission Workshop Fitzroy VX. Two companies that really know how to create good carries on their packs, and have the whole "thin-but-surprisingly-comfortable" thing down pat.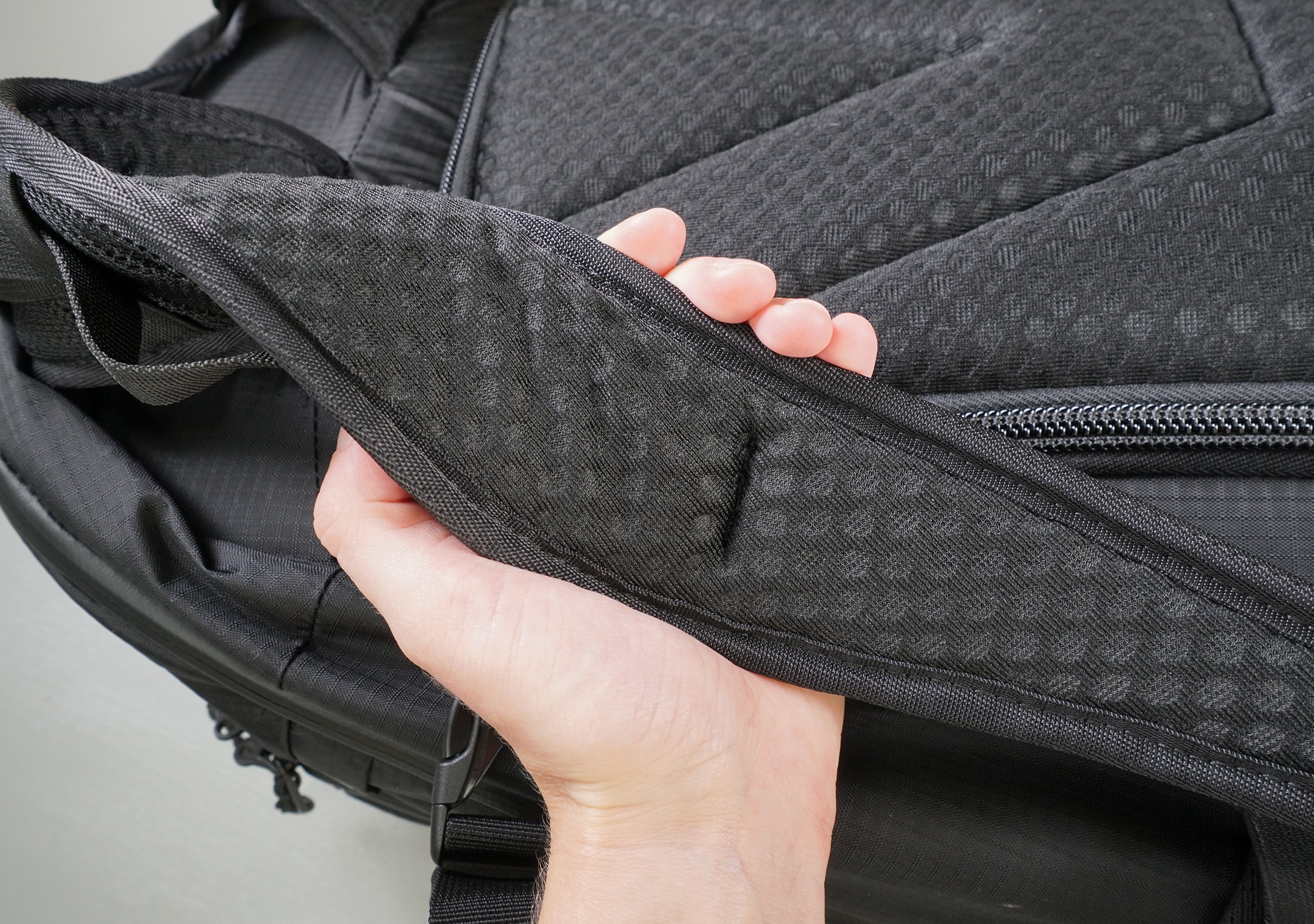 There is also some mesh and holes on the shoulder straps for additional airflow. There are load-lifters on the top that help with your carry a little bit and also have some elastic keepers that help manage any excess straps from the load-lifters.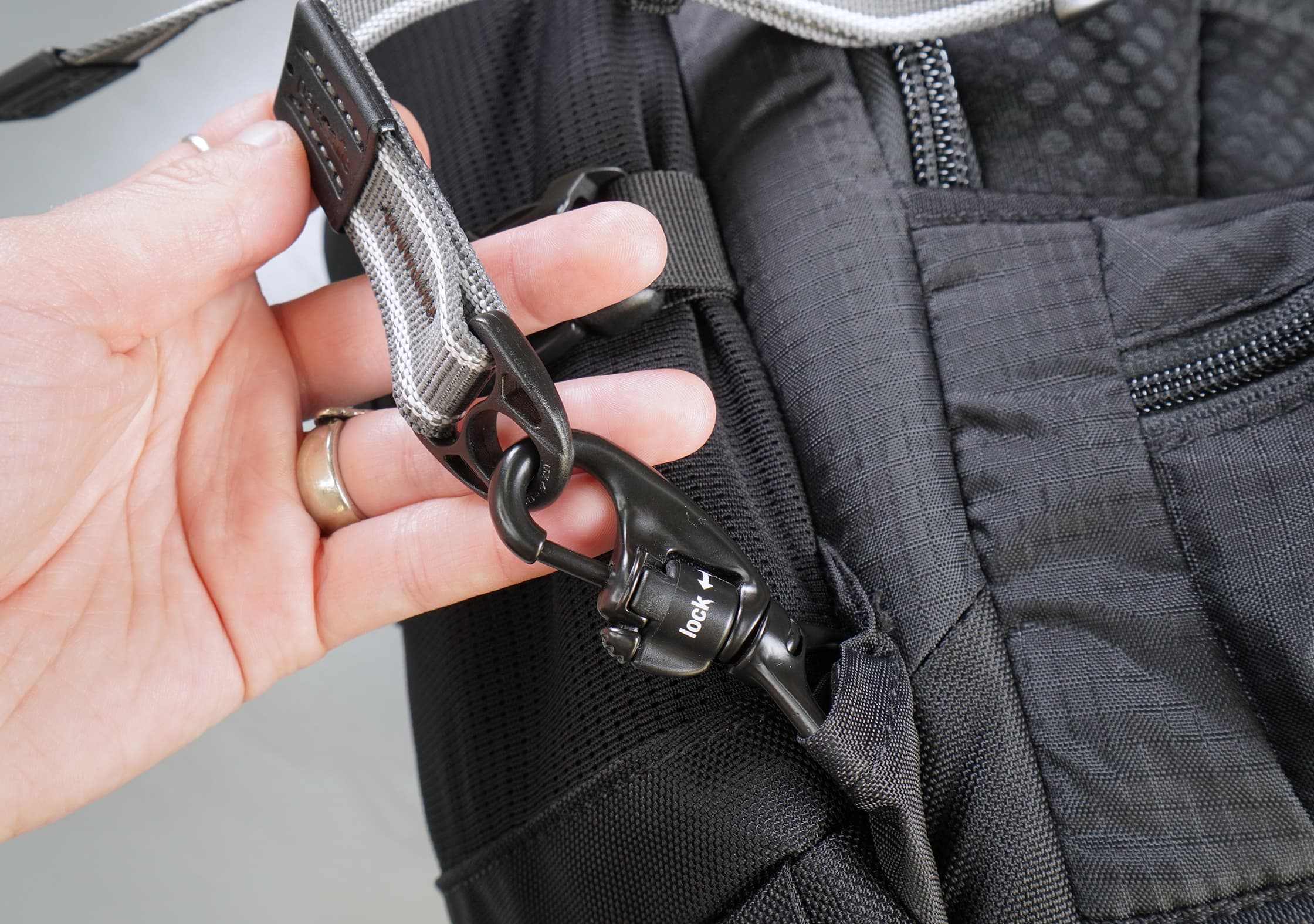 The left shoulder strap features a turn and lock security loop as an added anti-theft feature, which we think is pretty damn cool! It's definitely not foolproof—you can take it off quite easily—but it's going to prevent somebody from quickly grabbing your bag and running away with it. Next time you're on a bus or subway and can barely keep your eyes open, just attach your bag to your seat and you should be good to go. If anyone tries to grab your bag and run, they'll be in for a pretty rude awakening. They might even fall flat on their face.
Like we said, it's quite easy to take this on and off—you just rotate the lock mechanism and then pull it down as an ordinary hook—but most people aren't going to realize that without some thorough investigating.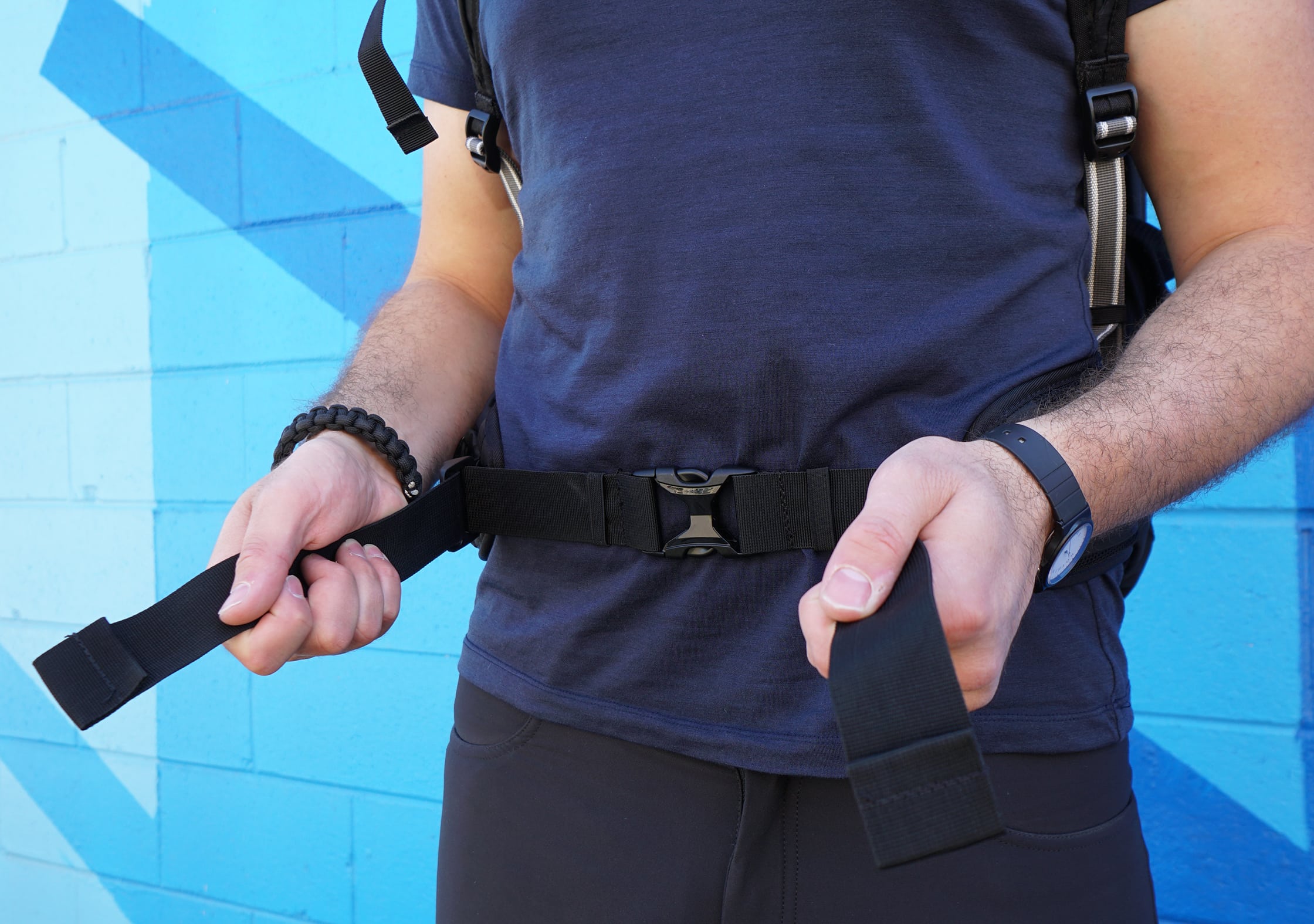 The hip belt provides some really great comfort and adds to the overall carry of the pack. However, you cannot stow it. So when you're not utilizing it, it's kind of annoying—your arms sort of get in the way, and if you're, say, walking through a plane aisle with this thing, you're probably going to be whacking people in the face. And in our experience, walking through a plane aisle kind of happens a lot while wearing this pack. Something something travel backpack, something something.
We're never really a fan of hip belts that can't be removed or hidden for this exact reason. And with that being said, we are sad to report that the Venturesafe X40 Plus will not be joining the #danglefreeexperience club. (Sorry, the rules are pretty clear. It's in the name!) We do wish they had thought this through a little bit more.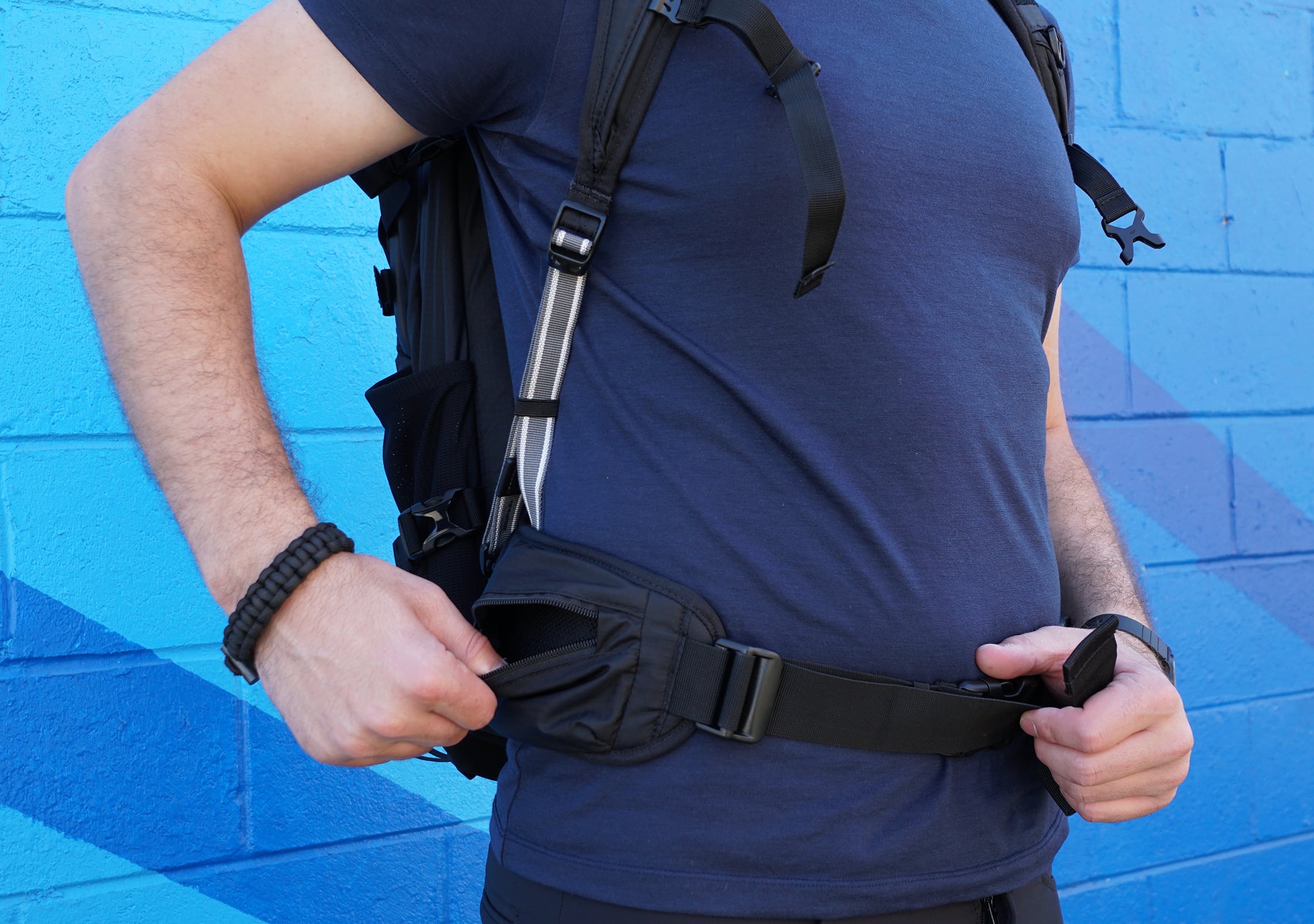 On the right-hand side of the hip belt is a nice 3D pocket, which is good for smaller items, and the left-hand side has two rows of MOLLE, which is good for attaching additional MOLLE compatible accessories. Lastly, there is a nice hook at the top for hanging the bag up, which will allow you to hang it flush against a wall—we love to see this!
The back panel has some padded mesh which definitely adds a bit of comfort and ventilation, and below the harness system you'll find an affixed rain cover that is attached to the pack. You can just pull it out when you need it, toss it over your pack, and you've got some additional weather resistance. Love it.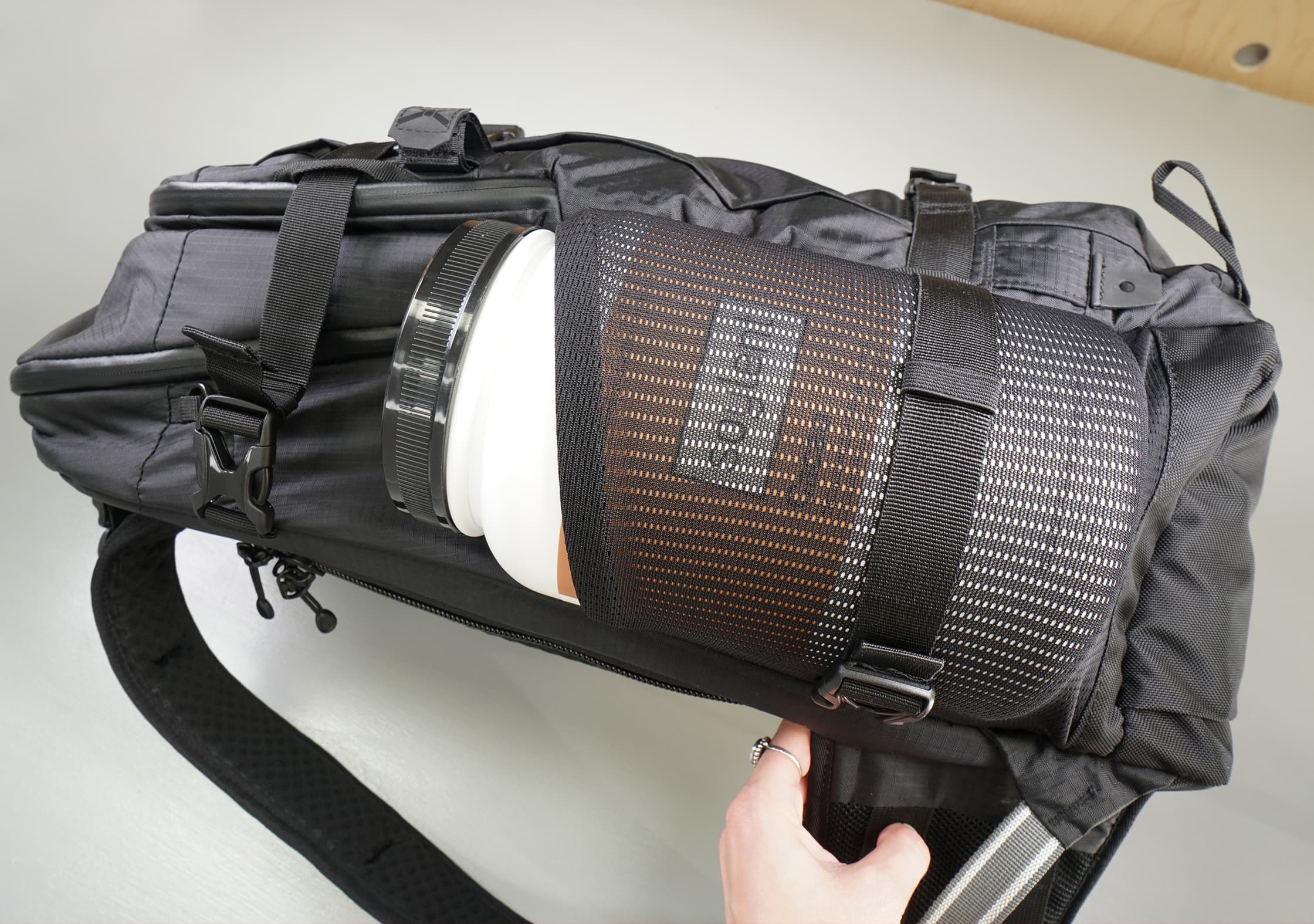 And as we continue to go through all the components that we love, we stumble onto the mesh water bottle pockets. These things are not messing around whatsoever—they are SERIOUSLY stretchy! Not only will these pockets fit a S'well bottle or a giant Nalgene bottle—they'll even fit a truly GIANT Soylent tub. This thing is comically large.
So whether you want to carry a few gallons of water or enough protein powder for an Olympic weightlifting team, you'll be good to go.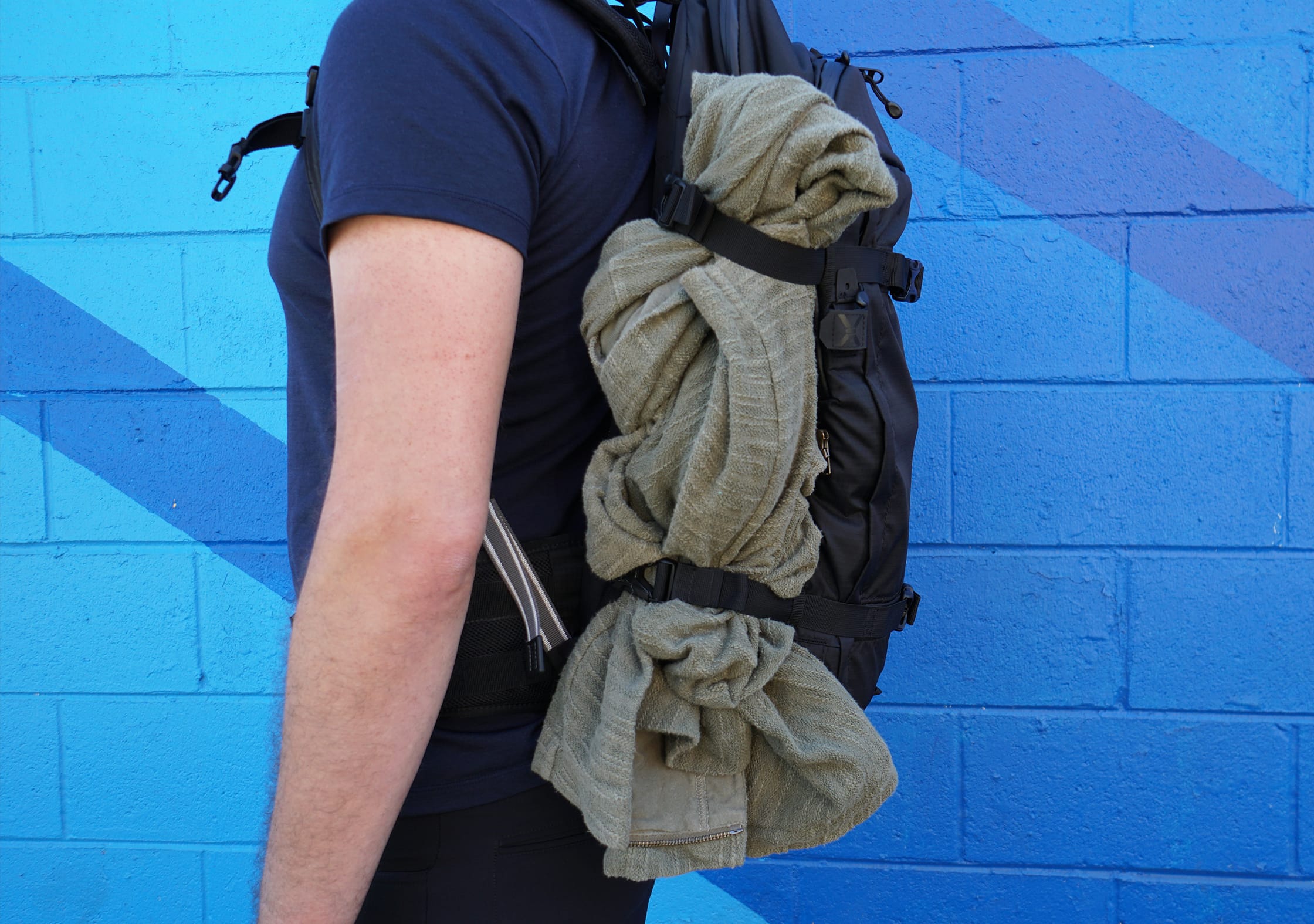 Each side of the pack features two compression straps, which comes to four in total. These are good for pulling down the main volume of the pack when it's not fully loaded out. Additionally, you can use them to hold things on the side of the pack, like a jacket or tripod.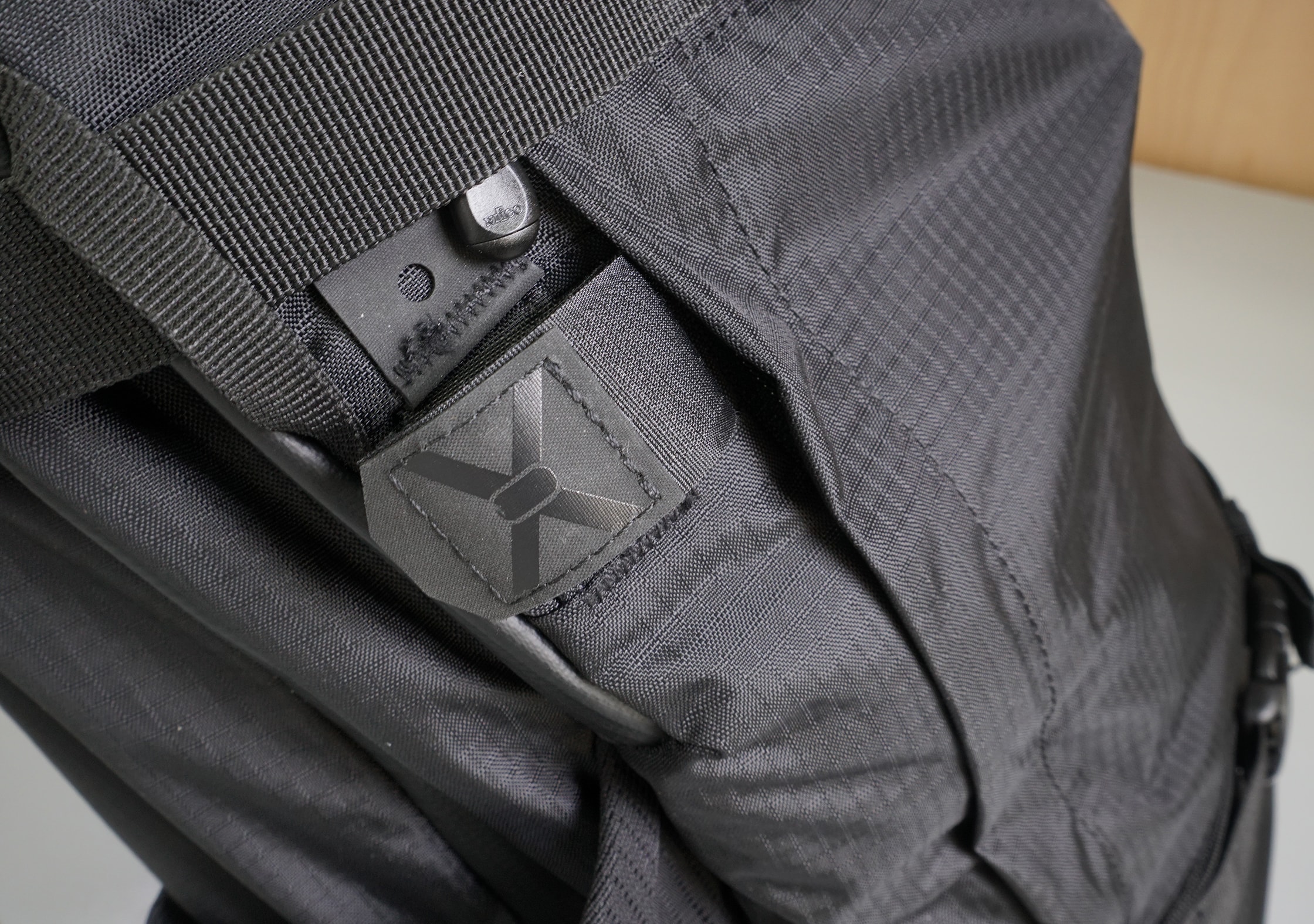 But we're not done yet! There are a few small velcro loops on the side of the bag that you could use to attach hiking poles or a monopod—they're pretty tiny and seem to only hold very thin objects. We have yet to really utilize these. And there are even some trekking loops on the bottom which are traditionally used for a sleeping bag or sleeping pad but could really be used to attach any sort of object to the bottom of the pack, just like you would with the compression straps.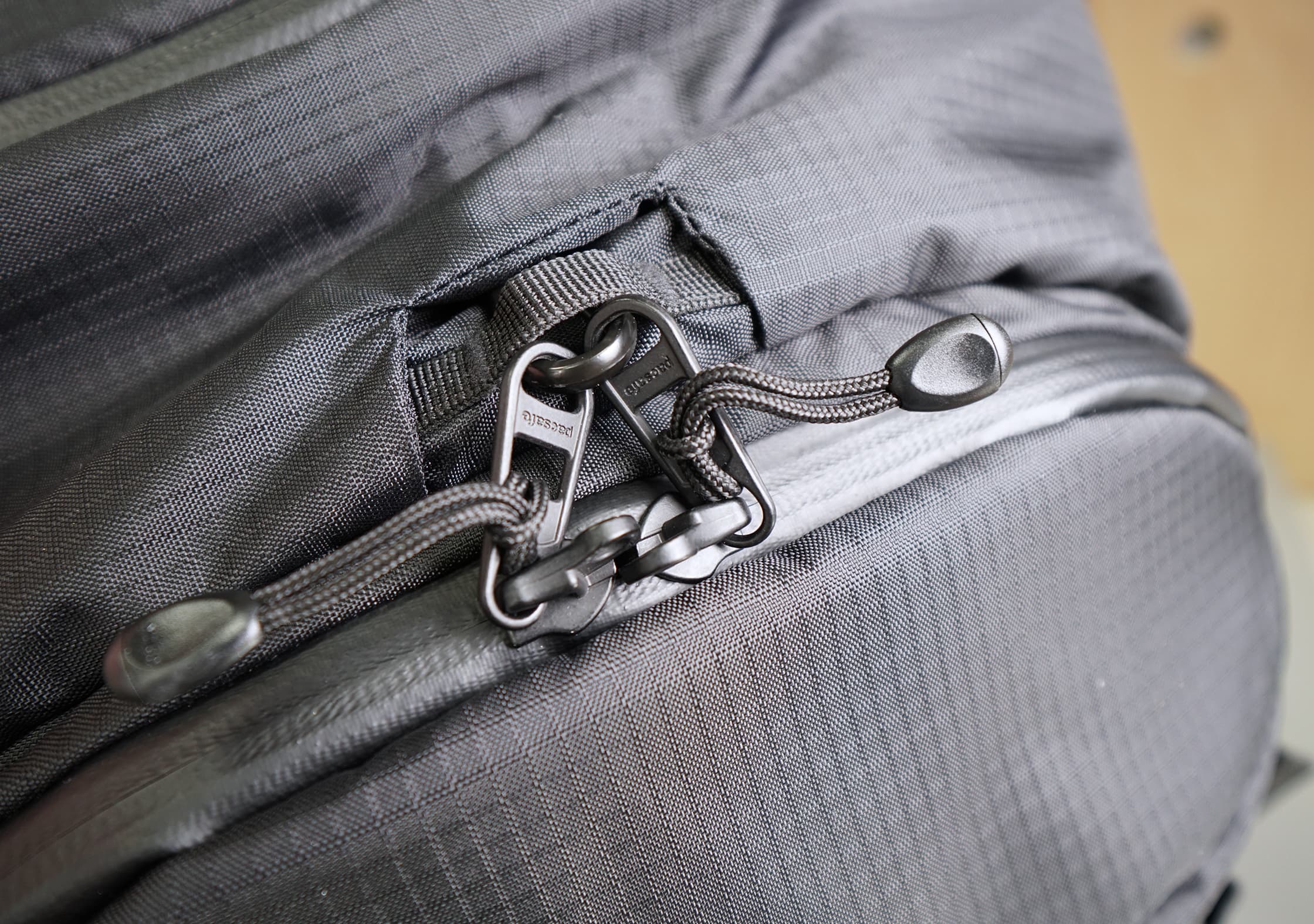 There are also a bunch of options to secure the zippers, which are all YKK and can be locked with TSA approved locks. Additionally, there are two places with integrated clips that you can use to hold the two zippers together, which makes it a little bit harder to access. There is one near the top and one on the side. Lastly, on the front pocket, there is a small nylon tab that you can thread the zipper under, which makes it harder to open up.
Inside the Pack


Let's move on to the various compartments on this bag! On the front side, there is a vertical zippered pocket that's great for flatter items or smaller things you'd like to have in the front of your pack.
There is a horseshoe zipper on the front of the pack which opens up to the first compartment. FYI: this is a little bit easier to access after you pull off the side compressions straps. This zipper only goes about halfway down the pack, however, the pocket goes down the entirety of the front of the pack.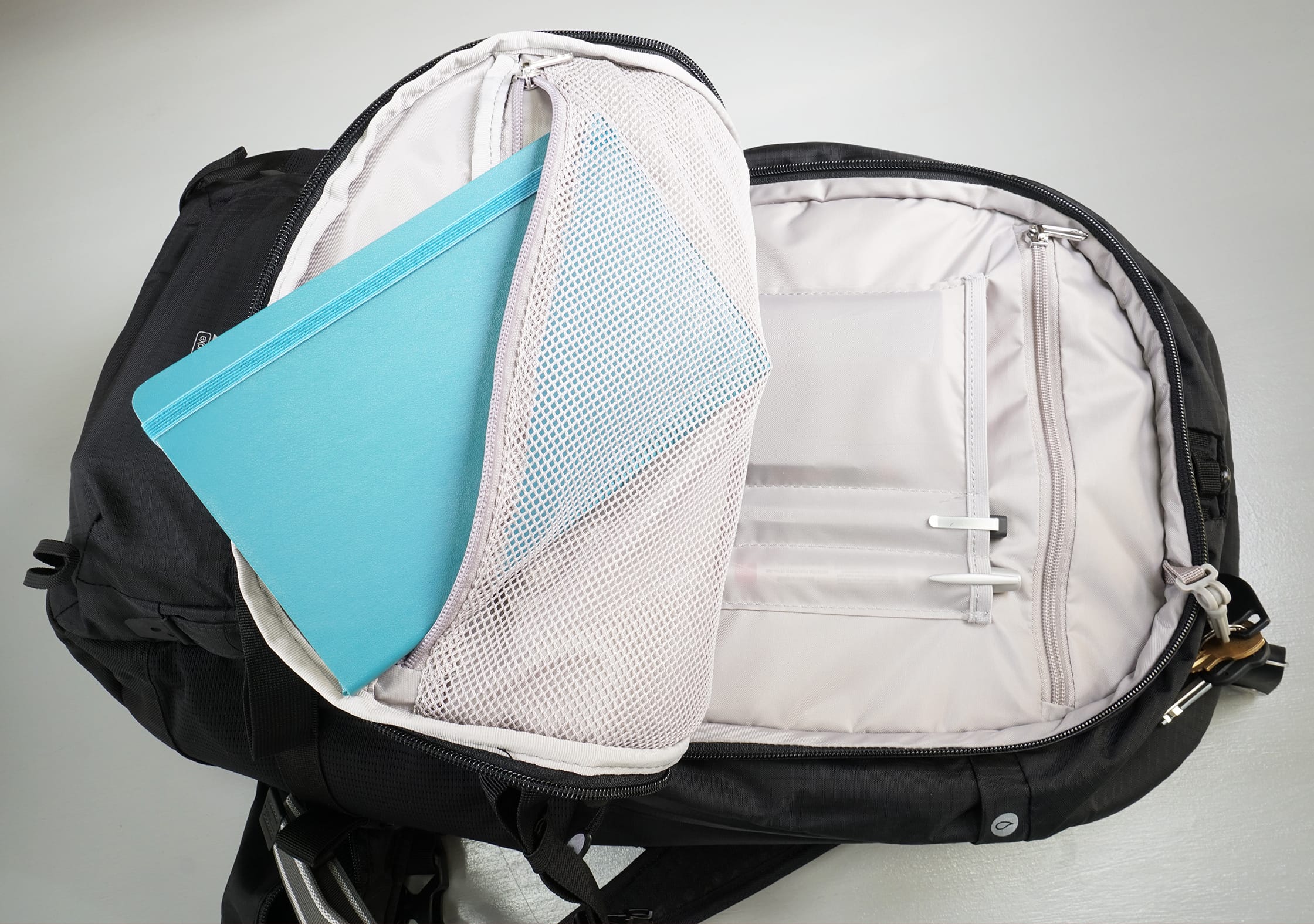 Starting at the top, there's a spinnable key chain clip and a pocket with a D ring for attaching additional accessories. Pacsafe does kind of want you to use their wallet for some additional security protection—whether you want to do that is up to you, we don't think it's very necessary. One thing about this zippered pocket is that it is RFID secured—we think this type of theft is pretty uncommon, but these days everything is becoming a little bit more electronically scammable… So we're not going to hate on that additional security.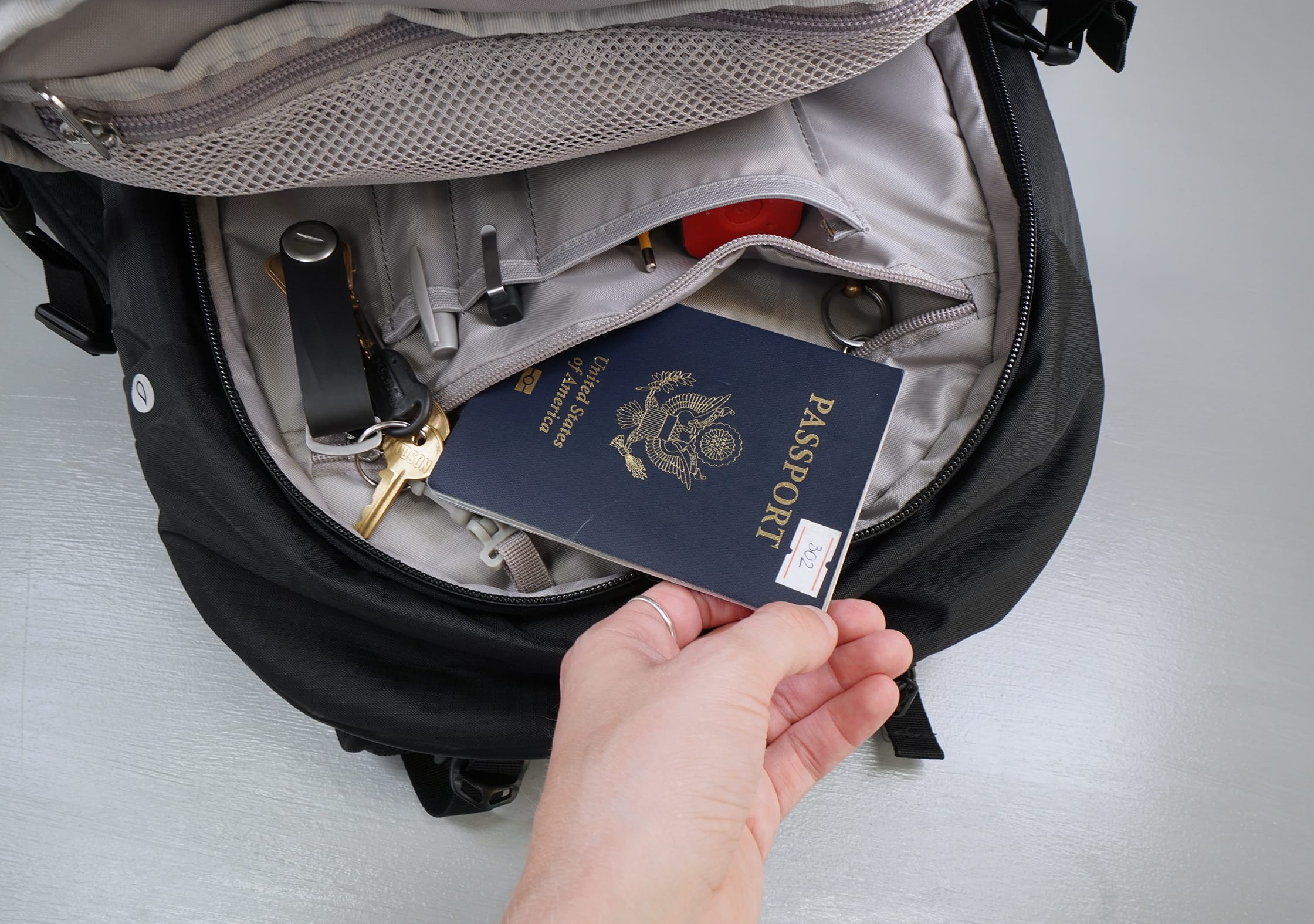 Below that is a lay-flat organizer with two pockets for pens, pencils, styluses, anything like that. You can also throw some smaller items—like field notes or your passport—in here as well. On the inside of the flap there's a mesh zippered pocket, which allows you to easily see what's inside (we love these pockets).
Now, one thing to note about this giant horseshoe compartment is that if you're fully utilizing the RFID pocket, the lay-flat organizer and the mesh pocket—it's going to be pretty hard to get items into (and out of) the lower part of the horseshoe compartment. All the stuff up top will take up a lot of space and you'll be a bit limited.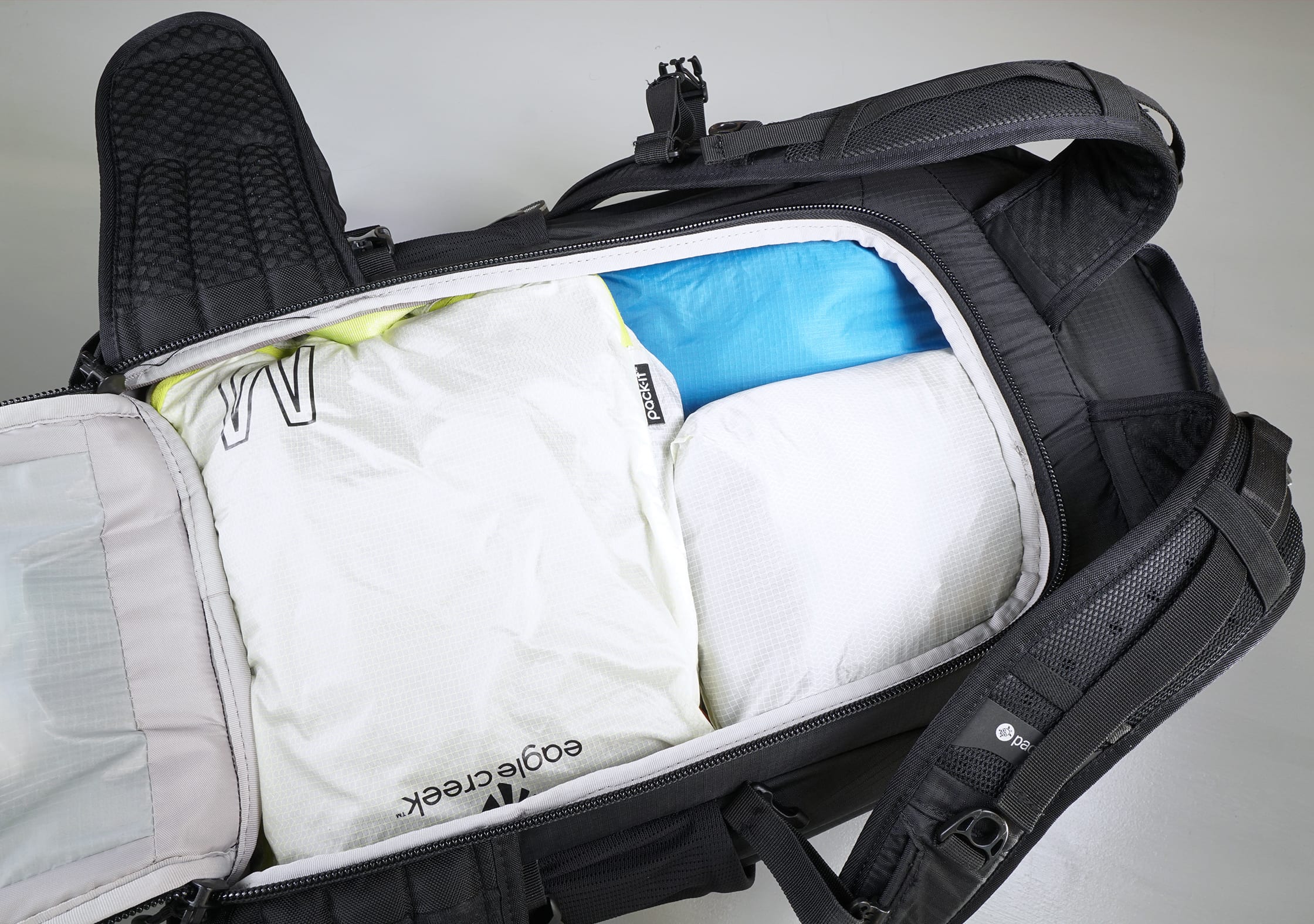 Moving on to the main compartment—this can be accessed in one of two ways. First, there is an angled zipper towards the back of the bag that we think is really nice because if you only zipper it down a little bit, you can fold the flap over and get a great view of what's going on inside the pack. You can also access this compartment from the back panel, which cannot be accessed while you're wearing the pack—yet another added security bonus.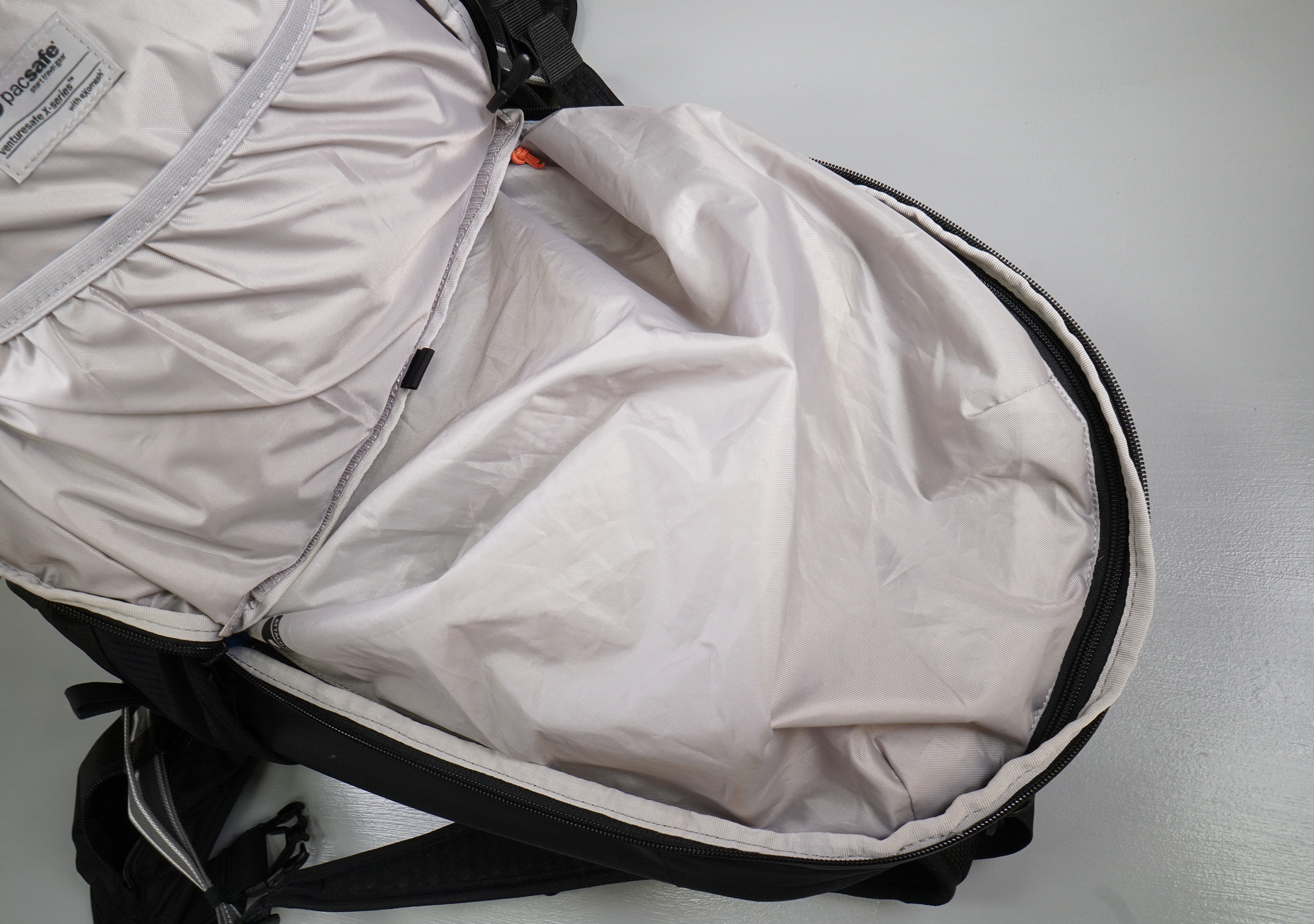 There's also an optional divider that separates the main compartment—it attaches with a zipper and Velcro, and is easy enough to remove if you don't want to use it. You can just stash it away in the rain cover compartment or another pocket within the pack. While that divider is in place, the main capacity is split into two and it means that the front and back of this main compartment is only accessible by its relative entry point. So, the angled zipper will allow you to access the front of the compartment and the back panel zipper will allow you to access the back.
If you are using that divider, then the compartment closest to the back panel becomes arguably the most secure pocket in the pack. To be honest, we haven't been using the divider very much because we're huge fans of large bucket-style compartments—love those packing cubes—but given you use-case it could be a very handy feature to have.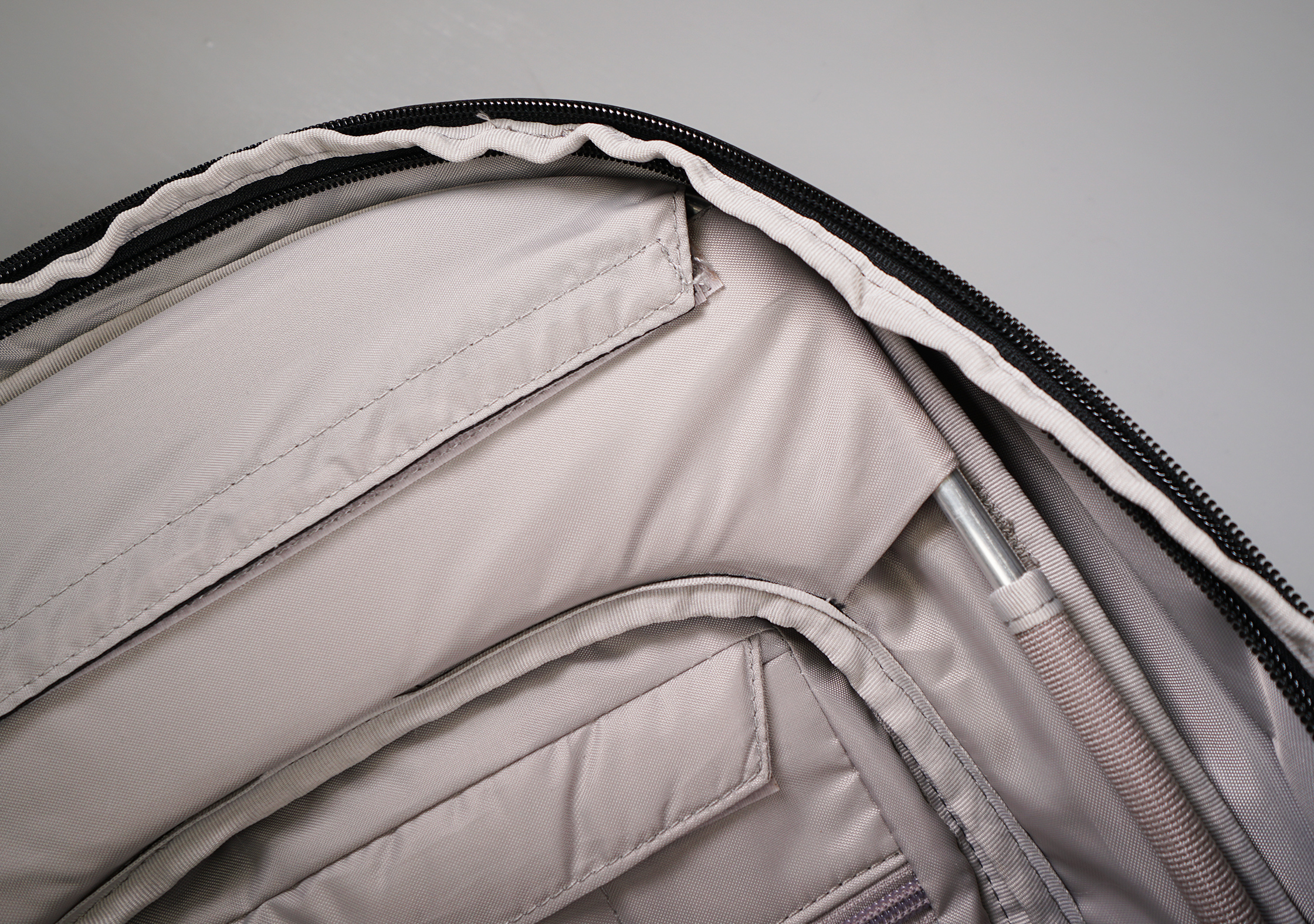 While you're looking around the main compartment, you'll also notice that the aluminum frame is slightly visible. This really helps with the carry, especially because this bag doesn't have a very solid frame sheet. You might be thinking that a metal frame would be uncomfortable or heavy, but there's plenty of padding around it and the aluminum is very lightweight.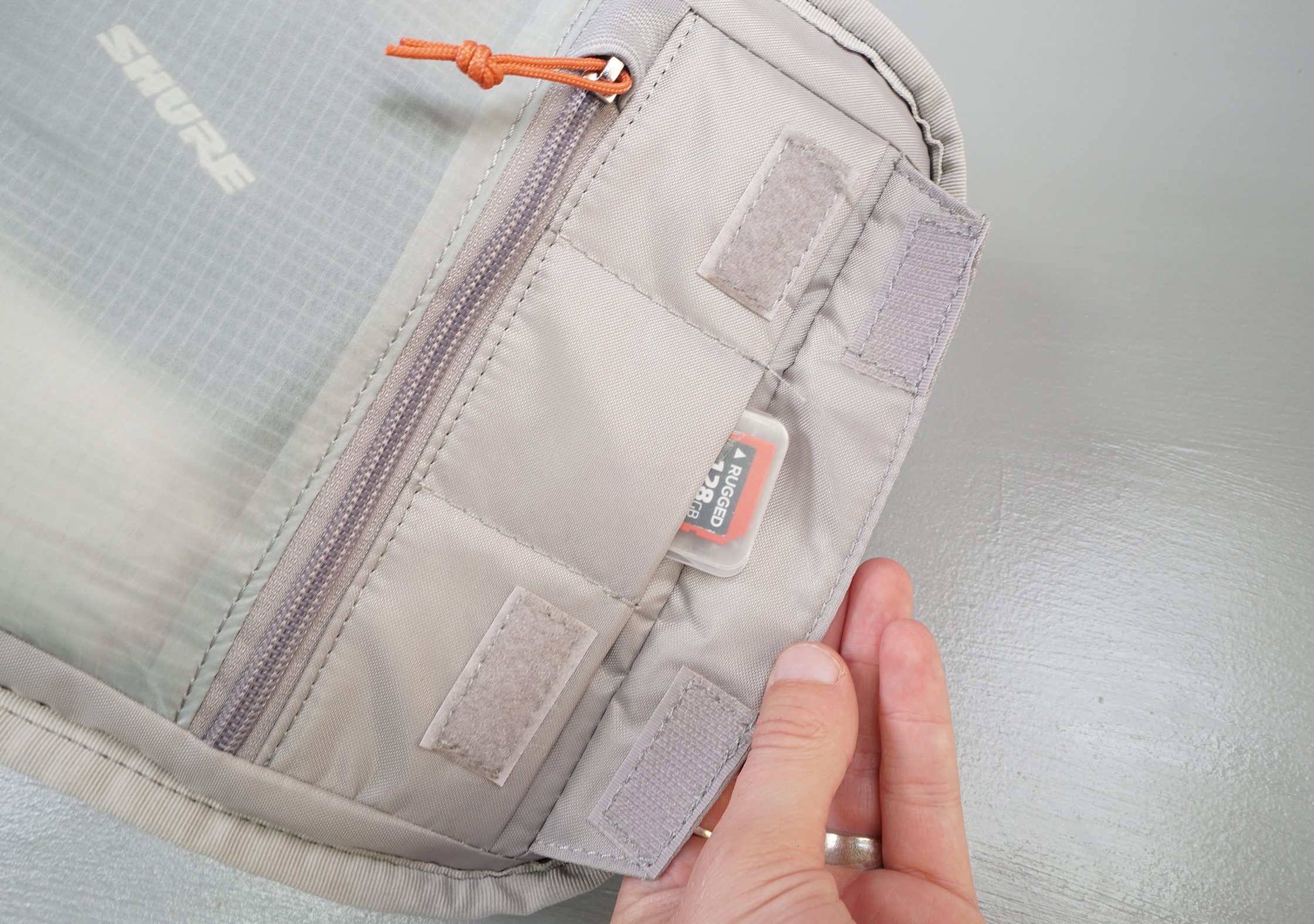 There is some additional organization in the main compartment, with three Velcro pockets up top. These are a perfect size for SD cards and thumb drives, but any other smaller, flatter items could work too.
Below that are two ripstop polyester pockets with zippers and zipper garages. The zipper garages really allow you to slide the entire zipper and zipper pull in, so it helps keeps a nice, slick low profile.
We should also note that Pacsafe offers two additional interior components with this pack. The first is their camera cube—if you open the camera cube and just keep the lid permanently open, you can put it at the bottom of the pack and access all your camera gear by opening the back panel.
While we like the thought, this system seems a little clunky to us. That camera cube is just going to be sort of free-floating in there, which we'd rather not have. It doesn't really hook into the system at all or attach to the bag like we've seen on some other bags (mainly, Peak Design's new Travel Backpack). Regardless, you do have the option to keep your camera gear handy with that setup, and it should work fairly well.
The other accessory that can be integrated here is Pacsafe's portable safe, which is basically a secure cube that uses a metal wire to lock itself and/or secure the cube to a stationary object. In the case of this pack, you can thread the metal wire outside of the bag—through the water bladder port—and secure it to whatever your heart desires.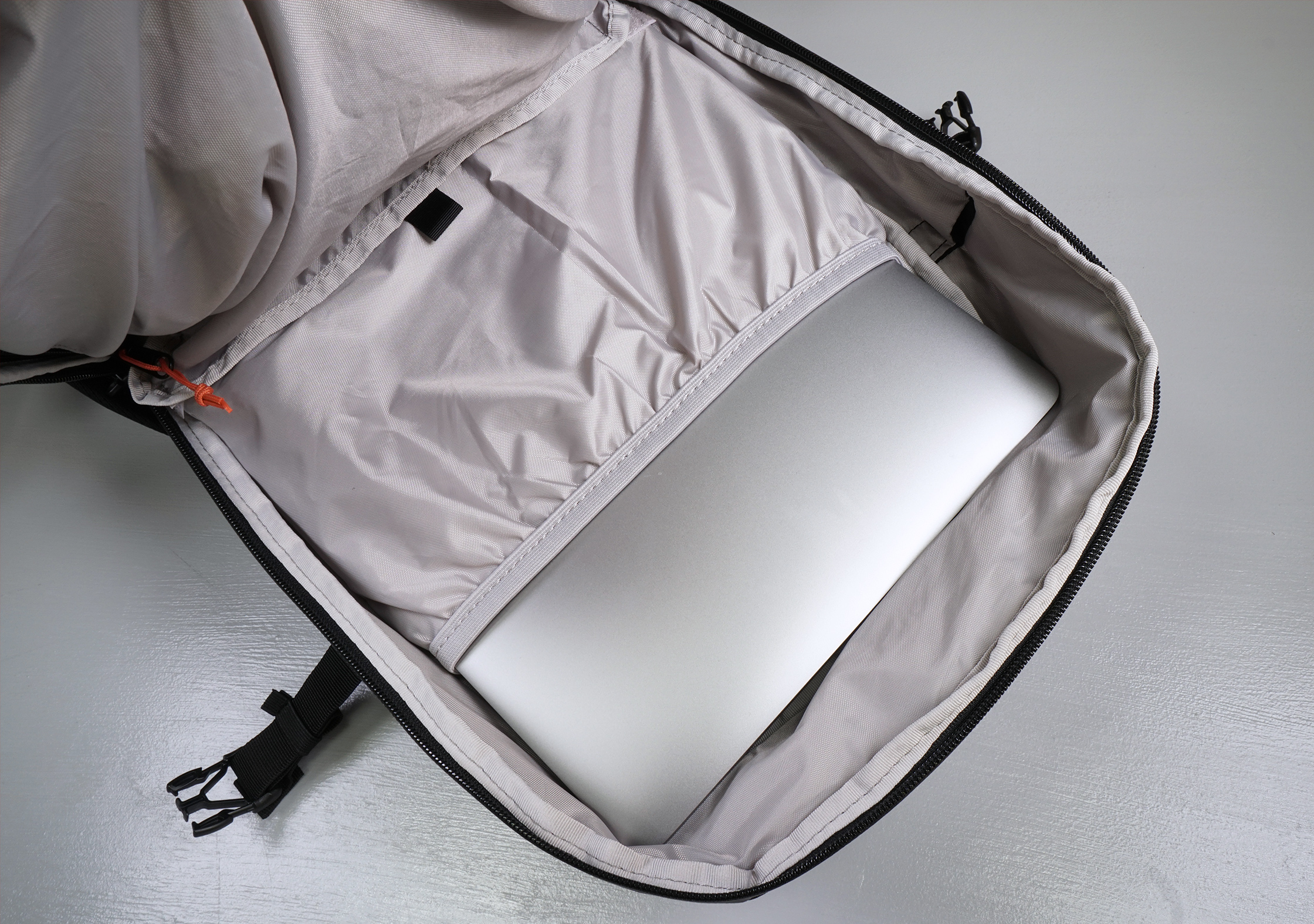 Which reminds us—there is a pocket on the back of that main compartment flap that you can toss water bladders into, and then thread the hose through to the shoulder straps. This pocket also doubles as a laptop… and we have a bit of a problem with that.
This laptop compartment is pretty much on the front of the bag, and it really seems like an afterthought. Ideally, you always want to be carrying your laptop as close as possible to your back—because it is likely one of your heaviest items, and it will also be more protected there. By having such a heavy item far away from your back, it will feel like the bag is a lot heavier than necessary, kind of like the bag is drooping off your back. There also isn't much padding here.
This was definitely a big miss for us, as we tend to think laptop compartments are very important for the modern day traveler. Regardless of whether you're a bonafide digital nomad or just want to keep up with your favorite YouTube channel (us) while on vacation, having a laptop at your disposal is key—so the fact that this appears to have been thrown in as an afterthought is pretty disappointing.
Durability & Testing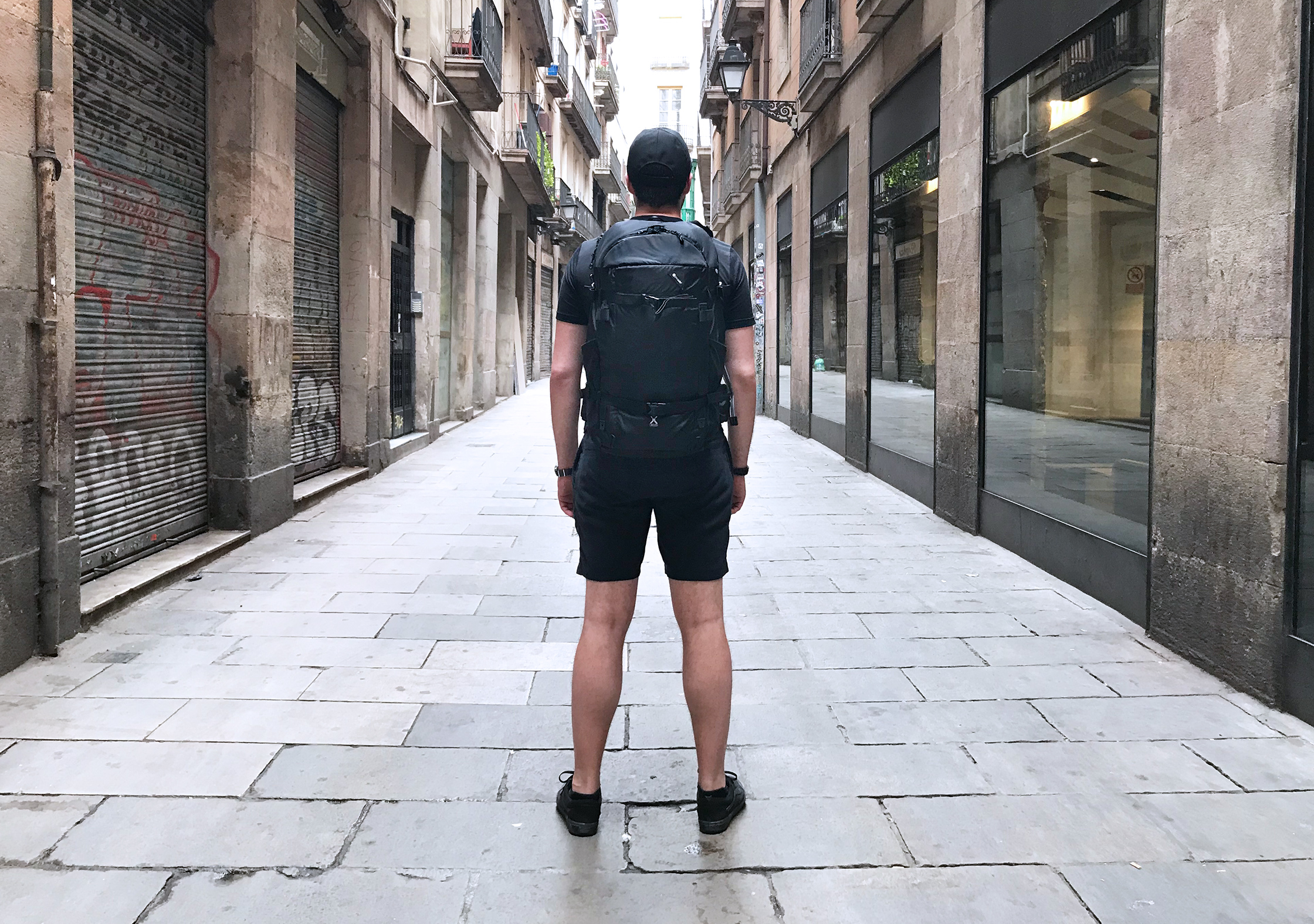 Our Pacsafe Venturesafe X40 Plus has seen about a month of usage from Detroit to Barcelona, Spain. Overall, it's held up well so far and provided some great security features on the road. We also think the organization on this bag is just about bang-on—not too much, not too little. And other than some minor fabric fraying in a couple areas, the materials are looking great.
Our main gripes have been with the hip belt and laptop compartment. So far, we think this is a solid bag—but if those couple issues could be resolved we think it could be a truly outstanding bag.
Usage Timeline
Initial Usage
Condition: Excellent
Great! Liking the overall look and carry.
1 Month of Use
Condition: Good
Overall it's great, but the hip belt and laptop compartment are kind of irking us.
Access the Pro Community Discussion
Get your questions about the Pacsafe Venturesafe X40 Plus answered from our team and the Pro Community right here on the page. Plus, join discussions with other members about gear, guides, and more.
Other Bags & Luggage Reviews