Matador FlatPak Waterproof Toiletry Case Review
The Matador FlatPak Waterproof Toiletry Case is practical for the on-the-go minimalist. However, those who pack to the max may struggle for space.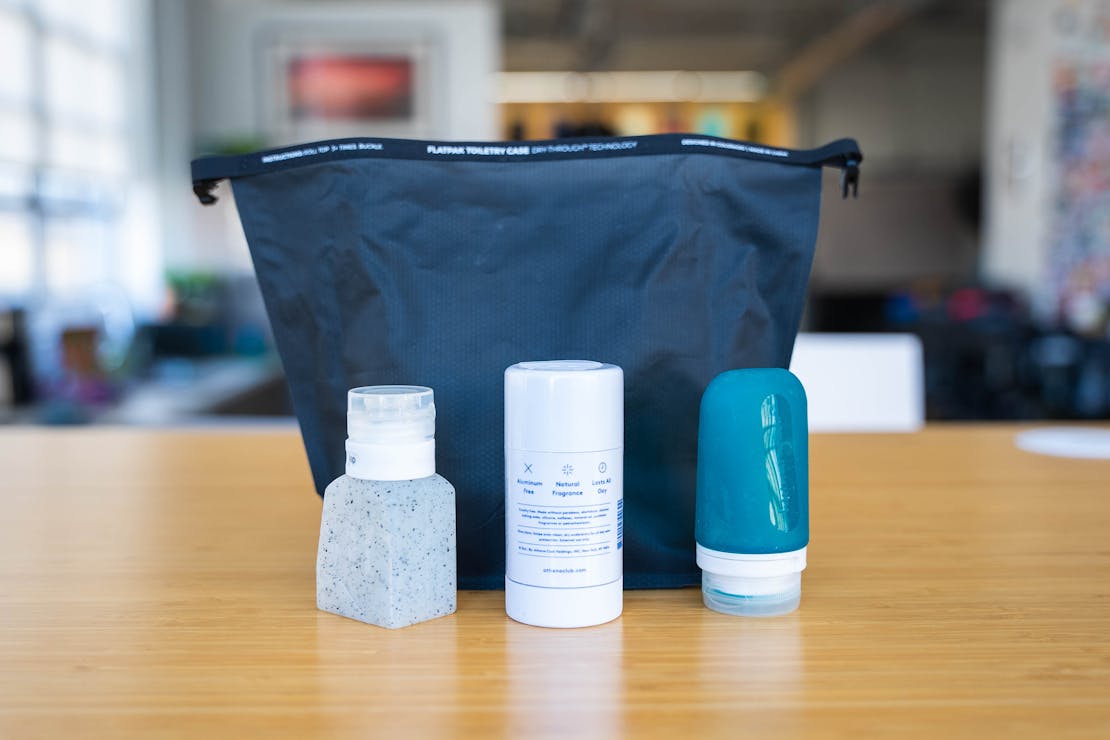 Our Verdict
Unlock the Pro Summary
Save time. Get access to brief summaries of our reviews so you can browse and make decisions more efficiently.
Pros
Minimal and light material to reduce weight in your pack
Durable, waterproof material contains toiletry spills
Flat bottom keeps case upright on bathroom counters
Cons
Only comes in black, so not ideal if you like colors
No pockets to organize small gear
Rolltop design reduces useable volume
Recent Pack Hacker Video
Technical Details
Capacity

2l

Weight (oz)

1.17 oz (33.2 g)

Dimensions

5.5 in x 9.5 in x 3.75 in (14 x 24.1 x 9.5 cm)

Notable Materials

CORDURA® Nylon, Hypalon®, YKK Buckles

Manufacturing Country

China

Warranty Information
Full Review
Get up to 20% off Matador • Join Pack Hacker Pro
For most people, the amount of time and energy spent planning, prepping, and packing for a trip can turn into quite a feat. Imagine when you finally get to your destination and excitingly unpack for a night out, only to find shampoo all over the gear inside your travel backpack.

Fortunately, the chances of that scenario happening could significantly decrease with Matador's FlatPak Waterproof Toiletry Case. In this review, we'll explain how.
External Components
At the time of this review, Matador only offers this bag in black, which easily complements all the other bags and accessories in their line of travel gear. Their logo is embossed on the fabric, though it's nearly invisible unless you're looking for it, and there's a small logo tag attached to the bottom of the bag. It's ultralight and lays completely flat when not in use. This is great because it barely takes up any room when you're not traveling and won't add clutter to your space. All of these elements contribute to the sleek and minimalist look of the bag. If you like color or something with a little more character, don't stop reading quite yet. Perhaps some of the bag's other features will win you over.

Once you handle the Matador FlatPak Waterproof Toiletry Case, you'll notice that it's pliable, yet feels durable. This is due to the 30D CORDURA® ripstop nylon, a premium fabric that is waterproof, durable, and easy to wipe clean. The semi-stiff material and flat bottom gusset help the bag stay upright, which is probably our favorite feature. It makes it so easy to rummage through the bag or leave it open on a bathroom vanity and prevent all of the bag's contents from spilling over.

If you're a budget traveler packing for a hostel and prefer not to leave the bag on a questionable countertop or wet surface, there's a convenient loop at the top for hanging, and you can keep it open for easy access.

According to Matador's website, the seams are sealed using proprietary welded construction, so you can be confident any spills will stay in the bag. The bag has a Hypalon rolltop closure, and according to instructions (conveniently located on the opening), fold the top over at least three times and lock the top corners together with the YKK buckle to seal your contents in the bag. If you've ever used a dry bag before, it's the exact same concept.
Inside The Bag
Now, let's take a look inside the toiletry case. It's pretty simple—there's only one compartment. There are no fancy pockets and no separators. There is, however, a plastic-like coating lining the interior. It definitely makes it easy to clean up any spills, and the lining easily wipes dry. We put the waterproof feature to the test by filling the empty pouch with a small amount of water. We rolled the top down three times, buckled it shut, turned the bag upside down and shook it around. Sure enough, no water leaked out. We love that.
As you're rolling the bag shut, make sure to squeeze as you roll down to let out excess air to save space in your luggage. This leads to our next point, and the main issue we had with the Matador FlatPak Toiletry Case—its size. With a two-liter capacity, it appears to have a lot of room for your basic travel-sized toiletries. We transferred the contents of our TSA-approved quart Ziploc bag to the Matador Toiletry Bag. By folding the top down the recommended three times, you lose valuable space. If you use the full capacity, you lose the ability to seal it properly, and, consequently, the spill-proof feature of the bag. We ended up putting the non-liquid toiletry items in a separate pouch instead of having everything conveniently in one bag. That was a bummer.

Although you want to keep your liquids contained in the bag, you'll most likely be stashing other toiletry items that could potentially get wet like a toothbrush (hopefully, but we're not judging) or razor. We know that when you're on the go, there isn't always time to dry your things before stashing them away, especially when housekeeping is banging on your door because it's 10 minutes past your checkout time (oops).
Another feature of the Matador FlatPak Toiletry Case is the trademarked Dry-Through technology that allows water inside the bag to breathe and evaporate through the case. How can it keep liquids from leaking out but still be breathable enough for wet items inside to evaporate, you ask? We did too. While traveling, we stored a small facial cleansing pad in the case, and although we wrung the pad pretty well in between uses, the pad was still pretty damp going in. It never dried completely in the bag and did have a bit of that old wet smell to it. Towards the end of the trip we ended up hanging it out to dry on the hotel balcony.
That said, the technology is the same used on the Matador FlatPak Soap Bar Case, which easily dries a bar of soap through the material. So, maybe the Dry-Through tech works better for non absorbent items like a razor or a wet shampoo bottle. However, from our experience, we don't suggest storing anything super absorbent like sponges, towels, or face cloths.

The toiletry bag itself is translucent enough to see partially through it. We were worried that something like the sharp point of a toothpaste tube could rip through it if rolled tight enough but in the three weeks of traveling it has held up pretty well and proves to be very durable.
The Matador FlatPak Waterproof Toiletry Case is a great option if you're worried about liquid spills. At around $30 at the time of this review, it does seem pricey for a one-trick pony, especially if you need a second bag for your other toiletries, considering its size and lack of separate compartments. However, the compact size, lightweight feature, and sleek design combined with its aesthetic compatibility with all of Matador's bags and accessories make it a great option for the no-fuss, minimalist traveler.
Usage Timeline
Initial Usage
Condition: Excellent
Very similar material to the other FlatPak™️ items from Matador
Digging the simple design, but wish there was a piece or two of organization
Hypalon loop to store the case on a hook in the bathroom is a nice touch
2 Weeks of Use
Condition: Excellent
We took this thing on an overnight trip to Liverpool, England. It didn't fit some of our larger items, but it performed okay overall
If you're only taking a few small items, you can roll the top down to save space
The fact that it stands up on its own comes in surprisingly handy in the real world
The material is very thin—it's crinkly and not that protective of the stuff you have inside
1 Month of Use
Condition: Excellent
There's a clear line where it's been folded over multiple times—interested to see how this holds up long-term
Cleans off easily with a quick wipe
Access the Pro Community Discussion
Get your questions about the Matador FlatPak Waterproof Toiletry Case answered from our team and the Pro Community right here on the page. Plus, join discussions with other members about gear, guides, and more.
Other Organizers & Pouches Reviews