Longchamp Le Pliage Travel Tote Review
The Longchamp Le Pliage Tote is ideal for tossing into your luggage as a bonus day bag. It's durable, collapsible and carries all the essentials.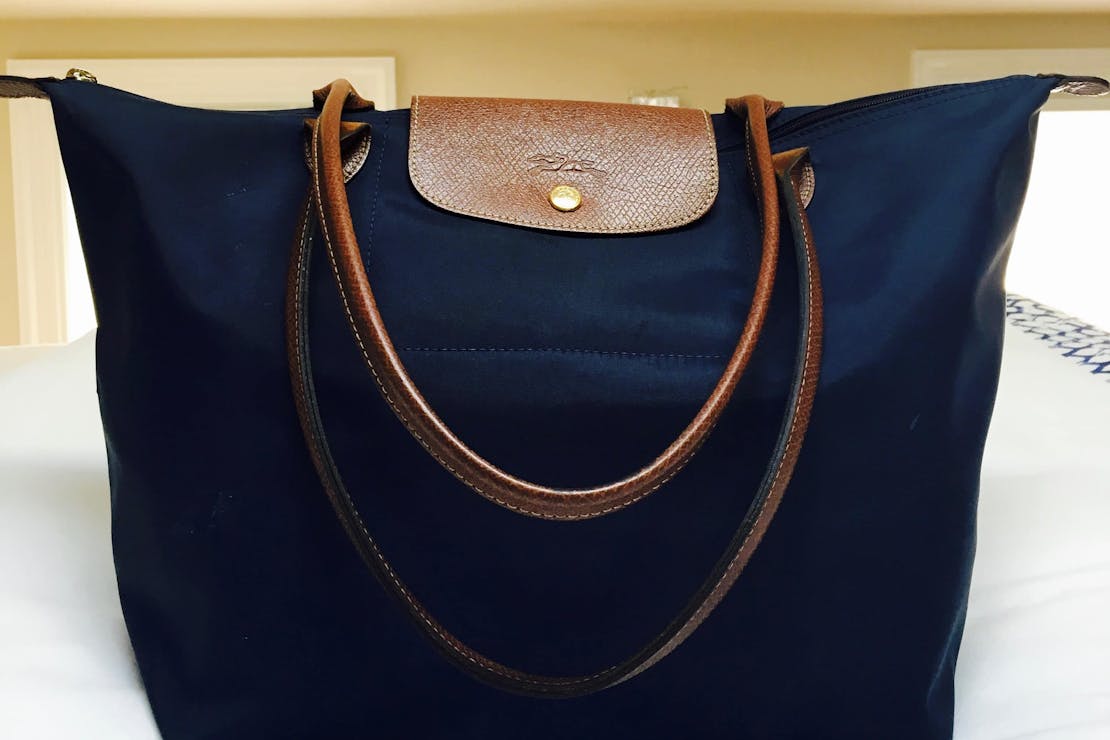 Our Verdict
Pros
Folds up to the size of a paperback book for easy packing.
The polyamide canvas is extremely durable and holes in the material do not grow over time.
Incredibly versatile! It's ready to go wherever you are.
Cons
This bag only has one inside pocket.
There is no option to lock the bag at the zipper closure.
The lining inside is black, making it hard to find things sometimes.
Technical Details
Dimensions

14.25 in x 10.25 in x 4.75 in (36.2 x 26 x 12.1 cm)

Notable Materials

Nylon, Leather, Canvas

Warranty Information
Full Review
Longchamp Paris has been in business for nearly 70 years and consistently produces such high-quality, long-lasting leather and nylon goods that it's been a fan favorite of the "elite" for many years.
The bag comes in a multitude of colors from black to Pepto Bismol pink, and in large and small sizes, but we prefer the large bag. Coming in at about 12" x 11" x 7", this shoulder tote will comfortably carry all your belongings for a day out on the town, at the coworking office or a couch crashing at a friend's place. It's also the perfect size to fit under the seat in front of you on a plane!
One of the best parts about the Le Pliage tote is that in three easy steps it folds down to the size of a large envelope, meaning you can easily stuff it in your other travel bags and take it everywhere. The folding ability of this bag made it the brand's most successful product and one of the world's most popular handbags. While the Le Pliage tote bags could be considered the cult bag for any girl on a college campus, the Duchess of Cambridge herself, Kate Middleton, has been known to carry several.
The tote is made from polyamide canvas, which is a fancy way to say nylon with a coated interior, and leather handles. Basically, this means that the tote is durable AF. We've pushed this bag to the limits in terms of weight— computers, textbooks, laundry, a case of wine, groceries—whatever your priorities are, this bag will hold 'em safely on your shoulder, though you may feel it after.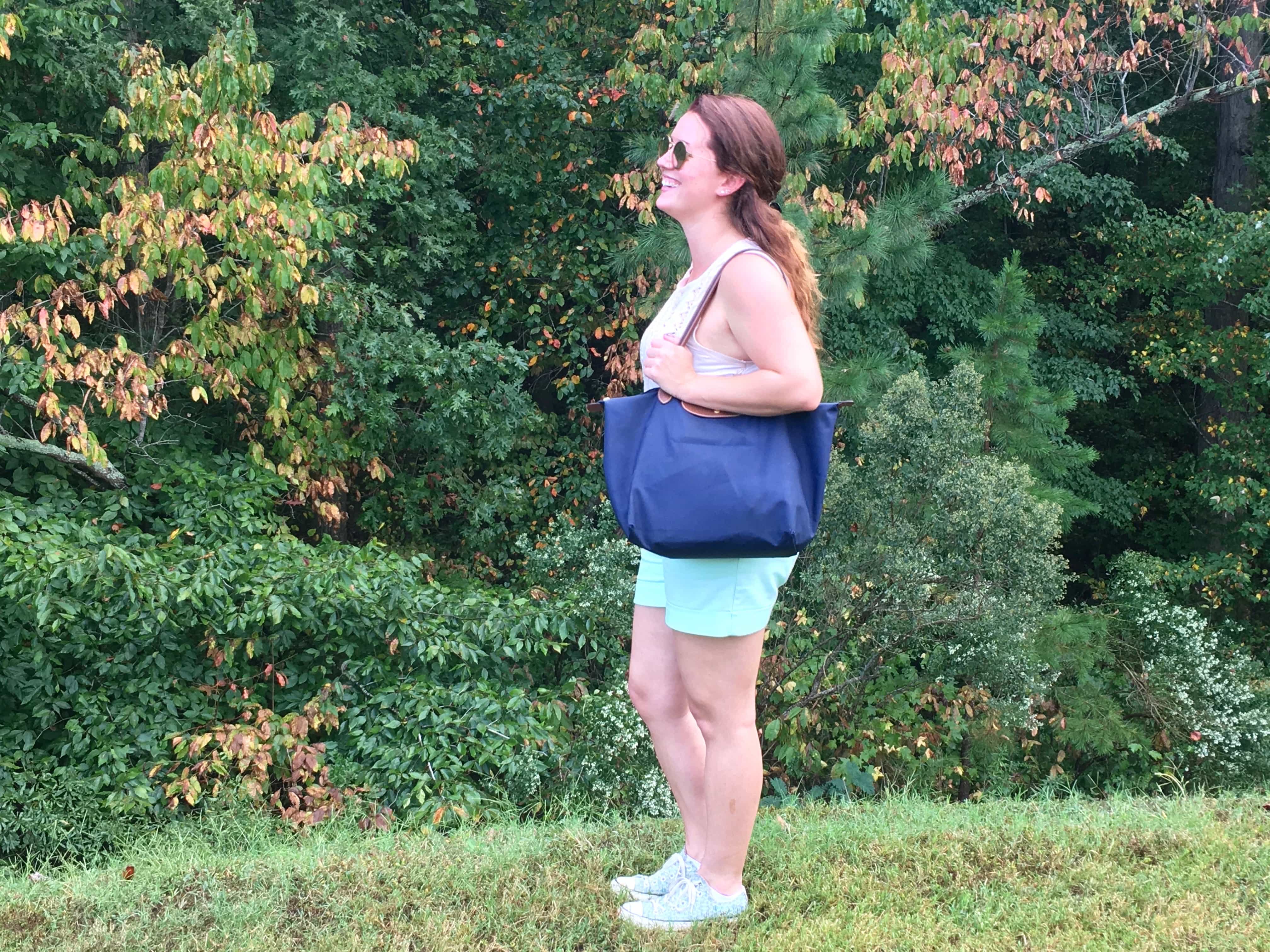 The nylon material is mold and mildew resistant which is great especially when you accidently leave those weird, exotic fruits from the street market sitting in the bag all day in the sun. The coated lining makes it easy to wipe the bag out and prevents odors. In technical terms, polyamide is not water resistant, however, if you get caught in the rain running from car to café, your possessions will be perfectly dry. We don't recommend submerging the bag in water, but with some common sense for its care, the bag is reasonably water resistant.
About three years into utilizing this bag, there was a devastating accident: the body of the bag was sliced on the saddle of a camel in the Sahara Desert. The hole was about 1 inch wide, just big enough to slip a finger through. The silverlining though is that 8 months later the hole has not grown even a millimeter bigger from when the potentially murderous stabbing occurred. The outer layer of nylon has not frayed either. Talk about a good investment!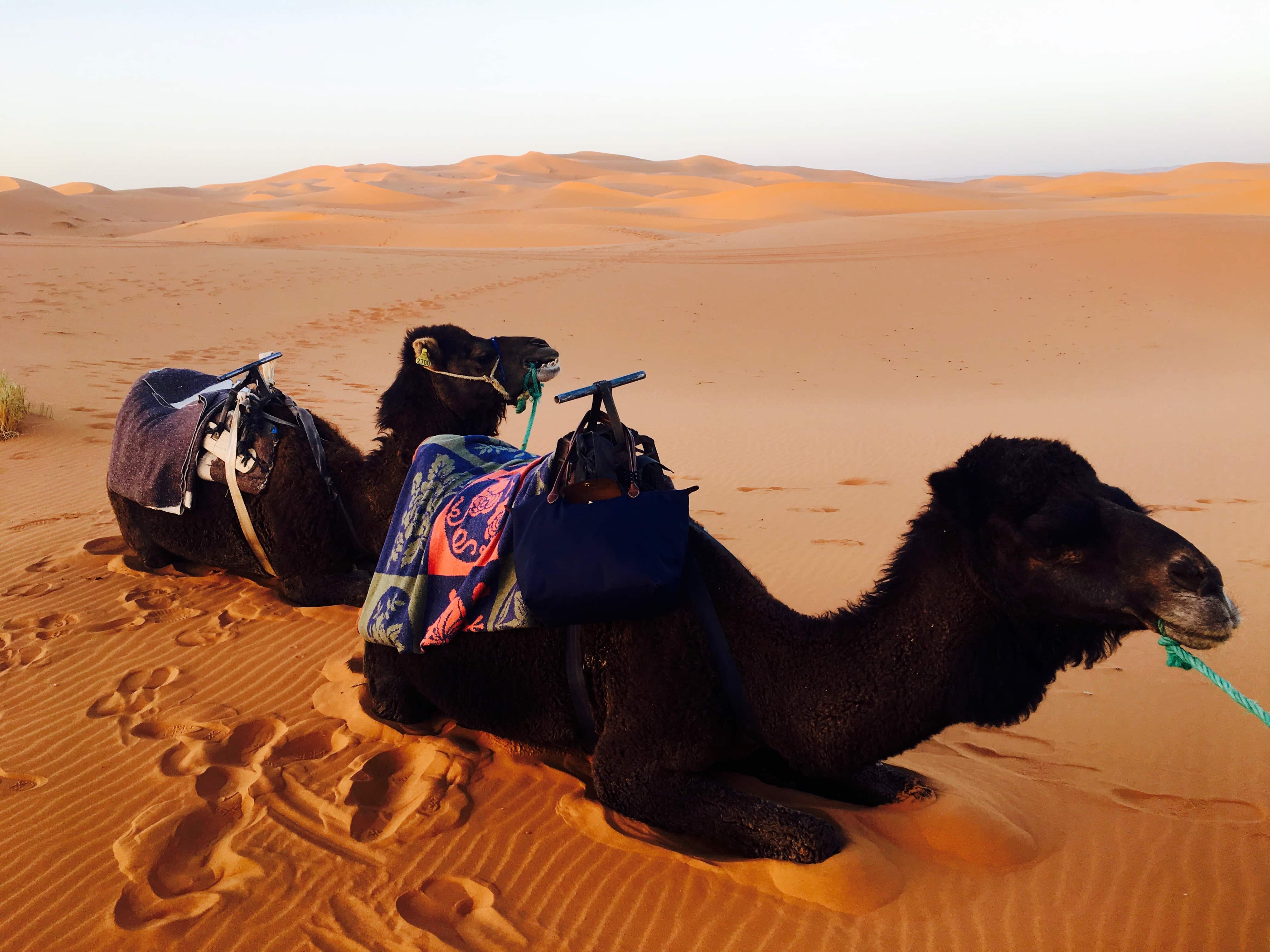 A letdown of this bag, although it should not deter you from using it every day, is that there is only one small interior pocket. The pocket will easily fit your essentials, a.k.a. your cell phone, a small wallet, chapstick and your keys. However, they are likely to fall out of the pocket into the cavern of the bag without the luxury of a pocket zipper. The bag is not the best for organizational purposes, especially with a black interior that seems to swallow your belongings into darkness. We wouldn't consider this a deal breaker though since the tote is not typically the only piece of luggage you'll carry.
Given that Longchamp is an internationally-known brand, the price tag for this puppy is on the high side at about $145. While this may hurt your wallet initially, four years down the road when you have yet to replace the bag, you'll be thanking yourself for the purchase.
Usage Timeline
Initial Usage
Condition: Excellent
Impressed with the collapsible nature of the bag and its lack of wrinkles when unfolded.
3 Months of Use
Condition: Excellent
6 Months of Use
Condition: Excellent
Becoming more of a staple in daily life.
9 Months of Use
Condition: Good

The bag served as a barrier to break a fall on a cobblestone street and only sustained some dirt and minimal abrasive rub to the nylon.
1 Year of Use
Condition: Good

With everyday use, the corners of the bag have begun to fray, but not to the point of creating a hole. Still extremely durable to carry weight.
1.5 Years of Use
Condition: Good
Wear and tear is minimal and handles are fully intact without stretching or loose threads.
2.5 Years of Use
Condition: Fine

This bag was taken on a year-long trip and used everyday as the go-to "carry all your crap everywhere you go" bag. The nylon has sustained normal wear and tear with some snags to the outer layer like when your sweater pills on you if you lean on that awesome vintage brick wall for your Instagram post. The corners of the bag have stayed intact. The body of the bag has been sliced open, but the hole has not grown or frayed.
Overall
The Longchamp Le Pliage Large Tote is a no brainer in terms of durability, longevity and size. Although it lacks organizational compartments, it will keep all your essentials close at hand and easily accessible. A great option for those who don't want to carry a full-sized daypack and want to look more like a local than a tourist.
Other Bags & Luggage Reviews