Distil Union Wally Micro Minimalist Wallet Review
The Distil Wally Micro Wallet holds a surprising amount for such a slim form factor—although we've found that carrying less than six cards doesn't feel secure.
Our Verdict
Unlock the Pro Summary
Save time. Get access to brief summaries of our reviews so you can browse and make decisions more efficiently.
Pros
It's reversible
Holds a good amount of cards and cash
Slim, sleek design
Cons
Carrying less than six cards doesn't feel secure
The leather does not feel very premium
Cash only fits folded
Recent Pack Hacker Video
Technical Details
Weight (oz)

.5 oz (14.2 g)

Dimensions

3.5 in x 2.1 in x .3 in (8.9 x 5.3 x 0.8 cm)

Notable Materials

Leather, Elastic

Manufacturing Country

China

Warranty Information
Full Review
The Distil Wally Micro Wallet lives up to its name—this thing is both micro and a wallet. But, despite its size, it holds a surprising amount of cards and cash. As Distil explains—the Wally Micro is "The clown car of wallets."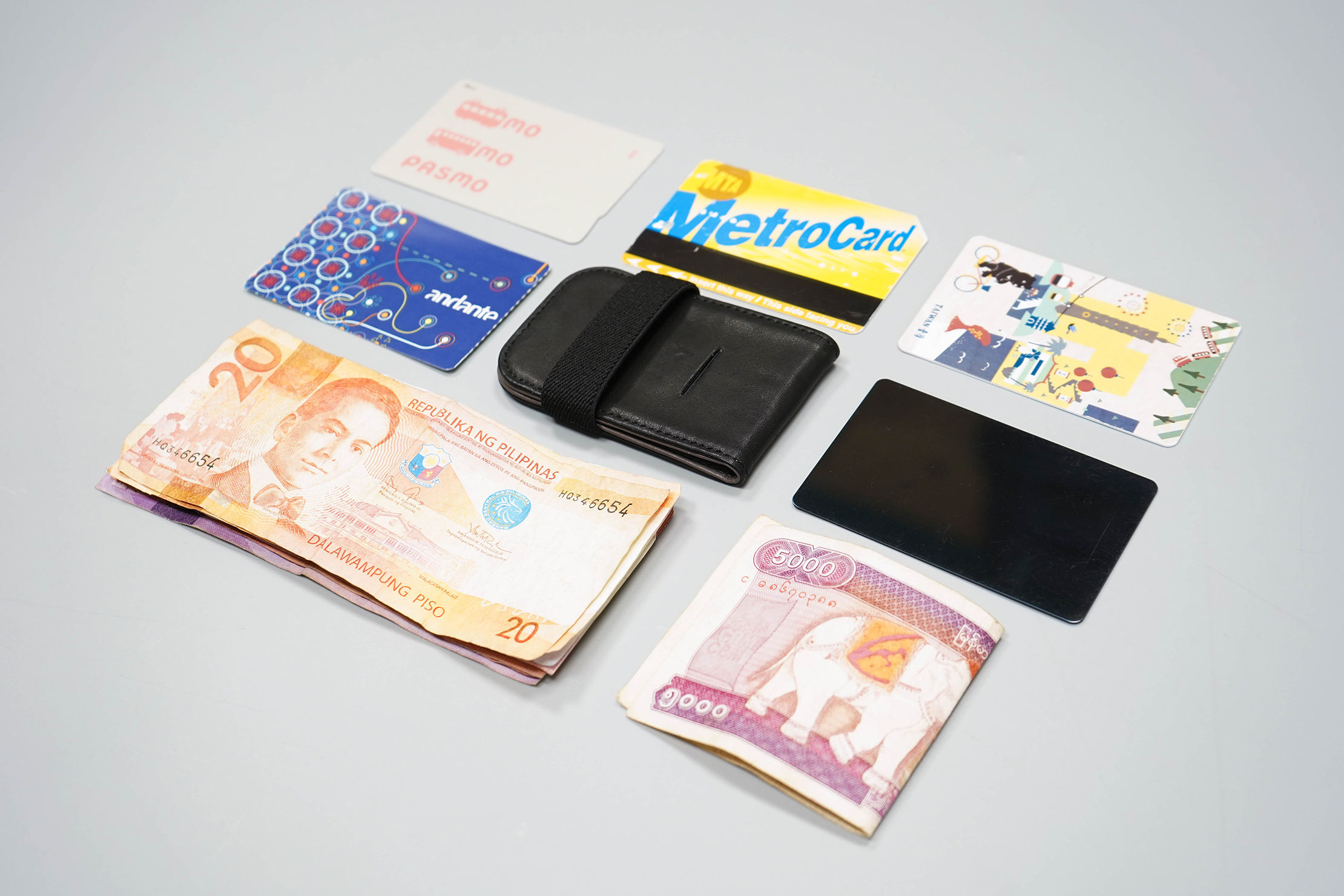 We've been testing it for two weeks in Detroit, Michigan. Read on to learn how it's fared.
Materials & Aesthetic
The Wally Micro Wallet manages to be both classic and modern. Its full-grain leather exterior gives it that traditional vibe, while its small form factor and minimalistic shape squarely belong in this century. We're certainly digging it.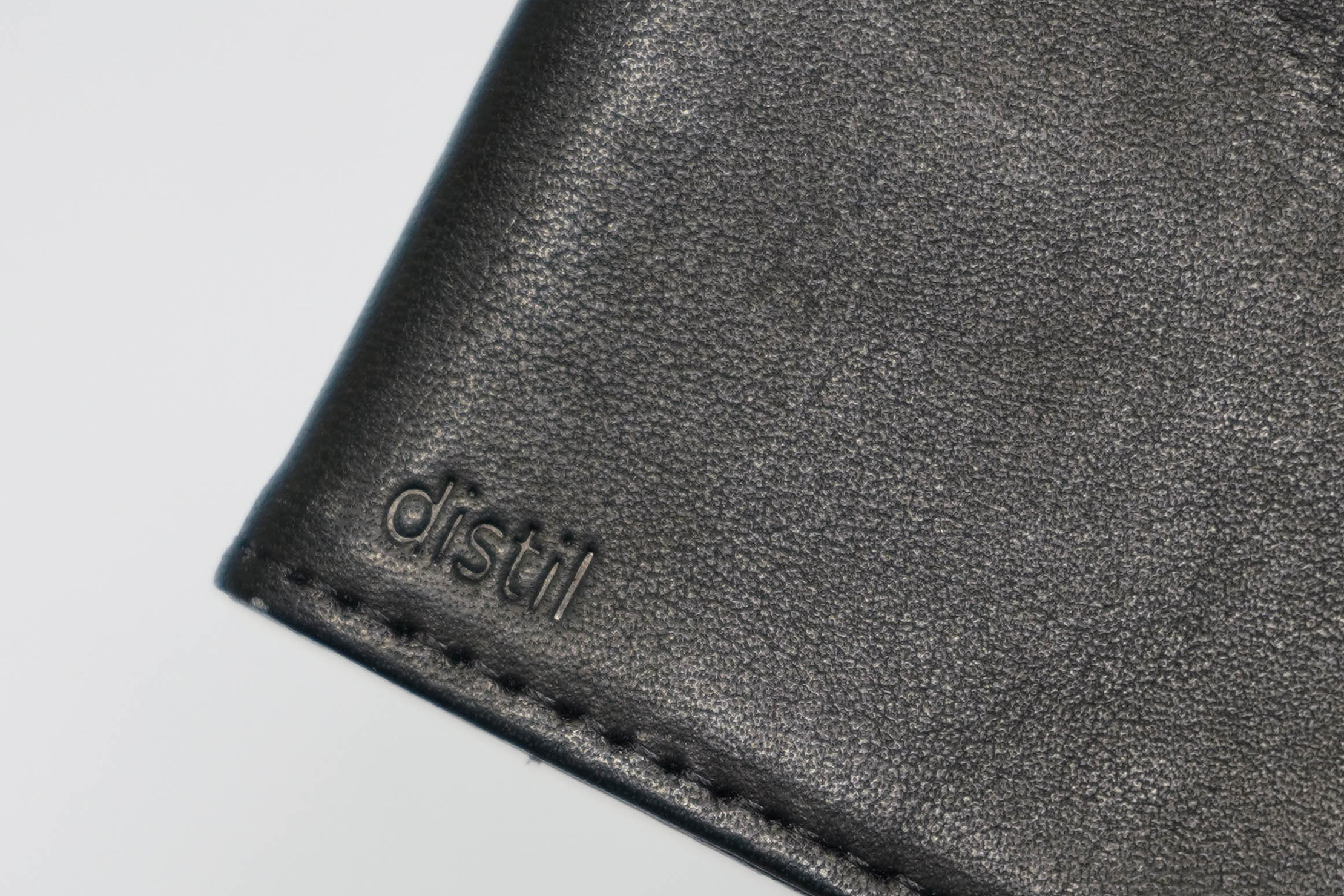 The branding is minimal. "Distil" is debossed into the leather on one corner and…that's it. We're glad, anything more would be overkill.
The best part about the Wally Micro, aesthetically speaking, is that it's reversible. Yes, you read that correctly—this wallet is reversible! You get two colors for the price of one, allowing you to mix things up when you get bored and/or ensure that the leather wears evenly.
We've been testing it in the Black/Gray colorway (which also happens to be the RFID-blocking version—we'll discuss this more later). But you can also pick it up in Black/Brown, Gray/Brown, Gray/Navy, and Gray/Rouge at the time of this review. It's super easy to reverse, only taking a few seconds. Simply thread the tab through to the other side and voilà.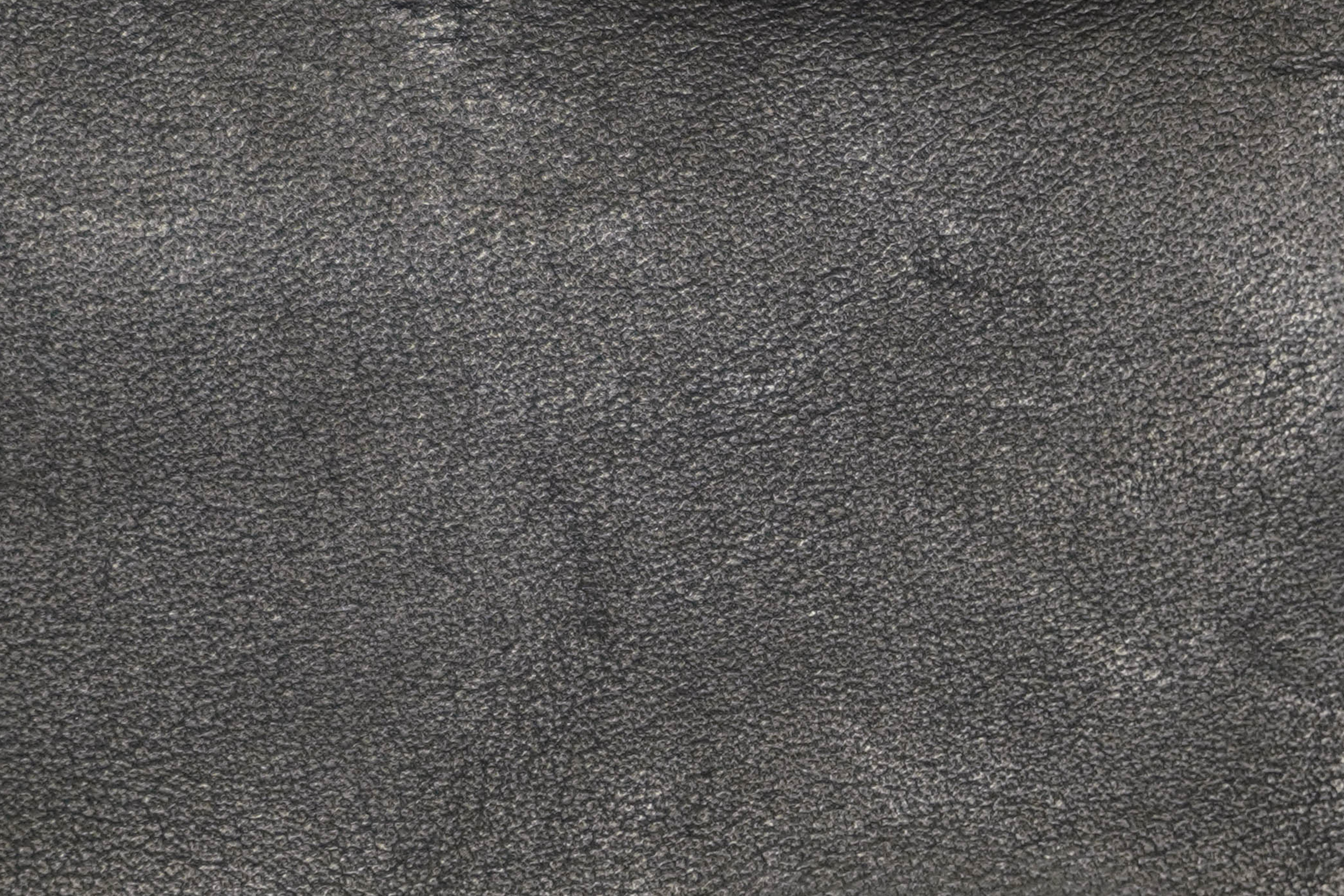 Alright, let's talk about its leather exterior. The leather feels only okay. It's not as soft or supple as other leather wallets we've tested, although the craftsmanship feels solid. And, a quick side note, there's not a non-leather version of the Wally Micro available for all of our vegan friends out there.
Distill says you should take care of the leather by: avoiding exposure to water, prolonged exposure to sunlight and heat, and limiting exposure to other dyed products (like raw denim) and oils/lotions (like sunscreen). As long as you treat your leather well, it should age nicely, developing a beautiful patina that's unique to you.
Now, the folks at Distill say the leather they use has been "certified for environmental stewardship," which sounds great, but is also vague. We've been unable to uncover what certifications they're speaking of specifically. That doesn't mean that they aren't sourcing their leather from eco-conscious tanneries, but we always like to see specificity when it comes to sustainability claims. Moreover, we like to see it clearly listed on the website for all potential buyers to see.
Features & Usage
You've probably figured out by now that the Distil Wally Micro Wallet is pretty dang small. And that's probably its biggest selling point. It's slim enough to easily slide into your pants pockets or the quick-grab pockets on backpacks and slings. At the same time, it'll hold up to 10 cards and some cash.

The cards slide into the center and are held there by an elastic strap that cinches around the exterior. The folks at Distil claim you can fit between one and 10 cards here. While that's sort of true, we've found that it's best to use this thing with at least six cards. Anything less and your cards don't fit as snuggly and seem more likely to fall out.
To be clear: we haven't had any cards fall out (yet), but it doesn't feel secure with less than six cards. Especially since the wallet has stretched out during the past two weeks of testing.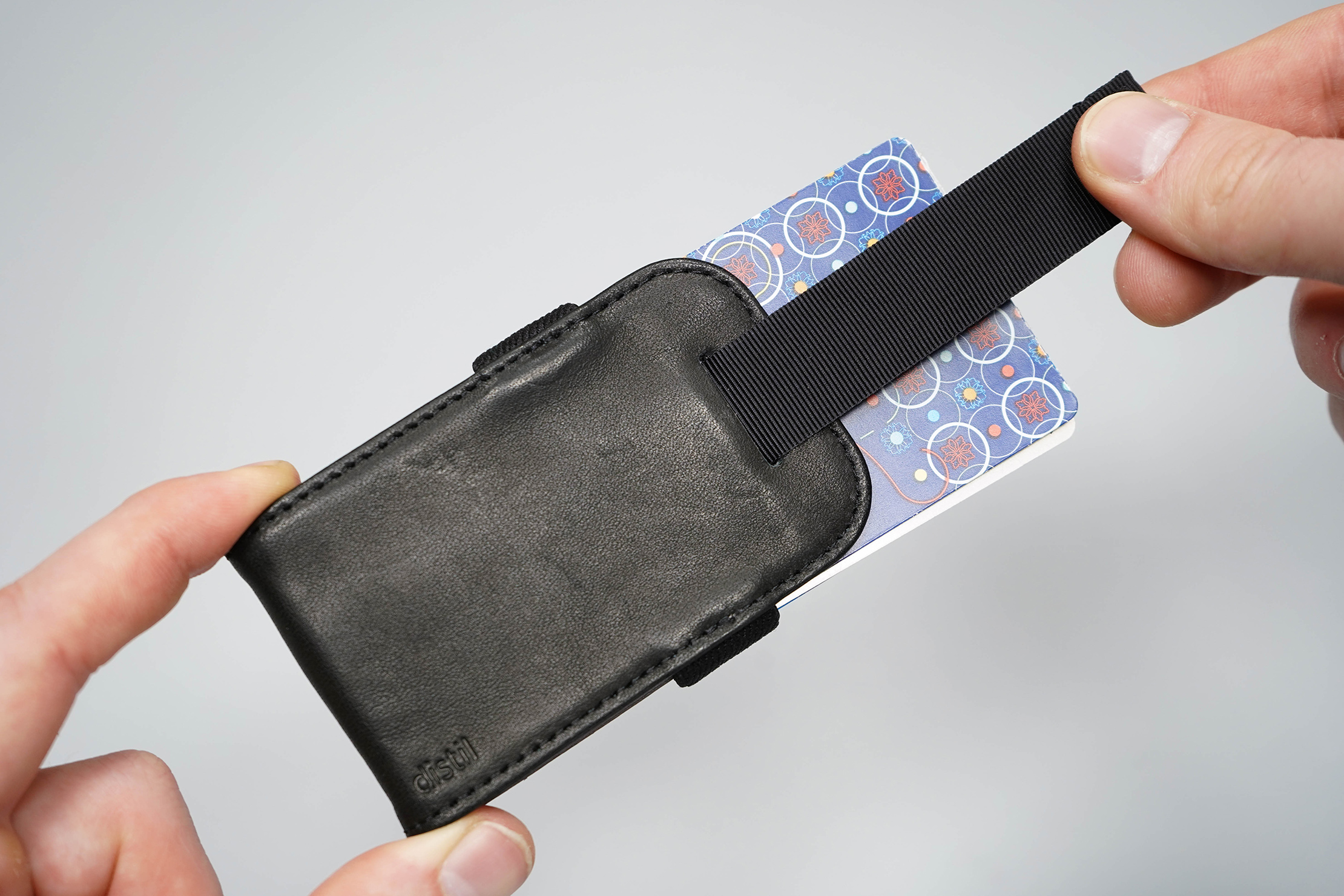 To access your cards, simply pull the Distil's signature Wally Pull-Tab™. The pull-tab works really well—your cards pop up quickly and smoothly, making them easy to sort through. If we were to be really nitpicky here, we'd say it would be nice to have an additional quick-grab pocket on the exterior of the wallet for the one or two cards you use the most. That way you wouldn't have to thumb through all of your cards all of the time. But that's not a big deal and would cut down on the sleekness of the wallet.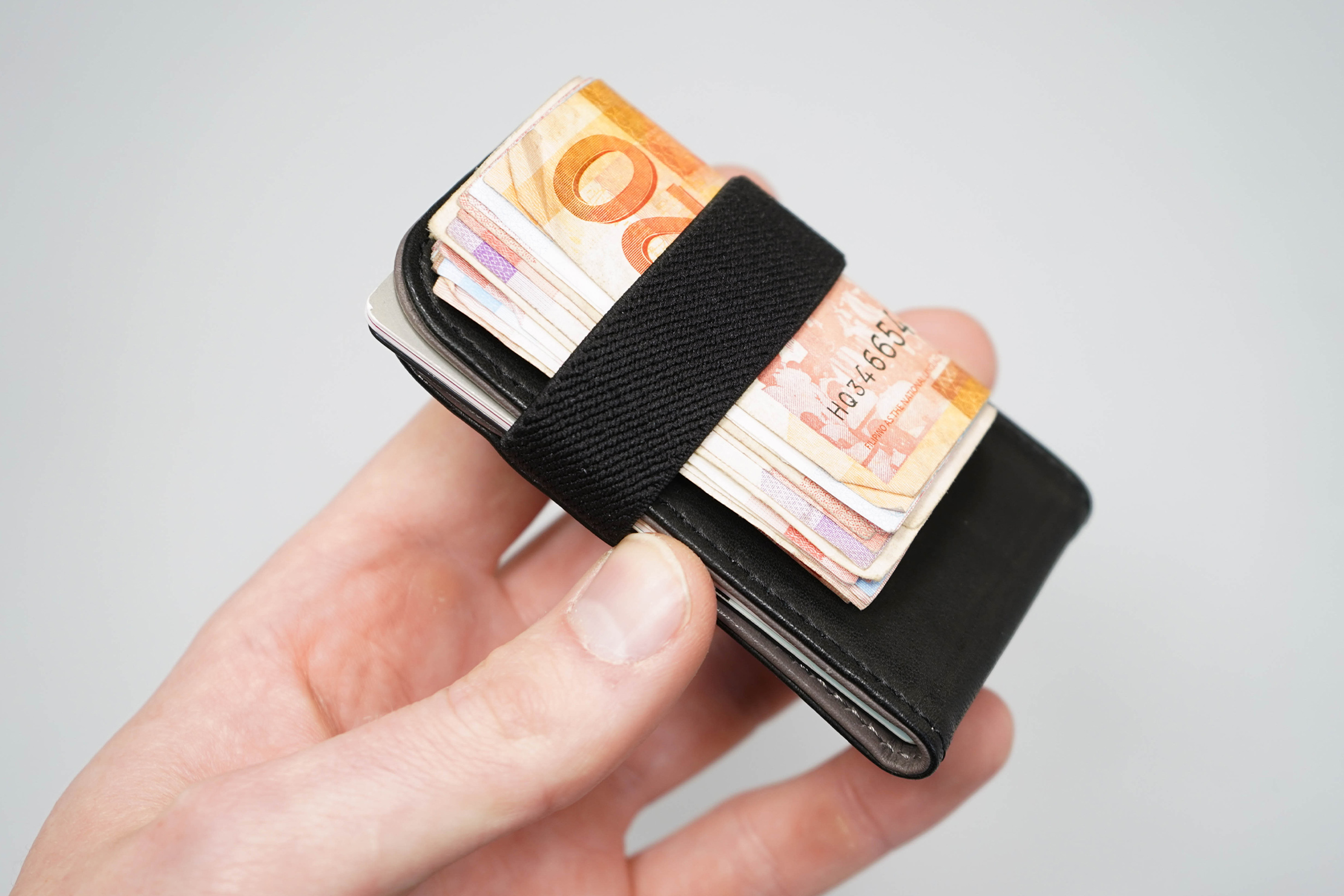 Cash tucks behind that exterior strap, although you may also slide your cash into the center of the wallet with your cards. You do have to fold your bills in thirds—or half and half again—in order for them to fit. As we mentioned with the cards, the more cash you carry, the tighter the strap will be stretched and the more secure everything will feel.
You can also pick up a version of the wallet that's RFID-blocking, which is what we've been testing. Whether or not you should be concerned about RFID crimes is contested, but it doesn't hurt to have peace-of-mind. Note that at the time of this review the RFID-blocking version only comes in one colorway—Black/Gray.
Durability & Testing
As we mentioned at the beginning of this review, we've been testing the Distil Wally Micro Minimalist Wallet for two weeks. We appreciate how much this thing carries for how slim it is. You can slide it in your pants pocket and forget about it until you need it.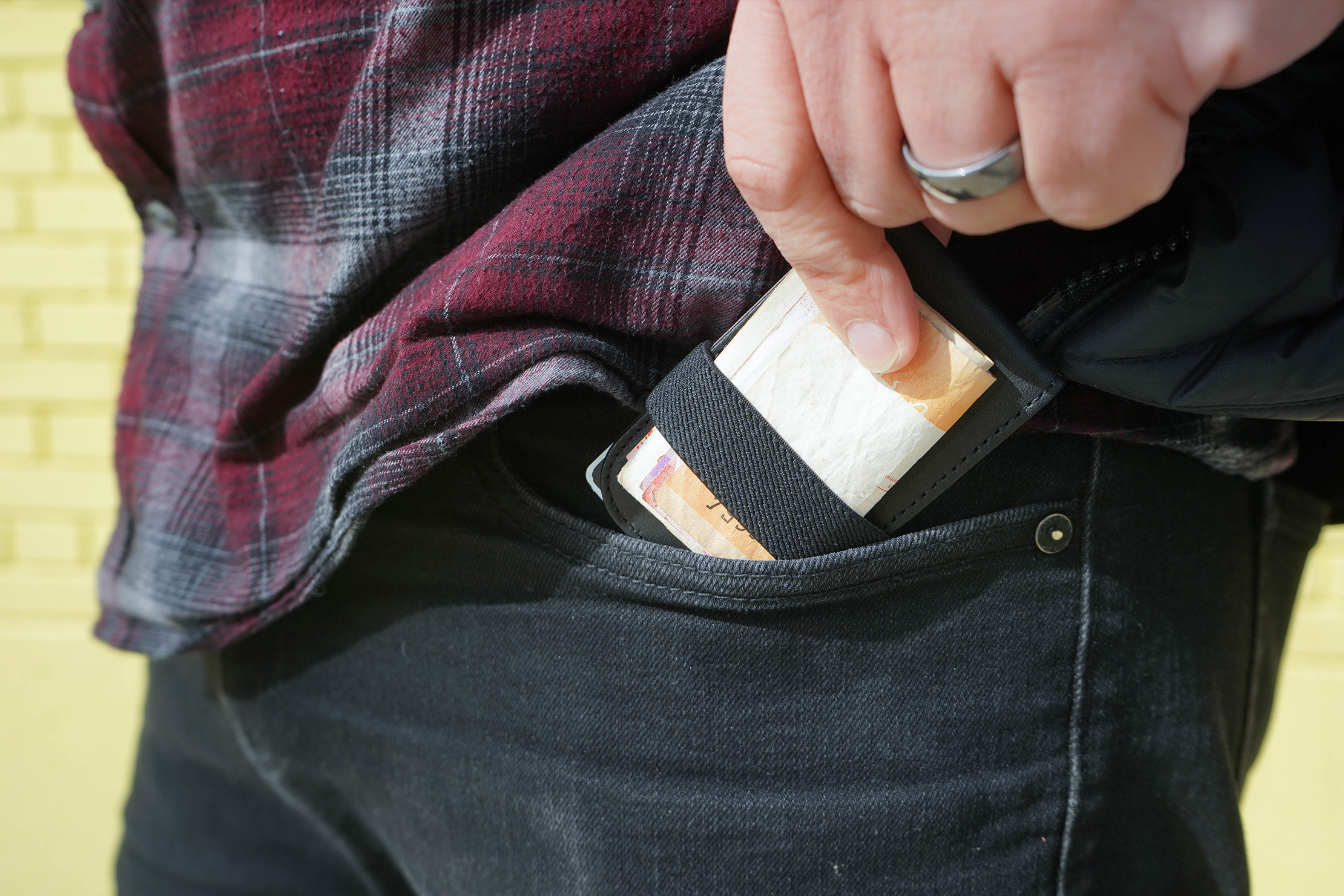 We have noticed that it's stretched out a bit these past two weeks, which isn't ideal. It's also not the end of the world, but you probably wouldn't want to pick this thing up if you only carry a few cards with you.
Usage Timeline
Initial Usage
Condition: Excellent
Really slim and compact design
There's no quick access card pocket on this wallet
Reversible and either side can be used as the exterior color
2 Weeks of Use
Condition: Excellent
Flipped the wallet from black to gray mode, which was simple
Noticing the wallet stretching out a bit—a stack of six credit cards and bills is about as low as we'd want to go in order to keep everything secure inside
Still enjoying the simplicity of fanning cards out and getting quick access to them
The leather still feels just okay/li>
Access the Pro Community Discussion
Get your questions about the Distil Union Wally Micro Minimalist Wallet answered from our team and the Pro Community right here on the page. Plus, join discussions with other members about gear, guides, and more.
Other Organizers & Pouches Reviews