Chrome Industries Summoner Backpack Review
The Chrome Summoner Backpack: a stylish and comfortable 32L suitcase-style pack that is well-made and well-designed. The Chrome backpack is a solid choice.
Our Verdict
Unlock the Pro Summary
Save time. Get access to brief summaries of our reviews so you can browse and make decisions more efficiently.
Pros
The floating laptop compartment is great for extra protection.
The harness system provides a comfortable ride.
Interesting and unique design thinking going on, all inspired by origami.
Cons
Some of the access falls flat, especially the back organization panel and the main compartment.
Compression straps are unorganized, especially when tightened up.
The main clamshell zipper doesn't really function well as a compartment.
Technical Details
Capacity

32l

Weight (lb)

2.9 lb (1.3 kg)

Denier

600D

Dimensions

19.5 in x 13 in x 8.5 in (49.5 x 33 x 21.6 cm)

Notable Materials

Polyester, Thermoplastic Elastomer (TPE), Duraflex Hardware, YKK Zippers

Manufacturing Country

China

Laptop Compartment Size

15"

Warranty Information
Full Review
Get up to 10% off Chrome Industries • Join Pack Hacker Pro
If you're in the market for a one-bag travel pack, you know you've got lots of options. The Chrome Summoner Backpack is a solid contender—and we're here to tell you everything you need to know about it.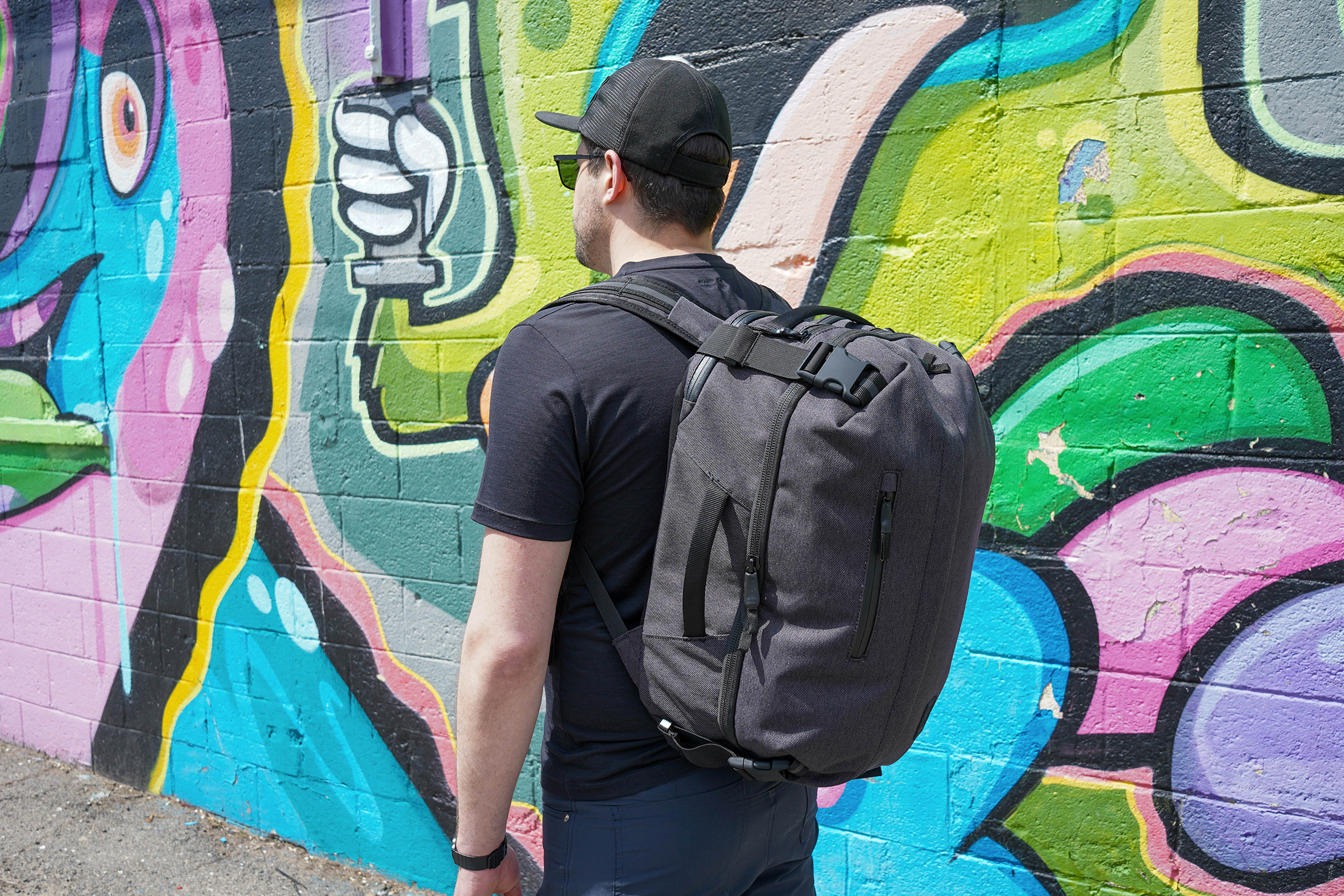 With products made to hold up "from city streets to forest paths," Chrome Industries is serious about offering gear that performs well and looks sharp. The Chrome Summoner Backpack is part of the brand's Modal Collection, which was inspired by "the elegant efficiency of origami and the unstoppable energy of the urban landscape." Beyond just a Chrome backpack, the collection also includes a duffle bag, sling and more.
The Chrome Summoner is a 32-liter suitcase-style backpack that opens fully clamshell-style and has some interesting pros and cons to it.
We've been testing out this Chrome backpack for the last three weeks and we're ready to tell you exactly how it's been holding up for us. So let's dive in to the review.
Materials & Aesthetic
One thing we loved about the Chrome Summoner right off the bat is its outside appearance. The heathered, dimensional look of the twill fabric—and the more "professional" vibe it gives off compared to some of the brand's other bags—made us like this pack before we even started testing it.
The main fabric is a 600D polyester with a twill pattern that gives it an interesting and textured feel, plus offers the added benefit of minimizing dirt and dust accumulation.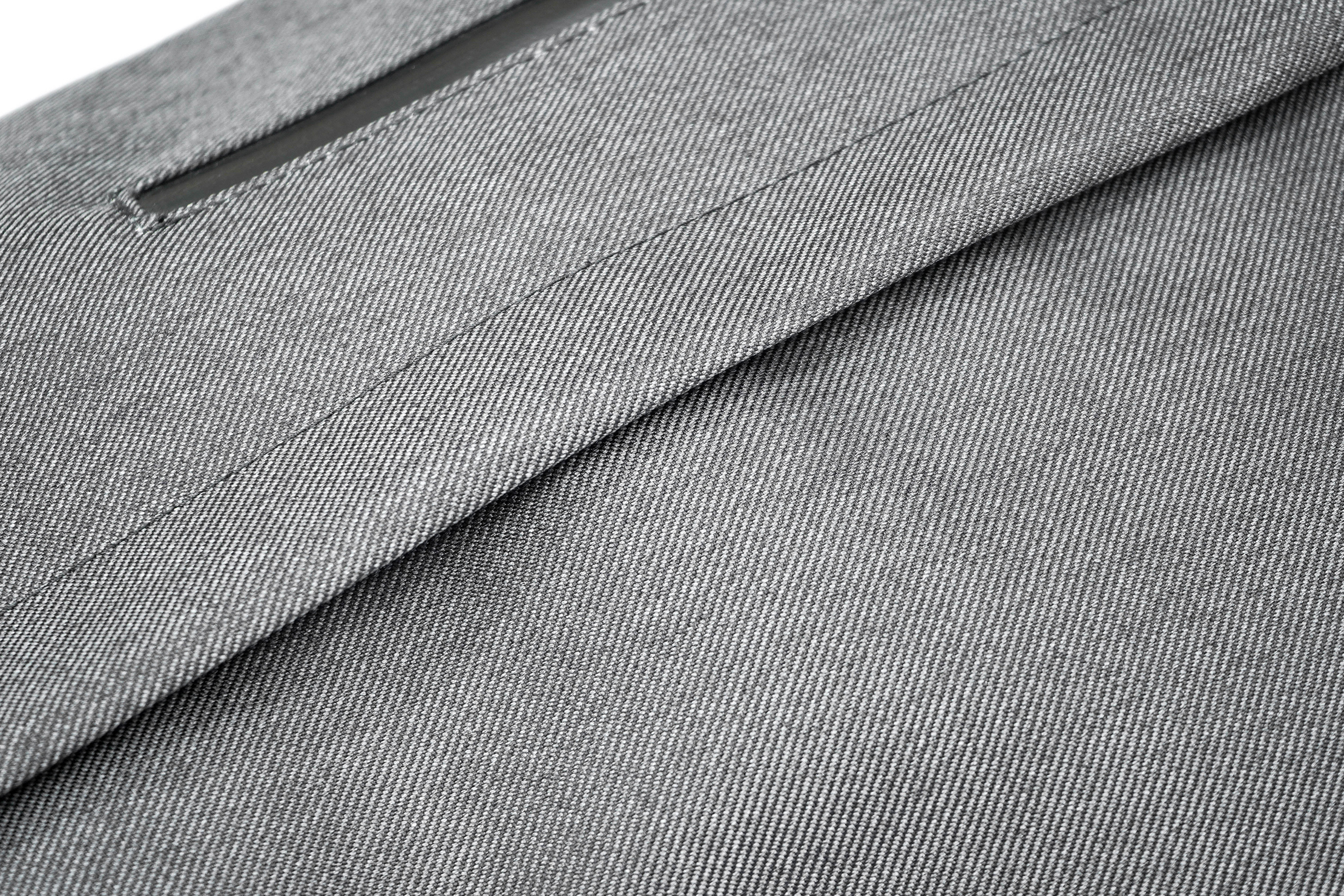 At the time of this review, the Chrome Summoner comes in one color—black—but it actually looks a bit more gray due to the blended, twill-pattern fabric.
Overall, the bag has a slick aesthetic that trends in a more professional direction, which is something we've noticed with the entire Modal Collection. While messenger-bike bags with great durability might come to mind when you think of the Chrome brand, it's clear this collection is aiming for that same quality while opting for a sleeker, more polished finish. Clean lines throughout the pack really tie the look together.
Of course, as we always say, beauty is in the eyes of the beholder. We polled our followers on Instagram to get their thoughts on the Chrome Summoner and in this case, 62 percent of our audience agreed it's a good look. (Join us @packhacker on Insta to get involved in future polls.)
From a branding perspective, Chrome went for a black-on-black logo on the front bottom right of the pack and another on the back panel.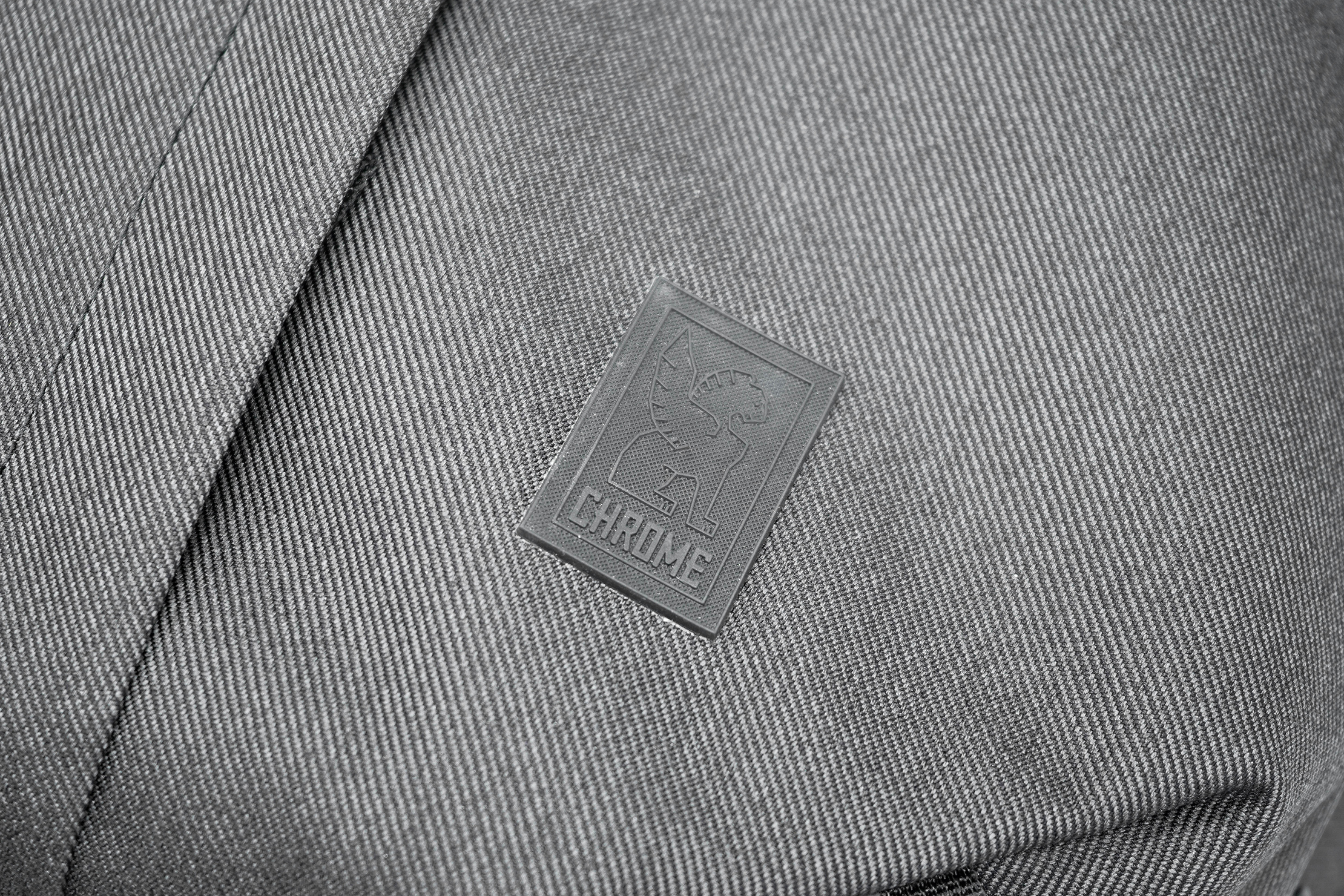 There's also a Chrome wordmark on the right-side backpack strap. All very simple, which we appreciate. Chrome sometimes goes all out with big logos and bold branding—this seems to be a nice compromise.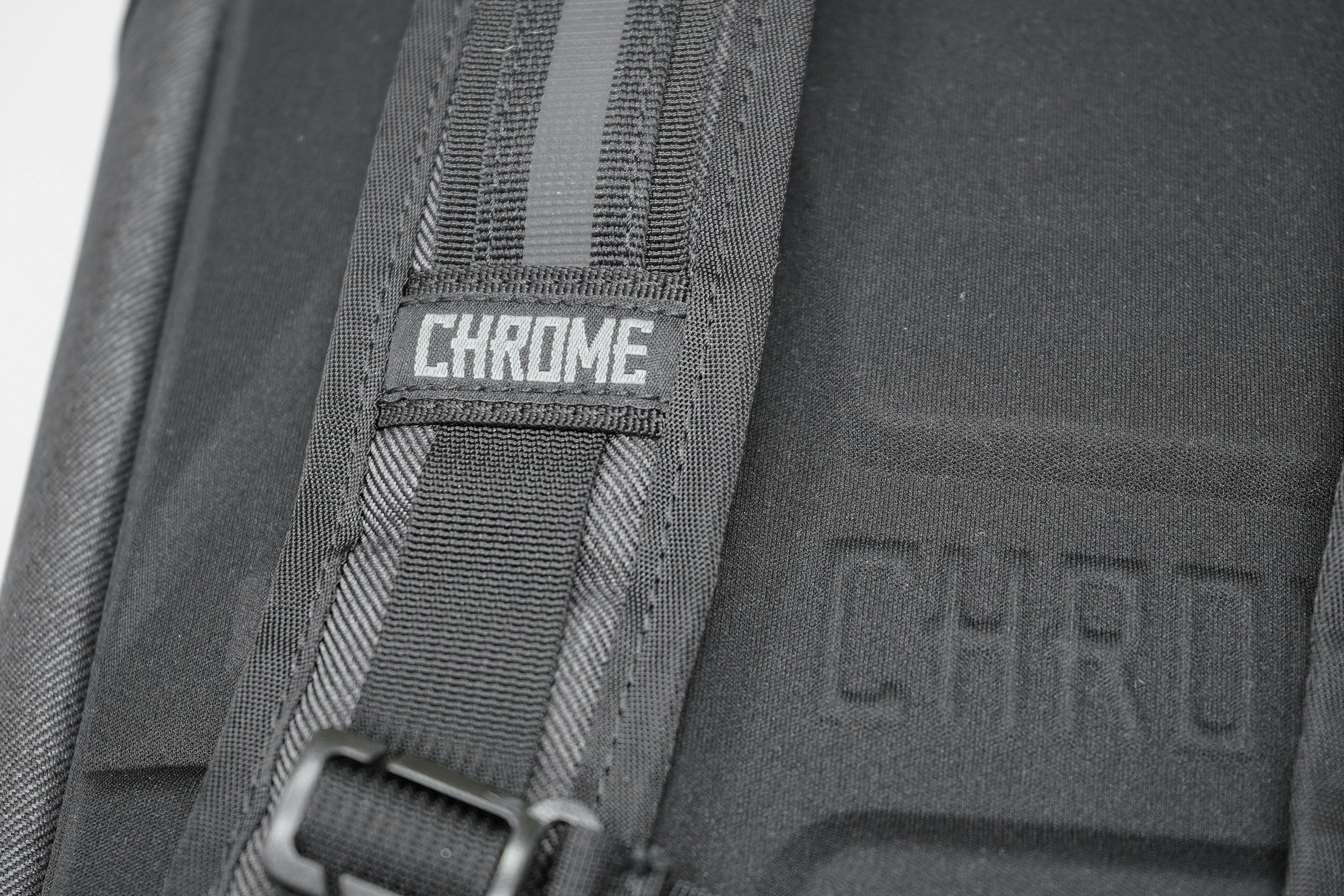 Other materials used on the Chrome Summoner include durable YKK zippers with heat-shrunk zipper pulls and Duraflex Stealth buckles on the compression straps with a bit of a rubbery feel. These are super satisfying to buckle, although they're on the verge of being too big.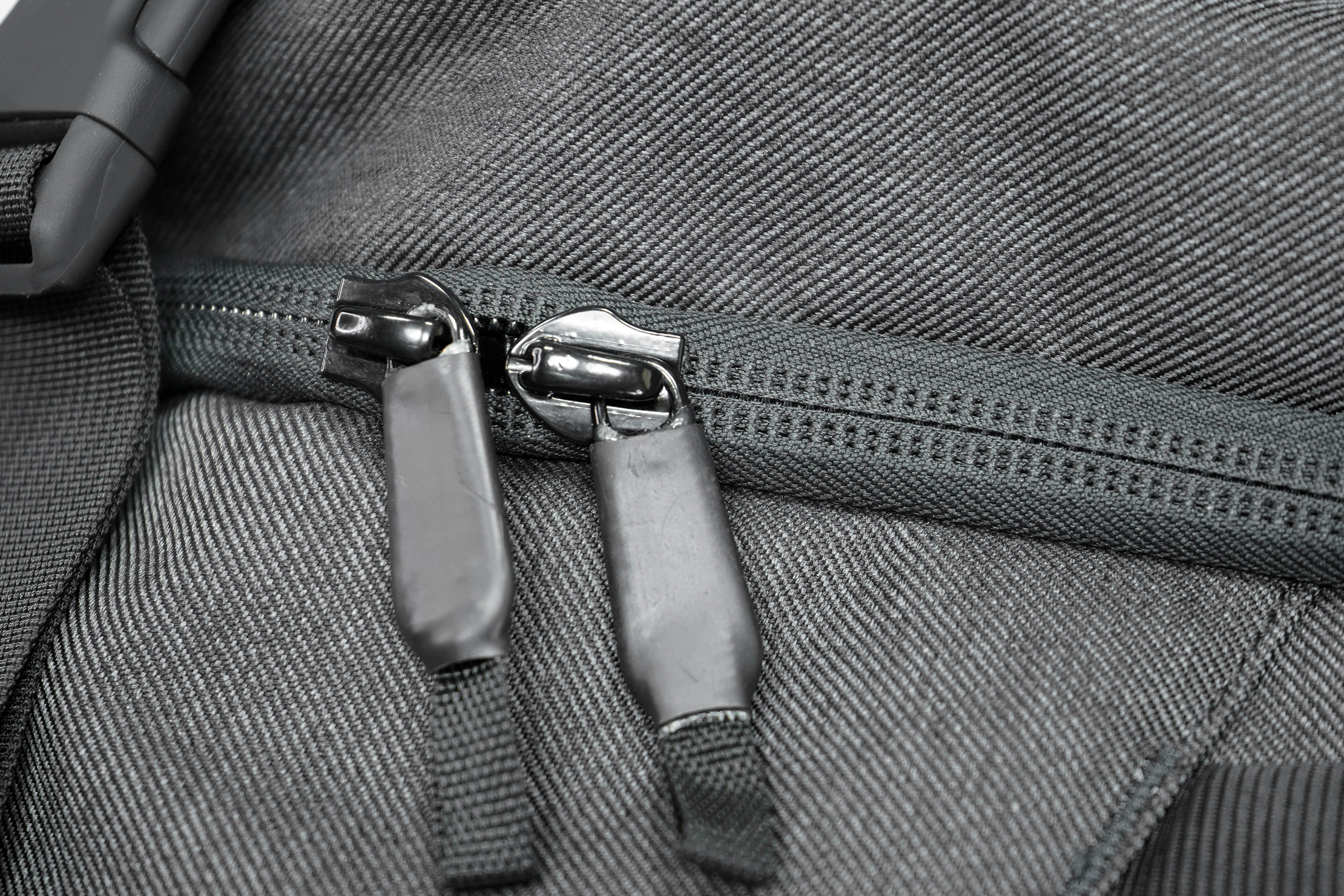 The 70D nylon liner on the interior comes in a gray color with a funky pattern, which is helpful for added visibility when you're looking for things inside the pack.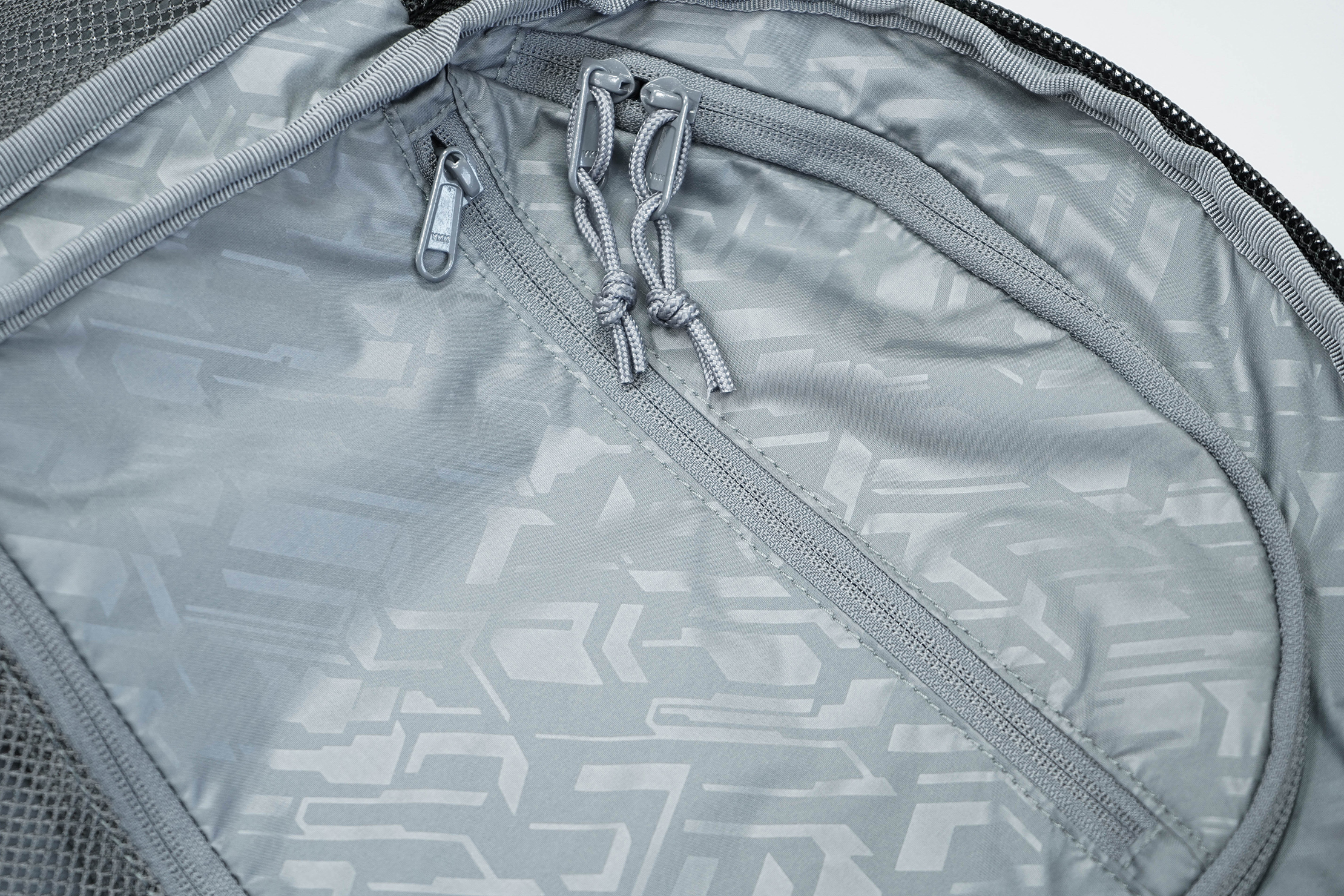 External Components
Checking out the external components of the Chrome Summoner, there are some definite positives—along with a couple disappointments—to consider. Starting with the harness system, the shoulder straps are connected across the top to provide a comfortable carry. While the straps themselves are slightly thin, the high-density foam makes up for it.

The front straps feature two attachment points that can be used for carabiners or a Chrome-specific accessory—like the phone pocket or accessory pocket, which can attach directly to these straps.
The pack features a pretty standard attached sternum strap, which has the same rubberized buckles found on the compression straps. We like that there is some additional elastic in this area to provide extra flexibility and comfort when you've got the strap fully tightened. The elasticity allows the strap to adjust as you're walking with the bag, meaning you won't have to deal with a sternum strap digging into your chest, even if you find yourself in some weird position.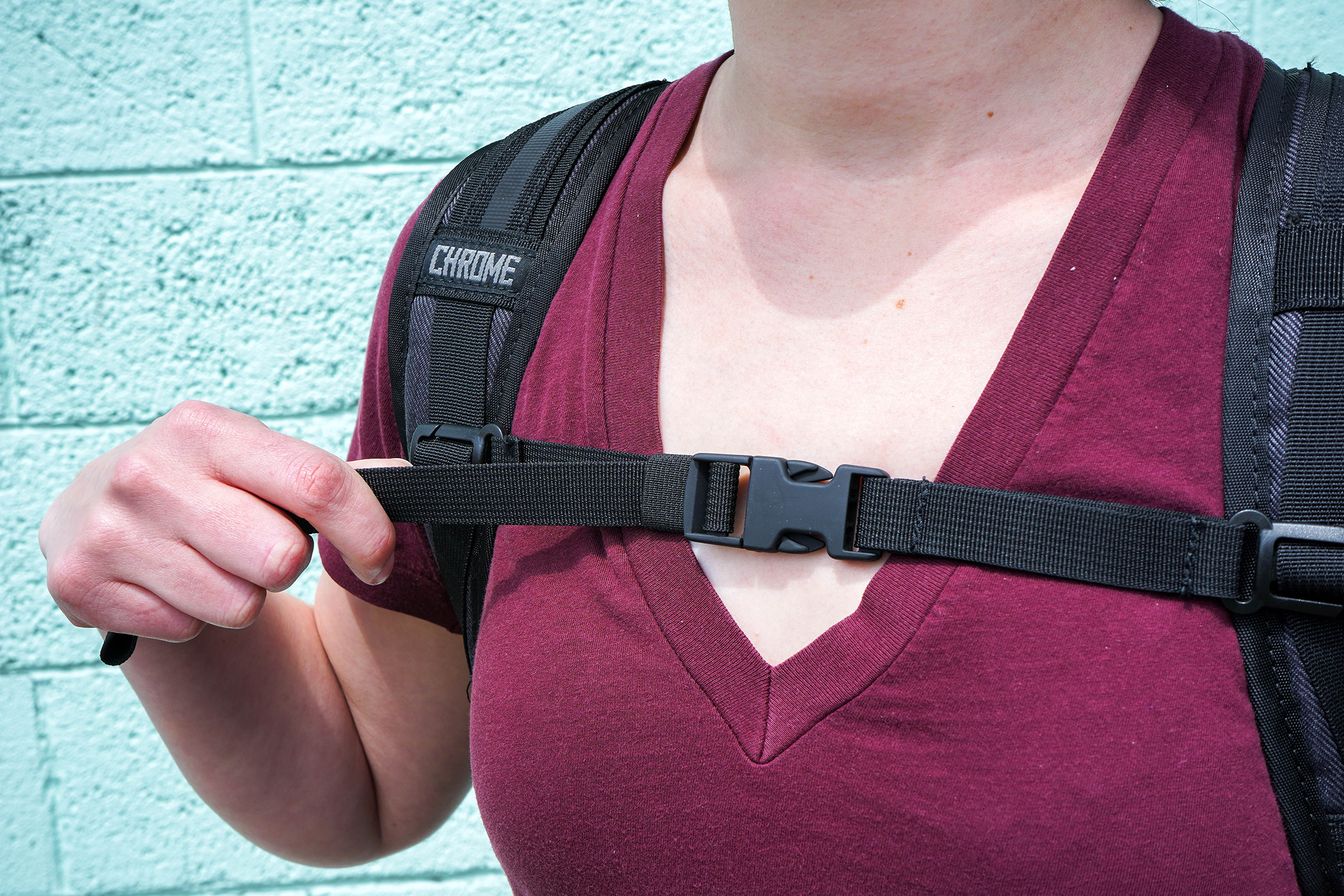 The strap adjusters at the bottom of the shoulder straps are an aluminum material that provide a super-simple tightening and loosening experience—they glide smoothly as you tighten and loosen the pack, which is really all you can ask for in a strap adjuster.
The back panel of the Chrome Summoner features dense foam and a subtle pattern to promote airflow and additional flexibility. Behind the padded back panel, meanwhile, a semi-stiff frame sheet gives the bag some structure.
Now, when it comes to grab-handles on travel packs, we always appreciate plenty of options—and that's something we like about the Chrome Summoner. It has handles on all three sides of the bag—two on the sides and one on top—to make it nice and easy to grab when you're on the go.
The grab-handle on top is pretty straight-on, while the two side handles are attached on an angle. It may seem minor, but that slight angle makes a difference as to how the load carries. With this angle—as opposed to a straight-on handle—the bag stays more structured and flat as you carry it and you won't have any weird center-of-gravity issues to worry about. If you've ever carried a bag by a side-handle and had to deal with it knocking into your knee with every step you take, you'll appreciate this feature.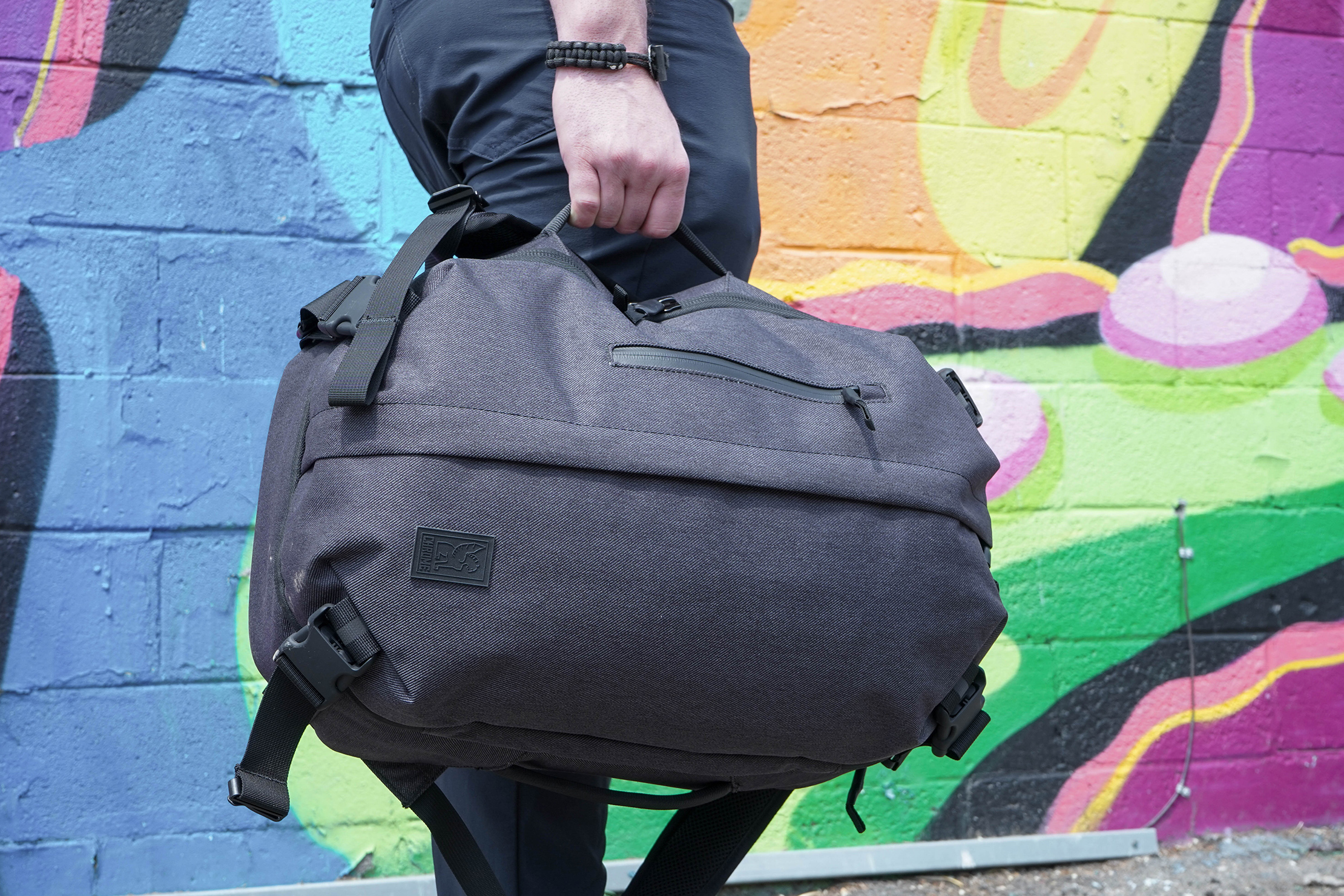 There are compression straps on all four corners of the Chrome Summoner, all of which use that nice, rubbery Duraflex buckle.
These are definitely satisfying in-hand, but some users may dislike that they're a bit larger. We definitely think they're close to being "too bulky," but we do appreciate the added durability of a hefty buckle.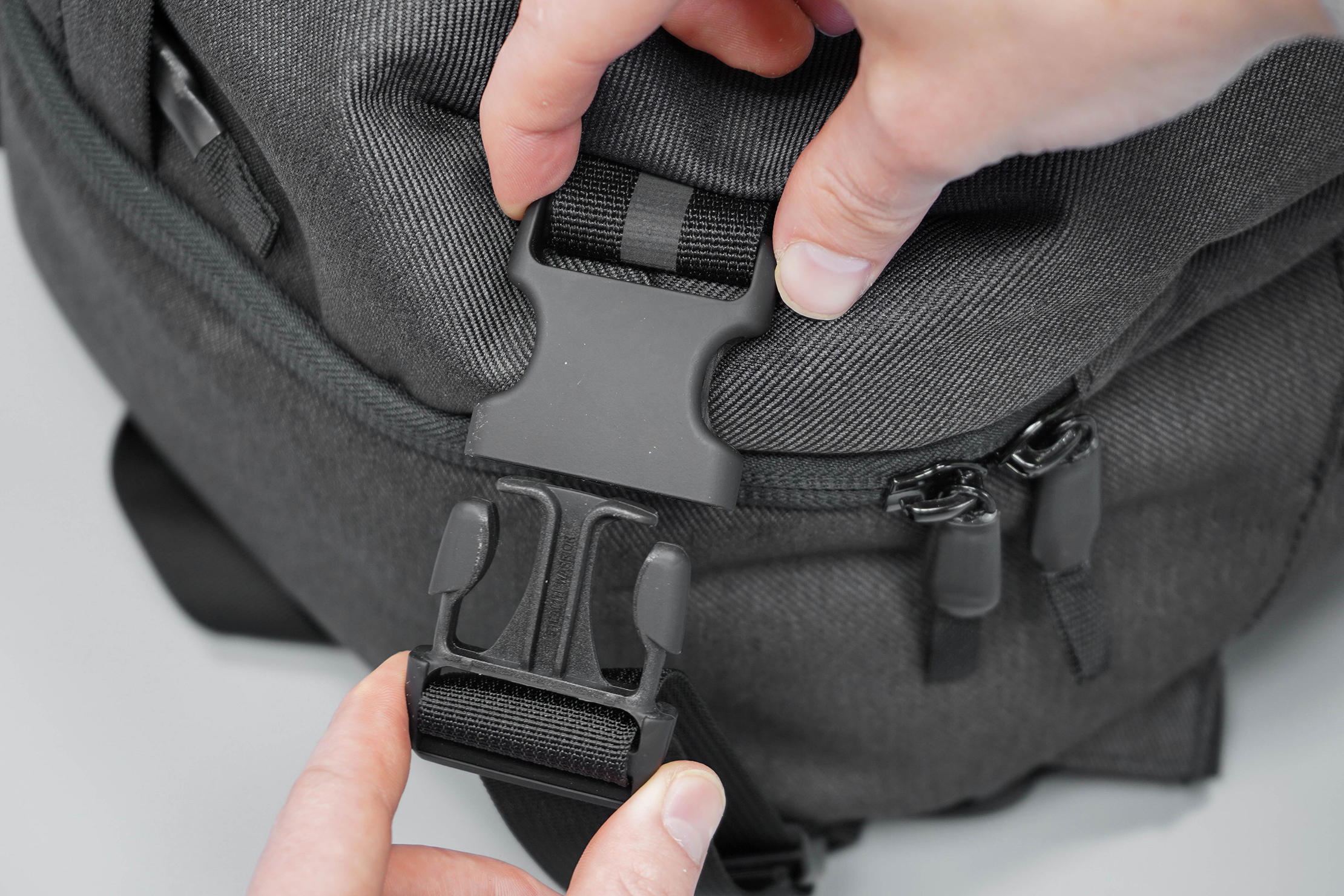 We do have to point out that the strap management here is a bit lacking. As you tighten up the compression straps, you're left with a bunch of extra fabric. And while a clip on the end lets you fasten that excess fabric in, the clip comes undone pretty easily.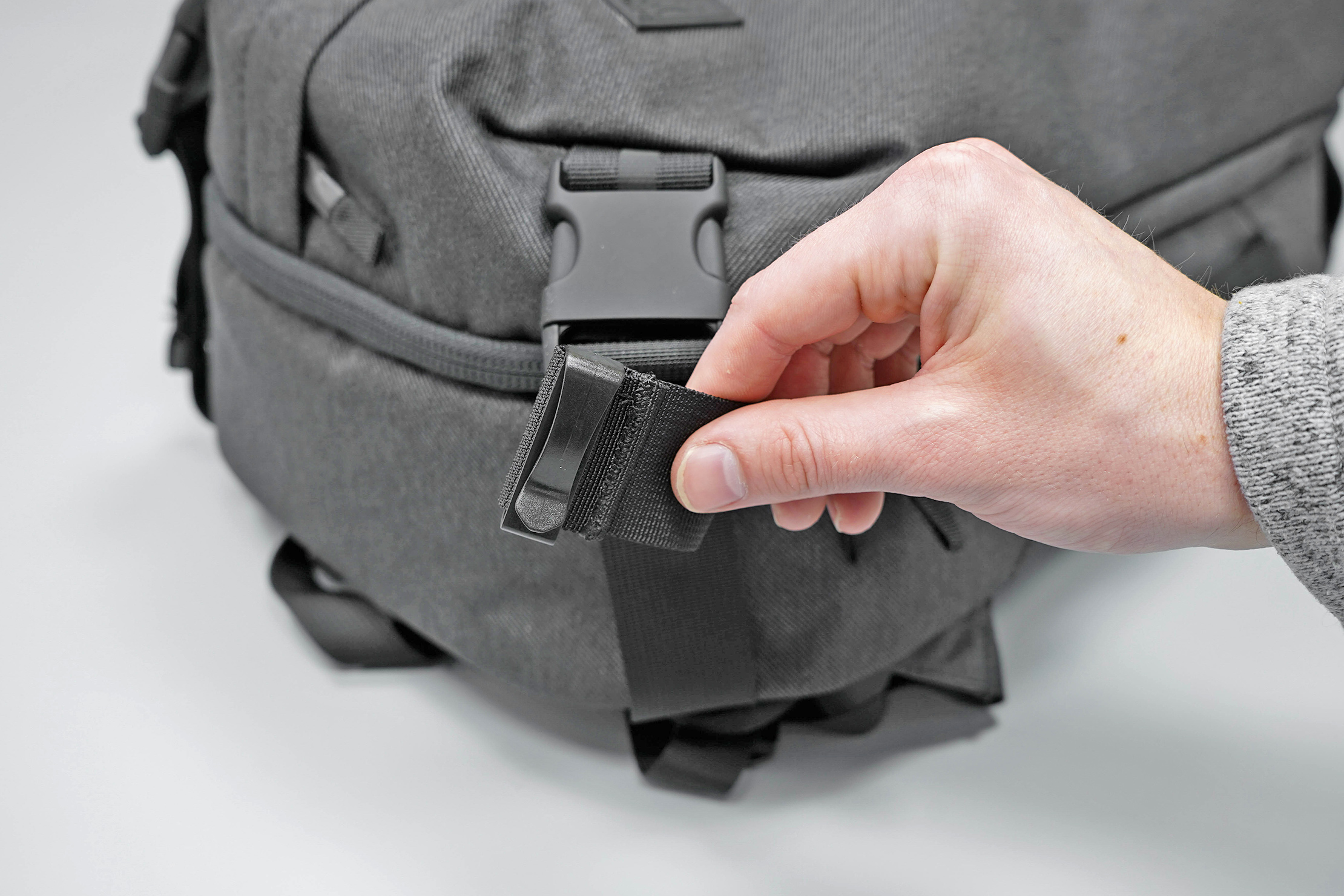 So it's technically a "dangle-free experience," but those straps are still pretty much everywhere. Not a deal-breaker, but something to keep in mind.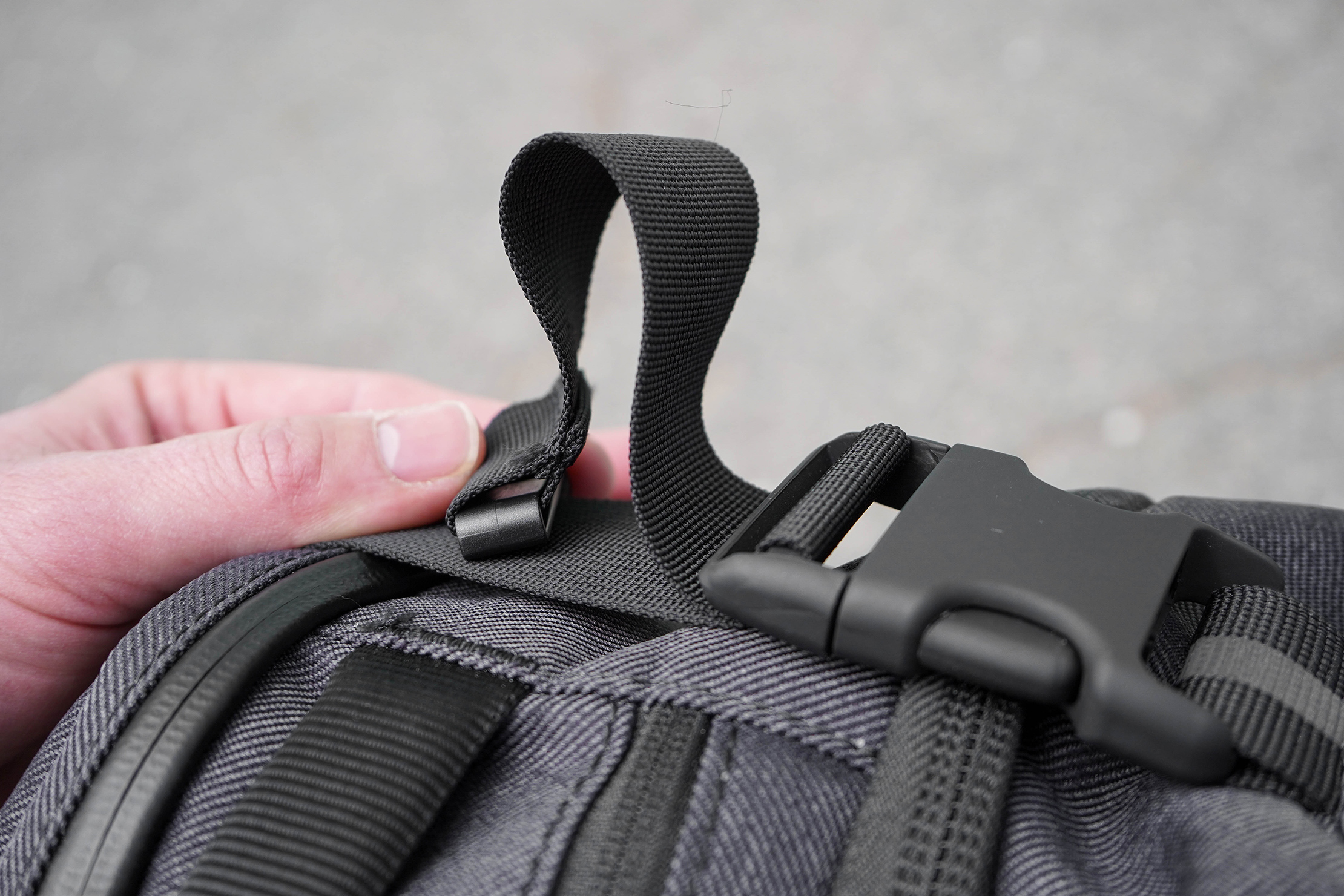 Finally, there's no option to attach a hip belt on the Chrome Summoner—but on the upside, we don't think a bag of this size really needs one. There's also no water bottle pocket on either side, probably due to the side handles. While some brands have cleverly incorporated both, we're thinking this decision had more to do with keeping the pack's exterior clean and low-profile.
Inside the Pack
Ready to see what the Chrome Summoner has to offer inside? Spoiler alert: If you love quick-access pockets, you're in luck—there's a total of three on this pack. For starters, the quick-grab pocket on the wearer's back—which is about the size of a plus-sized iPhone—is perfect for things like passports or anything you want to keep a bit more secure.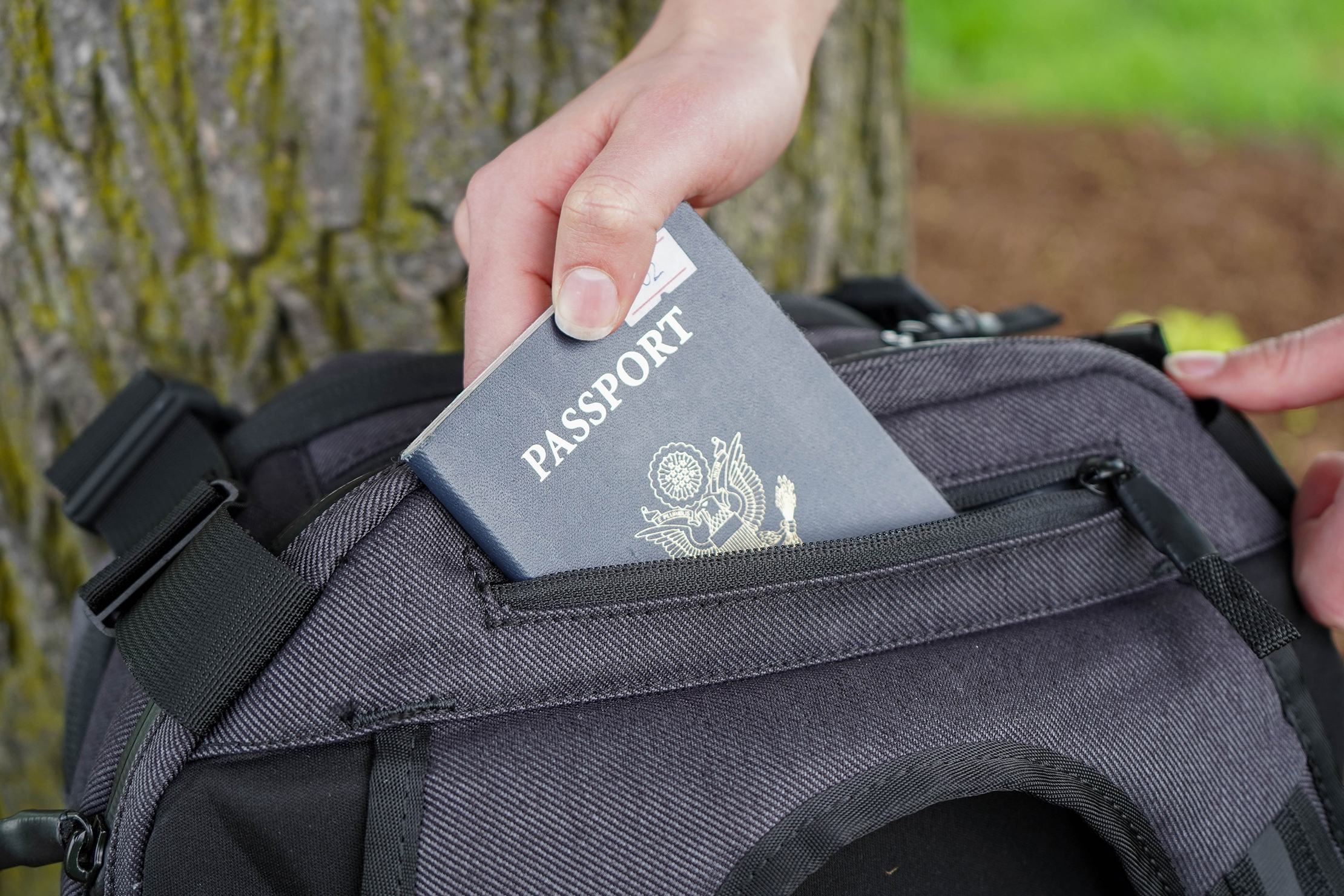 Next up is a top-drop pocket that features a soft liner, ideal for more delicate items like sunglasses. And finally, there's a small pocket on the front of the Summoner that has a zipper garage for additional weather resistance.


The main compartment opens up clamshell-style and, in case you're wondering, you don't have to undo all four compression straps—two will suffice. (We love to see this! No one wants to deal with four buckles every time they open their bag.)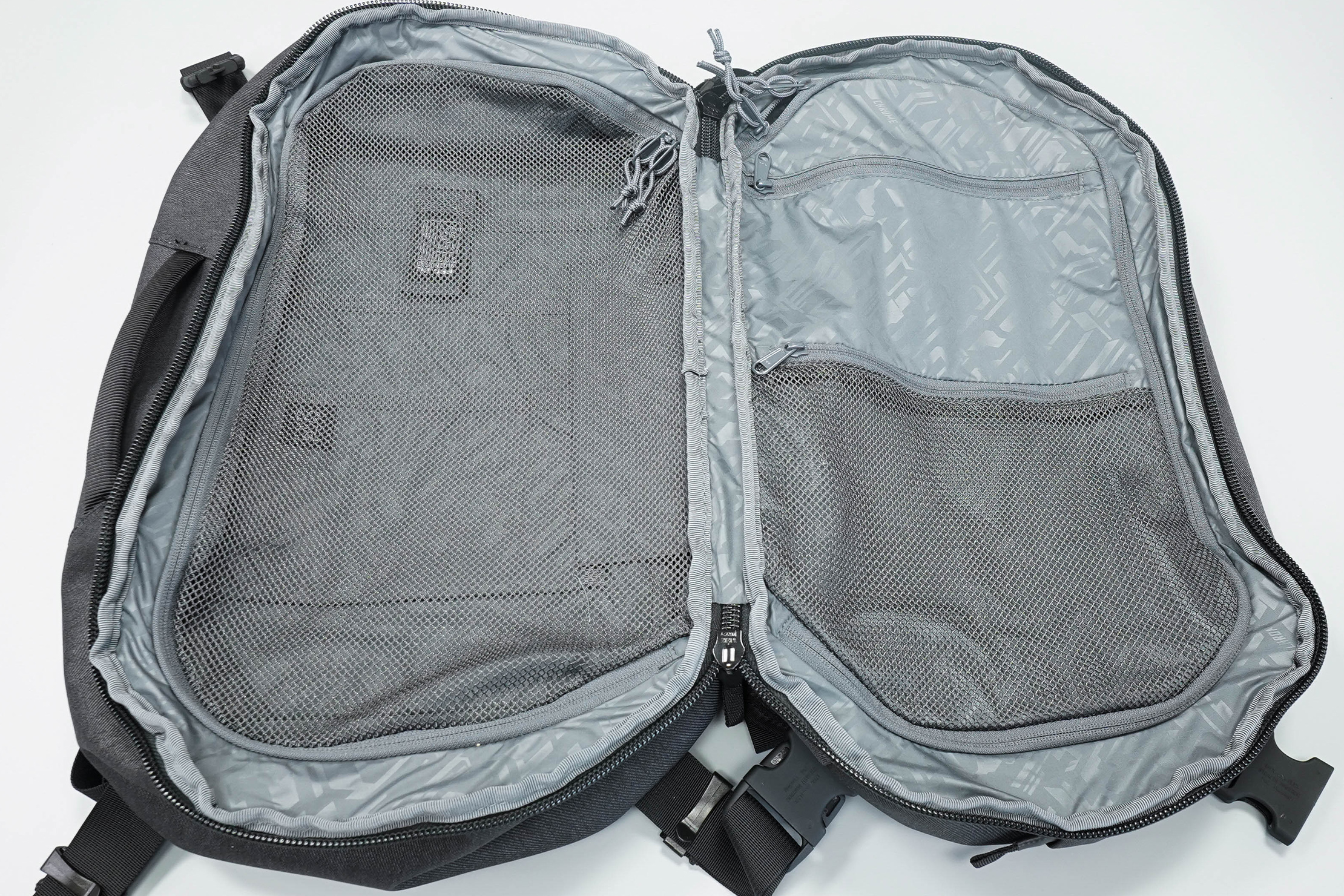 Once you're in, you'll find two distinct sides. Each zippered side is compartmentalized, and although it might seem like you can just stuff things inside this clamshell area, there's actually not much space left when both sides are completely closed. Using this area bucket-style would leave nowhere for the extra flap to go, so you'll definitely want to use the internal organization with this pack.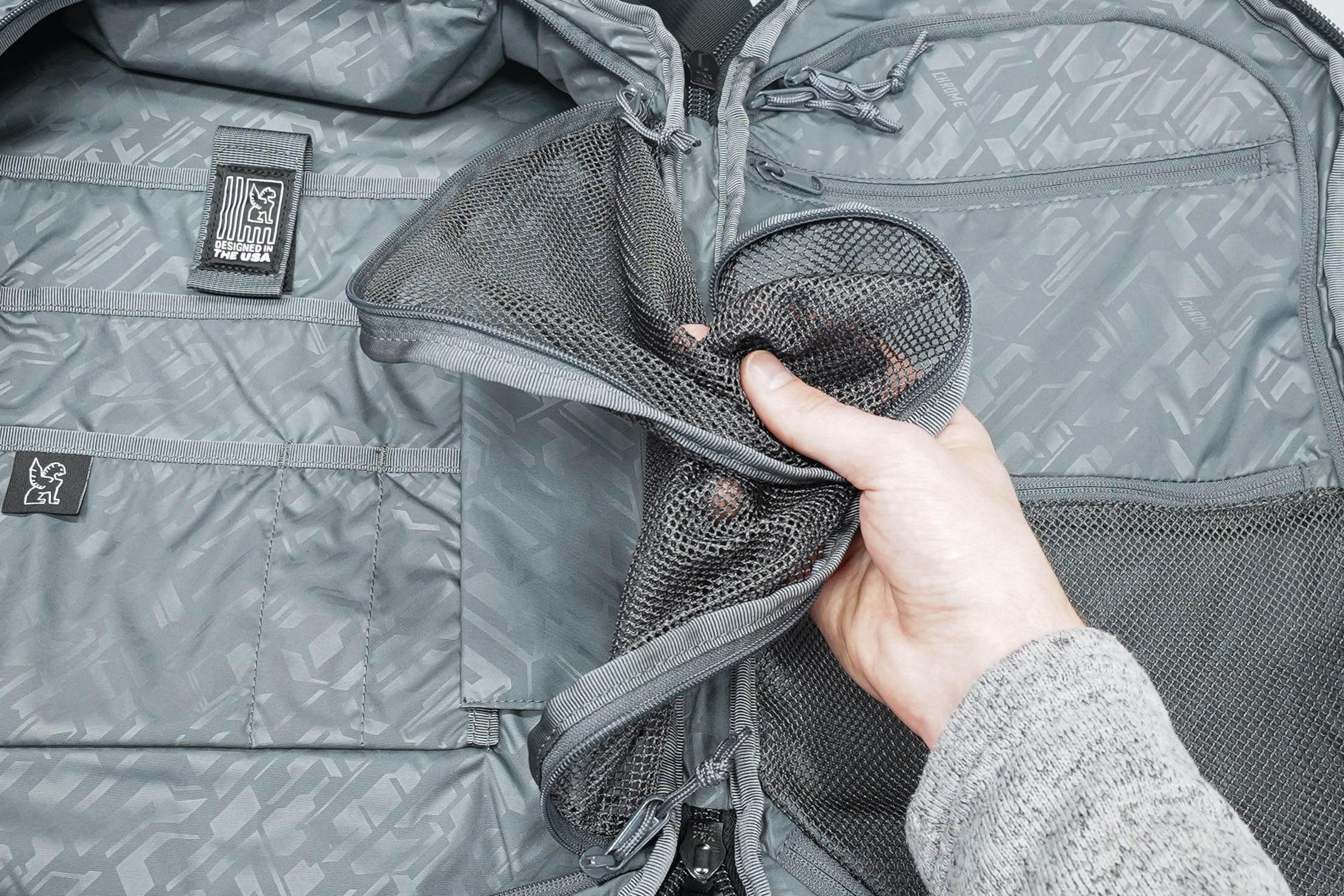 If you want a similar-style pack that offers better bucket-style storage, check out the Peak Design Travel Backpack, which has a similar setup that you can compress into a pouch at the top of the bag.
On the right zippered panel, one liner pocket goes down the entirety of the panel and there is a mesh pocket in front of that is about half the size. These pockets work well for socks and underwear, but we wouldn't use them for anything too thick or heavy since it's in the front divider flap.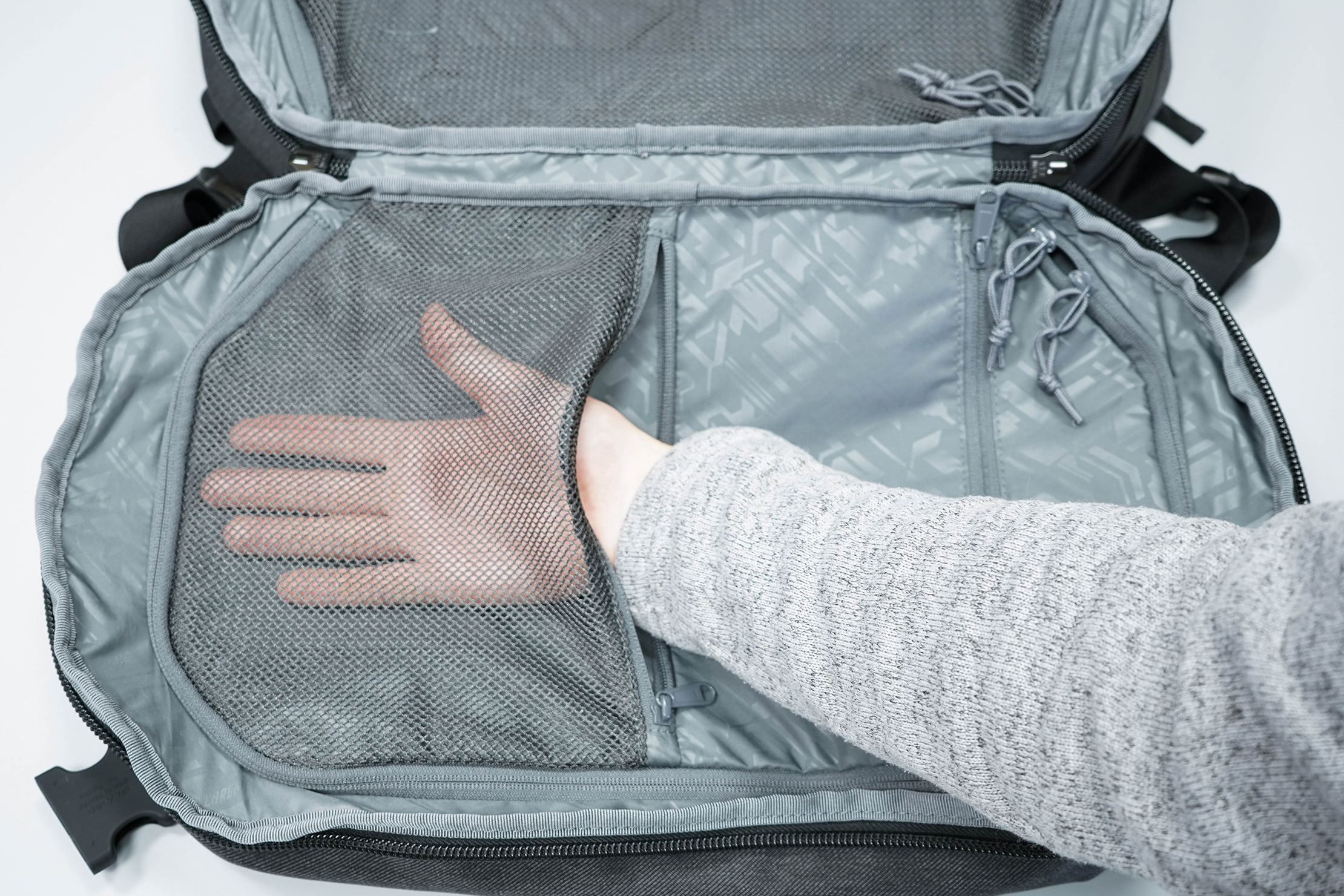 Inside the zippered section of this divider flap, you're greeted with a large bucket area with a zipper on the backside that's accessible via the front of the pack. Based on the positioning of the zipper and the way the excess fabric comes up, we've found that you can fit a bit less than you'd expect inside of this pocket—but it's definitely nice to be able to access it from the front of the pack.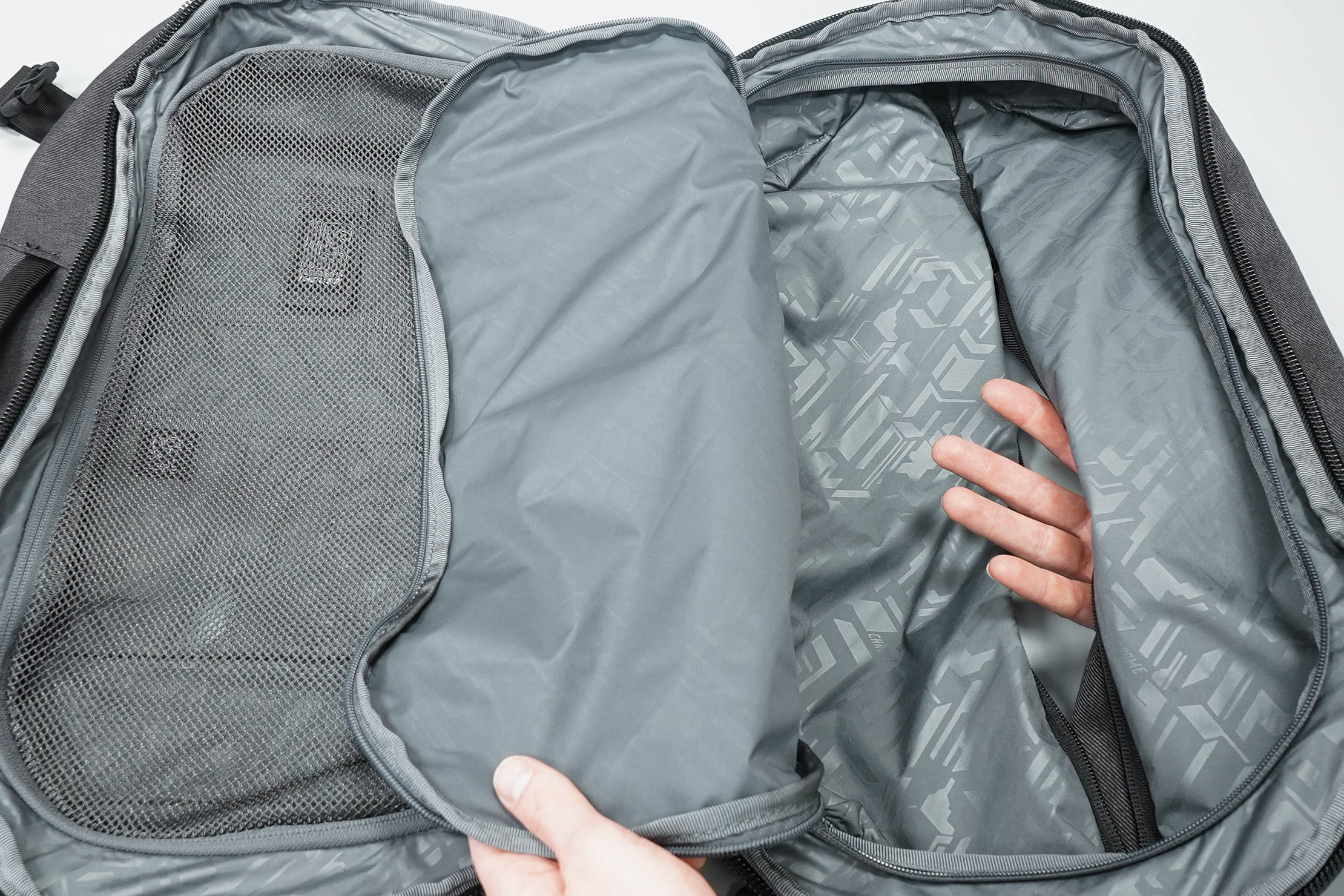 This is also an ideal spot for a light compressible jacket or some packing cubes with clothing.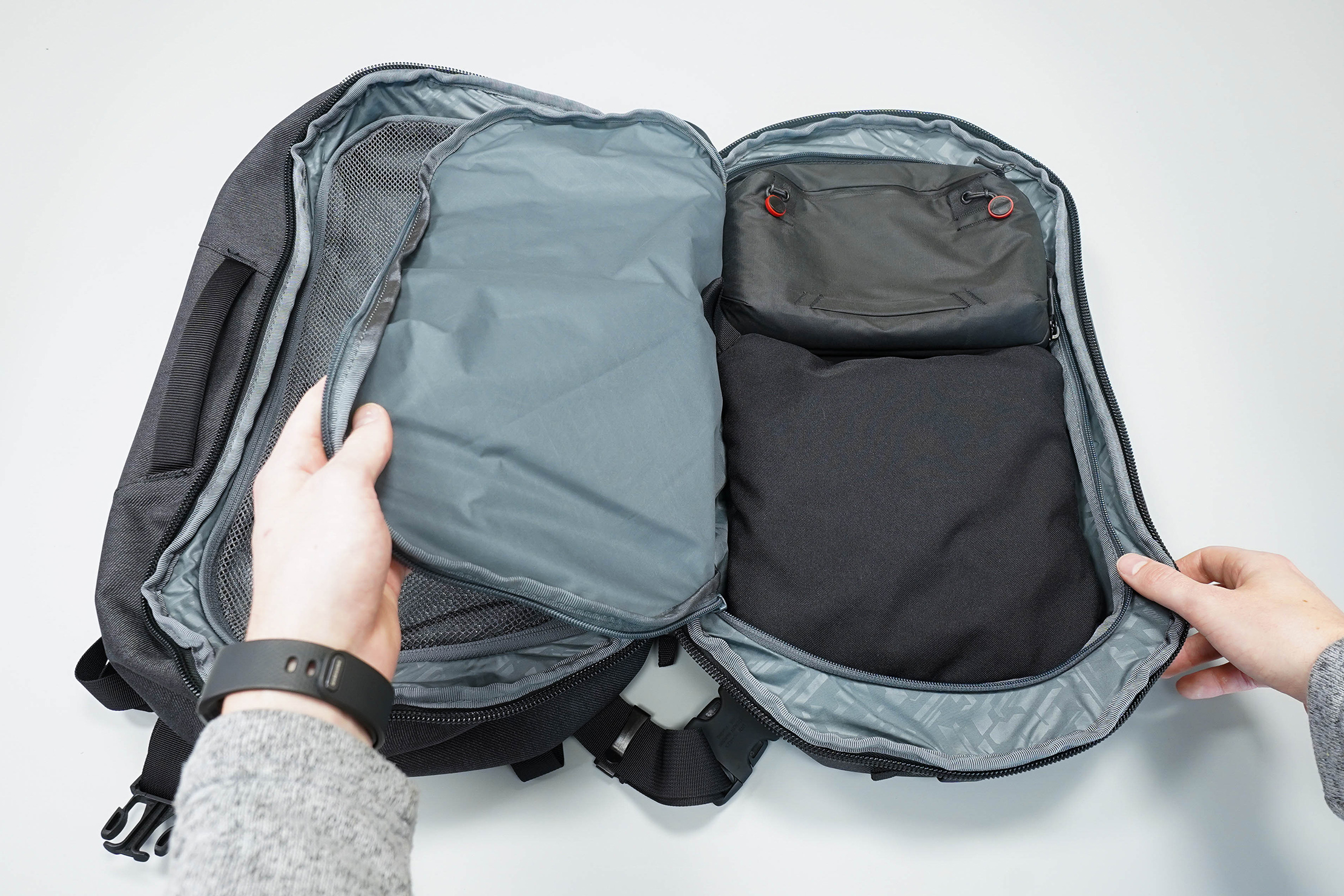 On the left side of the Chrome Summoner, the mesh zippered compartment opens up to reveal an organizational panel. This can fit a laptop in back and a tablet or Kindle in front. You'll also find three organization pockets for pens, pencils, styluses, or a wallet or small notebook.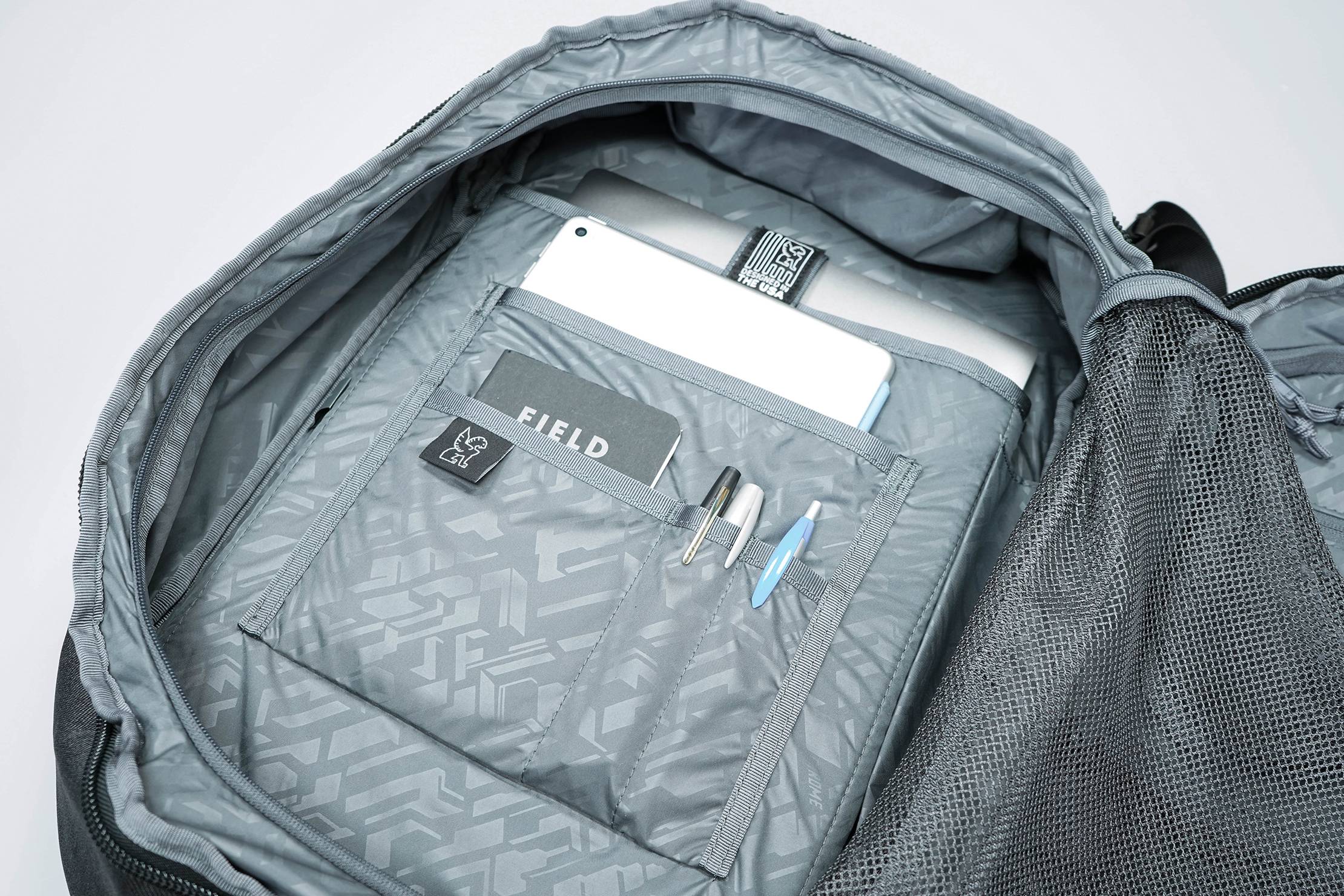 The laptop compartment is an area where the Summoner loses a few points in our book. Though it technically fits a 15-inch MacBook Pro, it's a bit of a stretch—the Velcro strap is hard to fasten and there's no chance of fitting an extra case on the laptop itself.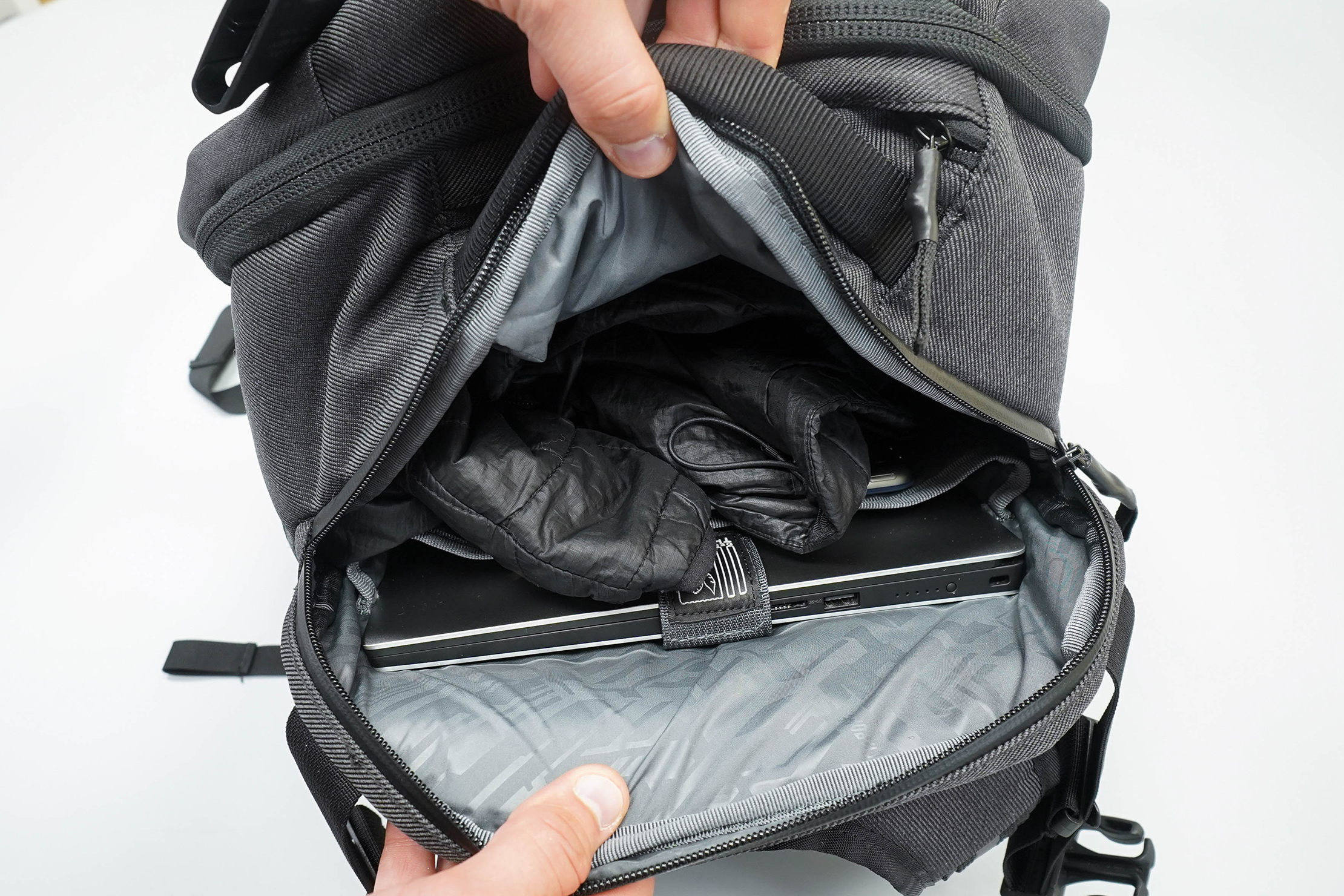 On the other hand, an extra case isn't quite a necessity since it is a floating laptop compartment (always our preference!). This means the pocket ends a bit higher than the rest of the bag to protect your laptop from unexpected drops.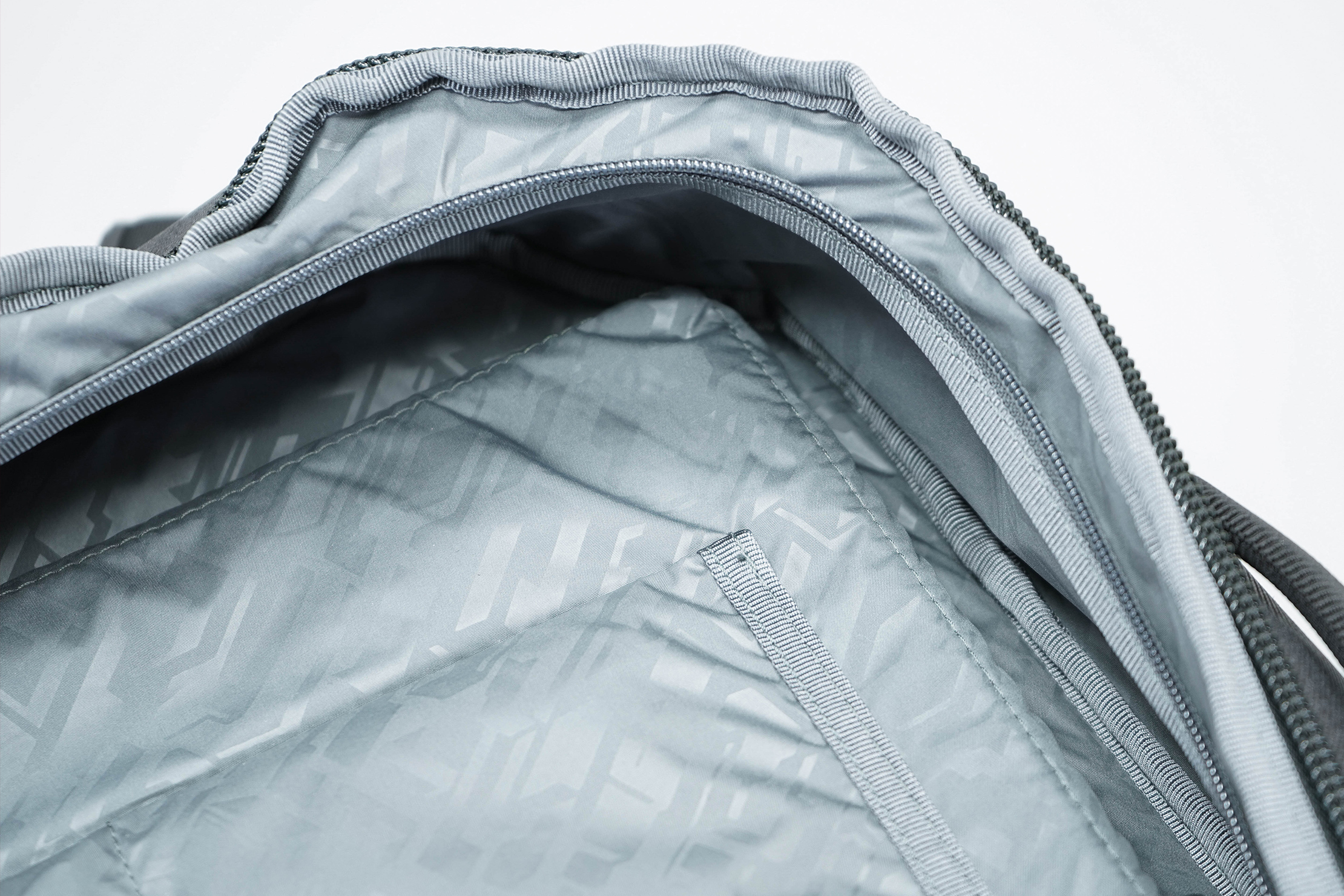 That said, access to this organization panel area is somewhat cumbersome overall. Although there's a zippered pocket at the top and towards the wearer's back that you can open to access this panel, it's difficult to fish out your pens or other items in the organization pocket if the compartment is filled with other things. The compression straps also obstruct access to some degree. Essentially, it seems like a design oversight.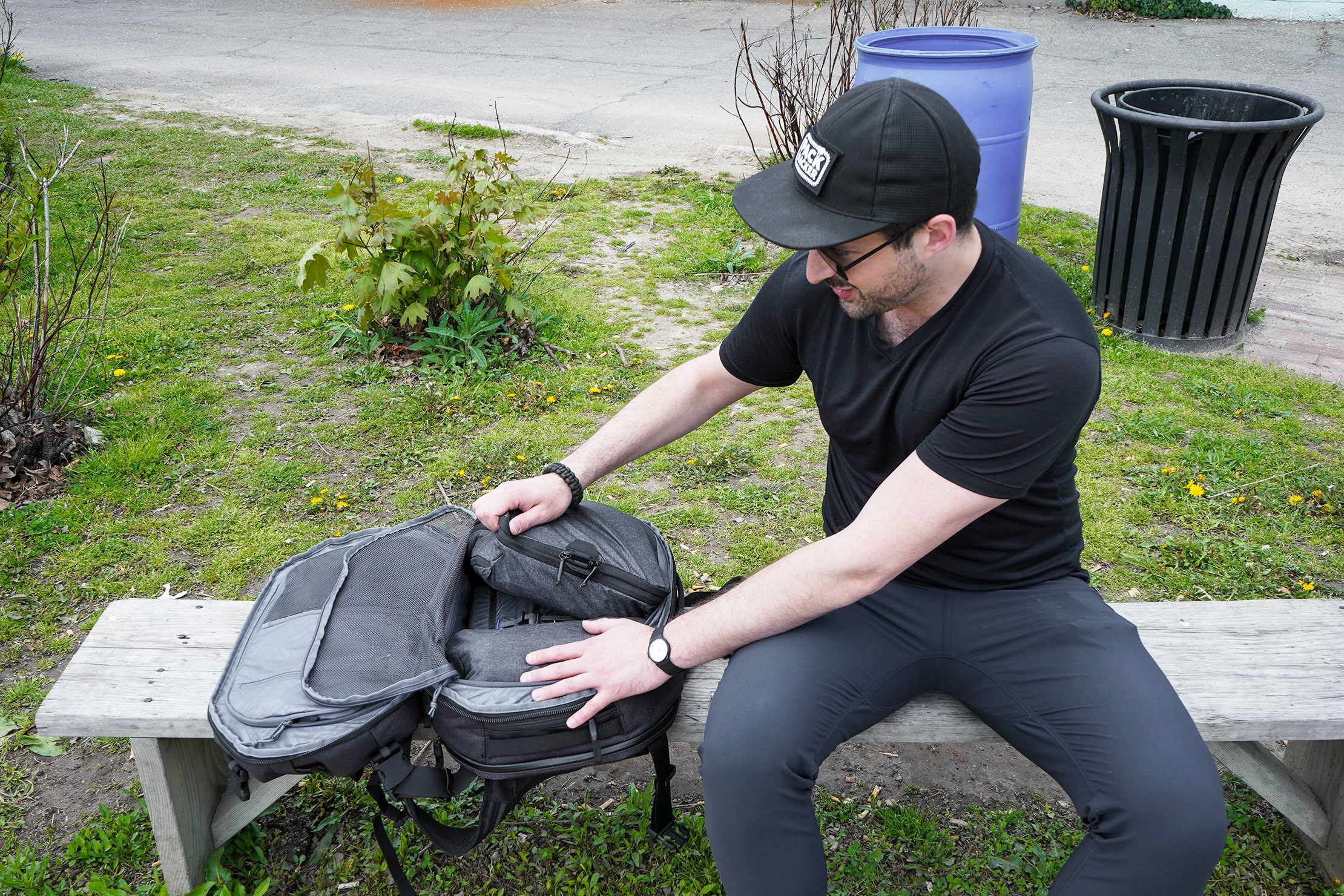 Wrapping up the main compartment, a floating stash pocket on the side is a great place to store cash or valuables since it's the most secure pocket in the bag.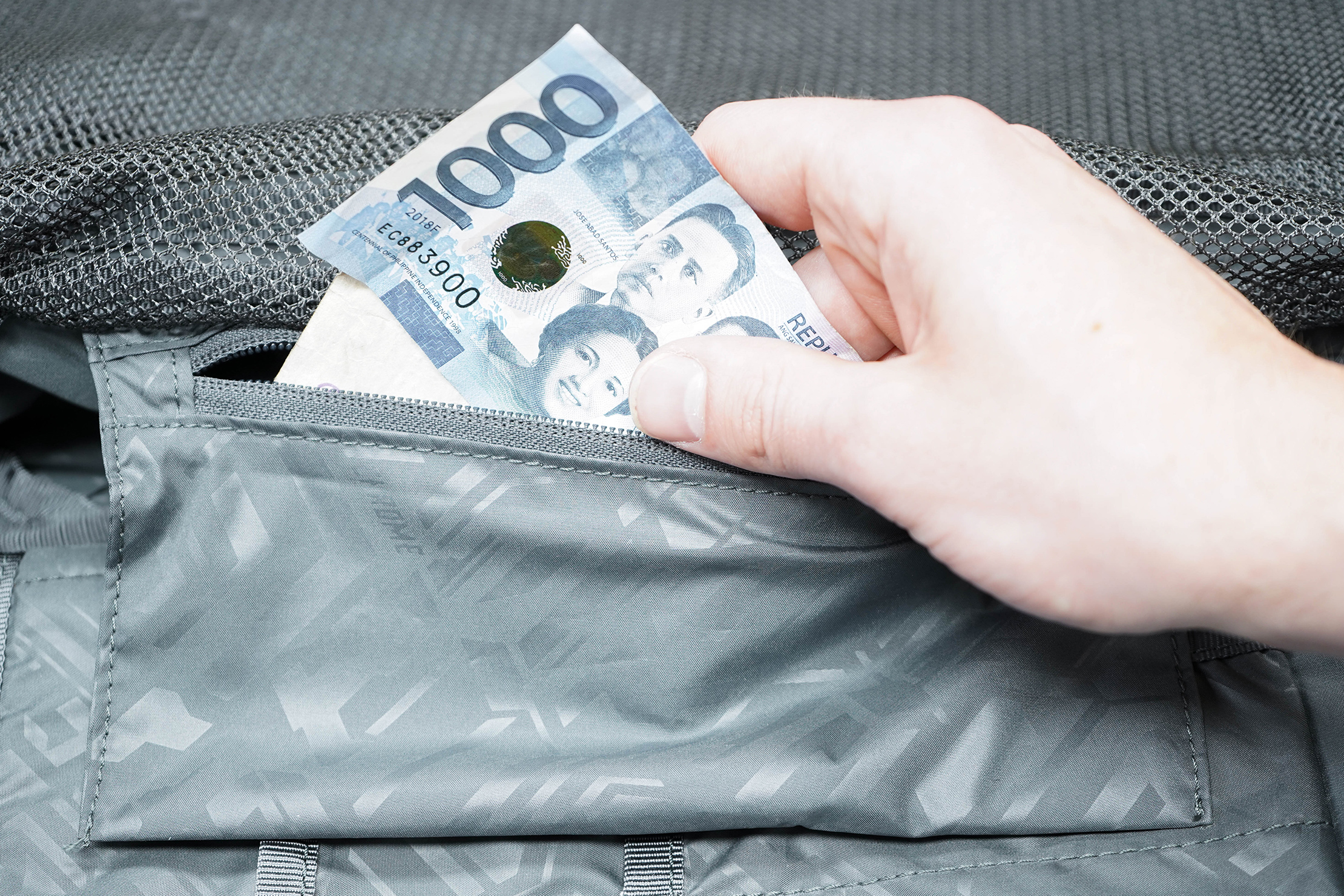 Testing & Durability
At the time of this review, we've been testing the Chrome Summoner for three weeks in Detroit, Michigan. We've found it provides a comfortable carry and a slick wearing experience, but some of the usability features fall flat.

When it comes to the bag's access points, they seem great in concept but present some difficulties in practice. Even though there's separate zippered access at the front of the pack and towards the wearer's back for the laptop panel, for example, we often found ourselves completely opening the bag just to get a good look at what's going on inside. That was especially the case when the rear compartment was pretty full.
Intuitively, we wanted to use the main zippered compartment as a giant bucket-style carry—but, as we mentioned above, that's just not ideal for this pack because of the extra fabric you'd have flapping around.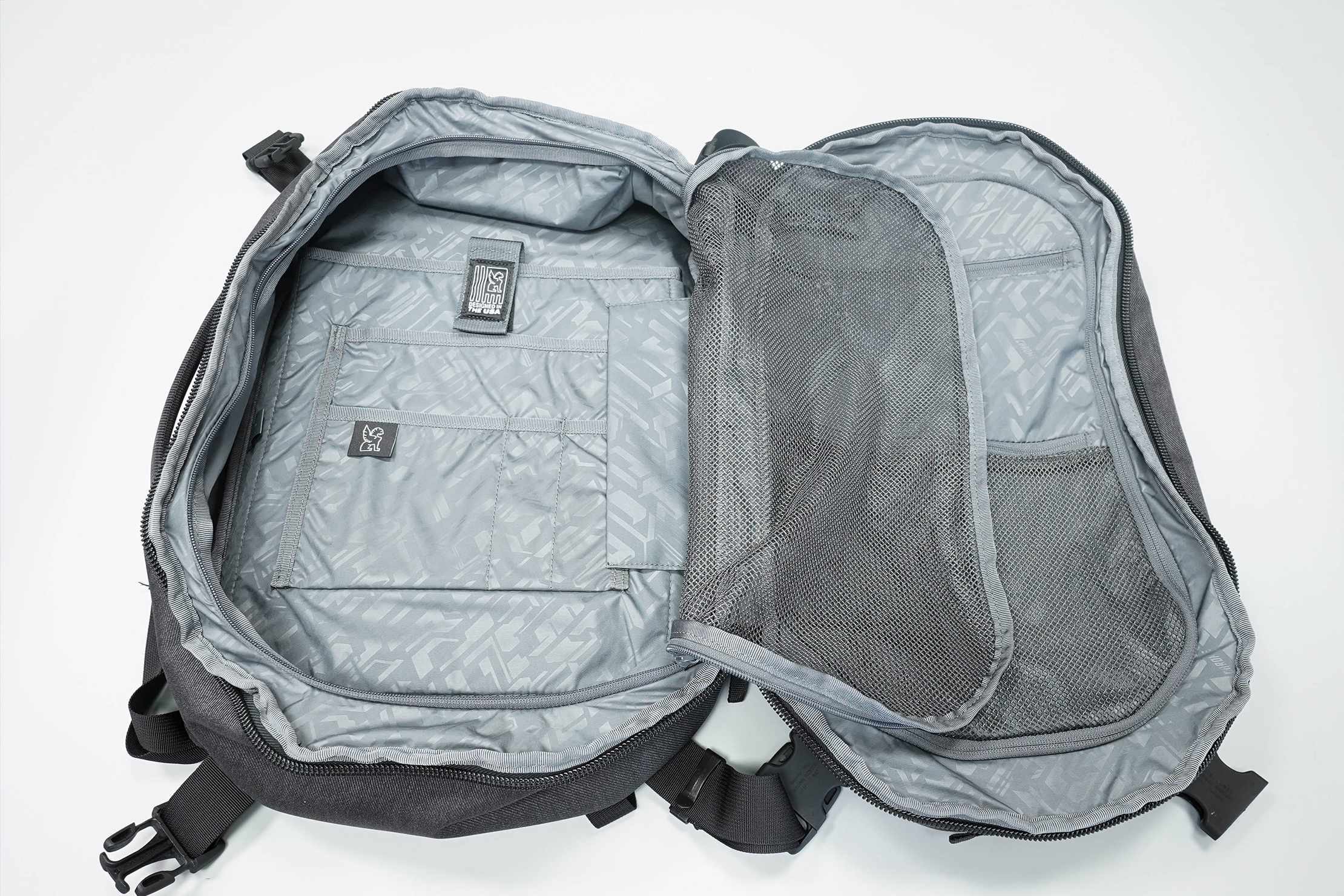 As a travel backpack, the Chrome Summoner is great for holding everything in securely. But once you get to your destination and unload your packing cubes, using this as a daily driver can be cumbersome due to the dangling compression straps and the accessibility concerns mentioned above.
When it comes to durability, though, we're satisfied with how the Chrome Summoner is holding up. We've only noticed a couple of minor frayed fabrics and we expect that it will keep holding up well as we continue testing it.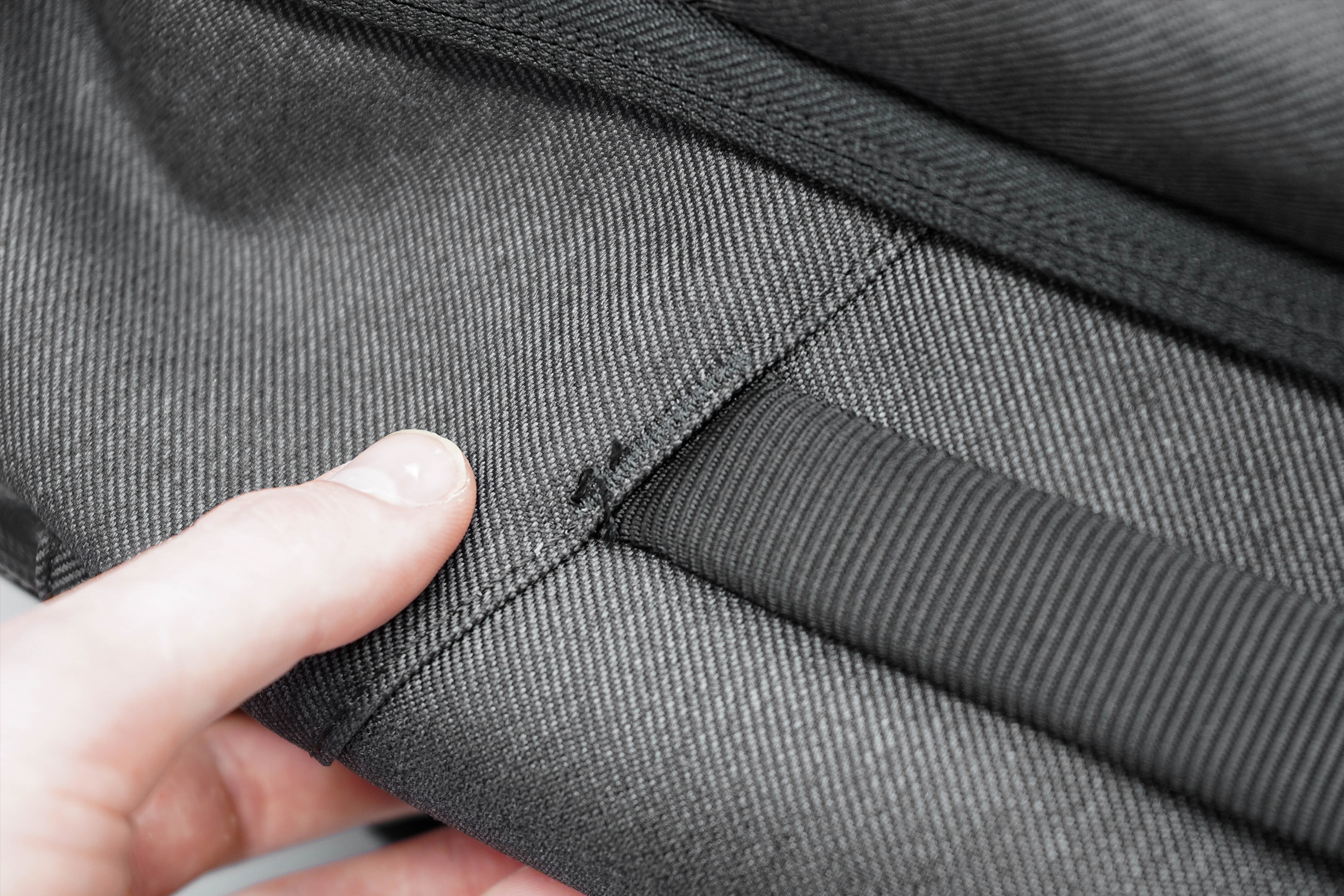 And from a brand perspective, we're confident in Chrome's reputation for durability and quality.
Usage Timeline
Initial Usage
Condition: Excellent
Digging the rubbery feel of the Duraflex Stealth Buckles.
Zipper pulls are large & pullable.
The ability to access the main compartment from the front of the pack is great.
2 Weeks of Use
Condition: Excellent
Comfortable to wear and the heathered gray definitely hides dust and dirt.
Access the Pro Community Discussion
Get your questions about the Chrome Industries Summoner Backpack answered from our team and the Pro Community right here on the page. Plus, join discussions with other members about gear, guides, and more.
Other Bags & Luggage Reviews