Brevitē Rolltop Camera Backpack Review
Sleek, stylish and organized, the Brevitē Rolltop Camera Backpack offers versatility for the casual photographer. However, if you're looking for quick access to your gear, this may not be the pack for you.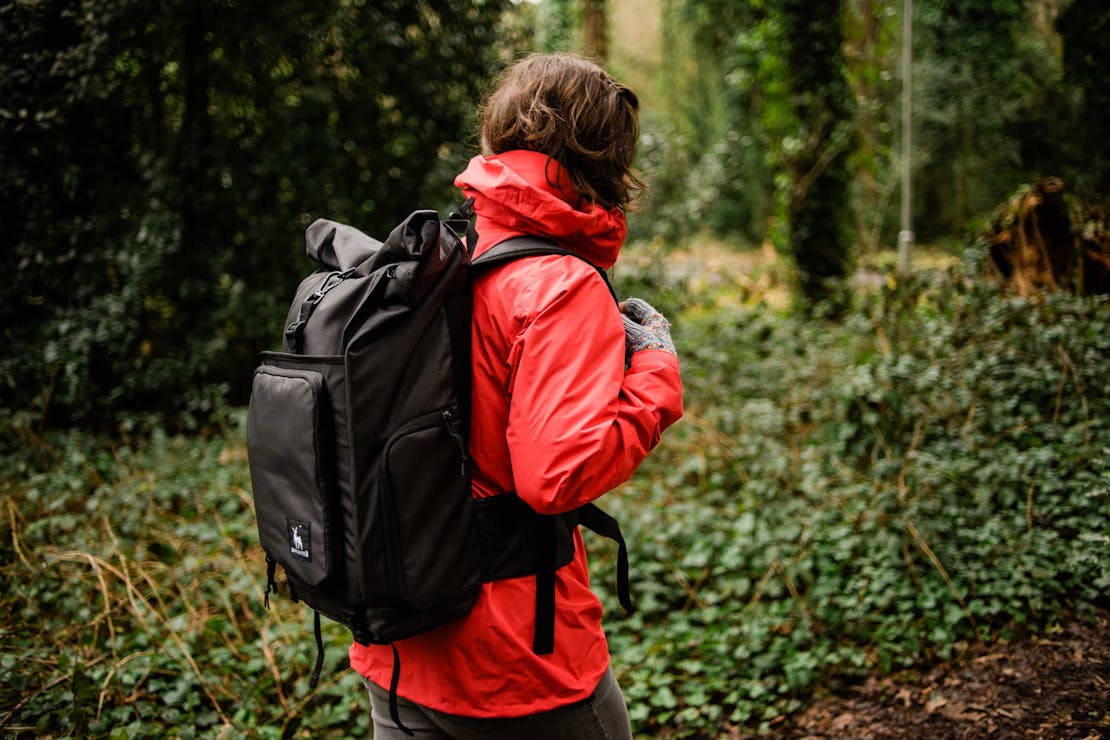 Our Verdict
Unlock the Pro Summary
Save time. Get access to brief summaries of our reviews so you can browse and make decisions more efficiently.
Pros
Organization. This is something that many camera bags lack, but the Brevitē has in spades.
Removeable camera cube makes this backpack more versatile for days when you just want a backpack.
Comfortable padding on the backpack is great for carrying heavy gear.
Cons
Laptop sleeve is a bit buried and makes it hard to retrieve your laptop for security checkpoints and a 15" laptop is a really tight squeeze.
Closure on the roll-top is flimsy and a bit of a pain to lock down.
Camera cube does not lock in place, which makes it awkward to get the camera out quickly.
Technical Details
Capacity

21.5l

Expands to 25L

Weight (lb)

3 lb (1.4 kg)

Dimensions

20 in x 13 in x 6 in (50.8 x 33 x 15.2 cm)

Notable Materials

YKK Zippers, Polyester

Manufacturing Country

China

Laptop Compartment Size

15"
Full Review
Let's get this part out of the way: Brevitē is pronounced Brev-i-tee as in Brevity (which means concise or exact, precisely what their inspiration is for all of their designs). Not Brev-i-tay. Brevitē is an American backpack company created by three brothers. While in college, one of the brothers became frustrated with the lack of a backpack that worked well for both a student and a photographer, so they came up with a design that would fill that hole.

Brevitē now offers 5 different backpacks in a variety of sizes, but the formula is the same. A modular design that means you can use the backpack for everyday purposes or as your camera backpack. The backpacks are designed for multiple purposes, so they are perfect as a travel companion or daypack, but may not be your best bet as a professional photographer looking to take all of your gear to a shoot.
The Brevitē Rolltop is their largest backpack. With 22.5L-25L capacity this bag can easily become your weekend workhorse, or if you're a great minimalist it can work as your closet on the road.
Materials & Aesthetic
This backpack has a real adventurous look to it—the roll-top design makes it stand out as a bag that is ready for anything. It is a slimmer backpack, with extra material at the top so you can cinch it down when you don't need the extra space or expand it when you inevitably fall in love with that Icelandic hand-knit sweater.

The backpack can range in capacity from 22.5L – 25L with the extending top. This may seem like not quite enough space for most one-bag travelers, but if you're clever about how you pack you can easily live out of this thing for an extended period of time. It's dimensions are 20" x 13" x 6", which means it fits on most airplanes as a carry-on. You shouldn't have any difficulties tucking this in the overhead compartment.
Made with "Grand Prix Poly"—a glorified name for 100% polyester—this bag is water resistant but not waterproof. The polyester has a bit of a sheen to it—almost a monochromatic checkered pattern—and is silky to the touch, which will help the rain to bead off a little bit. Brevitē does offer a rain cover in a bottom compartment of the bag to give you that added protection, which is a nice touch.
External Components
With Brevitē's desire to create the perfect pack for a photographer, there is no shortage of straps on the outside of this pack. Two adjustable straps on the bottom of the backpack are ideal for clipping a tripod to the outside of your pack. This may not be the most comfortable way to carry a tripod with you, as it will bump against your butt a little as you move, but it sure beats holding it in your hands.
There are two compression straps on the side of the backpack that has the water bottle pocket. This leaves the bag feeling a little lopsided when you cinch them, but it does give you another way to carry a tripod. Using the water bottle pocket, you can tuck a small tripod in and then use the compression straps to really secure it to the side of your bag.

The cinch strap for the roll-top is adjustable and uses a thin metal locking carabiner. When you adjust the strap, it stays firmly in place, however the carabiner does feel a little flimsy and the locking mechanism is a little on the clumsy side. (And unfortunately, you cannot replace the carabiner without cutting the strap altogether!) Plus, the small size isn't spectacular for large fingers. There are also four long thin magnets found in the top of the roll-top in order to keep it closed before you roll it down. Unfortunately, they don't line up perfectly so it doesn't quite do the trick. Bit of a swing and a miss here.

The shoulder straps are comfortably padded and have a couple extra features to keep you organized. It comes with a lens cap clip so you don't have to tuck that into your pocket and hope you don't lose it along the way. It also has two plastic D rings, which come in handy when you need to clip a set of keys or any additional gear to your bag.
The sternum straps are adjustable for your comfort as well. The hip belt is adjustable and padded for extra comfort, but also features a pocket on either side for more storage. We'll go into that more later.
And finally, the back of the backpack features thick padding in key areas to keep you comfortable when you're carrying a heavy load. The center section is not padded, in order to promote airflow and to take some of the pressure off of your spine. It doesn't breathe as well as you may like on a hot day, especially as it's a black bag, but it's better than having the whole bag sucked to your back. The padding itself is thick and soft, which kept our tester comfortable even at the end of a long day with a full pack.

Inside the Pack
This is where this backpack really shines. Most camera backpacks leave out organizational systems for your everyday purposes and focus just on giving you some extra space for a change of clothes or some snacks. The owners of Brevite really wanted this bag to double as a bookbag for school so they spent some extra time designing space for the types of items you'd need when you head off to class. Let's start on the outside and work our way in.
On the very outside there is a zippered pocket on the bottom half of the backpack. This zips on all three sides and the flap opens downward. Inside you will find two zippered pockets running the width of the pocket and half the length; one mesh, the other solid. There are three velcro square pockets, which are perfect for keeping any loose wires you need to bring with you. Six mesh pockets with elastic tops for you to keep either small batteries or memory cards. Multiple pen or pencil pockets, and a daisy-chain of elastic sewn into the pocket for… who knows what, but you can probably come up with a use or just enjoy slapping the elastic back when you're bored. There's also a clip for your keys so you don't need to worry about them jangling loosely in your bag.

This section feels very much like a well thought-out book bag, rather than a camera backpack. But it is incredibly useful for all the chargers, SD cards, and various other knick-knacks you'll inevitably need to carry with you on your photography-related journeys.
Just above this pocket, there's another zippered pocket that runs the width of the bag. It opens on either side and is just the right size for a small moleskin notebook or paperback novel. Not entirely sure why it needs to open on both sides, but if you're looking for a tug-o-war for that notebook with a friend, you can make that happen. It does provide easier access, but it's nothing life-changing.

Once you enter the roll-top part of the backpack you will discover a laptop sleeve. It's perfectly situated against your back, with thick padding on the outside and light padding on the inside. There's also an elastic strap with velcro to keep it in place, which is a nice feature. This should fit up to a 15" laptop, but we must warn you; it is quite a tight fit and you won't be able to fit a laptop with a case in there.
The two pockets found on the hip belt are thickly padded on the inside portion of the belt, but not on the outside. There's a mesh pocket inside each of these with elastic at the top—we've found them to be perfect for keeping batteries or memory cards accessible. This is a welcome addition to a camera backpack, as it's usually a sticking point when you're out and about and find yourself running out of power but not running out of things to shoot.

As with any good camera bag, there is a camera cube. Similar to the F-Stop ICU that we've tested (and enjoyed thoroughly), this camera cube is a heavily padded, self-contained bag that is 11" x 12" x 5" in size and has a hand strap for when you need to remove it and carry it on its own. It can be completely customized to fit everything you want to take with you and all of the velcro sections are heavily padded to protect your most precious camera gear. The cube opens on four sides, two of which match the actual backpack openings so you can access your camera on the go.

In order to customize this backpack into a camera bag—rather than just a backpack—there's a divider inside the main compartment that can be zipped up to separate the top and the bottom. This doesn't have to be set up just to use the camera cube, you can also just separate the sections to keep things better organized.
Now we get to the Pièce de résistance – the camera cube. This is really what takes this bag from average backpack to camera backpack. The book bag pocket on the front clips down, but when it's unclipped it reveals another zippered pocket, which leads to the camera cube. It sounds like a labrynth, but it's easy to navigate.

Durability & Testing
We've had the Brevitē roll-top for 6 months now and have taken it on multiple trips. The very first trip being a month long photography trip to the UK in which it was used as the main bag. The original intent was to travel with it as the only bag, but it doesn't quite fit all of the gear needed for a professional photography trip. This little hiccup was cause for immediate frustration, but not a deal breaker.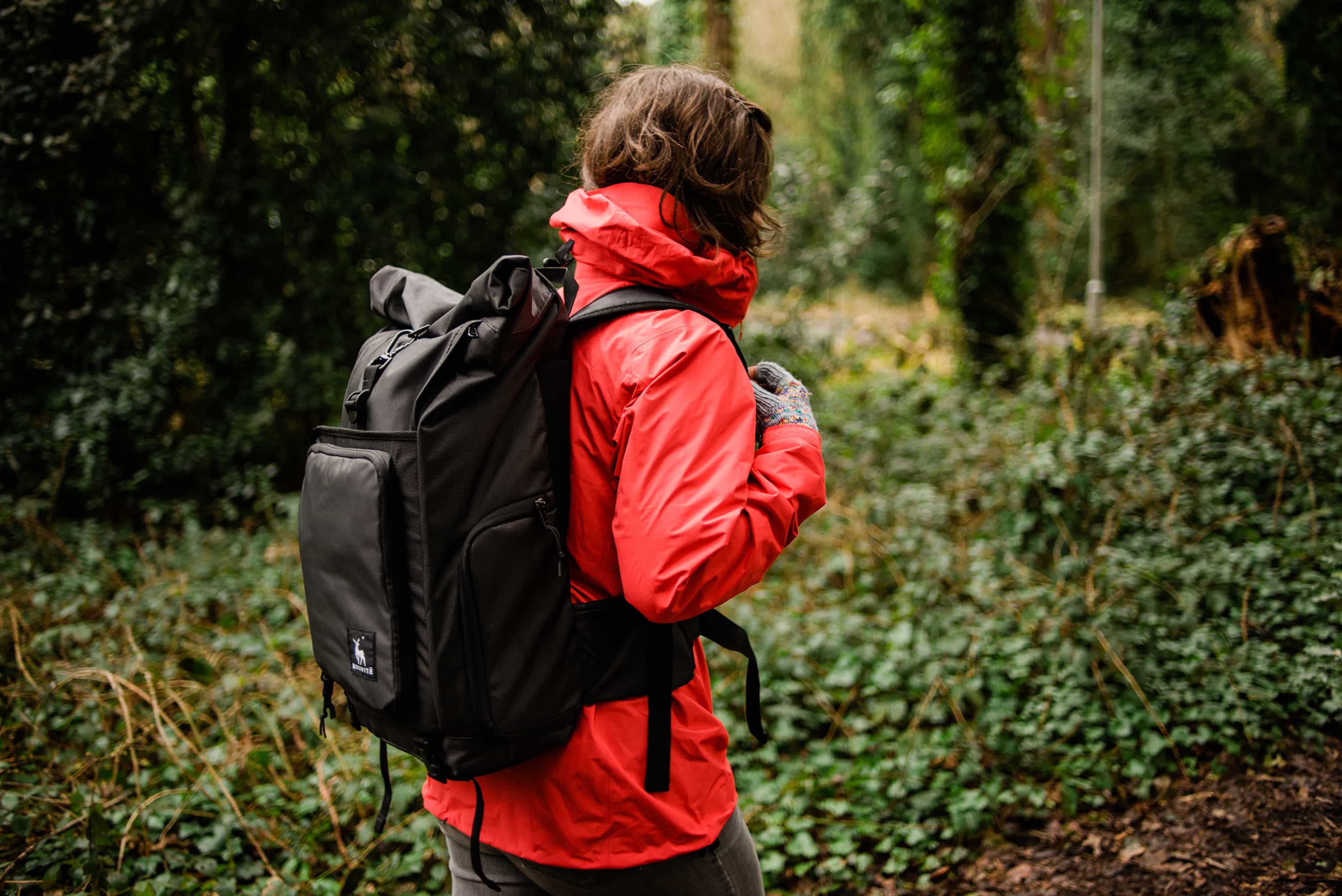 The next roadblock we ran into was the laptop sleeve. It is situated so deep inside the backpack that if you have a laptop tucked inside with all of your belongings in the bag… good luck getting this out for security at the airport. Be prepared to empty almost your entire bag, including your dirty laundry and/or that romance novel you don't want anyone to know you're reading, to get access to it. It also just barely fit an Asus 15" laptop, with quite a bit of squeezing involved.
After a full month on the road, the bag shows no sign of wear. We're not going to lie, this was a bit surprising, as some of the materials feel a little flimsy. Most notably, the carabiner—we half expected this to fail on the trip. While it didn't fail, it was a bit of a pain to open and close, especially when trying to utilize the 25 liter capacity. This still feels like a part of the bag that will eventually either break or fail to open when you need it to.

We can say the rain cover is a great addition—it came in handy multiple times during a month long trek in the UK. And while the water resistance of the bag is not spectacular, the cover certainly keeps things dry.

As a daypack, the Brevitē Rolltop does the trick and then some. It's comfortable and organized so you can literally go from shooting in the field to hitting up a coffee shop to get some work done with no hiccups. It adjusts nicely to balance out the weight of what you're carrying.

The camera cube is one of the best we've come across. The heavy padding and multiple access points keep this versatile not just in the backpack, but on it's own as well. The same cube can be used in any of the Brevitē backpacks. The only issue we've come across is the access points when combined with the backpack. The size and shape sync up, but you can't link them so you're only opening one access point. You have to fumble with both to get to your camera. This becomes tedious pretty quickly.

The extra padding on the back was really useful when carrying around a ton of camera gear for a full month. It didn't provide a ton of airflow, so it still got a little sweaty on long days, but not nearly as bad as some other backpacks.
Usage Timeline
Initial Usage
Condition: Excellent
Not thrilled about the laptop sleeve, but fits a surprising amount and offers tons of customizations.
3 Months of Use
Condition: Good
Frustrated with the laptop sleeve and the access to the camera.
6 Months of Use
Condition: Good
No signs of wear or tear.
Access the Pro Community Discussion
Get your questions about the Brevitē Rolltop Camera Backpack answered from our team and the Pro Community right here on the page. Plus, join discussions with other members about gear, guides, and more.
Other Bags & Luggage Reviews