Bluffworks Departure Travel Jeans Review
If you want to travel with jeans, the Bluffworks Departure Travel jeans are a great choice with a comfortable fit, classy aesthetic, and secret pockets.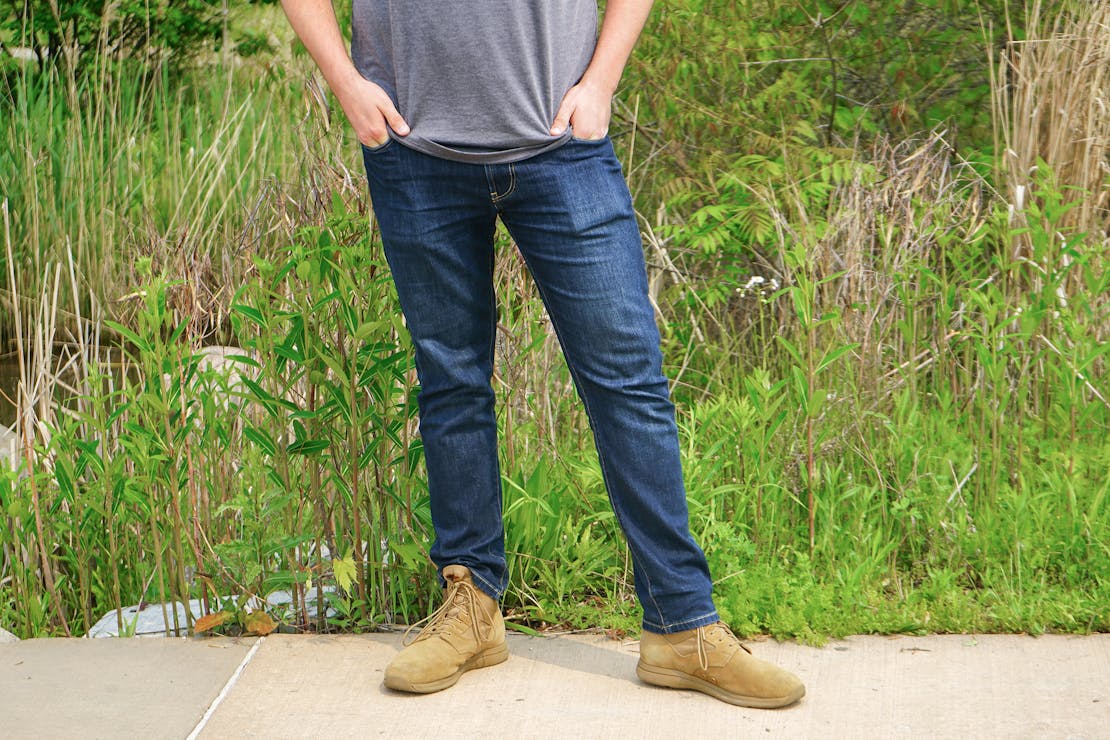 Our Verdict
Unlock the Pro Summary
Save time. Get access to brief summaries of our reviews so you can browse and make decisions more efficiently.
Pros
Fit and feel nice
Lighter, more breathable, and stretchier than regular jeans
The two zippered, secret pockets offer great security
Cons
Only available in one color
Being jeans, they're not as packable, lightweight, or high-tech as some other travel pants on the market
Color may fade or transfer in the wash
Technical Details
Weight (lb)

1.2 lb (0.5 kg)

Notable Materials

Cotton, Polyester, Rayon, Spandex

Manufacturing Country

China

Warranty Information
Full Review
Get up to 10% off Bluffworks • Join Pack Hacker Pro
Jeans tend to be a staple in most people's wardrobe. They can be casual or professional (to an extent), they go with basically everything, they don't need to be washed frequently, and—well, who are we kidding…you know why you love jeans.
Unfortunately, they're not ideal for travel. They're bulky, heavy, and decidedly not sweat-wicking.
Enter Bluffworks, a men's clothing company that specializes in products you can "wear every day, whether you're climbing mountains or the corporate ladder"—also known as professional travel clothing. Bluffworks has been growing rapidly since its inception on Kickstarter a few years back and seems to be offering new products all the time.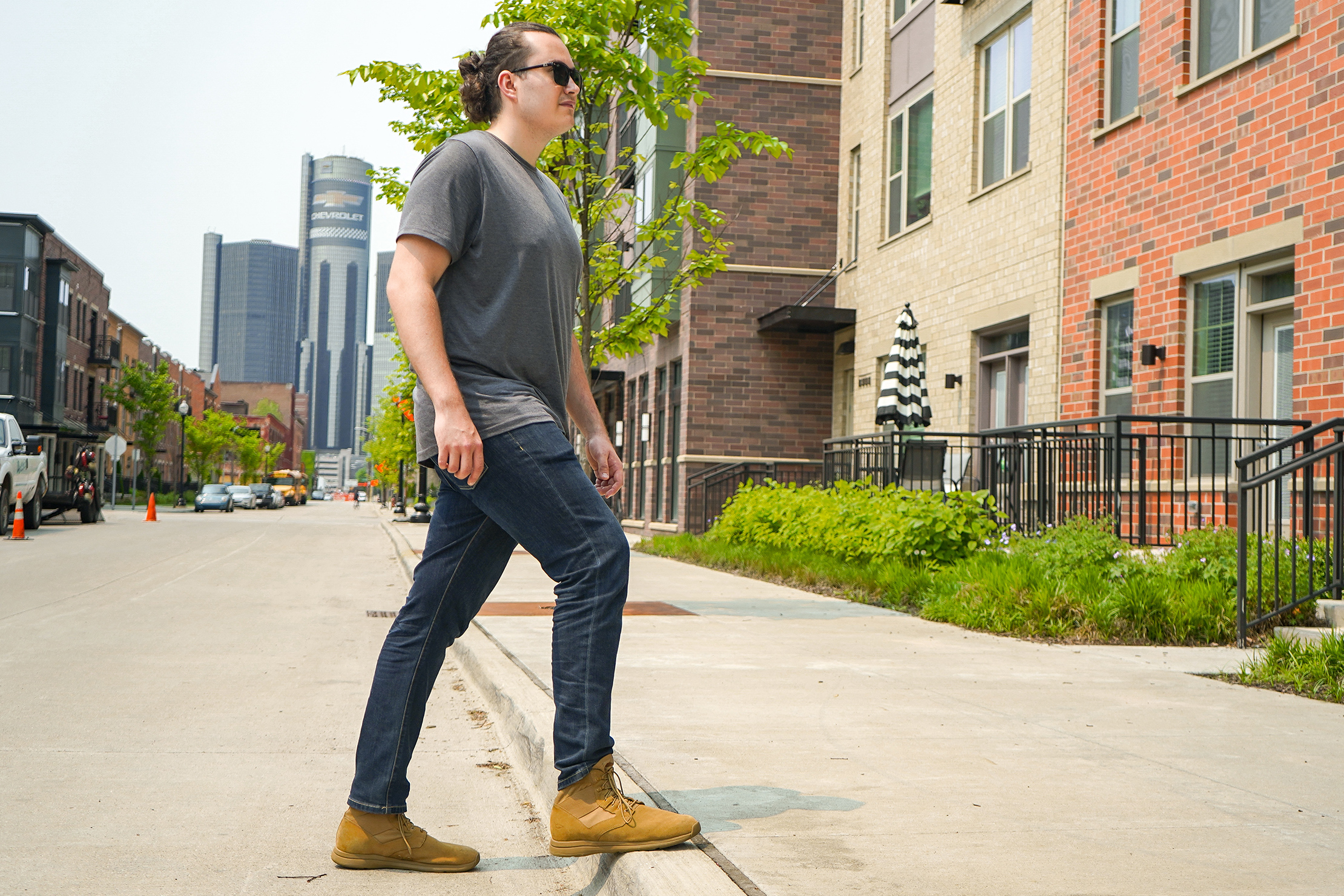 One of their latest is the Departure Travel Jeans, which are jeans suited for traversing the globe.
Now, let's get one thing straight—these jeans are still jeans and won't be as packable, lightweight, or breathable as some other styles of travel pants. But they've still got some great travel features—let's check them out.
Features & Usage
We've been testing the Bluffworks Departure Jeans for about two months now and have been really digging them. They just look like a slick pair of jeans, which we think is a pretty universally-liked look.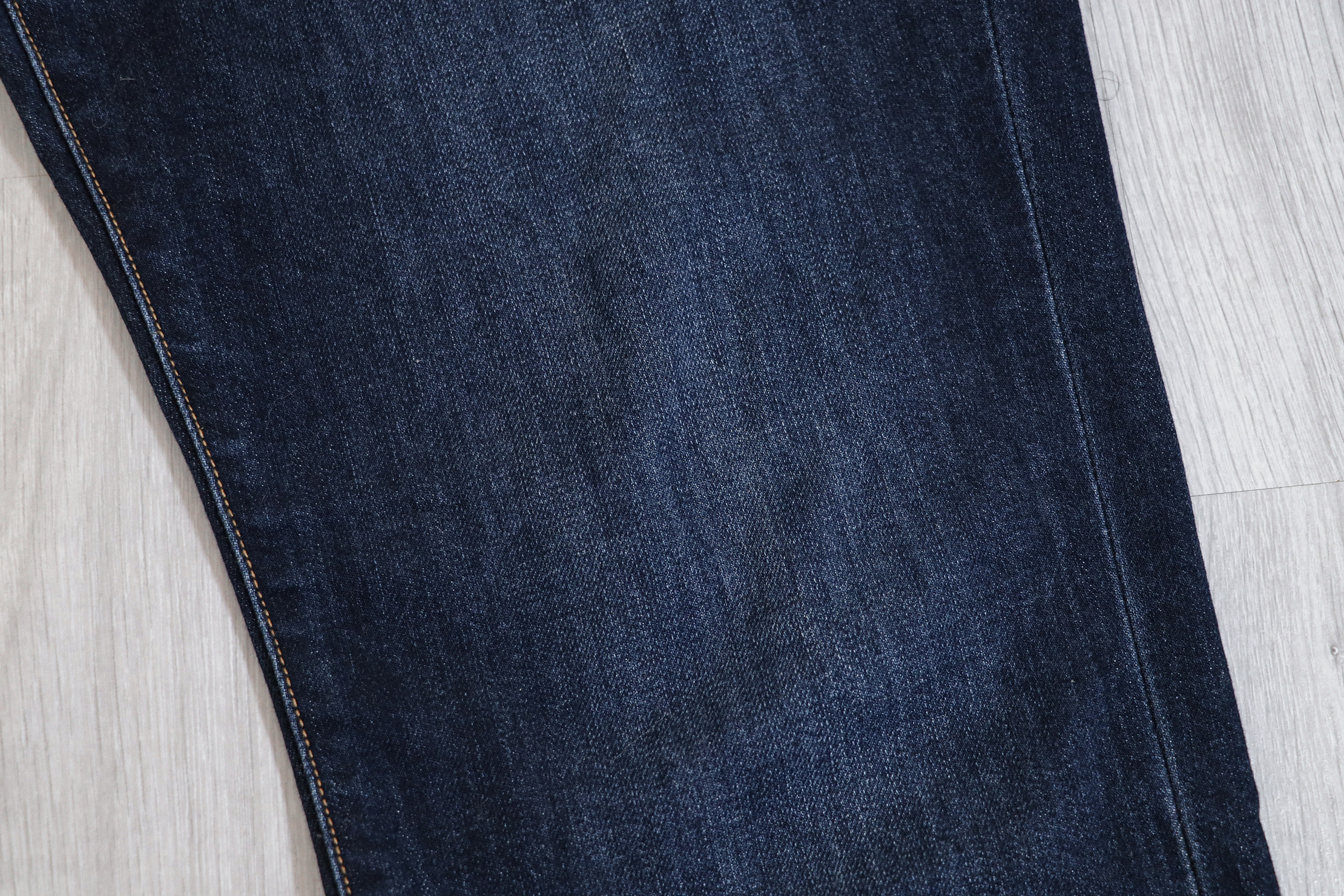 As of this review, the pants are available in two fits—regular and slim—and only one color. The color, referred to as "medium wash" on Bluffworks' website, reminds us of traditional denim of yesteryear, and we're into it. Who doesn't like that classic jeans look?
But with jeans, it's all about the fit. And these fit exceptionally well.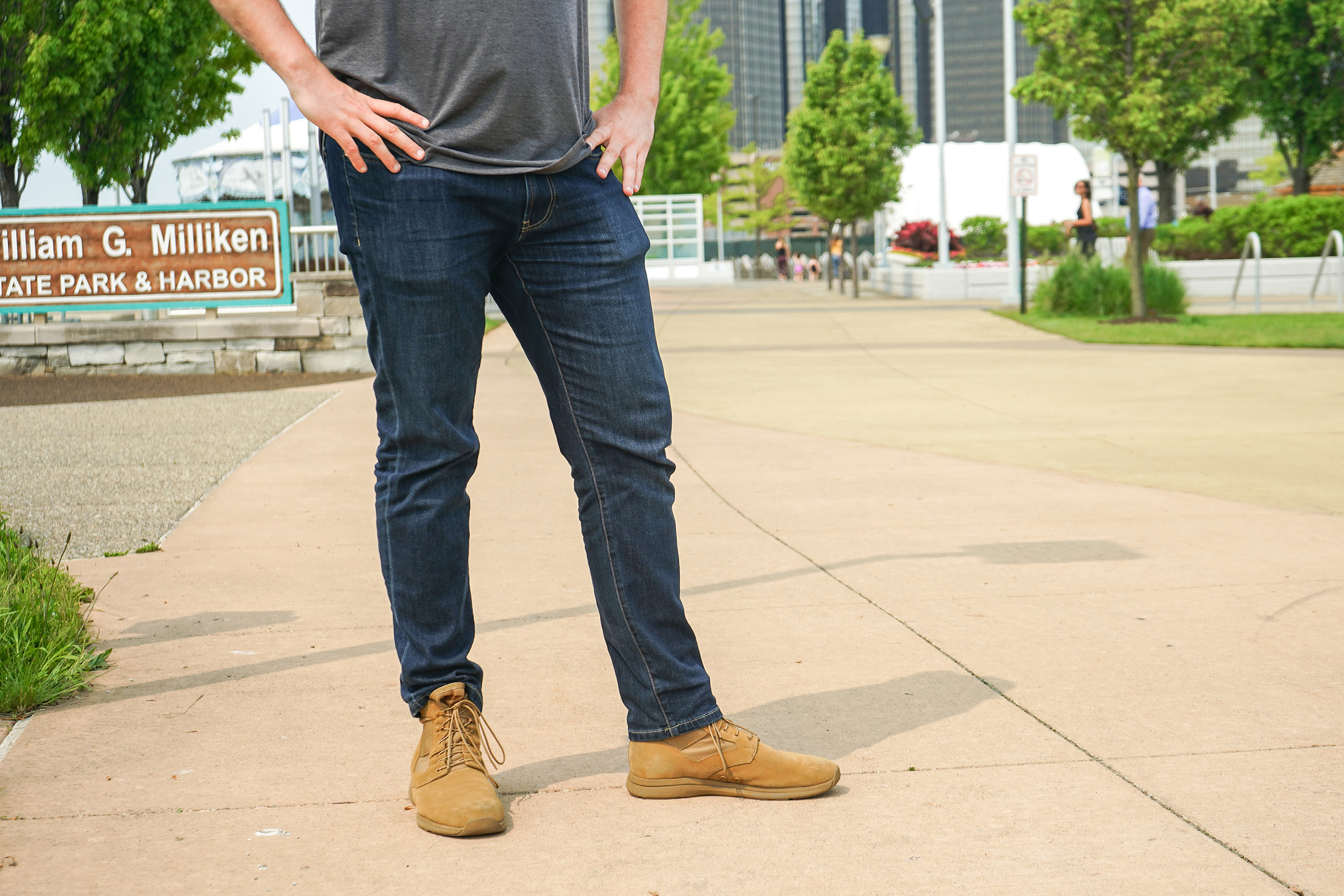 We've been testing the slim fit, which hugs the body a bit more snuggly than the regular but isn't as tight as a pair of skinny jeans. We don't like to wear anything too form-fitting while traveling, but we don't want to be drowning in fabric either, so this is a huge plus in our books.
Better yet, the jeans are available in a wide variety of sizes. Unlike some other clothing companies, Bluffworks' waist sizes ascend one number at a time. So if you're usually between sizes, you're in luck. Additionally, Bluffworks offers a sizing guide on their website, explaining how to take your measurements, and if you follow the process correctly, you'll end up with a pair of jeans that fit like they were made for you.
There's nothing wild going on as far as styling goes, which is ideal for travel since you 1) generally don't want to call attention to yourself and 2) want every item in your wardrobe to go with every item in your wardrobe. Plus, there's just enough detail to make things interesting.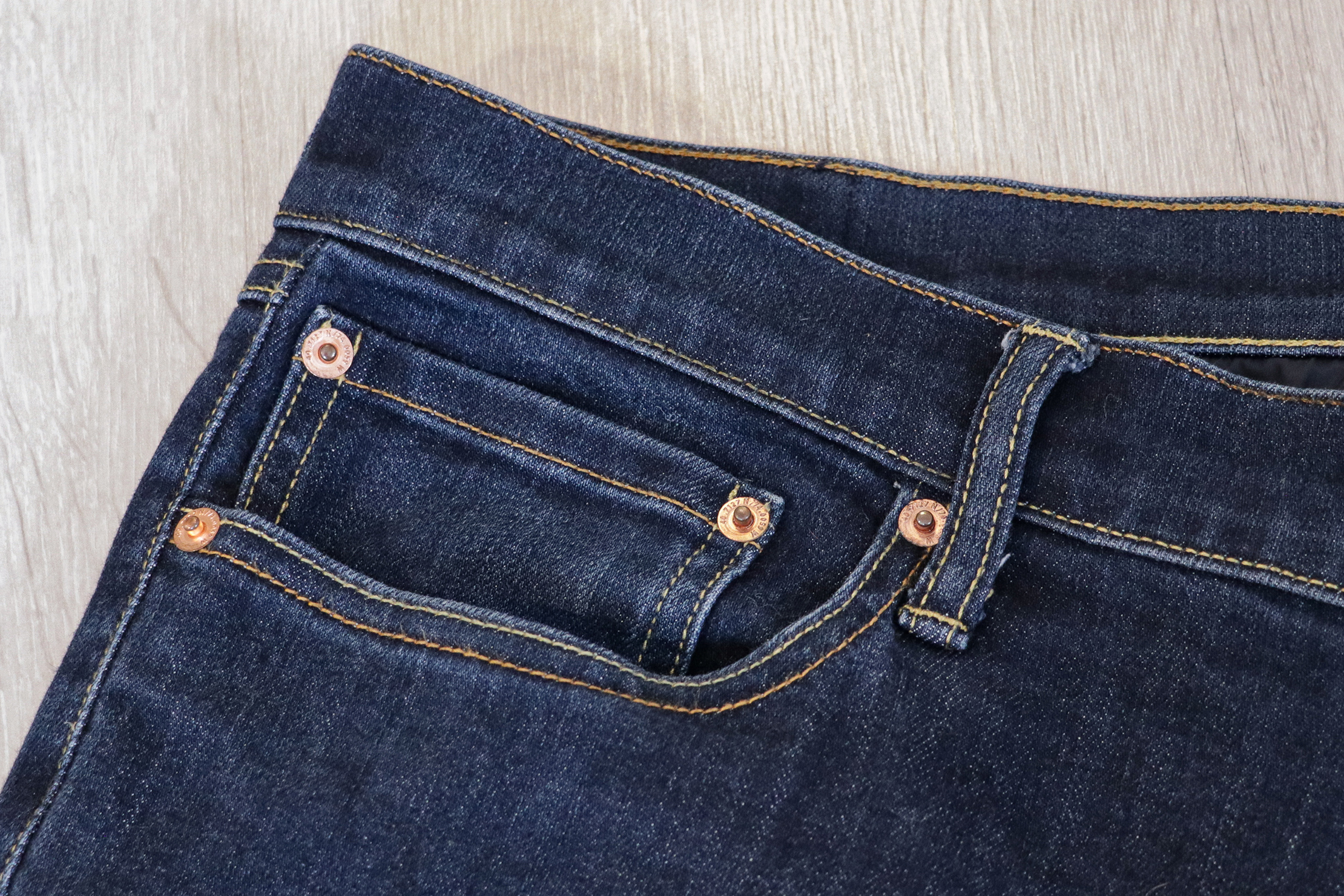 There's a subtle design element in the yellow-orange stitching which is used throughout the pants and the brass rivets along the pockets. There's also a little bit of stitching on the back pockets that isn't super noticeable but helps enhance the overall polished look.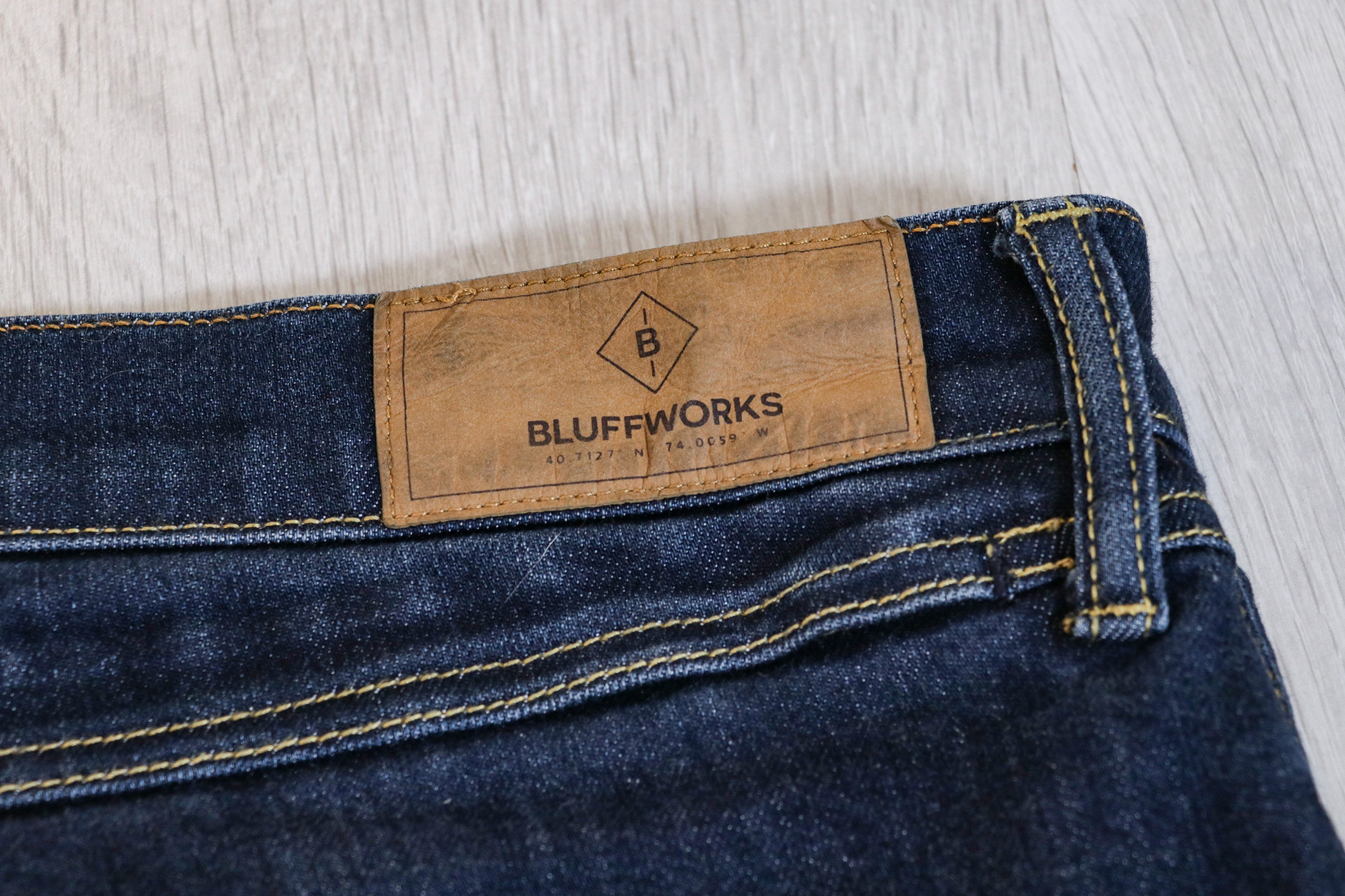 The branding is pretty minimal as well. You'll find their logo on a leather tag on the back waistband and stamped on the front button—and that's it.
Now, let's jump into the reason these are travel jeans—we've got features on features, people.
First up, the fabric. They're mostly cotton but also fused with COOLMAX Polyester, rayon, and spandex. If you're anything like us, your smart-consumer senses are tingling at the phrase "COOLMAX Polyester." It sounds like a word the marketing folks at Bluffworks invented to make regular polyester sound fancier.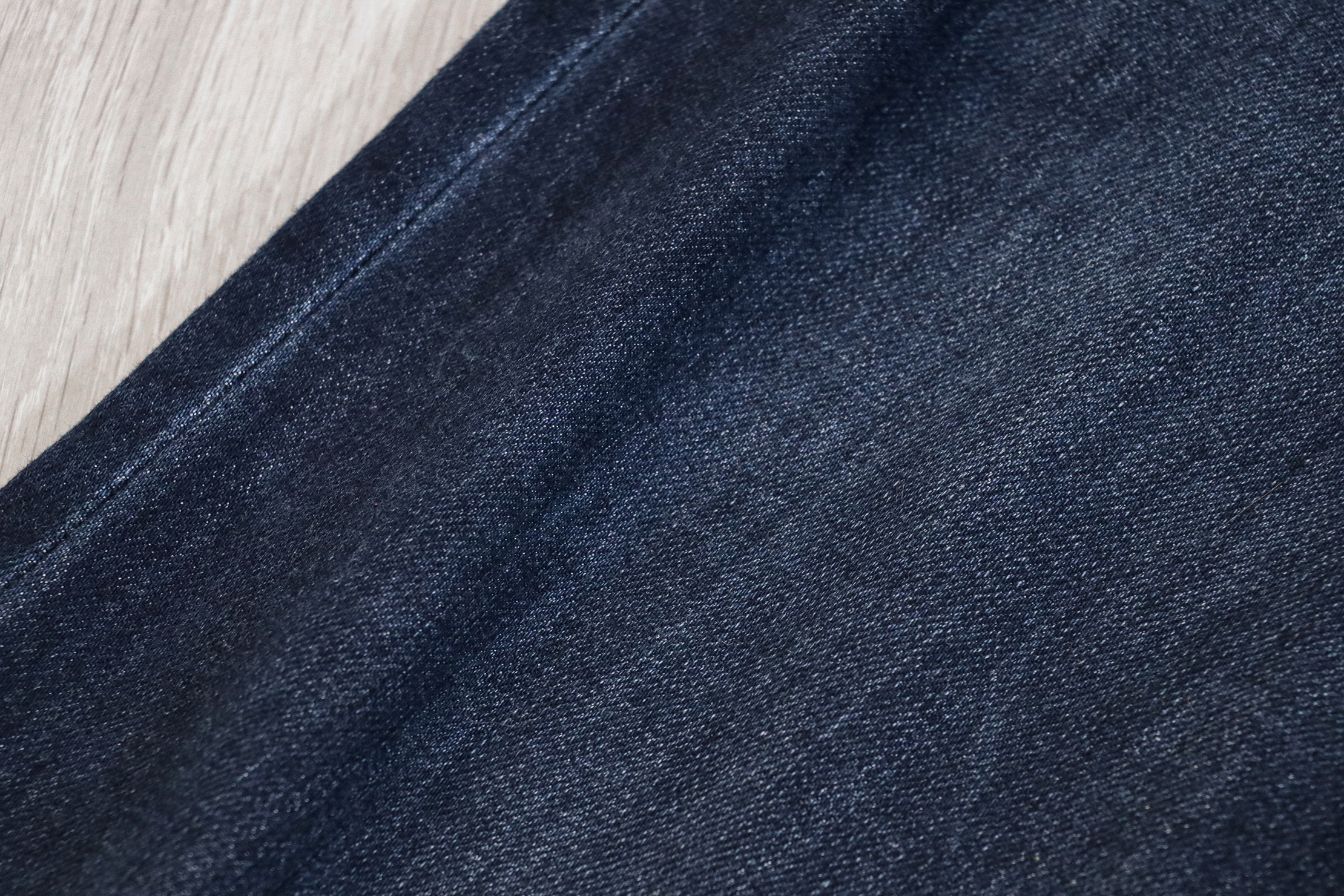 But it's actually a real thing! It's a brand name for a series of polyester fabrics that are moisture-wicking and breathable. We'll take it. Since the jeans aren't 100% COOLMAX polyester, they aren't 100% temperature regulating and moisture-resistant, but we did find them to be better than a regular pair of jeans. We wouldn't want to wear them in the hottest of climates, but they're okay in warmer weather.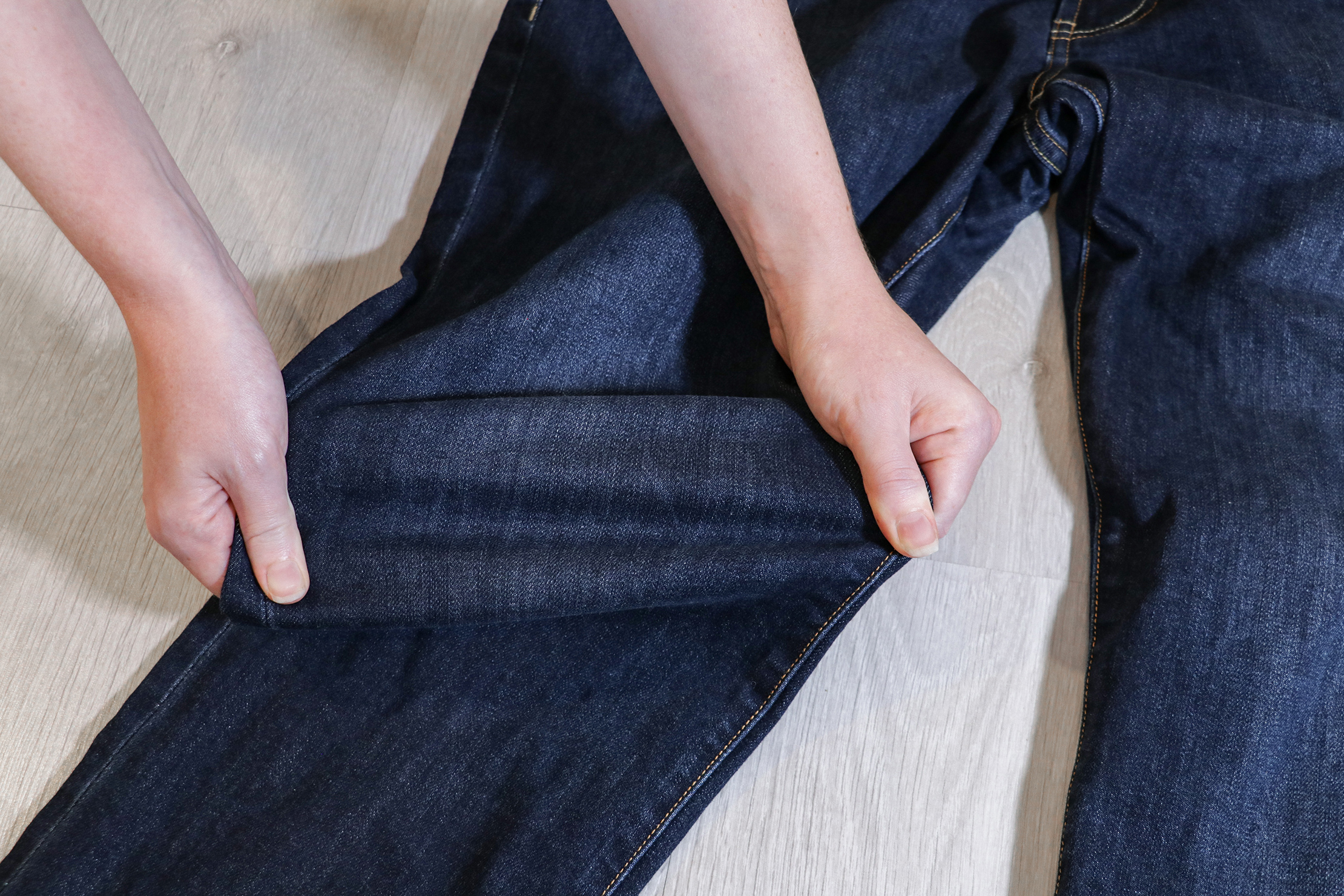 Additionally, the blend gives these pants the perfect amount of stretch for added comfort and flexibility. We've tested stretch jeans in the past and have been disappointed when they start to loosen up, but we've had no problems with the Departure Jeans so far.
Couple that stretch factor with some breathability, and you have yourself a really comfortable pair of pants. These things are super soft right out of the gate and have continued to be throughout testing.
The next feature that makes these pants ideal for travel is the two secret, zippered pockets. We're not kidding when we say secret. The pockets are so discreet, we completely forgot about them for the first two weeks of testing.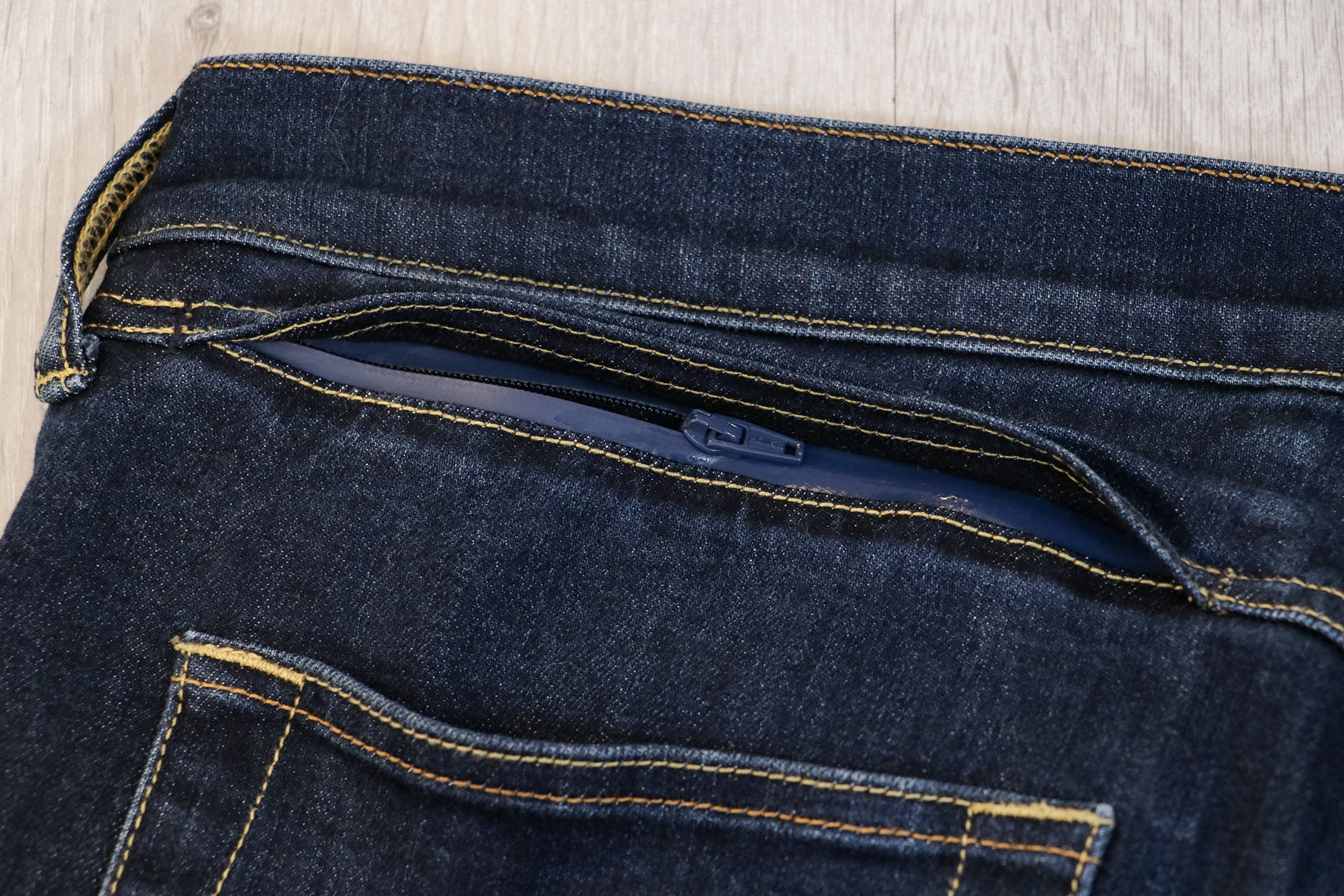 They're hidden in the back yoke—that is the seam below the waistband (who knew?)—on the backside of the pants. These things are straight up invisible when you're wearing the pants. Seriously, no one will know they're there (unless they're familiar with this specific model of jeans or they work at Bluffworks). Even then, they're zippered to offer an additional layer of protection against pickpockets.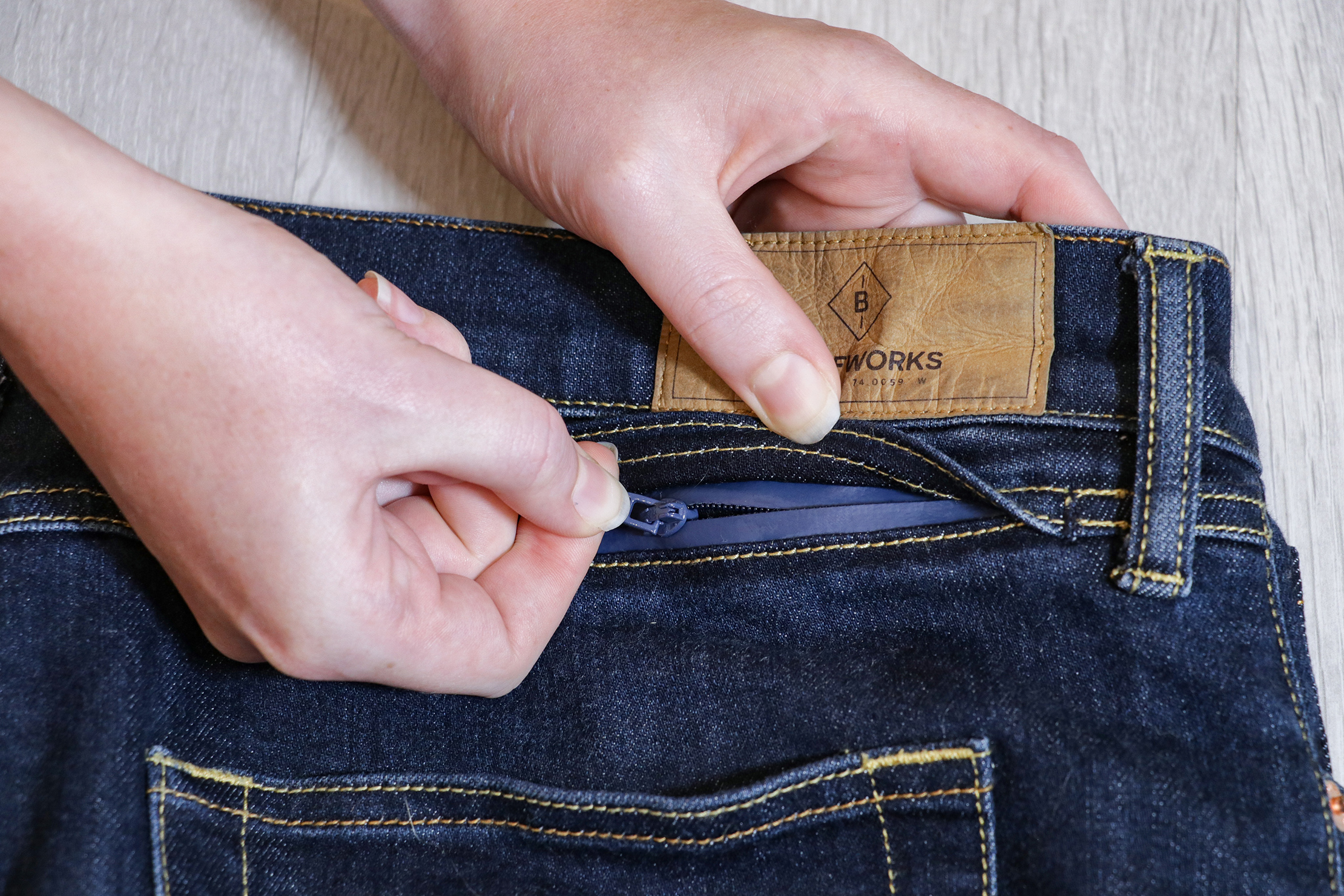 The pockets are deep enough to hold a passport, wallet, other travel documents—even your phone. And the zippers are from the Ideal Fastener Corporation, which are respected zippers in the industry and known to be high quality. They also have a water guard to keep your stuff safe from inclement weather, making it a great place to stash some emergency cash. Plus, the zippers and zipper pulls are small enough to keep the pockets discreet but large enough that getting in and out of them isn't a hassle.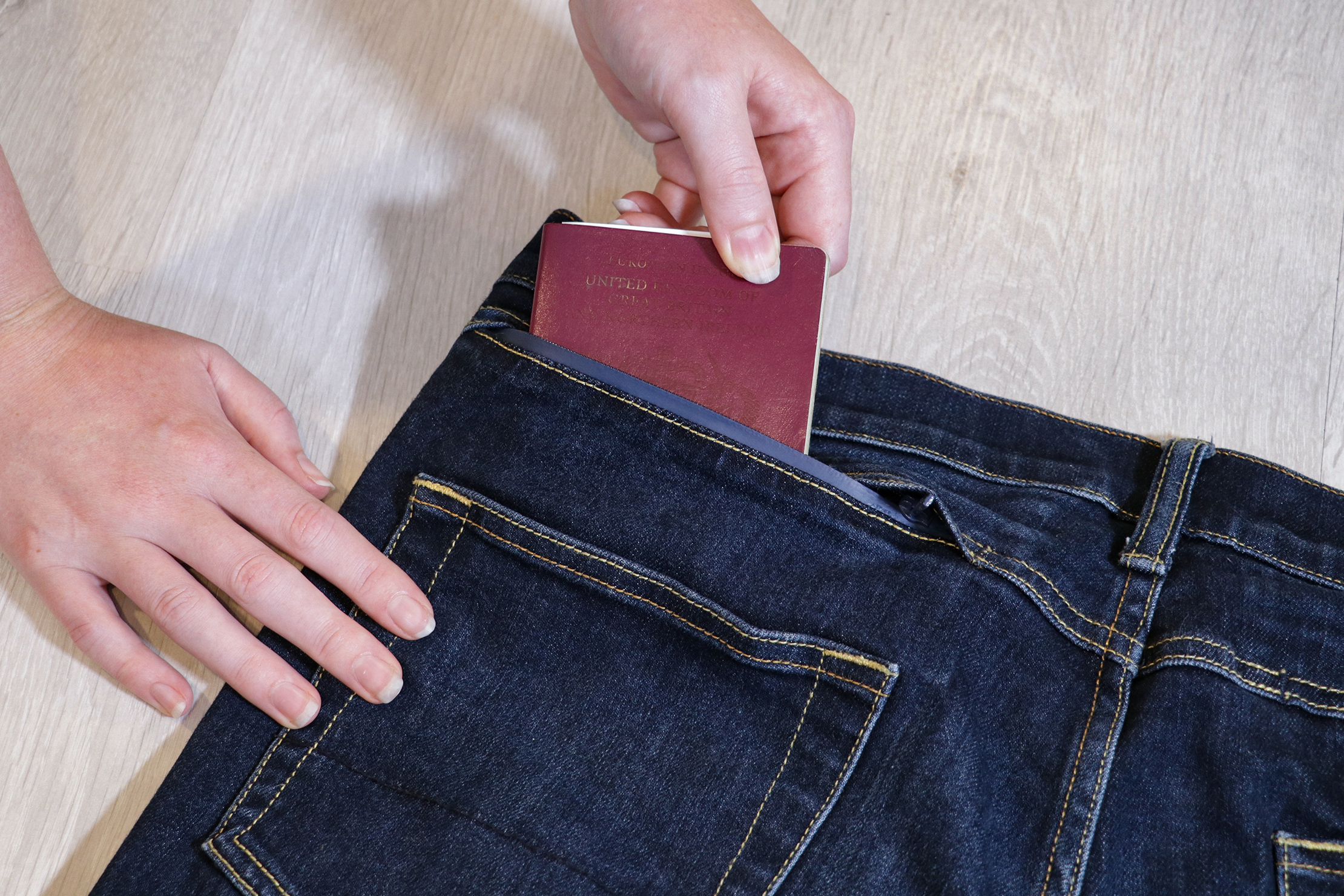 And if you decide not to use the pockets, they won't get in your way. Like us, you may even forget they're there.
There are four other pockets on the jeans, as well. The traditional two in the front and two in the pack. There's nothing super special about these pockets, but they are large enough to store your wallet, keys, those kinds of things.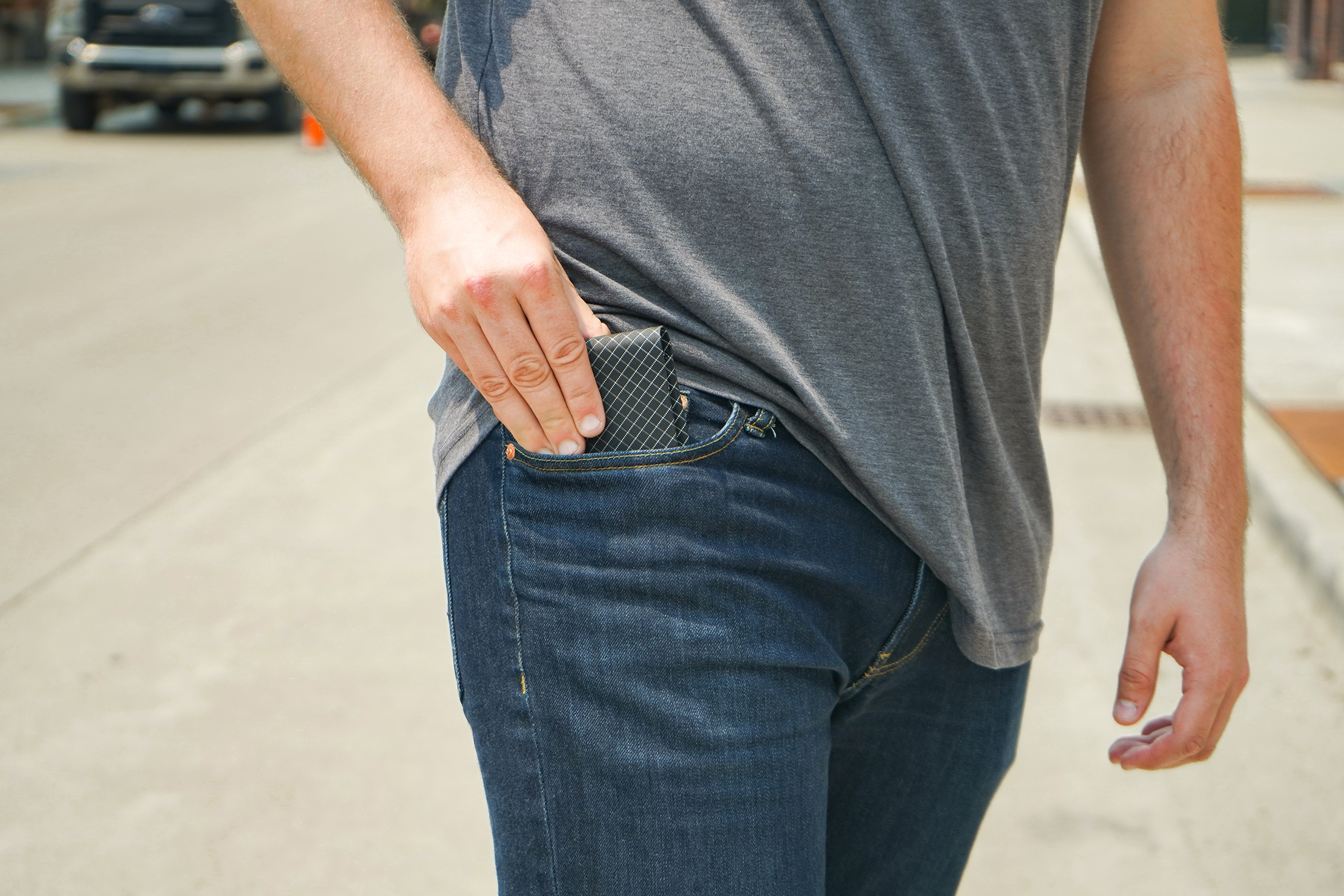 Before we move on, there are a few other little features to note. First of all, they're jeans, so you can wear them multiple times between washes. We've found we can easily go for a few weeks! They're also wrinkle-resistant and dry faster than traditional jeans. We wouldn't say the drying time is speedy, but it isn't horrible.
Finally, these jeans are lighter than your average jeans. Note that we didn't say "light"—they're still jeans, after all. But they clock in at 11 ounces (0.5 kg), which really isn't bad—about 3 ounces lighter than standard denim. And every ounce counts, people!
Durability & Testing
Like we mentioned above, we've been testing the Bluffworks Departure Travel Jeans for two months now and we're proud to report that we've had no issues with durability. The jeans look as new as when we unboxed them.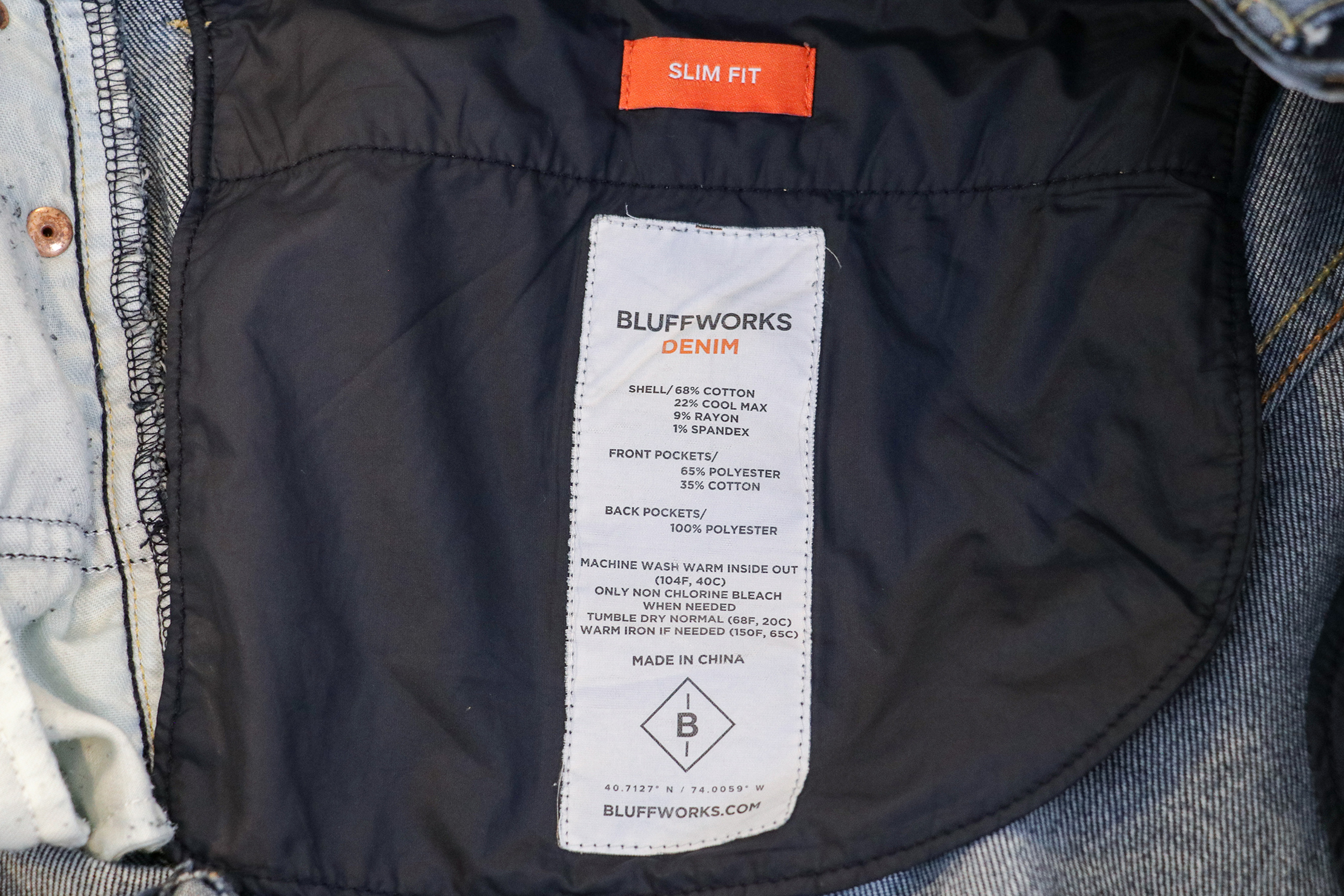 When you get your hands on these jeans, you'll see a warning label on the interior that says they're dyed with natural indigo dyes which will fade over time and could transfer to lighter colored clothing in the wash. To get around the color-transfer problem, Bluffworks suggests washing your pants inside out with like colors. Simple enough.
We've been doing this ourselves and haven't noticed any fading yet, although we'll keep you posted in the usage timeline down below. We've also had no problem with color transfer in general. Sometimes new jeans can rub off on your shoes or shirt. But we've tested them with some white sneakers and are happy to say those sneakers are still white. And we've had no problems in the wash either.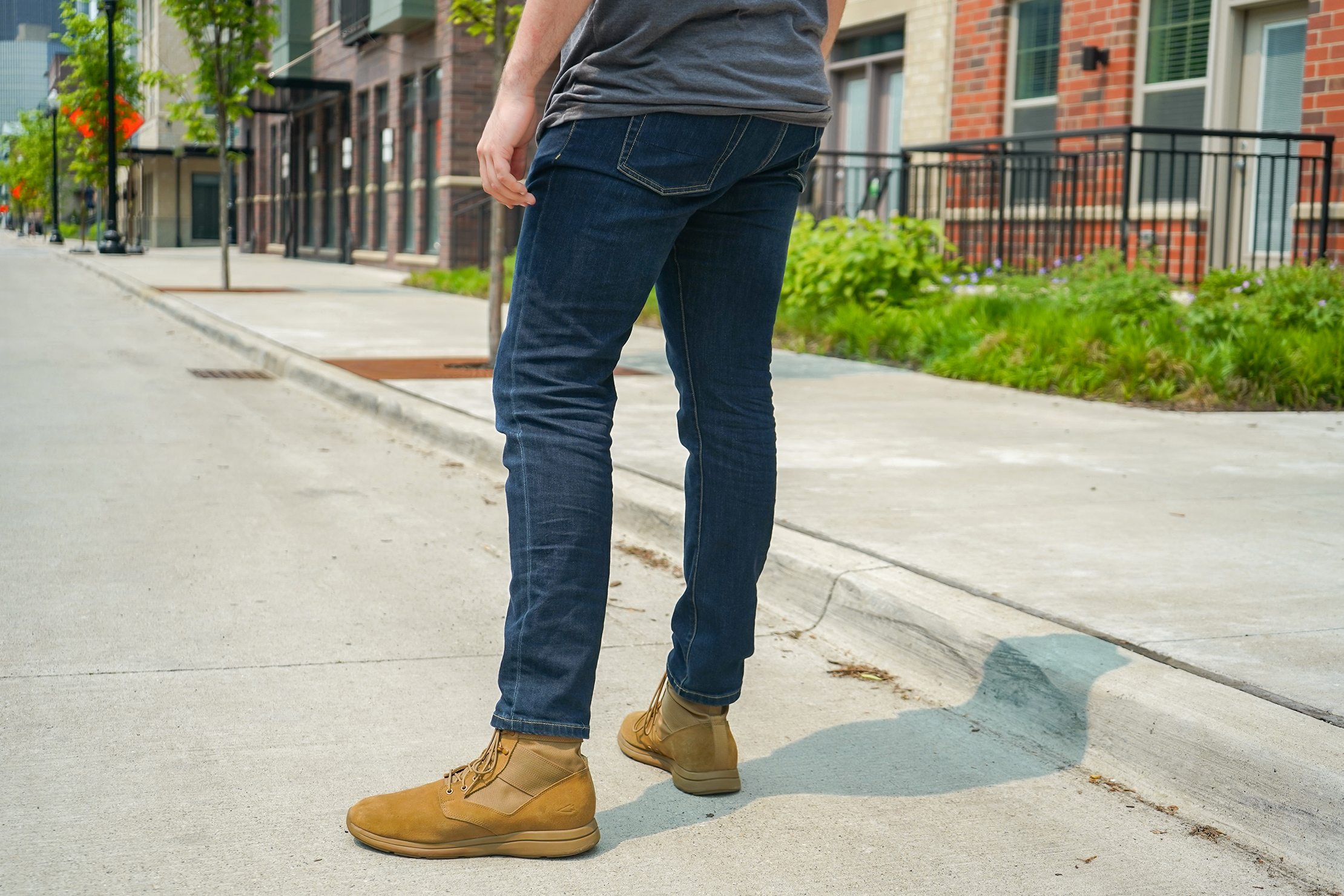 Overall, we've been pleased with the Bluffworks Departure Travel Jeans. Although not as high-tech as some other travel pants out there, they're a solid choice if you're looking to add a pair of jeans to your travel wardrobe.
Usage Timeline
Initial Usage
Condition: Excellent
Great fit that's comfortable and fashionable.
Nice amount of stretch makes them ideal for travel.
Easy to wash and the two hidden zippered pockets at the back are a smart feature.
2 Weeks of Use
Condition: Excellent
Loving how comfortable these are to wear—there's just the right amount of stretch.
1 Month of Use
Condition: Excellent
They're holding up nicely: holding their shape and color.
2 Months of Use
Condition: Excellent
Still looking great. No complaints here.
Access the Pro Community Discussion
Get your questions about the Bluffworks Departure Travel Jeans answered from our team and the Pro Community right here on the page. Plus, join discussions with other members about gear, guides, and more.
Other Clothing & Accessories Reviews