Banana Backpacks Kiri Review
While the Banana Backpacks Kiri is a simple bag overall, you can customize its organization to fit your needs—as long as you purchase extra accessories.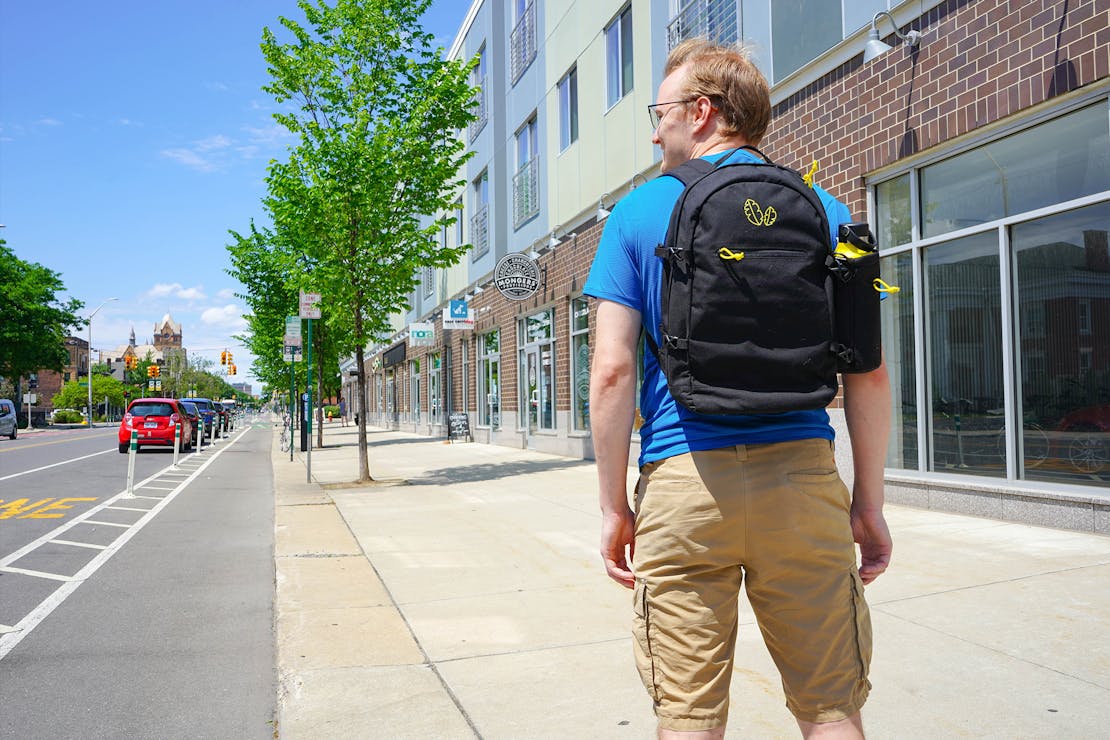 Our Verdict
Unlock the Pro Summary
Save time. Get access to brief summaries of our reviews so you can browse and make decisions more efficiently.
Pros
Customizable organization
Comfortable harness system
Every bag helps give back (supplies children in Cambodia with school supplies)
Cons
Bag feels small compared to other bags of a similar size
Have to purchase extra accessories to get the most out of the bag
Magnetic sternum strap has come disengaged during testing
Technical Details
94 %
Carry-On Compliance (Beta)
Capacity

17.5l

Weight (lb)

1.21 lb (0.5 kg)

Denier

500D

Dimensions

17 in x 10.5 in x 6 in (43.2 x 26.7 x 15.2 cm)

Notable Materials

Kodra Nylon, Nylon, YKK Zippers, Woojin Hardware, Fidlock Hardware

Manufacturing Country

Vietnam
Full Review
There are lots of bags out there that can handle your daily haul of gear—but not all of them offer the level of customization that the Banana Backpacks Kiri does.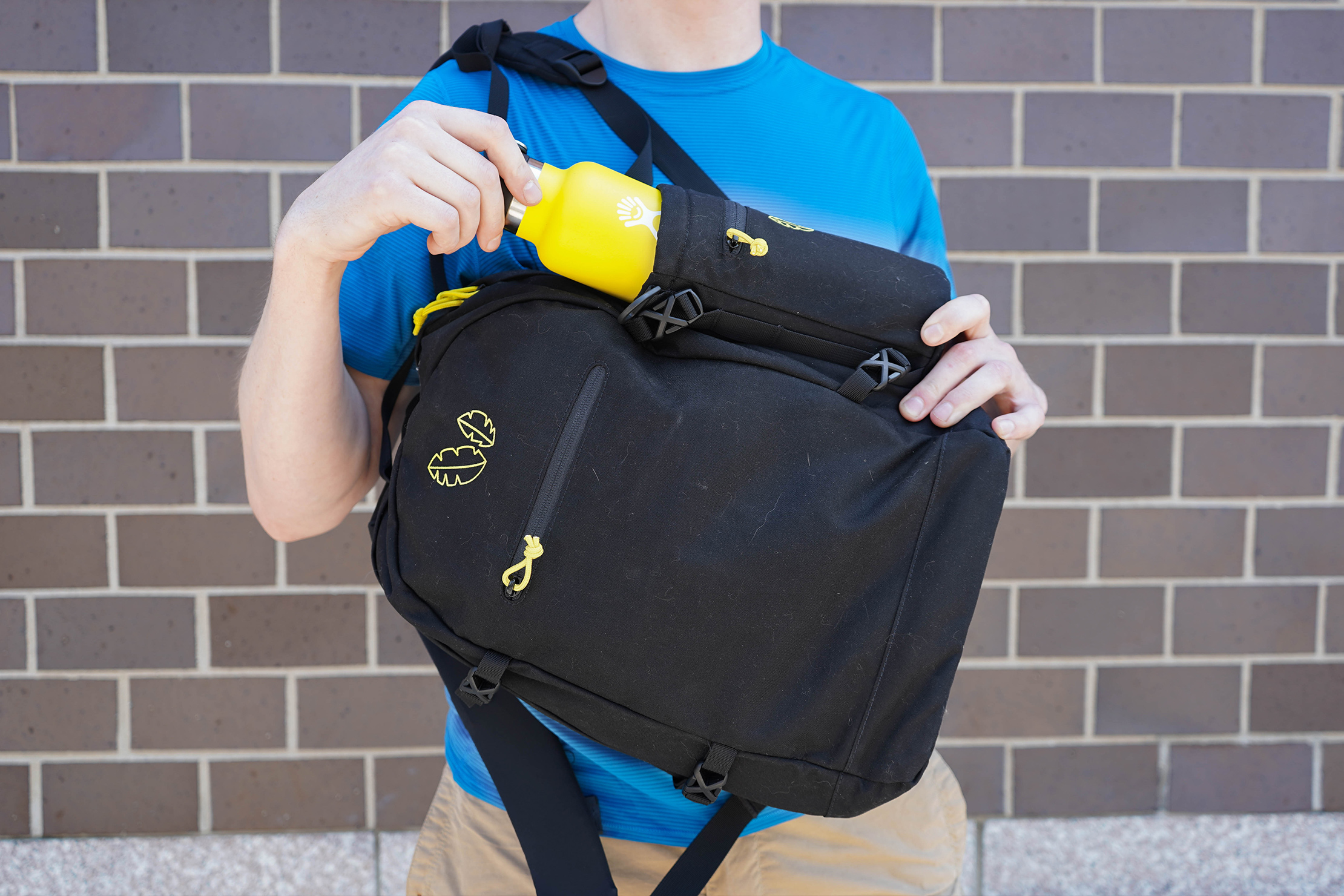 This pack is part of the Kiri Collection—a modular system of accessories that can be integrated into the pack (as well as used on their own) based on your needs. We'll mostly be focusing on the pack itself in this review, but we'll talk about some of the accessories that have worked well for our needs during the two weeks of testing too.
So, with that said, let's get into it.
Materials & Aesthetic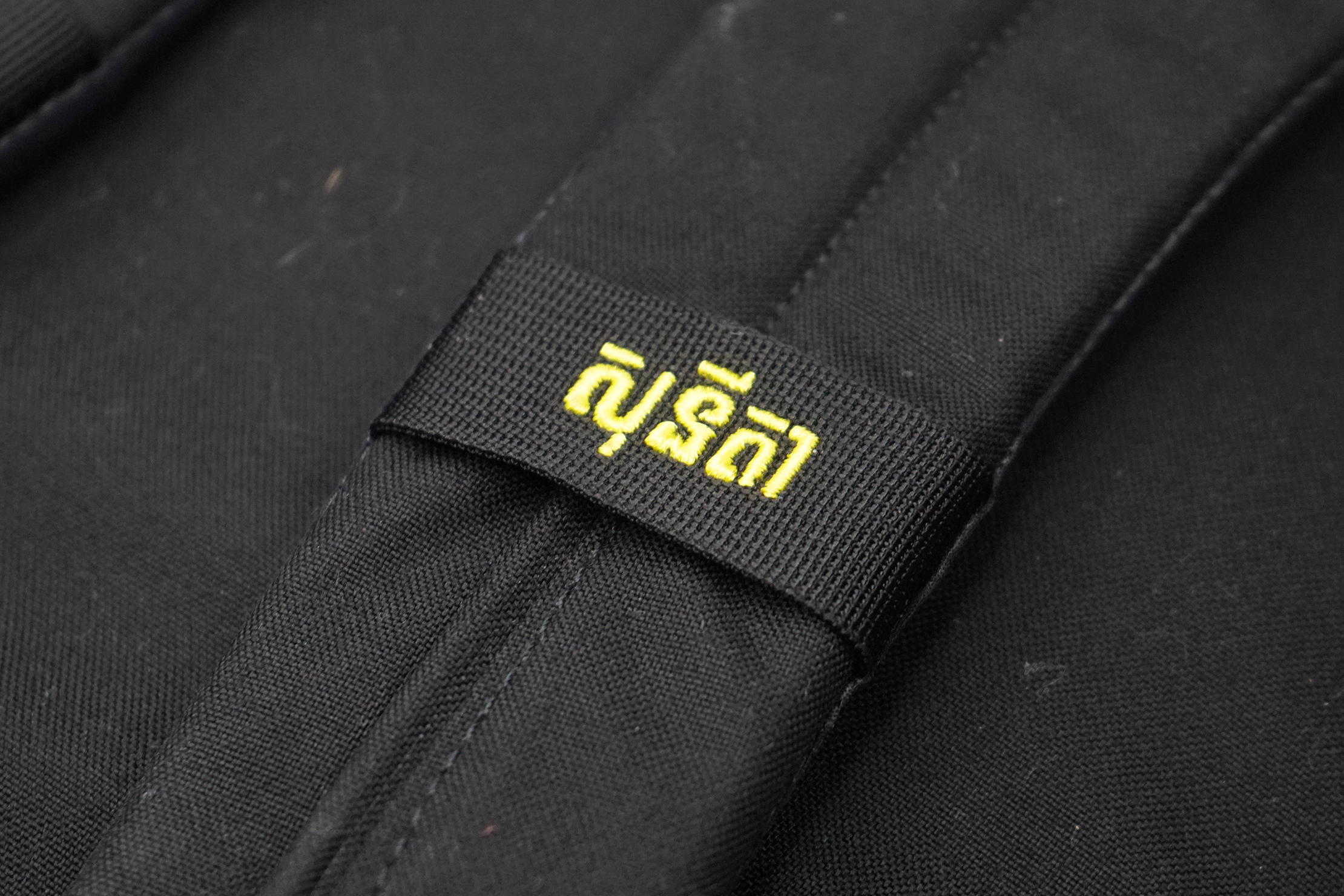 There's some stitching on this pack that's small but meaningful. When you buy a bag, some of the proceeds go toward supplying a child in Cambodia with school supplies for a whole year—and the yellow thread on the left shoulder strap spells out the name of the child that your purchase has helped. We love to see brands giving back, and think this is a unique, thoughtful integration.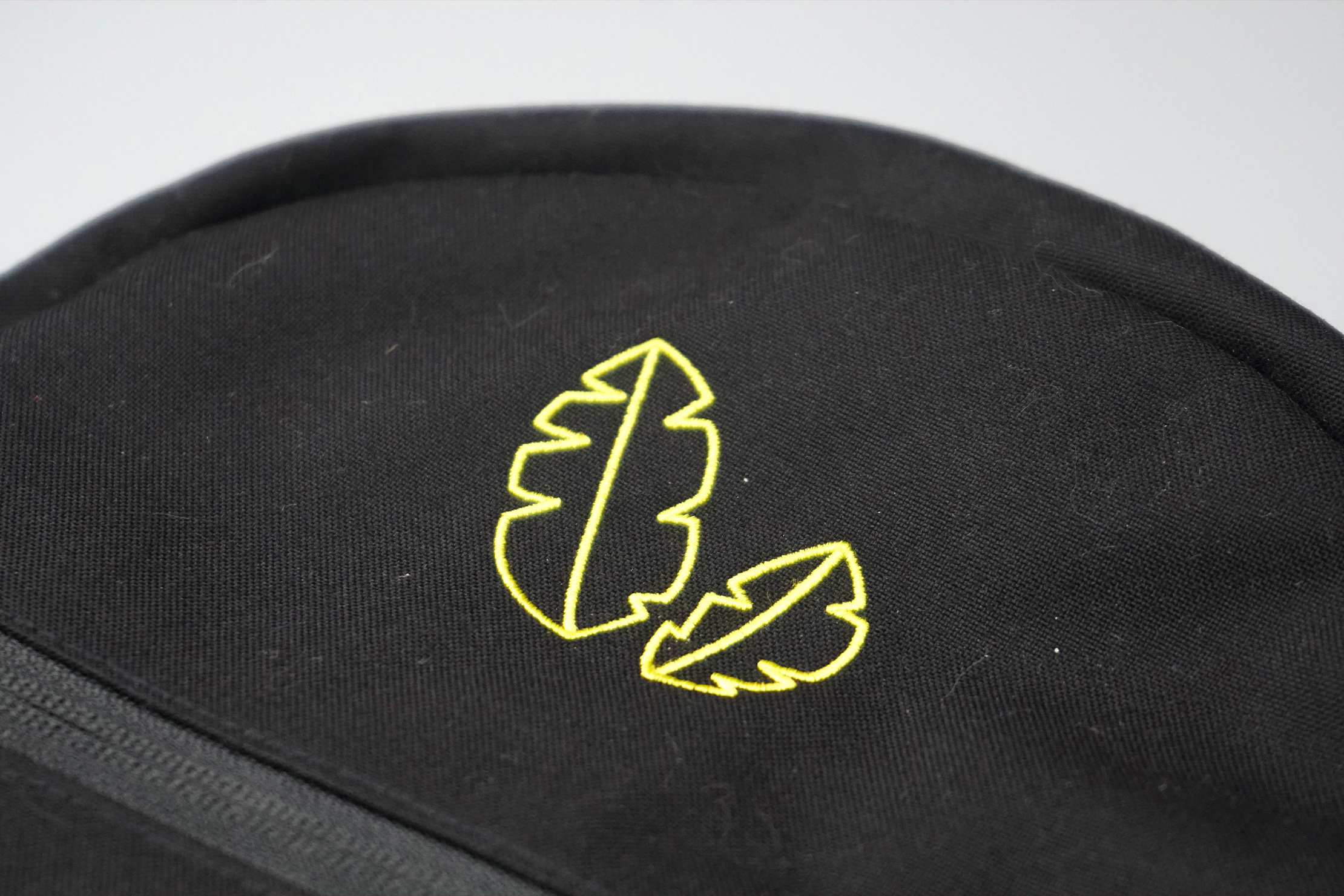 At the time of this review, the Banana Backpacks Kiri is available in only one colorway, and that's black. We dig it—the contrast of this black colorway with bright yellow logos gives this bag a casual, playful kind of look. That said, beauty is in the eye of the beholder. We polled our Instagram audience and only 39% gave this bag's look a thumbs up. Make sure to give us a follow if you want to participate in future polls!
As for material, this pack is made with durable 500D Kodra nylon. Something to note—we have found that it picks up hair and fuzz pretty easily during our testing. But so far, no tears or scuffs or soggy gear, which means this material is doing its job.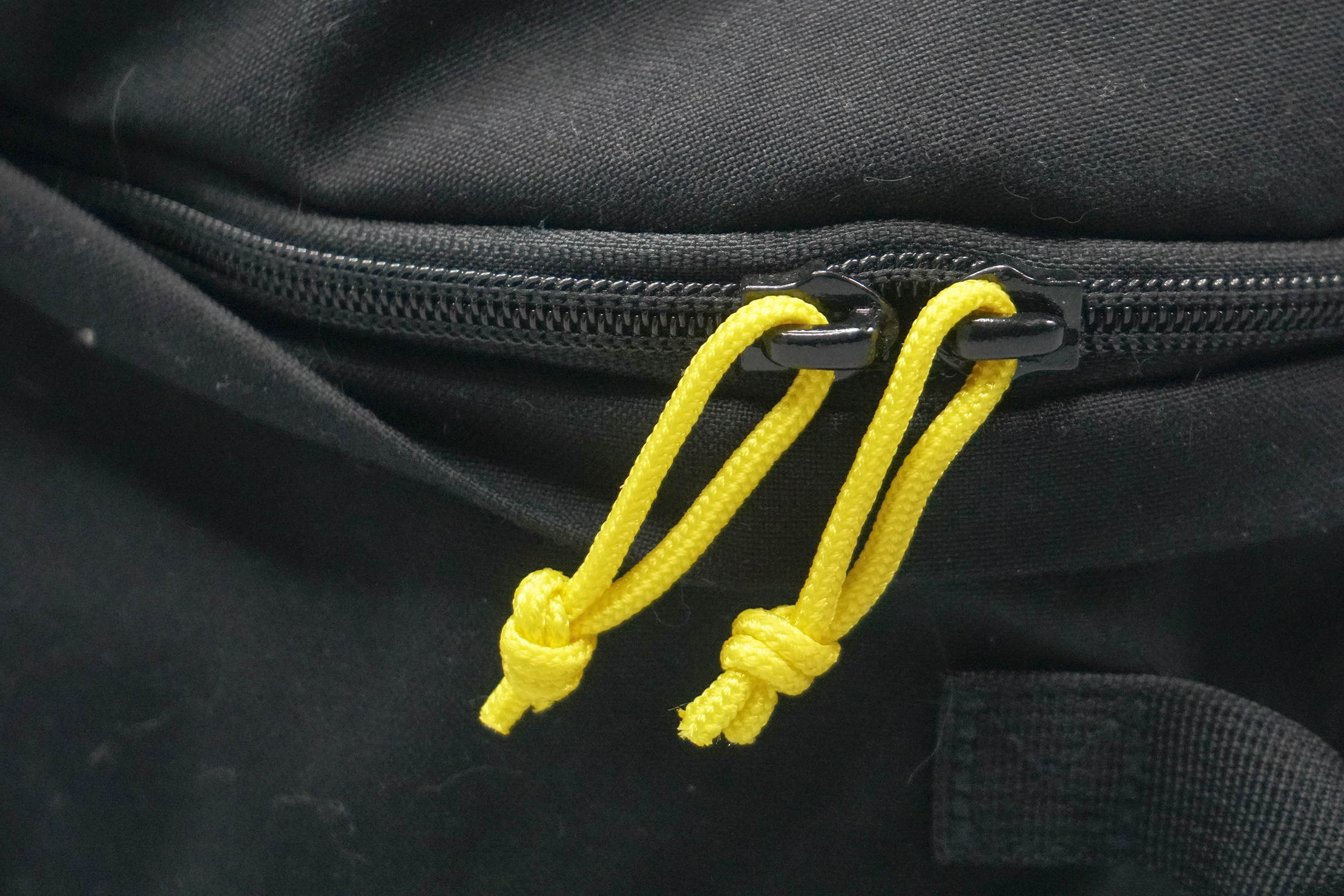 The zippers are from the trusted brand YKK and have been working smoothly in our testing so far. They have bright yellow pulls that are easy to spot and grab for when we need to get inside—these also add to that playful look we mentioned earlier.
You'll also find both Woojin buckles and magnetic Fidlock hardware on this pack. The buckles have all been staying secure during testing. As for the magnetic hardware, we're not huge fans of its integration on the shoulder strap (but we'll go over that in the next section).
External Components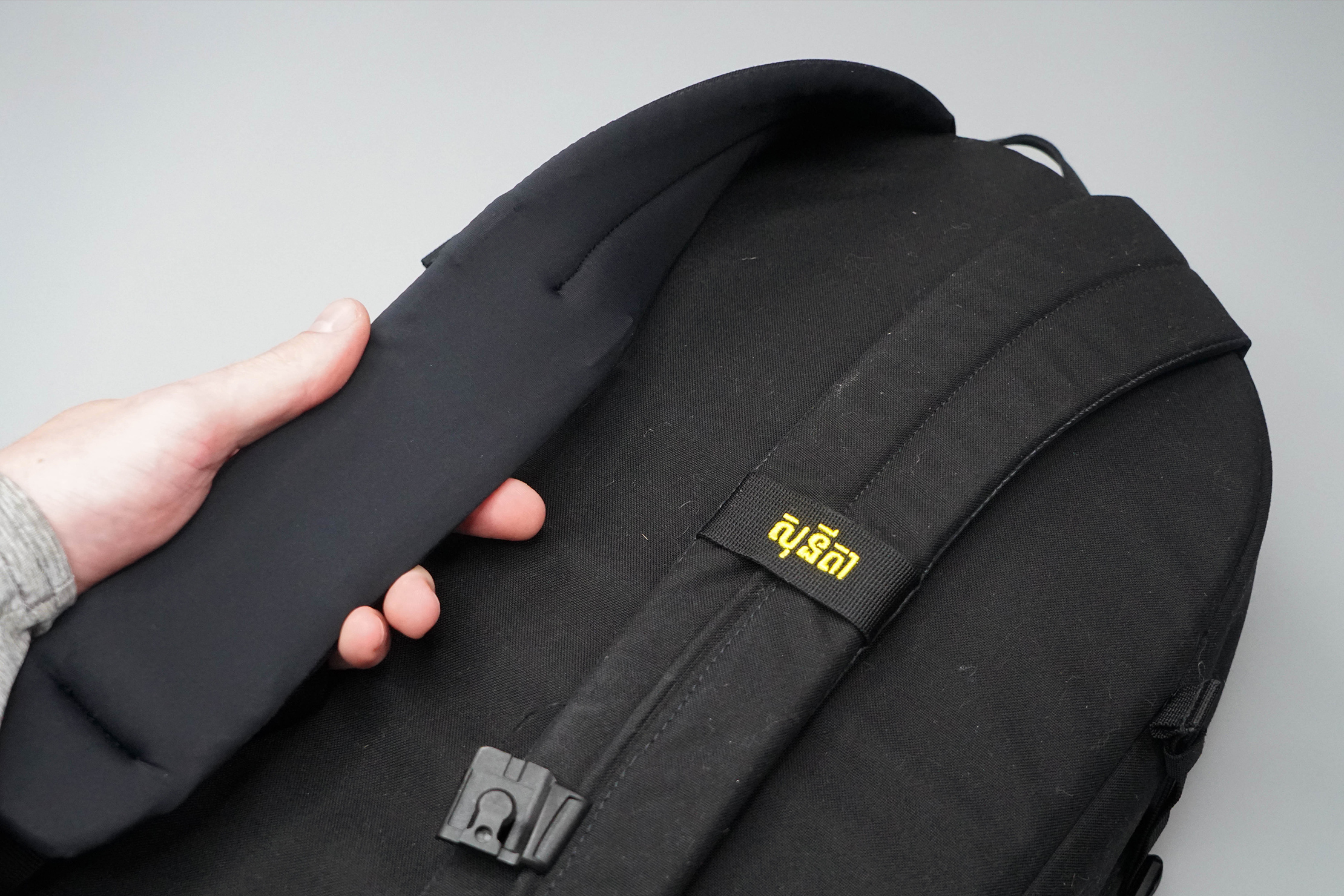 Starting with this bag's harness system, the shoulder straps on the Banana Backpack Kiri feature soft, cushy padding. They're very comfortable, especially for a backpack of this size and the amount of gear you're likely carrying in here.
On the right shoulder strap, you'll notice a magnetic attachment point where you can attach the magnetic key clip. This is an odd spot for keys that we don't see on most bags—though we suppose if you want to keep them as handy as possible, then this is a good option. However, if you'd prefer to keep your keys stashed safely inside the bag, as we typically do, there's another spot you can attach this clip (which we'll point out later in the review).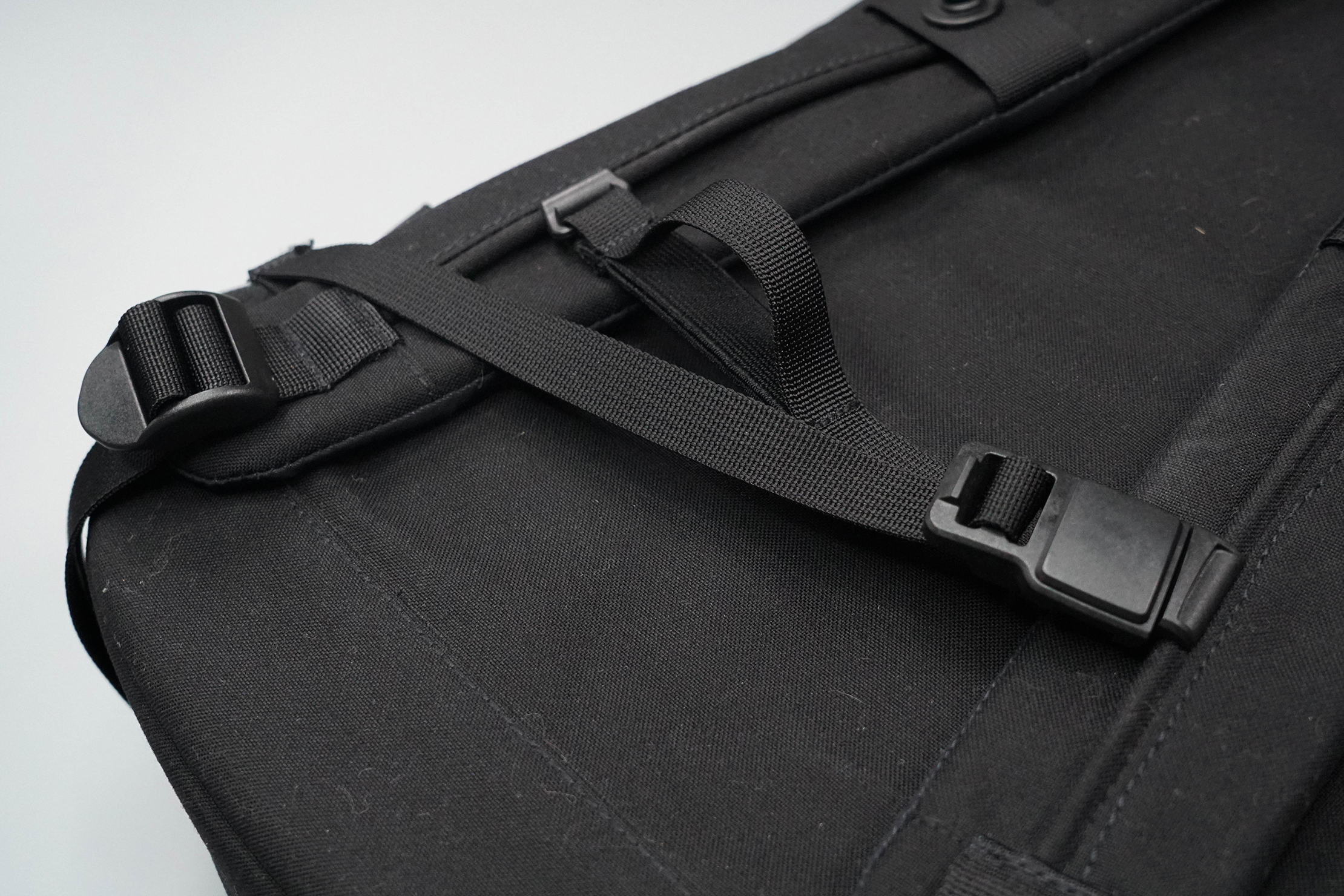 The sternum strap is also secured by a magnet—and we've had a couple of instances of it coming undone during testing. Especially when the strap is positioned higher up on our chests. We probably don't have to say this, but having the sternum strap randomly disengage when in use, is not ideal.
There's also no elastic keeper here, so you'll have to deal with some dangling strap (some more than others, depending on what level of adjustment is comfortable for you). Since a sternum strap isn't totally necessary for us on a bag of this size, these aren't deal-breakers by any means—you can simply remove the strap and use the bag without. However, they're worth keeping in mind if you prefer the extra support of a sternum strap.
Looking at the back panel, there's no mesh lining, which means less breathability (and more Swamp Back) when you're wearing it in hotter weather. It is a pretty small bag, however, so we haven't had much of a problem with this during testing—even in the middle of a Michigan summer.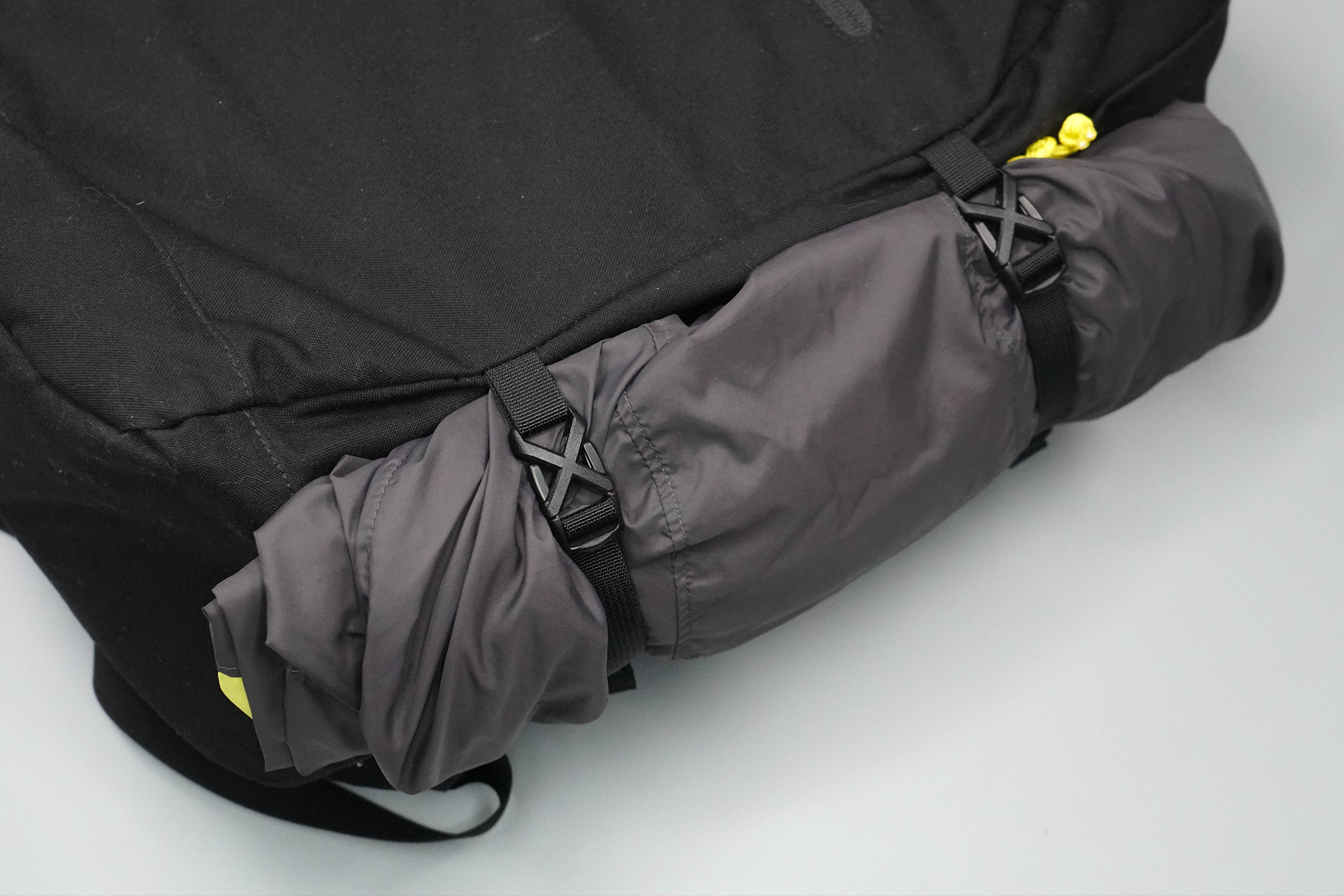 On each side of the bag, you'll find compression straps for compressing this thing to keep it as minimal as possible. We haven't gotten much use out of them for this as the bag is already pretty low-profile. Something to note—if you do cinch the bag down, you'll have to deal with some dangling, even with the strap keepers. If you don't plan on cinching the bag, the nice thing here is that they can also work for attaching gear to the outside of the bag—a jacket, tripod, etc. And when used this way, the keepers are much more effective at keeping the extra strap managed.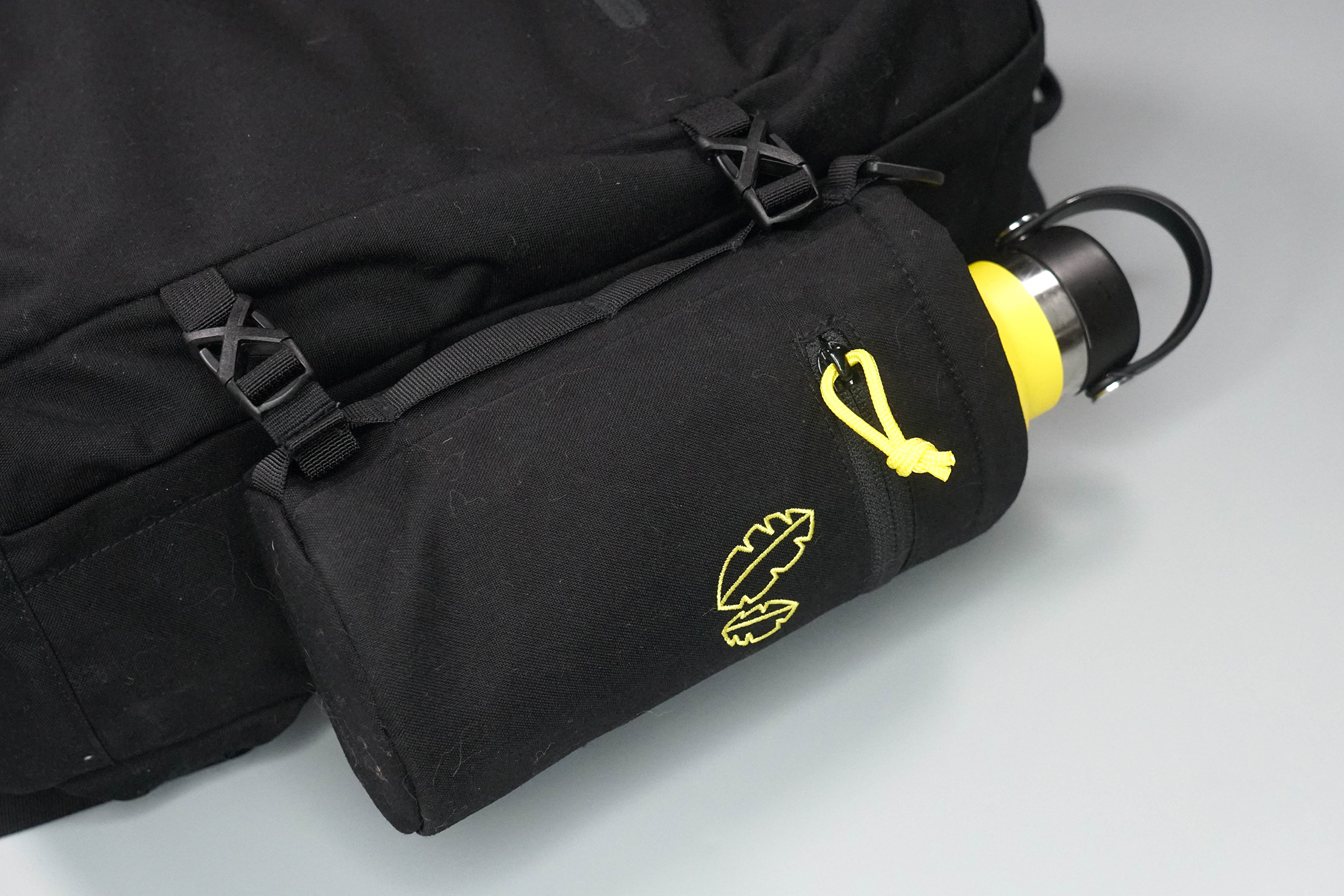 And for when you want to keep a water bottle handy, you can pick up the Banana Backpacks Side Hussle Water Bottle Holder which attaches to these compression straps. It takes a minute to get adjusted, but once you've got the straps through the attachment points on the kit, you can buckle them into place and you're good to go. This way you don't have to worry about keeping your water bottle on the inside of the pack near your laptop or other tech. But something to note—when this holder is attached, it really blocks the zipper to the main compartment making access slower.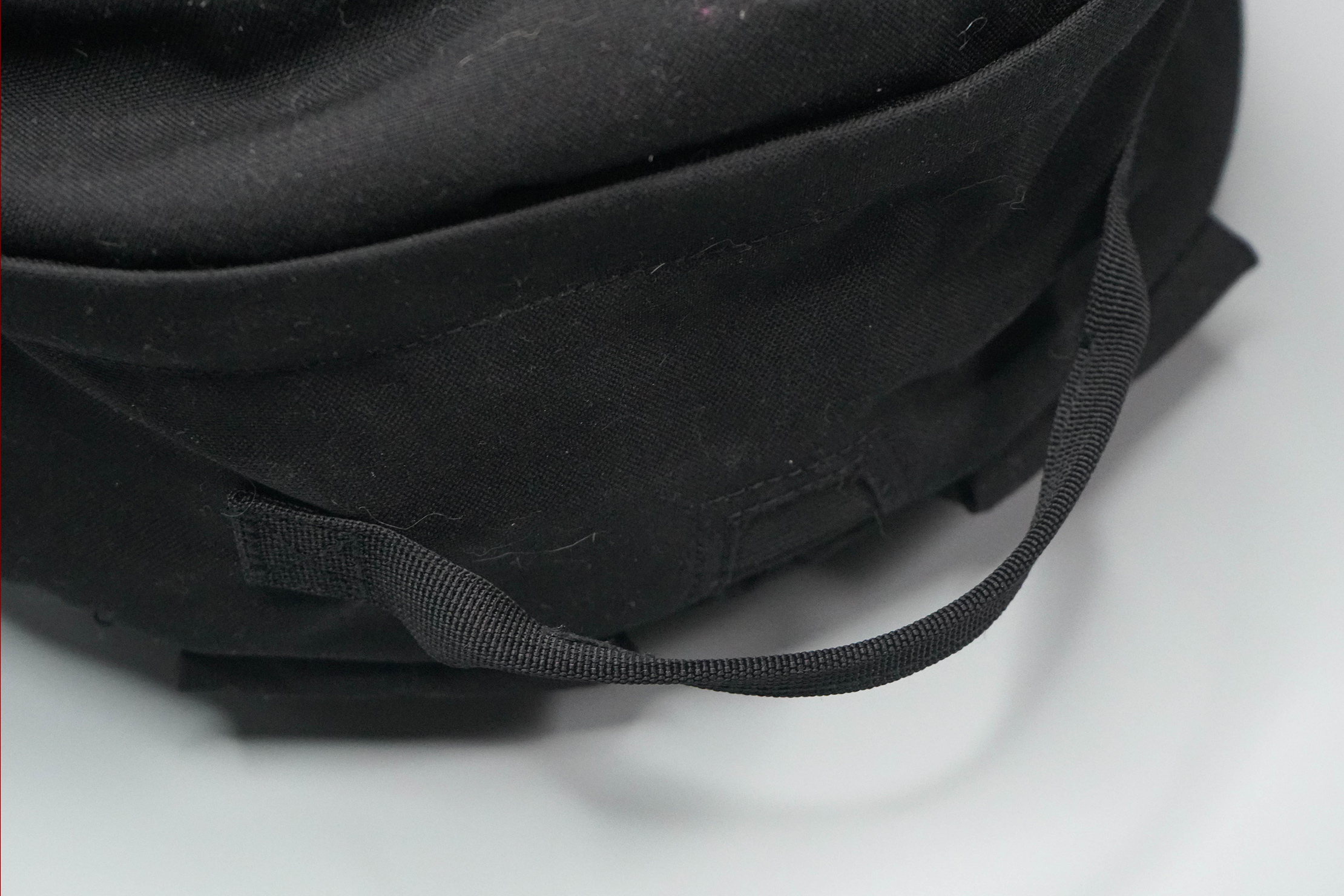 On the top of the bag is a handle that you can use to grab or hang the bag. There's not much padding—it's essentially just some folded nylon webbing—but it does its job and still feels comfortable in the hand.
Inside the Pack
The first thing we'll talk about is this front pocket, which has a pocket within it that's lined with microfiber. It's a good spot to store your phone or a pair of sunglasses and not have to worry about any scratches. You can also get into here from one of the zippered pockets in the main compartment, so you have two access points—a pretty handy feature.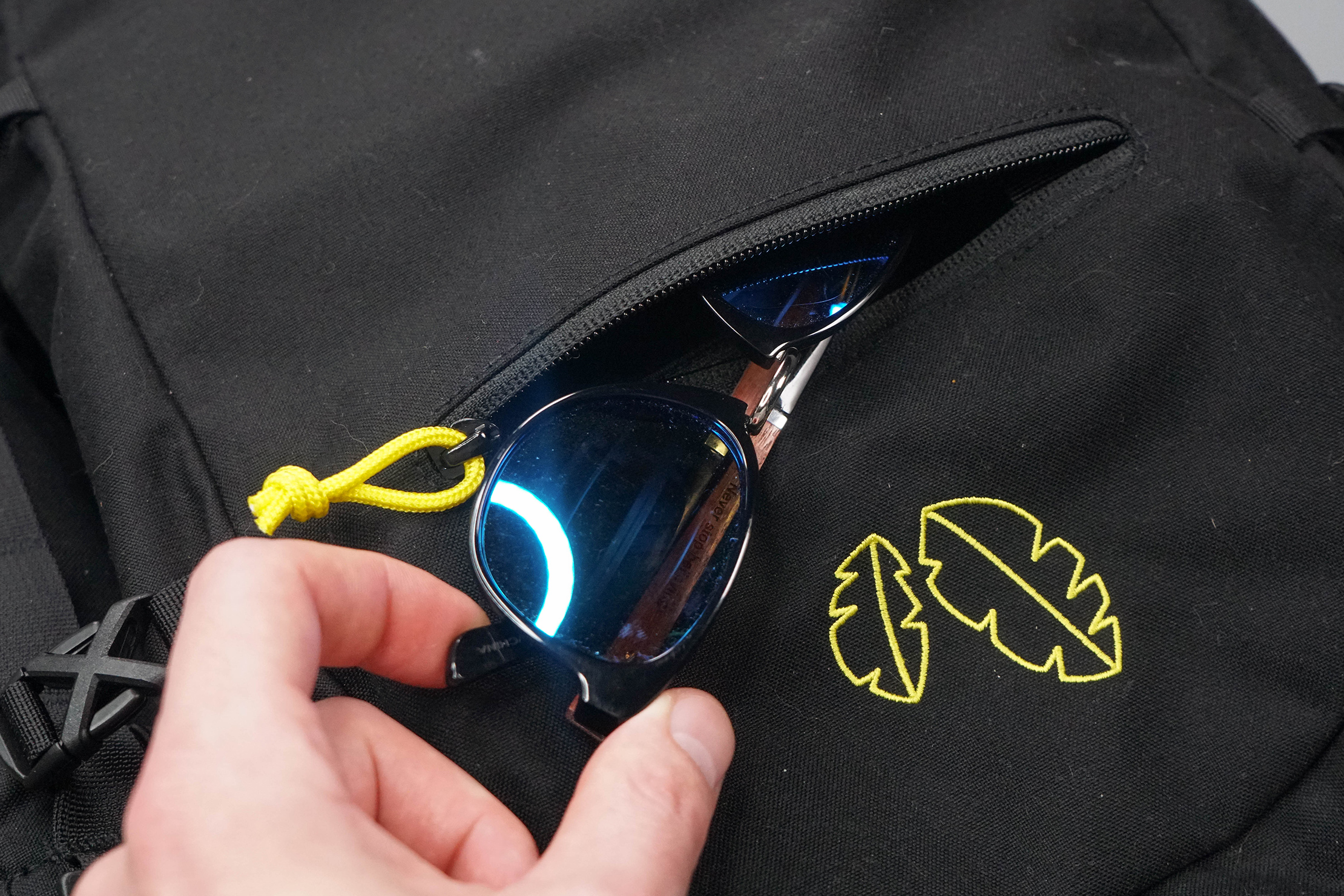 As we mentioned earlier, the Kiri is on the smaller side—17.5L to be exact. And its organization is super customizable depending on extra accessories you can pick up (which we'll talk about shortly). We'll look at the main compartment first.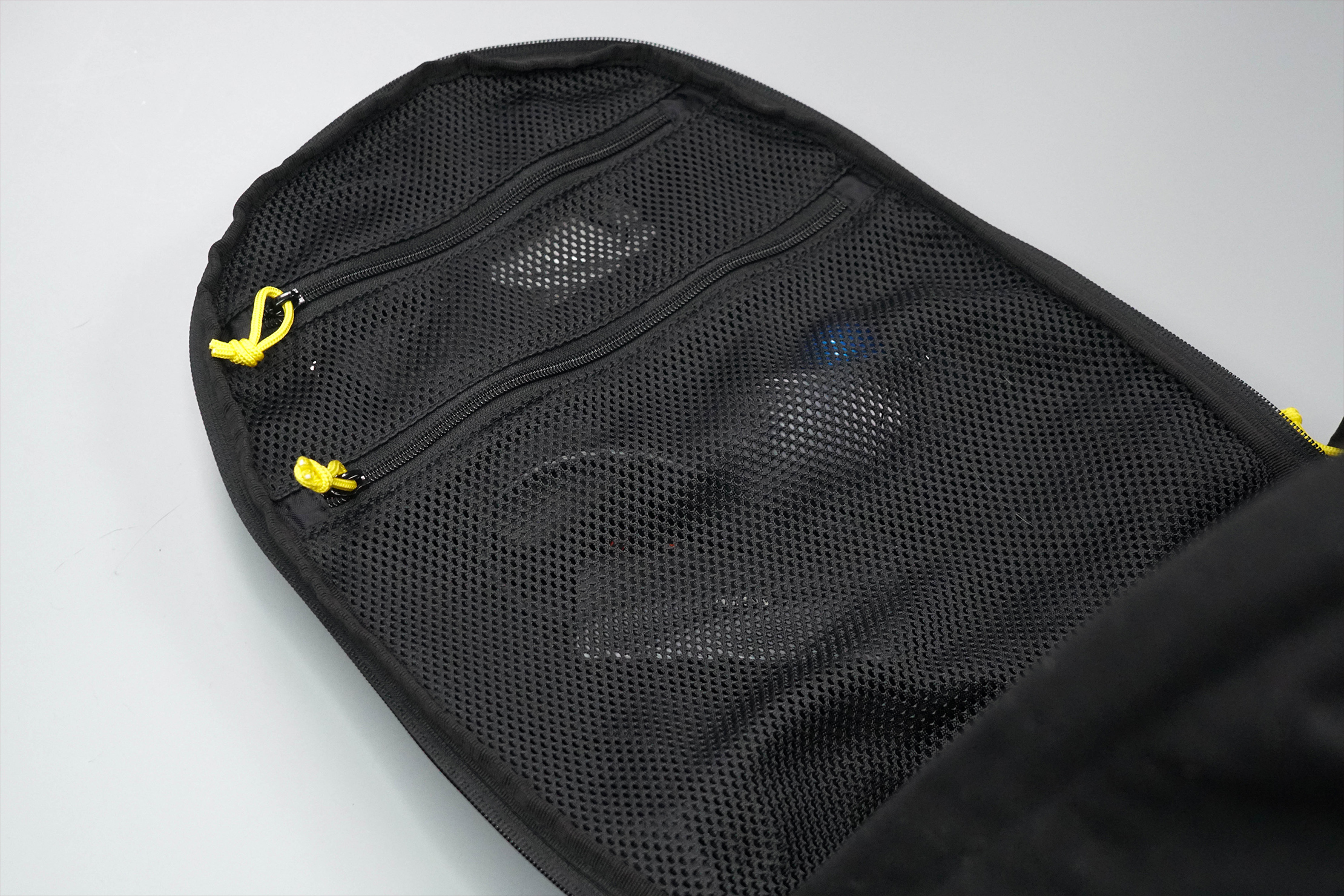 Like most bags with compression straps, you'll have to undo them in order to get inside—and once you do have the main compartment open, you'll see that it's pretty simple. On the front flap are two mesh pockets. The top one is pretty small, but still a great size for stashing some chargers, a mouse, and other smaller tech accessories.
The bottom mesh pocket is much larger. You can toss larger tech gear in this pocket that doesn't fit in the top pouch, a compressible jacket in case you get caught in some rain, or whatever else you have of a similar size. Inside here is another magnet where you can attach the key clip if, like us, you prefer to keep your keys more secure.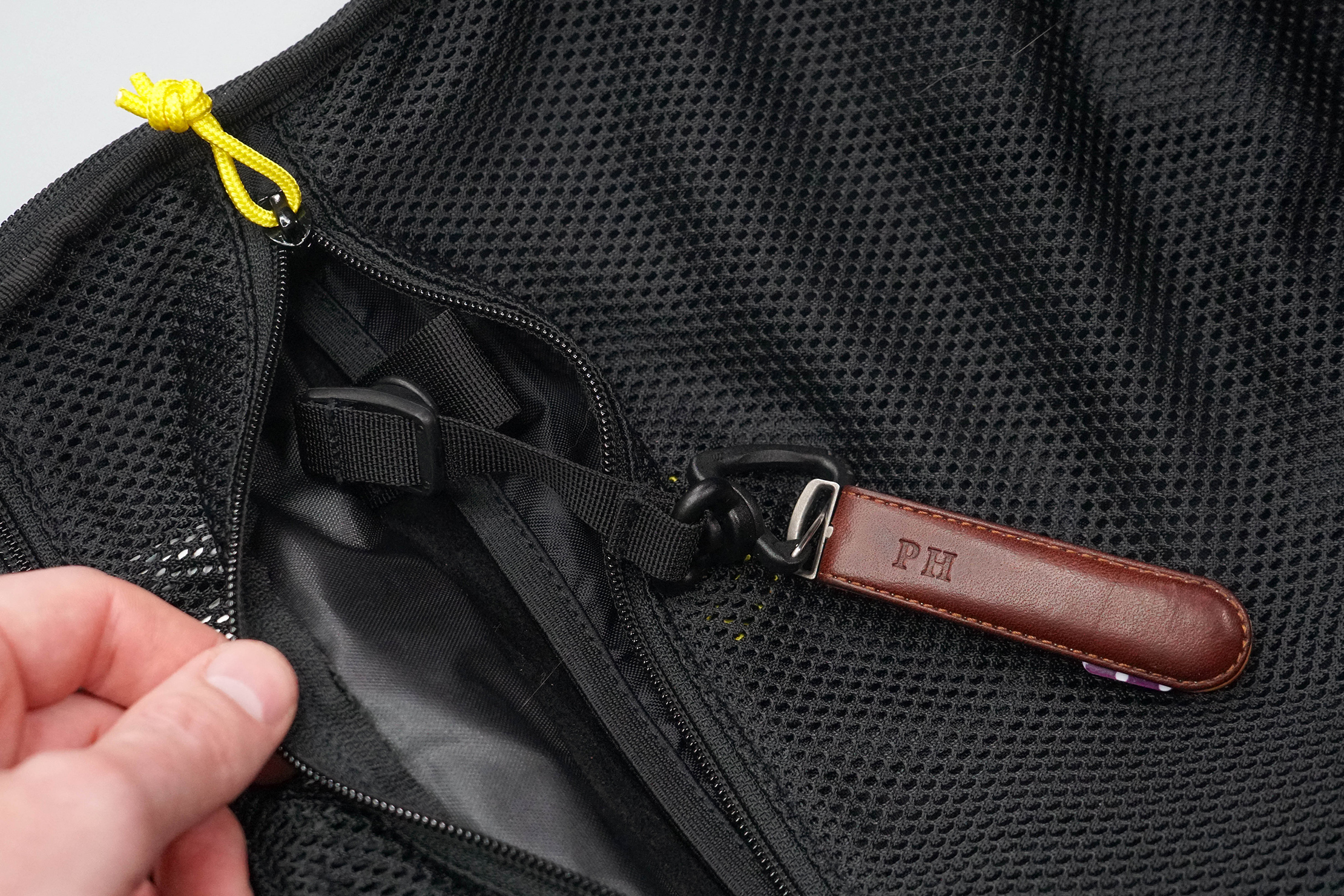 Besides these two pockets, there's no organization in the main compartment. What you will see though are five magnets against the back wall that you can use to attach the other accessories in the Kiri Collection to create your own organization, customized to your needs. We've found that to get the most out of the bag, you'll probably want some of these accessories. You can pick up just what you think you'll use, or get a variety and switch them up based on whatever you're doing that day.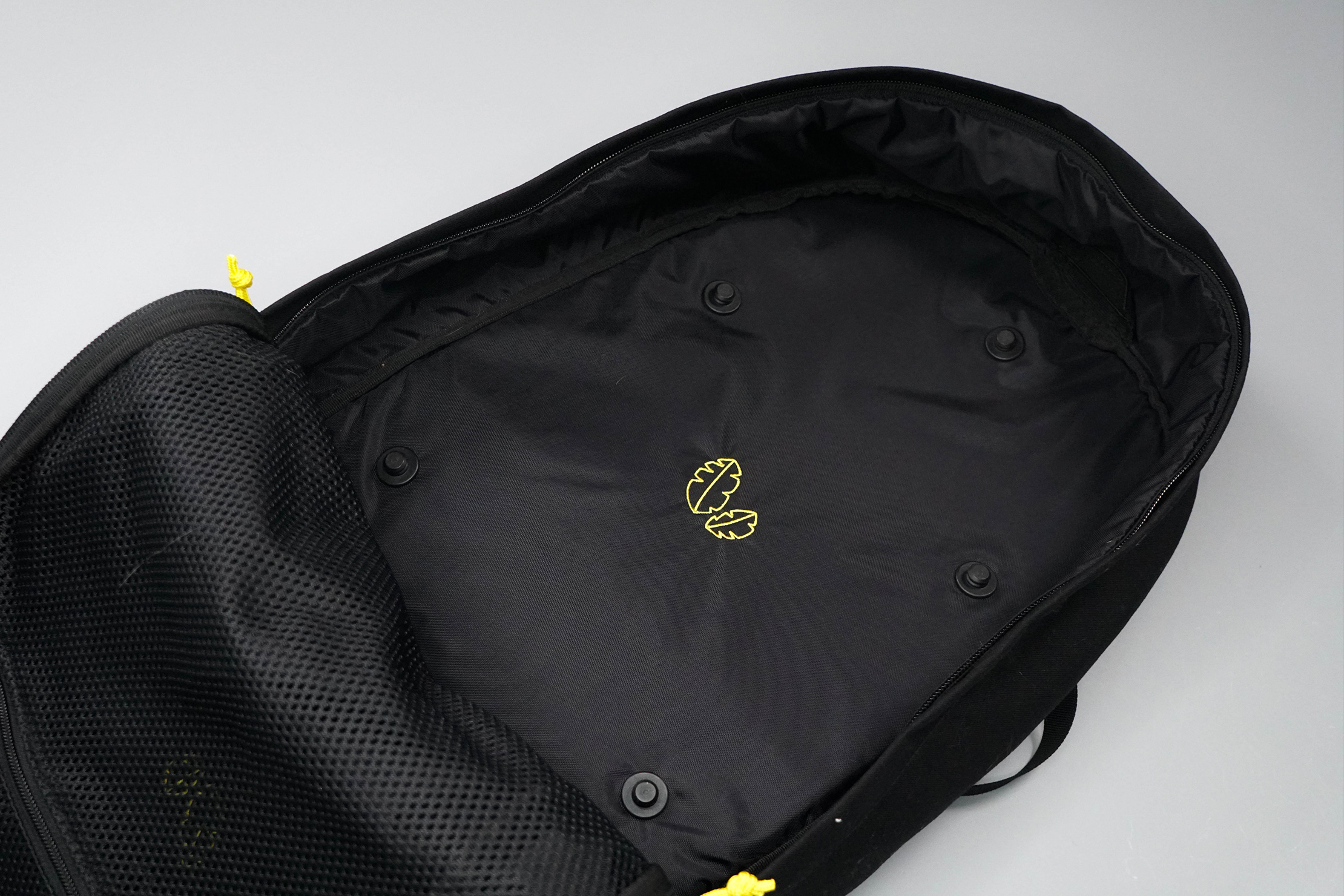 For example, you can purchase the Pure Grindin' Laptop Kit and place it inside to hold your laptop. However—it only fits a 13" laptop, so if you have anything bigger, you're out of luck. Although, you could throw caution to the wind and let your laptop free float in here (we recommend getting a separate laptop case if you're going this route).
It takes a little fiddling, but once you've got this thing in the right spot, the magnets will click into place. Also, something to note—when attached, this sleeve encompasses most of the back panel as it requires four of the five magnets (so you can't use them for other accessories). It does lay pretty flat so there's still space in front of it to stash some clothes or books or other gear you might have.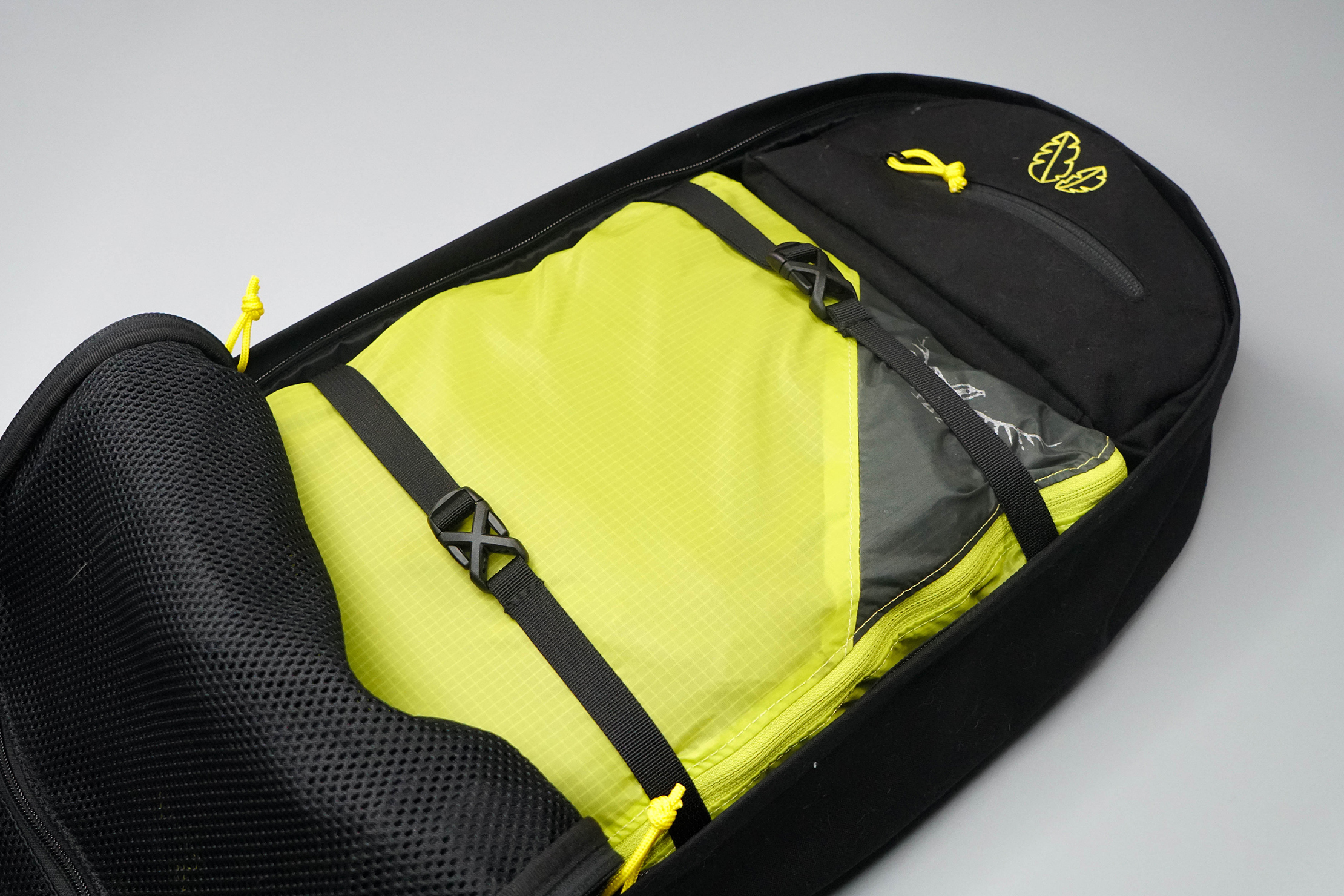 There's also the option of grabbing the Leavin' the Shire Weekend Kit, which includes two compression straps and a small pouch. The compression straps take up two magnets each and work for strapping in things like packing cubes or rolled up clothes (like you typically see in traditional luggage).
As for the pouch, that only requires one magnet—it's rounded at the top and flat on the bottom, so it fits nicely at the very top of the main compartment. It's intended to be used as a Dopp kit, but can work as a tech pouch, or whatever else you might need it for. It's also got a handle at the top that you can grab to easily disengage the magnet and pull it out of the bag.
For our purposes, we've mostly been keeping the pouch from the Leavin' the Shire Weekend Kit at the top of the main compartment and the Miss Lange Camera Kit (yet another accessory option) at the bottom.
This camera kit is nicely padded with EVA foam and has a soft lining material to keep our camera gear safe. It's also got some grippy rubber material at the bottom that adds some water-resistance for when we set it down (or have it in the bag). It's not the sturdiest camera kit we've ever tested, but this gives it a lot of flexibility to mold to your gear and accessories. It's also not super quick to access as you have to unzip the bag to get to it, but it does have handles on the top like the pouch, which we can grab to pull it out when we do have the main compartment open. Overall, it's been working well.

One issue we've run into with this set up is with the awkward space between these two accessories. If you don't fill in this space, the top pouch will sag at the bottom—not a crazy amount on account of the magnet, but enough that it pulls the entire top of the bag down, which can cause it to sit uncomfortably on your back. But don't fret! We've found that this can easily be fixed by stashing a sweatshirt or jacket between the camera kit and pouch.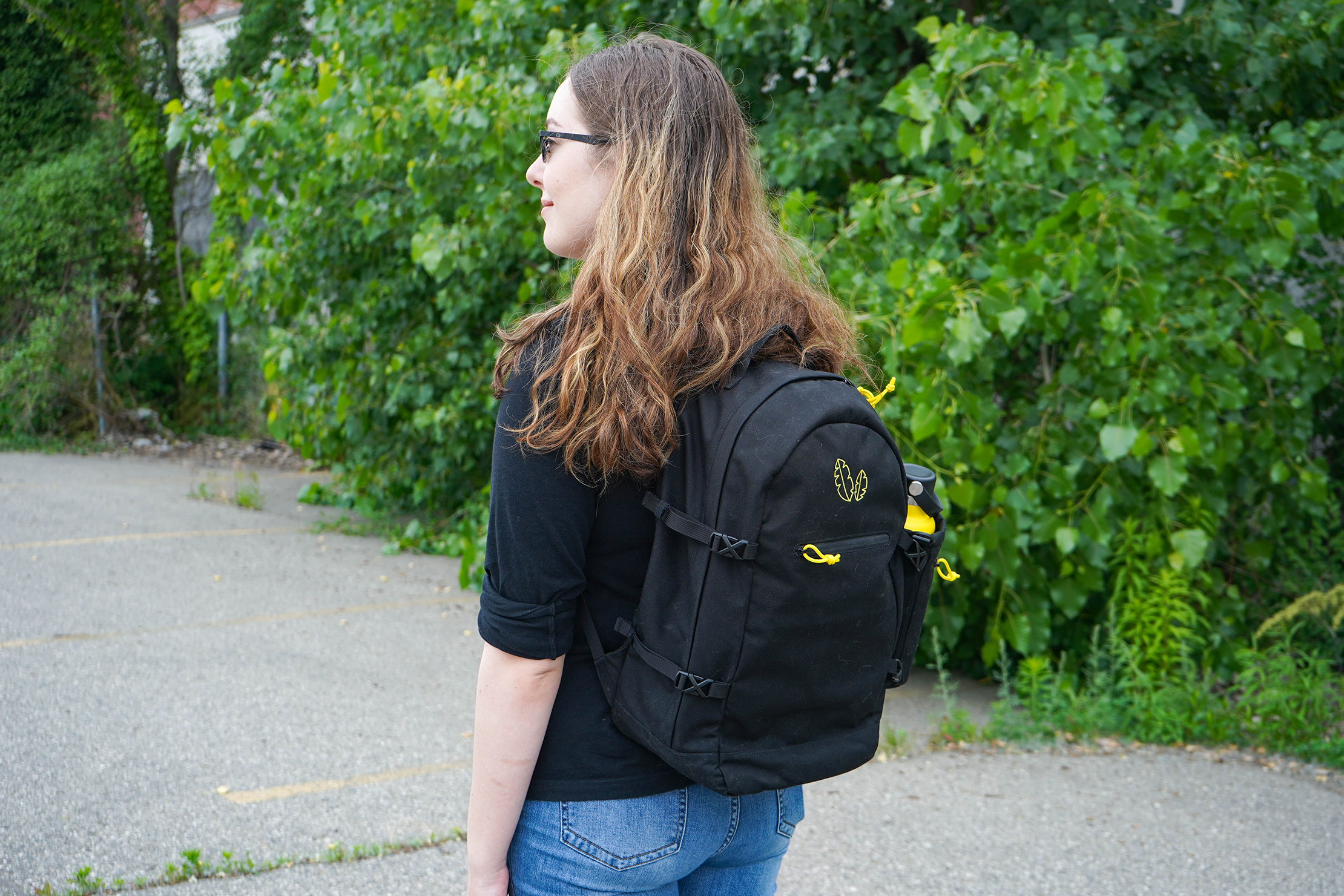 Of course, if this particular set up doesn't work for you, you can always switch it up—there are a few more accessories available apart from the ones we've mentioned. And in our testing, we've found that in order to get the most out of the bag, you need at least some of them—otherwise there's not much going on. But if none of the accessories are very useful for your gear and you still like the bag itself, then you do have the option of using other pouches in here instead—they just won't integrate quite as well.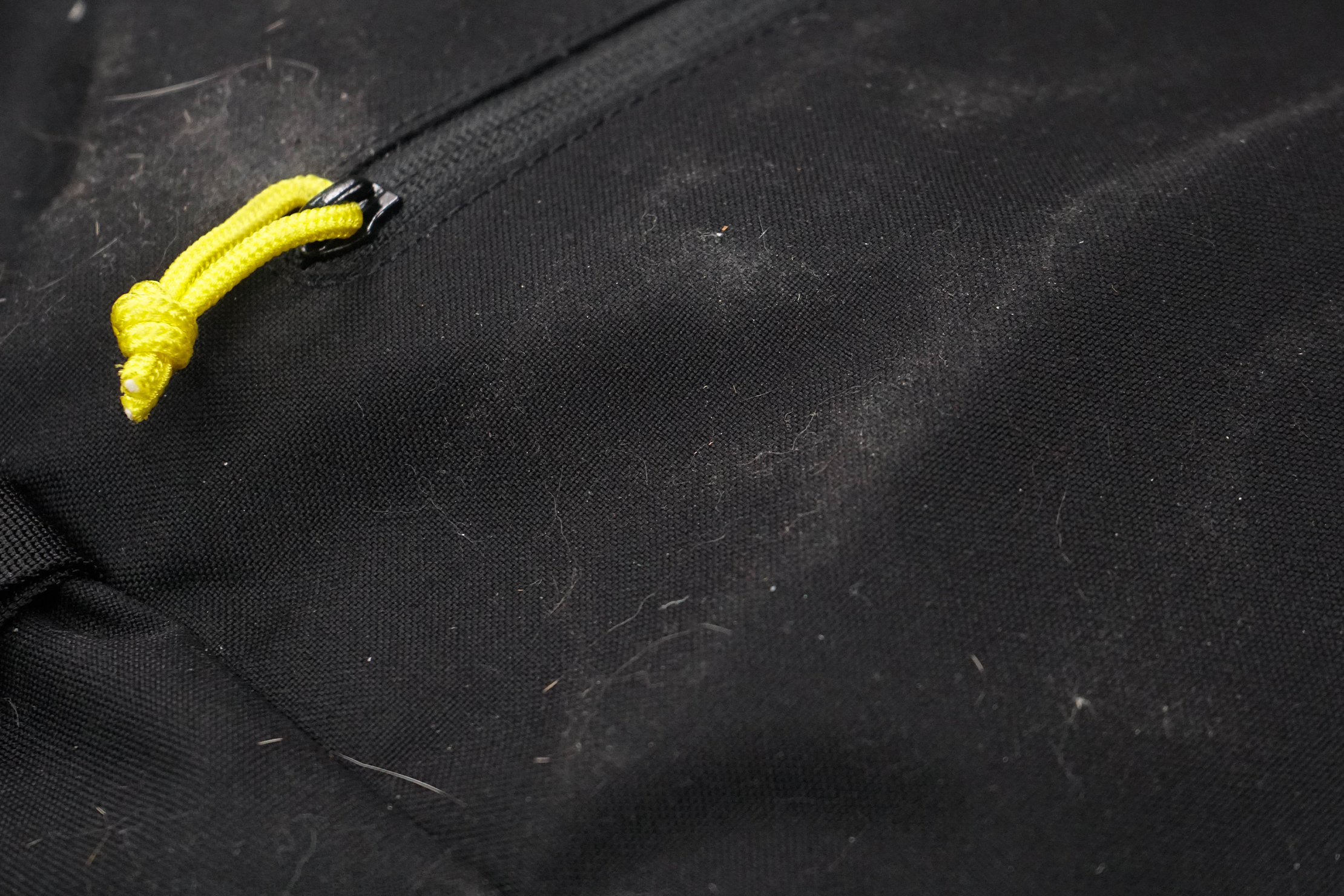 To wrap it all up, everything is a-ok durability-wise. Like we mentioned before, our only issue with this material is it's more prone to picking up hair, fuzz, and debris in general than others we've tested, so it starts to look a little dirty after just a few uses. For us, this is not a deal-breaker as it doesn't impact function, but it's noticeable enough that we wanted to bring it up.
Usage Timeline
Initial Usage
Condition: Excellent
Internal organization can be customized with magnetic accessories
Made from durable and weather-resistant materials
Front quick-grab pocket can be accessed front the inside or outside
2 Weeks of Use
Condition: Excellent
Feels small compared to other bags of a similar capacity. It only fits a 13″ laptop and can look a little odd on larger framed people—of course, your mileage may vary
The internal magnet system is a clean, convenient way to add a modular setup, but it can take a second to get the accessories situated
We've found that if you attach the Banana Backpacks Leavin' the Shire Weekend Kit in the bag via the magnets, the top of the bag will sag (unless you have something underneath to support the pouch). Not a deal-breaker, just a note
Access the Pro Community Discussion
Get your questions about the Banana Backpacks Kiri answered from our team and the Pro Community right here on the page. Plus, join discussions with other members about gear, guides, and more.
Other Bags & Luggage Reviews