Arc'teryx Blade 28 Backpack Review
The Arc'teryx Blade 28 is a solid one bag travel pack for the ultra-minimalist or a weekend pack for everyone else. It's a good bag with excellent build quality, solid materials and ample packing space, but we were hoping for something that would set it apart from the competition—and, unfortunately, we didn't find it. In particular, we were disappointed with the laptop compartment and lack of hip belt or sternum strap.
Our Verdict
Unlock the Pro Summary
Save time. Get access to brief summaries of our reviews so you can browse and make decisions more efficiently.
Pros
Excellent build quality and materials
Accessible side grab handles
Ample, packable main compartment
Cons
Suboptimal laptop placement
No options for hip belt or sternum strap
Sideways pockets can be tricky to organize
Recent Pack Hacker Video
Technical Details
Capacity

28l

Denier

630D

Weight (lb)

3.2 lb (1.5 kg)

Dimensions

21 in x 14 in x 8 in (53.3 x 35.6 x 20.3 cm)

Notable Materials

Nylon, Polyurethane, Woojin Hardware, YKK Zippers

Manufacturing Country

Vietnam

Laptop Compartment Size

15"

Warranty Information
Full Review
The Blade 28 is a small travel pack from Arc'teryx, a company known for creating top-notch—and pricy—outdoor and adventure gear. From jackets and base layers to backpacks and climbing harnesses, they seem to do it all. And from what we can tell, they're doing a great job.
We've been testing the Blade 28 for over a month and been impressed with some of its unique qualities and features. But is Arc'teryx able to compete in the travel backpack space? Let's jump into the review to find out.
Materials & Aesthetic
At the time of this review, the Blade 28 is available in black and pilot gray. And while we think that's plenty of options, some people may be a little bummed there aren't more color choices. (But why would you want anything besides black?)
The overall shape of the bag seems unique to Arc'teryx. It's kind of like a curved rectangle—if that makes any sense—which is a result of some of the interior organization systems within this bag, which we'll get into later.
From a branding perspective, there is a very bright, large, white logo that stands out quite a bit on top of the black pack we've been testing. There is also a subdued, black-on-black "Blade 28" embroidered towards the bottom and a pressed logo in the foam padding of the back panel. We're generally not huge fans of bold branding, and we do wish the white embroidered logo was a bit smaller or more subdued. It's a bit too "in your face" for our tastes. But then again, if people don't know you're wearing an Arc'teryx backpack from at least 20 feet away are you really wearing one at all?
In a general sense, we do think this pack looks pretty great. As always, we polled our Instagram audience and the results were pretty damn close to 50/50. Clearly, a heavily debated topic. And with that, we'll stop talking about this and let you decide whether it looks good or not. (Because that's all that really matters, right?)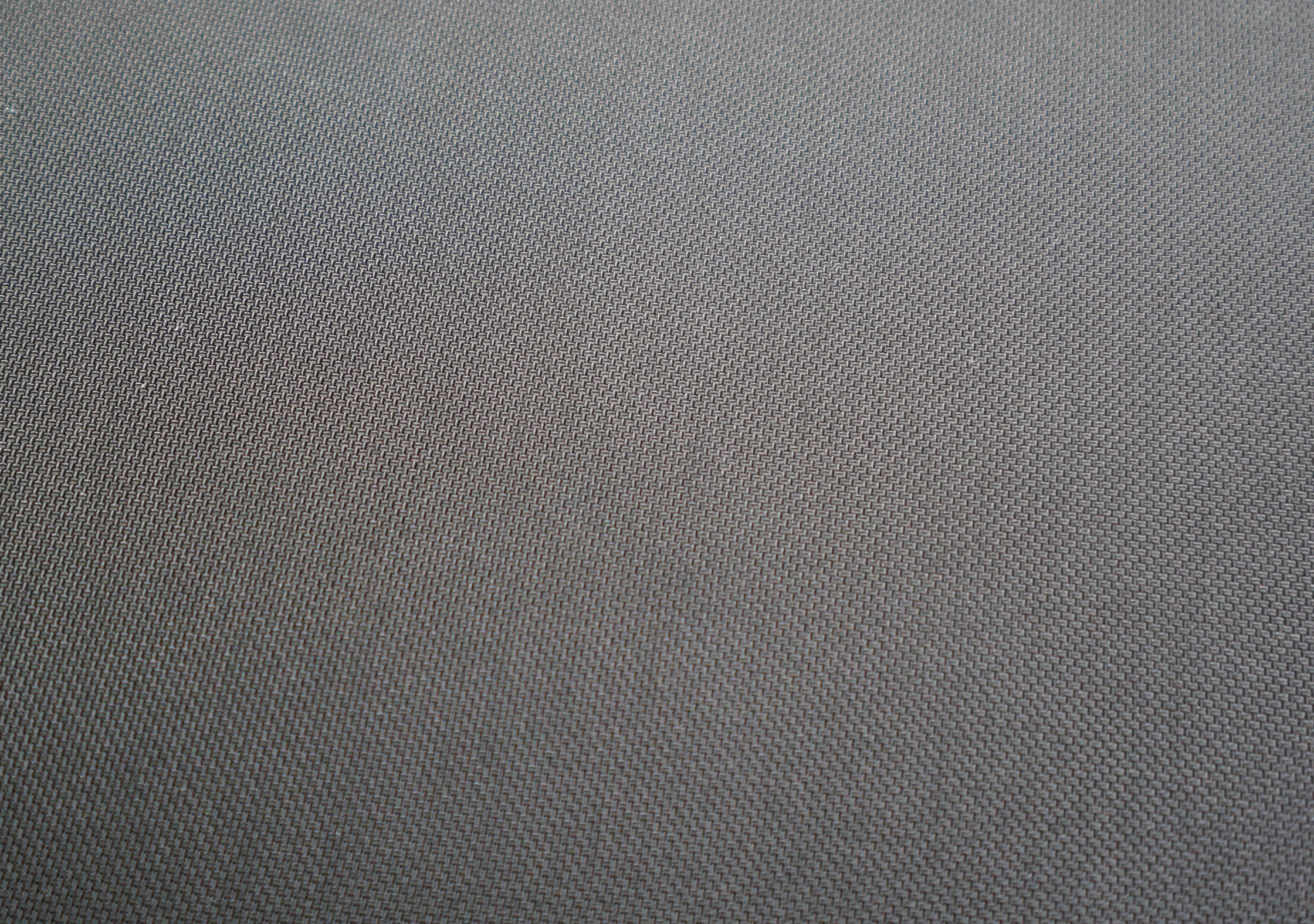 From a materials perspective, there are two different blends of nylon on this pack. On the exterior, there is some N630p-HT NYLON 6,6 plain weave, and the inside has a similar blend that is slightly less robust—the N210p-HT NYLON 6,6 plain weave.
If we lost you there, don't worry. That is literal gibberish. Luckily for you, we've got the lowdown.
These are both high tenacity nylons with polyurethane coating for added weather resistance. The exterior fabric is built to provide substantial abrasion resistance, tear strength, and snow/dirt shedding. The interior fabric is pretty much a toned-down version of the external stuff, providing some durability and tear-resistance but not quite as much abrasion or weather-shedding.
Are these the best backpack materials we've seen? Not quite.
Are they sufficient for a travel backpack? Most definitely.
Do we have any gripes? Kind of. We wish there was a ripstop weave in at least the exterior nylon. While this fabric does provide great resistance to tears, a ripstop weave means that if you do run into any tears, they won't get bigger. We like to see that on most packs we test. Other than that, this is good stuff.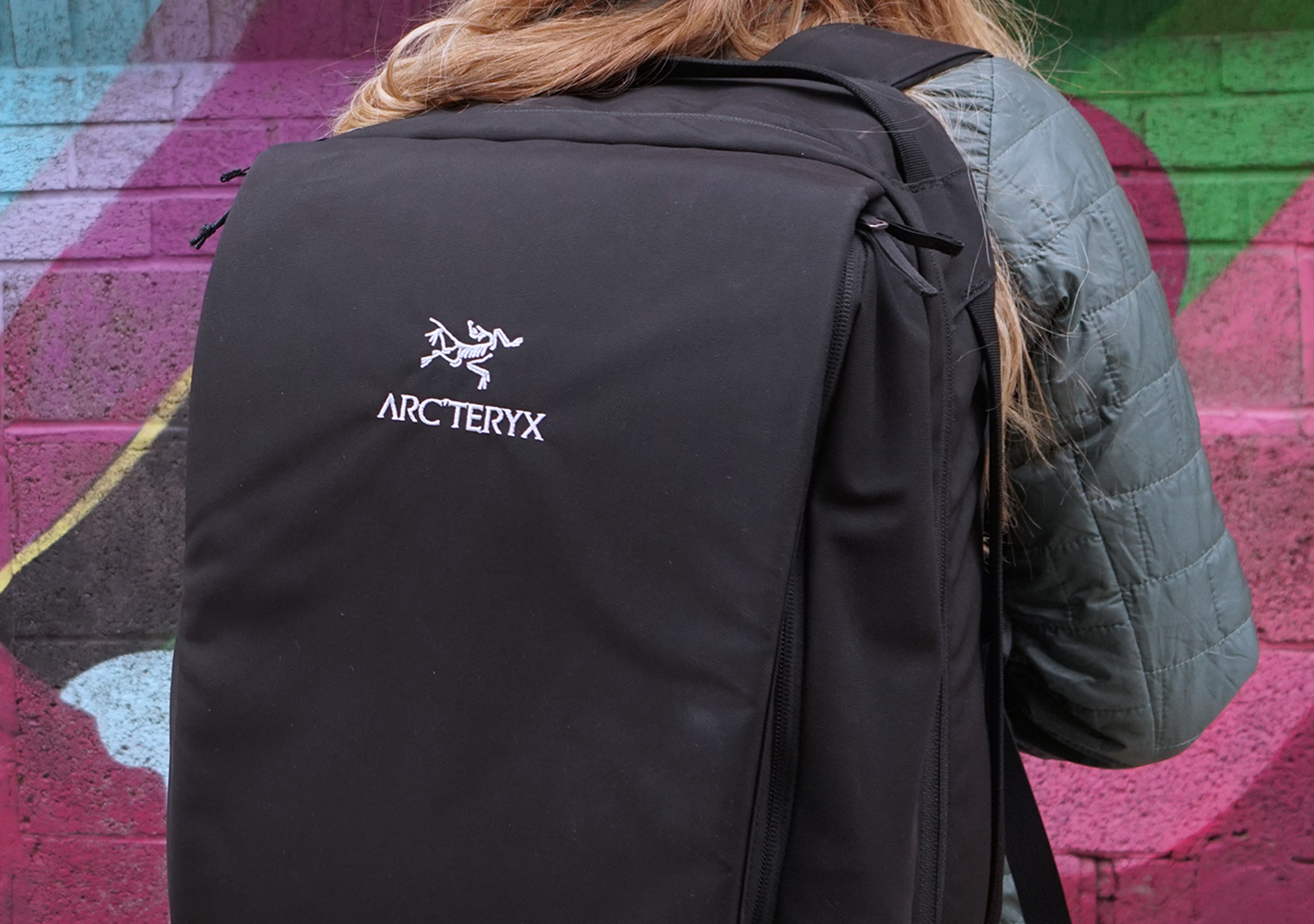 Moving on, there is some durable Woojin hardware that is used for the interior key clip, as well as some reverse coil YKK zippers in a couple of different weights around various areas of the pack.
We should also note that the Blade 28 is made in Vietnam, however, Arc'teryx produces gear and bags all over the globe. This includes Canada, the U.S., China, Vietnam, Bangladesh, Myanmar, the Philippines, Indonesia, Cambodia, El Salvador, and Romania. (Yeah, we really meant all over the globe.)
Our friends over at Carryology have done a full tour of the Arc'teryx Arc' One headquarters in Canada, and all we're going to say is that we have no qualms about their manufacturing. They take this stuff really seriously, so regardless of where in the world your bag is produced, we think you're in very capable hands. If you're interested in the nitty-gritty of their production system or you just want to see some photos of a high-tech and almost unnervingly clean factory, their article is worth a look.
External Components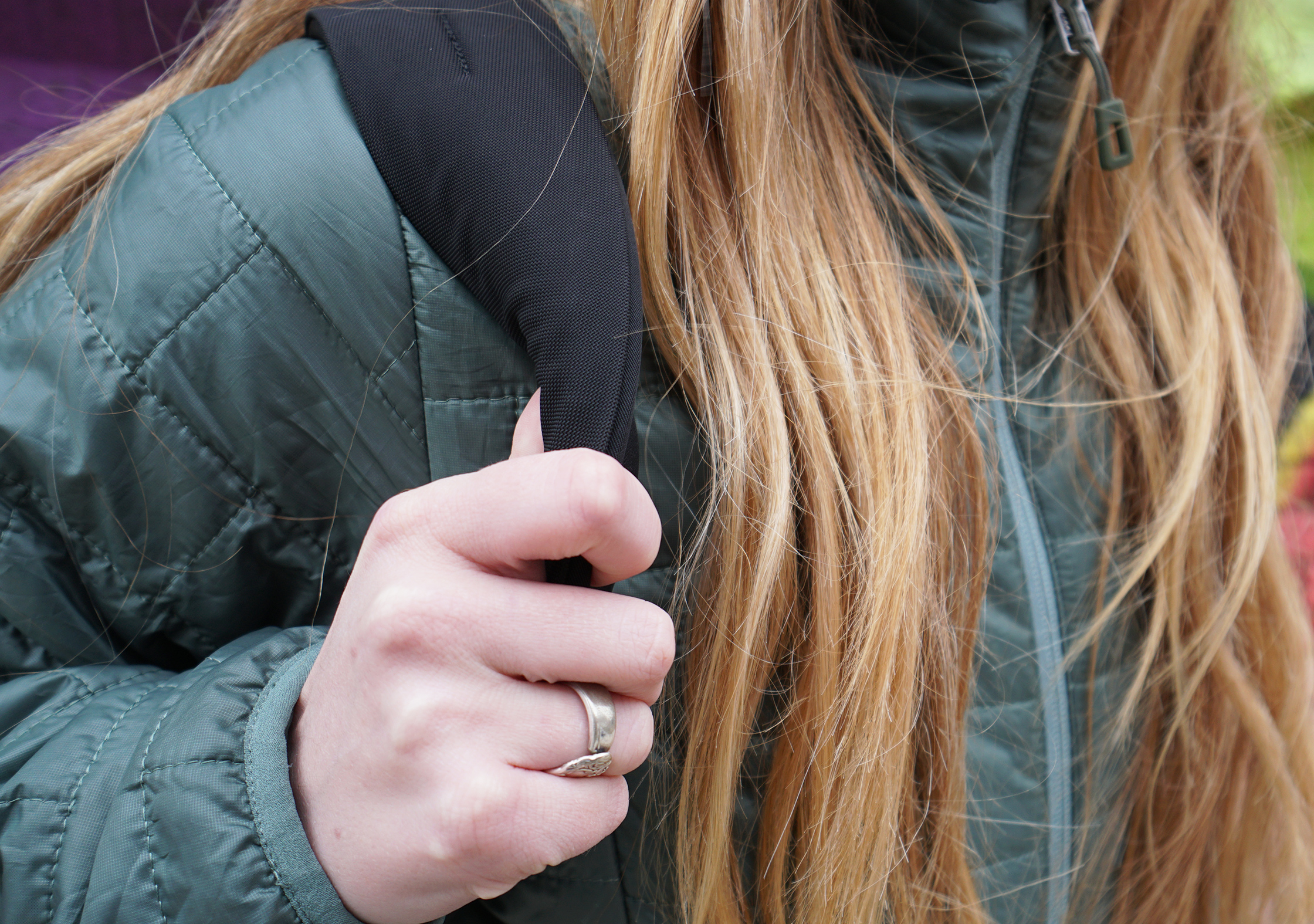 Kicking off the external components with the harness system, the dual-density shoulder straps on this pack provide some great comfort and a good overall carry. Although somewhat thin, the two layers of padding make these things more comfortable than you'd think.
You won't find any strap management for the adjuster straps—and as much as we love a good #danglefreeexperience, we don't think this is a huge deal. It's not entirely needed for a pack with only two external straps, especially because the rest of the pack is quite minimal. These are the only straps…at all.
Yes, you read that right—you will not find a sternum strap or a hip belt on this thing! There isn't even an option to add it.
For a 28 liter pack, we think this is kind of borderline. If this pack were any bigger, a sternum and hip belt would be pretty much a necessity. But given the size and how minimal the exterior is, we can see why they made this decision. A hip belt and sternum could have been a bit overkill and they would certainly clutter up the bag.
That said, some removable options seem like they would have been an obvious choice here. We've seen this done well on plenty of other packs, so it seems odd that Arc'teryx wasn't able to figure out a logical system here.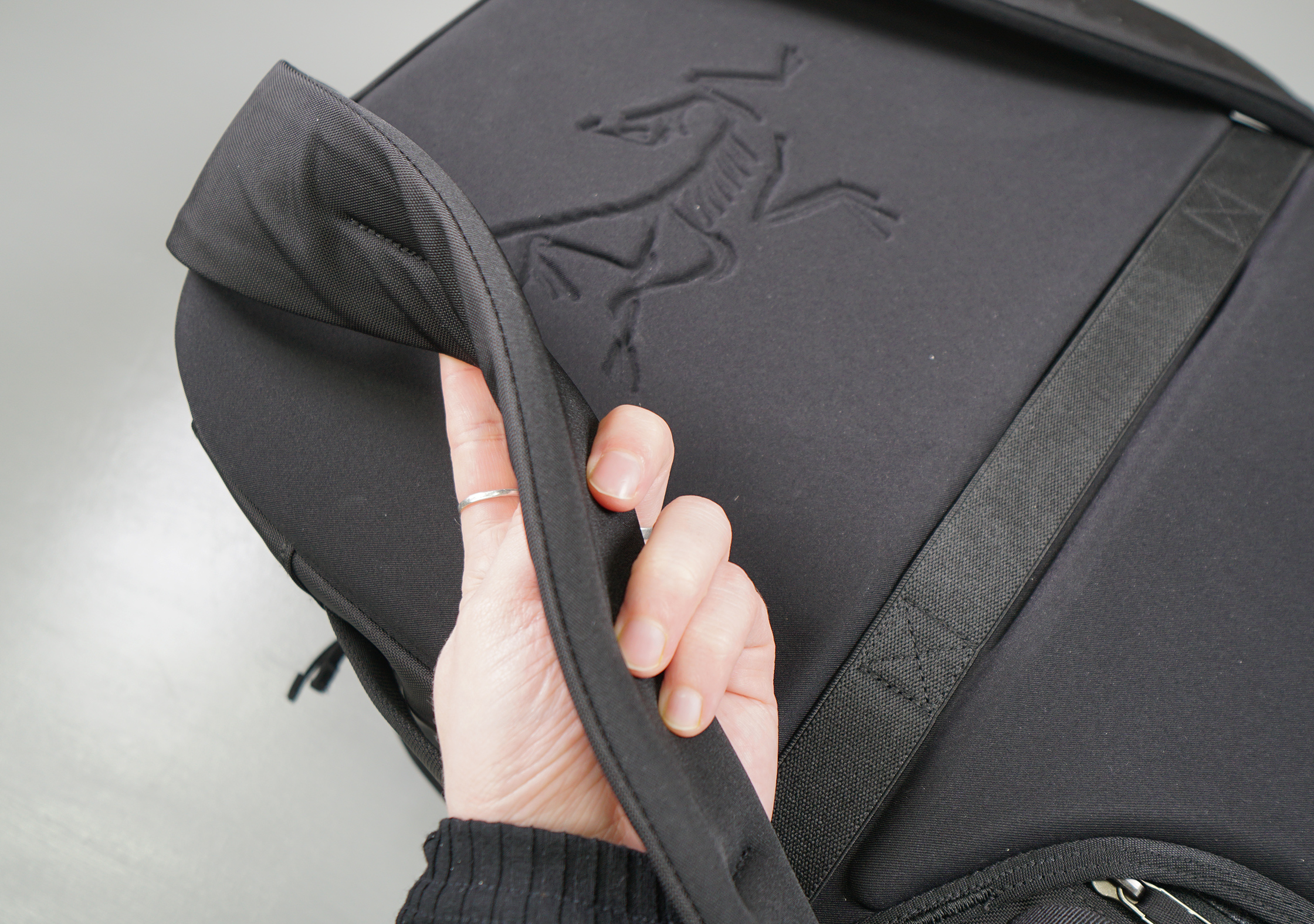 Moving on, you'll notice that the bottom of the back panel has this odd-looking pass-through area. At first, we thought this was for a removable hip belt, but it's not. There is a secret pocket here, which we'll get into a bit later.
As far as the back panel itself goes, it's very firm and padded. There is also a frame sheet inside that provides some nice structure. It's a little bit stiffer than other bags we've seen, however, it's not quite as stiff as something like what GORUCK uses on their bags. (Those things are military-grade packs made for lugging massive amounts of weight, so they're kind of in a different league.) We think this provides a nice happy medium where you get a structured carry while still having some flexibility.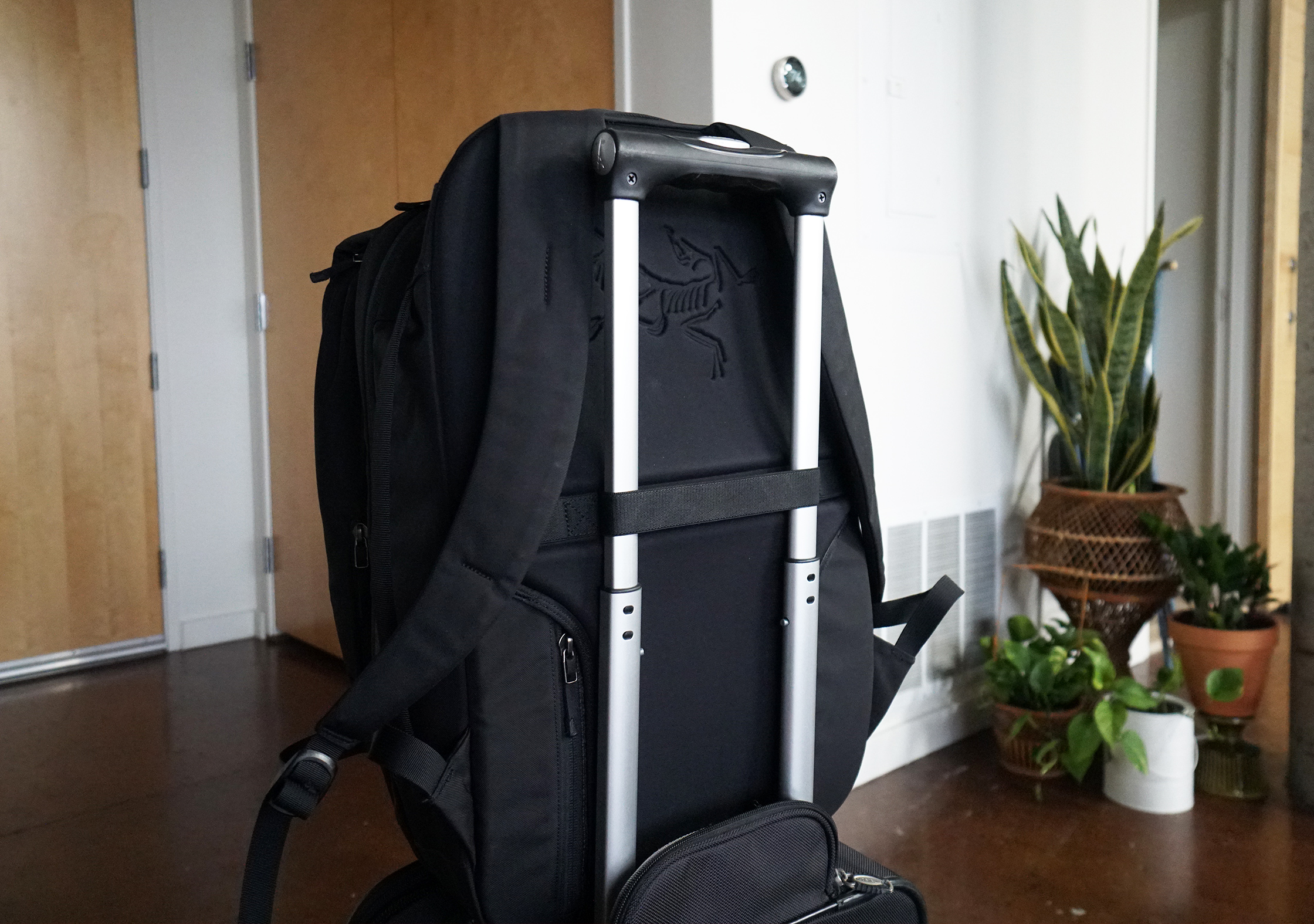 There's a thin piece of stretchy, elastic-type material on the back panel that can be used as a pass-through for roller luggage. We've seen this done better on other packs, and we think it could be improved upon, but it still works. They've been able to make this feature pretty much as simple and minimal as possible, so it really doesn't affect the use or carry of the pack if you don't decide to use it. We like that.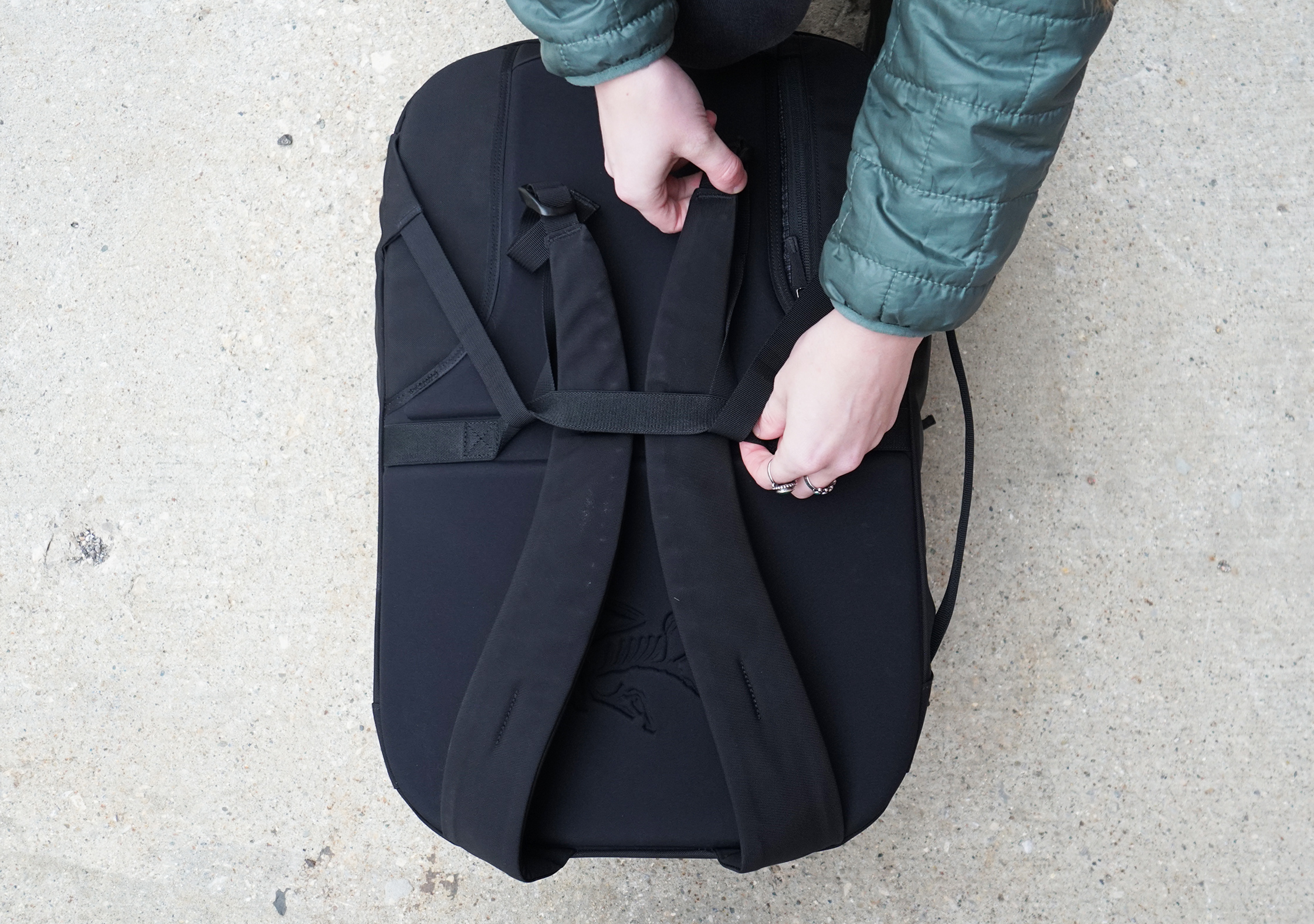 We've also found one other use for that strap, which is kind of a hack. If you want to stow the shoulder straps, you can loosen them and slide them under this strap to keep everything a little bit tighter and more compact. It is by no means a perfect solution—and this is really not what the strap was intended to be used for—but it'll work in a pinch.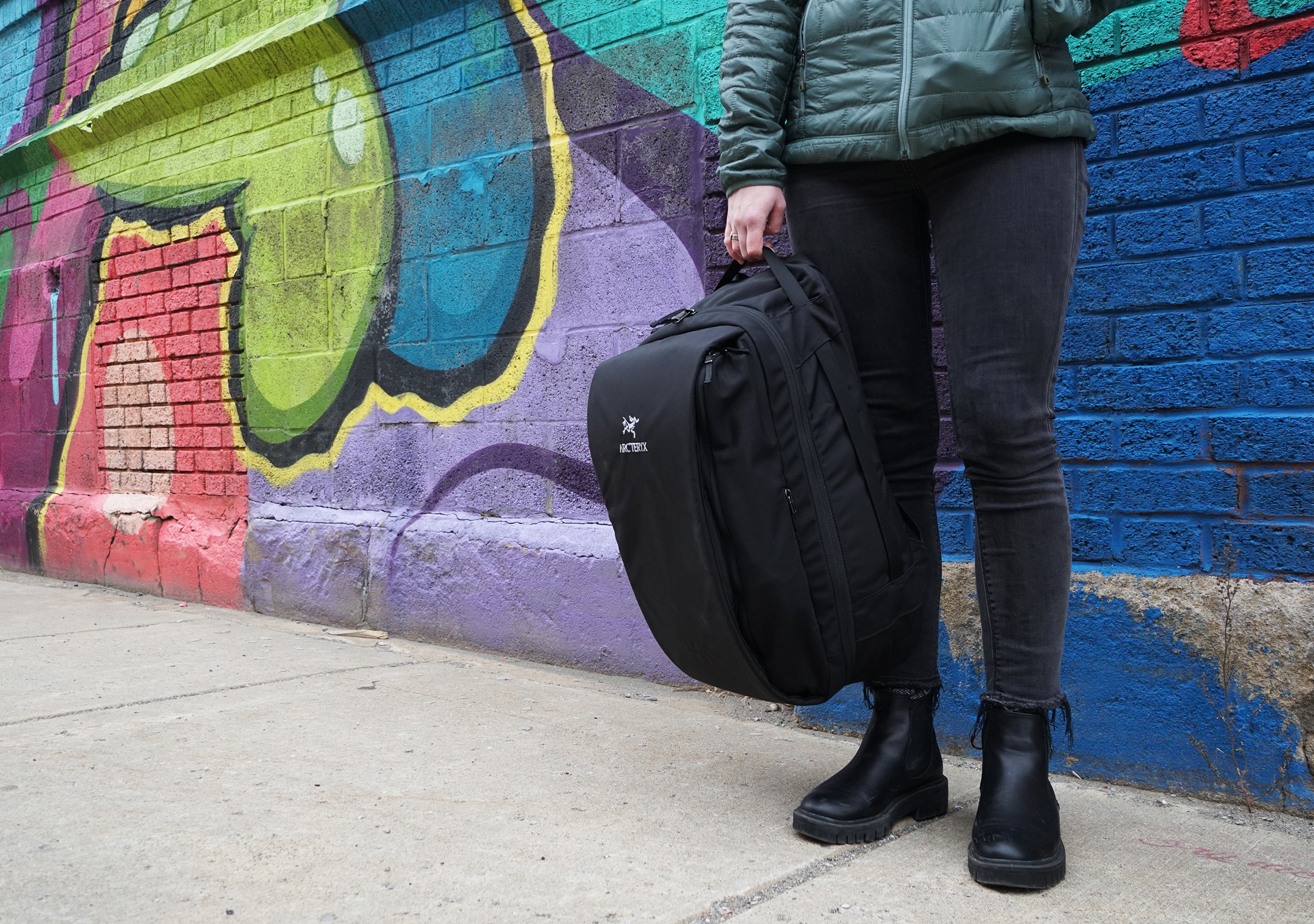 There are large grab handles on the top and wearer's right-hand side of the pack. These are definitely a win in our eyes—they are very long, highly "grabbable," and they still manage to maintain a low profile. This is some great design thinking from Arc'teryx that allows you to easily grab this pack from two out of the four sides.
The rest of the exterior is quite minimal, which we're not going to complain about. For a bag this size, you don't really need any additional features, and we think they've handled all the essentials quite nicely. We should, however, mention that there is no exterior compression system. This hasn't really been an issue as the bag seems to keep a low profile due to the pattern of the fabric and the overall design.
Inside the Pack
Kicking it off with the secure pocket on the back of the frame sheet—which we touched upon earlier—this thing is about the height of a plus-sized iPhone or any other smartphone on the larger side of the spectrum.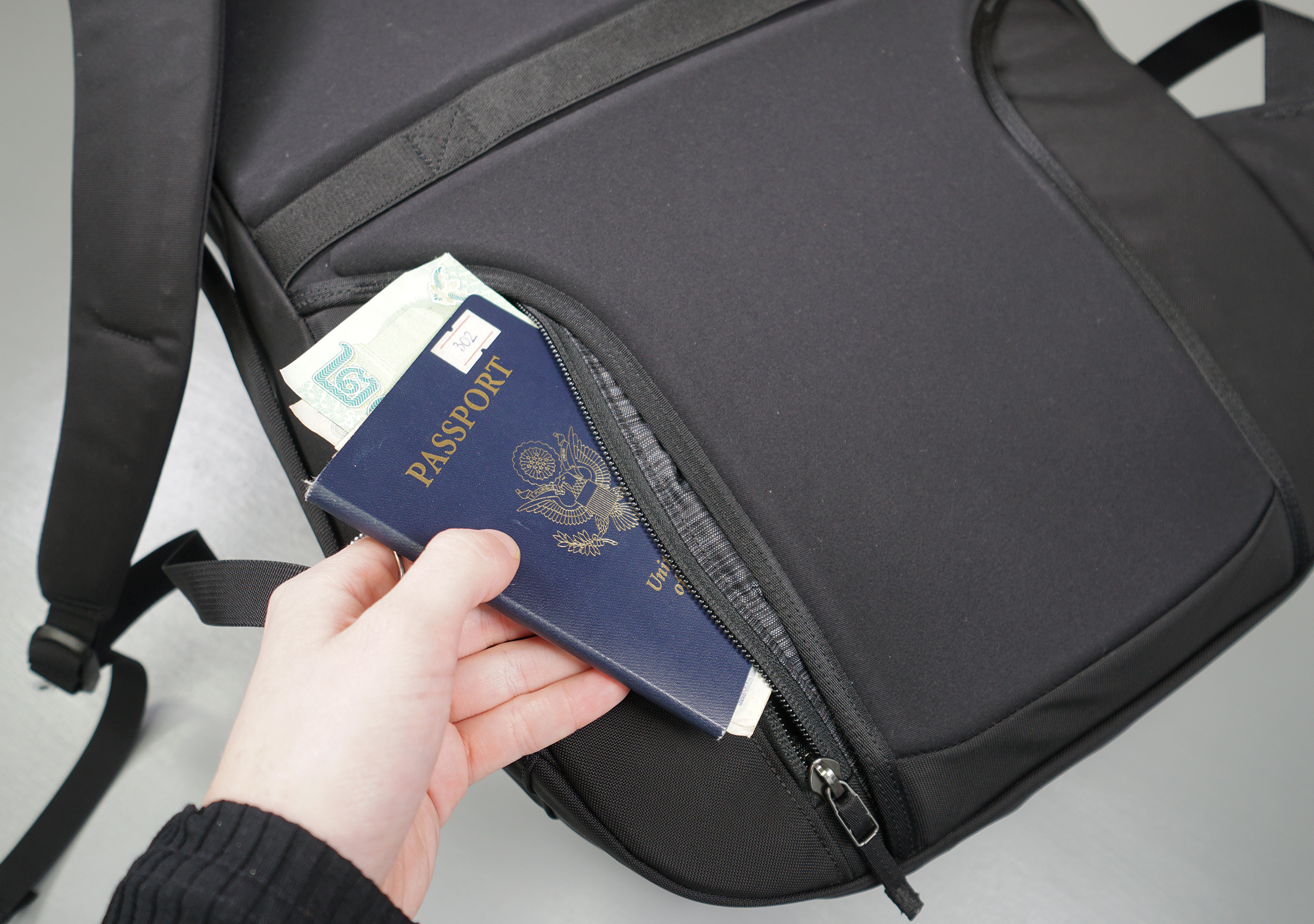 This is definitely the most secure pocket on the pack, as it will be impossible for anyone to access while you're wearing it. It's definitely best for flatter items, so if you have a passport or cash that you want to keep secure and close to your body, it will work great for that. That said, we have thrown some bulkier items in here and it's really not as uncomfortable as you might think, thanks to all that foam padding.
Our only (minor) gripe is that we wish Arc'teryx had made the zipper a bit more inconspicuous here. We've noticed that some other brands—like Peak Design and PacSafe—will strategically use low-profile zippers in areas like this, and it definitely works well to keep it hidden away from potential thieves. With this zipper, it's pretty easy to see there's a pocket here (assuming you're not wearing the bag).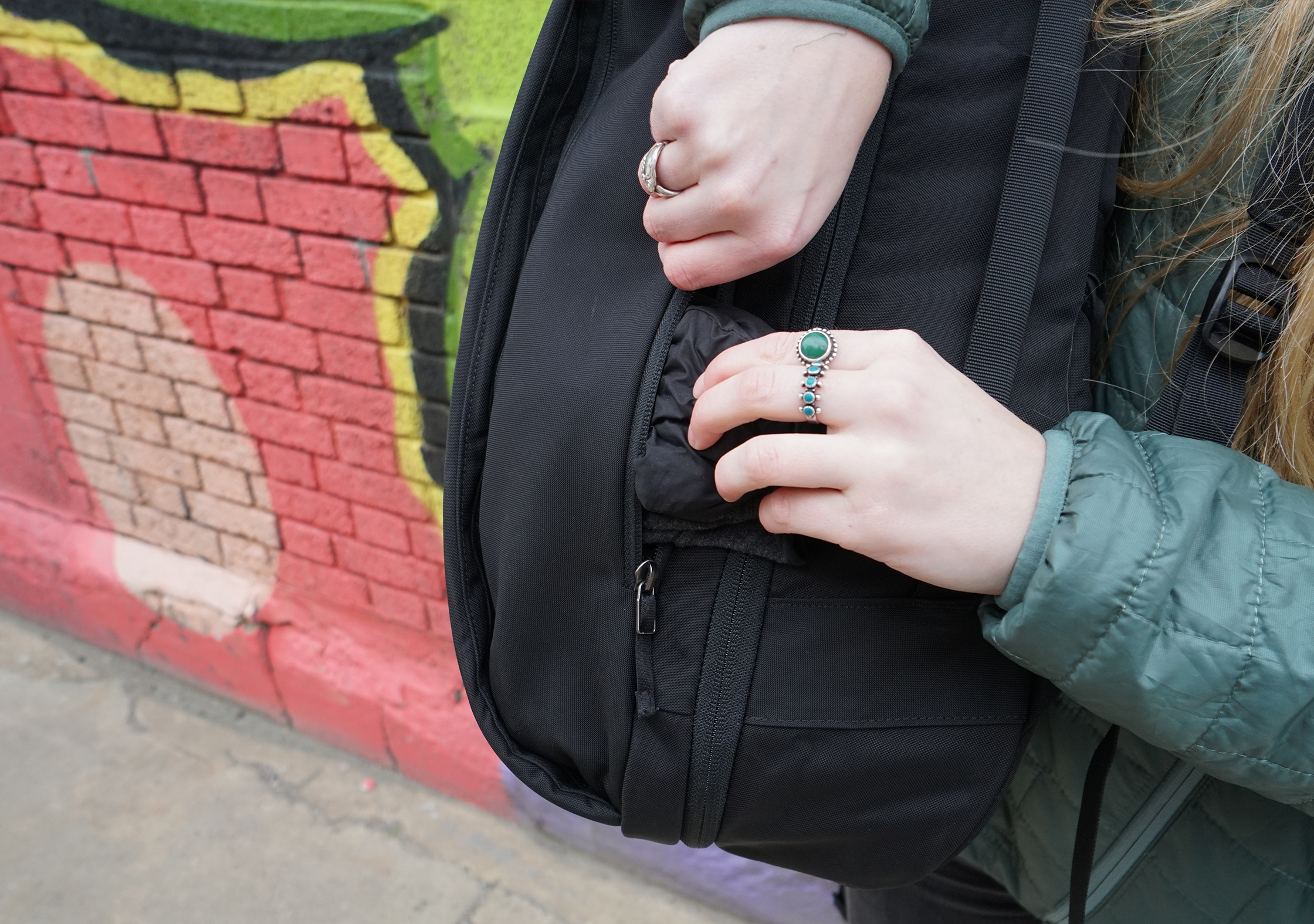 There is also one exterior pocket to the wearer's right-hand side, which we've found to be a really handy pocket for quick-grab items like gloves, keys and other small accessories. It is a bit too small to fit most phones, though.
Behind that, on the front of the pack, there is a ton of organization going on. There is a side zip pocket which we think is really nicely done. The positioning of the access point is ideal, as you can swing the pack around your body and quickly access the contents of the pocket at a moment's notice. It's also really convenient if you have the bag sitting down on the floor, as it allows for slightly easier access than a conventional top-access zipper.
Overall, the side pockets can be a bit awkward to use, but we do think having the ability to access this stuff from the side is a really great feature. Let's take a closer look.
The bottom of this compartment offers a sleeve for a 15-inch laptop, which is highly padded but very loose. So there is definitely ample space for a case, even if you have a thicker laptop. But as much as we like the construction of this laptop sleeve, we think the location is less than ideal.
We like laptop compartments to be right against your back because you always want to pack heavier items as close to your body as possible. That helps distribute the weight nicely, giving you a more comfortable carry and keeping your back a bit straighter. Having heavier items—like a laptop—far from your back makes for a wonky carry and a higher likelihood of looking like a hunchback. Which isn't the greatest.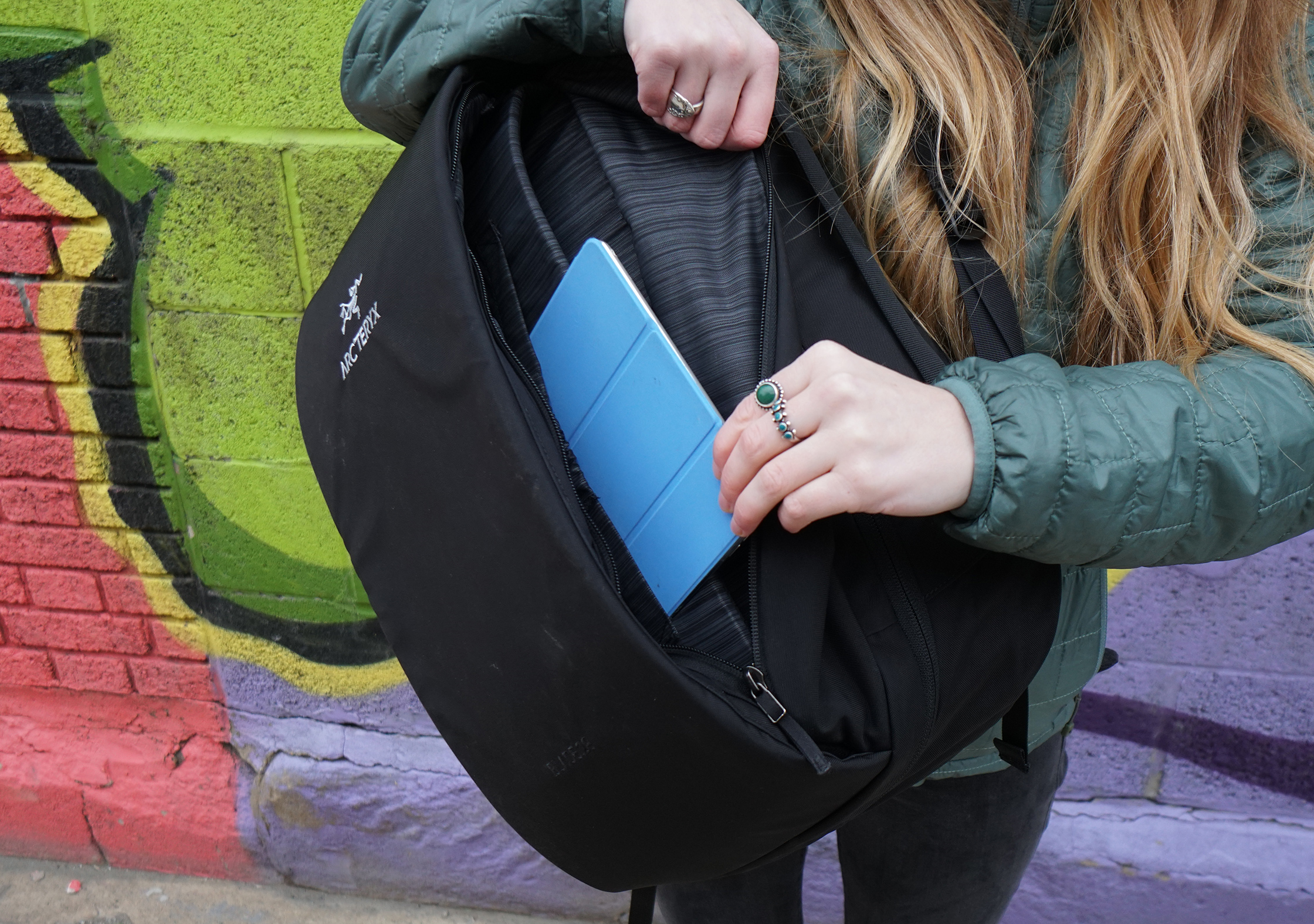 Pro tip: If you are using this as a daily carry pack, we recommend using a padded laptop sleeve and putting your laptop in the main compartment to keep the weight closer to your back.
Above the laptop compartment, there is a separate tablet partition with a bit of elasticity to hold things in place. And above both of those compartments, there is some nice space for additional items. We should also note that the top part offers a two-way zipper, which lets you access either side of this system quite easily. We love to see this.
On the right-hand side, there is a stretchy mesh pocket that's good for water bottles. Directly to the left of that there is also a pass-through port where you can feed cables through. This is a great little feature that will allow you to feed a cable through that pocket into the laptop and tablet area. So if you have a battery pack, you can feed the cable out and charge your gear up while keeping everything in its proper place.
To the left of that, there are two more pockets—one that takes up about a third of the total space, and another that takes up the rest (AKA, two-thirds). The smaller pocket is a stretchy mesh pocket and the larger one is a pretty standard, nylon-liner pocket. Although these pockets are a bit hard to see, if you organize them by feel and you've got a good handle on where everything is, it shouldn't be much of an issue.
Overall, we think this side pocket system is a clever design from Arc'teryx and it has worked well for us in testing, despite our reservations about the laptop compartment. We really like how easy it is to access as you're wearing the pack—just slide it around one arm and you've got access to everything in there.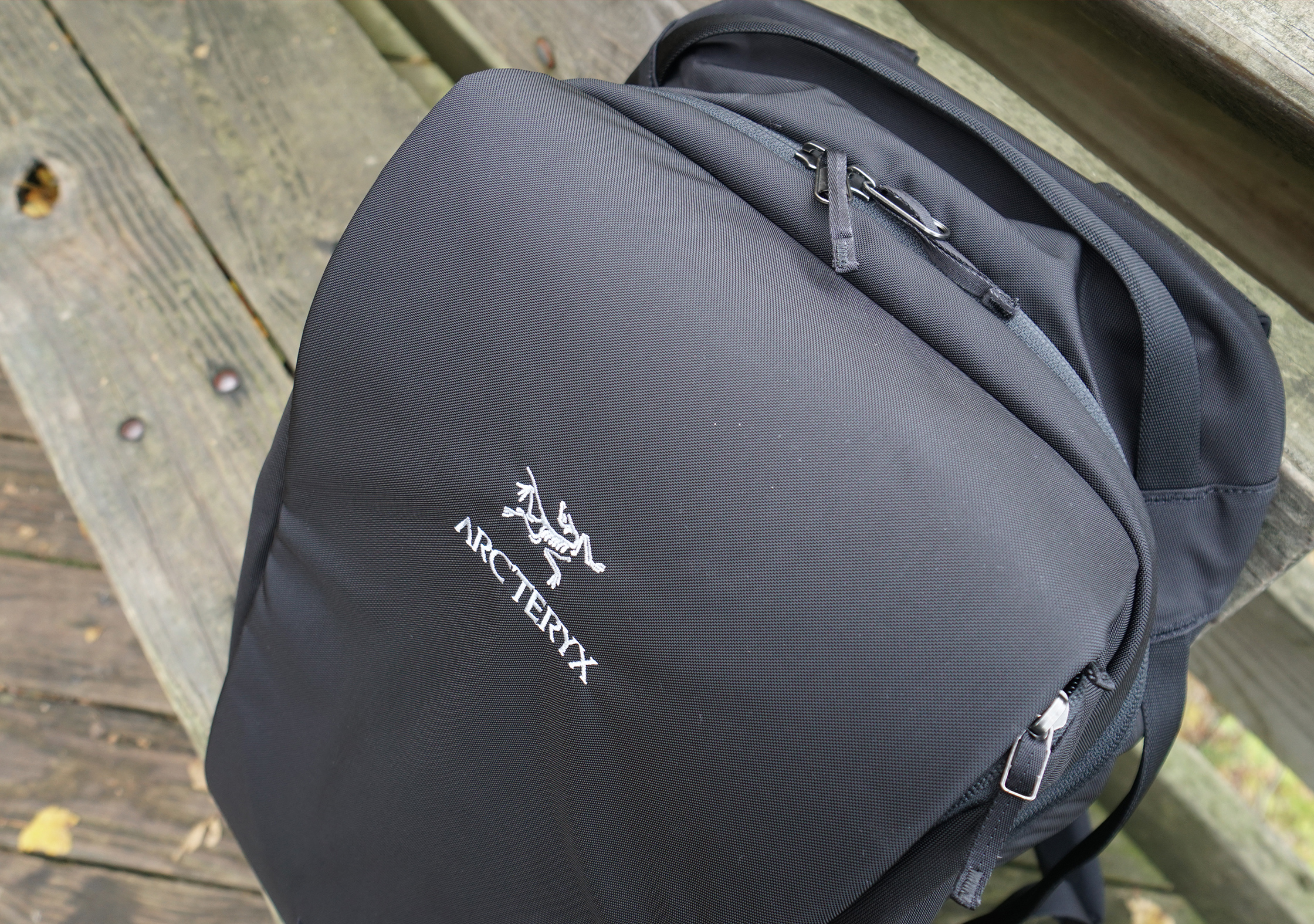 Moving on to the main compartment, this area has a clamshell opening, meaning you can open it and pack it just like you would a suitcase. There are two zippers on this compartment, allowing you to open it from various areas depending on where you leave them (just like the side-access pocket on the front). We like leaving the zipper pulls near the top of the bag, allowing you to open up the compartment just a bit to access a few things without opening the bag up entirely.
You've probably already noticed that the interior liner—which is made of the N210p-HT NYLON 6,6 plain weave, of course—is colored with a bunch of different shades of gray in a striped pattern. This can help increase the visibility of your items inside, however, we have seen some other brands go really high visibility with their interiors by using bright, neon colors. This kind of "lights up" the bag, allowing you to clearly make out all of your items. Although this isn't quite on the same level, we think it works well and we like that it's a bit more subdued and tasteful than having what amounts to a bright, neon green light shining in your face every time you open your pack. (We're looking at you, Thule.)
On the left side of the clamshell, there is a nylon pocket that's good for organizing additional items, and the right side offers a fully zippered compartment that acts as a compression system, allowing you to separate your gear a bit more if needed.
In addition to the zippered compartment, there is ample space and depth to pack clothing on the right side. We always recommend grabbing packing cubes for larger spaces like this, and we definitely think this pack can benefit from some packing cubes in the main compartment. Having most of your clothes in cubes will allow you to fit quite a bit more in this pack while still keeping things organized.
And while you might be skeptical, we can confirm that even when the right and left side pockets are filled up there is still room in the rest of the main compartment to put additional items—which is great. We've been pleasantly surprised with how much you can actually fit in here. It's a lot more than we initially expected.
Finally, there's a zippered compartment at the top that holds the frame sheet. Technically speaking, you could pop that thing out and either replace it with a thicker frame sheet or remove it entirely. That's totally up to you, although we're pretty confident that the standard frame sheet is more or less perfect for this bag. And we're also pretty confident that removing it would be a terrible idea…so just don't do that. Please.
Durability & Testing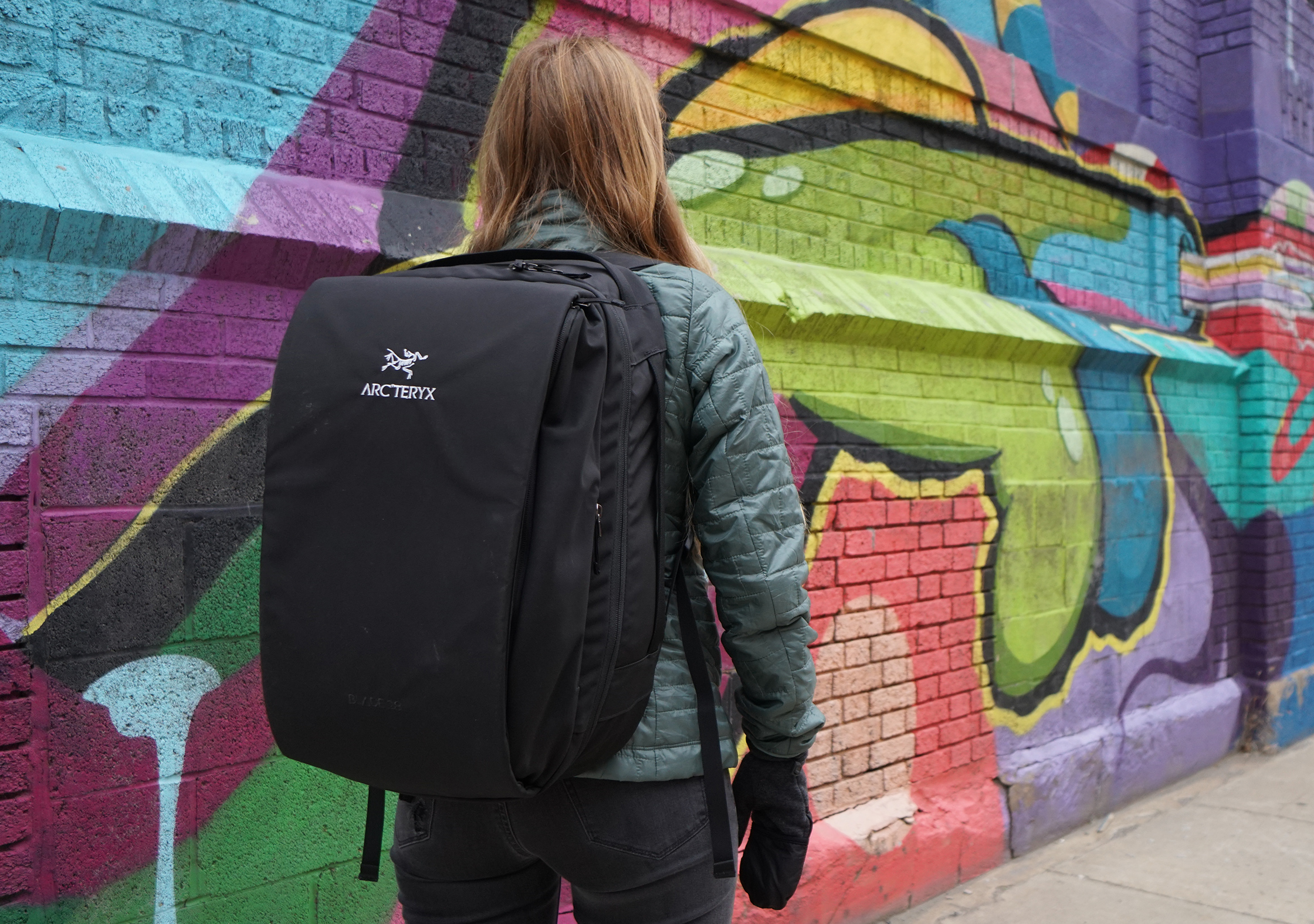 Arc'teryx classifies the Blade 28 as a weekend travel bag, but we also think it could be used as a one bag travel pack if you're a minimalist. 28 liters is on the lower end for one bag travel, but we know people that travel with a lot less.
During our testing, we brought this pack through Chicago, Iowa, Northern Michigan, and Cuyahoga Valley National Park in Ohio. So far, we have not seen any scuffing or durability issues, and there isn't even any dirt on it to speak of. (That dirt-shedding exterior nylon really does work!) Arc'teryx recommends using water to wash off the exterior of the pack if blemishes and dirt spots start to show up, so we'll be sure to do that if and when it's needed.
Overall, we've had a great time testing this bag…but, to be honest, we were hoping for a bit more. Arc'teryx's gear comes at a pretty high price point, and after testing the Beta SL Rain Jacket—which is one of the top-rated items on our site—we expected this pack to really knock our socks off. It's a good pack and we were impressed with some of the features, but we just feel like it's missing that "wow" factor to set it apart from the competition.
Usage Timeline
Initial Usage
Condition: Excellent
Liking the looks of this pack, although the logo is a bit much. The side-access pocket is interesting and the shape of the pack is a bit unique.
1 Month of Use
Condition: Excellent
No major complaints or durability issues, this bag has held up nicely and it is very functional for minimal travel or weekend trips. It definitely fits more than we initially expected.
Access the Pro Community Discussion
Get your questions about the Arc'teryx Blade 28 Backpack answered from our team and the Pro Community right here on the page. Plus, join discussions with other members about gear, guides, and more.
Other Bags & Luggage Reviews