Apple iPhone Leather Wallet with MagSafe Review
The Apple iPhone Leather Wallet with MagSafe is sleek and feels durable, though we had issues with it slipping off of our phone.
Our Verdict
Unlock the Pro Summary
Save time. Get access to brief summaries of our reviews so you can browse and make decisions more efficiently.
Pros
Slim and low profile
Leather looks premium and sleek
Fits around two cards comfortably
Cons
Can fall off your phone easily
Slides around when phone is in your pocket or bag
You have to take it off your phone to access cards
Recent Pack Hacker Video
Technical Details
Weight (oz)

2.56 oz (72.6 g)

Dimensions

4.54 in x 3.24 in x 0.59 in (11.5 x 8.2 x 1.5 cm)

Notable Materials

Leather

Manufacturing Country

China

Warranty Information
Full Review
Apple's MagSafe technology that came with the iPhone 12 changed the game in terms of wireless charging. Included in their line of chargers and accessories that attach magnetically to your phone is the Apple iPhone Leather Wallet with MagSafe. It's slim and doesn't add extra bulk, so the combo can easily fit in your pocket. The magnets allow it to stick right to the back of your phone, so you'll always have your ID and credit card on hand.
That's how it's supposed to work, at least. In our experience, the iPhone Leather Wallet with MagSafe slides out of place in your pocket or bag without much force. It also fell off our phone repeatedly during use, causing us to end our two-week testing period early. Before we jump into that, let's start by looking at what we like about this wallet.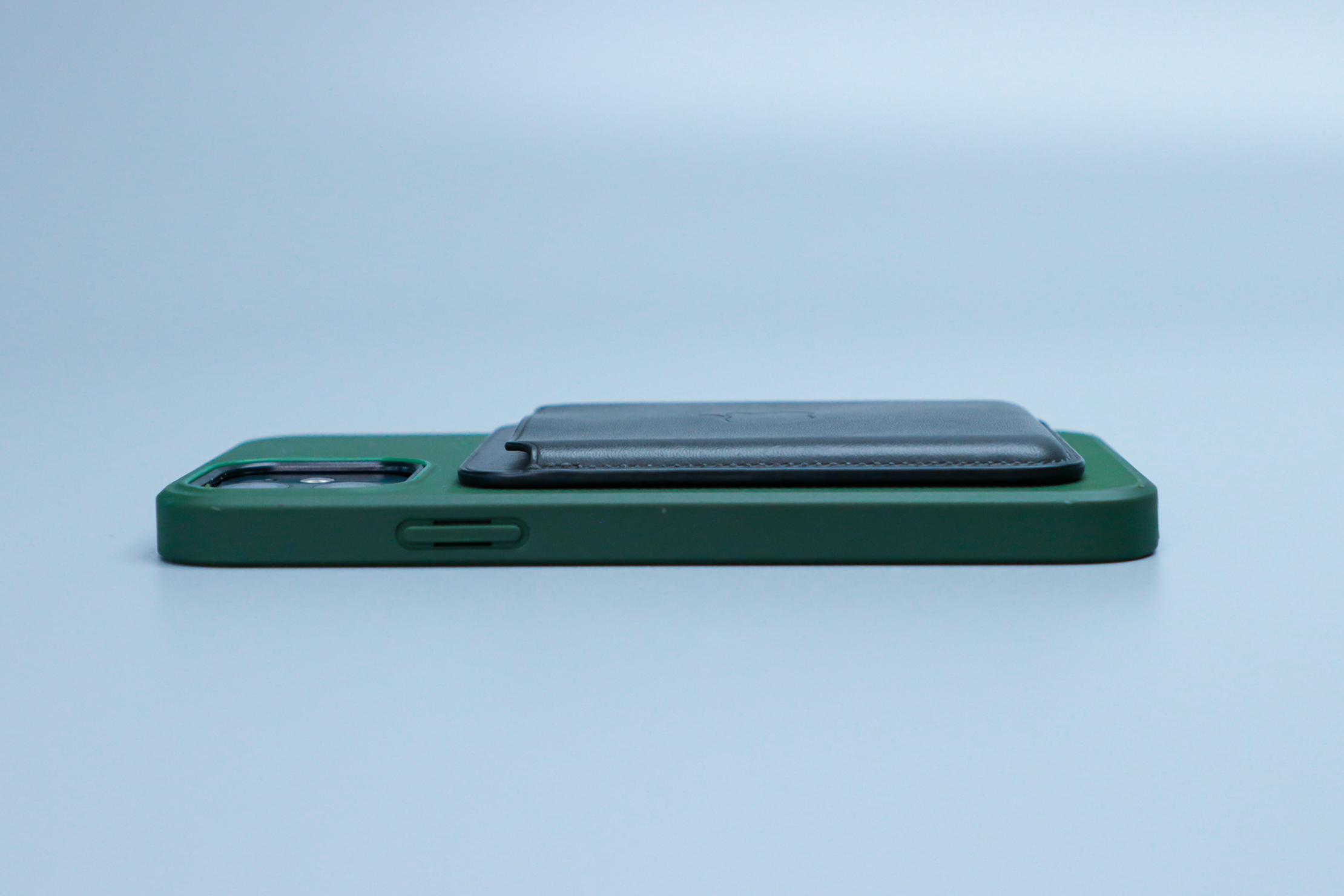 First off, it's important to note that this wallet is for phones with MagSafe capabilities only—that means the iPhone 12 or later. It's made with high-quality European leather that looks premium and feels sturdy. The slim profile and simple design make it look amazingly minimalist, which we are huge fans of. No loose threads or snags are to be found here due to its expert craftsmanship. Plus, it looks great on your phone as it doesn't stick out like other MagSafe wallets we've tried. Aesthetically, it's the definition of "chef's kiss."
Unfortunately, our praise for the Apple iPhone Leather Wallet with MagSafe ends here. Our excitement for this product dwindled as it kept falling off the back of our phone. Every time the magnet disconnected was like a blow from an enemy in an RPG that cuts chunks out of your health bar.
We'll get into how the wallet actually fell off our phone in the next section, but first, we want to mention how easily it slides around. When taking your phone with the wallet attached out of your pocket, it always seems off-centered or angled in a weird way. Simply pushing it with your finger will cause it to shift around, and the magnet doesn't feel very strong. You'll see what we mean in the gif below.
We first noticed this when we had it attached to our phone in our daypack. When we went to grab our phone, the wallet was gone, leading to a slight existential crisis. Had we actually put the wallet on the phone to begin with? Was it all just a facade? What is this wallet you speak of? Had it ever existed in the first place? Turns out it got jostled around inside our backpack and had detached. It goes without saying that this was incredibly disappointing for a product coming from such a highly-revered and trusted brand.
Features & Usage
Let's get something straight before we move on. We tested the Apple iPhone Leather Wallet with MagSafe on an iPhone 12. We were also using a Moment Thin Case that's fully MagSafe compatible, so everything should have worked together seamlessly. Sadly, we nearly lost this wallet after it fell off our phone in a public parking lot.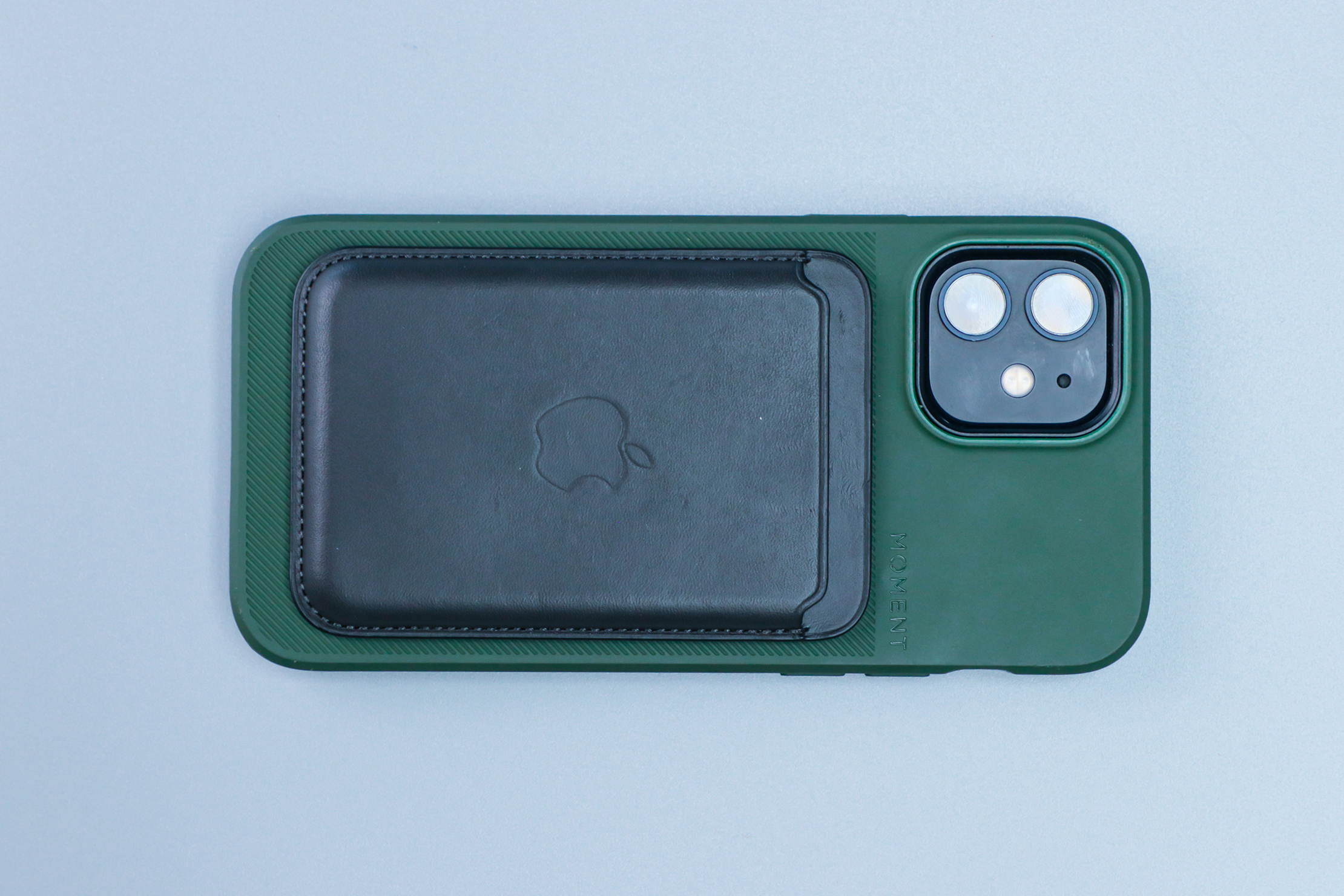 We were strolling around, phone in hand during a night on the town, with the Apple Leather Wallet in tow. In a crowded parking lot, we thought we heard something drop and looked down to find the wallet had disappeared like a most unfortunate magic trick. Not sure exactly where the wallet had disconnected, we frantically searched the parking lot. After no luck, we eventually went back into the establishment we had just visited to see if it was lost somewhere inside. Negative. It was back to the parking lot, searching on our hands and knees like our lives depended on it. Our driver's license and debit card were in that thing, and replacing them would be a pain. Lo and behold, there the wallet was, sitting in the dirt underneath a car. It was at this moment we knew we messed up and decided not to use it anymore. This was not the first time the wallet came off our phone, but it darn sure was going to be the last.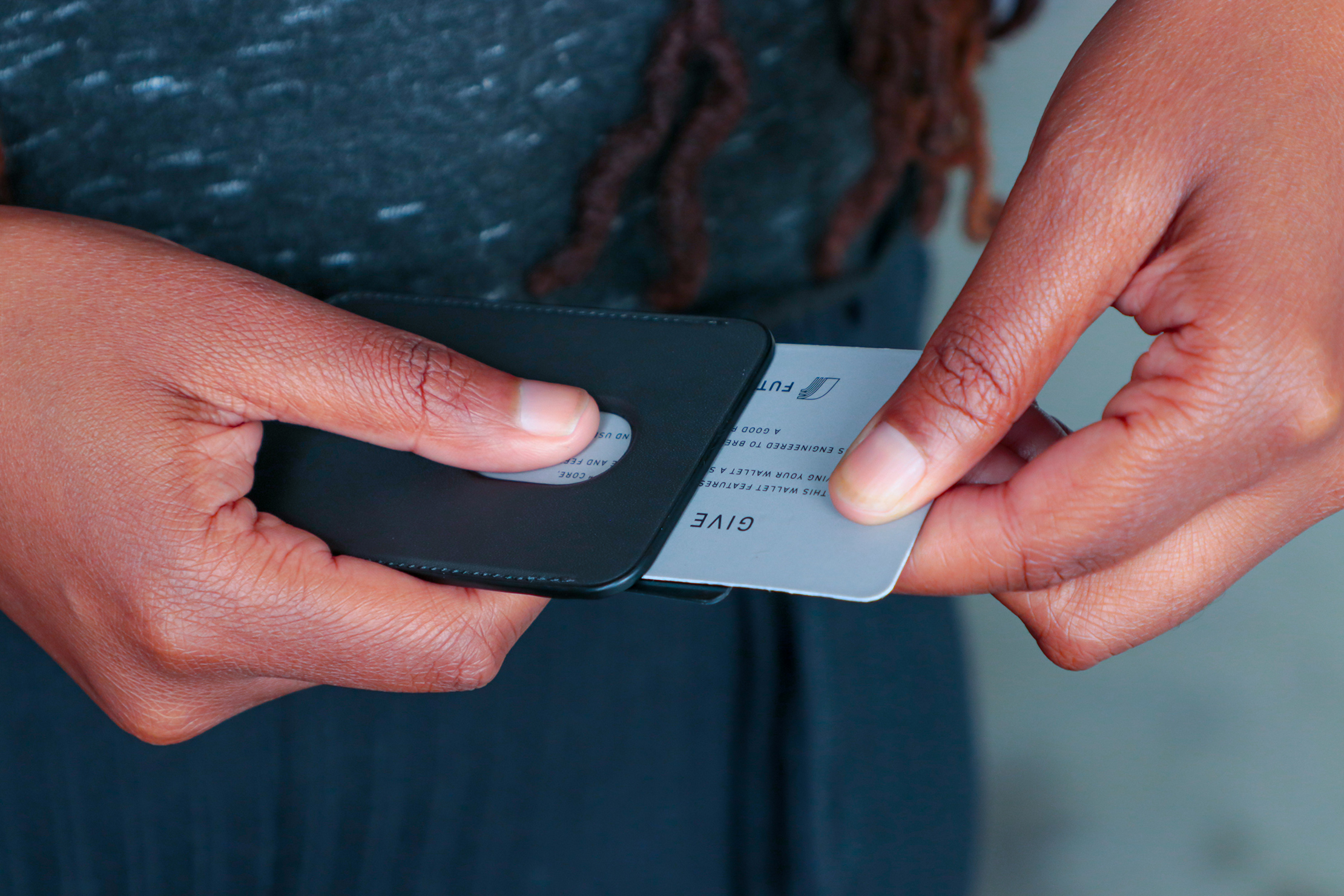 On their website, Apple says this MagSafe wallet can fit up to three cards. In our experience, two was the sweet spot. Sure, three cards can fit, but it's a tight squeeze, and it's a bit of a struggle trying to get one out. This is not necessarily a bad thing for everyday carry as we typically just bring an ID and one debit or credit card along. However, if you're someone who carries a MetroCard and several credit cards for different purposes, then this probably won't work for you.
One thing to be aware of is that you have to actually remove the wallet from your phone to get your cards out. This makes something as simple as buying a quick drink at the store take twice as long. It's a five-step process—take the wallet off, get the card you need out, pay, put it back in, and reattach the whole thing to your phone. A little thumbhole on the back helps you slide the cards up at least, but if you've got three inside, getting to the middle one is difficult.
Overall, the sleek design and premium leather gave us high hopes for the iPhone Leather Wallet with MagSafe from Apple. But, unfortunately, it disconnected from our iPhone 12 too many times for comfort.
Usage Timeline
Initial Usage
Condition: Excellent
Covers the entire width of an iPhone 12 mini
Can stack on top of a MagSafe compatible case
Fits three cards
2 Weeks of Use
Condition: Excellent
We were using this wallet on an iPhone 12 with a MagSafe compatible case, but it kept sliding around and fell off several times. After it fell off our phone while we were in a public parking lot and was almost lost underneath a car, we decided to end the testing phase early.
Access the Pro Community Discussion
Get your questions about the Apple iPhone Leather Wallet with MagSafe answered from our team and the Pro Community right here on the page. Plus, join discussions with other members about gear, guides, and more.
Other Productivity & Tech Reviews