Aer Travel Zip Wallet Review
The Aer Travel Zip Wallet will help you organize your passport(s), cash, cards, and documents while traveling—but its large size can be inconvenient.
Our Verdict
Unlock the Pro Summary
Save time. Get access to brief summaries of our reviews so you can browse and make decisions more efficiently.
Pros
Water-resistant exterior
RFID-blocking
Plenty of organization and holds a lot
Cons
Doesn't fit inside most quick-grab pockets on backpacks and sling bags
Zippered pocket is too small
Front slip pocket isn't secure
Recent Pack Hacker Video
Technical Details
Denier

1680D

Weight (lb)

0.375 lb (0.2 kg)

Dimensions

9.25 in x 5.5 in x 1 in (23.5 x 14 x 2.5 cm)

Notable Materials

CORDURA® Ballistic Nylon, Microfiber, YKK Zippers, Hypalon®

Manufacturing Country

China

Warranty Information
Full Review
Get up to 10% off Aer • Join Pack Hacker Pro
If you're looking for a large, durable wallet to hold all of your boarding passes, passport(s), cards, cash, SIM cards, and documents while circumnavigating the globe, then the Aer Travel Zip Wallet should be on your radar. Now, it's one of the largest travel wallets we've tested to date…which isn't exactly a good thing. But we're getting ahead of ourselves. First, let's check out the materials.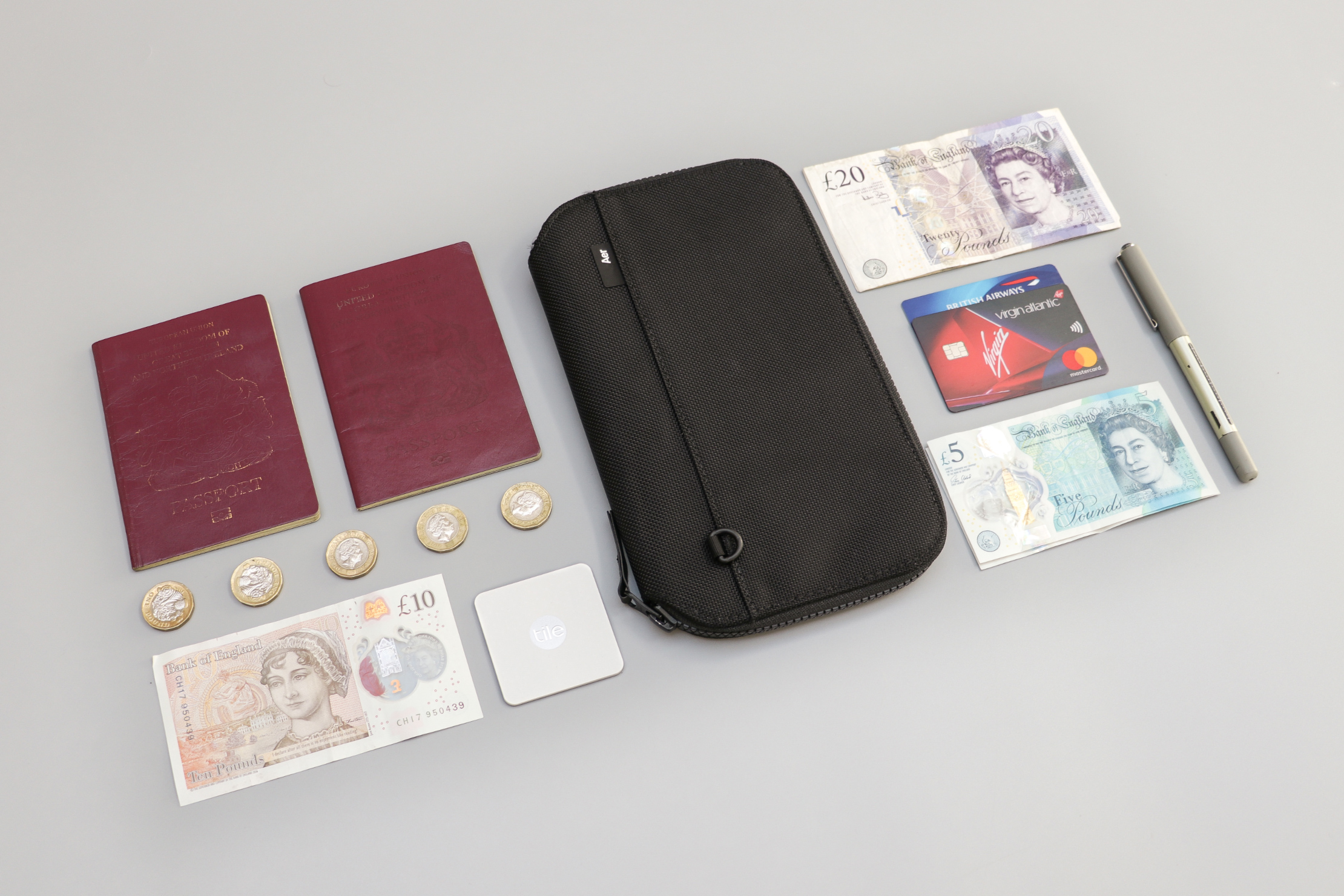 Materials & Aesthetic
If you're familiar with Aer then you won't be surprised by the Travel Zip Wallet's 1680D CORDURA® ballistic nylon exterior. As the folks at Aer always point out, ballistic nylon was originally developed for military body armor. So, yeah. This wallet is super durable, bordering on overkill (which is not something we say frequently). While we appreciate the durability of a 1680D CORDURA® ballistic nylon exterior on something like the Aer Travel Pack 2, a wallet doesn't typically face the same amount of wear and tear as a backpack. But, hey, we'd rather something be too durable than break after a week.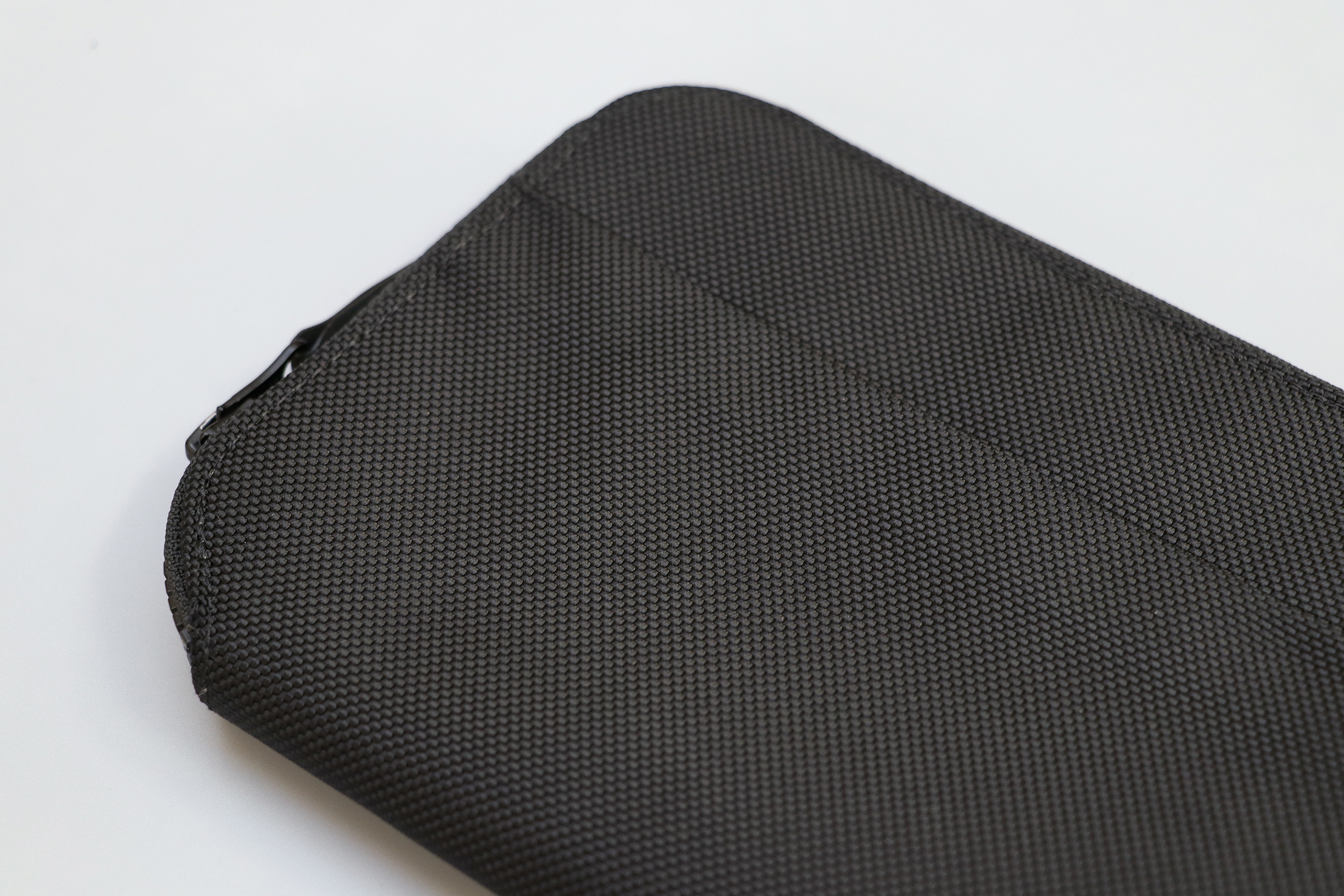 The exterior is also water-resistant, which does offer nice peace-of-mind. We can't be the only ones who've had a wallet-puddle situation…right?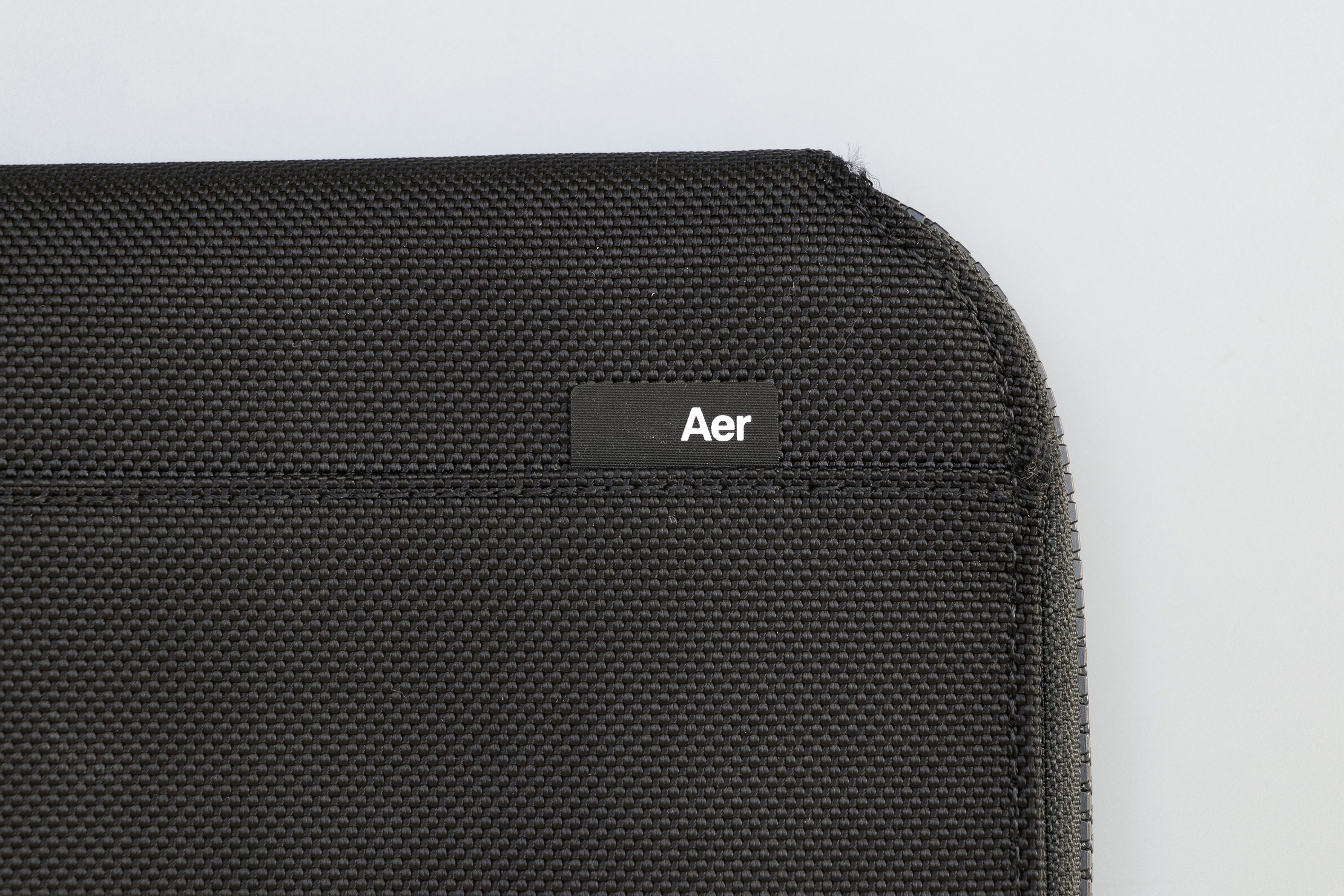 The ballistic nylon exterior also gives this wallet the techy, sleek aesthetic that Aer is known for, which is only enhanced by the two colorways available: Black and Black Camo. The exterior of the wallet is also nice and simple. We appreciate that Aer has kept the branding minimal with a small black Hypalon tag.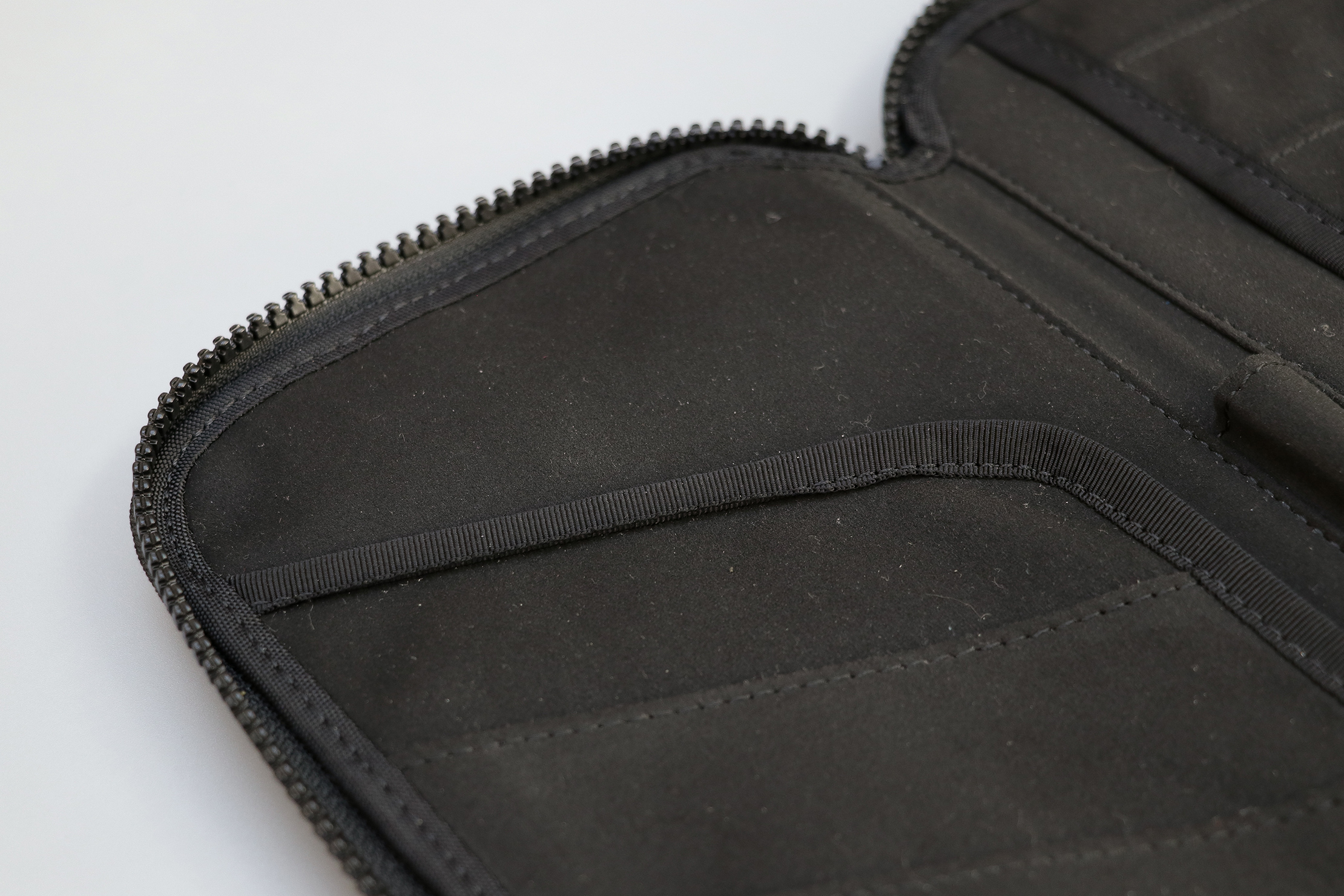 Finishing off the materials, you'll find a durable YKK zipper and Hypalon zipper pull. The interior of the wallet also has a soft microfiber lining, which we've enjoyed during testing. It should help protect your cards from getting scratched up.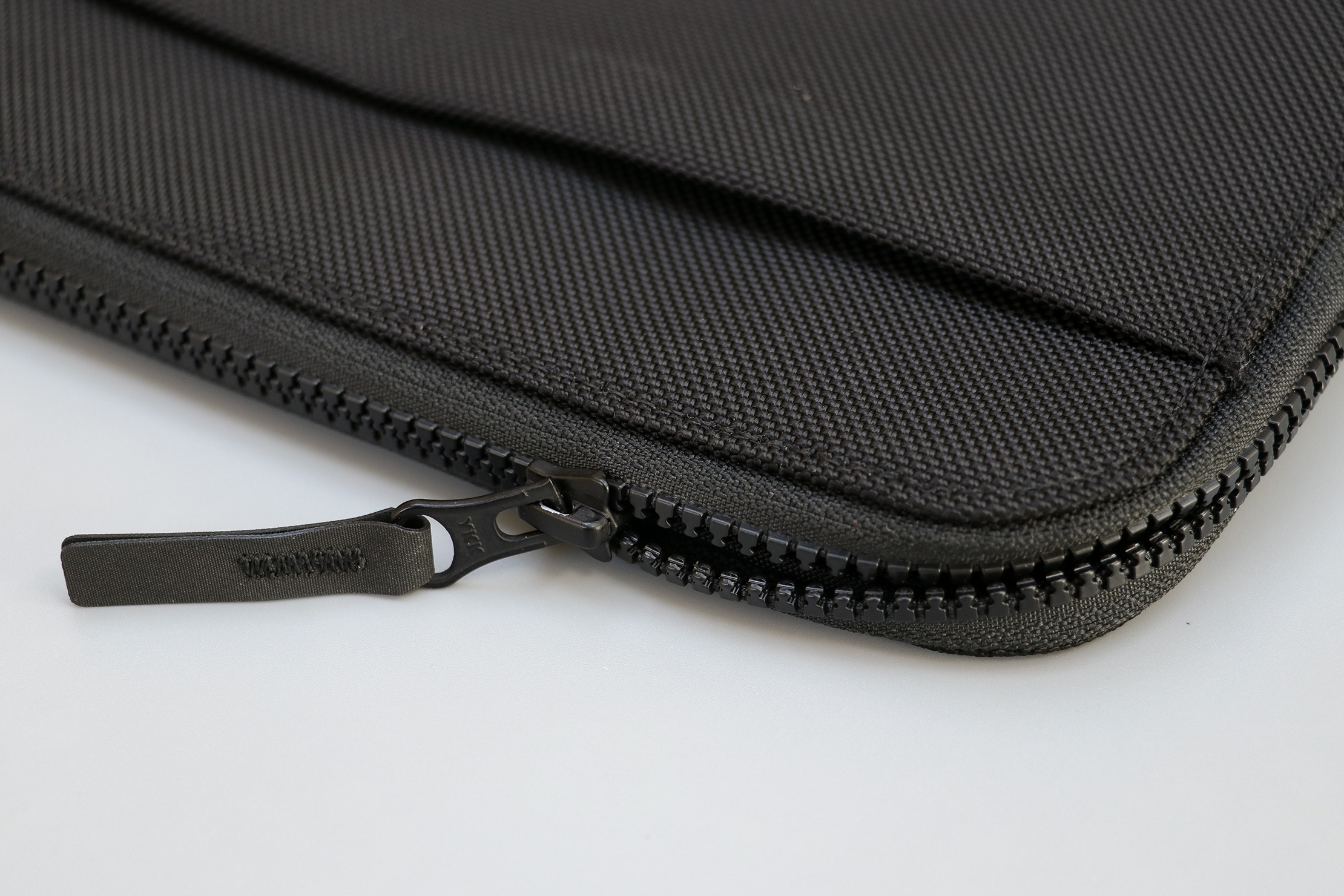 Features & Usage
Arguably, the most important feature of the Aer Travel Zip Wallet is that it doesn't jingle. If this isn't your first encounter with Aer then you know exactly what we're talking about. If you're new to the brand, let us explain—Aer gear tends to have jingly, loud zipper pulls. It's an annoying quirk that we've always pointed out on our reviews. So, we're thrilled that the Hypalon zipper pull on the Travel Zip Wallet is more-or-less silent.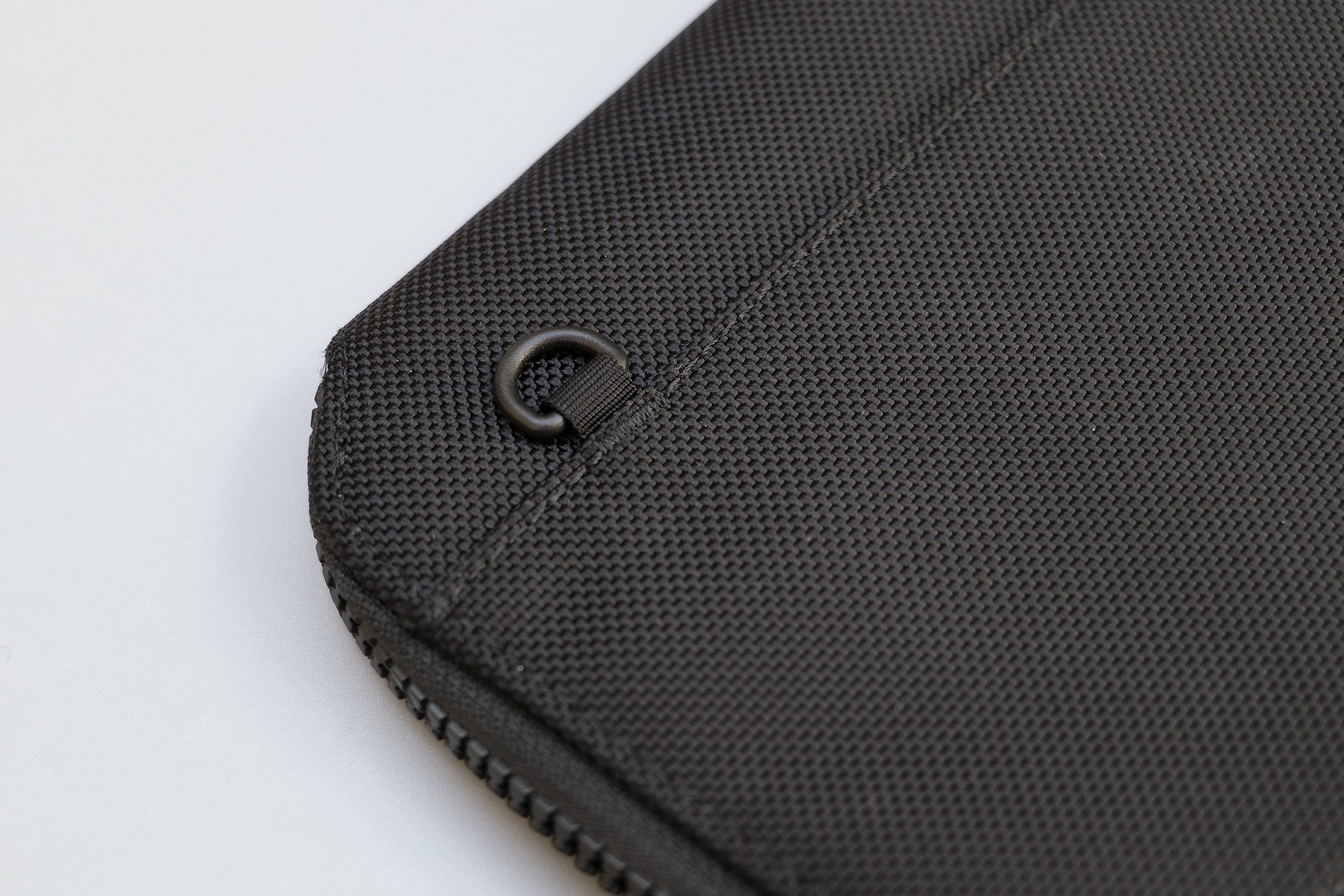 There's a small D-ring on the back exterior of the wallet, so you can attach it to a lanyard, attach your keys to the wallet, or use a carabiner to hook your wallet to the interior of a pack. It's tiny but handy. It also stays out of your way when not in use.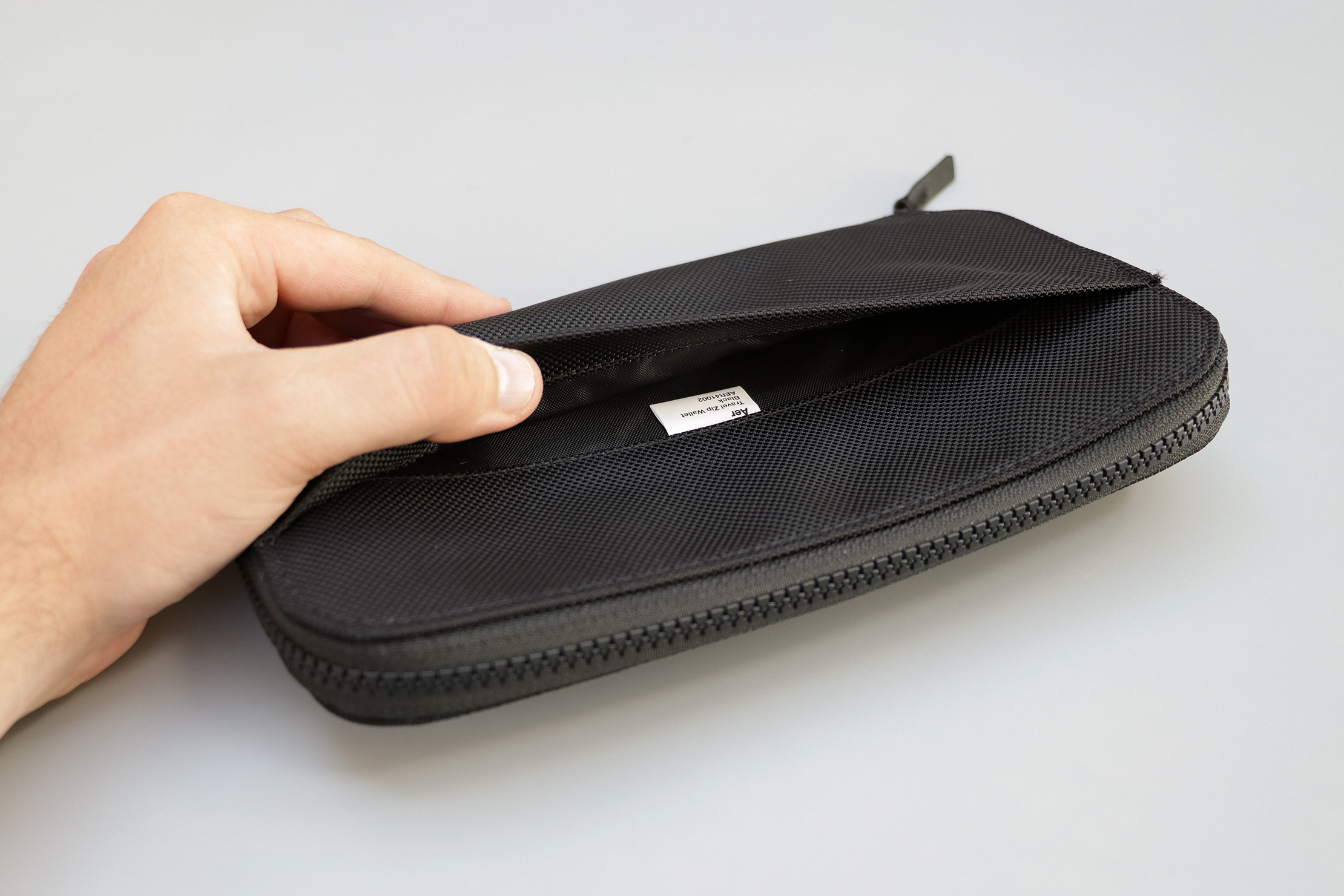 Flipping the wallet over, you'll find a front slip pocket. This pocket doesn't close, so it's very possible that whatever you put in there may slip (ha!) out. It's also thin without too much dimension going on. It's a good spot for boarding documents, but that's basically it. You could put a passport in there, but only when you're actively holding and looking at the wallet. A passport is not something you want to lose.
Alright, it's time for the main event. Yes, the main pocket. It opens up in a full clamshell-style, which is nice for access and visibility. There's also a good amount of organization going on inside.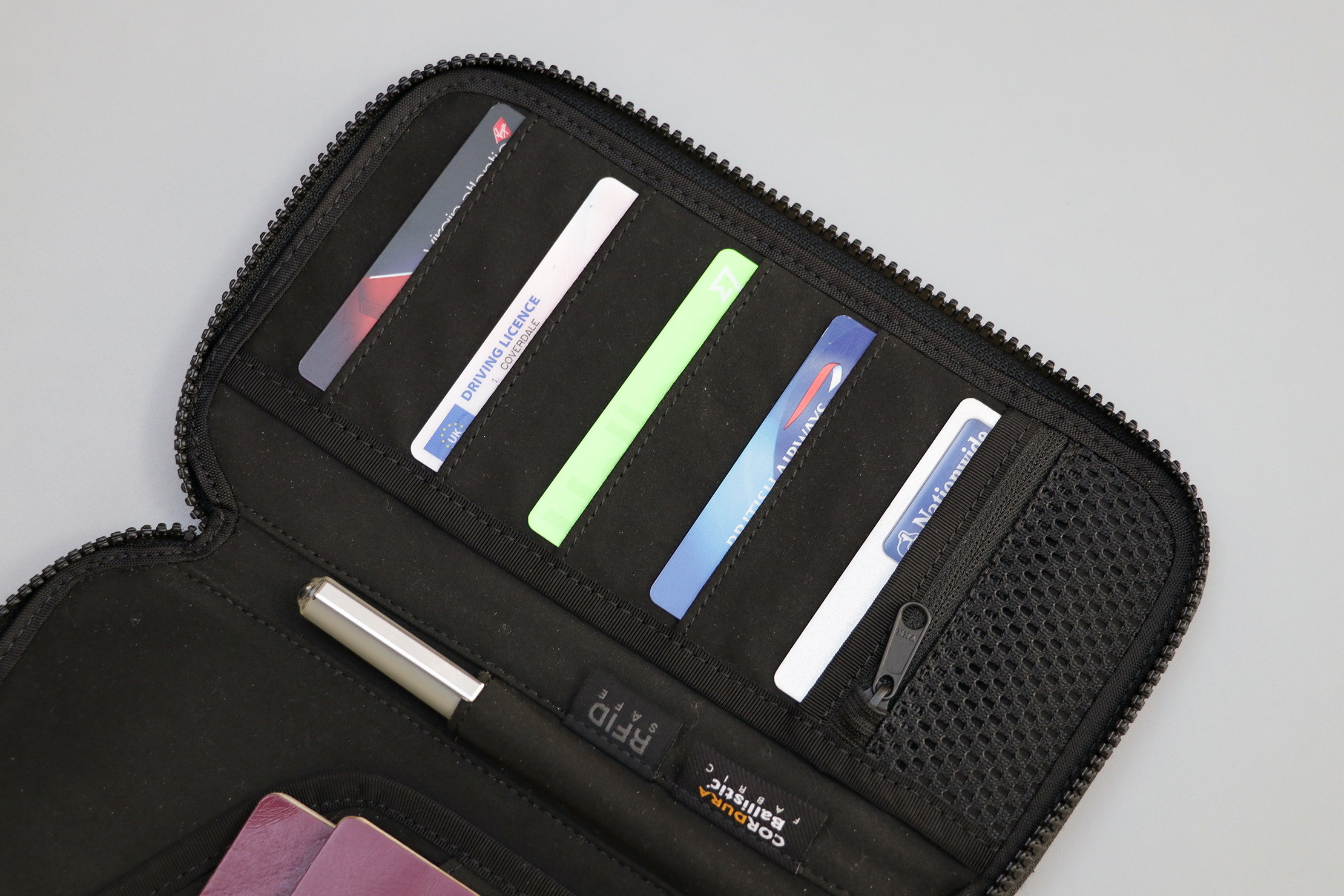 On the right side, there are five tiered pockets for cards. Because they're tiered, it's easy to see and access your cards. That said, there's a lot of vertical space between each slot that seems unnecessary. You can still have tiered card slots without them being spaced so far apart. The reason we're pointing this out is that, as we said at the beginning of this review, the wallet itself is quite large. We'll talk about this even more later on, but it's worth mentioning that it seems like the wallet could still have the same features with a smaller overall footprint. Plus, the spaced-out card slots take up room that could be better used for something like the zippered mesh pocket beneath them.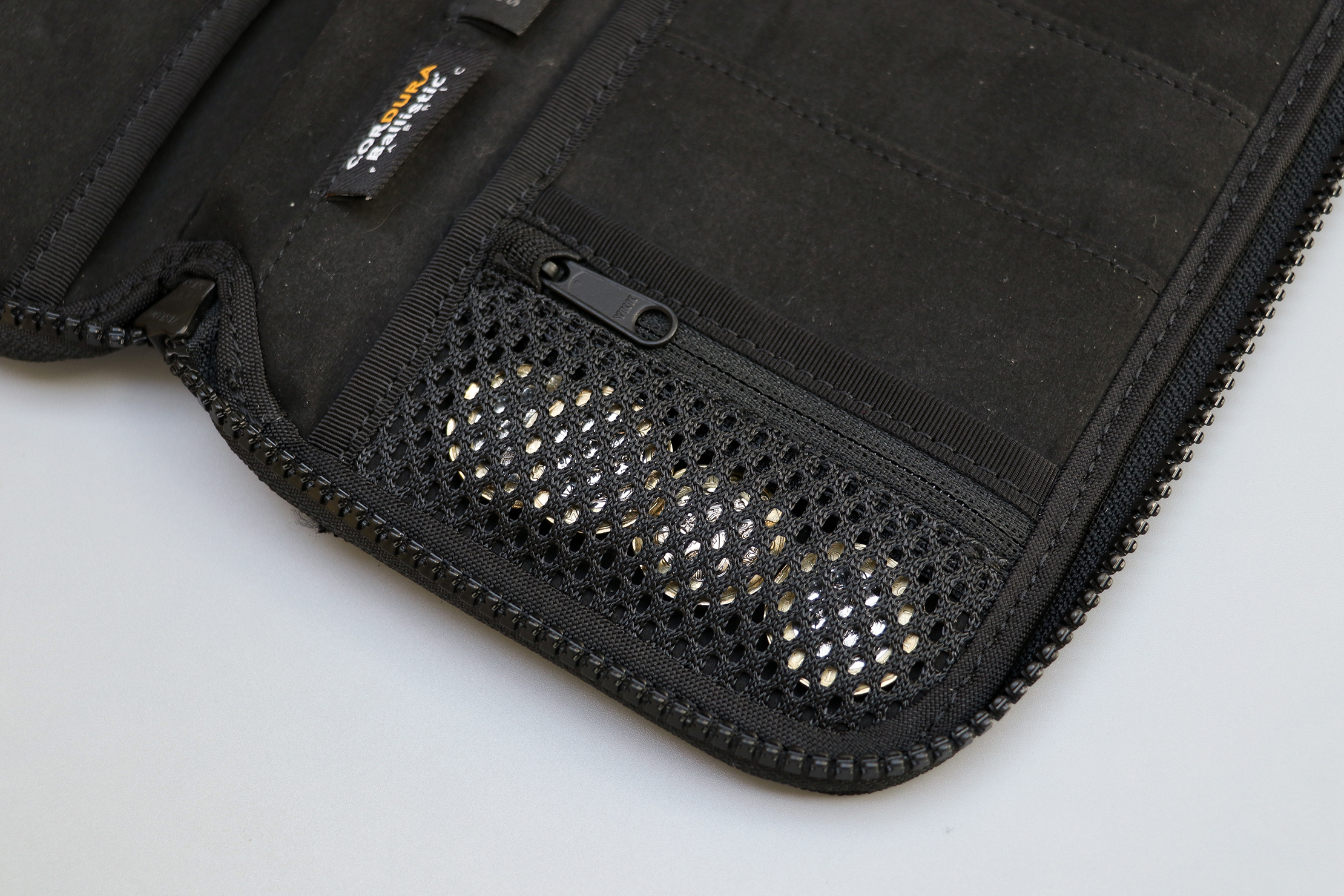 Let's talk about this zippered mesh pocket. We like that there's a secure spot for those smaller items you definitely don't want to lose—think SD cards, SIM cards, a single house key. We do wish this pocket was larger. Perhaps even double its current size. As it stands, it only fits really tiny items. We're not wallet designers, but if the folks at Aer shrunk the space between the card slots they may have room to increase the size of the zippered pocket. But, again, we don't design wallets, we just review 'em.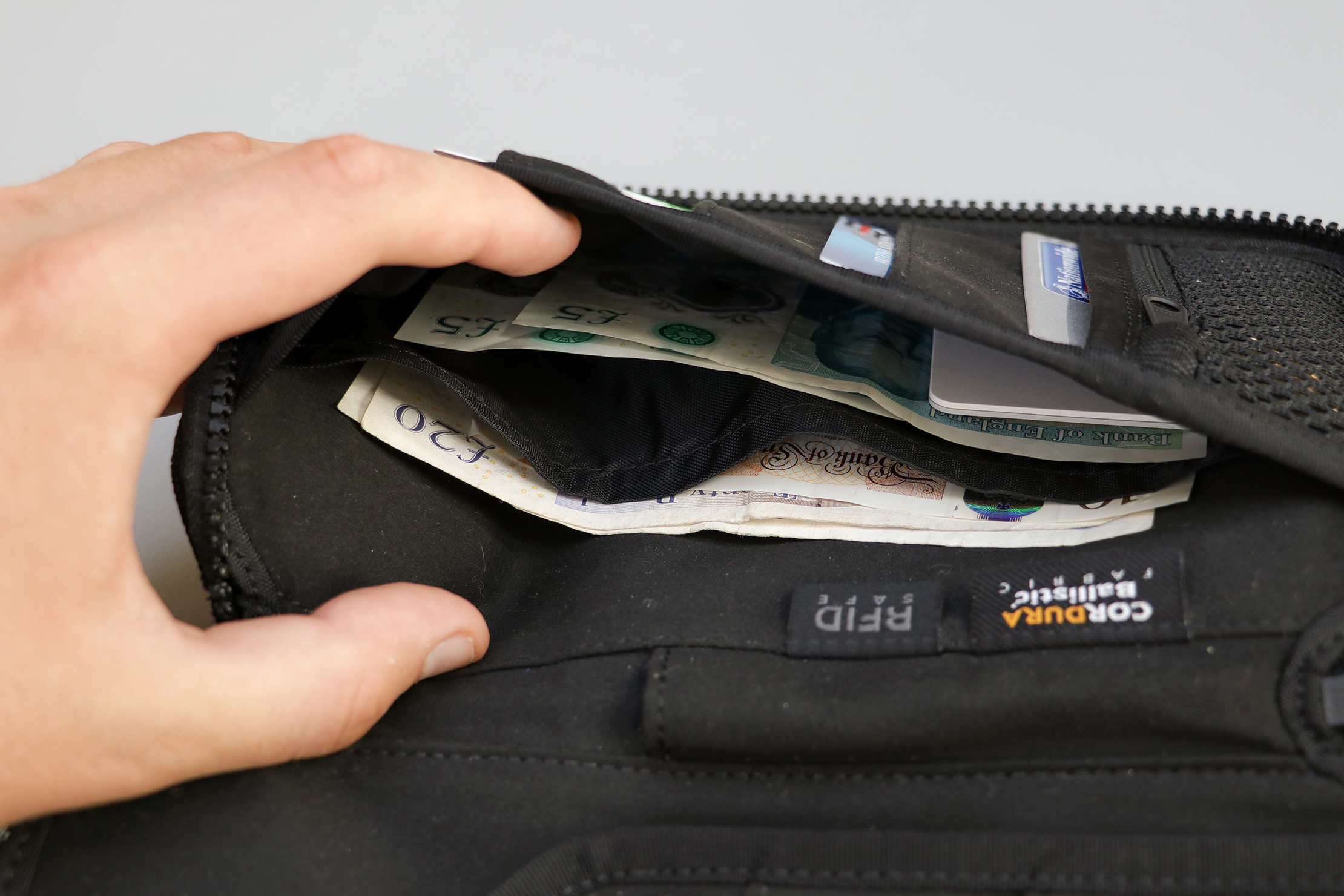 Tucked behind the card slots and zippered mesh pocket is the cash sleeve. Inside the cash sleeve, there's a divider to help you stay organized on the road—say British Pounds on one side and American Dollars on the other. It's quite clever and performs really well in testing. The cash sleeve itself is a little tricky and slow to access, but not to the point that it's a huge deal.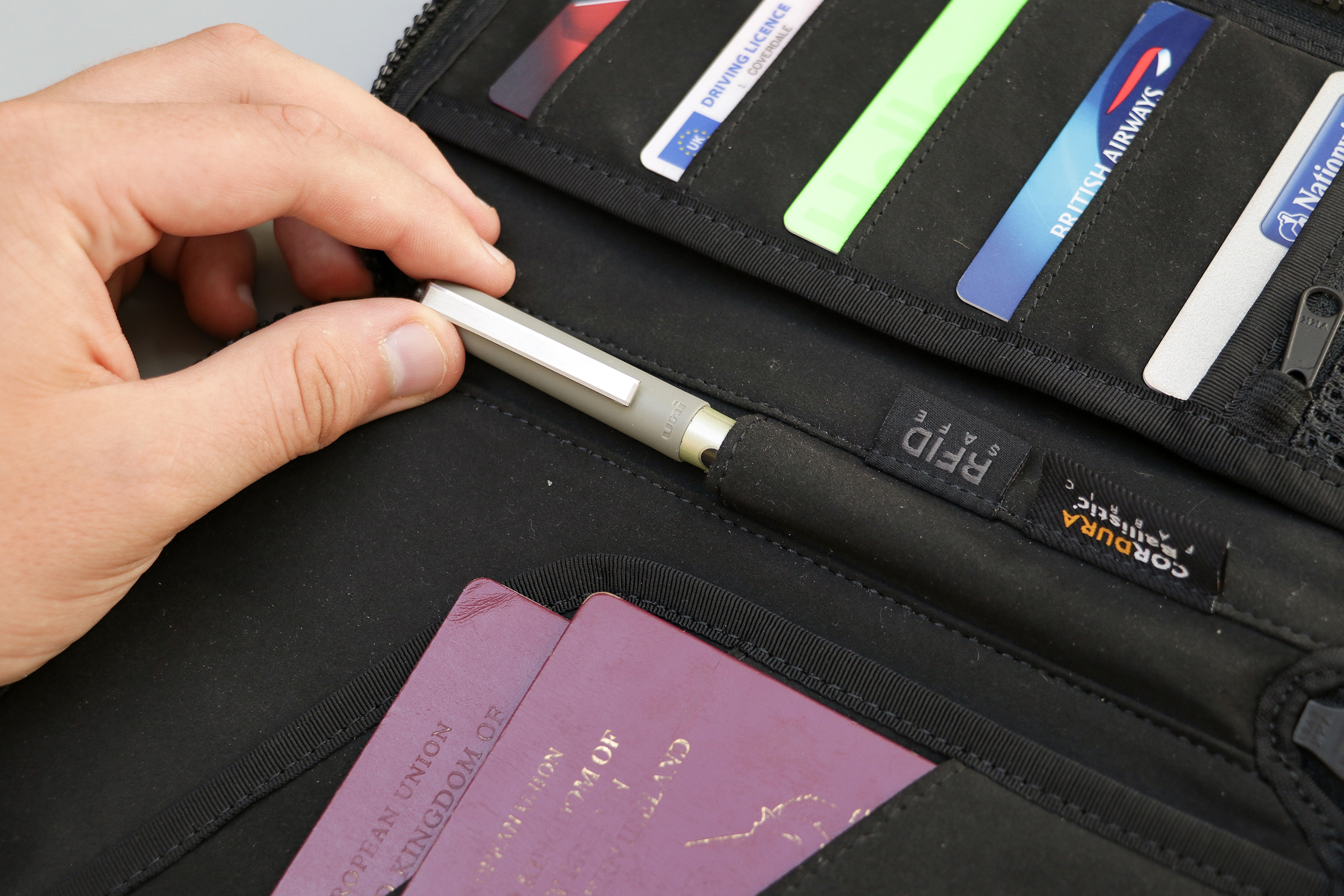 In the middle of the wallet, there's a pen holder. You never know when you're going to need a pen while traveling. Not only for customs forms and the random paperwork that always seems to pop up but for the beautiful poetry that just comes to you while soaring above the clouds. Due to the size of the wallet, you can fit a regular-sized pen in here, which is a plus if you're as much of a pen snob as some of our team members.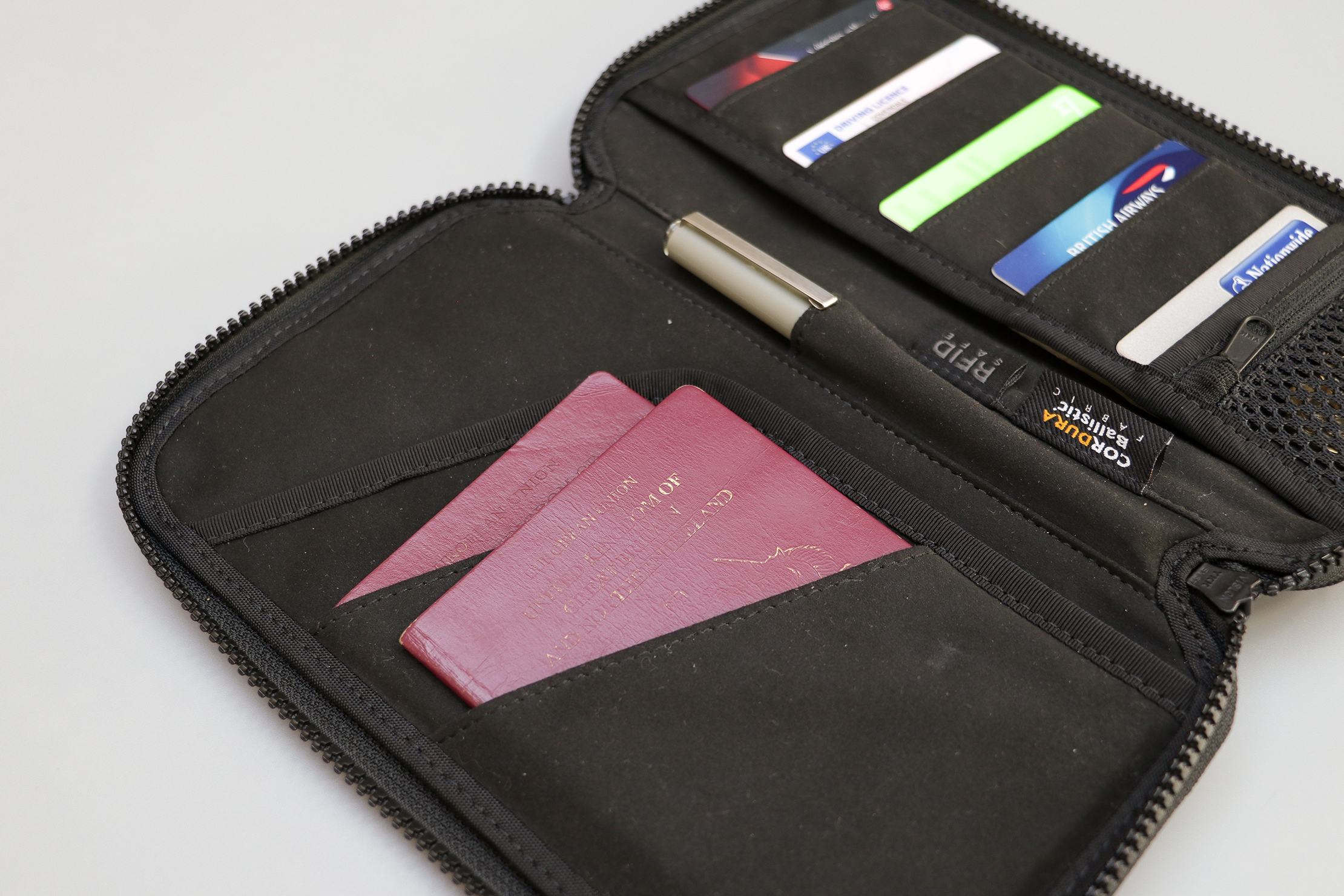 On the left side of the wallet, there are two divider pockets of the same size plus one larger divider pocket behind them. Aer says the smaller pockets are designed for passports, but they'll also fit the other miscellaneous papers that seem to appear while traveling. The back pocket is for boarding passes and things like that, but will also work for a passport or two. These pockets are large and all three of them will fit most passports. Do you need three large passport/document pockets? Maybe, maybe not.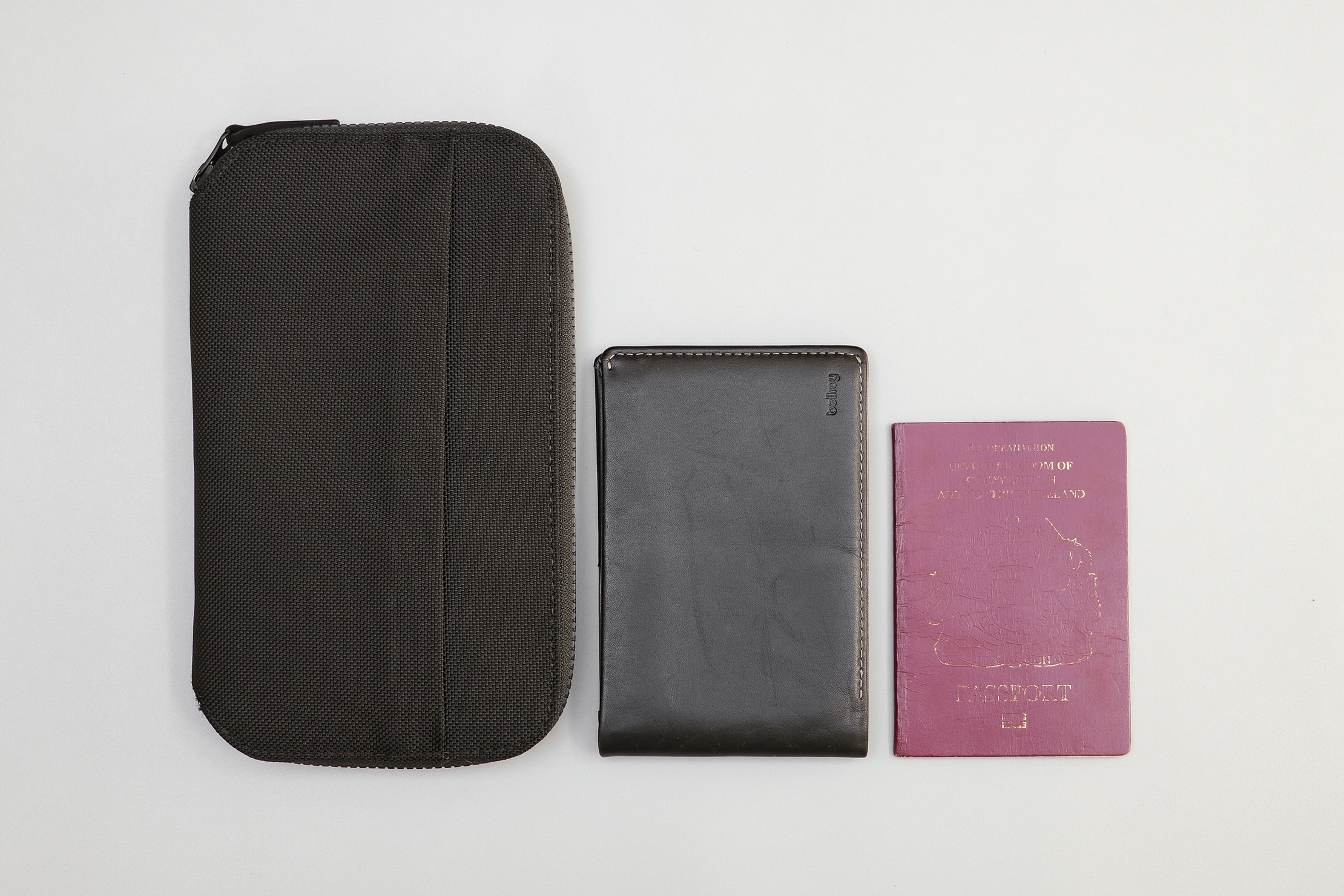 And that brings us to the point we mentioned earlier—the wallet's size. As we've said, the Zip Wallet is one of the bigger travel wallets we've tested to date. It doesn't reliably fit inside quick-grab pockets or sling bags. To be frank, its large size has been inconvenient throughout testing. We think it could still get the job done if a 1/4 of its height was cut off.
Now, if you'll be traveling with multiple passports (say with your family or you're Jason Bourne) plus tons of cards and cash then you might use all of the space and organization. Otherwise, you may want to pick up a travel wallet with a smaller footprint.
On a more positive note, the Aer Travel Zip Wallet is also RFID-blocking, meaning you can worry less about the possibility of those financial crimes and more about what the first meal you'll eat whenever you get to your destination. (Note: whether or not you need to worry about RFID-financial crimes is debatable, but peace-of-mind is never a bad thing.)
Durability & Testing
We've been testing the Aer Travel Zip Wallet for approximately two weeks in the U.K. During this time, as aforementioned, its large size has been more bothersome than useful. But you do you. If you're looking for a large wallet then the Travel Zip Wallet is a solid option.

Plus, as usual for an Aer product, it's holding up nicely. Not a loose thread to be found.
Usage Timeline
Initial Usage
Condition: Excellent
Plenty of space for your passport, cards, cash, and other travel documents
Small zippered pocket is great for tiny items like SIM cards and SD cards
Pen holder in the middle is a nice touch
2 Weeks of Use
Condition: Excellent
We've found the size of this thing to be a bit bothersome. It doesn't fit into most of our quick-grab pockets or sling bags, which is how we'd typically carry a travel wallet
There is plenty of room and organization inside, but we've found that most of the space is wasted unless you're carrying multiple passports plus tons of cards and cash,
The lining inside is nice and we appreciate the peace of mind the RFID protection gives us
Access the Pro Community Discussion
Get your questions about the Aer Travel Zip Wallet answered from our team and the Pro Community right here on the page. Plus, join discussions with other members about gear, guides, and more.
Other Organizers & Pouches Reviews