Tell us a bit about yourself
I am currently participating in a program called Remote Year, where I am traveling for 12 months with a group of like-minded, travel-obsessed individuals while we work remotely. We live in a different city every month all over the world, from Southeast Asia, to Europe and South America. I work for Cannonball Productions, a NYC-based event production company. Working remotely in the event production world is somewhat unheard of, but I got lucky with the generosity of my boss and the flexibility of my team to be able to turn my role into a remote position. Right now I am handling our event sponsorships and client relations, as well as experiential marketing and design. I have a full plate!
I was about to turn 25 when I realized I was suffering from monotony in my home routine and made the decision to leave home. I suppose you could call it a quarter-life crisis, but I don't regret a single minute of it. Traveling excites me daily and after my Remote Year ends I plan to continue globe-trotting as long as I can.
What's your favorite destination?
My favorite destination this year has been Thailand. I lived on the small island of Koh Phangan for the month of October and it was the most relaxing month of my life, even while continuing to work. The beaches are beautiful, the locals are incredibly friendly and the pad thai is the real deal. Oh – and there are elephants! You can't beat it when your office is a chair in the sand looking at the ocean while you eat out of a pineapple.
What are your "Trusty Three" travel items?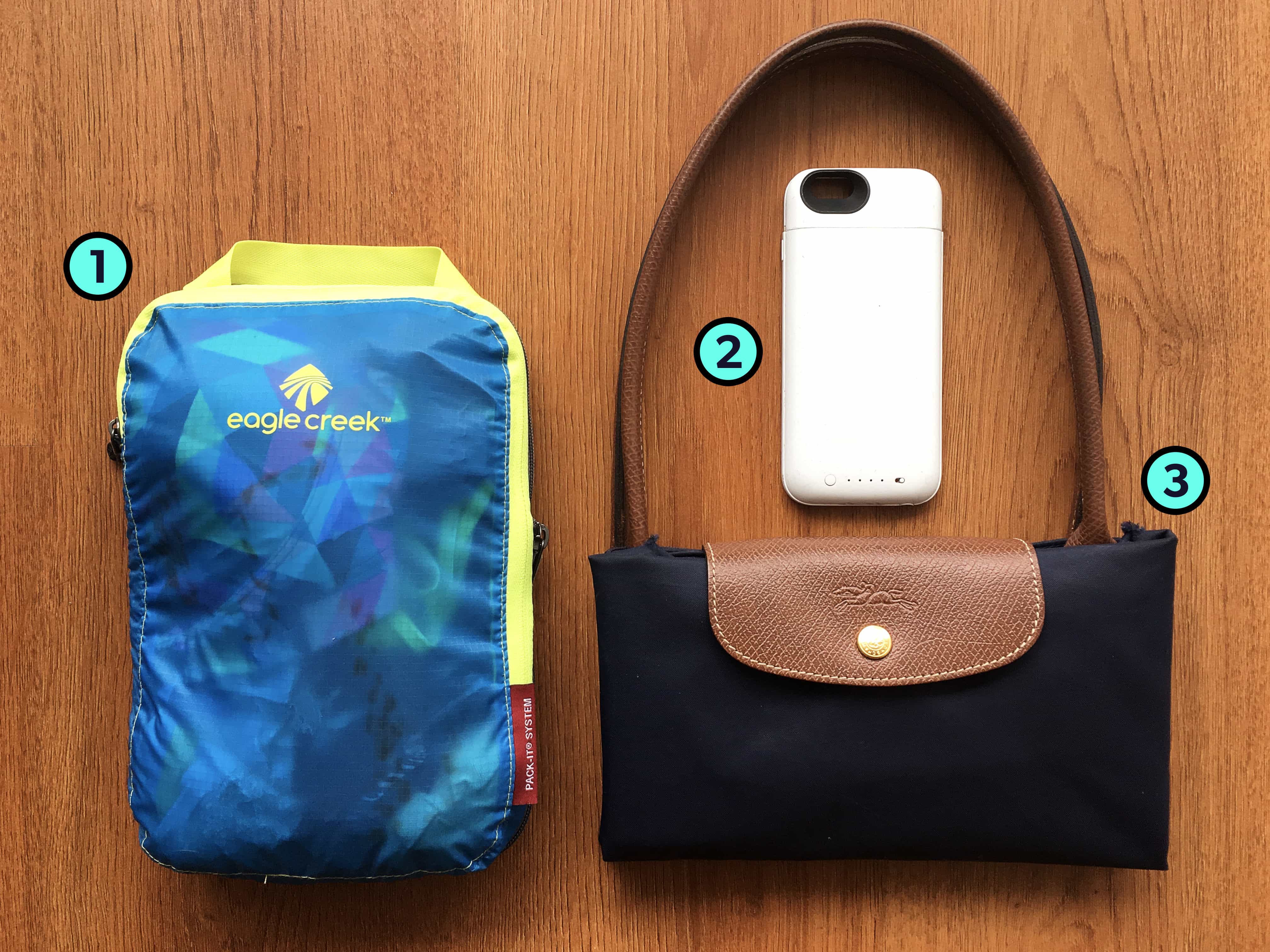 Eagle Creek Pack-It Specter Cube: These have saved my life this year. I never knew I could compress my undergarments and tanks so small while keeping everything organized. I don't take a single trip without the cubes now. A girl needs options (especially when your wardrobe is so limited to start with!) and these cubes will fit in my suitcase, my backpack or my Longchamp perfectly.
Mophie Juice Pack for iPhone: I never leave the house without my Mophie charging case for my iPhone. My phone feels like a brick sometimes, but the case is also about as durable as a brick. It will charge my phone at least 2 times to a full charge on the go and protects my phone from my constant butter fingers.
Longchamp Le Pliage Nylon Mini Travel Tote Handbag: This is my number one all-time-favorite item that I carry with me. The nylon bag folds to the size of a notebook and even though it lacks inside pockets, it is a holdall for all occasions. It's my work bag, a beach bag, an airplane carry-on, a reusable grocery bag. There was a sad moment while I was riding a camel in the Sahara Desert when the bag got sliced on the harness, but the benefit of the material is that the tear does not grow. Longchamp notes that they will also repair or replace damaged bags under warranty.
What's your favorite travel hack?
I've learned to carry some spices with me now. For example: when you move to a new every month it becomes expensive to buy salt and pepper in every new city. Some spices don't exist in other countries (South America, I'm looking at you and lemon pepper!) and when you've been away from home for a long time, there are times when you crave your favorite dish from mom's recipe book. Carrying one small ziploc bag of spices has saved me time and money—not to mention my tastebuds.
Are there any pieces of gear or travel technology you wish existed that don't?
I wish a portable clothing dryer existed. Something that is lightweight and collapsable, but would plug in and dry a small load of laundry in less than an hour. Most countries I've lived in do not have dryers in the apartments and I hate to pay for laundry when it's not necessary. Occasionally, it will take multiple days to line dry clothes due to varying weather conditions. Many things stretch out when I hang them so I end up looking like I'm wearing a mumu sometimes! Plus, clothes are so much softer and smell better after a tumble dry.
What do you miss most when you travel?
I miss consistent water pressure! I have super thick, curly hair and a trickling stream just doesn't cut it for me, especially when the hot water is limited and there's still conditioner left in my hair by the time the water heater turns off. I have lucked out in some places, but overall international water pressure is severely lacking.
You can find Sam on Instagram.