Tell us a bit about yourself
I've been traveling full-time since June 2014, when I quit my job and packed up my Brooklyn apartment into storage. I didn't realize it at the time, but I was starting a new long-term lifestyle. Shortly after, I got a part-time freelance job as the remote Head of Production for a design studio. Once I was able to continue working & paying for my travel, I decided not to stop until I needed or wanted to, which hasn't happened yet.
I am still a freelancer, and my primary client at the moment is Bluffworks, a men's travel clothing company. I do PR, partnerships, and strategy work for them. I also take on short-term projects doing consulting (brand strategy, curriculum + online courses, content development) and writing/editing. I get really excited talking to people about what they do, and that often leads to working together if there's a way I can use my skills to help them reach their goals. It can be challenging to juggle, but it keeps me engaged and hustling.
It can be hard to balance travel, work, and life being on the road constantly, but I am so curious and inspired by learning about the world & other people's stories that it keeps me going. Being on the move means I'm far away from friends and family in some ways, but it also means I see a lot people in their home environment or get to kindle relationships with distant contacts, which is such a special experience.
What's your favorite destination?
The hardest question! Honestly, I think anywhere can be amazing because a "great trip" really comes down to enjoying a place for what it is & what you can learn from it. I've had wonderful experiences in random places I wasn't necessarily excited about because I was with the right people & we were in the right mindset, but I couldn't go back and recreate it and I wouldn't necessarily recommend it to the world. I truly just love exploring and learning, so wherever I am feels special.
To answer the question more directly, I really love places with a lot of cultural opportunities around art, history, and food; so France, Japan, Argentina, and New York City (which now feels like home), among many others. And there are so many places I haven't been yet!
What are your "Trusty Three" travel items?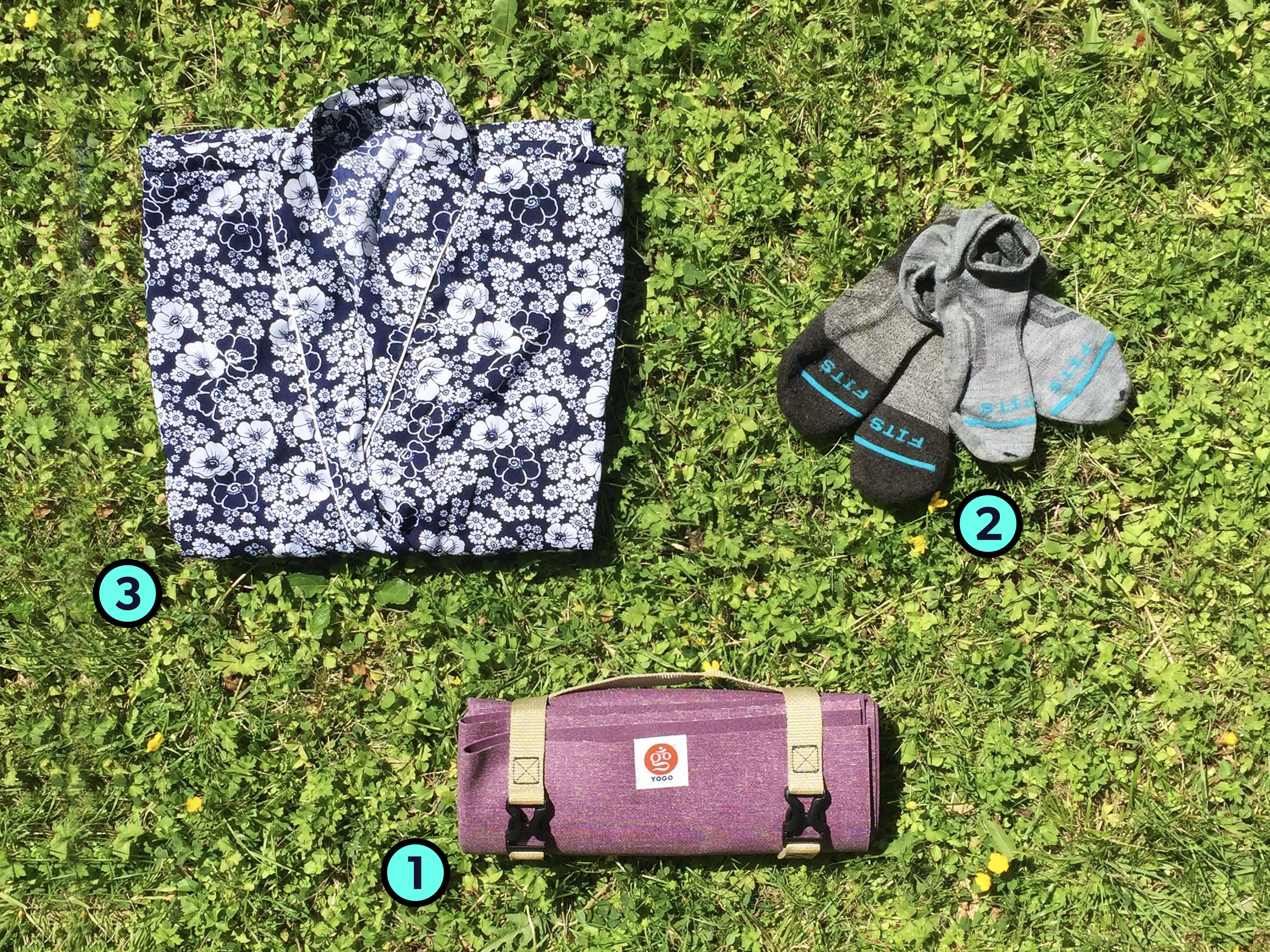 Yogo Ultralight Travel Yoga Mat and Manduka Yogitoes Towel: I have been practicing yoga for about 10 years now, and I did a yoga teacher training with my mom in India. Traveling all the time makes fitness routines hard, and yoga is one of the few things I can do basically anywhere. I asked for a Yogo travel mat for Christmas 2015 & have had it with me ever since. It's perfect – folds up into a little burrito, easy to wash, and is nice and sticky. I also have a Manduka mat towel that I always use for extra padding and sweat.
FITS Socks: My mom got me a pair of these for Christmas or something, and they've become my standard socks for working out, travel days, anything. I have the short slipper style for running and then got mid-ankle and high-ankle pairs that I use for colder trips, hiking, etc. They're very cozy, don't smell for a couple days of wear, and are comfortable in any climate.
My Bathrobe: This seems silly to carry around, but it's really lightweight and easy to cram in my bag. I got it in India at a little shop & my mom has a matching one. Traveling with other people often means I need to not be naked, but I prefer not to get dressed all the time, so this is a good compromise & also makes anywhere feel more like home. (Here's a photo of my mom and me in our matching bathrobes.)
What do you miss most when you travel?
I really don't miss much when it comes to things – what I tend to miss are partners/close friends/family members to cuddle and watch a movie with, a go-to café with great coffee and good workspace, or a routine of taking classes at a gym or yoga studio. (I really do miss a good bed and pillow, though.)
What's the weirdest thing you carry with you while traveling?
A Blue Snowball microphone. I have recorded about 12 interviews with people in my Remote Year group and want to keep interviewing people that I meet for a podcast I'm working on (ModernWorkPodcast.com), but I don't use it as often as I should. I need to get a good *quick* process for recording, editing, and exporting so that I can have a regular podcast, but in the meantime, it's kind of a random thing that I always have and rarely use.
Any final travel tips you'd like to share?
Between living + working abroad after college and my 3+ years of traveling + working remotely now, I've spent about 6 years out of the country and on the road. I think the biggest lesson I've learned is that there really isn't any one right way to do it or critical thing that everyone needs to pack. Where you go, what you do, and what you need is up to you. And even more importantly, it's relatively easy to change it as you go if it's not working. Need more stuff? Go shopping. Need less stuff? Donate it. Don't like a certain kind of travel? Book something different next time. Everyone has so many opinions and it's easy to feel like you're doing it wrong or missing out. But as long as you're engaged and interested and having a productive experience (and not causing harm or being insensitive), then it's great. We (myself included) have to let go of FOMO and embrace our own experience.
I wrote a book with a traveler friend of mine called The Digital Nomad Survival Guide that is aimed at giving people all the practical knowledge they'd need to travel while working remotely (or just generally helpful travel planning). It covers things like finance, location scouting, packing, technology, travel, lifestyle, culture, and socializing, and it's full of tips, links, and personal anecdotes. Like I said, there's no one "right way" to travel, so we wanted to create a resource that gives a lot of information and references for people to take an informed approach to figuring out what works for them & save time on research.
You can keep up with Katherine on her website, LinkedIn, Medium, and Instagram.