Tell us a bit about yourself
Hey! We're Nathan and Rebecca, a couple from the UK who love to Travel. We've just spent the last year traveling around Asia, from the mountains of Nepal to Cambodian beaches, even settling down in Tokyo for a few months. Throughout all of this we've been blogging and vlogging every step of the way on our site Always a Friday, where we share our experiences, helpful tips and travel advice. We're now both back home in London where we'll be continuing our journey by exploring more of what the UK has to offer and all over Europe.
What's your favorite destination?
We love cities, ones you can wander around in and find something new at every turn. Whether super modern or mainly historic there's always just so much life in the hustle and bustle of a city, it's where cultures all come together. Cities like Singapore, London, Tokyo and New York all stand out to us as some of our favourites. That being said, travel to us is all about variety. Outside of the city, places like Bagan in Myanmar and Koh Rong island in Cambodia are among our favourite destinations.
What are your "Trusty Three" travel items?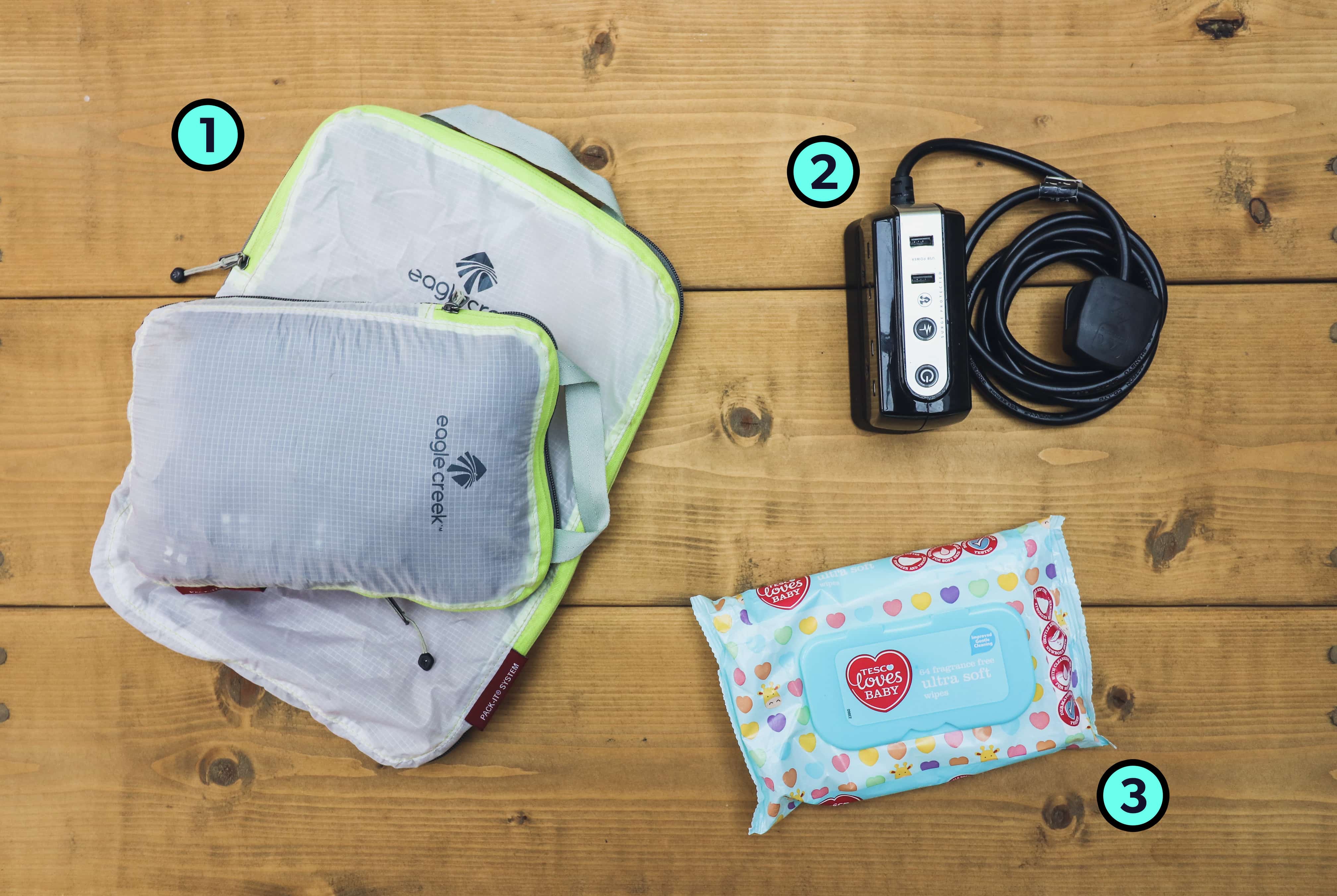 Nathan: Eagle Creek Pack-It Specter Cubes: These turned out to be a necessity for one bag travel, with me having all of our camera gear in my bag, I simply wouldn't have had enough room for everything without these packing cubes compressing to save size. It still amazes me just how small these things go and how much space you can save, plus I used them everyday for a year with no signs of wear and tear, an added bonus.
Rebecca & Nathan: Masterplug Surge Protector: Our trusty extension lead power block, having so much kit to charge, phones, cameras, laptops, we always need need more plugs and this thing is a lifesaver. It's become the first thing we do whenever we find ourselves somewhere new, finding the best place to plug this in.
Rebecca: Baby Wipes: (Any brand will do), they just come in so handy, whether it's freshening up after a 20 hour bus ride or Nathan's spilt something down his top, they really are good at everything and I don't leave home without them.
What's your favorite travel hack?
Now you can't do this if you're only going somewhere for a week, but if you're hanging around for a month or longer then this is a really cool hack – Expat Networks on Facebook. Now some are better than others but nearly all cities will have one, just search the name and then expat group/network on Facebook and apply to join. They're a wealth of information and the 'Tokyo Expat Network' on Facebook helped us out countless times when we lived there for a few months, Rebecca even found a few English teaching jobs through it.
What's the weirdest thing you carry with you while traveling?
Rebecca: When we were in Hong Kong (Jan 2017) with my parents, my Dad found a coin on the floor and gave it to me for good luck, from the term 'find a penny, pick it up, and all day long you'll have good luck, or give it to a friend and you're luck will never end'. Since then I've carried it around in my bag everywhere I go.
Any closing thoughts or advice?
Before setting off on a big trip, it's a great idea to not only practice packing your bag, but also to practice walking around with it at full weight so you can get used to it. We ended up leaving Rebecca's Macbook at home because the bag was too heavy to carry, we found this out 15 minutes before we left the house for the airport!
Another piece of advice is not to do one thing that happens all too often nowadays, living your life through a lens. We see it all the time, wherever we go, at the top of a mountain or walking through an ancient temple complex, the first thing people do is grab their phone or camera and start taking pictures. Now it's important to get photos, we take loads! But it's also just as important to stand there and truly take it all in, the memory and experience will serve you better than a file that sits on an old unused hard drive.
But most importantly there's really only one big piece of advice we can give you, and that's to have fun! Don't get bogged down by the little things that go wrong, learn from them and move on. Live everyday to the fullest with no regrets.
You can find Nathan and Rebecca on their YouTube Channel Always a Friday.