When we're traveling, we want to hit the ground running to make the most out of every day, even if we're just running to the pool bar. Whether it's a trip for business or pleasure, getting a good night's sleep is essential to have the energy to explore, but it's not always as easy as just shutting your eyes. Sometimes we need a little extra help.
The best sleep mask will help you fall asleep and stay that way by blocking out the ambient light wreaking havoc on your circadian rhythm. Whether you're trying to catch a few z's on the plane or traveling with someone who has to stream "just one more episode" late at night, the best eye mask will take you to the dark side—that's where the best sleep is, after all.
From a silk sleep mask to smooth your skin, to an eye mask that helps relieve your allergy symptoms, and even a mask that comes with built-in speakers to help you tune out other travelers, we've got the best sleep mask for your next trip, even if it's just to your own bed.
1. Sea to Summit Travel Eye Shades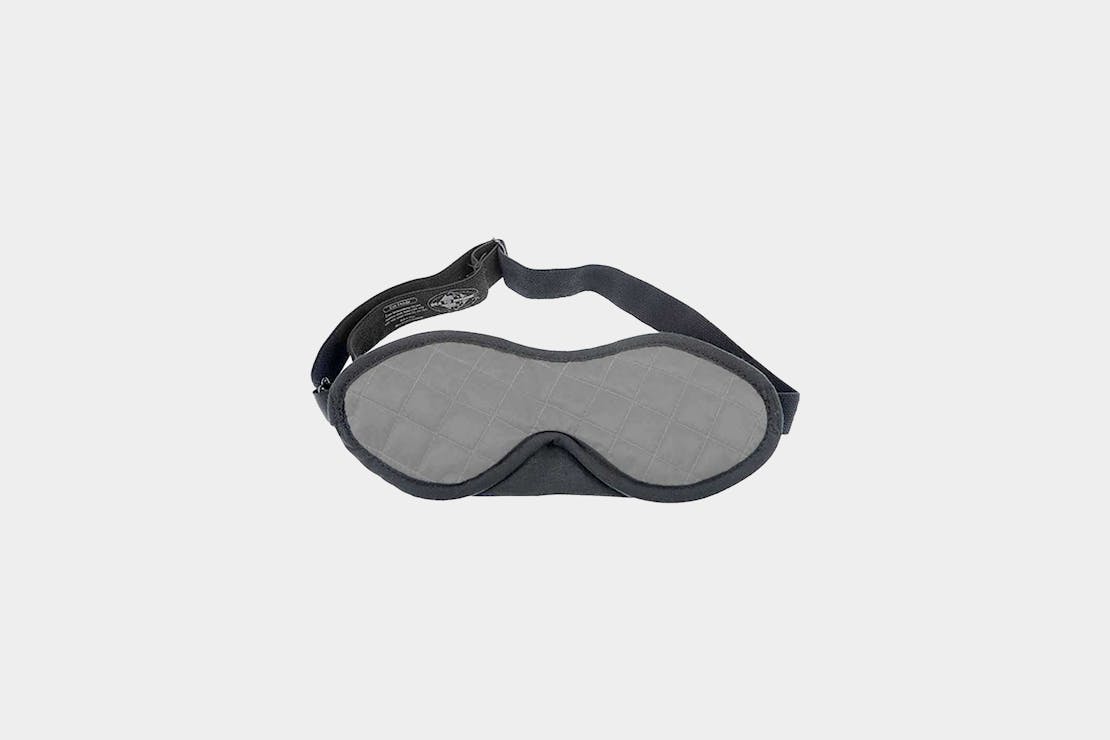 Why we like it: It's super lightweight for travel.

Packing light is essential for one-bag travel, and at just 0.8 ounces, the Sea to Summit Travel Eye Shades fits the bill for portability. It rolls up small to take up less space in your pack, and since it's made with microfiber, it's washable to keep it fresh and clean on your face as you hop from hostel to hotel.

The best sleep mask is super soft and contoured to be extra comfortable on your face. The nose baffle blocks light from sneaking in underneath, and the durable materials make it an eye mask you can turn to for future trips. We love the bright Pacific Blue colorway—which is quilted on the outside for a cozy look—and the black microfiber liner helps block brightness for a restful vacation. An adjustable strap will help you find the perfect fit, although those with large faces may find it too small.

And, bonus—it even comes with ear plugs to block out our travel companions' snoring or the ridiculously loud flush in a hotel washroom. Put them together and get what may be the best sleep mask to help you make the most of your trip.
See Details & Buying Options
2. Brooklinen Mulberry Silk Eyemask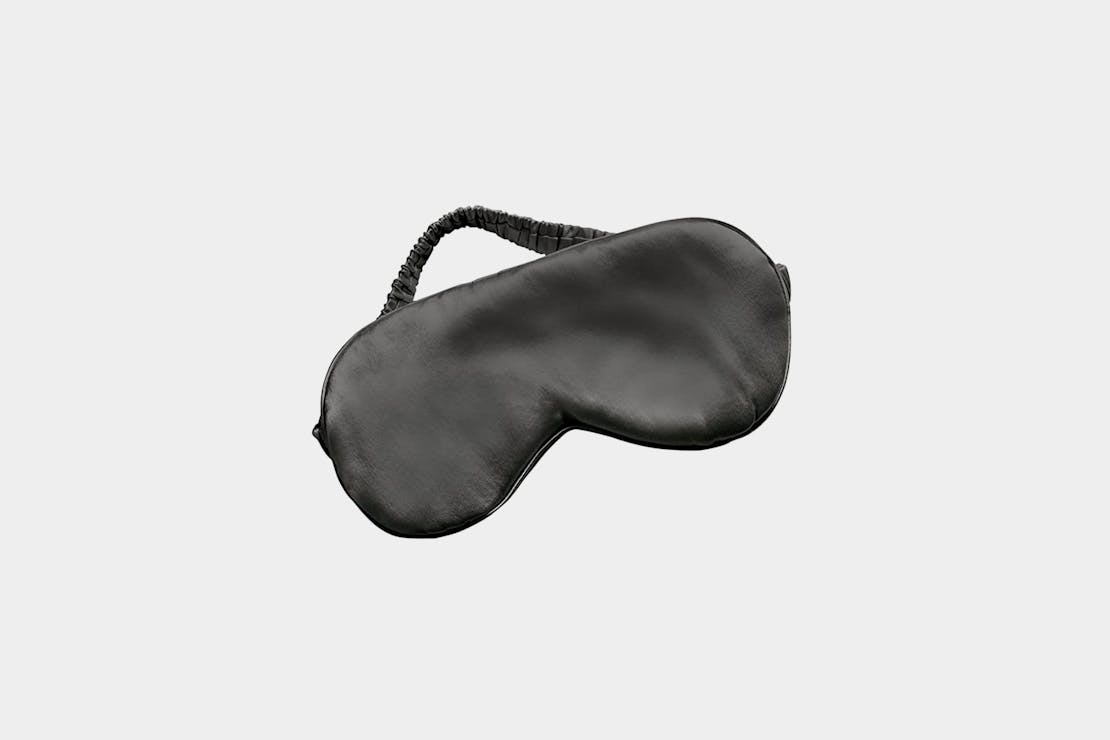 Why we like it: It's super soft for sensitive skin.

Start researching the best silk sleep mask and one fruit comes up again and again: mulberry. That's because mulberry silk is one of the softest silks around, so it won't cause wrinkles or fine lines on your face. The silk is spun from silkworms that eat—you guessed it—mulberry…leaves (Not the berries. It seems worms aren't huge fans of fruit. Who knew?).

The Mulberry Silk Eyemask from Brooklinen is naturally cool to the touch, so you don't have to worry about overheating overnight, and it's hypoallergenic and antibacterial, too. The super soft material covers the entire silk sleep mask: from the part that covers your eyes to the straps, so there's no worry about irritating the sensitive skin of your ears as it slides on. It also reduces friction where it slides over your hair, so you don't have to sacrifice strands to the cause of a great night's slumber.

Even though it's made of silk, it's washable by hand or machine, so you can clean off any stains while traveling without having to find a cleaner. Slip it on the night you arrive at your destination to wake up looking fully refreshed and ready to tackle the day's adventures.
See Details & Buying Options
3. ALASKA BEAR Sleep Mask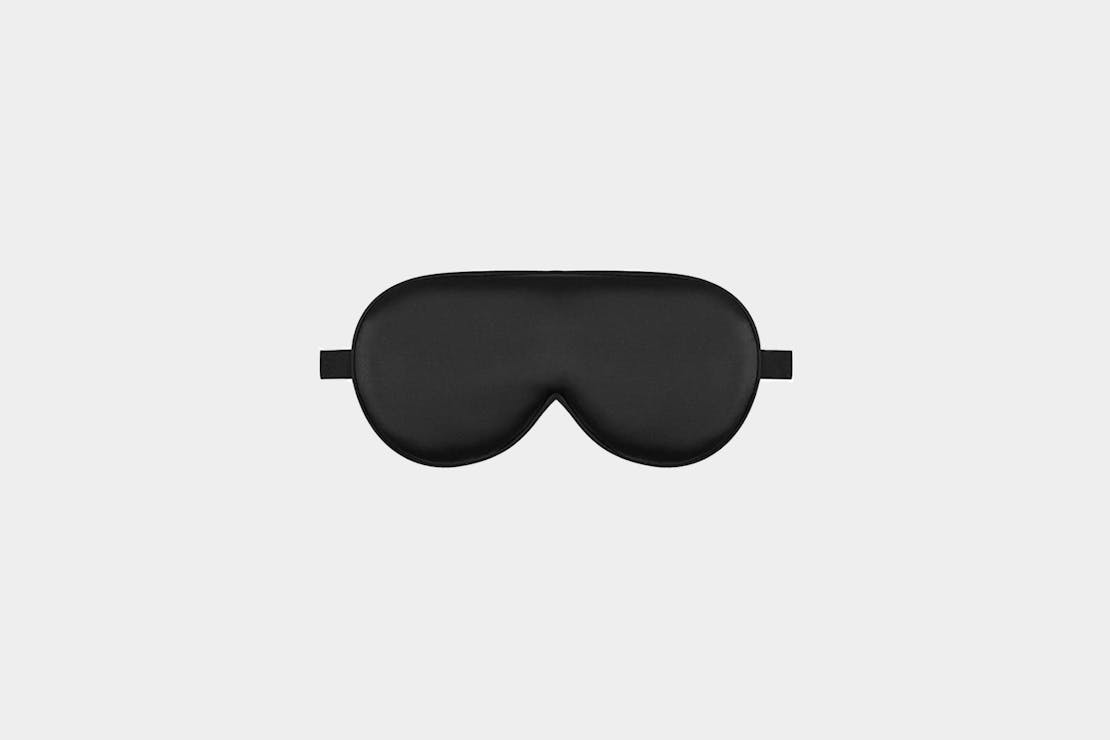 Why we like it: It's designed for side sleepers.

When traveling to a destination, adjusting to the new time zone can be challenging. So, it's not only during travel but once we arrive that the best sleep mask can help. Of course, if your eye mask strap is uncomfortable against your ears or the buckle digs into your head, it won't be the light keeping you awake. We wouldn't want that, would we?

That's not a problem with the headband-like ALASKA BEAR Sleep Mask for Side Sleepers. The soft, stretchy fabric adjusts to keep the mask snug on your face no matter which way you turn without giving you a pressure headache by pushing on your temples. Eye cups contoured with memory foam keep the mask away from your eyes and lashes to relieve pressure, and the eye mask fits either above or over your ears—the adjustment slide is so tiny you're not likely to feel it. This mask isn't only for people who rest on their sides; no light gets through, whether you're reclining on your back or sleeping on your stomach.

In a pinch, it doubles as a headband for keeping hair out of your eyes, though the contoured shape does scream sleep mask. Still, you do you!
See Details & Buying Options
4. IMAK Compression Eye Pillow
Why we like it: It helps to alleviate allergy symptoms.

When dealing with allergies, it doesn't matter how dark we can get the room; it's hard to ignore the pounding sinus pressure blocking the way to a restful night. You never know what will stoke the histamine fire in a new place, so if you're a traveler prone to allergy attacks, the IMAK Compression Pain Relief Mask and Eye Pillow may be the best eye mask for you. Unlike other cooling sleep masks, this one doesn't look—or feel—like an ice pack for your face. If you wanted that, you could just reach for a bag of peas! Instead, it's breathable cotton filled with ergoBeads to provide a gentle massage around your irritated, itchy eyes.

It's not only allergy sufferers who will find relief with this eye mask. From pressure headaches brought on by the elevation of air travel to the stuffiness sparked by a musty vacation rental, it also alleviates the strains of travel. Toss it in the freezer to cool your puffy eyes, and enjoy the weighted compression, which is designed to relieve headaches, sinus pain, and the eyestrain of staring too long at videos on your phone. It conforms to your face to help you drift off to dreamland and stay there, and a durable elastic strap keeps it in place for side-sleepers.
See Details & Buying Options
5. Manta Sleep Manta STEAM Mask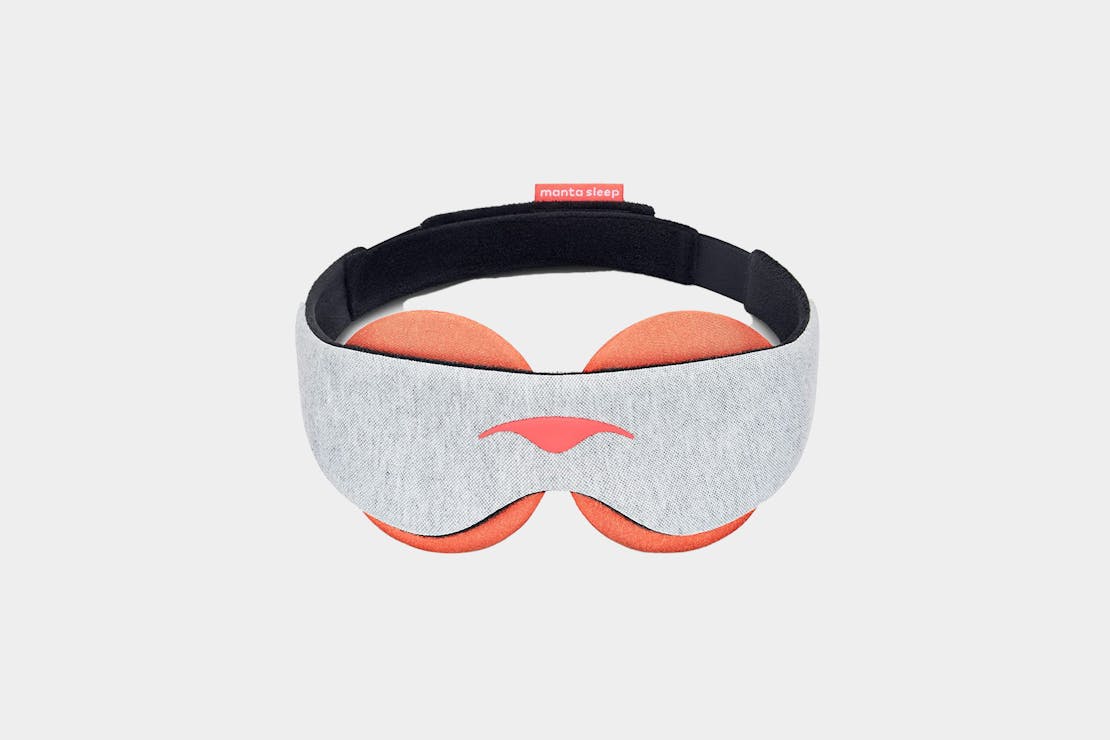 Why we like it: It relieves dry eyes.

The best eye mask solves multiple problems to help you rest, and several features of the Manta STEAM Mask will smooth your path to dreamland.

First up are the adjustable pillows for your eyes. They may look like fabric donuts, but they'll do more for your beauty rest than processed sugar. Microwave them to release steam from the self-hydrating beads, concentrating the therapeutic moist heat around your eyes and sinuses to unclog tear ducts, soothe your eyes, and provide the ultimate relaxation. The divots in the cups reduce the pressure on your eyes, and you can move them wherever you want on the eye mask to get them in the right spot for your face. Don't worry—they stick in place wherever you put them. Using the heated eye cups for just a few minutes will help you look and feel fully refreshed—which is essential when you're hopping timezones.

The eye mask blocks ambient light and is adjustable at the back with hook and loop fasteners so you can leave it on all night long. You can also swap the eye cups out for a cooling version to find relief from puffy eyes, silk eye cups, original blackout cups, or max cups—which provide extra space for long eyelashes.
See Details & Buying Options
6. Away The Sleep Mask
Why we like it: Its hidden pocket makes it easy to pack.

After we wake rested and refreshed from getting the best night's sleep thanks to our eye mask, it's nice to tuck it away until the next time we need it. Away has incorporated a thoughtful design into their soft, sleek sleep mask to help us repack. It has a hidden pocket to fold in on itself when we're not using it, so it takes up less space.

Of course, we don't only care about putting away our eye mask—we want to use it, too! The Sleep Mask is a straight band without any cutouts or contouring, so it will protect your eyes from light whichever way you turn. It has built-in climate control: thermoregulating technology in the Cocona® 37.5® Polyester fabric cools to the touch when you're hot and warms when you're cold for the perfect temperature. The Sleep Mask also includes an antimicrobial finish to keep away the germs you're bound to pick up while traveling, and it's machine washable when you get home.

Plus, there's a pocket to stash ear plugs if you bring your own, so make sure you add them to your vacation packing list.
See Details & Buying Options
7. Baloo Living Sleep Stone Mask
Why we like it: It feels luxurious.

When travel stress messes with your peace of mind, reaching for a sleep mask that will do more than just lull you to sleep may be the ticket. The Sleep Stone Mask from Baloo Living blocks light and muffles sound, but it also includes a smooth stone crystal that sits over the third eye chakra.

While you may not be looking for the best eye mask to help you focus during meditation, you'll appreciate reveling in the spa-like luxury of the Sleep Stone Mask. Choose from amethyst for calming, grounding, self-love, and healing; purple fluorite for intuition, clarity, immunity, and healing; blue lace agate for safety, security, balance, and grounding; or rose quartz for stress relief, gentleness, and pure love. Or maybe choose the color you like best.

Whichever you opt for, slip the stone into its dedicated pocket and tuck it back into the mask—but be sure to follow Baloo's instructions to the T, or it may slip out while you sleep. The wide satin and spandex eye mask is lightly padded, so it's like a tiny pillow for your eyes. It provides light pressure for comfort, but it's not too tight since you can find the perfect fit thanks to the hook and loop closure.
See Details & Buying Options
8. Simply Organic Bamboo Sleep Mask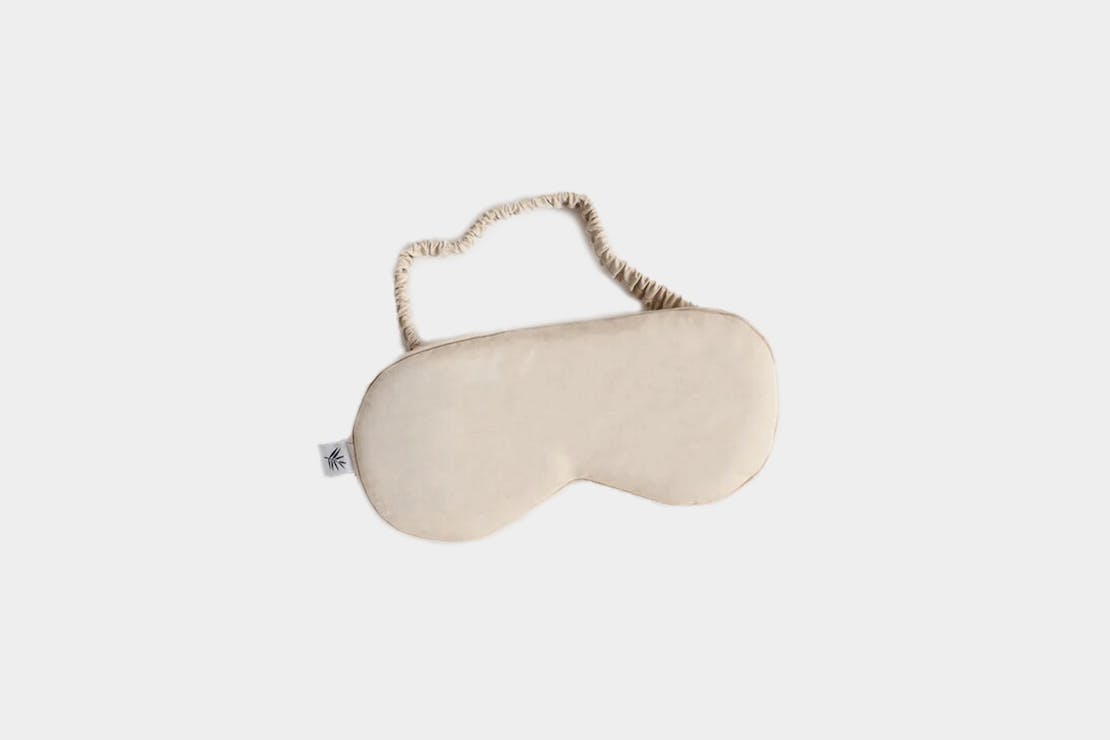 Why we like it: It's eco-friendly.

There's a good bet that a plant that can grow quickly enough to sustain the insatiable appetite of a panda bear is a great renewable option for our use, as well. That's why we think the Simply Organic Bamboo Sleep Mask is an excellent option for those making environmentally-friendly choices with their shopping. Bamboo grows faster and uses significantly less water than cotton. The ECOCERT® organically-grown bamboo used by Simply Organic is also free of harmful chemicals—nice!

Of course, feeling good about a purchase isn't enough if it doesn't perform, and this eye mask gets the job done. The sateen weave of the bamboo fabric glides over your skin and feels softer than the silkiest cotton. A stretchy elastic band that fits most users holds it in place. There's also the bonus that bamboo has temperature-regulating and moisture-wicking properties and is hypoallergenic, so you won't wake up hot and sweaty after wearing it. Instead, all the components come together in an eye mask you may forget you're wearing. Don't believe us? Simply Organic Bamboo says you don't have to decide now. Sleep on it for 30 days to ensure it's your best sleep mask.
See Details & Buying Options
9. Dreamlight Muse Sleep Mask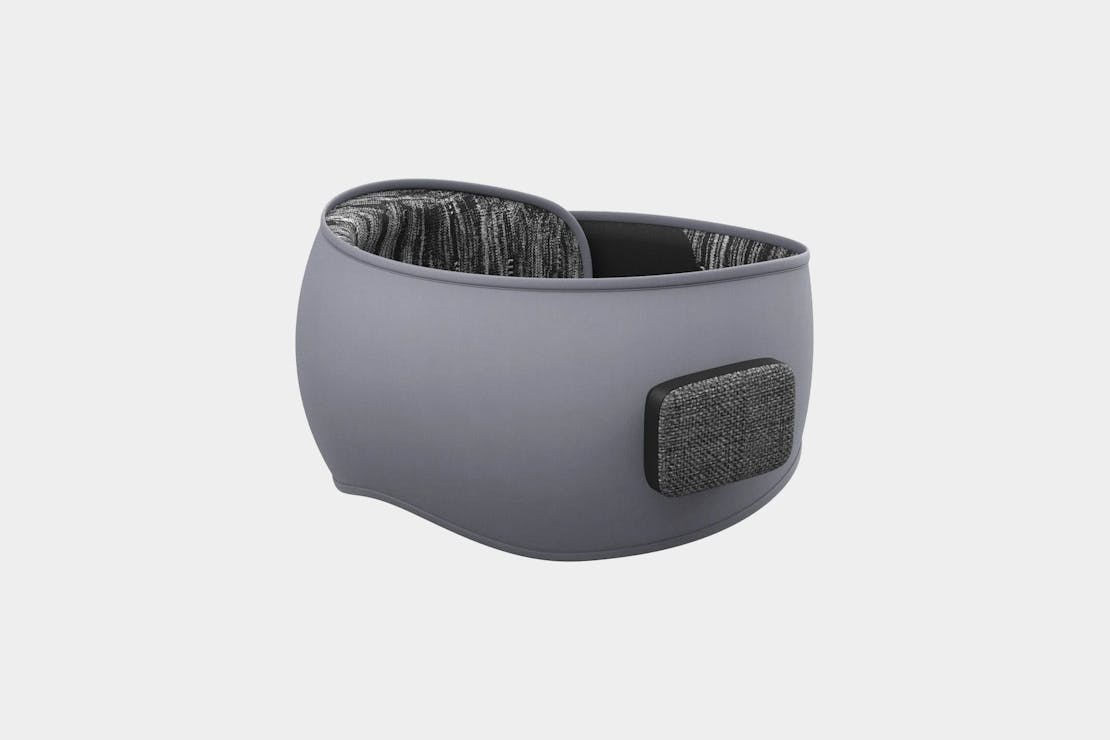 Why we like it: It combines noise-cancelling with light-blocking in one travel accessory.

When you're traveling in the same space as screaming toddlers and arguing teenagers (even if they're your own family!), it can be hard to relax enough to fall asleep, whether the light's on or off. Even after popping in some ear plugs to block the noise, the tension still rings in your head. The Dreamlight Muse Sleep Mask solves that problem with an eye mask that includes a removable Bluetooth player so you can stream a meditation, white noise, or bedtime story app to get you in the right frame of mind for sleep. Or lend it to the teenager so they can rest while rocking their jams. Either way, you'll find peace, because the Dreamlight Muse offers up to 10 hours of wireless music play on a 75-minute charge.

The nylon, polyester, and spandex eye mask has a plush feel against your face and is hypoallergenic and latex-free to accommodate most users. The materials give it enough stretch for the perfect fit, and the hook and loop closures won't tangle in your hair.

This eye mask comes with a travel pouch and charging cable and is washable—as long as you remove the Bluetooth player first!
See Details & Buying Options
There you have it, the best sleep mask to get a good night's sleep every time you travel. Try one out and you'll see it's why its essential part of your travel checklist. Why do you use an eye mask and which one do you like best? Join the Pack Hacker Pro Community and let us know.