tentree Mobius 35L Backpack Review
The tentree Mobius 35L Backpack has dual access via its rolltop design and clamshell back panel, though the latter's opening can be difficult to navigate.
Our Verdict
Unlock the Pro Summary
Save time. Get access to brief summaries of our reviews so you can browse and make decisions more efficiently.
Pros
Back panel opening offers quick access to laptop
Compression straps lock down to contain fabric
Water bottle pocket is extremely secure
Cons
Back panel opening can overflow when fully packed
Sternum-strap doesn't feel quite secure enough
Internal organization is lacking
Recent Pack Hacker Video
Technical Details
Capacity

35l

maximum | 16 liters minimum

Weight (lb)

2.45 lb (1.1 kg)

Dimensions

22 in x 14 in x 6 in (55.9 x 35.6 x 15.2 cm)

Notable Materials

Recycled Polyester, YKK Zippers, Woojin Hardware

Manufacturing Country

Vietnam

Laptop Compartment Size

15"

Warranty Information
Full Review
tentree is a brand that prides itself on only using sustainably sourced materials for its bags. It doesn't take long to see this in the material sourcing they use for their products, and they also plant ten trees for every item they sell, hence their brand name. We love sustainability as much as anyone, but it doesn't really matter if the bag isn't effective enough to negate purchasing another pack. Will the Mobius 35L Backpack meet that requirement, or will we be left looking elsewhere? Let's find out.
Materials & Aesthetic
When working with recycled materials, the most important place to start is right there—
the materials. The shell is crafted from 100% REPREVE recycled polyester. REPREVE uses plastic bottles to manufacture the polyester for this pack, and it has a nice texture and matte finish. It doesn't have a waterproof coating, so rain seeps into the fabric fairly easily. The interior liner helps a bit, but even after 15 minutes in heavy rain, the inside of the fabric was wet. It handles snow surprisingly well, though, keeping our gear safe and dry after 30 minutes of cycling. Just brush the snow off and open the pack up to get your gear at the end of the ride.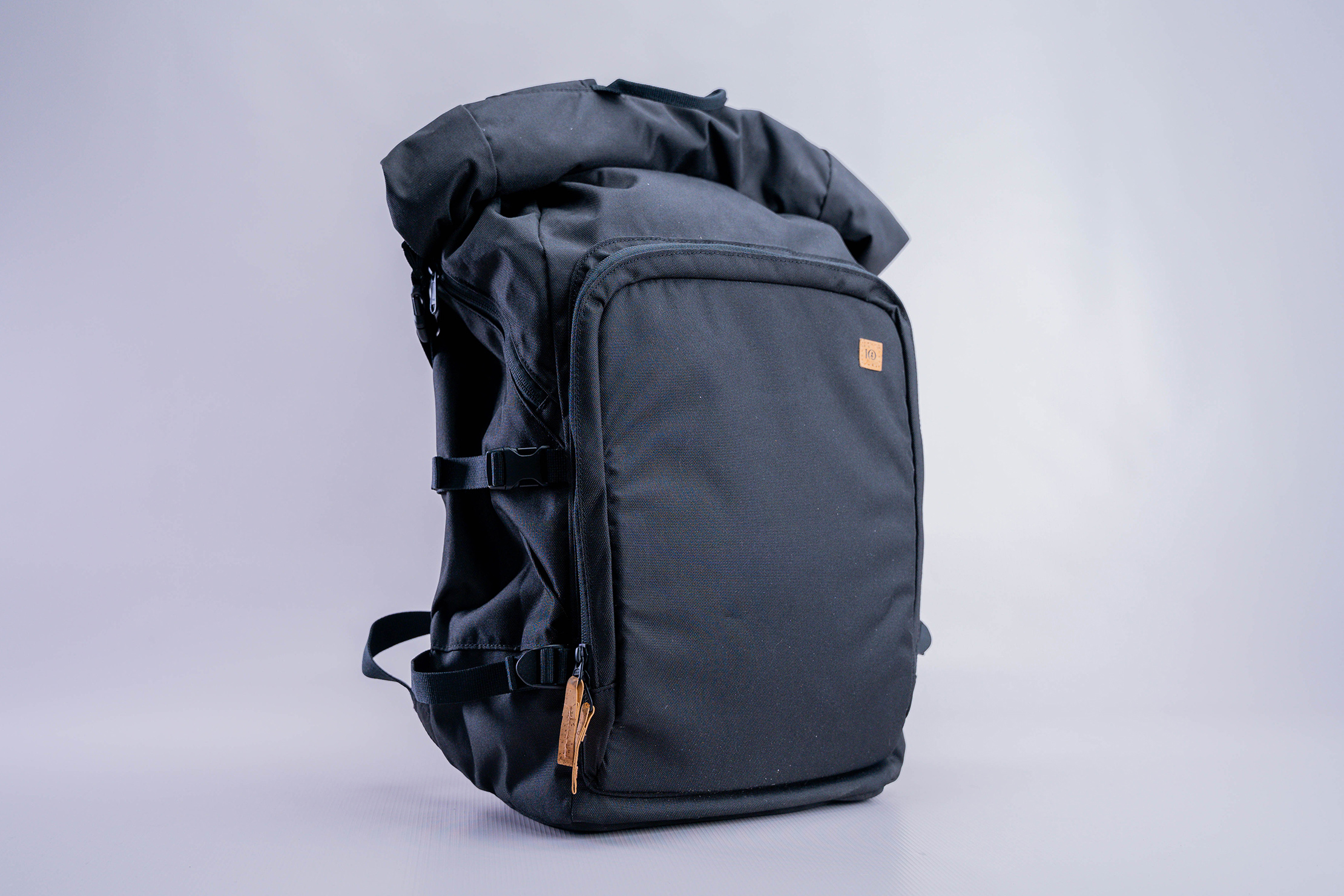 Before we stray away from sustainability too much, BLOOM crafts this padding from algae, which the front pocket, laptop sleeve, and bottom of the pack all use. It's firm but has enough cushion to retain comfort. It also gives the bottom of the pack structure, and if it weren't there, it would be difficult to stand the pack up. It can't always stand up on its own, but this enables it to lean nicely when placed against a wall.
The only colorway available at the time of writing is Meteorite Black, but we've also seen other color options available. The black colorway is sleek, muted, and has a great feel. The material likes to accept dirt, dust, and salt from roadways, but we're extremely happy with how well it cleans up. A wet rag does the trick, although it sometimes takes a bit of scrubbing to get it all the way clean.
The logo is on the top right of the front pocket and crafted from cork. It has the number 10 imprinted on it with a tree design within the zero, symbolizing the ten trees they plant for each bag sold. It's not overpowering and looks quite nice. It matches the zipper pulls, which we'll talk about in just a moment.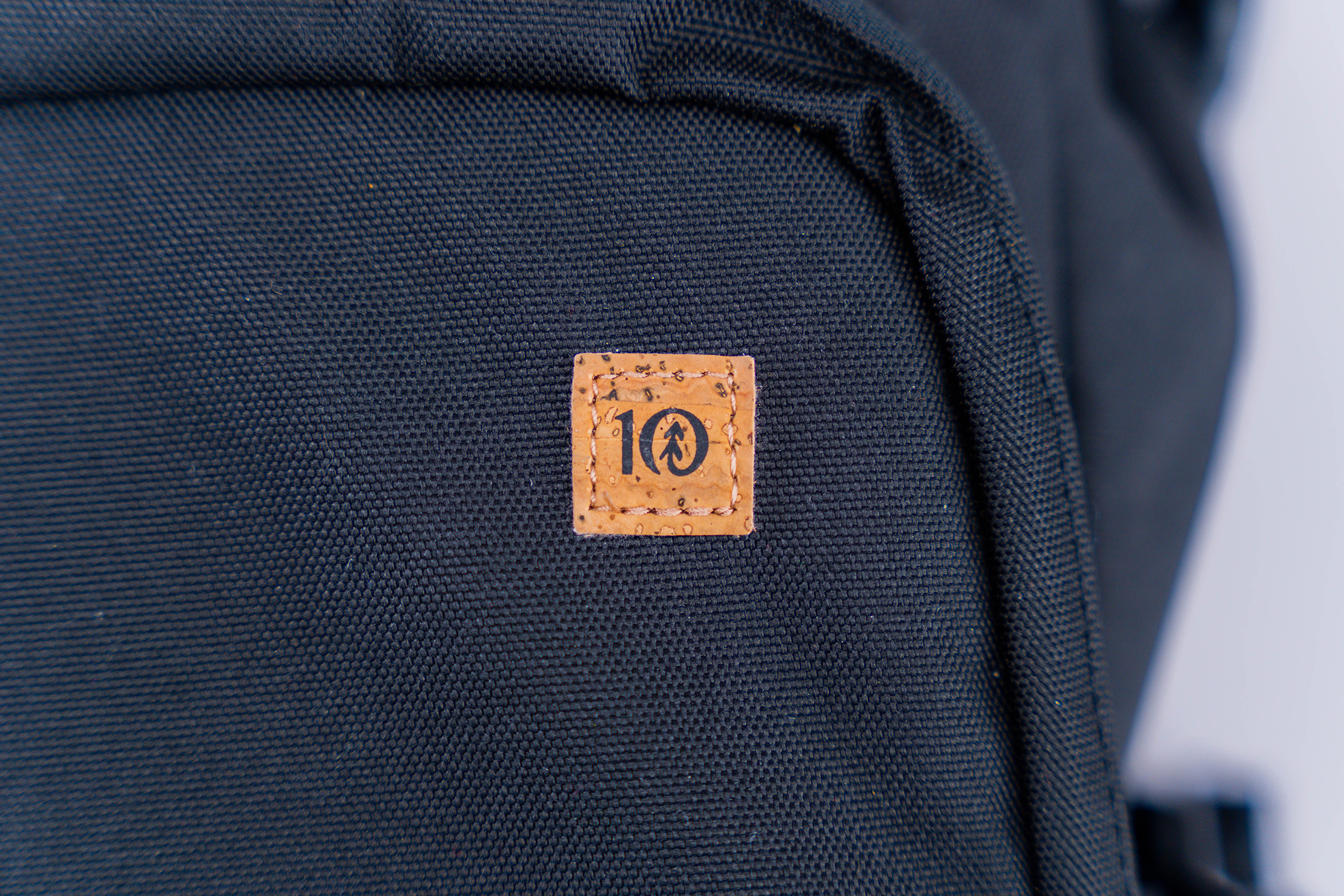 The only other branding on the pack is the Mobius lettering on the water bottle pocket side of the bag. It's gray, subtle, and doesn't take away from the minimalism the pack employs.
tentree notes that all of the buckles, zippers, and trims are crafted from recycled post-industrial factory waste. They're both brands that we often review, YKK and Woojin, which is great to see that they're able to keep reliable brands and also maintain their eco-friendly commitment.
All of the zippers are YKK #5 and stay true to what we have come to expect from YKK as a company. All of the zipper pulls apart from the front pocket are standard black YKK pulls. They can be a little hard to grab onto when wet, but the eye offers a life ring of support to hold onto.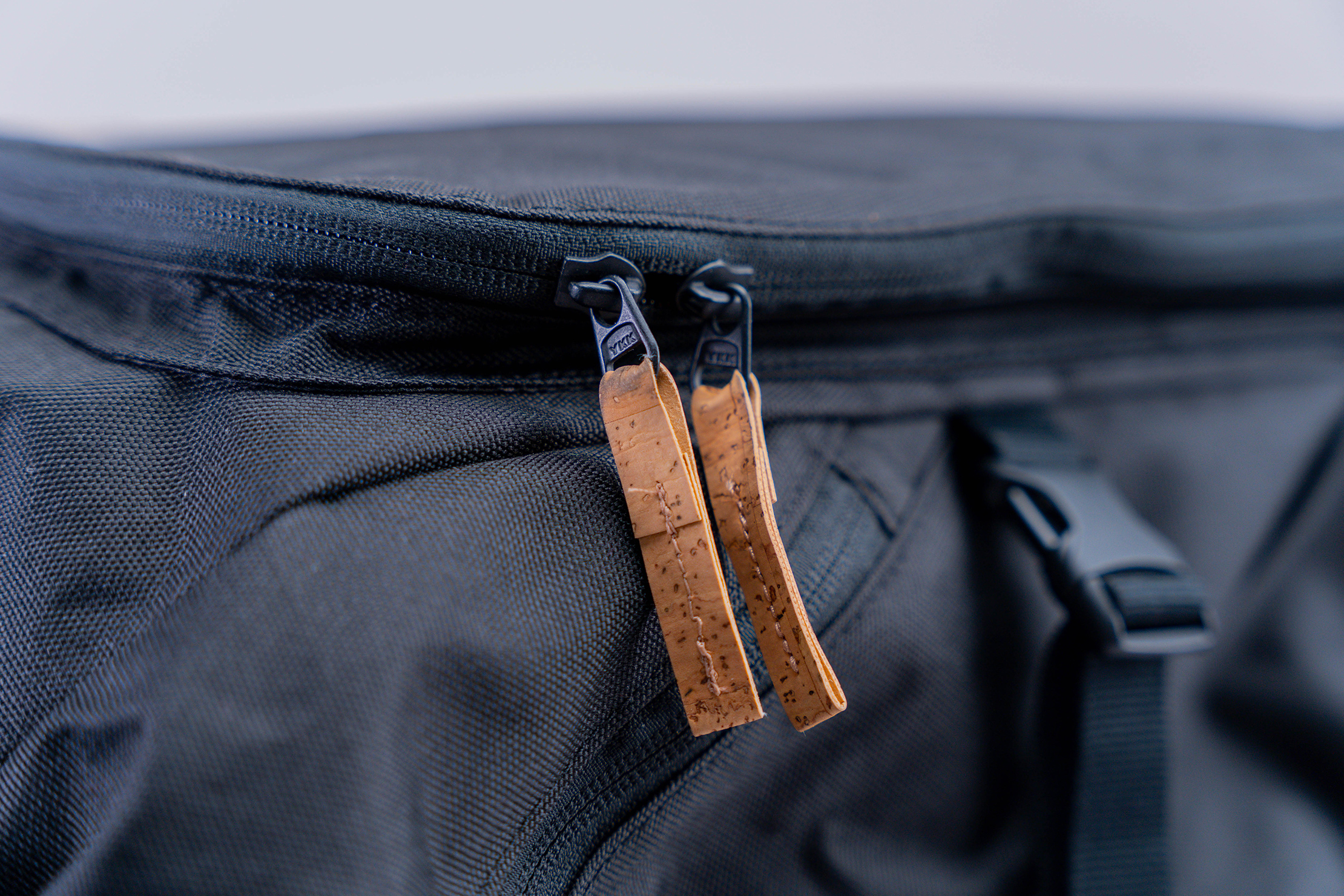 The front pocket zippers have cork pulls that offer a nice bit of contrast on the black shell, similar to the logo we talked about earlier. They're a bit slippery when wet, but there's a line of stitching down the center that's easy to grab onto with your nails.
All of the buckles are Woojin, which here at Pack Hacker, equates to quality. They're robust, durable, and work how we expect them to. Additionally, they blend in nicely with the matte fabric, which is a nice plus.
External Components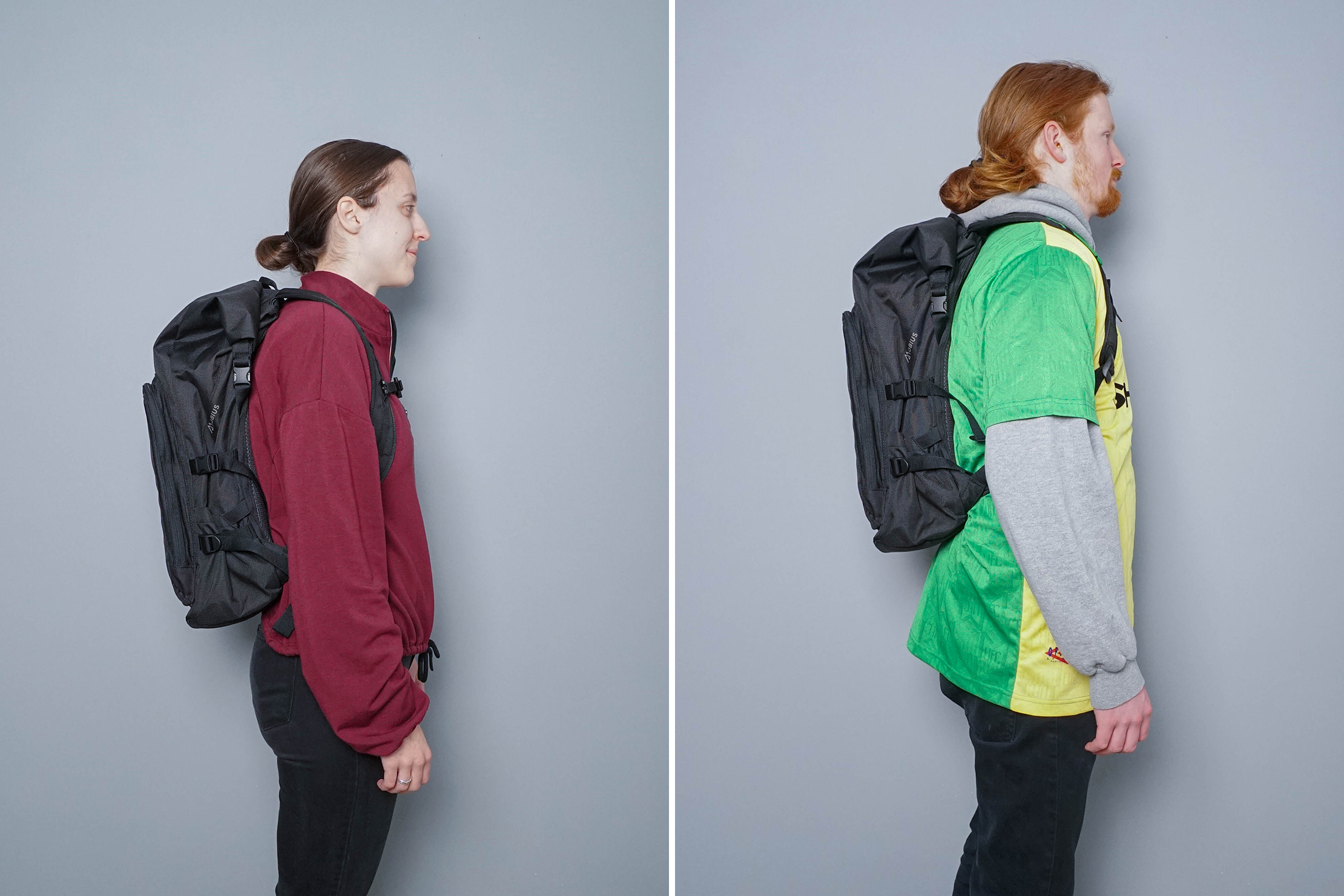 The unassuming water bottle pocket is mostly constructed from the same material as the rest of the pack. It connects on one side with elastic, stretching out to accept larger bottles. It fits a 32 oz Nalgene bottle with a smidge of room to spare, but anything larger than that is pushing your luck. The elastic holds onto smaller bottles nicely, like an 18 oz Hydro Flask too.
Each side of the pack has two compression straps. Their main purpose is to compress the backpack when it isn't as full, allowing it to be used anywhere in between 16 and 35 liters. It excels in that, but our favorite use is securing things in the side pockets. On the water bottle pocket, there's a strap that goes over the pocket itself and another a few inches above the pocket. The first is perfect for tightening the pocket around a bottle, and the second is great to loop through an eye on the top of the bottle to ensure it doesn't slip out.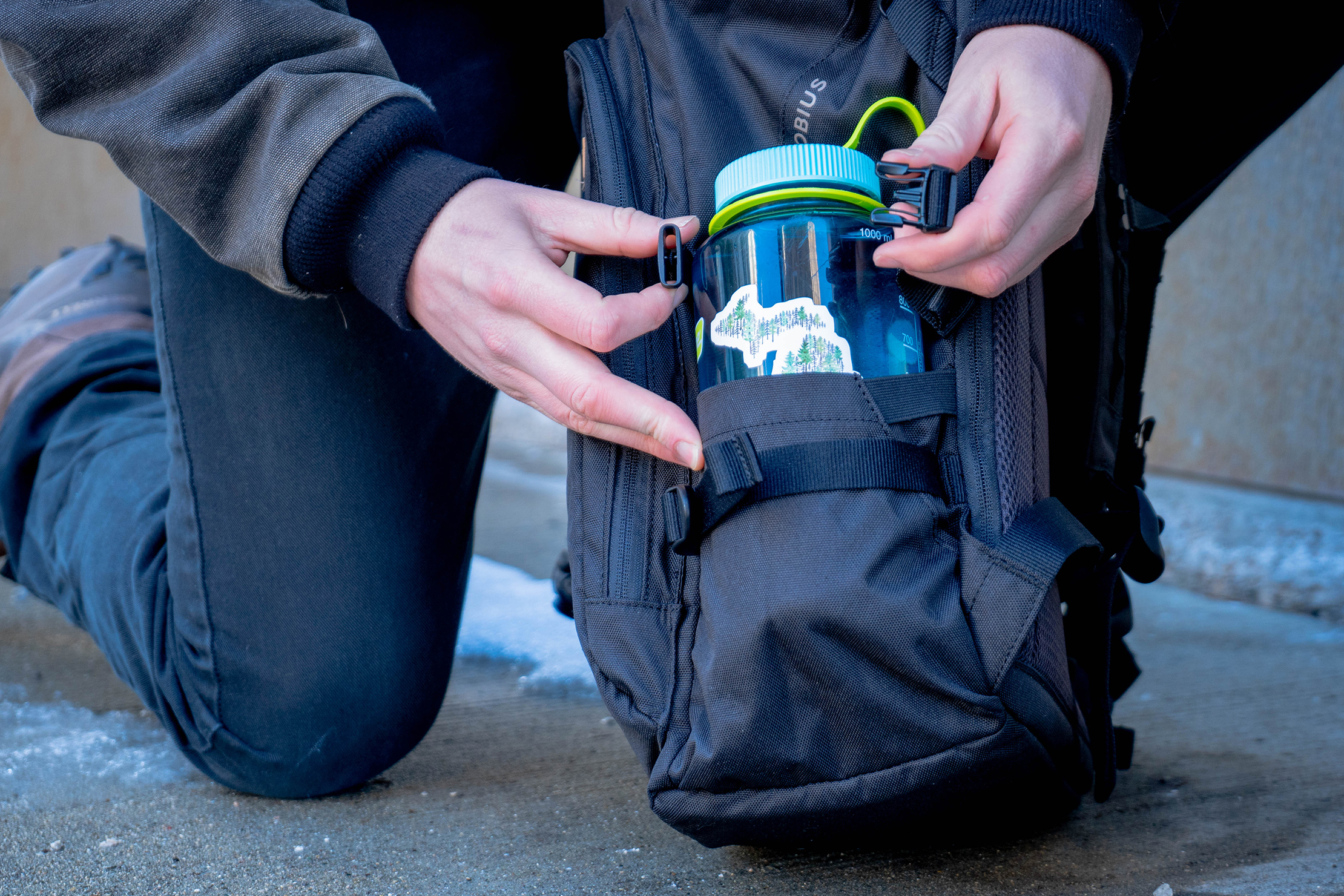 Instead of a second water bottle pocket, the other side of the pack features a raised zippered pocket. This is an excellent place to stow quick-grab items like a cell phone or wallet, but we most often use it for a small book or a Bluetooth speaker while in transit or while heading to the beach. Loading things into the pocket can be hard when the pack is stuffed full, as this pocket shares space with the main compartment. If you load a smaller item here and don't want it to jostle around, you can use the compression strap to tighten up the fabric to keep it from moving around so much.
Moving on to the back of the pack, the shoulder straps are an S-shape that forms to the body quite well. They remind us of the ULA Dragonfly's shoulder straps, which we can take some getting used to for some people. We personally love them, but as they're similar, keep that in mind before heading out on an extended adventure with this pack.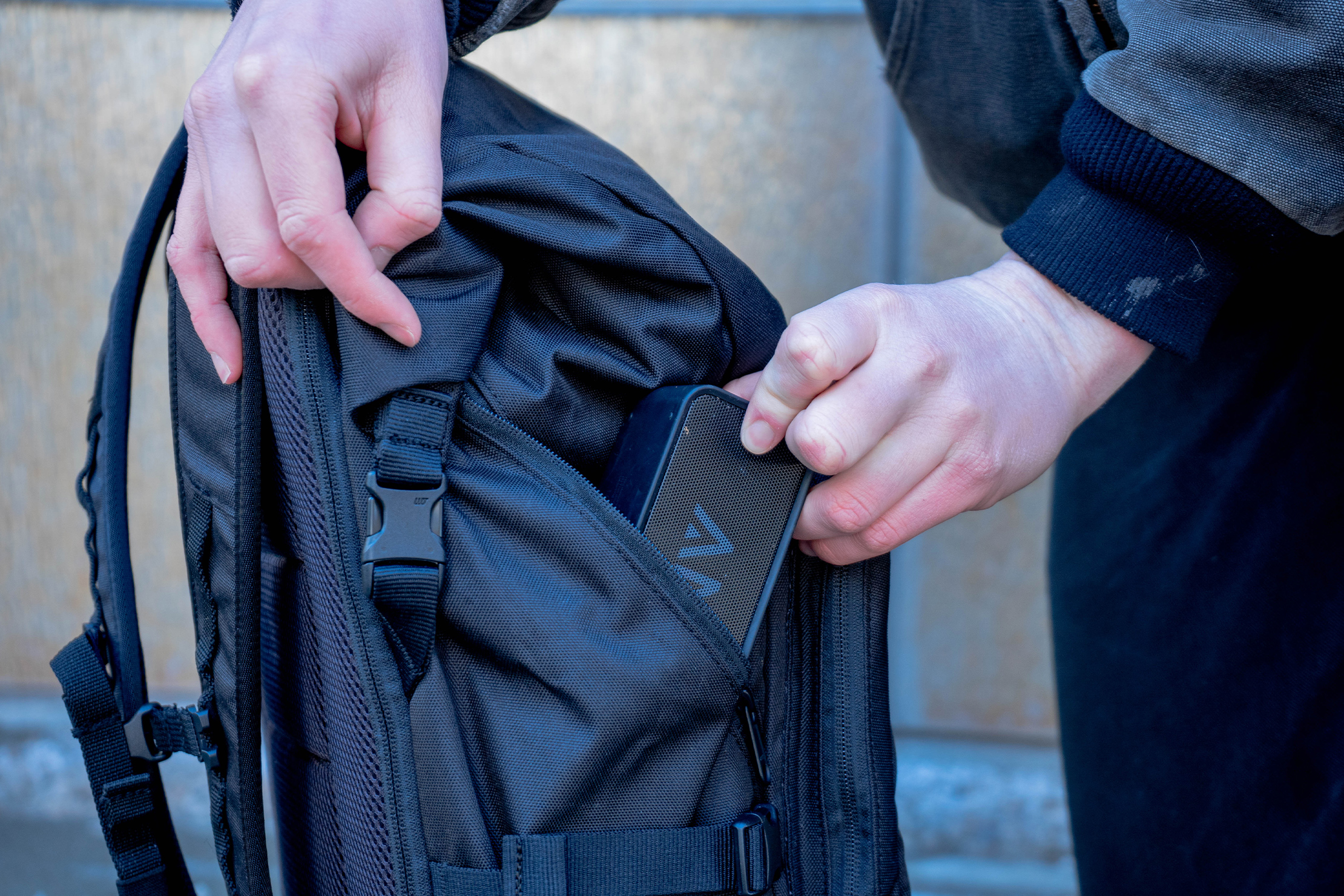 They have light padding but are pretty rigid for the most part. There are two attachment loops on the right strap just above the webbing that the sternum strap connects to, but the left side doesn't have the two attachment loops.
The sternum strap can shift up or down depending on your personal preference. It isn't a track; it's a bunch of different loops, so the changes aren't precise, but it's enough for our usage. The loops that aren't in use can be used to attach smaller items, like the Yakoda Supply Utility Pouch.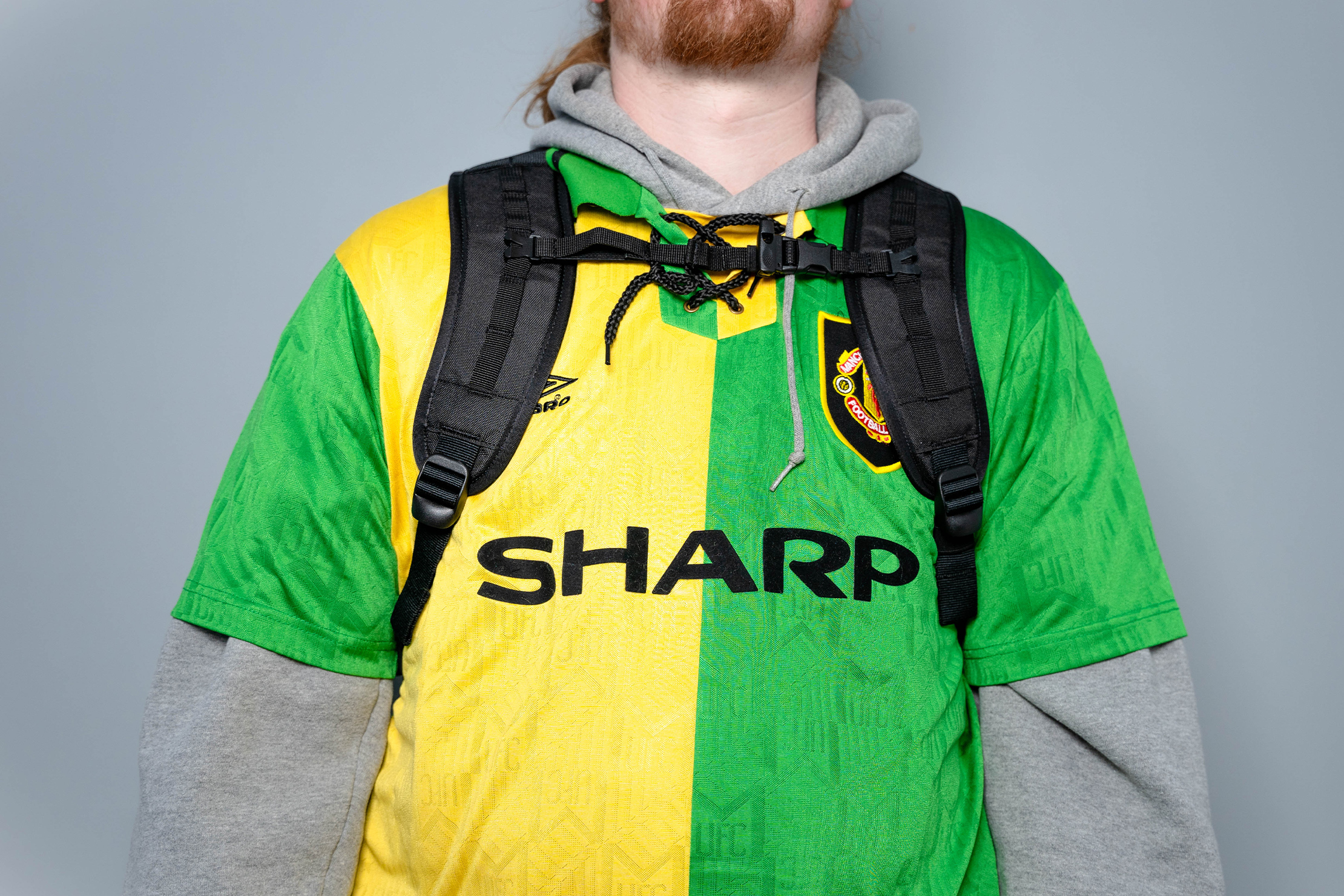 Overall, the sternum strap leaves a little to be desired in use—it just doesn't feel as secure as we would like it to. Typically we like sternum straps that make us feel comfortable, and while this it's not uncomfortable, it doesn't feel as homey as we'd like for a backpack we take traveling.
The whistle is a nice inclusion as a safety feature. Whether you're taking a quick day hike and need to alert people or animals of your presence or need to be found quickly in a crowded cityscape, it's loud enough to be heard when you need to be seen.
The back panel is similar to the shoulder straps in that it is rigid but has enough padding to be comfortable. It's aerated too—but not overly so—and it makes for a pleasant carry even when fully packed.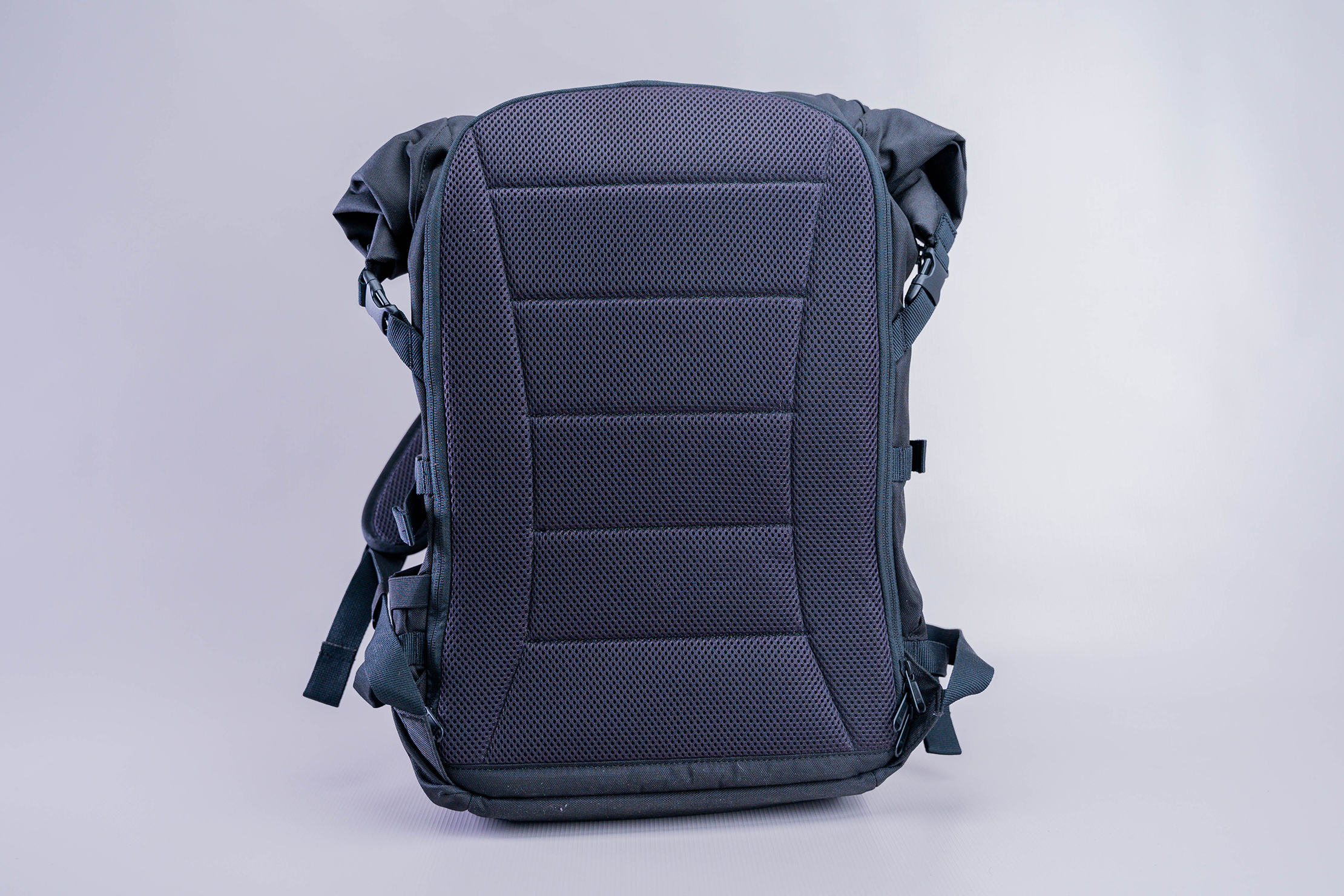 It has a zipper track running around the outside of it and opens like a clamshell to offer access to the main compartment. There are four zippers, which we think is a bit overkill. It seems like most of what you can do with four zippers in this scenario is accomplishable with two, but hey, no sweat on our end. The more, the merrier! We'll talk more about accessing the main compartment…well, now, I guess!
Inside The Pack
Sometimes rolltop bags can feel like a big garbage bag full of dinner scraps. There's one way in and out, and it isn't always easy to open it up once you've closed it. If there's something on the bottom of the bag that you want, you're discouraged from going to get it because of everything that's in between your hand and the item. Reaching through your gear isn't nearly as bad as sliding through old mashed potatoes, but you get what we're trying to say.
The Mobius is a big bag. 35 liters is like…a lot of liters. Getting to the bottom of the bag when it's empty requires quite the stretch of the arm, and adding gear in between makes it even more difficult. tentree added the clamshell opening on the back panel to try and address this, and overall it does do what it's intended to do. You have quick access to everything in your pack and the laptop sleeve, which is great when you need to grab something on the fly.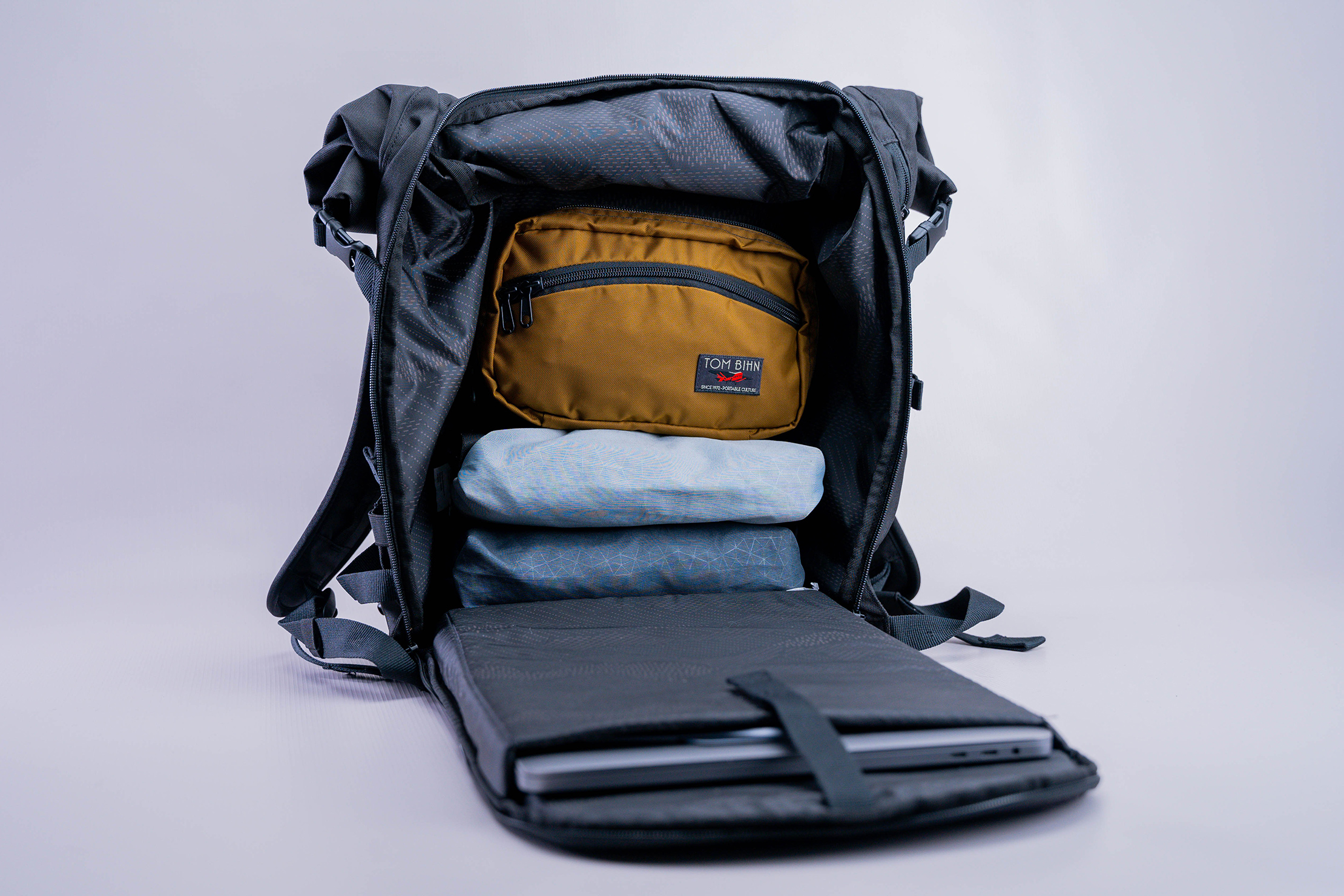 It isn't so simple in use, though. As much as we love YKK zippers, the standard #5 model selected to open and close the opening doesn't seem enough in this situation. When the bag isn't stuffed completely full, it works wonderfully. However, when the pack is moderately full, it's difficult to close after opening it.. Everything you've loaded into the rolltop has moved around since you last opened it, compressed due to gravity, and shifted as you moved about. Once you open it, items will bulge and sway, which can get in the way of the zipper. Seeing that it's a smaller zipper, it doesn't have the gusto to push things out of the way.
We really only notice this issue when it's 70% full or more, but we mostly only like to use the back panel for quick access to our laptop anyway. It seems like no matter how well we pack the bag, things unravel when we open the back panel in transit. It's manageable to close it again, but it isn't as easy as it should be.
You can fit a ton of gear inside the Mobius, but it isn't always easy to navigate packing it or getting out specific things once packed. If you have a strong sense of personal organization, you may be able to tackle the Mobius. If not…well, good luck!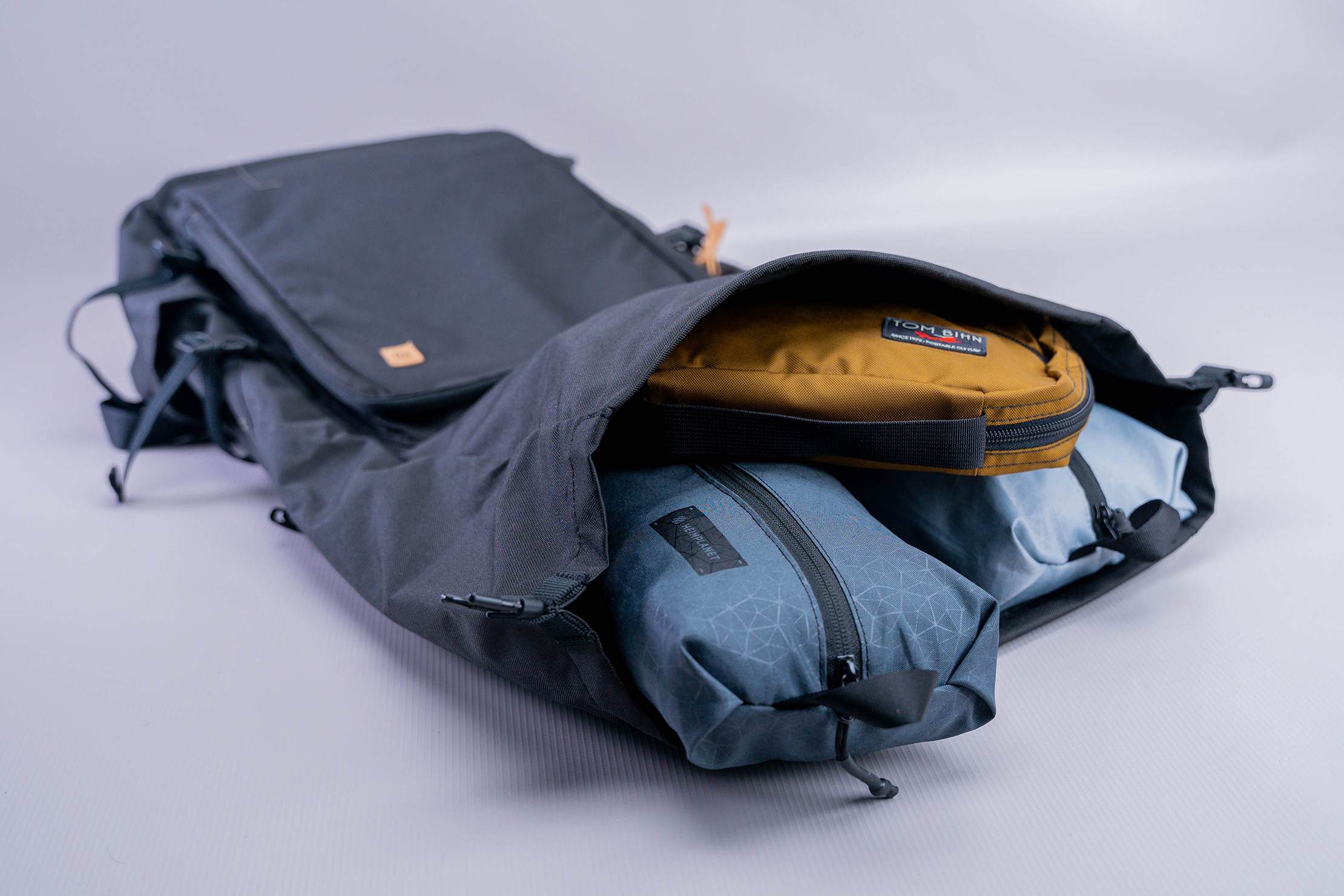 Moving past the clamshell opening, the main compartment is sort of like the wild wild west. Apart from the slide laptop sleeve on the back side of the interior, there isn't any organization to speak of—just a wide-open 35L, ready to be conquered. Packing cubes do well here, but it can be difficult to differentiate which you are grabbing without opening the back panel.
The top of the pack is secured by a rolltop opening with a clip on either side. We find that it's pretty typical as far as rolltops go, so if you normally like them, odds are, you'll like this opening. If you don't, you probably won't, but we never had any issues with it coming unraveled. If rolled incorrectly, it does tend to look a little droopy on the top. It's meant to be rolled backwards, towards the backpanel, but you can roll it forwards if you prefer. It doesn't look as nice, but it functions just the same.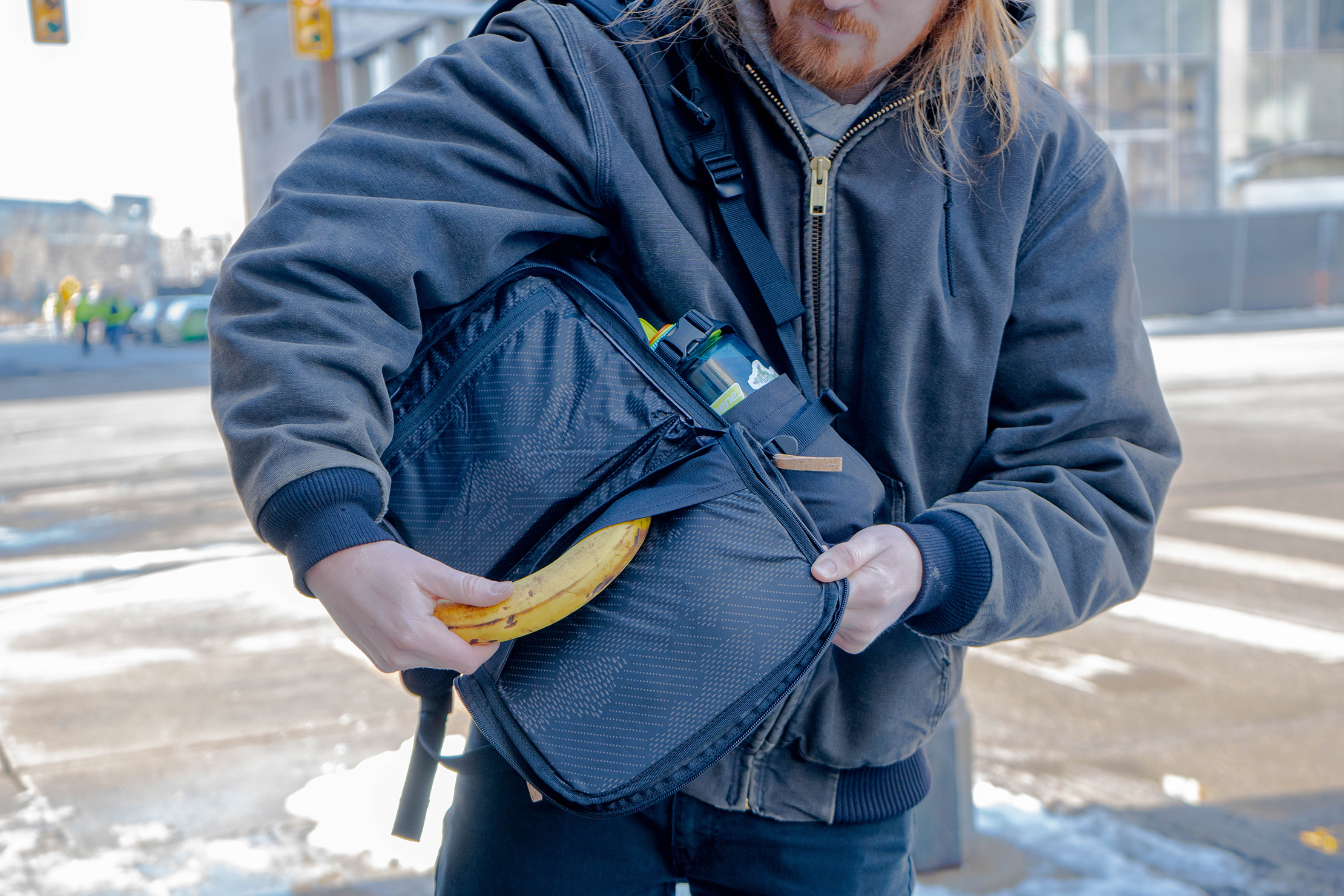 The laptop sleeve is well padded and easy to access from the roll top access point or the clamshell opening on the back panel. It's comfortable enough to forget it's there on occasion, which is both a good thing and anxiety-producing thing, depending on how you look at it.
Moving out of the main compartment, there's just one more storage area on this pack. The front pocket is flat and doesn't offer much space for items that aren't thin. It shares space with the main compartment, so there's even less space in this pocket when that's full.
There are two zippered pockets that are great for smaller items you want to keep out of the hubbub of the main compartment, like dongles, headphones, charging cables, and important documents. One is slightly larger than the other, but both are large enough to hold a fair amount of gear.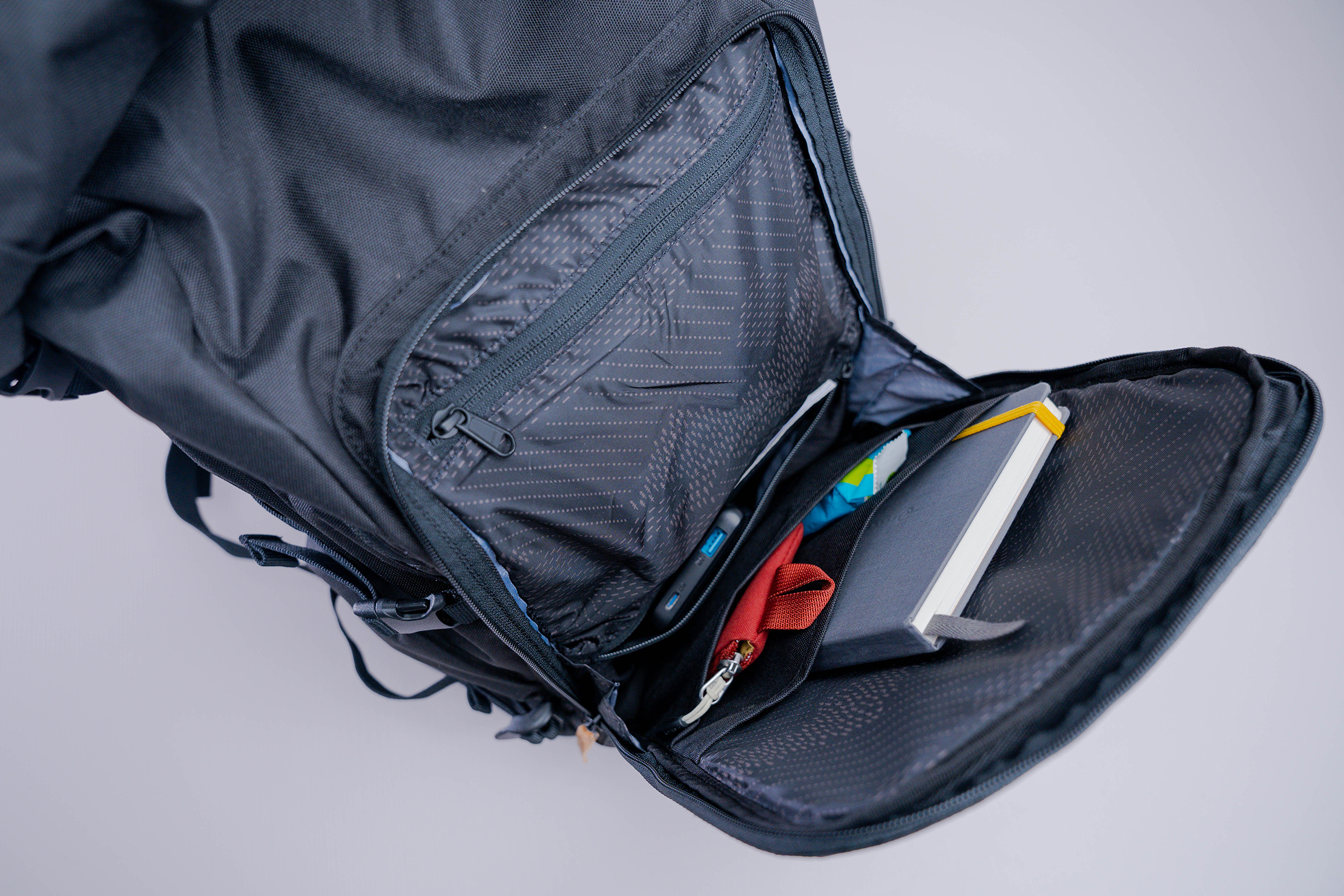 Opposite the zippered pockets are two liner pockets. They too have a fair amount of space but can be awkward in use. To get a better look inside the pocket, you have to bend the flap that unzips the pocket, and if you have anything remotely rigid in the liner pockets, this becomes harder to do. In the end, we don't use these pockets all that much because of this, but smaller items like a notebook or pens will work just fine here.
Overall, the tentree Mobius 35L backpack has a ton of space to stow your gear, but there isn't much segmentation to help you organize it once it's inside. The materials are sustainably sourced and look quite professional. In theory, the clamshell back panel is a great idea, but it narrowly misses the mark due to zippers that aren't up to the task at hand. However, it's a comfortable carry, and we applaud the innovation in material and design!
Usage Timeline
Initial Usage
Condition: Excellent
Front compartment is tall and has good depth
The bag can be compressed to 16 liters
Water bottle pocket is a bit shallow, but it's complemented by compression straps
2 Weeks of Use
Condition: Excellent
Material remains in good condition
Rolltop can be hard to roll
Back panel zippers are a little small for our liking
Access the Pro Community Discussion
Get your questions about the tentree Mobius 35L Backpack answered from our team and the Pro Community right here on the page. Plus, join discussions with other members about gear, guides, and more.
Other Bags & Luggage Reviews