SLUGHAUS MICRO Review
The SLUGHAUS MICRO is a highly minimalistic key organizer with a tiny footprint, but some features are so simple that they're hard to use.
Our Verdict
Unlock the Pro Summary
Save time. Get access to brief summaries of our reviews so you can browse and make decisions more efficiently.
Pros
Tiny footprint saves space in your pocket or pack
Multi-tool is excellent for tasks like opening a beer
Extender works well to add keys for those with lots of locks
Cons
Keys with small or odd-sized openings won't fit onto the organizer
Loosens over time
Keys can poke into you when using the multi-tool
Recent Pack Hacker Video
Technical Details
Weight (oz)

0.105822 oz (3 g)

Dimensions

0.94 in x 0.43 in (2.4 x 1.1 cm)

Notable Materials

Stainless Steel

Manufacturing Country

China
Full Review
The SLUGHAUS MICRO looks like something you'd find in your grandpa's workshop—its primary component is a screw, the main material is stainless steel, and it can open a beer after a long day. This feels like a trip down memory lane, but we're here to determine how this minimalistic key organizer fits into your travel arsenal, not how well it looks on your tool chest. Without further ado, let's dive in!
Materials & Aesthetic
The SLUGHAUS MICRO has five separate pieces. We'll discuss each of them and how they all fit together.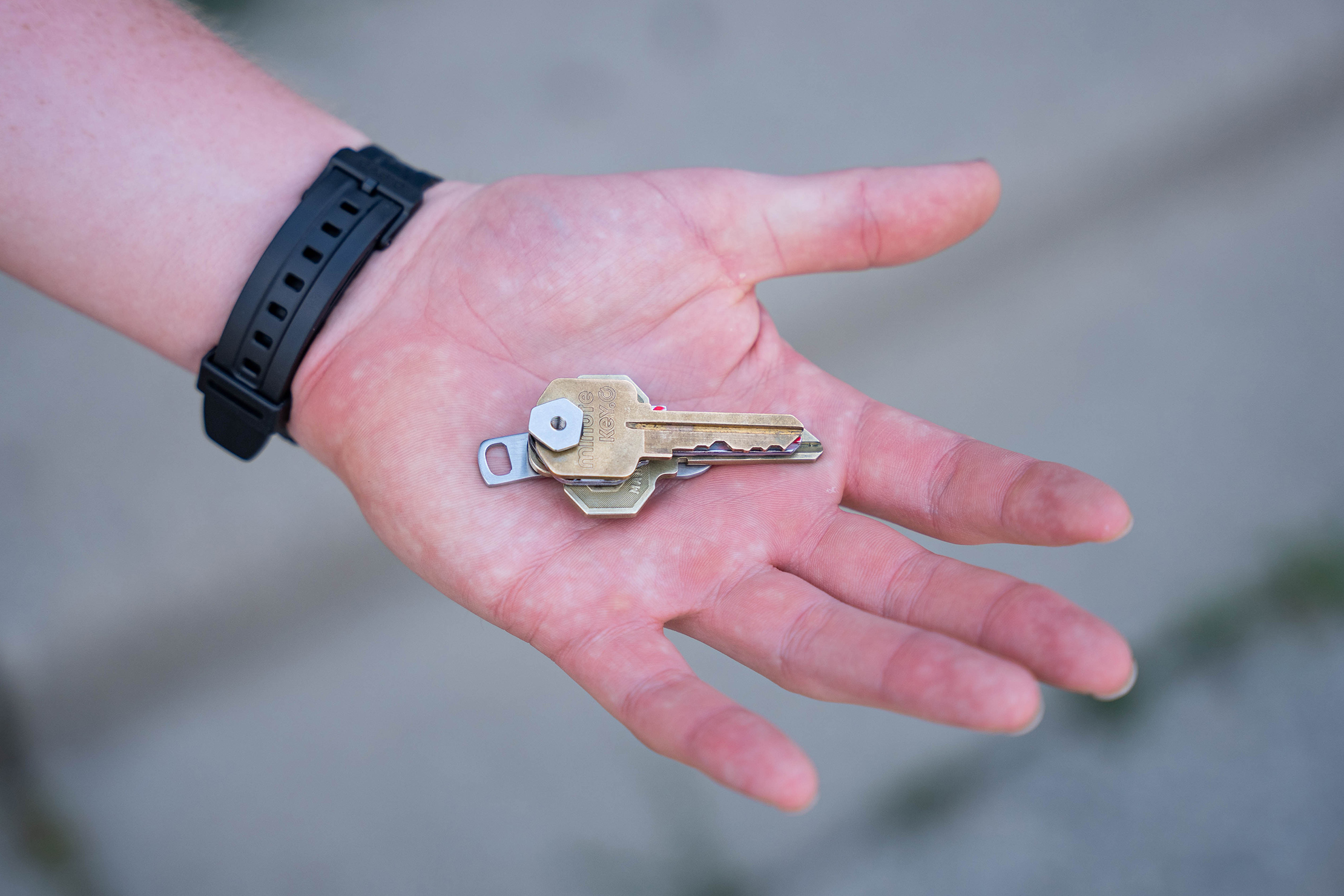 There are two end pieces, one with a flat-head screw and another with a hollow interior to accept an extender screw. The ends look like triangles with the points cut off, which helps you screw them together if you don't have a flat-head screwdriver. However, it can still be tricky to get it tight or loosen it with just your hands.
Not all keys we have on hand fit onto the organizer. Those with small holes or noncircular attachment points had the most problems, but standard keys worked fine.
Next up is the extender. One side has a male screw end, and the other is a female one. You can use the MICRO with or without the extender, but you get about double the space for keys and accessories using it. It's extremely small, so it's easy to lose if you aren't careful. It's so tiny that it's hard to know where to put it when you aren't using it.

Let's say that you're going on a trip. You currently use the SLUGHAUS MICRO with the extender to fit your daily-use keys for work and your house, but on your trip, you take just two keys. Once you take the keys off and put them in a safe place, where do you put the extender so it won't get lost and you can find it when you return from your trip? We keep the packaging around for this reason: the zip lock at the bag's top keeps the extender we need, plus the extras the MICRO comes, contained in one spot. Nevertheless, they're easy to lose.
The package comes with 12 small, black, hard, rubberized plastic spacers for the key organizer. They go between your keys and on the top and bottom of the organizer before the end pieces, providing enough wiggle room to rotate and maneuver things on the ring. If you don't use the spacers, different shaped and designed keys can get stuck in each other's ridges and stick together, making it hard to use them. Also, the ring is more jangly without the spacers as nothing stops metal from hitting metal.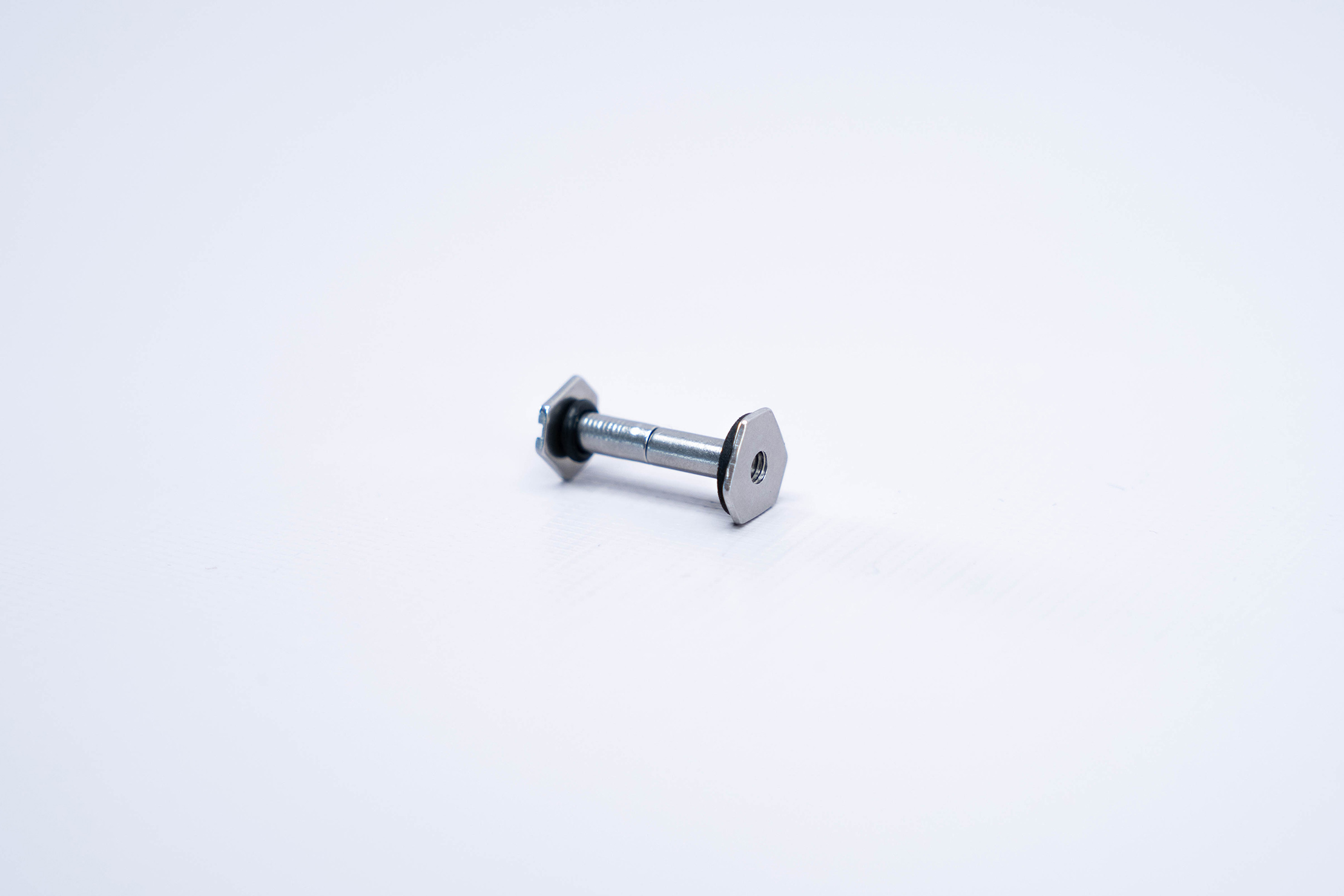 The multitool is the last piece of the puzzle. It acts as a bottle opener for a brew or pop after a long day exploring, a pry bar to open a stubborn jar of artisanal jam, or as a flat-head screwdriver to tighten loose screws at your hotel or Airbnb. The first two methods work reasonably well, but the screwdriver function is hard to use considering its small size and the angle at which you have to hold it to screw anything. It's more of a last resort than an actual tool.
The back end of the multitool has a hole in it so you can attach the entire organizer to another set of keys, a ring, or even a carabiner.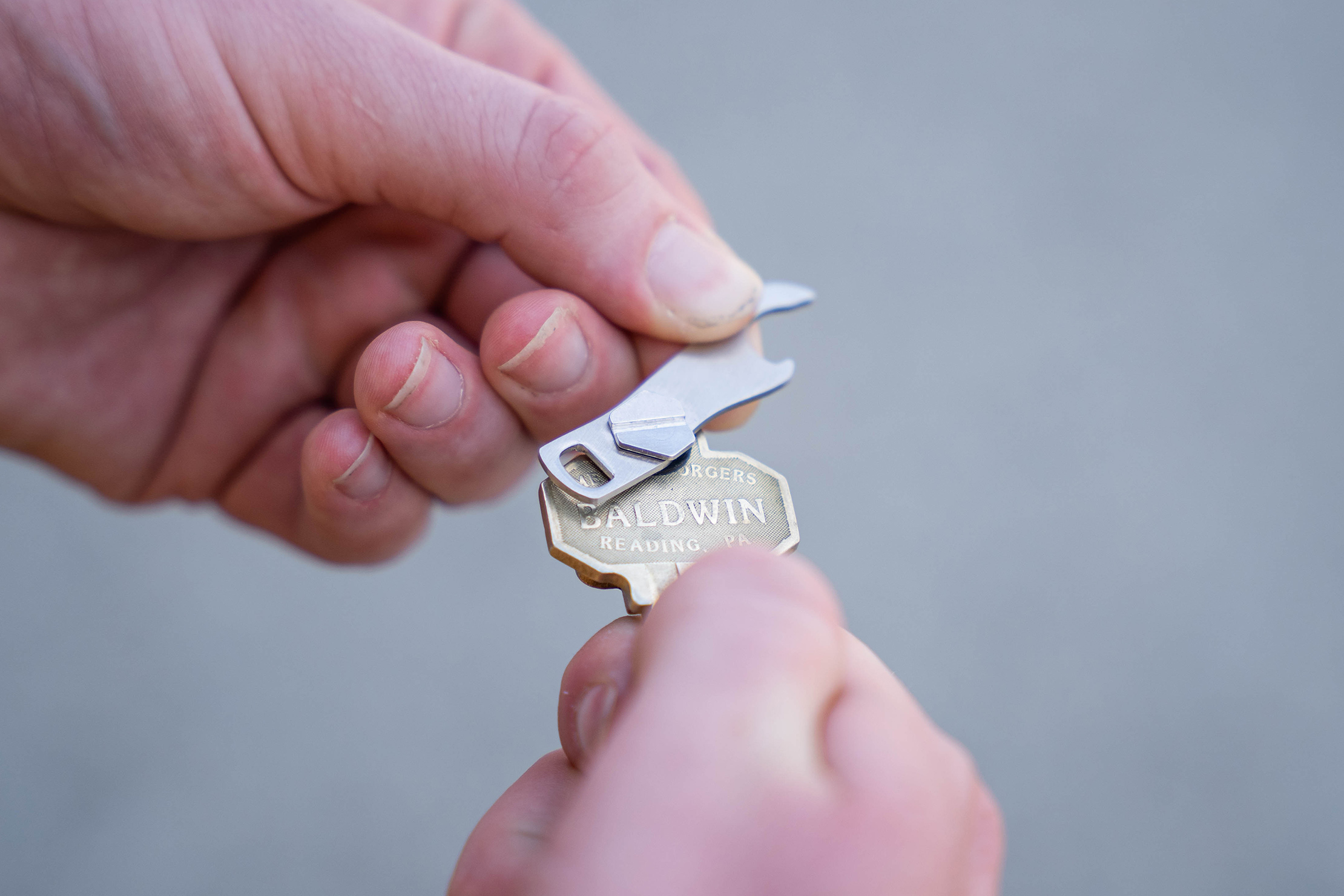 Apart from the spacers, the components are all stainless steel, which is highly durable. That's why it's used for kitchen appliances, after all. The multitool hasn't bent, and there aren't any noticeable knicks on any components. Yes, it's strong—but how well do we enjoy using it?
Usage & Features
Occasionally, the screw that holds the key organizer together will come loose. It hasn't come off for us, but we occasionally tighten it to ensure we don't lose our keys. It lasts longer if you do this with a proper screwdriver, but using your hand does the trick.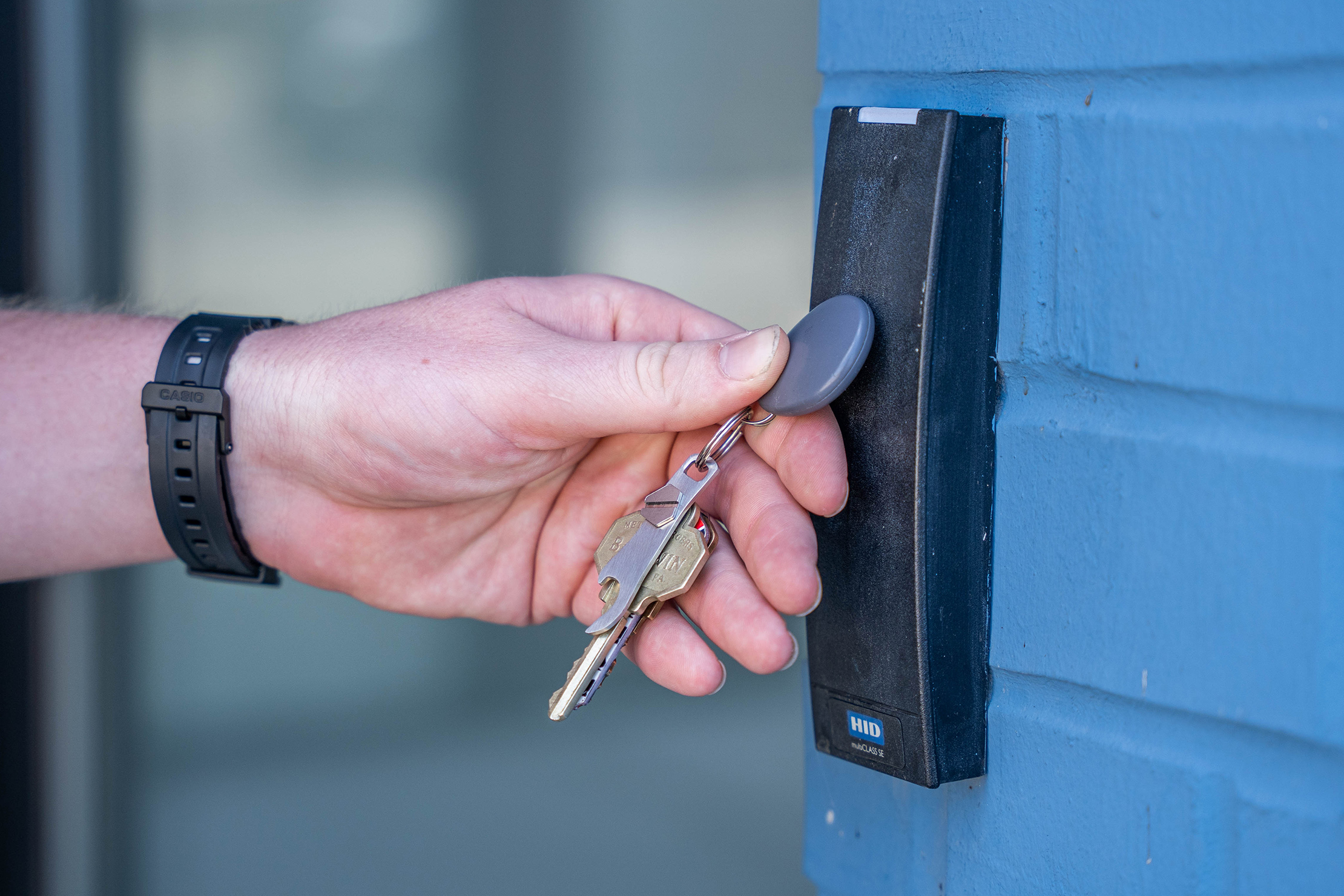 Depending on the size and dimensions of the bottle you're trying to open, it can be hard to use the multitool as an opener. Another issue is that you are using your keys to gain leverage to open the bottle, which can be a little painful if your keys are on the sharper or pokier side. Bottles generally pop open quickly, but it isn't always a comfortable process.
The SLUGHAUS MICRO is excellent for stowing a key or two you only use occasionally in your daypack or sling. Maneuvering the keys is clunky, and getting them back into place can be tricky. You get used to the process, but every so often, a key will catch another key, the screw will loosen, or they'll get caught on something.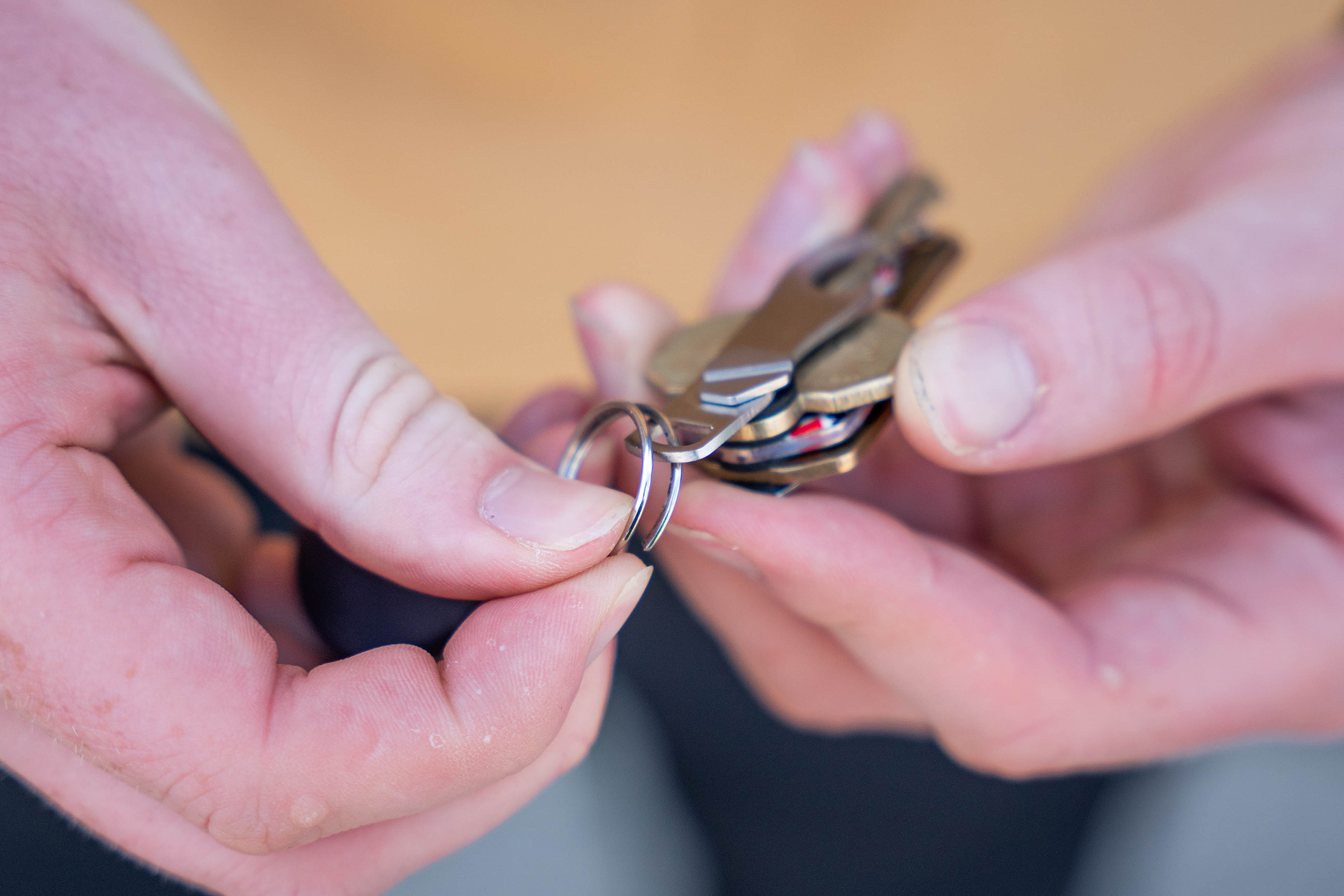 Using the organizer feels so minimal that it gets in your way due to a lack of features. Small things like finding the right key, putting them back in place, and using a bottle opener aren't as well-integrated as we have seen on other key organizers or multitools. The size is worth commending as it's one of the smallest we've come across, but the lack of features won't work for everyone.
Overall, the SLUGHAUS MICRO is a neat little organizer, but it will take the right person to appreciate everything— or rather the lack of things—that it offers.
Usage Timeline
Initial Usage
Condition: Excellent
Not all keys fit through the cylinder
Extremely lightweight and small
Materials appear to be durable
2 Weeks of Use
Condition: Excellent
Stainless steel shows no marks or knicks and hasn't bent
The screw comes loose occasionally but hasn't come apart completely
Rubberized spacers are durable but are easy to lose
Access the Pro Community Discussion
Get your questions about the SLUGHAUS MICRO answered from our team and the Pro Community right here on the page. Plus, join discussions with other members about gear, guides, and more.
Other Organizers & Pouches Reviews