Cote&Ciel Riss Sport Obsidian Black Review
The Cote&Ciel Riss Sport is a sleek, sophisticated bag that blends in with the crowd. We just wish it had more organization for our smaller gear.
Our Verdict
Unlock the Pro Summary
Save time. Get access to brief summaries of our reviews so you can browse and make decisions more efficiently.
Pros
Sleek, sophisticated look
Stability strap helps even out crossbody carry
Durable, water-resistant materials
Cons
Not much organization for smaller gear
No false bottom in the laptop compartment
Weather-resistant zipper slows down access to main compartment
Recent Pack Hacker Video
Technical Details
Capacity

17l

Estimated

Weight (lb)

1.8 lb (0.8 kg)

Dimensions

10.23 in x 18.5 in x 5.5 in (26 x 47 x 14 cm)

Notable Materials

Polyester, DWR Coating, Metal, YKK Zippers

Manufacturing Country

China

Laptop Compartment Size

13"

Warranty Information
Full Review
If there's one element of bags Cote&Ciel captures best, it's style. They know that not only should your gear be dependable and efficient, it should also look good—and the Cote&Ciel Riss Sport embodies this sentiment well.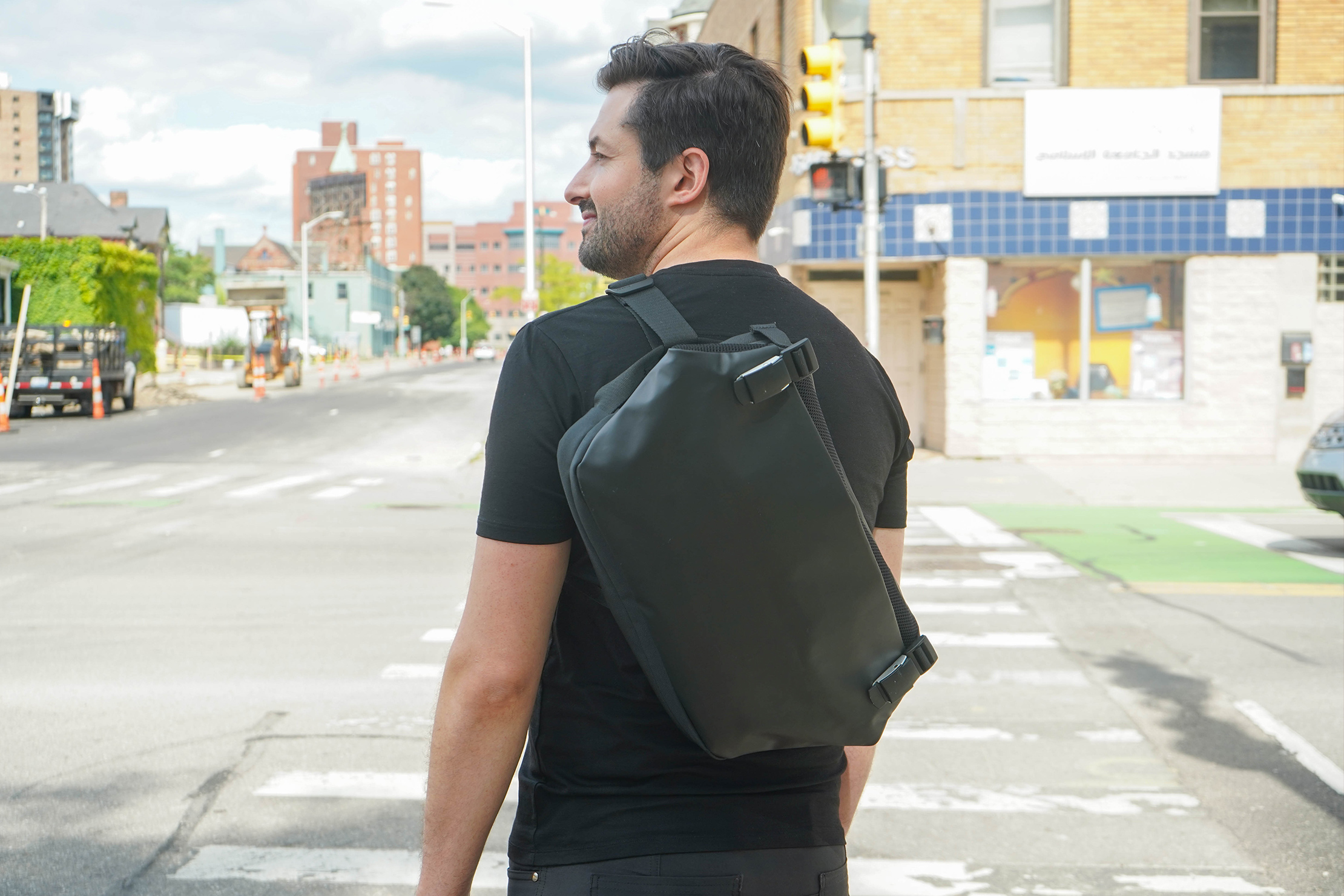 It features a premium, low-profile look as well as a comfortable, adjustable harness system. And at 17L, it has the storage you need for your everyday gear.
We've been testing for two weeks now, so let's go ahead and get into the review!
Fit Notes


Riley—Height: 5 ft 4 in, Torso: 16.5 in
Tips forward when fully packed and worn over the shoulder, causing the bottom to stick into our side
Can adjust shoulder strap at both ends to get it nice and secure
Stability strap helps keep bag closer to the back and distributes weight for an even carry
Feels more comfortable when positioned lower on the back—bottom of bag sticks into the lower back when worn higher up in crossbody mode


Tom—Height: 6 ft 2 in, Torso: 19.25
Feels more comfortable when worn higher up on the back in crossbody mode
Stability strap's attachment seemed odd at first, but actually allows for a more flexible carry
Stability strap also helps keep bag in place and distributes weight evenly
Materials & Aesthetic
At the time of this review, the Riss Sport is available in three different fabrics and two different colorways—Memorytech Black and Memorytech Midnight (blue), Coated Canvas Black, and then Obsidian Black, which is what we've been testing. And we have to say, this is definitely one of the more stylish messenger bags that we've tested so far. It's all-black and has a slim profile, along with subtle branding to give it a subdued, sophisticated look that fits in wherever we take it.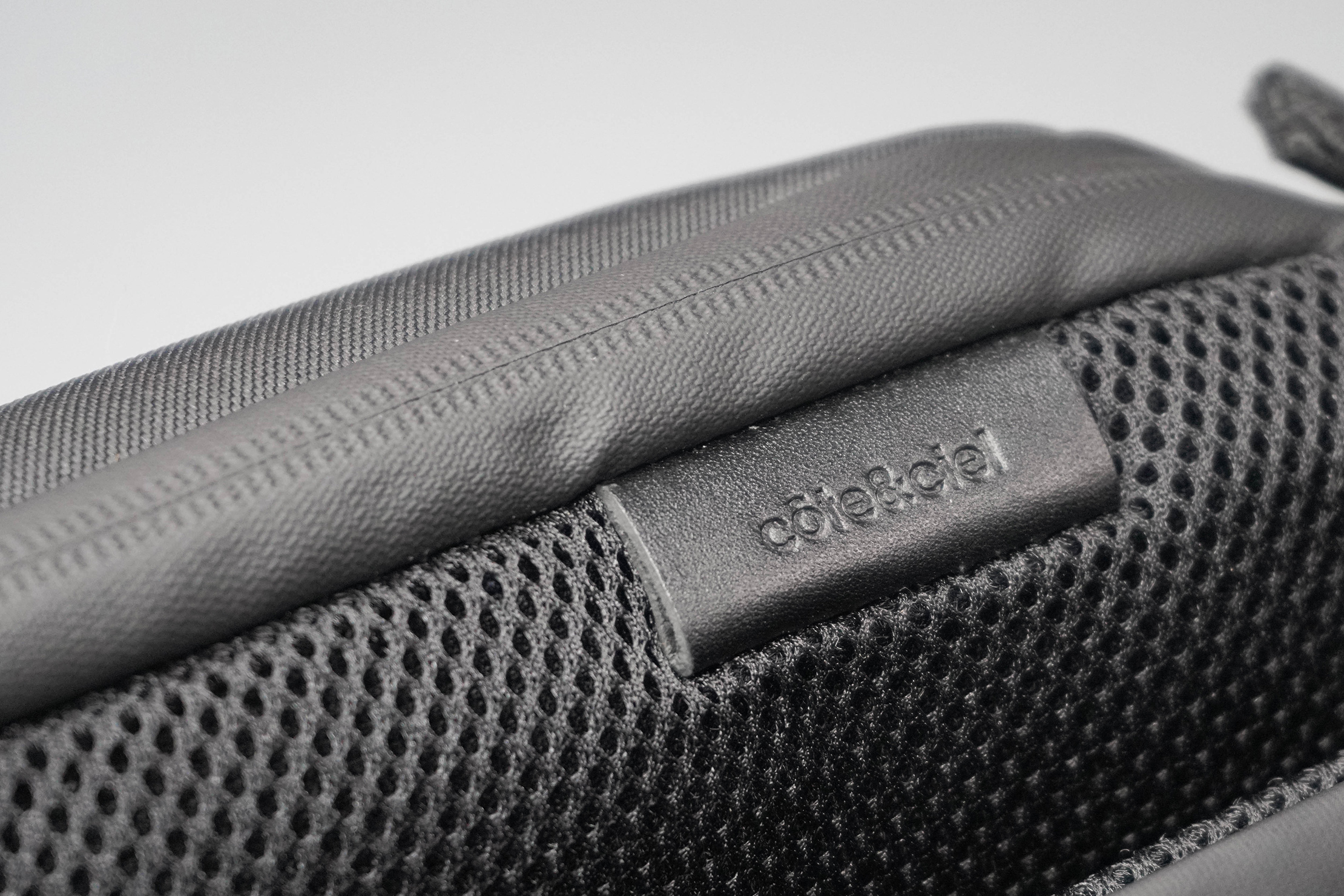 Branding-wise, you'll find a small word mark debossed into a leather-like tab at the top of the bag and on each zipper pull. They're also black-on-black, so they blend in well with the surrounding material. If you're a fan of minimal branding like us, you'll dig it.

Let's talk a little bit more about the material, shall we? It's made up of durable polyester fabric with a DWR coating for added durability and water-resistance, meaning you should be fine if you get caught in some light, drizzly weather.
You also have a soft, rubbery material across the front flap of the bag—we accidentally spilled some water on it during testing and are happy to report that most of it beads right off. And any water left behind dries fairly quickly. That said, this material is more for looks than protection.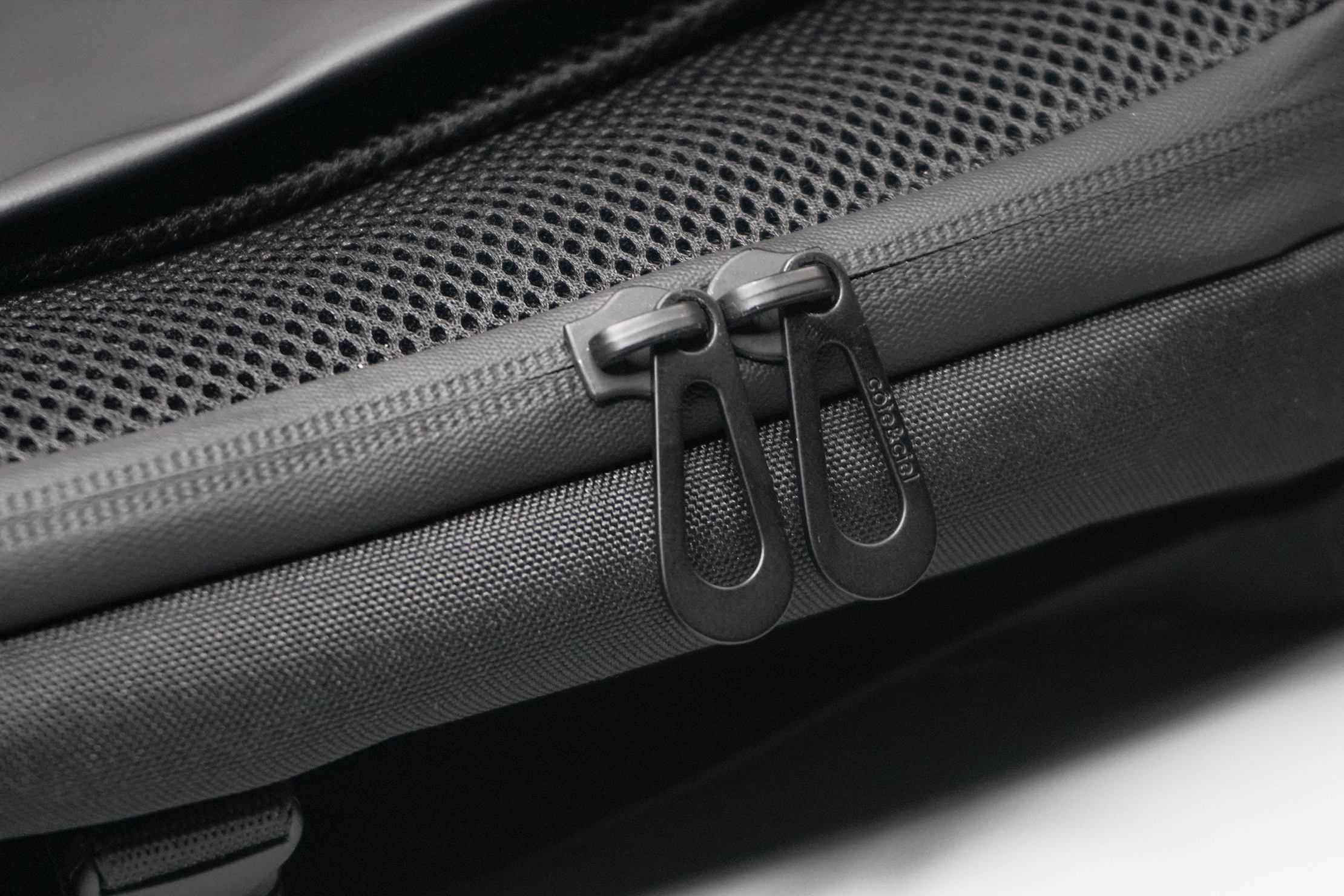 You'll find metal YKK zippers throughout the bag, including a weather-resistant zipper that secures the main compartment—which we appreciate, since that's where we're storing our laptop (tech and water don't mix). However, this zipper in particular is pretty sticky, especially around the two corners, which slows down access.
External Components
Surprisingly, there are quite a few things to cover on the outside of this bag—starting with its design. Cote&Ciel states that this bag was inspired by the traditional quivers worn for horseback archery (a thing we definitely knew existed before testing this bag…), in that it can be worn crossbody or over the shoulder. Personally, we've found that having it across our backs is more comfortable, and we'll explain why below.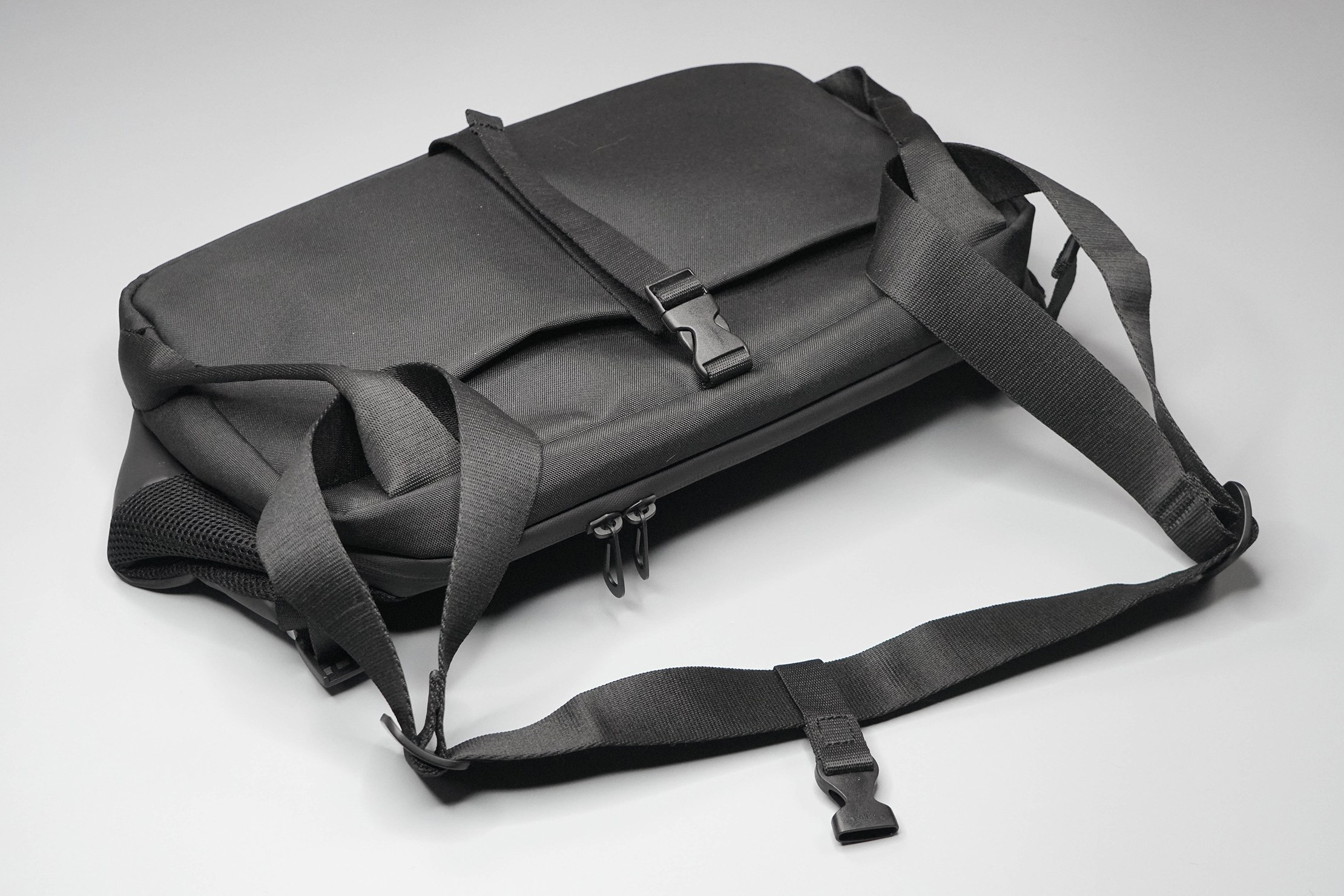 The shoulder strap is essentially just a nylon strap—it's not that smooth seat belt-like material you may see on other bags—but we've still found it to be pretty comfortable. We like that we can adjust it from both the top and bottom in order to get a secure, just-right fit every time. Plus, the metal hardware on here keeps excess strap managed, which means we're always getting that #DangleFreeExperience.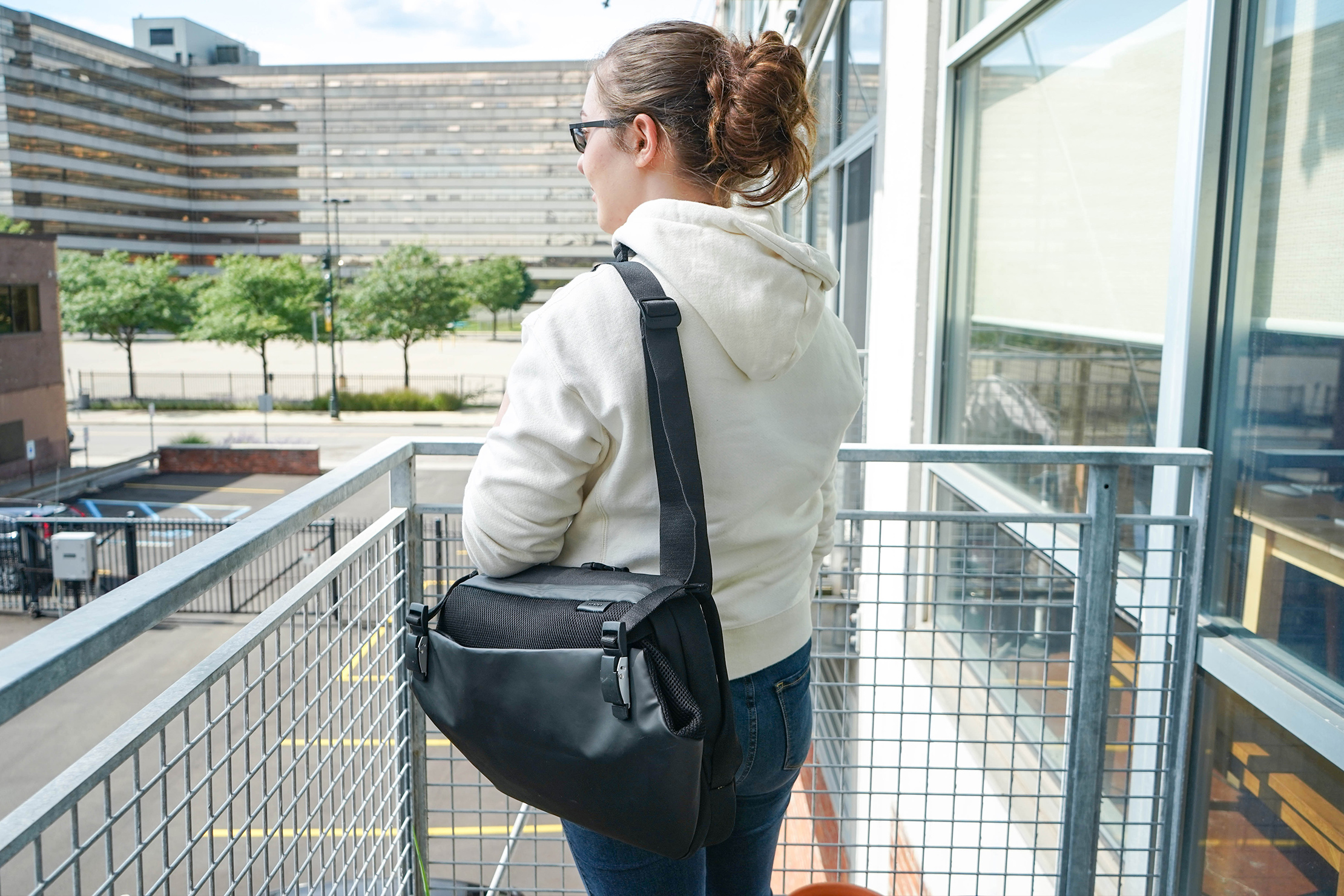 Like we said before, you do have the option to wear the bag just over one shoulder. The thing is, this shoulder strap is attached to two handles on the back panel rather than anchored directly to the bag. And the ends of strap slide to the top of the handles when you've got it on. So when it's all packed out, the front of the bag tips forward, causing the bottom to stick into our side, which isn't very comfortable.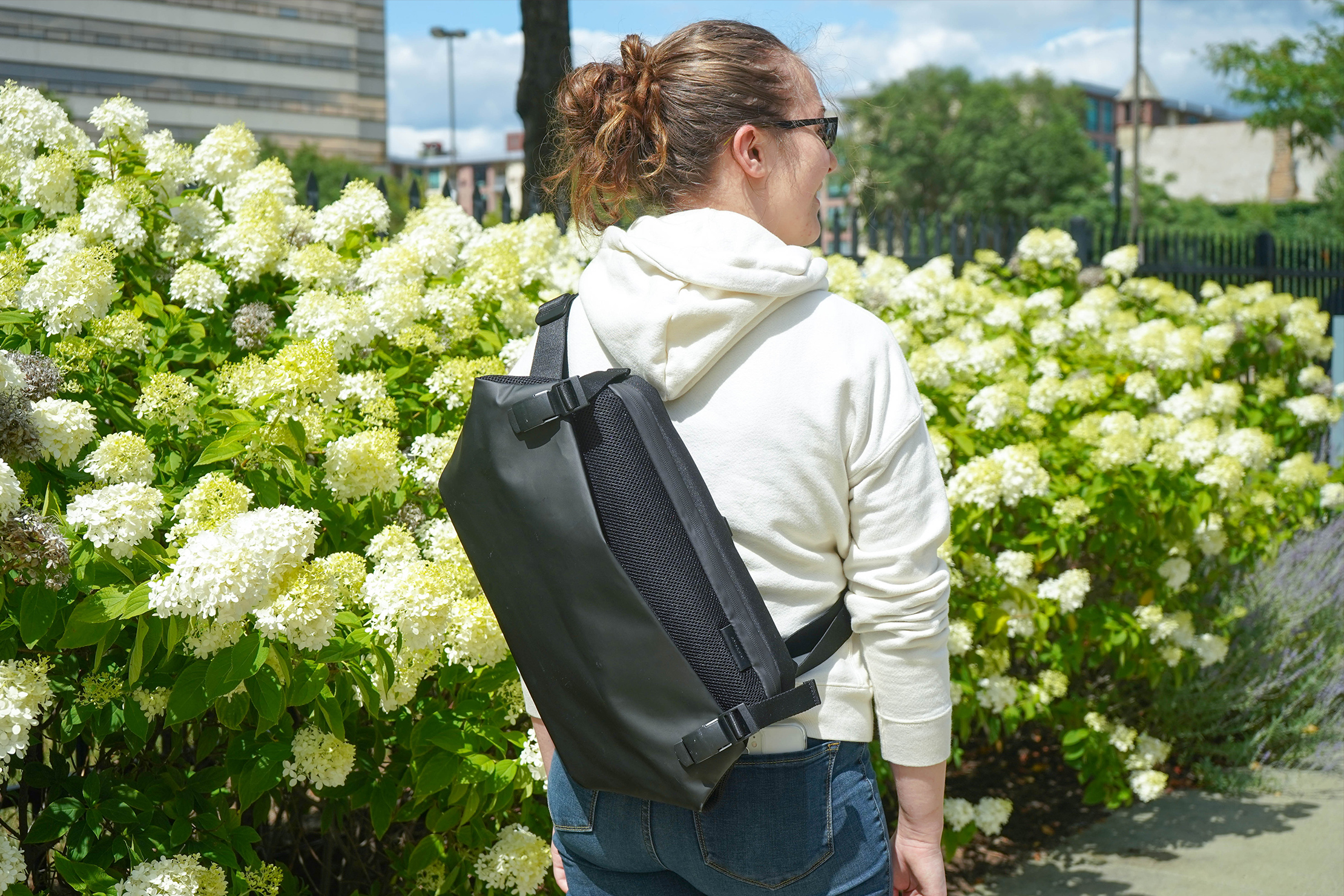 When wearing this thing crossbody, we've found that the bottom of the bag sticks into the back—so it feels more comfortable when it sits lower on our backs. That said, we've tested on several taller team members as well and who found it wasn't really an issue, so it all depends on your height and body type. It's less of a problem and more just something to note. The bag can also feel a little far away from our backs in the middle, but we've found that wearing the stability straps helps remedy this by keeping the bag closer to the body.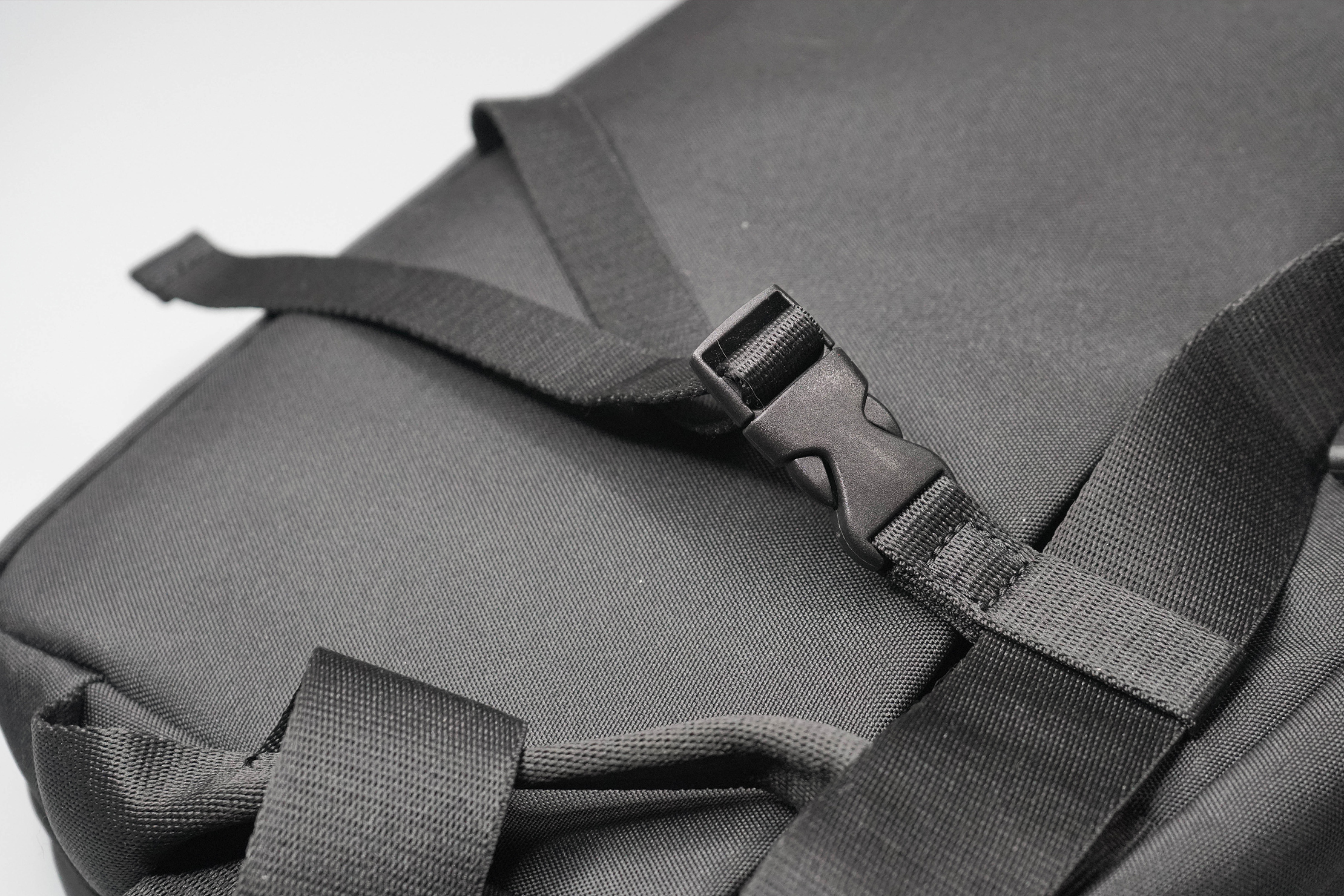 Speaking of the stability strap, we got a lot of use out of it in testing. We've found it also really helps distribute the weight when we've got this bag fully packed, making for a more even carry. If you don't find it helpful, or just for when you're not using it, you can clip it into place on the back panel of the bag, so it's not flailing around when you're out and about.
While we like that there's an option to keep the strap tidy when not in use, we can feel it poking into our backs when we do have it secured back here and we've got the bag on. It's not so bad if you're just wearing it for quick trips, but it can get pretty uncomfortable over longer periods of time.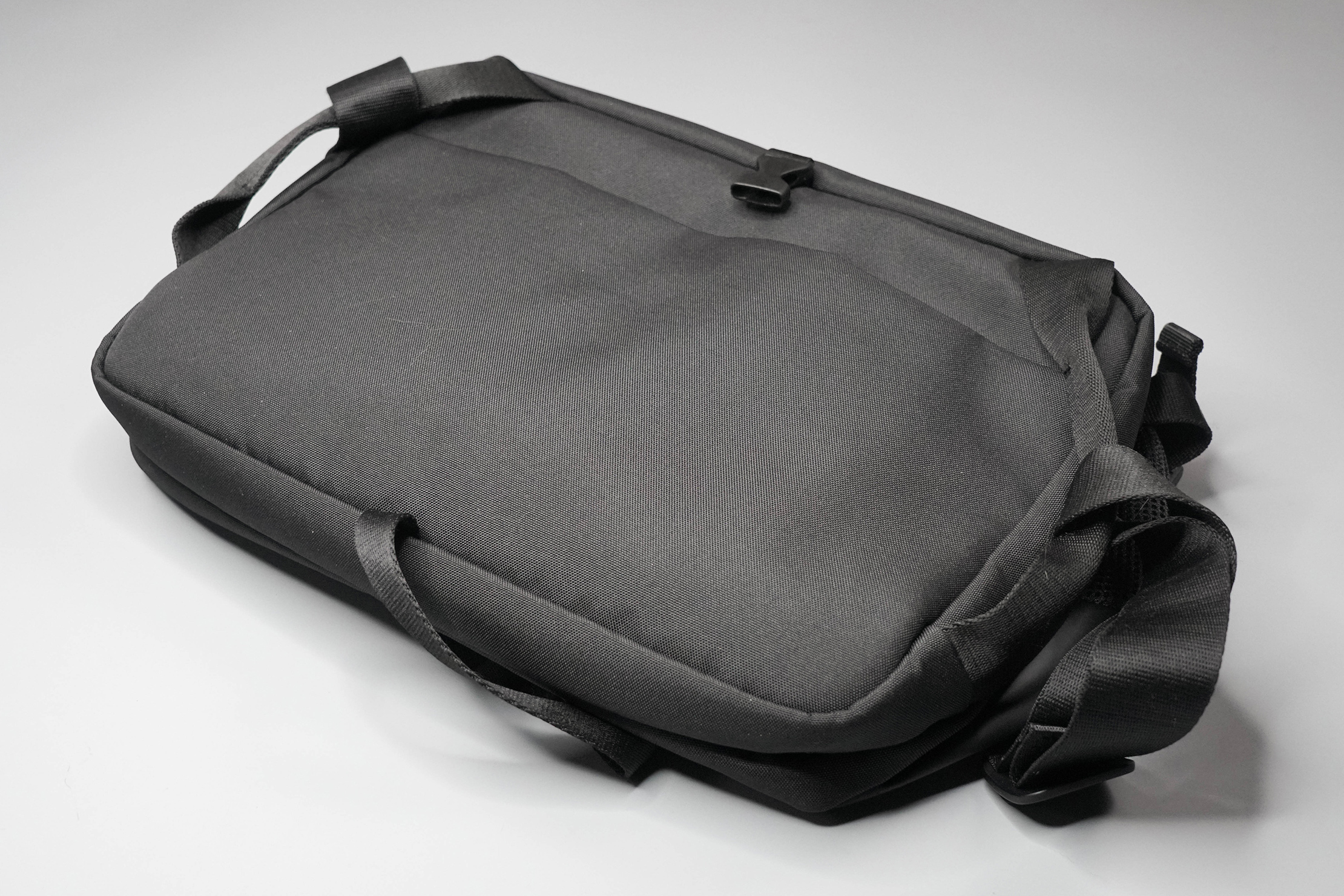 As for the back panel, there's no dense padding or mesh lining, which means no added comfort or breathability (which is always appreciated, especially when you're carrying a fully-packed all-black bag in the summer heat). But even without it, we (thankfully) haven't had any huge issues with the dreaded Swamp Back. So it's not the end of the world, just something to note.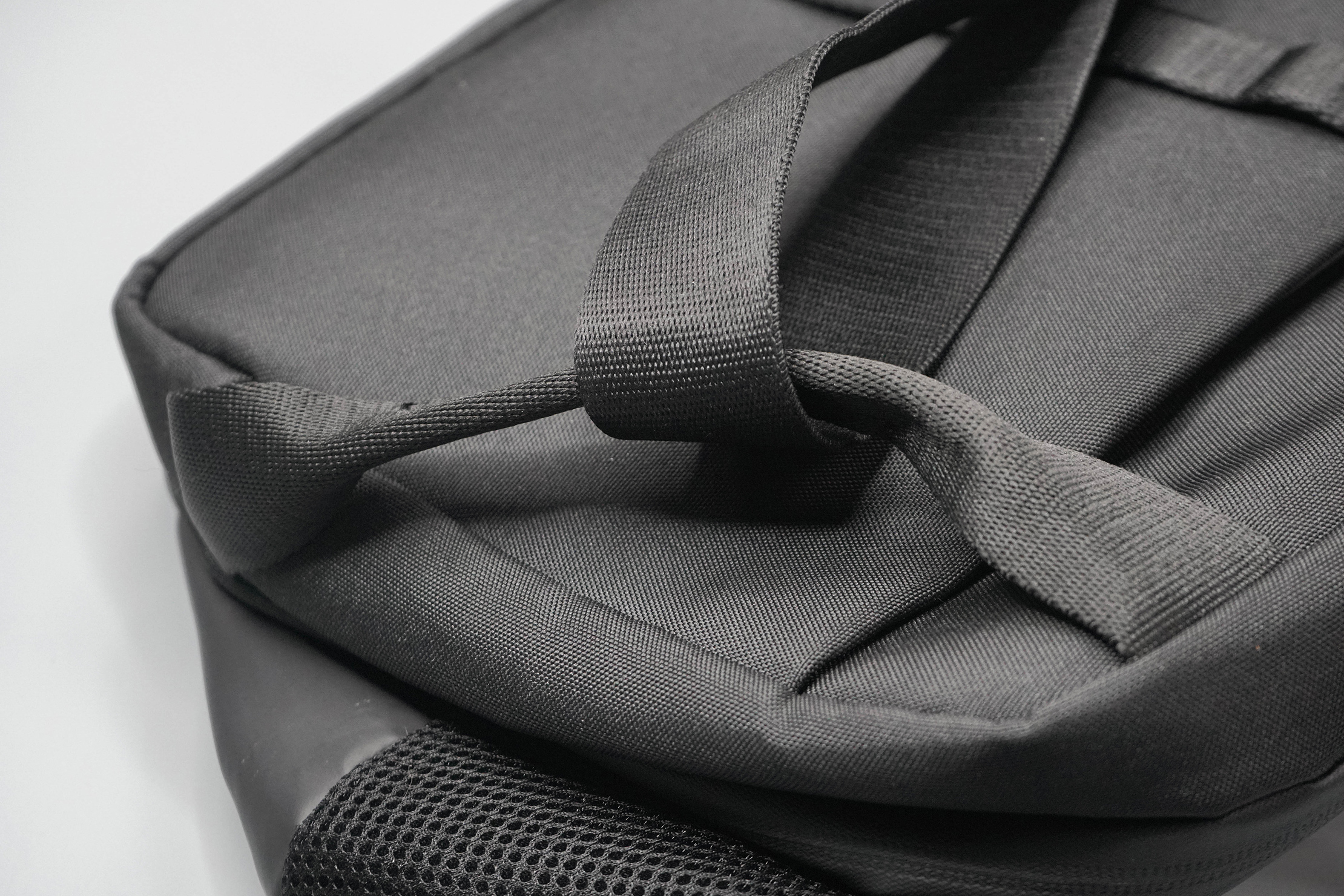 And those handles where the shoulder strap attaches to at the top corners of the back panel? They're essentially just some folded nylon webbing, but they're comfortable to grab and work for picking the bag up when it's lying face down. However, we haven't got a ton of use out of them in testing. When the bag is on its back, these handles are facing down and are harder to grab, so we would've appreciated if there were also a top handle for us to hang/pick the bag up with.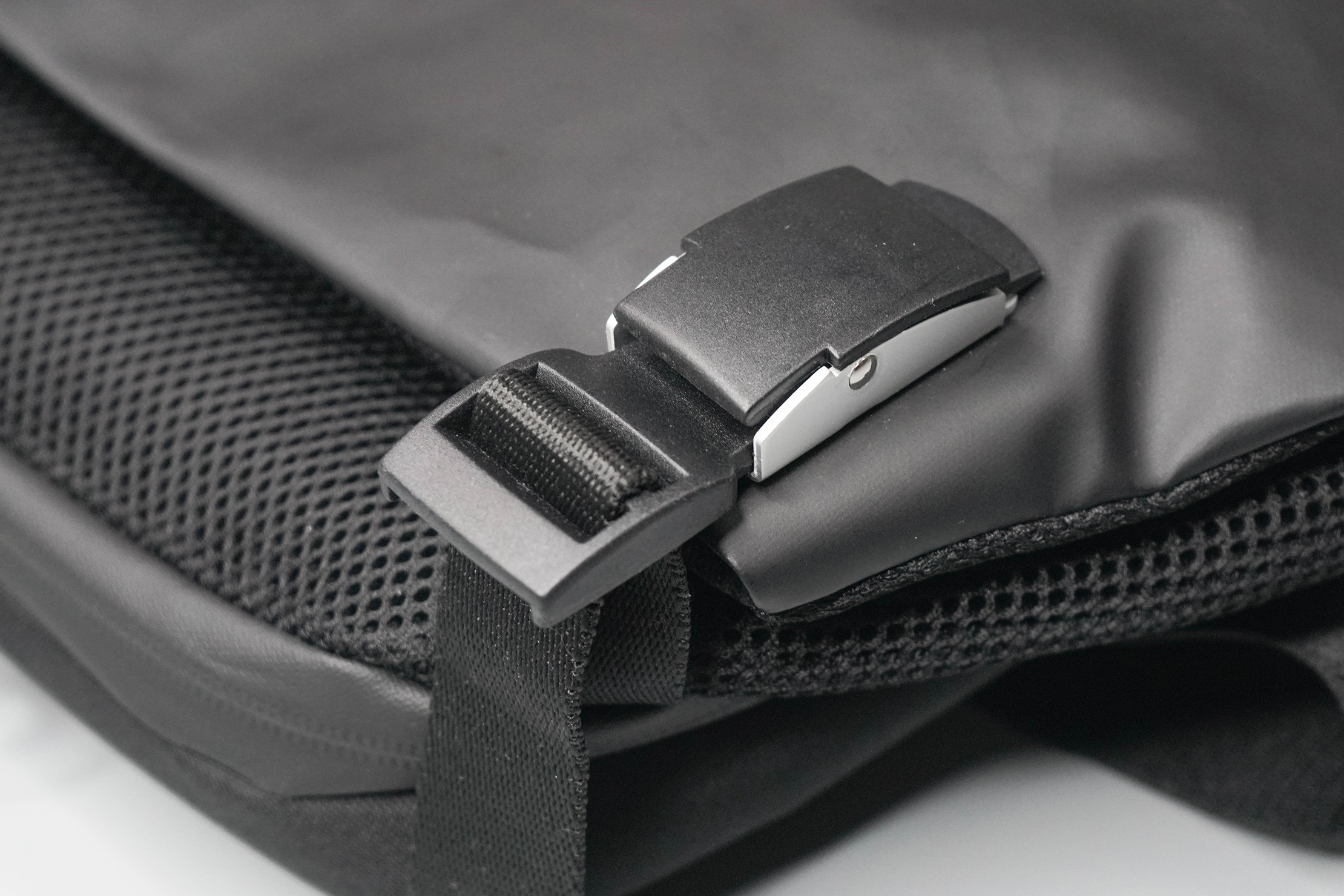 And to wrap up the external components, there are two compression straps attached to the front flap of the bag. They're secured by two large buckles that are reminiscent of what you'd see on a pair of rollerblades. You know, the kind you cram your feet into; that satisfying click when you've got them secured; skating around with friends on a sunny afternoon… Here, they look bulky and don't really fit in with the sleek aesthetic of the rest of the bag. They also aren't any quicker than a regular buckle, which we think would've looked much better.
But these straps do work for cinching the bag down when it's not fully packed to help keep it nice and minimal. Or expanding it when you have a heavier haul of gear—though we haven't needed that extra room too much during testing. In our experience, this bag isn't super comfortable when fully packed out. It gets bulky and feels heavy on our backs, so we haven't been keeping a ton of gear inside. These straps also don't have any strap keepers, but even without them, they're not very dangly (which we dig).
Inside The Bag
Phew! We've covered everything on the outside—which means it's finally time to get inside this thing. And there's much less going on.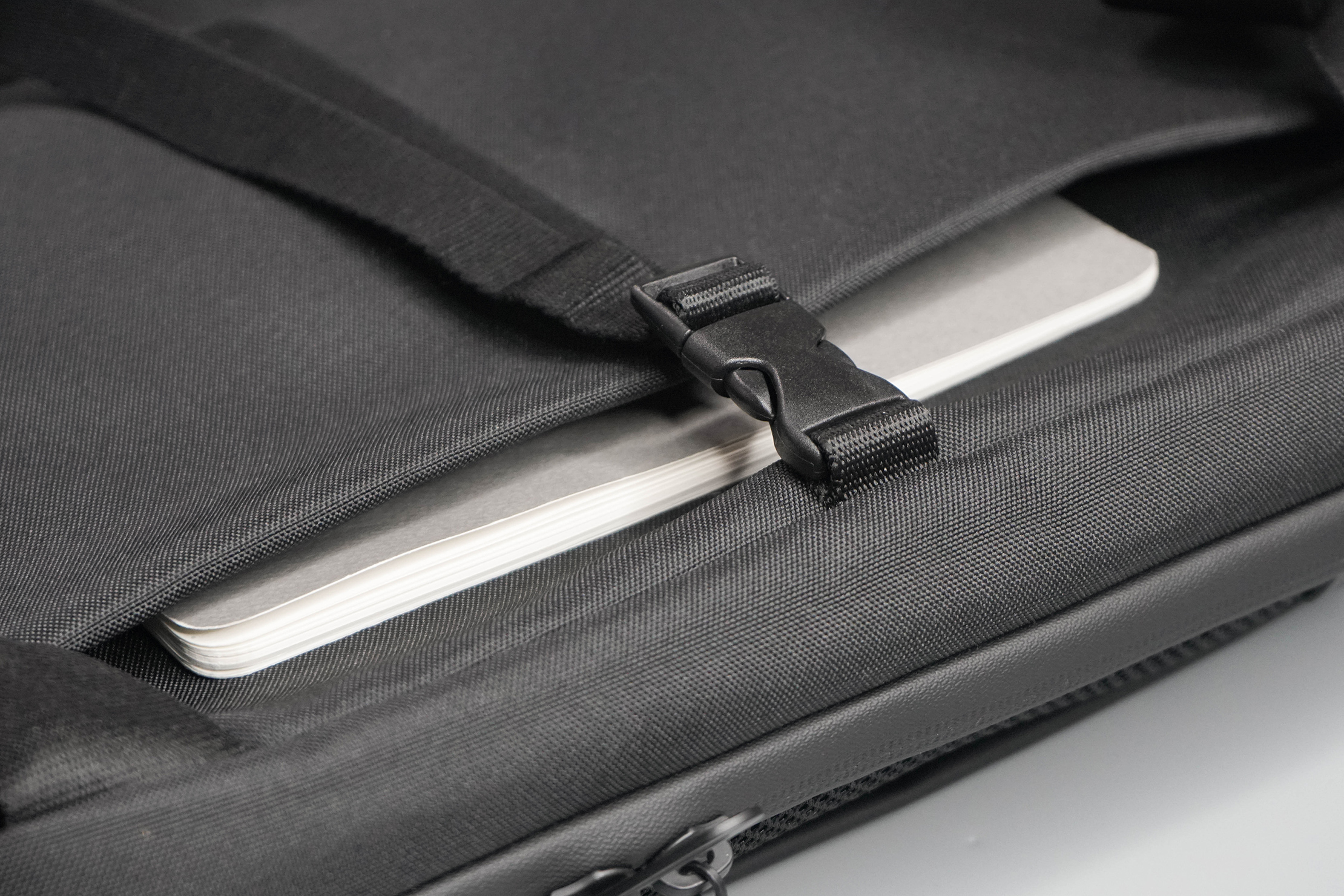 On the back of the bag, you have a shallow sleeve in which to store your flatter items—like a notebook, or travel documents if you have them. However, this pocket doesn't have any closure to it, so we don't recommend keeping anything too valuable inside. Or anything too bulky as this pocket lies against your back, so you don't want anything else poking into you while you're wearing it.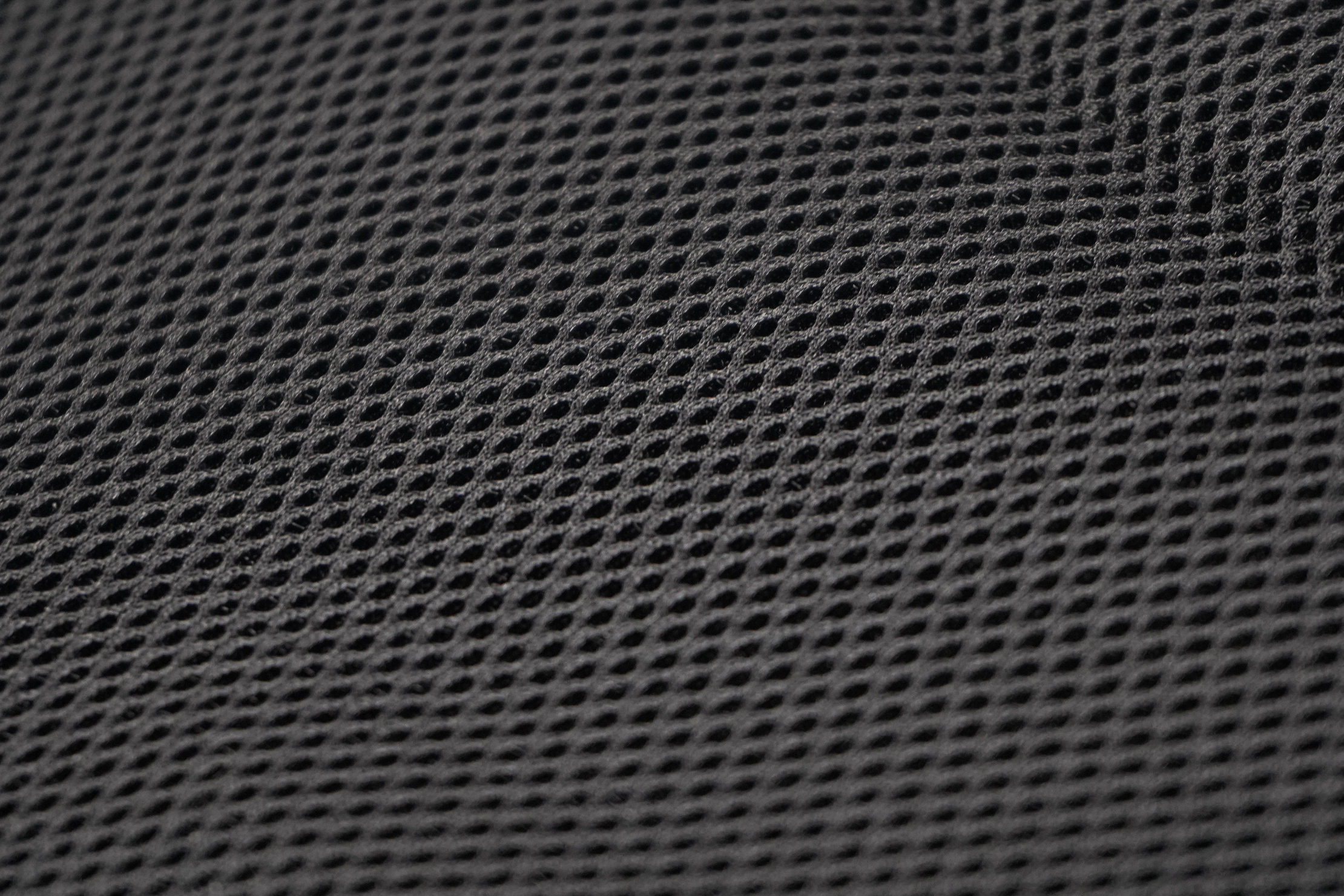 Moving on to the front of the bag, you'll find some nice, cushy mesh along the front pocket. It feels soft in the hand and flexes well when we're opening and closing this compartment. However, we think this mesh would've been more useful on the back panel as some extra cushion and for added breathability.
Also, this part of the bag dips down to allow the compression straps to cinch and expand the bag—which, unless you have the bag fully packed, feels like a waste of space. You can pack out the front compartment with bigger, bulkier items to take advantage of this space, but doing so also makes the bag look and feel bulky (which is the opposite of what you want with a minimal bag like the Riss Sport).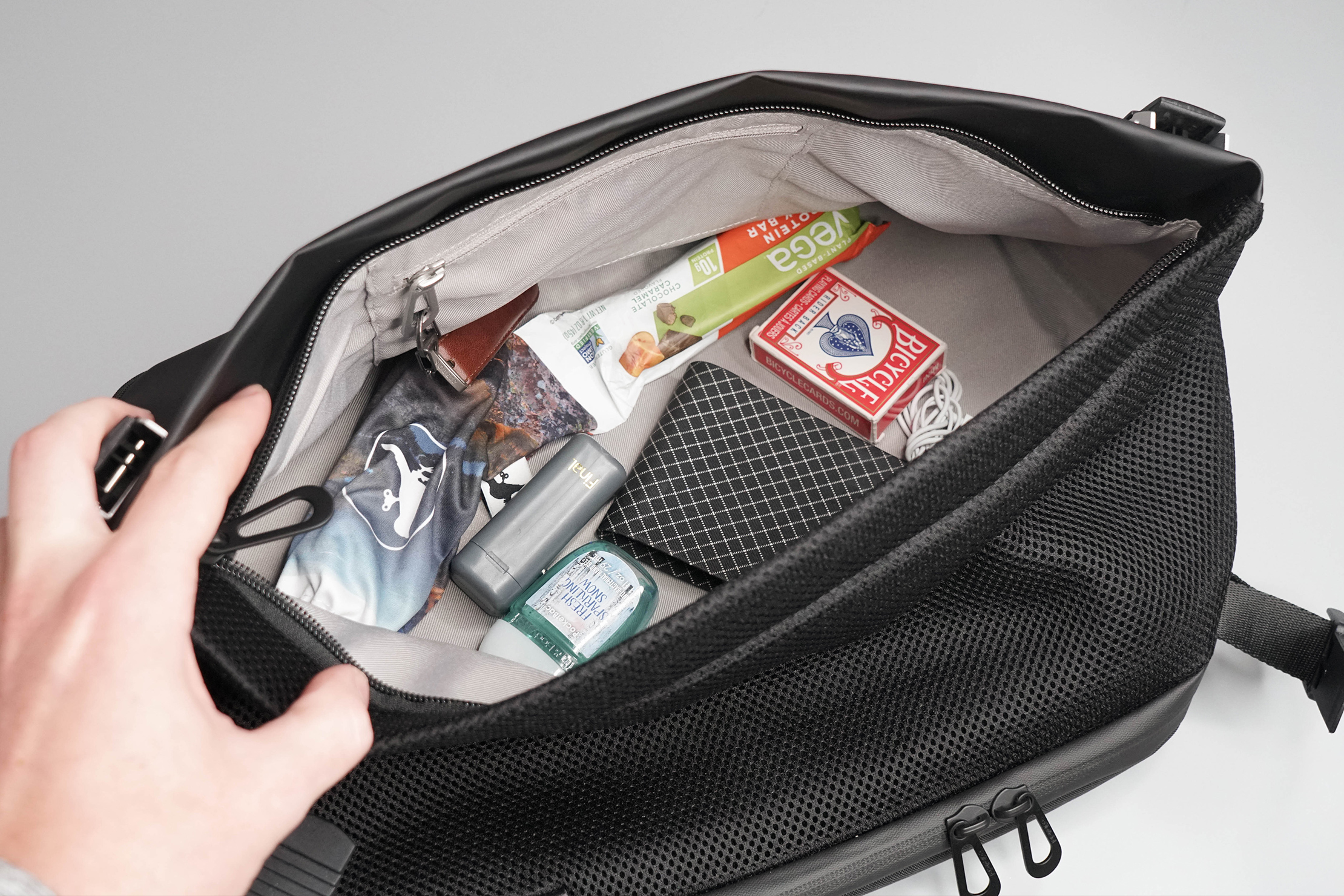 Once inside, you'll see that this front compartment is pretty deep—you've got a fair amount of space in here for your gear. We've mostly been using it as a dump pocket for things like our wallet, glasses case, and other items.
Now, there isn't much in terms of organization in here. What you do have is a small zippered pouch against the front flap where you can keep smaller things like hand sanitizer or your keys so they're not bouncing all around with your other stuff. But again, it's not a very big pocket, so you're really only able to fit a couple of things inside.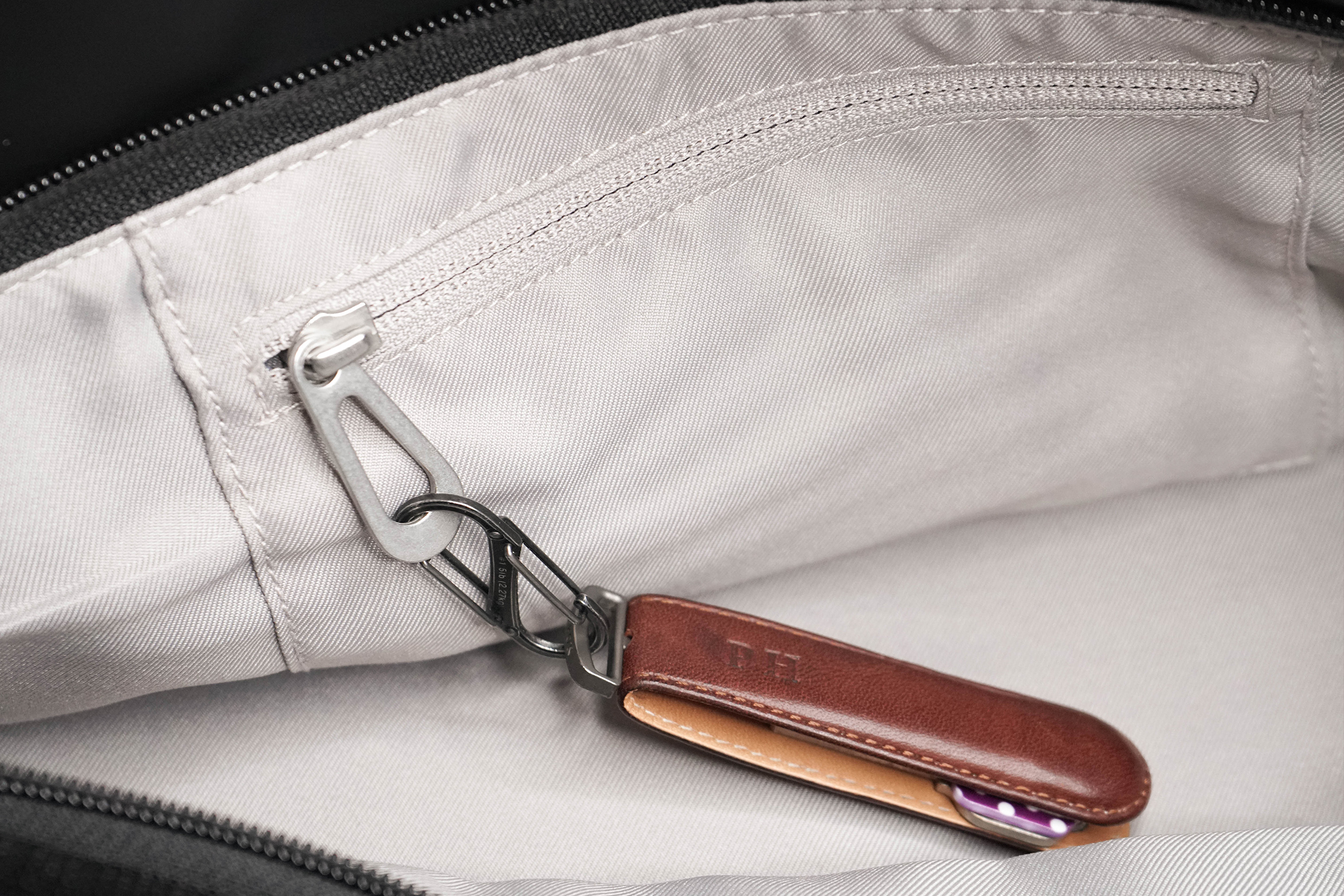 There's also not a dedicated key leash anywhere on this bag—so we've decided to improvise. The zipper to this small internal pocket has an opening in the middle of the pull that's big enough to fit a small carabiner clip if your keys are attached to one. This way, you can use the room in the pocket for something else, and your keys still won't be jostling around all over your other gear.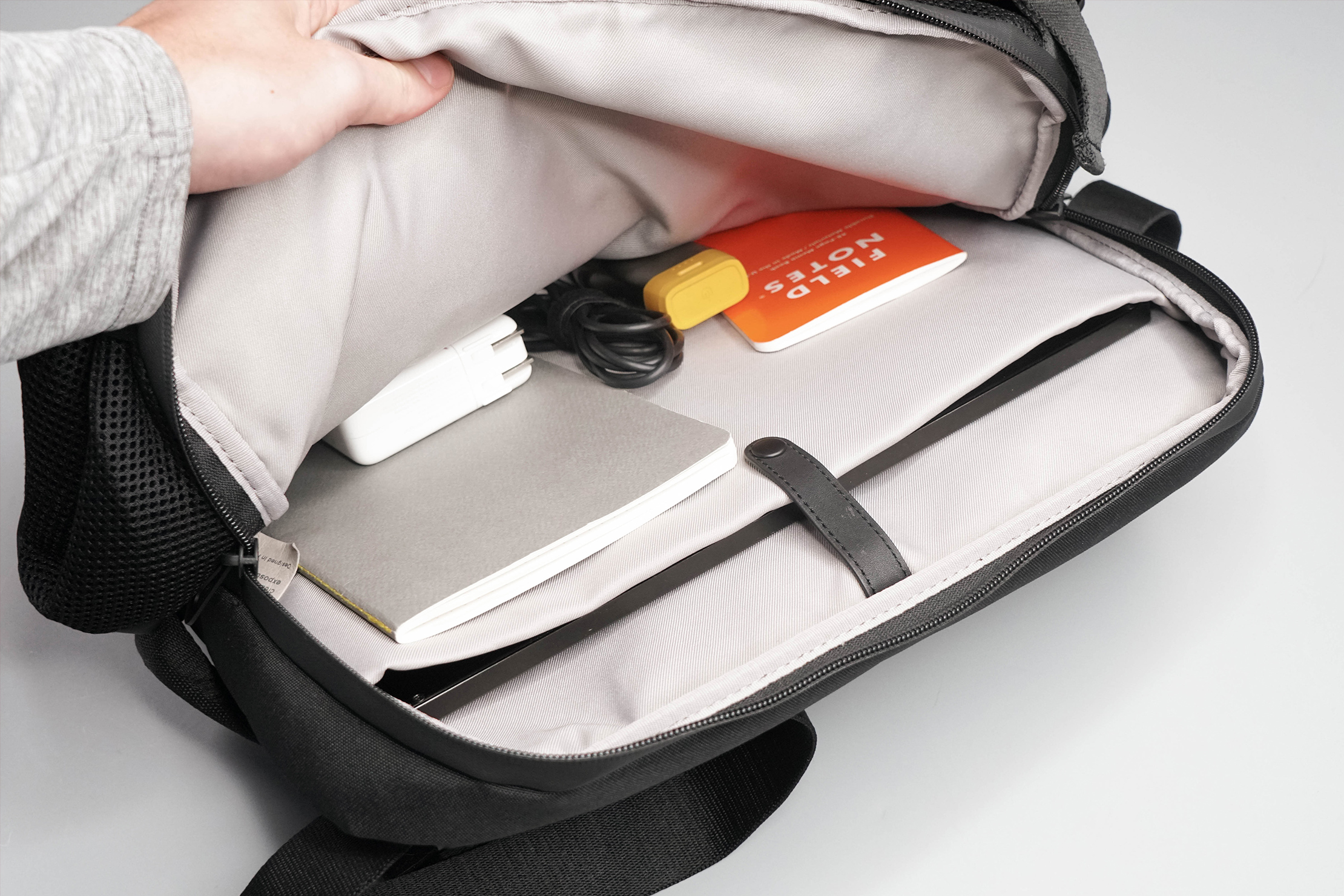 Then you have the main compartment. We've found that flatter gear works best in here, but there's also enough space for a laptop charger and other larger cords. Like the front compartment, there's not much organization in here, so again, whatever you do put inside is free-floating. Of course, you can always use some pouches to create your own organization (and keep things neat) if desired.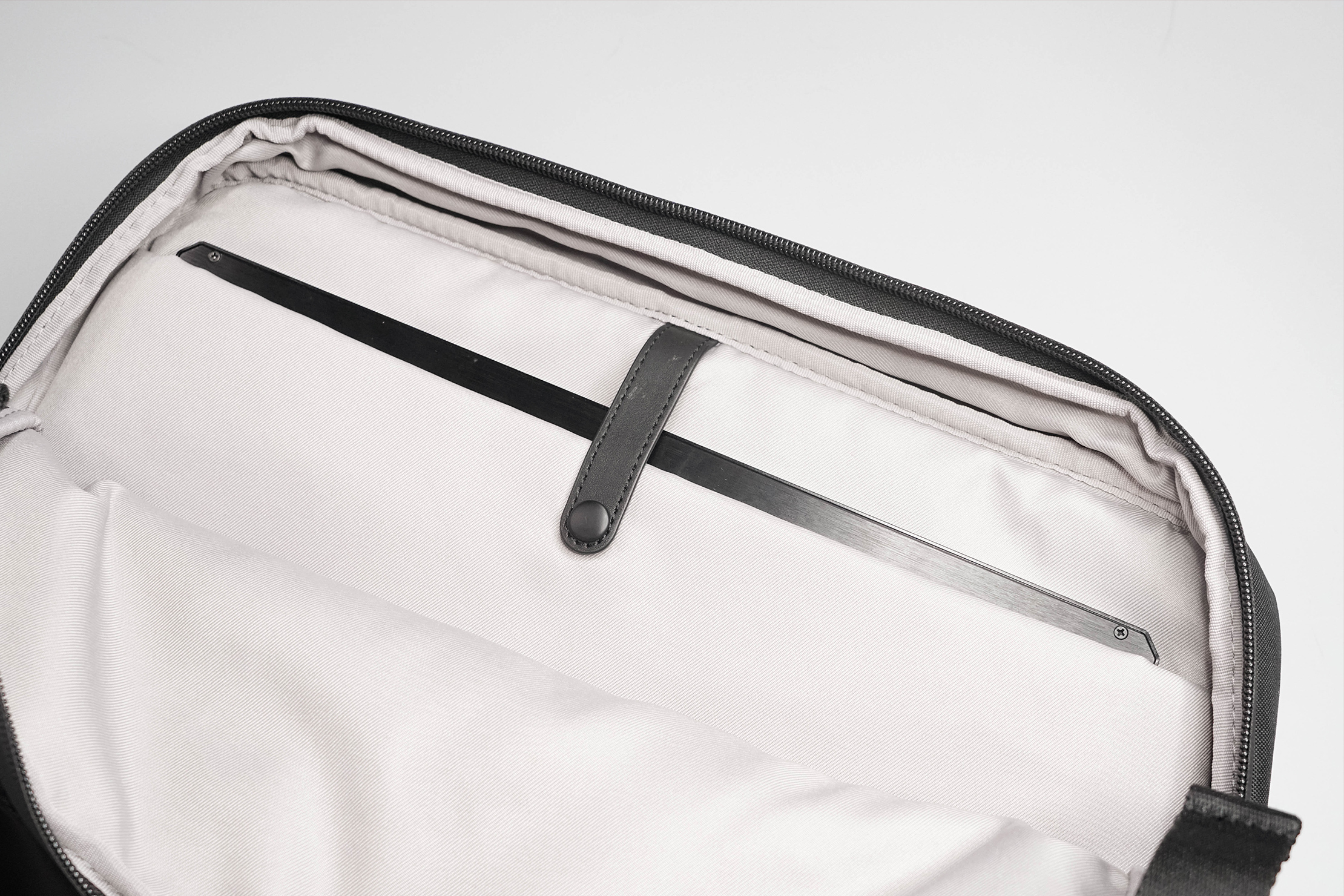 Against the back wall is a laptop sleeve that can fit up to a 13" laptop. The sleeve does have some slight padding, but also extends the full height of the bag, meaning there's no false bottom to help protect your tech if it gets jostled around or for when you're setting the bag down. It's secured by a magnetic tab that doesn't always click into place on its own—we typically have to give it a little nudge into place so that it fully secures. But once it is secure, it does help keep our laptop from bobbing out of the sleeve—so not a huge deal, but something to note.
As for durability, everything is looking good—no scuffs or scratches or any kind of damage to report.
Usage Timeline
Initial Usage
Condition: Excellent
Shoulder strap can be adjusted at both ends to ensure a secure fit
Compression straps allow this bag to expand to fit more gear however we're not sure this would be the most comfortable carry fully packed out
Sleek and sophisticated look
2 Weeks of Use
Condition: Excellent
Still digging this bag's sleek aesthetic
Shoulder strap is comfortable, and stability strap really helps distribute weight for an even carry
Not much organization for smaller gear
Access the Pro Community Discussion
Get your questions about the Cote&Ciel Riss Sport Obsidian Black answered from our team and the Pro Community right here on the page. Plus, join discussions with other members about gear, guides, and more.
Other Bags & Luggage Reviews