BauBax Sweatshirt 2.0 Review
While we like some of the features of the BauBax Sweatshirt 2.0, others are more gimmicky than helpful. Plus, it gets bulky if you use too many at once.
Our Verdict
Unlock the Pro Summary
Save time. Get access to brief summaries of our reviews so you can browse and make decisions more efficiently.
Pros
Cozy and warm
Digging a few of the pockets
A number of the "features" detach, allowing you to customize the sweatshirt
Cons
Too many features
Gets uncomfortable and bulky at capacity
Some of the features more gimmicky than useful
Recent Pack Hacker Video
Technical Details
Notable Materials

Nylon, Polyester, YKK Zippers, SBS Zippers

Manufacturing Country

China

Warranty Information
Full Review
The BauBax Sweatshirt 2.0 is a must-have for travel. At least that's what the folks at BauBax say.
Why? Because this sweatshirt includes over 20 features. We know what you're thinking: only 20+ features, how can that possibly be enough?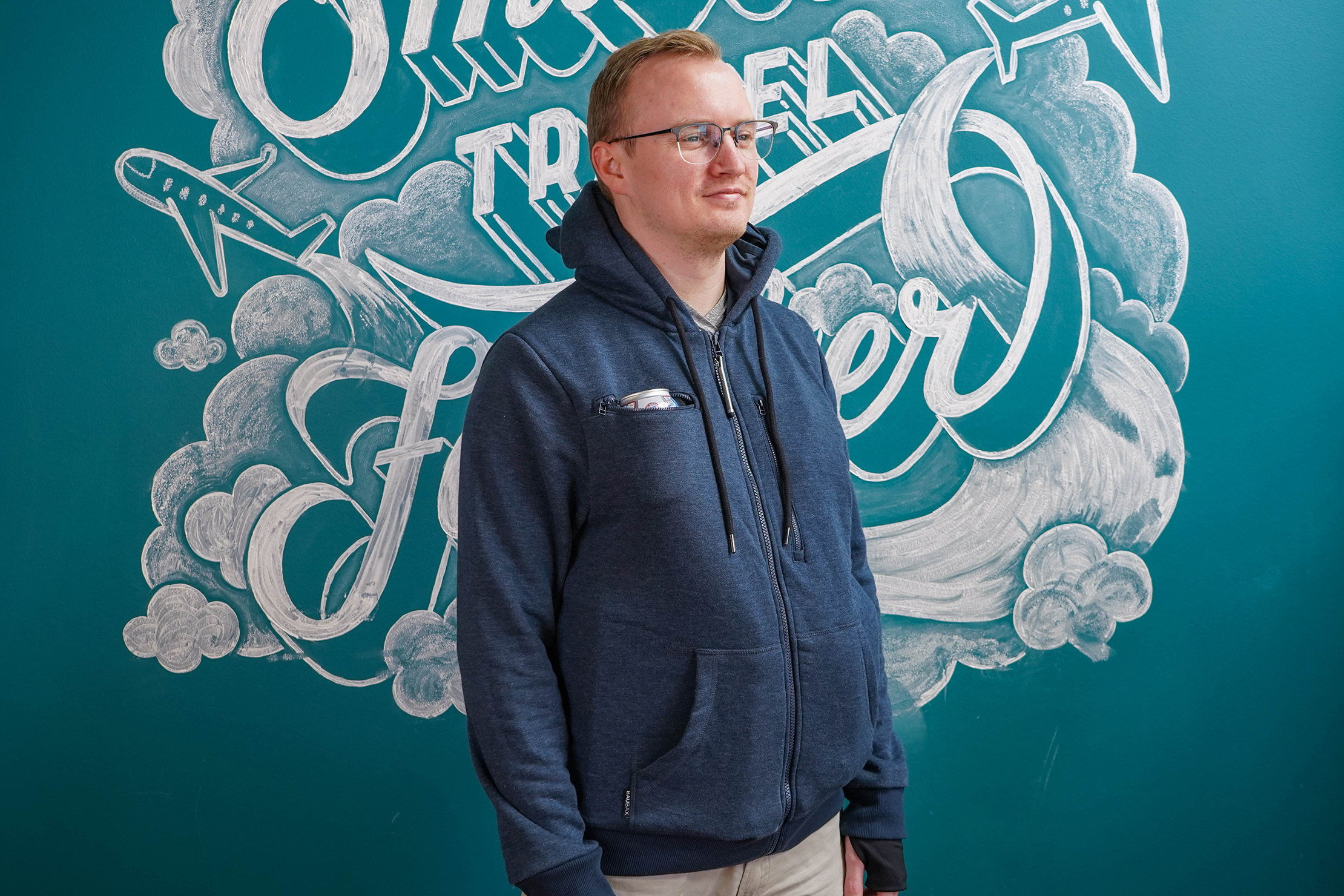 All jokes aside, we've found during our two weeks of testing that there's too much going on with this sweatshirt. While a few of the features are useful, most are overkill. If you use all of them, or even most of them at once, the sweatshirt becomes bulky and heavy—like five pounds heavy.
Let's check out the details.
Fit, Fabric & Features
As a sweatshirt, we're digging the BauBax Sweatshirt 2.0. It's comfortable and warm. The sleeves are made from a soft, plush material that would make for an amazing blanket.

Plus, it looks nice (as long as it's not full). At the time of this review, you can pick it up in Charcoal or Navy. As we're partial to darker colorways for travel—because they blend in and hide stains—we like both options.
Despite being a cozy, stylin' sweatshirt, we're not fans of all the pockets/accessories/more pockets. We liken the BauBax Sweatshirt 2.0 to owning a cat. It's nice, cozy, and cuddly—but it keeps giving you "gifts" that you really don't want. In this instance, "gifts" means a million and one features.
Let's start with the jacket's exterior.

Secured to the zipper that runs the length of the sweatshirt is a detachable pen/stylus. Pens do come in handy while traveling—customs documents, spontaneous games of Tic-Tac-Toe with your seatmate (just us?), etc—so we're actually not mad at this feature. Although, the bulb of the stylus isn't of the highest quality. It's fallen off twice in two weeks of testing. So far, we've been able to stuff it back on, but we don't know how long this technique will continue to work.
BauBax also includes a few ink refills—a must since the pen is tiny and likely to run out of ink in a short period of time. Especially if you're a Tic-Tac-Toe aficionado.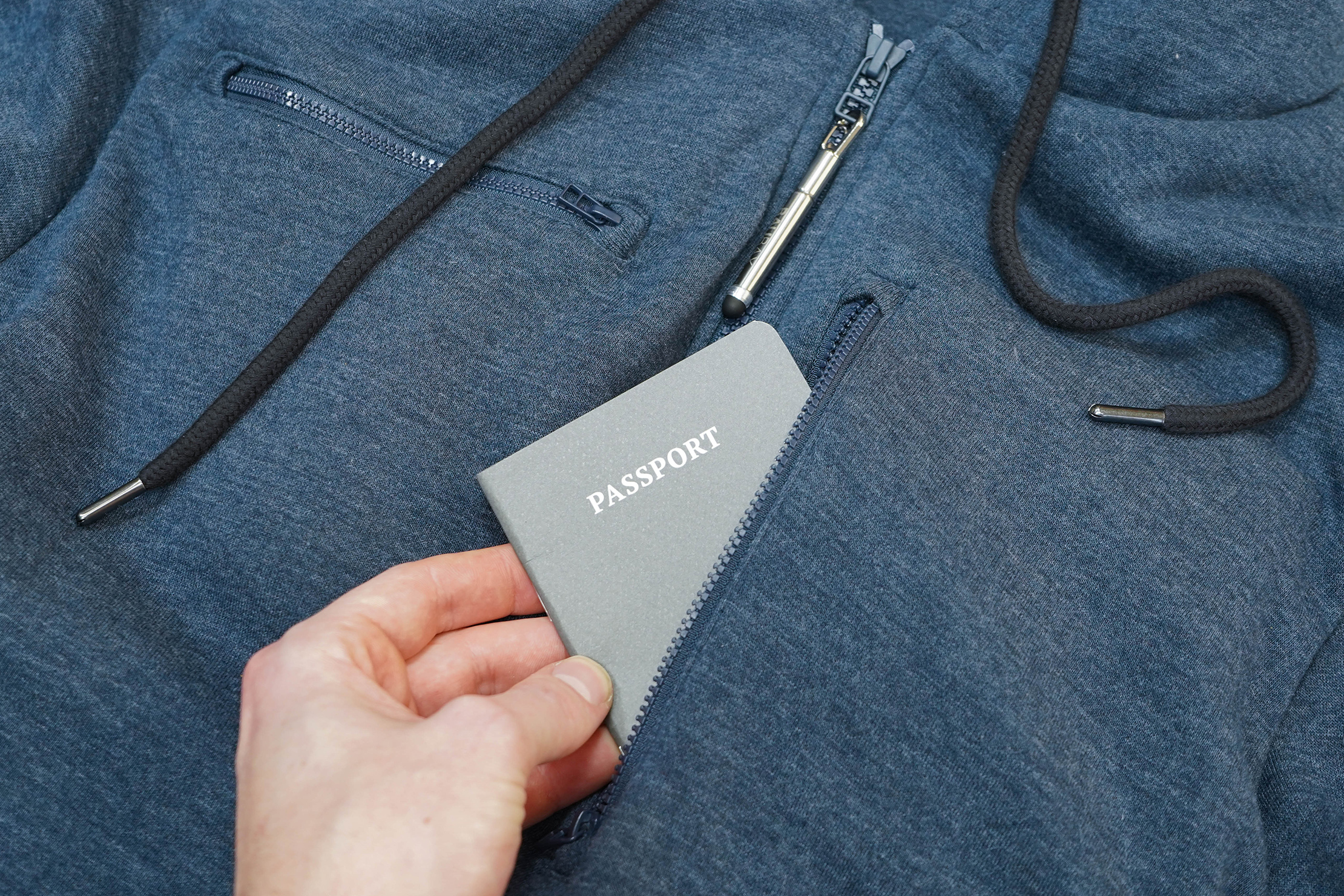 On the wearer's front left, there's a mesh pocket that BauBax says is for passports. As traveling usually does require a passport, we appreciate having a dedicated spot for it.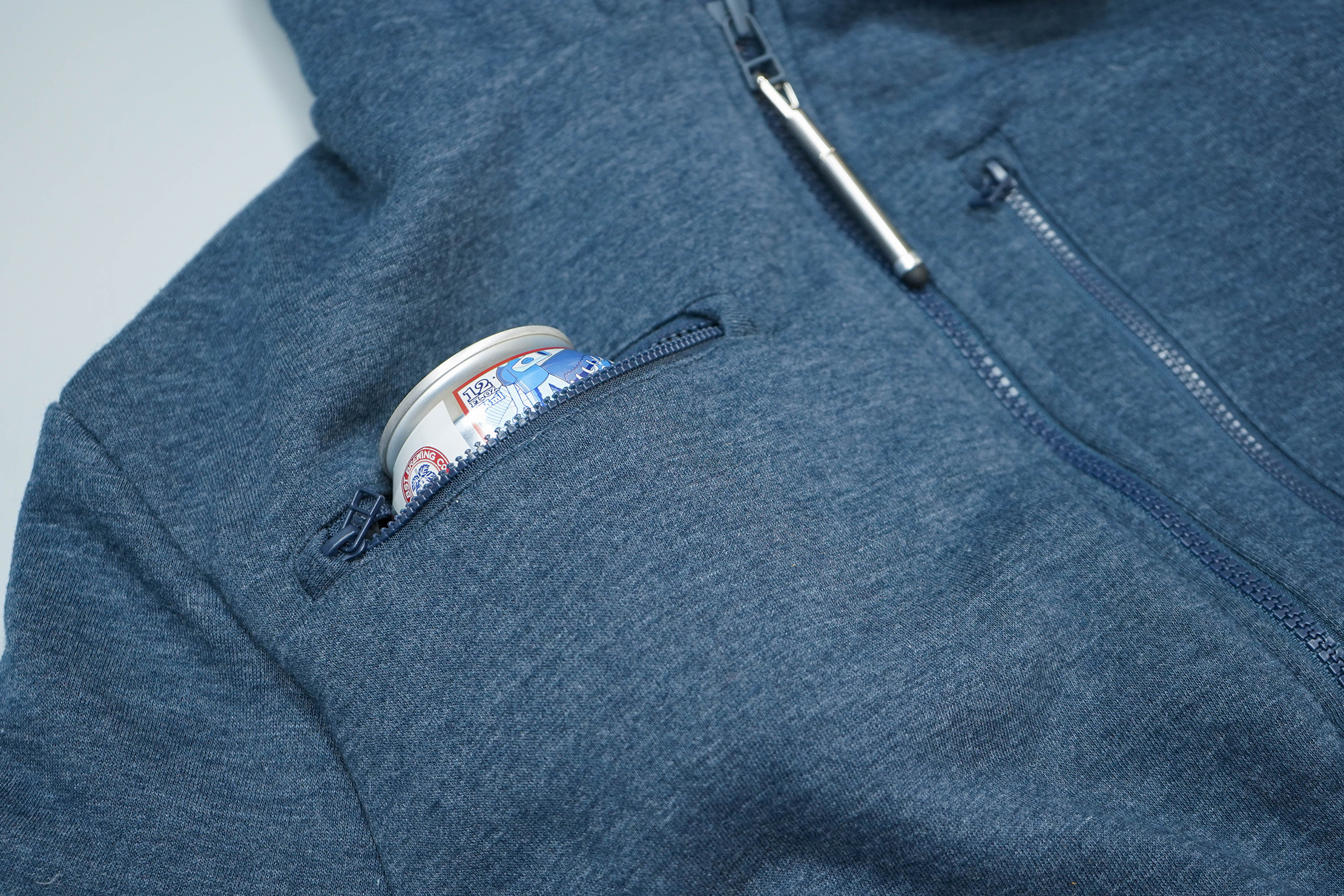 On the wearer's front right is a pocket built to hold a can of your favorite drink. No, really that's what it's for. While we give BauBax points for making this pocket water-resistant—the condensation off of your ice-cold pop won't soak into the fabric and your skin—we're just not sure it's practical to carry soda in a chest pocket. It's not comfortable and it looks kind of…weird. Plus, we wouldn't trust putting an open can inside of it, especially with turbulence in play.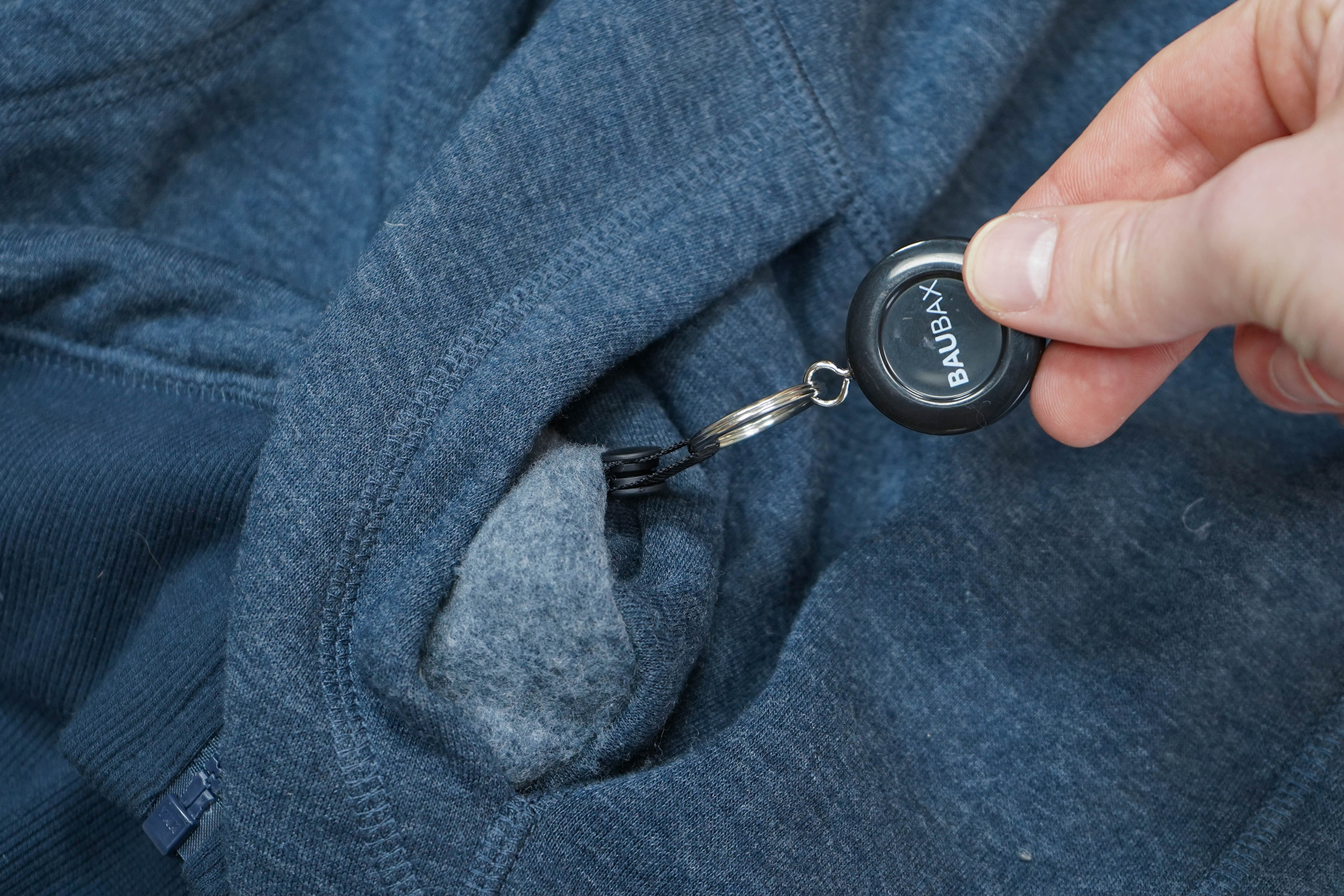 There is a hand-warming pocket on both the right and left bottom of the sweatshirt. But these aren't ordinary hand warming pockets. Both sides have an attachment point that you can clip things to if you'd like. Think keys or a multi-tool. Unfortunately, the one on the right has already broken (we'll discuss this more in the durability section).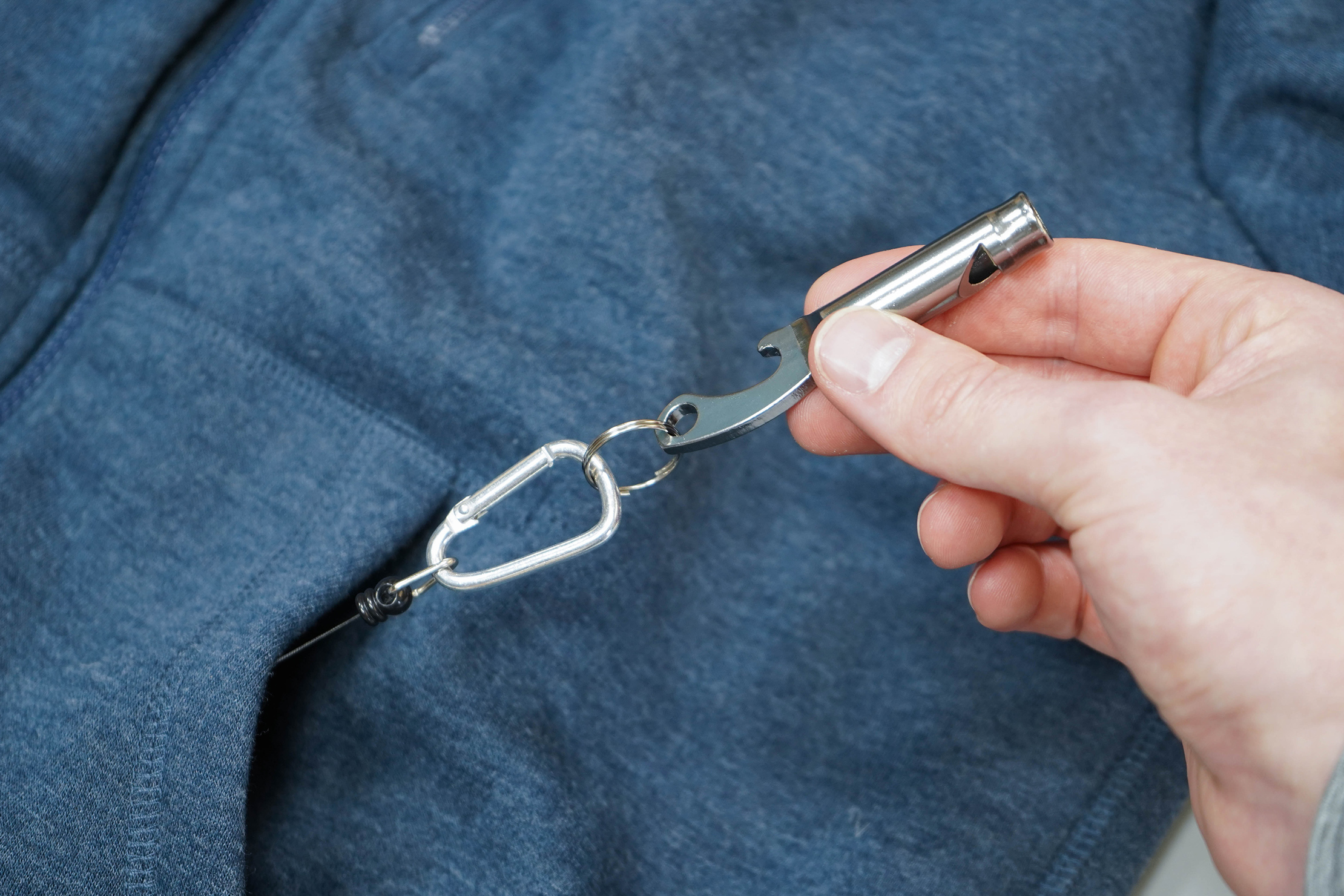 The right pocket also comes with a retractable whistle and bottle opener. We haven't had much of a use for these—we prefer the bottle openers on multi-tools, and we haven't found ourselves in any situation where a whistle was needed, though we understand that there are situations where it may come in handy.
If you're like us and don't find these tools particularly useful, you can always detach the whistle/bottle opener and connect your keys to the retractable elastic leash. Or just remove the retractable leash altogether. You can also move the leash to the left side pocket, securing it with that attachment point we mentioned earlier. So many options.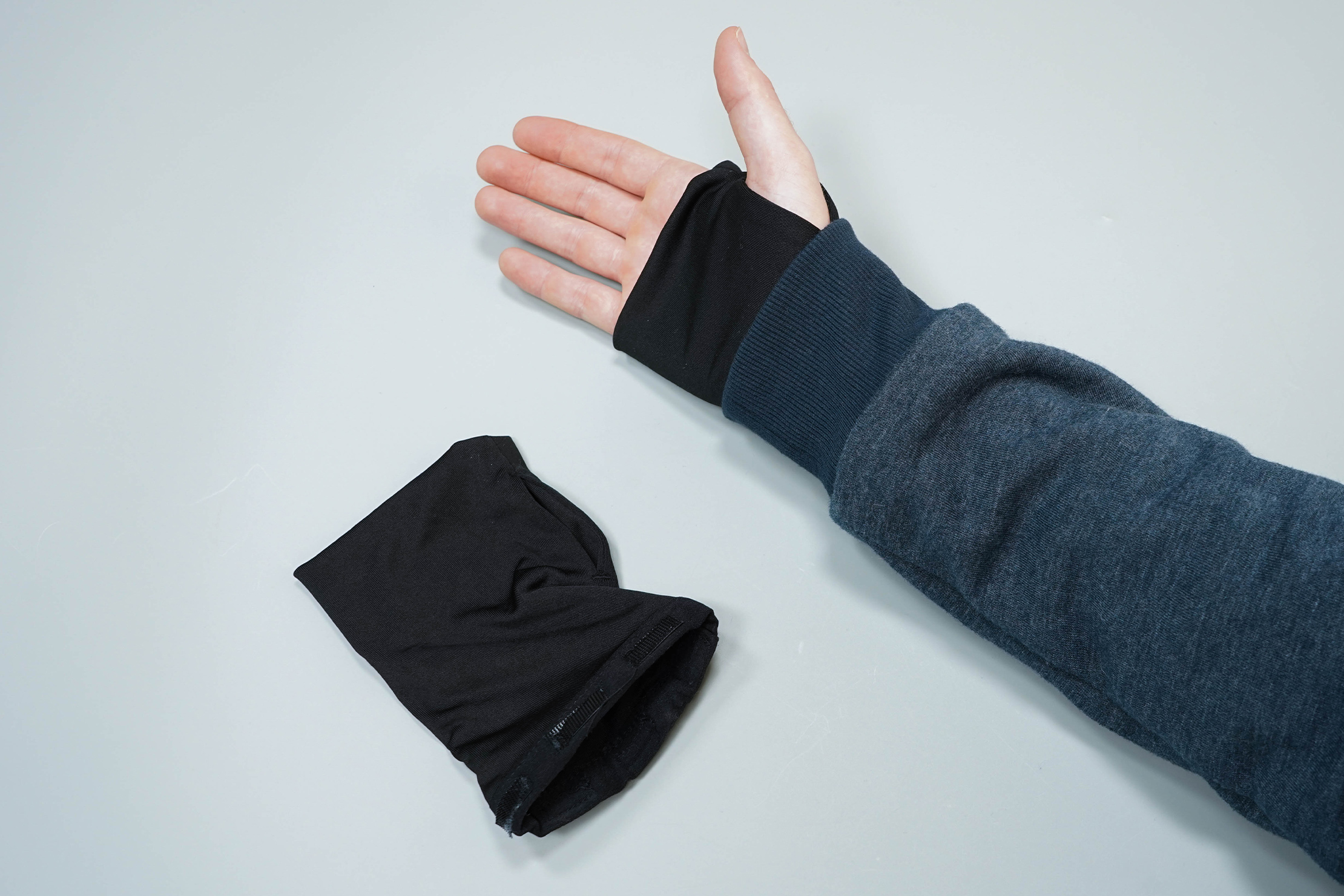 Tucked into the sleeves, you'll find what BauBax calls "detachable gloves." We wouldn't consider them gloves as they're really only thin slices of fabric that extend partially up your hands and have thumb holes. (Like something you would find on an athletic sweatshirt.) We like them—they're cozy and thumb holes are always fun—but gloves is a stretch.
As advertised, they are detachable with velcro. They're not super warm, so we've never had a reason to wear them when not wearing the sweatshirt. And the velcro adds stiffness to the cuffs. Not a big deal, but worth pointing out.
Whew. Still with us? Good because it's time to zip this sucker open.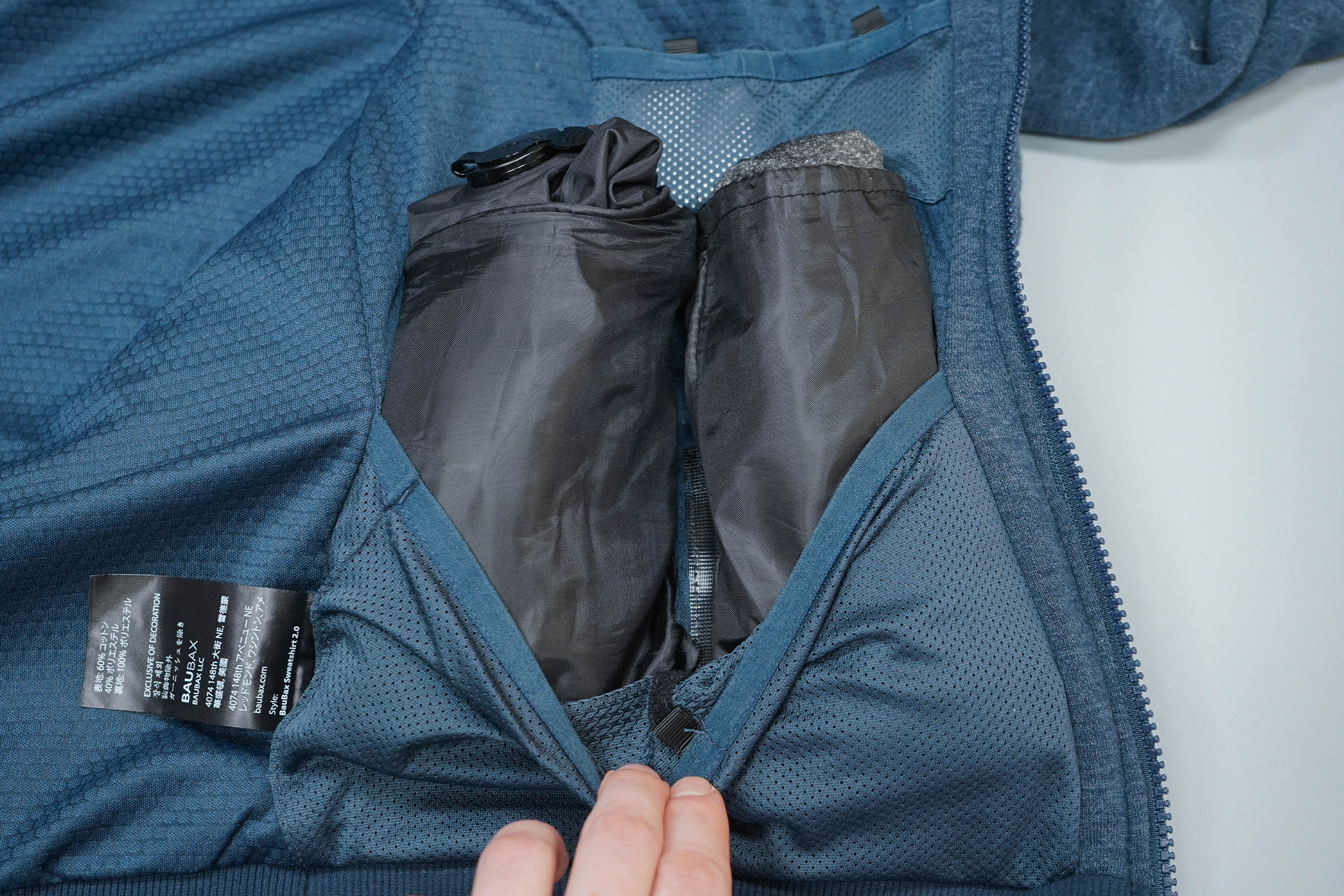 On the left-hand side of the interior of the BauBax Sweatshirt 2.0, you'll find two pockets for a travel blanket and inflatable footrest. Both of which are included. The pockets are divided by velcro, which means when faced with weight, they flop open. We've had the blanket and footrest fall out on multiple occasions, which is obviously not ideal. We wouldn't be surprised to lose them in the next few months.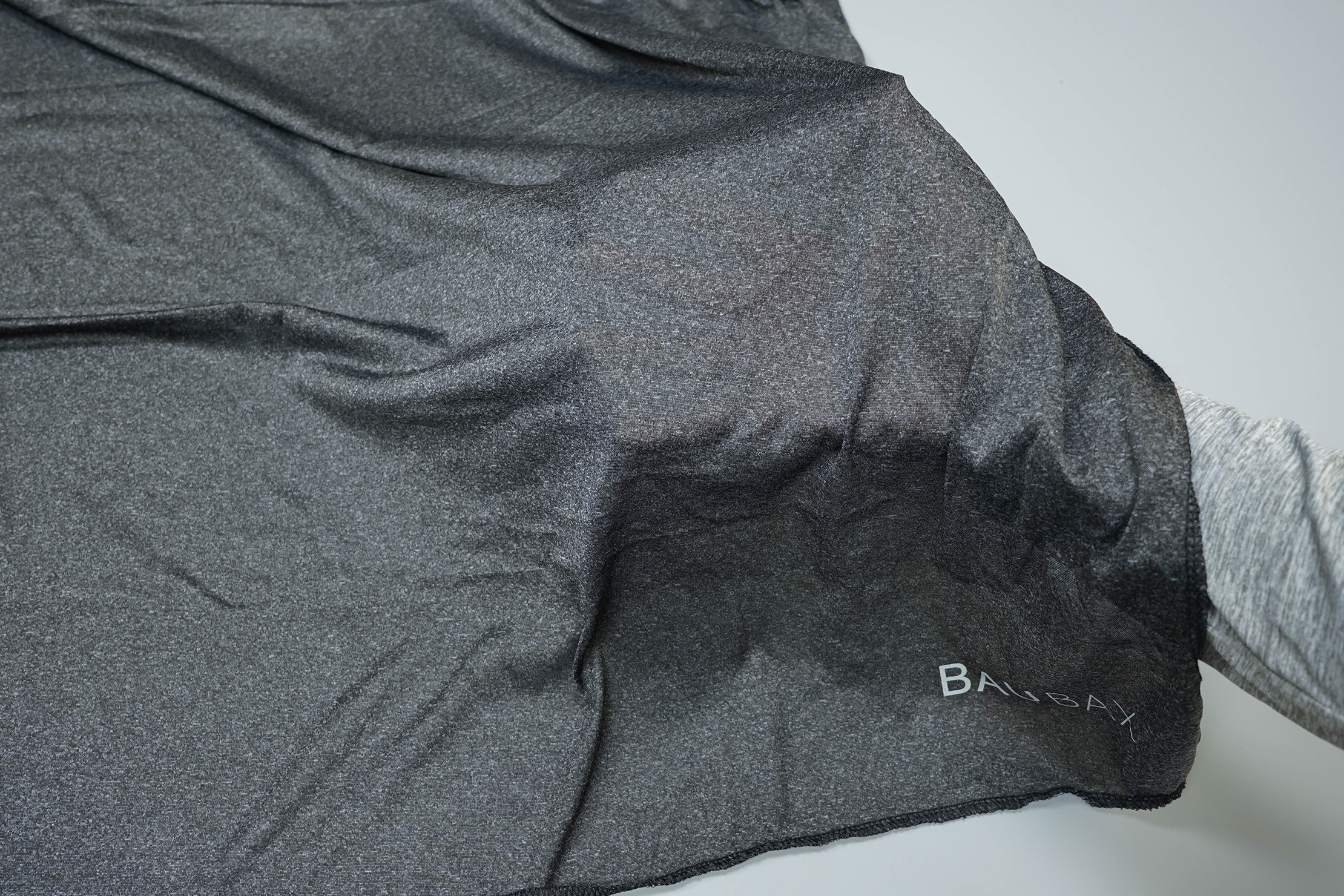 The blanket is nothing amazing. It's thin but large. It may be nice for a nap on a long plane ride and could also work as a scarf in a pinch.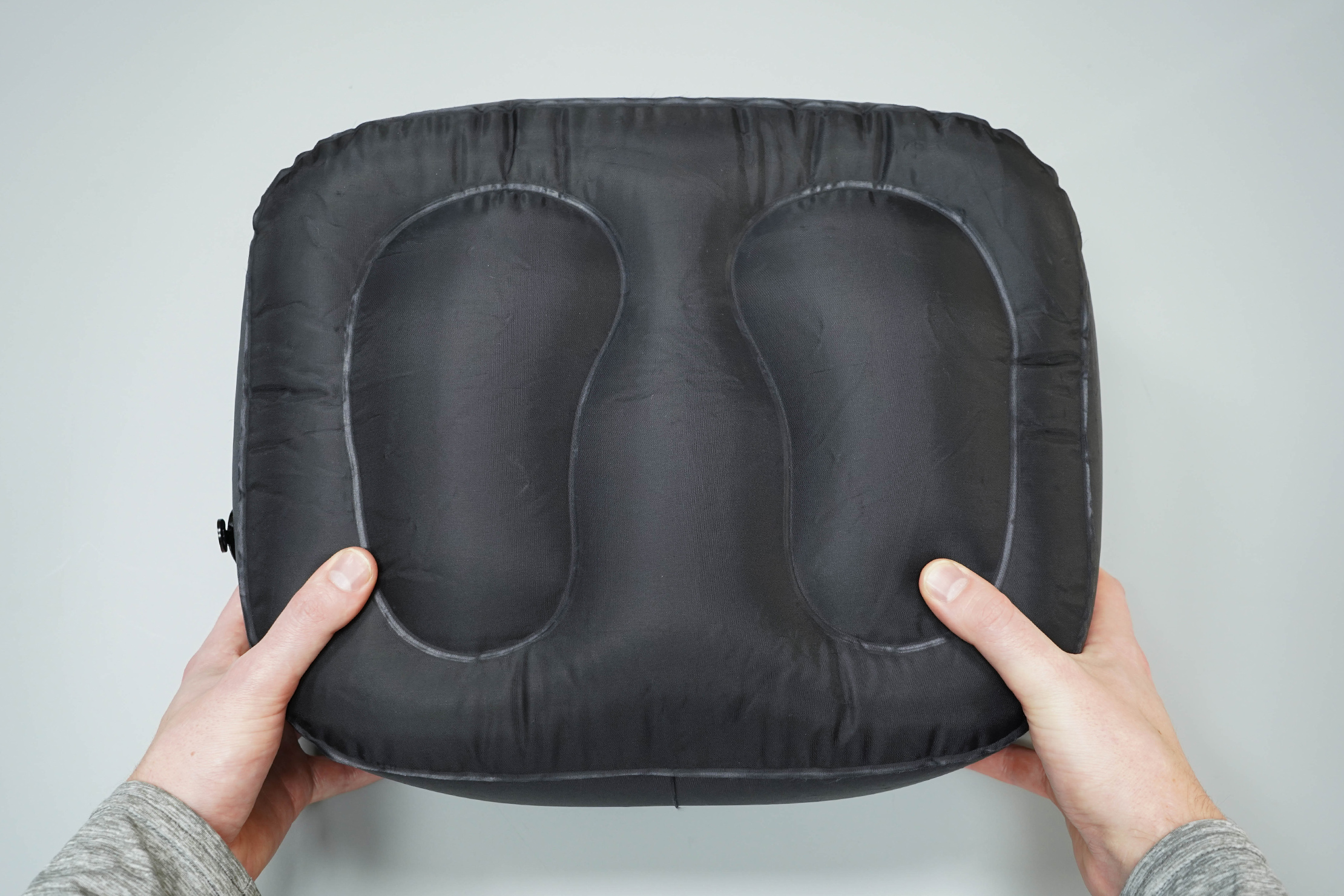 We're less enthusiastic about the footrest. Let's be real: Do you really need an inflatable footrest on you at all times? We'd argue that you don't. Of course, if you believe that having a footrest would be nice on long bus rides or flights then you'll love having it. Don't let us rain on your parade.
And you can always take the footrest out of the sweatshirt and only grab it when you know you're going to need it.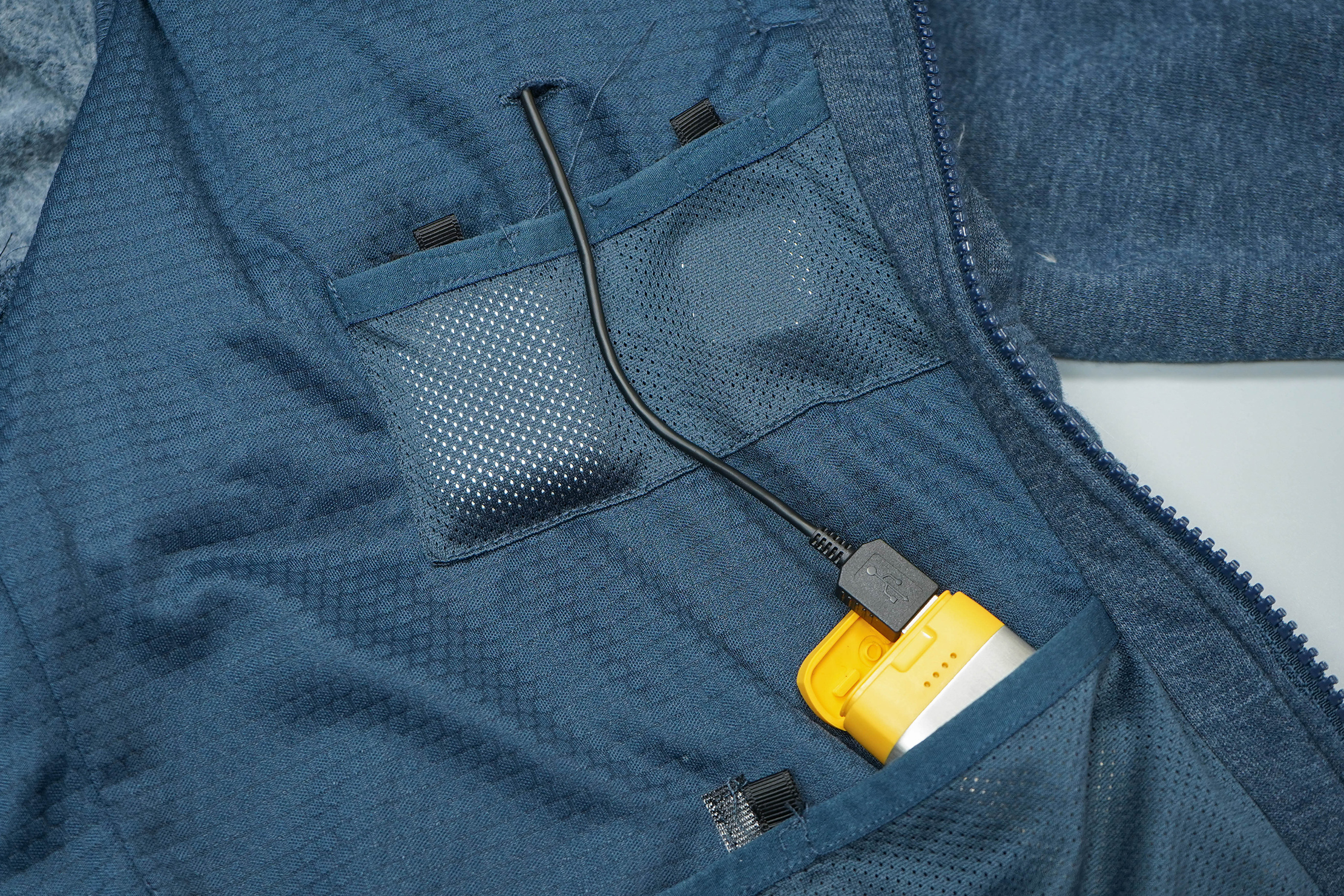 You can also stash a battery bank in the footrest pocket and run a wire up to your cell phone in the cell phone pocket (which we'll discuss in a second) if you'd like to charge your phone inside of your sweatshirt. There's even a small slit that's a cord passthrough. We're not really charging-a-phone-inside-a-sweatshirt kind of people, but you do you.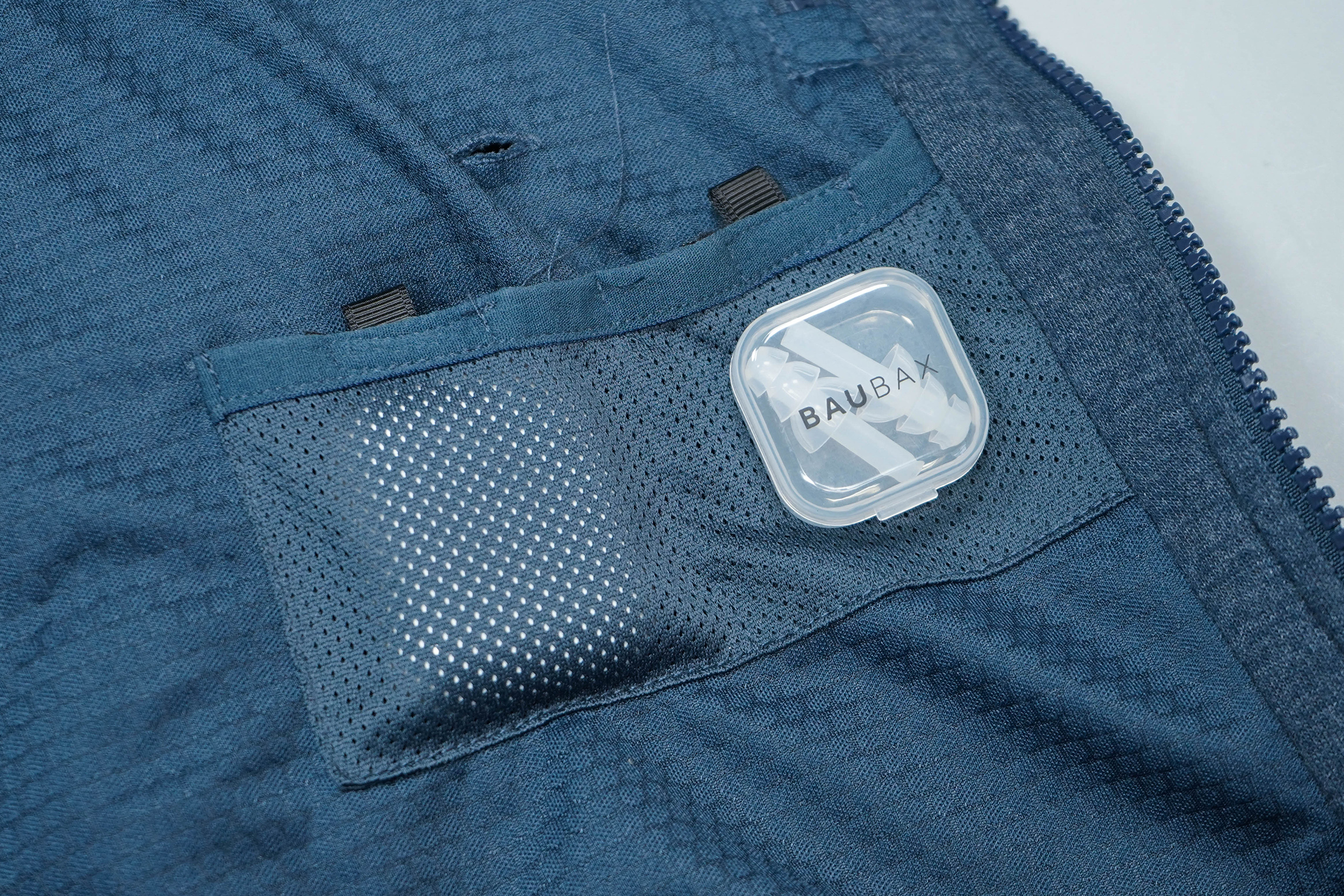 Above that are two small pockets with a sewn divider. In one of the pockets, you'll find BauBax earplugs. Earplugs are always great to have when traveling, so we have nothing to complain about here. The other side is perfectly-sized for AirPods—and we've found ourselves using it more than the other pockets on this thing.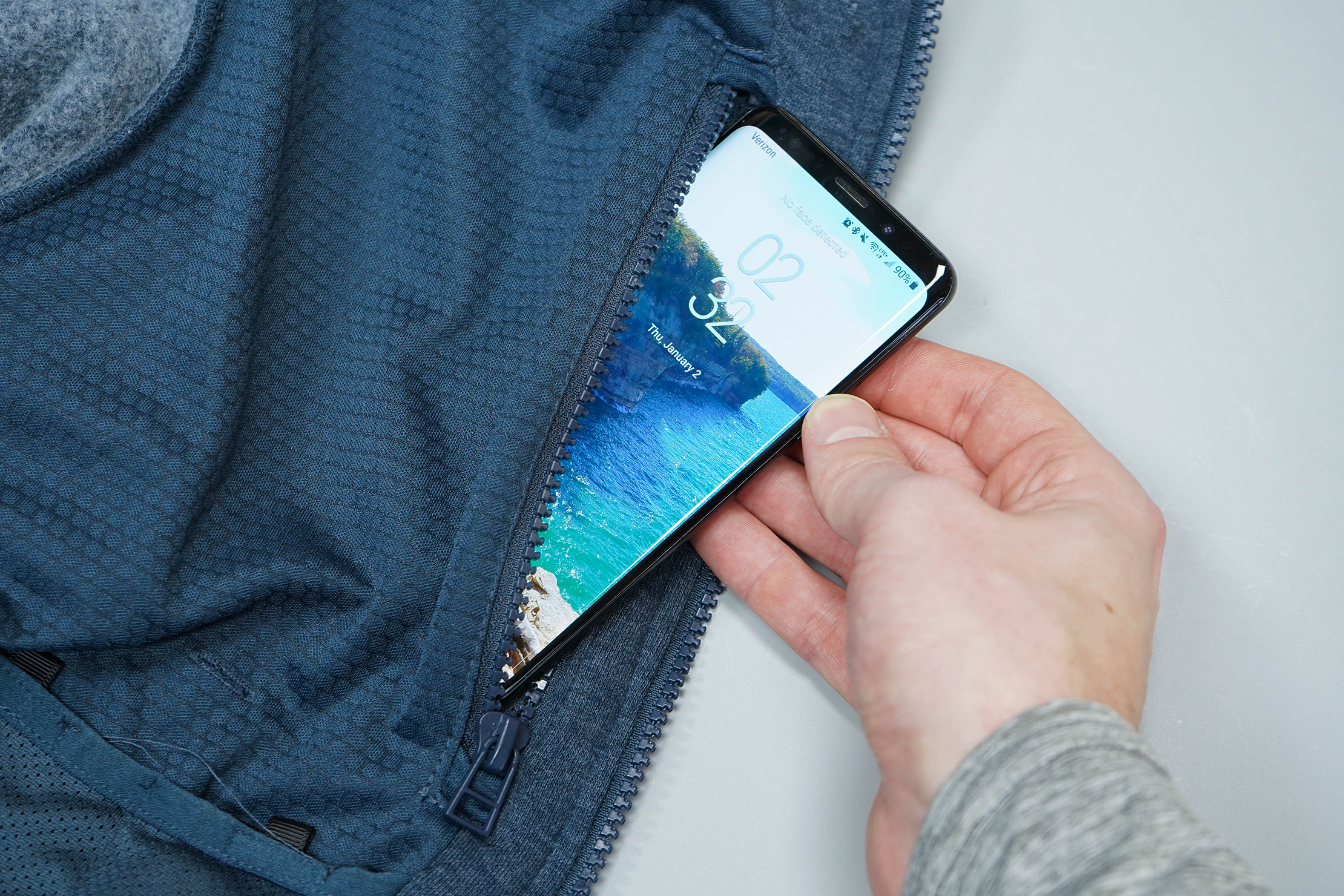 Above those pockets and slightly more to the left is a zippered cell phone pocket. The interior is made of a soft mesh, which we really like.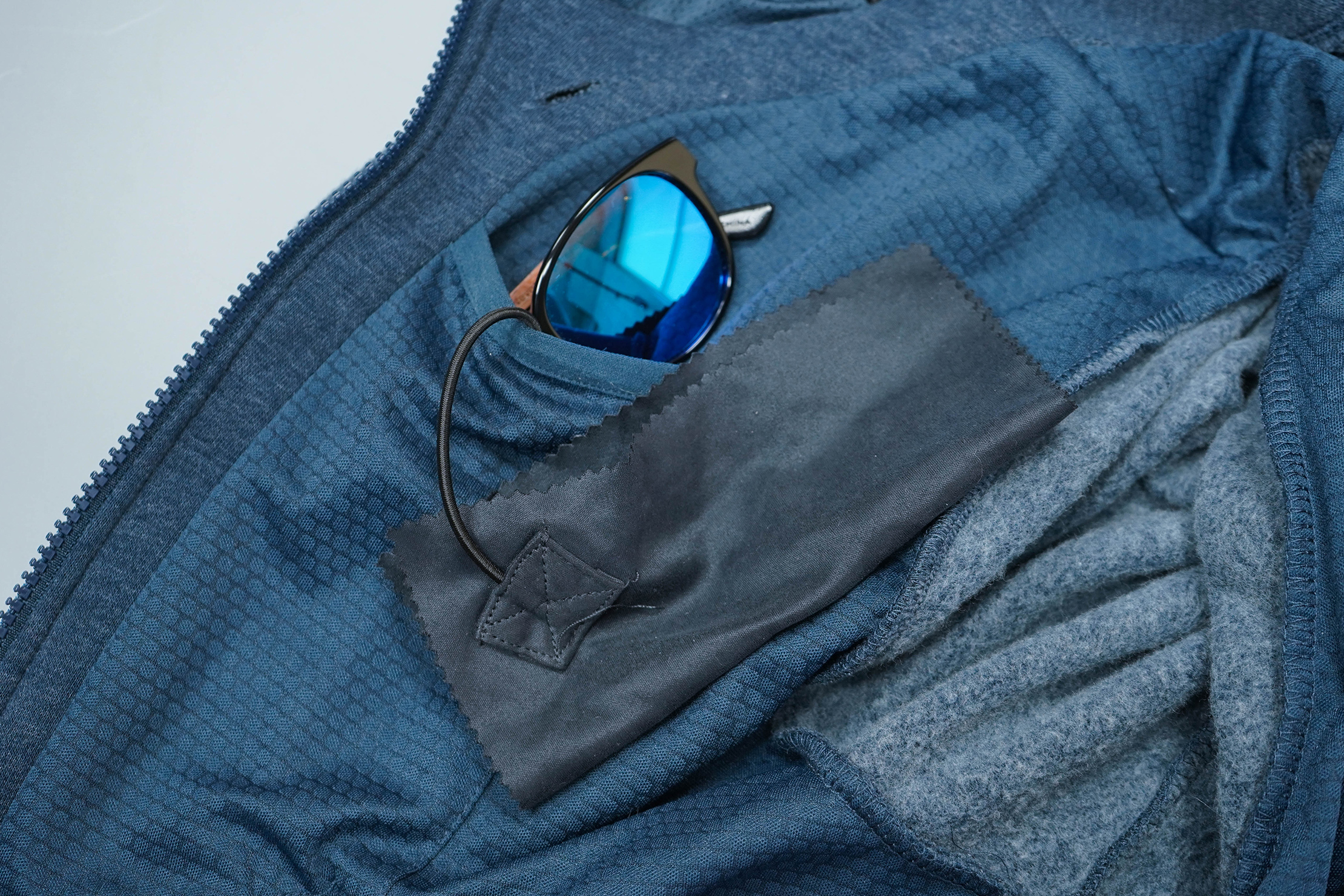 On the wearer's right interior side, the highest pocket is for your sunglasses. It also has a microfiber cloth attached to it for easy cleaning. The cloth doesn't really get in your way when you're not using it, and all of you who wear glasses and sunglasses know how handy a microfiber cloth is. So, yeah, this is a nice feature.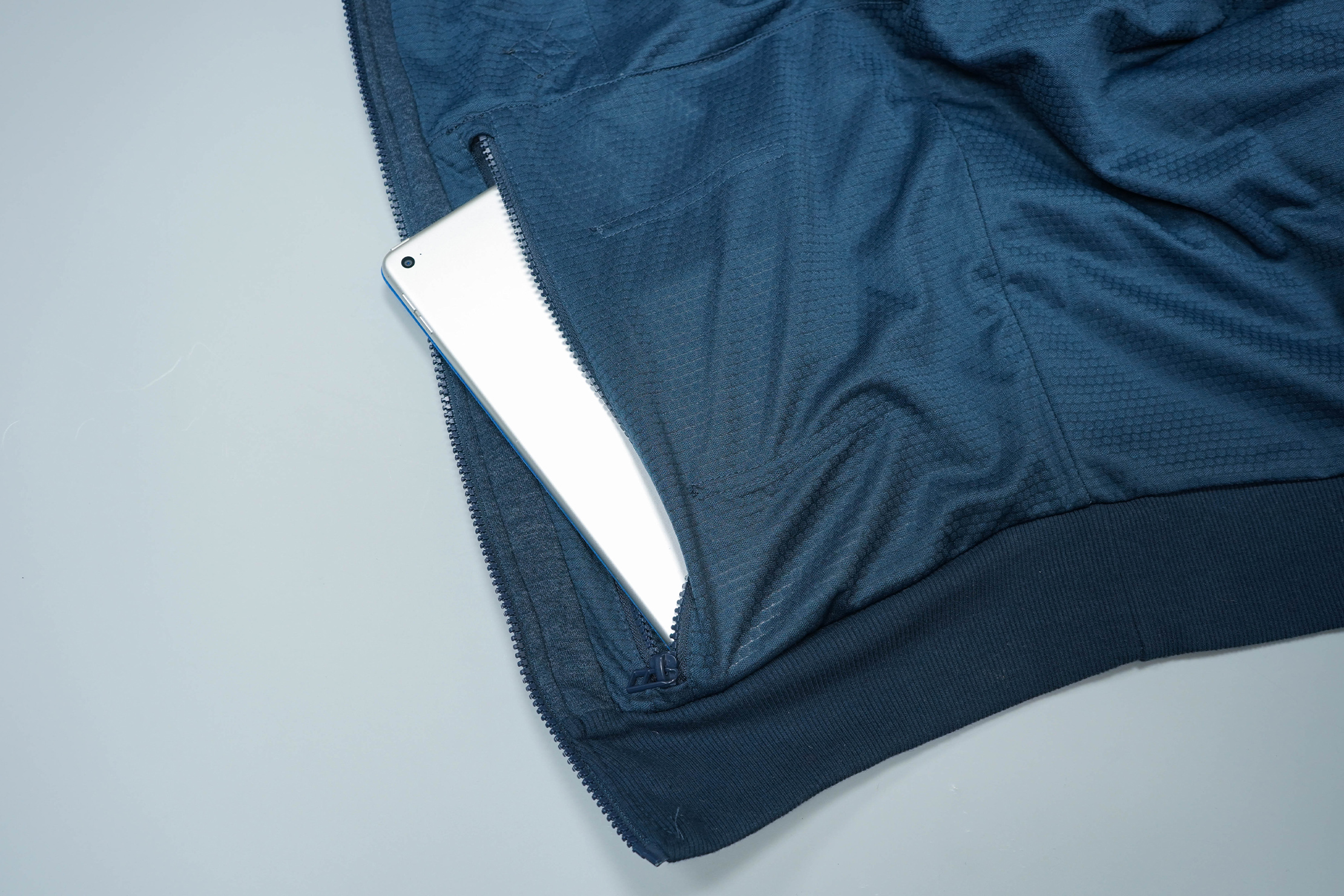 Beneath that is the gigantic tablet pocket—which is probably our least favorite pocket on this travel jacket. If you use it to hold your tablet, it's really obvious that you're carrying a tablet. It looks like the right side of your body is a giant, flat square. Yeah, it looks as silly as it sounds. It's also heavy.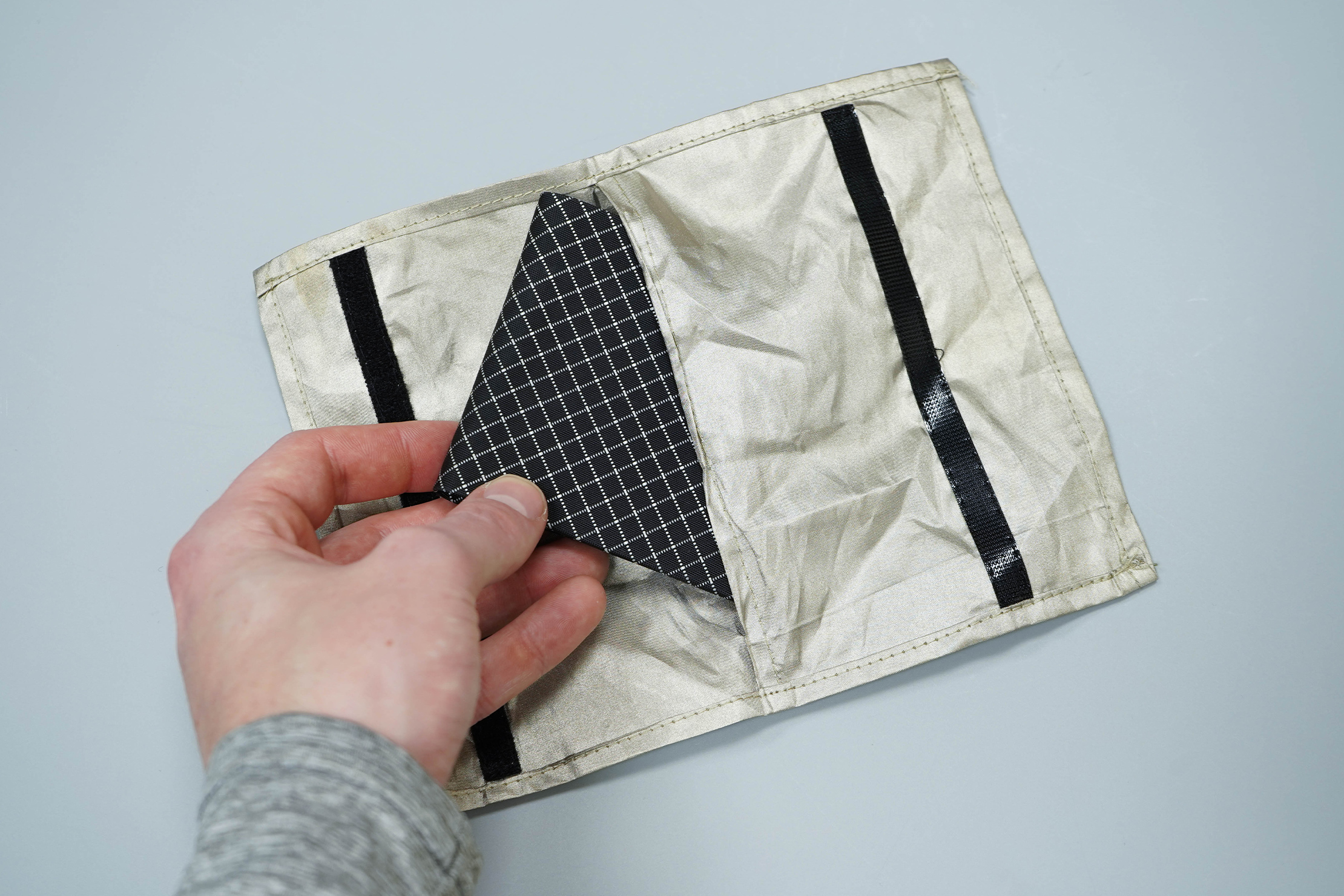 Now, the folks at BauBax advertise a secret, RFID pocket as a feature. The reason it's secret is because its location is different on every sweatshirt (ours just happens to be in the tablet pocket). Presumably, so wrong-doers with RFID-readers don't go to the BauBax website, read where the RFID pocket is, and then decide to forget the RFID-reader and just steal your credit card information the old fashioned way (which is, of course, pickpocketing).
In all seriousness, it doesn't really make sense to us that this RFID pocket is a secret. The whole point of having an RFID blocker is to ensure that hackers can't steal your sensitive information via radio waves. So it shouldn't matter if they know where your credit card is—unless we're missing something?
Anyway. It's also not a full-pocket, it's a thin, removable wallet-esque thing that's secured to the pocket with velcro. So you can remove it if you don't want it. But if you are concerned about RFID crimes, it's nice to have, secretness aside.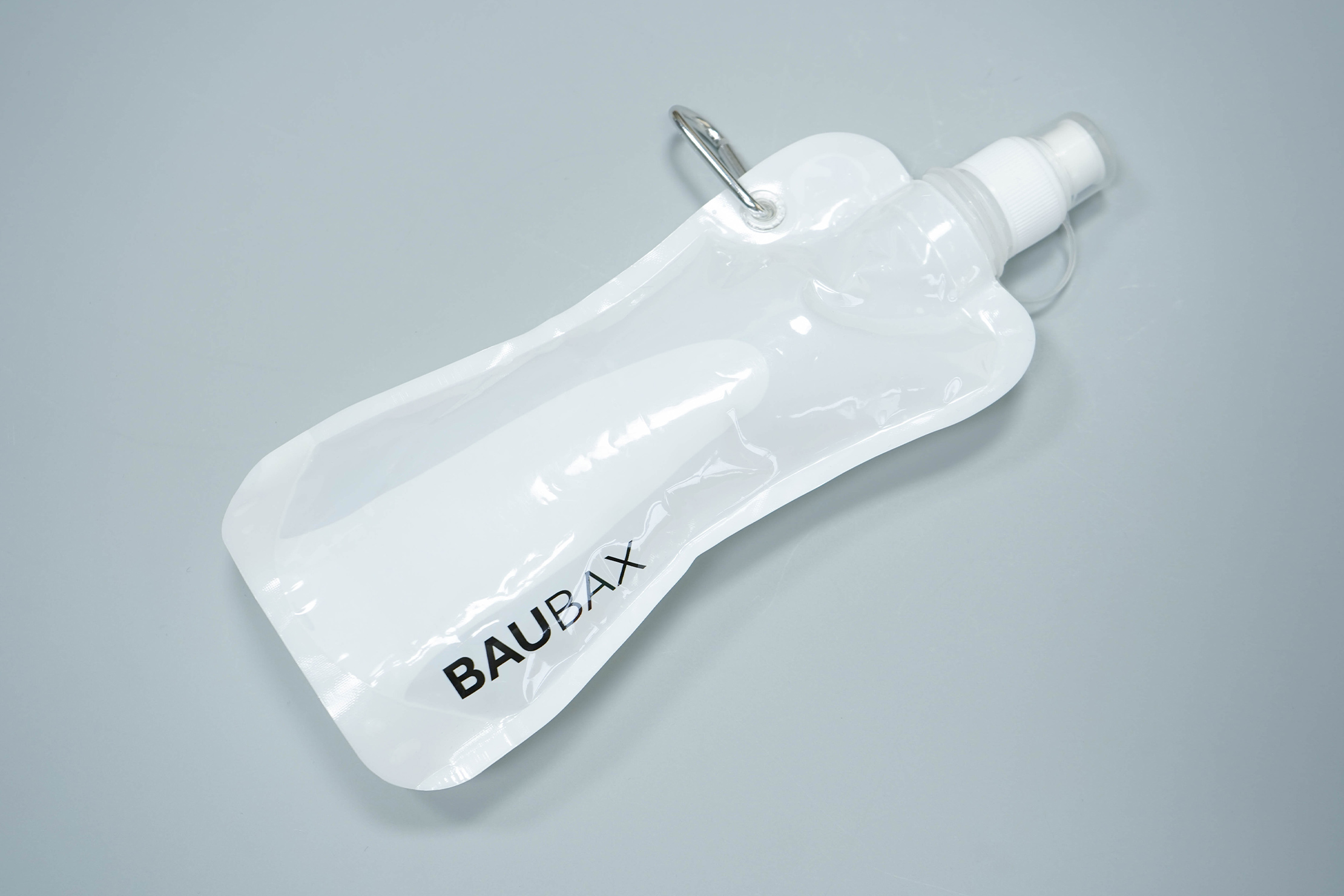 This tablet pocket also happens to be the pocket where the included travel water bottle came, although you can toss it in any of the larger pockets on the sweatshirt. It's not designed to be stored in a pocket when it's full, however.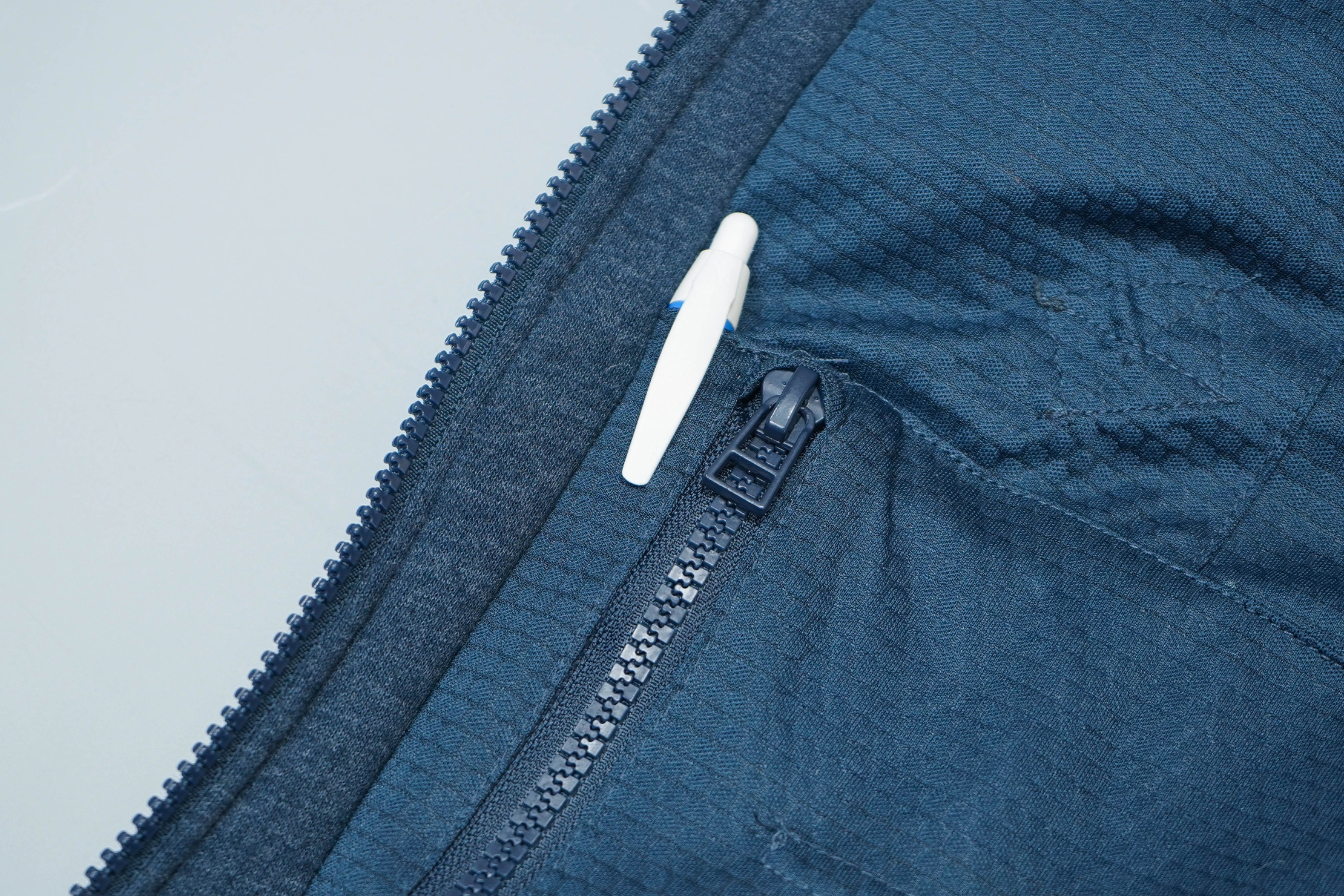 Finally, for the right side is a small pocket designed for your Apple Pencil. If you don't have an Apple Pencil, you can store any similarly shaped item here, or just ignore the pocket altogether since it doesn't get in your way.
Alright, we're getting close to the end. Only a few more features to go.
Beneath the hood, there are two loops that hold an AirPod strap to help prevent you from losing your AirPods. While it's nice in theory, the loops poke the back of your neck. And the strap itself isn't secured well to the sweatshirt. We lost it during our first few days of testing and had to replace it with the strap we stole from our BauBax Windbreaker. And then we lost that strap too. Irony?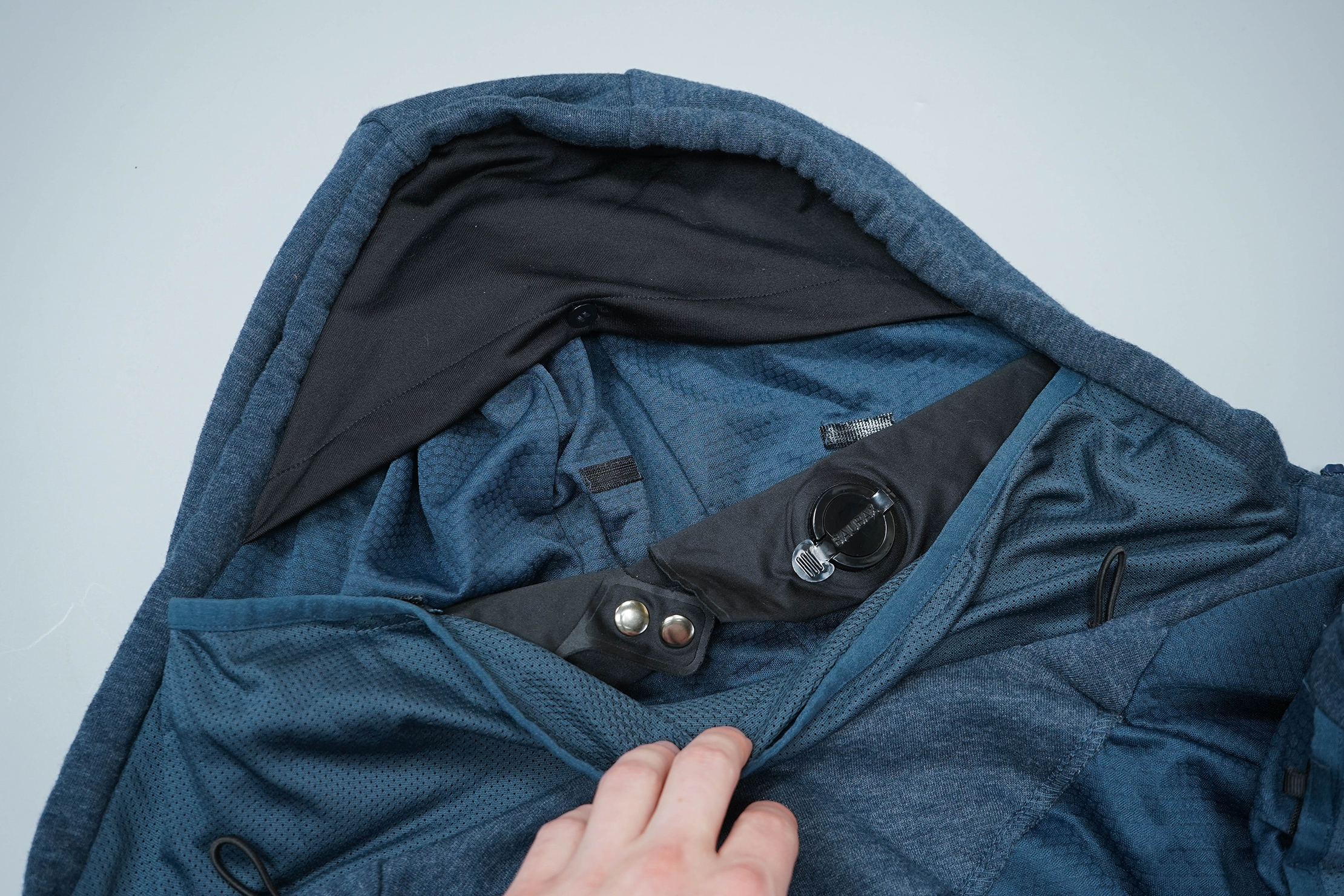 There's also the inflatable neck pillow pocket that comes with, yes, an inflatable neck pillow. It can be a little noisy and crinkly when packed away, but at least it's secure in this pocket, so you shouldn't lose it (unlike the inflatable footrest and blanket). Plus, the pillow itself is nice and soft.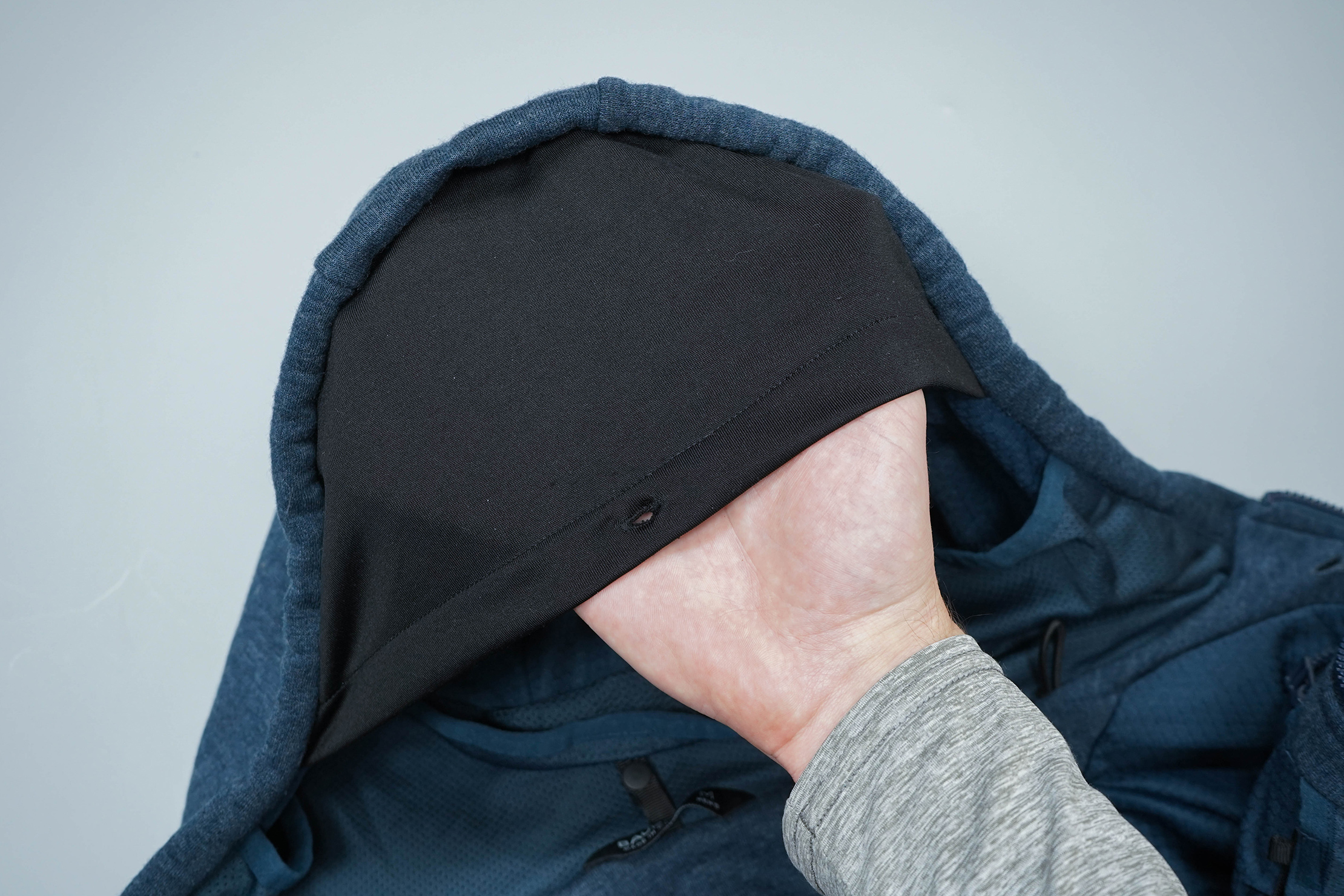 Finally, there's the built-in eye mask. It's a part of the hood and snaps in place when you're not using it, staying out of your way. To use it, unbutton it and pull the mask over your eyes. It works well enough. Between the eye mask, neck pillow, and blanket, you should have a super comfy flight.
Durability & Testing
We've been testing the BauBax Sweatshirt 2.0 for two weeks and counting in Detroit, Michigan. We think it's a bit much for almost every traveler. If you use all of the features, it gets really heavy. Plus, it's bulky, making it uncomfortable to wear and not-so-stylish, to say the least.
BauBax says that the Sweatshirt 2.0 is great for TSA since you can just take off the sweatshirt, put it in a bin, and call it a day. But we're not so sure. We're a little uncomfortable walking through airport security with a bulky, bulging sweatshirt that may or may not have wires running down it as you charge your phone. We think it looks a little suspicious, but maybe that's just us.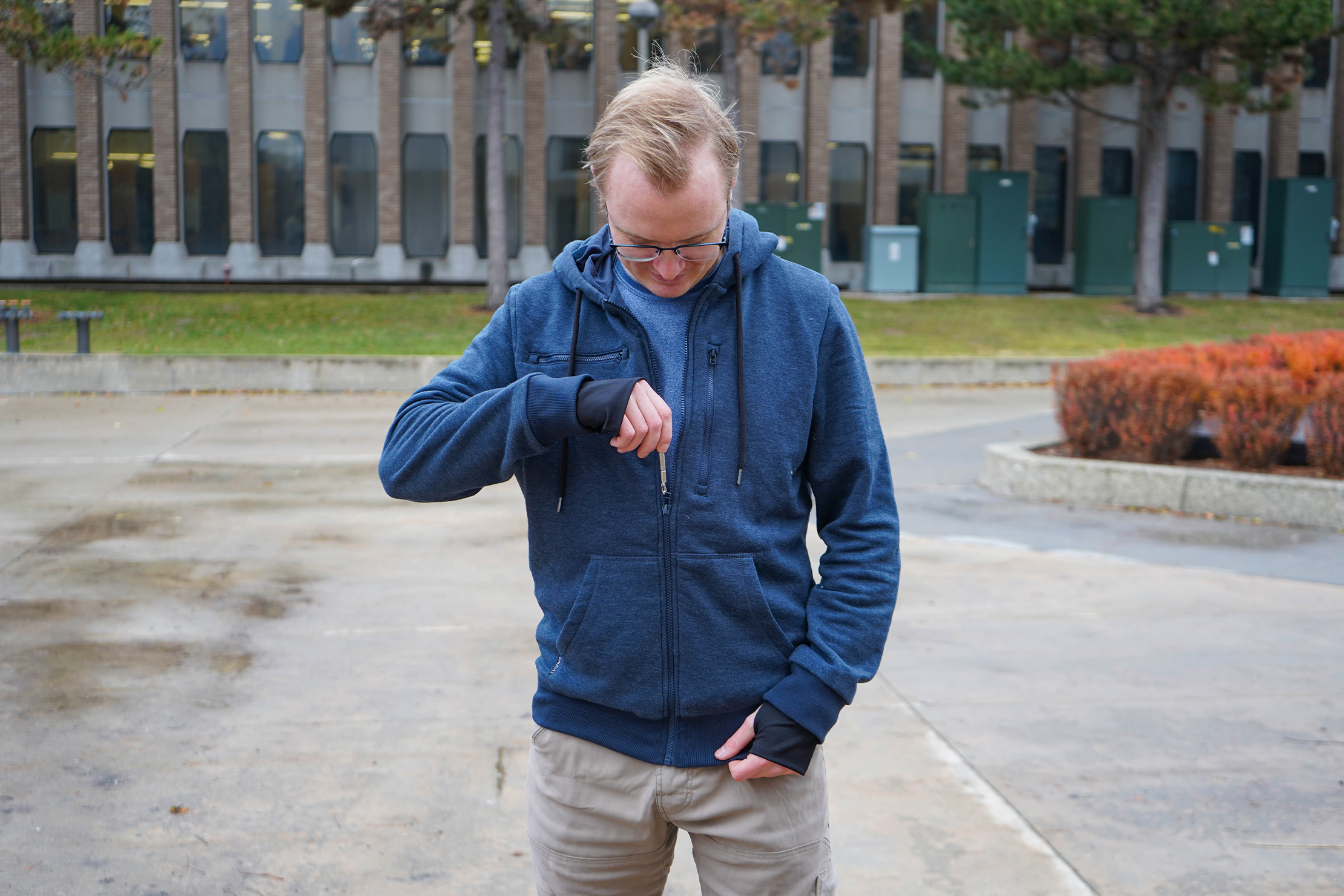 All of that said, if it's uncomfortable for you to wear a backpack or sling bag, you may appreciate all of the pockets on this travel jacket. Especially if you decide to only use some of the features at one time, eliminating its overall weight and bulkiness.
As far as durability is concerned, we have a few small things to report. As we already mentioned, the stylus end of the pen is getting looser. While that's not a huge deal, we're more frustrated with the fact that the attachment point inside the right hand-warming pocket broke after a couple of weeks of testing. That seriously impacts functionality. Plus, it's not a good sign of things to come.
Usage Timeline
Initial Usage
Condition: Excellent
Love the soft materials all over this sweatshirt, very comfortable
Tons of accessories, maybe a little too many but luckily most of them are removable so you can decide for yourself which ones you like
Great fit
2 Weeks of Use
Condition: Fine
The way the interior footrest and blanket pockets have been designed means they slip out all the time. We may end up losing them in the next few months if we're not careful.
Speaking of losing, we already lost the AirPods strap…twice.
And, worse yet, the attachment point inside the right hand-warming pocket broke. Not a good sign!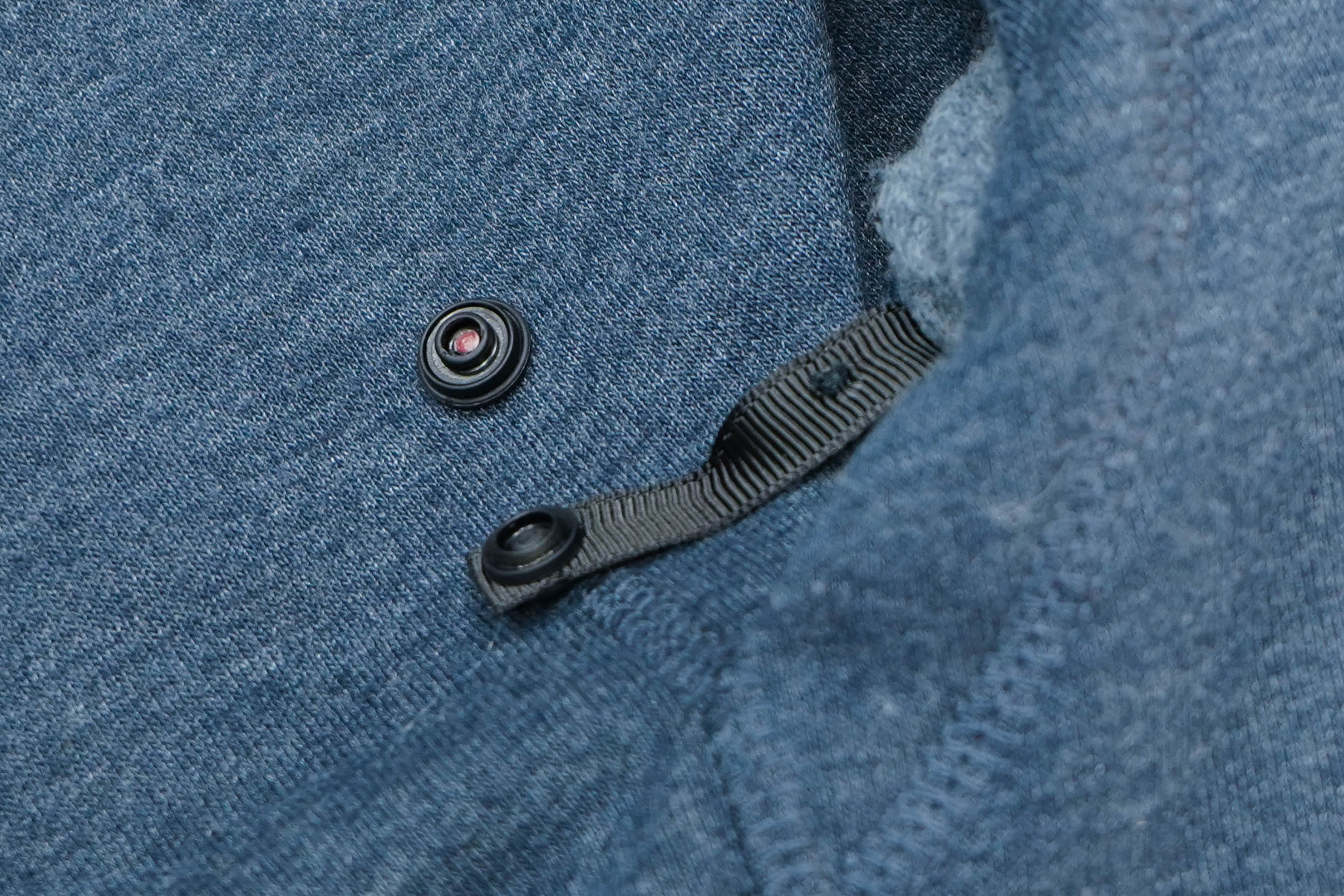 Access the Pro Community Discussion
Get your questions about the BauBax Sweatshirt 2.0 answered from our team and the Pro Community right here on the page. Plus, join discussions with other members about gear, guides, and more.
Other Clothing & Accessories Reviews